Keflavik International Airport is the main hub of all planes coming in and out of Iceland, and a popular layover airport for people traveling from Europe to the USA. The airport is small, but perfectly formed and while you shouldn't have any trouble navigating it, we wanted to make sure you have all the bases covered if you are coming to Iceland for a short trip, or heading out to explore the stunning wilderness of Iceland by rental car.
Arrivals and Departure are located on the same floor, with Arrivals being on the western end of the airport. It is a really well-organized airport and while most big international airports are a bit soulless, KEF airport is small enough to feel like it has a more personal touch.
KEF Airport
Yes, we did just say that. It's not a cool nickname or anything, but the actual airport code for Keflavik International Airport. So, if you see the acronym KEF, you know that you are going to the right place.
Despite being incredibly close to Reykjavik, it is NOT Reykjavik Airport!
Reykjavik airport is only for internal domestic flights across Iceland, so please don't go there by mistake. Always head to KEF airport, (or Keflavik Airport if you are asking a taxi driver.)
Quick details on KEF Airport
Airport code: KEF
Location: Keflavik is located 50km outside of the Icelandic capital city of Reykjavik
Airport website: https://www.isavia.is/en/keflavik-airport
Flight tracker: Track arrivals here and departures here
Airport map: You can see an up-to-date map of Keflavik International Airport here
Airport phone number: +354 425 6000
WiFi- There is free WiFi everywhere in the airport.
Strollers - You can pick up a free stroller from 60 different locations around the airport to help transport your kids.
Smoking - There is a smoking area by the restrooms in the departure hall, beside Penninn Eymundsson.
Taxi Refund: - Arion Banki is located in the arrival hall opposite to the car rental desks. Click here for info
For The Children: There is a play area by C gates in the South Building. Restaurants and seating area are located close by.
Luggage Storage & Lockers: 500 meters from the Departure Side of the terminal, located near the car rental desks.
What you Should Know Before you Arrive
Keflavik Airport is very similar to many other smaller international airports. While check-in and security can often be very straightforward, sometimes things back up and it can escalate into those airport nightmares we have all had to suffer!
So, while you can generally get through security and passport control reasonably quickly, we absolutely recommend arriving at least 2.5 hours before your flight is due to take off, just to make sure you have a stress-free flight experience.
There is only one terminal, and two runways, so there is not much in the way of getting lost and running in a panic to catch your flight, but we completely recommend making everyone's lives easier by turning up 2.5 hours prior.
Security is just as tight as it is in every international airport, so do yourself (and the queue of people behind you) a favor and fit all your carry-on liquids into the little plastic bags provided in security. 100ml is the maximum amount of any one liquid you are allowed.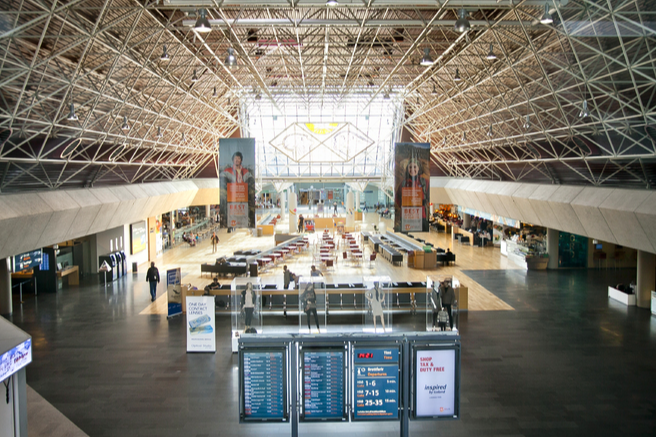 Also, when you head to security, make sure you take laptops, Ipads etc. out of your hand luggage, empty metallic objects from your pockets and take off your belt and jacket.
You are unlikely to have to remove your shoes, but if you get a beep from the barrier, the friendly folk might ask you to take them off and pop them through the scanner.
Not a problem if you have the time, but if you are panicking because you have left it too late, this can stress you right out, so??

.....arrive at least 2.5 hours before.
Maps of Inside KEF Airport
Here below you will find colorful maps of the inside of Kef Airport. It's nothing crazy, just nice to have a look at before you arrive. Some even print this out to have with them but thankfully, the airport is very easy to roam around and there are signs in your face the whole time.
First Floor - Check-In and Arrivals Hall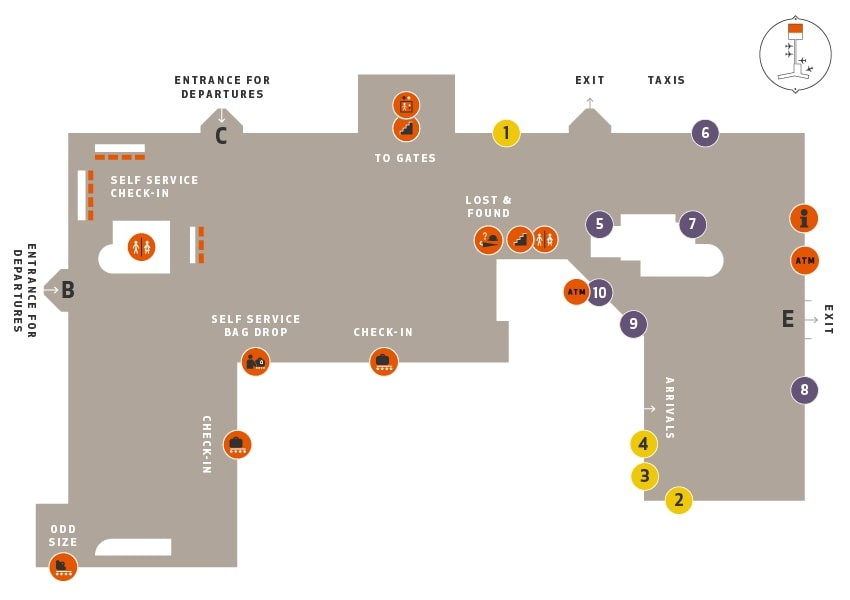 Second Floor - Main Building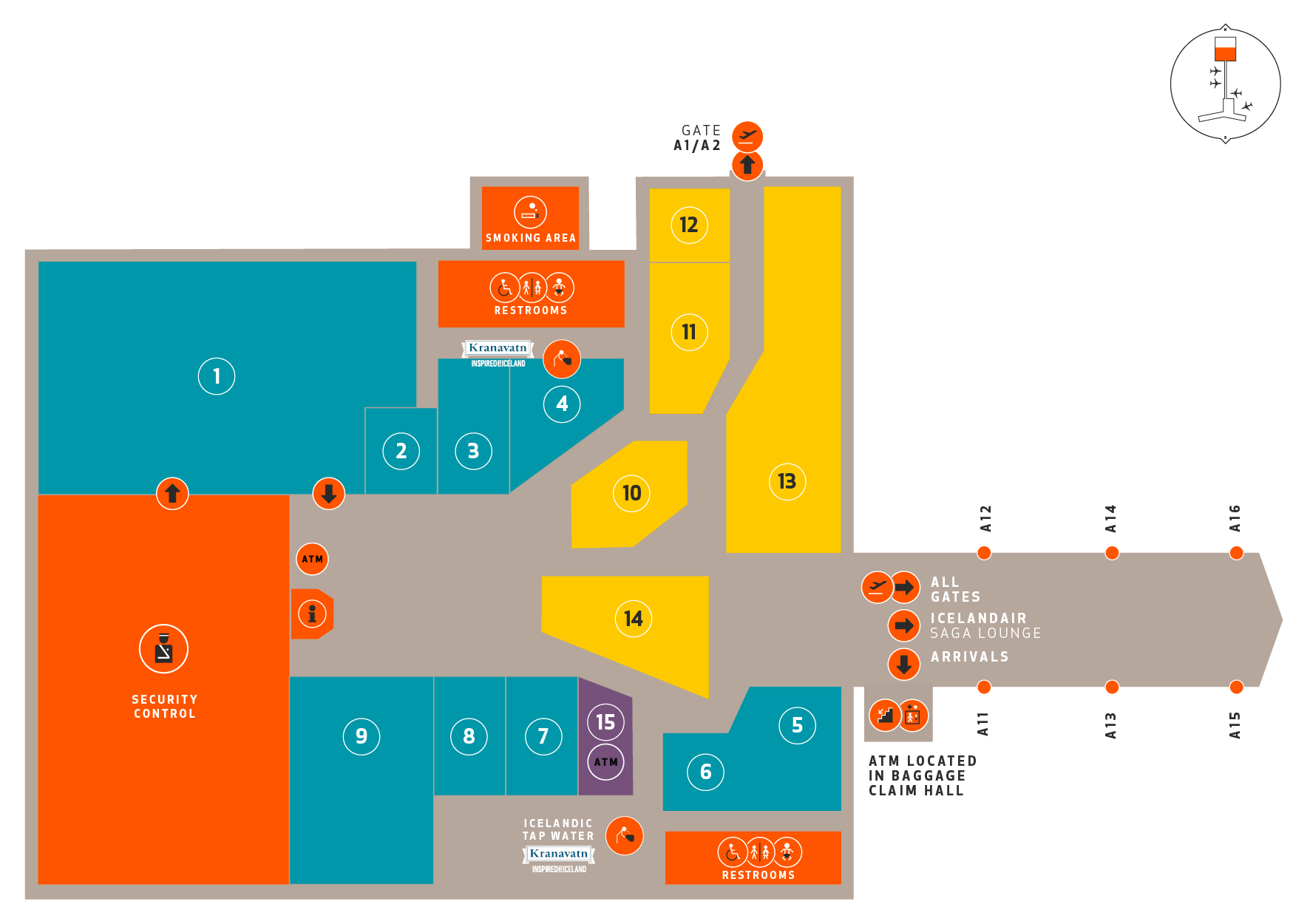 First Floor - Gates D15 - D34
Second Floor - Gates C21 - C36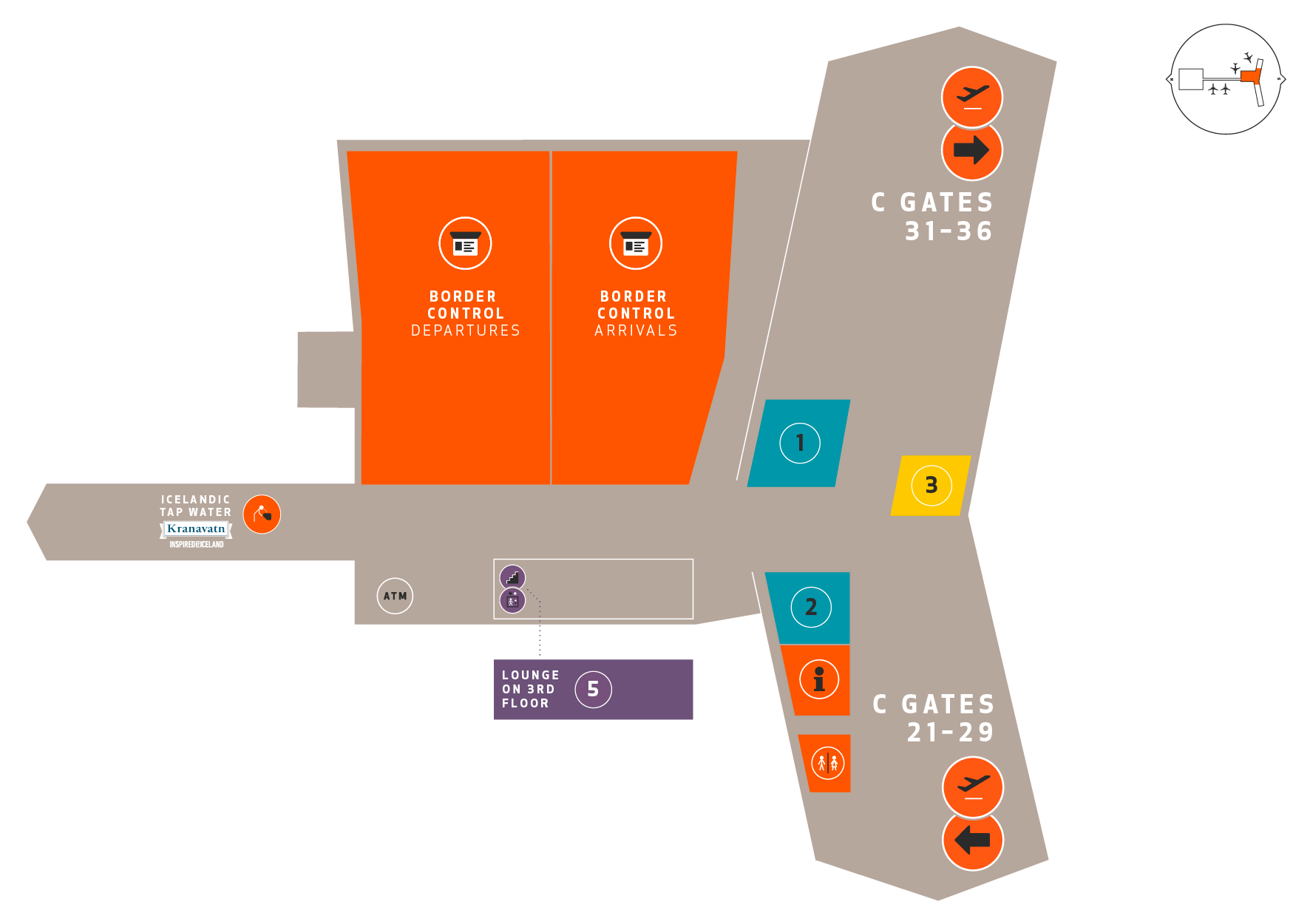 Transportation from Keflavik International Airport
There are no trains in Iceland, so, from the airport, you are looking at either taxi, bus or car hire.
If you are arriving, just exit the arrivals hall and turn left for a taxi or right for a bus. There are signs to guide you, so you won't get lost.
A taxi takes around 45 mins to get to the center of Reykjavik and always ask the cost of the trip before you start, just to make sure you are cool with the price. Though things in this crazy world are changing by the minute, you are looking at around 21.500 krónur (£150/$171) which is a little expensive unless you are sharing.
Because of the cost of taxis, most people opt for public buses. Turn left when you head out of arrivals and you will get to the bus station. The buses are operated by Strætó or Flybus and will have you in Reykjavik within the hour. The cost is roughly 1.600-3.200 krónur depending on the service you take.
Bus Carriers From Keflavik Airport
Taxi Services at Keflavik Airport
There is 24 hour taxi service at KEF Airport. There is a line outside of the airport where you ask the first taxi in line and he takes you to your destination.
Map of the Bus & Taxi zone outside KEF Airport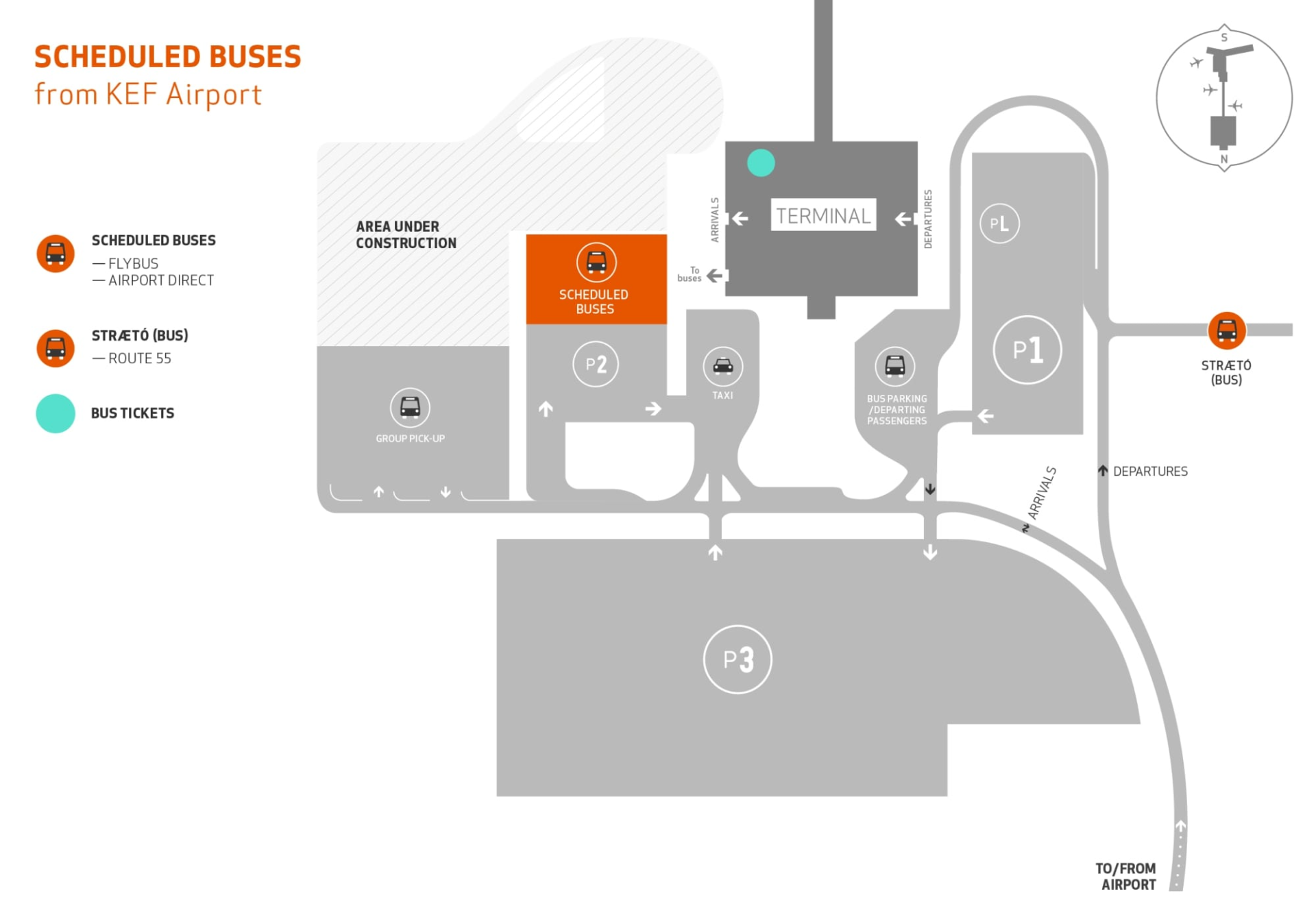 Car Rental
Iceland is one of the greatest driving destinations in the world. There is so much adventure to be had and sublime beauty spots that coach tours just can't get to. Renting a car at KEF airport is simple and, while it can be expensive, it is by far the best way to see Iceland.
Now, there are all the big players for car rental in KEF, but here is where we are going to inject our little sales pitch. Yes, you can book Europcar or Avis or whatever and you will get the same sterling service you get anywhere, but that is it.
CarsIceland.is
Here at CarsIceland.is we provide a more personal, local service. Your car, 4wd, campervan or motorhome will be of the same exceptional quality as the others, but we are completely Icelandic, everything we do benefits our local economy. And, we know Iceland like the back of our hands, so while the choice is yours, we would love you to come join us at CarsIceland for your Icelandic adventure.
Anyways, back to the airport..
There are no car rental desks in the airport itself. With your pre-booked vehicle, there will either be someone waiting for you when you exit into the arrivals hall, or you will jump on the little shuttle bus that will take you over to the car rental offices.
Where to Eat and Drink at KEF Airport
There are several options to eat and drink at Keflavik International Airport, so if you need something to fill you up, or a drink to steady your nerves before the flight, there are plenty of places to try.
There are full, sit-down restaurants, places where you can grab a snack or a sandwich and a delightful bar, as well as convenience shops to get sweets or gum to stop your ears popping on the plane. The Airport is ever changing and giving different restaurants an opportunity so we don't want to list up all the shops as they might not be there as you arrive.
For a full list of current food and drink in the airport, you can click on this link.
Shopping at Keflavik International
Once you get through security, there is the obligatory duty-free shopping where you can stock up on all manner of alcohol, perfume and cigarettes, however, this is not where the beauty of KEF airport's shopping lies.
As a nation, we are very proud of our output, so rather than filling the airport full of international chain stores that you can find on any high street, KEF airport has a wonderful selection of truly Icelandic stores to choose from. There are Blue Lagoon skincare products, incredible Icelandic gifts from Epal and handmade jewellery from Jens and all of them are tax-free!
The same goes for shops at KEF Airport, as some come and go after a while so just check the link below for information about current list of shops at the airport.
You can get a full list of the shopping available at KEF airport by clicking this link.
How to Spend Your Layover in Iceland
Getting a layover on your way to/from the USA is a wonderful little extra on your vacation. You can spend as much time as you like in Iceland on your layover, but with so much to do, it might be tough to narrow down exactly what to do in the time you have.
Nearby Attractions
KEF Airport is located in Reykjanes / Suðurnes, which has many hidden attractions. There are many small towns located near and, at the moment, Suðurnes is 4th largest by population in Iceland.
Close the airport is Keflavik which is a great first or last stop for travelers, as you are close by for early or late night arrivals / departures. There are plenty of shops and restaurants for you to enjoy such as Kaffi Duus or Kef Restaurant at Hotel Kef. You could also stop the The Icelandic Museum of Rock & Roll which details the history of rock & roll in Iceland.
There is also Suðurnesjabær, which is newly formed by joining to towns (Garður and Sandgerði) together. There you will find the wonderful Garðskagaviti which is a beautiful lighthouse located just by the ocean. Close by is a wonderful restaurant the goes by the name El Faro which has Spanish and Mediterranean cuisine.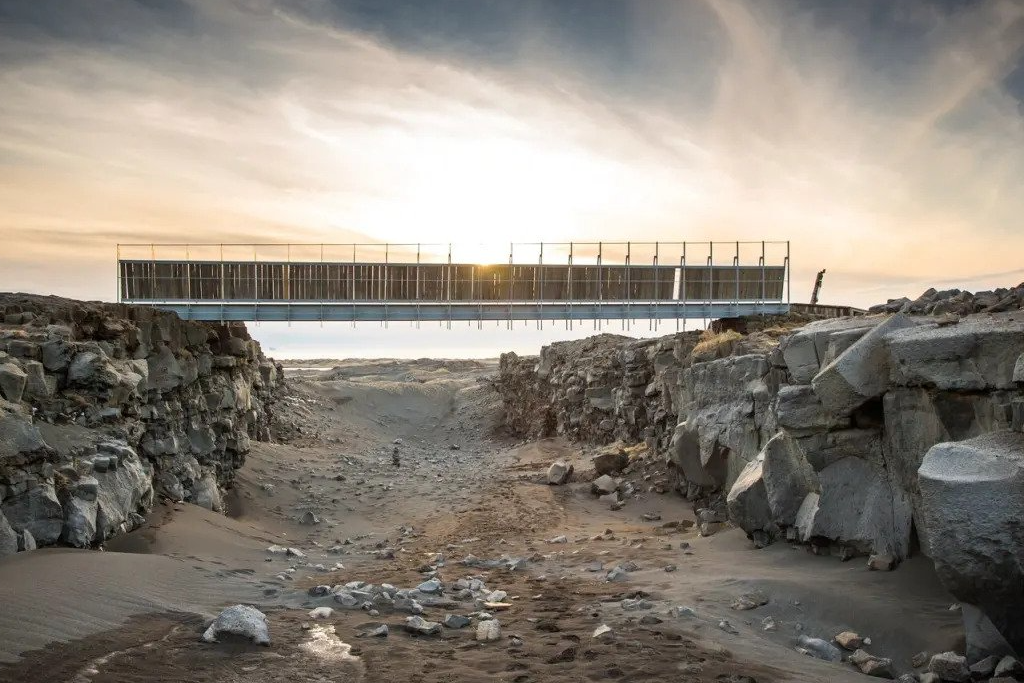 Last, but not least, The Bridge Between Continents is located roughly 22 minutes from the airport (23km). This is one of worlds major plate boundaries, the Mid Atlantic Ridge, and is a small foot bridge over a major fissure where the diverging plates depart. This bridge is a symbol for the connection between North America and Europe.
For more info about Reykjanes / Suðurnes check out this link.
---
FAQ
Is there a Meet & Greet Service in Keflavik Airport?
Yes, there is. There is a tailored meet & greet service offered to facilitate your passage through Keflavik Airport. This has to be booked at least 72 hours prior to departure.
Arrival At Keflavik Airport
A team member will greet you at the aircraft door and company you through the airport. You will be guided through all security checkpoints as well as the baggage claim area.
Departure from Keflavik Airport
A team member will be holding a sign with your name and will greet you by the terminal entrance. The member will assist you through baggage drop-off area and be your guide til you reach your boarding gate. This also includes all security checkpoints as well as accompanied through the airport at your pace.
Connecting flights at Keflavik Airport
A team member will meet you at the aircraft door. You will be able to enjoy the Saga Airport Lounge (if time permits). However, If you are in a hurry they will show you the fastest way through the airport.
Check this link for more information.
---
How Busy is Keflavik Airport?
It depends on the time of day, as well as the season of traveling. In the summer time the mornings for Europe flights and the afternoon for USA departures can be rather demanding.
If you arrive hungry you might need to wait in a line to get your food or shopping at the duty free. Again, make sure you arrive at least 2 hours before your departure (sometimes, even 3 or 4 hours).
The airport has the most traffic from 06:00 AM - 10:00 AM and the again 12:00 AM - 06:00 PM.
We highly recommend checking KEF Airport website before arriving as it states the estimated waiting time at security check.
---
How Far is KEF Airport from The Blue Lagoon?
The Blue Lagoon is roughly 24 km / 15 miles from the airport, about 23 minutes. You can easily take a taxi or bus, or just stop by on your rented car. If you are feeling wild, you can walk, will take you about 5 hours but hey, you are wild!
Just make sure you book at the lagoon before your arrive, as during high season it gets rather crowded and those who have booked their stay will have superiority to dive in the blueish water!
---
What Hotels are Near KEF Airport?
There are plenty of Hotels and over night stays to be found in Keflavik. Ranging from three to five star
Here are the best Hotels near the airport:
There are plenty more hotels available, as well as rooms for just an overnight stay at Airbnb.
We recommend booking your stay as soon as possible. First, book the flight, then the accommodation and then book your vehicle! This can save you heaps and it alleviates stress.
---
Is Keflavik Airport Open 24 Hours?
Yes, it is open 24 hours but that doesn't mean you can arrive at any time as security might be closed, and the check in isn't checking in for your flight.
There are 60 self-check-in kiosks in the check in area which are open 24 hours a day. But for your information, check in starts about 2.5 hours before every flight.
Online check-in is available with most airlines, so if you are only carrying a carry-on with you, you go directly to the departure lounge (if security is open).
Opening hours for most shops and restaurants varies when there are no scheduled flights but after you have checked in, you can stay at the airport until your flight departs.
Security opens between 03:30 / 04:00 AM for the morning schedule, which leaves you plenty of time to catch your flight.
---