Reviews for the Best Car Rentals in Iceland
The Best Rental Car Prices in Iceland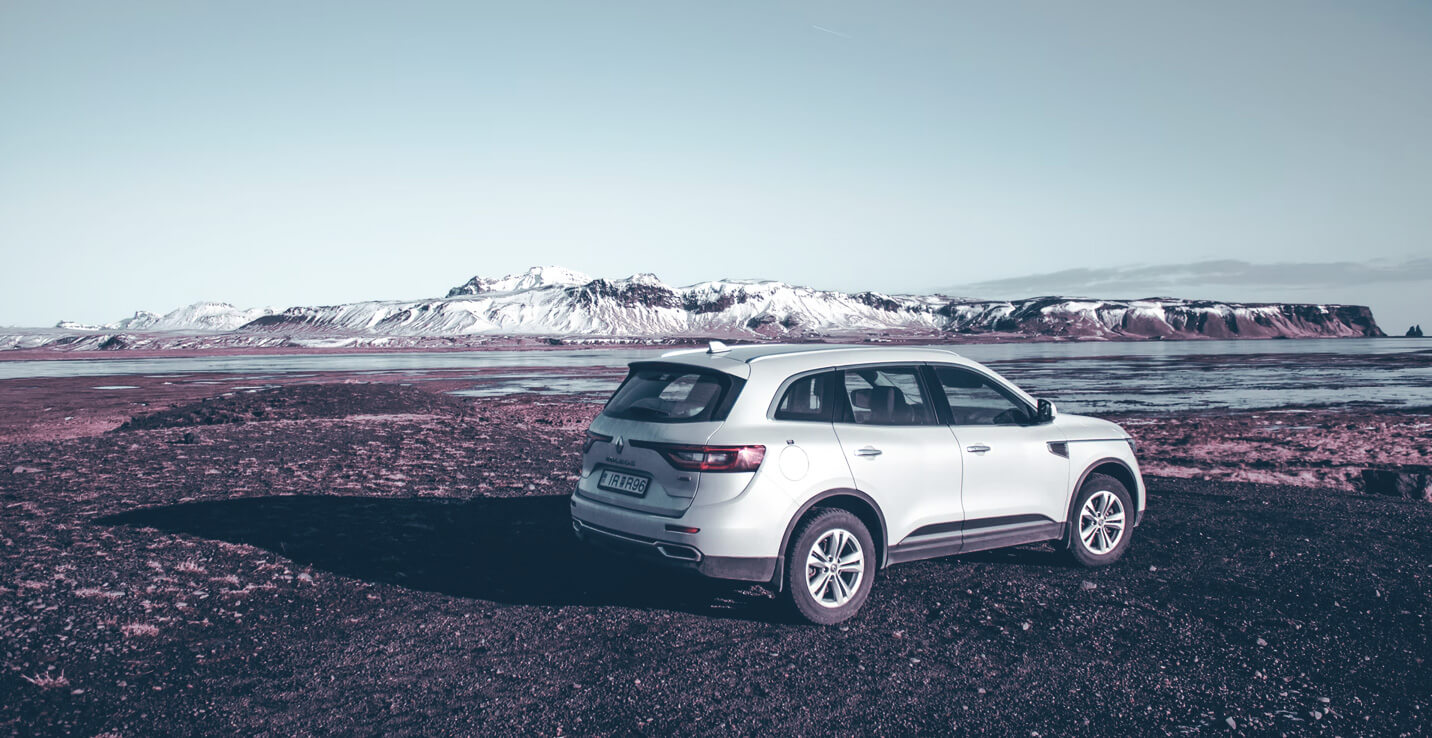 Reviews for all companies
We took the Black Beach ATV tour on a whim when other plans didn't work out. We were very glad it turned out this way, because it was awesome! Ossi from Black Beach Tours was a wonderful host and guide. We liked it so much, we came back 2 days later for the 1 hour Black Beach RIB Boat Tour. That was wonderful too! The facilities and equipment were great. The full body suits and warm apparel they provided were awesome. Ossi was so hospitable and they provided drinks and snacks as well! It was great to learn so much from them as part of both tours! Hight Recommend!
Mike ohlsen
rented a vehicle
William lam
rented a vehicle
The food walking tour was our favourite day in Iceland. Thor was such a great guide. Knowledgable and friendly. We tried some great food - not sure about the chocolate rose at the end which seemed a bit random but the rest was fantastic.
Hannah edwards
rented a vehicle
My family recently took the Reykjavik Food Tour and it was a wonderful way to get familiar with both the city and local cuisine. Our guide, Woody, was friendly, knowledgeable, and fun, and everyone was talking about the food even days later. We had someone who ended up having to join part way through the tour and he was so accommodating and understanding, it saved the night for our group. Elisabet worked with us on several questions beforehand, and was incredibly kind and responsive. Wake Up Reykjavik even helped with a recommendation and reservation for a special restaurant for another night of our visit. I would highly recommend both the tour and the company!
Our party did the walking food tour. Our guide Ben was very informative and made sure everyone had a great time. Restaurant selection gave us a wide variety of local foods. Glad I spent the afternoon on this tour!
Fat roger
rented a vehicle
My husband and I went on the bar crawl with Wake Up Reykjavik our first night in Iceland. It happened to be the Culture night in Reykjavik so everywhere was very busy but our guide (Hara) was lovely. It was her first time hosting the bar crawl and she did a great job making sure everyone was comfortable and having lots of fun. She even took us to a good spot to watch fireworks before the second bar which was a great experience. We were having such a good time we ended up staying out to 4 am with fellow bar crawlers. Thank you Hara and Wake Up Reykjavik for an unforgettable night out!
Grady james parker
rented a vehicle
An absolute must do! Did the food tour with Daniel as the guide. Had an amazing time! The group was fantastic and a perfect size. Lots of wonderful conversations getting to know the other tourists and their experiences so far. Daniel is an incredibly gracious and warm host, dispensing all sorts of fascinating and funny knowledge about the city as we walked from one amazing little meal to another. Very highly recommend this!
Marta wajngarten
rented a vehicle
I vacationed in Iceland during the first week of March 2019. What a beautiful country. The best part of my vacation was the Katlatrack Glacier Tour. This is something that you have to do if you are ever in Iceland. Our guide (nick name, Bessie) was awesome. He made the trip a really fun adventure for us. He is a knowledgeable, local guide, proud of his country with lots of stories and folklore. He likes to joke around and have fun. If you do only one tour in Iceland, this one should be it. I will visit Iceland again and will book other tours with Katlatrack.
Herster10
rented a vehicle
We loved our Ice Cave tour. The guide was friendly, funny, and very informative. The group size was perfect, with around 6 or 7 of us, and they work with other groups to time the tours so that we were alone for a while on the glacier. I would use them again and highly recommend.
Jamie tobey
rented a vehicle
Best trip and tour! Katlatrack really provides the right experience of Iceland. Small enough group, fantastic guide/driver (Bessi) and of course, amazing nature. But to truly enjoy this nature one truly needs the right guides, and Katlatrack offers that to a T.
Patricia bluestein
rented a vehicle
One of the best experiences I had while traveling through Iceland. The tour guide had plenty of knowledge (local guide) of the place, let everyone be confortable and telling local stories. Really recommend.
Cássio luisada troiano
rented a vehicle
I do live sailors. I have been trying to find them since shenmue on Dreamcast!! So glad I can put this to rest.
Burn after reading
rented a vehicle
Very fun tour. We saw two whales and then a whole bunch of dolphins. Our tour guides were wonderful and informative. If you're going to do a whale watching tour in Iceland, I'd definitely recommend Reykjavík Sailors. Even in August, it's a bit cold and very wet and there is no guarantee that you'll see whales (wild animals and all). The crew will certainly try to find some.
Suzie townsend
rented a vehicle
On our recent and amazing trip to Iceland, my boyfriend surprised me with my first ever helicopter ride. It was the best way to see an incredible country and we loved every minute of it. Reynir, the pilot, was very professional and competent with a great deal of knowledge about Iceland. Fridgeir, who organised everything and then acted as our guide, was charming. We can't thank you both enough for such a fabulous trip and we can't wait to come back!
Liv mather
rented a vehicle
I flew with Reykjavik Helicopters as a photographer. The experience was Excellent. We covered the whole south coast of Iceland.
Jon gustafsson
rented a vehicle
See my full review on Trip Advisor. But this company provides an amazing half day tour.
Lisa gokhulsingh
rented a vehicle
We dropped in on these guys last minute, our last day in Iceland and they were able to accommodate us - and what an amazing trip we took! The pilots were professionals but fun and super informative. I felt safe and well taken care of, and best of all my girlfriend and I have amazing vacation memories that will last a lifetime!
Jason olivero
rented a vehicle
My husband and I booked the Geothermal Adventure tour with Reykjavik Helicopters and we couldn't have been happier with our choice. Thorir, the Sales Rep we dealt with via email before the flight was quick and thorough in his responses. He also picked us up on the day of the flight and he was very friendly and efficient. David, the pilot, was also very friendly and knowledgeable, he pointed out many features of the landscape on the way and allowed us plenty of time at the stop to explore. We highly recommend this company to anyone looking for an amazing experience.
My girlfriend (fiance after the tour!) and I had a great time on the Reykjavik Summit tour. The team at Norðurflug was super helpful; our pilot Solveig was especially awesome. She's a very talented pilot and gave us a great tour of the city with a landing in a lava field and she even took some amazing photos of us.
Eric stevenson
rented a vehicle
the best team ever!!! and the best way to know Reikiavik
Marco samaniego
rented a vehicle
Great pilots, wonderful service, great team!
Mateus dressler de espíndola
rented a vehicle
Traumhafte Helikopter Rundflüge mit fantastischen Helikoptern. Freundlicher Service und einmalige Erlebnisse. Unbedingt zu empfehlen
Thorsten hansen
rented a vehicle
Artur jensson
rented a vehicle
A really interesting, self-guided tour amongst life-like models of these majestic creatures! Very informative and immersive. Great for adults and kids of all ages. Set in quite an industrial part of town, may need a map to find it!
Tree mccauley
rented a vehicle
The museum is great. It has full size replicas of the whales, you feel so small stood next to them. My son who is 5 loved it. Big open space to run around, very informative and educational. Would definitely recommend it.
Ayesha khaliq
rented a vehicle
Life size models of whales, family friendly. Audio guide is a must to fully experience this museum. A bit pricey for the short time you will be there.
Stephanie vranizan
rented a vehicle
Quick and pleasant. Definitely if you got kids. Friendly and helpful staff. If you do the hop on hop off it's one if the stops.
Jason murphy
rented a vehicle
What a wonderful tour!!! We highly recommend this amazing experience! Our knowledgeable and kind Captain and crew were so attentive and pleasant! We saw puffins, caught some Cod and then watched our Captain cook a scrumptious feast for us. Thank you again for these wonderful memories! Stéphanie
Stephanie doyle
rented a vehicle
A great trip. Fishing and Puffins. Family crew very knowledgeable. Professional and friendly from the outset. Loads of fish caught. And heaps released given we caught enough of a few different types to enjoy an amazing lunch. Would throughly recommend.
Brendan maher
rented a vehicle
Your guide and captain were lovely. Binoculars provided were very helpful. We had the poor luck of being the last Puffin tour of the season which means we hardly really saw any puffins. Most of them were gone. As a result we sailed to the two islands, checked out the area and pointed to the few puffins still hanging around and came back. Definitely would not recommend you do this in the last half of August.
Suzie townsend
rented a vehicle
Sympathetic Captain and crew Anna. Friendly atmosphere on board, a small group of guests. Beginners got a lot of help, so that really everyone caught some big fish: Cod, haddock, sea wolf... Every two minutes someone caught something. Afterwords delicious barbecue on board!
Abo voyage
rented a vehicle
Such a great day! We had so much fun and caught enough fish for everyone to take some home even after lunch. Got to see some puffins nesting on the way out. Both crew are very friendly and always helping so you can drop your line straight back in. 10/10!
Chris shoben
rented a vehicle
Within minutes of setting out we saw a humpback whale. It kept coming up and we had many views. So lucky. Saw masses of puffins sadly you need a long lens to photograph them.
Jacqueline james
rented a vehicle
We had an amazing trip with North Sailing in March and were lucky enough to see a pod of Orcas! Fantastic company would highly recommend! Can't wait to come back :)
Laura hooper
rented a vehicle
Excellent! We saw four different species, including a humpback feeding near the surface! The hot chocolate was a bit optimistic given the conditions though.
Sebb hathaway
rented a vehicle
Very friendly and well organized. Lovely sailboat, all around good atmosphere. We saw multiple whales.
Gondolf 20int
rented a vehicle
Great experience and super organisation. The staff is nice and prepared, during the excursion we have seen whales even if it is not the best month.
Claudio belleri
rented a vehicle
The guys on the Boat (Sven and Mar) are awesome. Even on a rough sea they find the whales. We had such a good day and a lot of luck to see as well a Minke-Whale right in front of the harbour. Go in guys, you do an awesome job on a unique boat.
Dirk benz
rented a vehicle
Lovely boat and crew. It's a shame that we didn't see any whales but there was still a lot to see on our trip
Adam peake
rented a vehicle
Es un yate muy grande.La tripulación es encantadora.Tienen bar y dos baños,y como es grande si pasas frío fuera puedes estar dentro sentado.Yo no pude ver ballenas(nadie te lo puede asegurar) pero sólo con la vista de la costa desde lejos y los pájaros estuvo genial,y más cuando ves al capitán con todo su entusiasmo buscar y buscar.Te recuerdan a cada momento que si no las ves vuelvas sin pagar de nuevo.No lo dudes, éste es tu sitio
Laura de la rosa
rented a vehicle
Wir haben heute einen wundervollen Nachmittag auf diesem tollen Schiff verbracht. Auf unserer knapp dreistündigen Tour haben wir Reykjavik vom Wasser aus gesehen und konnten eine Gruppe Delfine beobachten, die unser Schiff eine ganze Zeit lang begleiteten. Ein absolutes Highlight. Der Trip war sehr entspannend, auch deshalb weil hier im Gegensatz zu allen anderen Anbietern von Wal- und Delfinbeobachtungen nicht auf Massentourismus gesetzt wird, sondern das Erlebnis im Vordergrund steht. Gehen Sie ruhig die paar Meter weiter, vorbei an den Massenanbietern. Es lohnt sich bestimmt. Die Crew ist nett und auch einem netten Gespräch nicht abgeneigt, wobei man nochmal ein paar zusätzliche Informationen und Tipps für seinen Aufenthalt erhält. Alles in allem ein toller Nachmittag. Vielen Dank. Unbedingt empfehlenswert.
Christian richter
rented a vehicle
Már ívar henrysson
rented a vehicle
What a great way to see the power of mother earth, fascinating structures created by the lava. Ice stalatites and stalagmites were an unexpected surprise and the sparkling bacteria on the roof of the cave. Also never experienced darkness like it. Well worth a visit.
Lynsey gathercole
rented a vehicle
We had so much fun on this tour through the tunnel! Our guide was very knowledgeable. I consider this my favorite part of my trip! Would recommend to anyone!
Tracy hallo
rented a vehicle
The standard tour was a very enjoyable experience, and easy to walk. We also got to experience total darkness. The guide was good. My guess is the 'extreme' tour might be a little long and you get to see much of the same as with the standard tour. It's also a dead end so it's the same way back.
Vebjørn ohr
rented a vehicle
Great guide through the tunnel and an experience i will remember forever. Loved it a lot - if you go there, please remember to respect the tunnel and what is contained it in
Kyle brooker
rented a vehicle
Standard venue is short - maybe 500m of tunnel. The lava tunnel is very interesting including the guide man. His speach is full of facts said in interesting and funny way.
Rudolf pazdernaty
rented a vehicle
We had such a wonderful on our Thorsmork and Golden Circle tours! We were looking to go on small group tours and are so glad we went with Activity Iceland. On our Thorsmork tour their were 9 people total, including the guide, and on our Golden Circle tour it was just us and the guide. We are grateful they didn't cancel, because we experienced that with other tour companies when no one else was booked. We saw the coolest sites and everyone we talked to was so nice! If we ever go back to Iceland we will definitely book with them again!
Darden grubb
rented a vehicle
I booked the Þórsmörk tour from Activity Iceland and had an incredible time. Gisli, whom was my guide, was friendly and highly knowledgable about the area. Being in the Super Jeep and going through some of the glacier run-off rivers in Þórsmörk to some less accessible areas was a highlight of my trip. Definitely ask for Gisli when booking your tour.
Michael jenks
rented a vehicle
We are on the plane back to the US as I write this but I wanted to take the time to say thank you to Activity Iceland for a wonderful trip on Monday, September 10, 2018, when we took the Silver Circle Super Jeep Tour. Magnus was our guide, and I would recommend you request him. Magnus is a native Icelander who has been in the guiding business his entire life, and it shows. He is the real deal and although the vehicle and scenery were impressive having a guide like Magnus is what really made the trip. If you are contemplating another company just stop! Activity Iceland is the way to go, professional and they truly care about your experience you are not just another number.
Vanessa rice
rented a vehicle