Reviews for the Best Car Rentals in Iceland
The Best Rental Car Prices in Iceland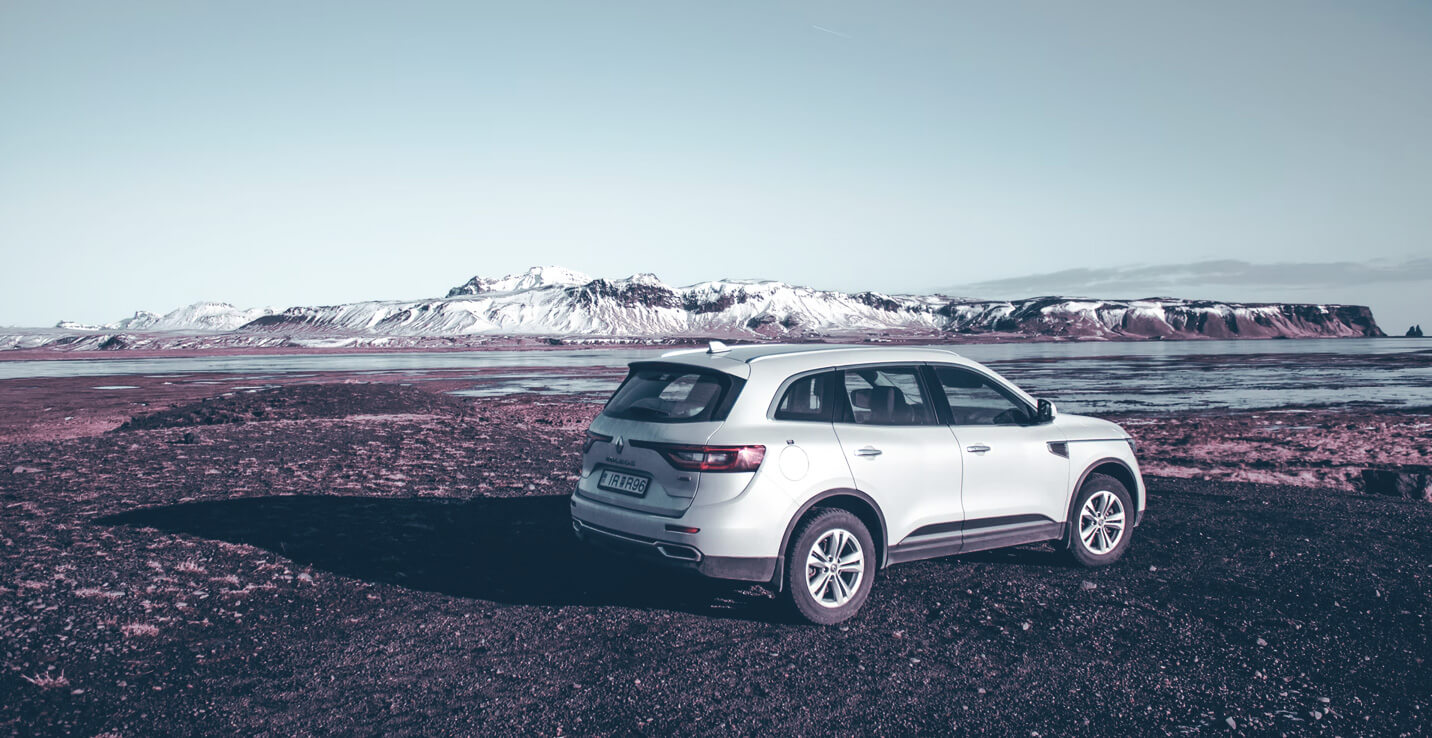 Reviews for all companies
Submitted 20. May 2019
Perfect!
Just a fantastic trip with Vala. I have spent a really good day with Vala and I am the only tourist with her. The glacier hiking is spectacular and all the waterfalls are amazing. Duthe supplier the tour, Vala told me a lot of things about Iceland, she made the tour so interesting.
Xiaokuny2018
rented a vehicle
Submitted 20. May 2019
Perfect!
My parnter and I visited Iceland for the first time recently and this was a real highlight of the trip. The ice cave is truly stunning, the staff are friendly and knowledgeable and the whole excursion was a lot of fun!
Rachbolt
rented a vehicle
Submitted 20. May 2019
Perfect!
The trip to Kayla glacier was amazing and one of the best days of our trip to Iceland. The off-road journey to the glacier was great fun and the cave itself was special. Our guide was knowledgeable and engaging and added to the experience! Would recommend this type of trip to anyone visiting the island!
Danlj3697ly
rented a vehicle
Submitted 20. May 2019
Perfect!
BEST TOUR EVER!!! I booked 2 tours with Troll and I COULD NOT BE HAPPIER! It was my partner's birthday trip and lucky me, I had chosen the BEST TOUR COMPANY! Initially, I was booked for a glacier walk + ice cave, but because of the windy weather, it was canceled on the day before. They suggested me Ice Cave by Katla and it was one of the best tours I ever been! The ice cave is big and pretty. We were lucky that our guide decides for taking us inside the cave after the "main cave". It was an adventure crawling on the floor in the dark and then sliding on the snow outside like kids. Amazing guide, a lot of information about all the nature over there and very fun/adventure tour. TOTALLY RECOMMEND AND I CAN'T WAIT TO GO AGAIN AND CHECK OTHER TOURS WITH TROLL. :)
Mayramarionn
rented a vehicle
Submitted 20. May 2019
Perfect!
We truly enjoyed this tour with my friends! We were staying in Vík for one night and were unsure of what tour to take from the area because we were not driving. We booked on Troll website. We were very surprised to be picked up by a supertruck. We felt VIP because we never do things so adventurous and fancy at all. Our guide was nice and hilarious! The views were unbelievable going there and we felt always safe. We received an email after the tour to check on us, which was very nice :) A completely VIP Experience organized by Troll
Camiar91
rented a vehicle
Submitted 20. May 2019
Perfect!
This trip was amazing! Trip lasted full day but because there was plenty of stops it flew in. Best stops were the supplier & gulfoss water fall. Our tour guide was Italian, can't remember his name unfortunately but he was great, very friendly & informative. Bus was also very comfortable & plenty leg room. Thank you for a great day!
Submitted 20. May 2019
Perfect!
This was an amazing tour of such spectacular scenery. It was great to be able to see the Golden Circle highlights and part of the south coast in one day. The Gray Line tour guide was excellent and the day was very well planned out.
Lindscc777
rented a vehicle
Submitted 20. May 2019
Perfect!
Best experience ever! This was an amazing experience. I had the best hot dog ever in Reykjavík. The selection of bars is perfect. From spicy cocktails, snaps and shark to the best dancing places, they definitely know how to have fun and how to make your visit unforgettable. Highly recommended!
Lizetteruiz
rented a vehicle
Submitted 20. May 2019
Outstanding!
My daughter and I booked this tour. Originally we were supposed to go on snowmobile, but the weather was not conducive. The company contacted us many times to give us options on tours and times and worked to book us on a classic tour, going up the a large ice vehicle. The experience was great. Our guide was very knowledgeable and what we learned about Icelandic glaciers and the geology of the area was fantastic. I would book this tour again if I came back with those that hadn't been to Iceland previously.
Katiek665
rented a vehicle
Submitted 20. May 2019
Outstanding!
Amazing experience Probably you make this tour just once in a life time. Nice and instructive. Clear explanations by nice guide.
Wageningen750
rented a vehicle
Submitted 20. May 2019
Perfect!
Into The Glacier was a great experience , we leaned a lot about a glacier to how they form and their purpose. It was great going on top of the Glacier and then going inside! I would highly recommend.
Jfriia86
rented a vehicle
Submitted 20. May 2019
Perfect!
Into The Glacier was a great experience , we leaned a lot about a glacier to how they form and their purpose. It was great going on top of the Glacier and then going inside! I would highly recommend.
Jfriia86
rented a vehicle
Submitted 20. May 2019
Outstanding!
A MUST-DO EXPERIENCE!! This was a once-in-a-lifetime tour that I personally think you CANNOT MISS!!! You can even get MARRIED THERE!!!! Who knew!!!???? You are taken care of from the min the tour begins to the very end. They supply you with warm gear if you are not quite dressed for the tour and provide boot covers to keep your feet warm. This in itself was brilliant because you don't always have the proper footwear and certainly don't want to continue your journey with anything wet. They were accommodating to a little girl who was getting some motion sickness as well. I cannot say enough about this tour! EXCELLENT!!!!!
Heather k
rented a vehicle
Submitted 20. May 2019
Perfect!
We did a puffin tour followed by a whale tour. There were a ton of puffins at the end of June and we could see them clearly on the island and flying past. Our guide was very knowledgeable, friendly and funny. For whales we got to see three of the four common types (didn't see a humpback whale). Almost all of the whales and dolphins end up near the front of the boat. The top front was packed so we braved the waves and went to the lower deck and had great views of the animals. The day we went out was calm and sunny so it was a delight to be on the water. I recommend this company and just know that you need to be in the front from the start and you will deal with pushy people.
Rachelr235
rented a vehicle
Submitted 30. May 2019
Outstanding!
Our group of five took an ice cave tour through Troll Expeditions in March. We had a wonderful time and our guide, Boris, was excellent. He answered all our questions and showed us the best spots to go for pictures. This tour was well priced compared to similar tours I saw online. I would highly recommend!
Alexandra abram
rented a vehicle
Submitted 30. May 2019
Perfect!
Awesome opportunity to see the land off the regular roads, learn about the region, land and the harsh volcano/glacier, and finally to see the amazing creation of nature carved in the massive ice of the glacier. The company of an experienced guide with deep knowledge and skills adds a great amount of value to any trip. Definitely recommended
Michal masek
rented a vehicle
Submitted 30. May 2019
Outstanding!
Thanks to Sarah for a great hike and climb. Our younger kids had a blast climbing the ice walls. What a wonderful guide, thanks for the memories.
K nichols
rented a vehicle
Submitted 30. May 2019
Outstanding!
We took a day tour of Snaefellsnes. We had a small group (12 people), and very funny tour guide/bus driver - Victor. Very beautiful locales, and incredible views. Weather was great, and we could see icecaps and glaciers in the distance. The trip covers alot of distances, and be ready to do some climbing and lots of walking to fully enjoy the tour. Highly recommended it.
Ariel tamayev
rented a vehicle
Submitted 30. May 2019
Outstanding!
We did the Crystal Blue Ice Cave | Super Jeep from Jökulsárlón. We went January 10, 2019. It was amazing. The tour guide (can't remember his name) was wonderful and very funny. We booked through Iceland Advice and received 10% off. Just be aware that it is not exactly like the photos. You don't go deep into an ice cave. At least not on the tour we went on. Maybe call Troll directly and see if they have a specific tour like that. Nonetheless it was gorgeous. See pictures below. Also if you're claustrophobic beware. There is a portion where you explore into the ice through a very narrow path.
Sheldor e
rented a vehicle
Submitted 30. May 2019
Perfect!
Recommended!!! My friends and me chose to visit iceland for a photographic travel. We couldn't skip the glacier hike! It was an astonishing experience thanks to the guidance of troll Expeditions team! I will never forget this incredible experience.. We walked on the glacier, looking for caves and listening to Siggie (the super guide) telling us all the curiosities about the glacier story and how Icelandics live this beautiful country! I strongly suggest you to reserve one of the expeditions they provide! You won't regret it at all! Last but not least, you don't have to bthe supplier special tools, cause they can give you all you need.
Nicoletta boscarelli
rented a vehicle
Enjoyed the golden circle and south coast tours with "your day tours" at the end of March. Both Kevin and Oscar provided stacks of information and humour throughout the days. The tours were so much more enjoyable on a minibus rather than a large coach. We got to places more quickly, it didn't take as long for everyone to get on/off and the itinerary could be changed depending on the time available. Both hosts (NOT drivers - they were SO much more than that) used every available minute to ensure we got the most from the trip. We never felt rushed at any of the stops and the local food and drink samples were a great little extra treat! I would strongly recommend anyone wishing to book an excursion to book with this great little company. May it go from strength to strength - without changing too much!
Bev wiseman
rented a vehicle
We just got back from the golden circle tour from our hotel in Reykjavik. We were picked up on time and greeted by the very funny Kevin. Kevin told us about the training he'd done for rescues and it was apparent when he drove us through a storm! He kept us entertained the whole way and was very informative at the different points of interest. They even gave us some Icelandic delicacies and music to get a real feel of the culture. Would definitely book with them again! A very safe bet. Thanks guys
We had two tours with Your Day Tours. Both days were great, our guides Kevin and Al were informative, good fun and Kevin did a fantastic job driving through a storm. Pick up was so convenient, right outside our door. Excellent way to get a sense of what Iceland has to offer, highly recommended.
Kath glock
rented a vehicle
Our tour guide was friendly and funny, as well as being informative. I had an excellent time, and would definitely recommend this to anyone visiting Iceland.
Keara murray
rented a vehicle
Thoroughly recommend this tour company. Highly professional and great staff. Golden Circle tour was good and interesting, with many stops to see the beautiful scenery. Highlights were the geysers, walking through the chasm created by the tectonic plates (the only place in the world that you can actually do this!) and also the Icelandic horses and sheep. The minibuses were very comfortable and they only hold 18 people, so the group was small. I also really enjoyed the Icelandic music!
Andy bruce
rented a vehicle
This is truly a once in a lifetime opportunity. The hike wasn't too bad even with the cold windy rain. We were welcomed by staff at base camp with water, coffee, and hot chocolate! We made our decent and it was truly beautiful. Afterwards we were served some delicious soup before heading back to our departure location. The cost is a little high in my honest opinion, other than that thoroughly enjoyed my experience.
Chris caslake
rented a vehicle
You'll pay an arm and a leg for this and it's worth every penny. It's a nice, casual two mile walk from base to the volcano. We went mid-September and were lucky enough to get some sunshine on our walk. We were also lucky enough to meet their local fox pup who had made his home at the top of the volcano. Once at the top, you'll descend for about five minutes. Once inside... It's incredible. Pictures cannot describe it. This must be seen in person. It's a once in a lifetime experience. After about 30 minutes, you ascend from the belly of the beast and go for some hot soup. Again, they charge an arm and a leg... Worth it.
Lloyd mullen
rented a vehicle
Worth the investment! As far as I know, there's nowhere else on earth like this. Just breathtaking. The fresh lamb soup at the end is a nice touch. This is a once in a lifetime opportunity.
Paul czubryt
rented a vehicle
Worth the price, very unique experience to get lowered into a volcano. If you're thinking about it, just do it. We went at the tail end of the season and the hike was slushy and a little rougher than I imagined it should have been. Definitely worth dressing warm for.
Tony nunn
rented a vehicle
Fun tour and explanations of what we were looking at. Be prepared for a bit of a hike. 3km each way. Mostly flat until the base of the volcano and then a short, semi step climb to the lift that lowers you down into the volcano about 400 meters. Was fairly cold down inside. Dress warm.
Mark valentine
rented a vehicle
My girlfriend and I took the trip up at the end of April. Even though our tour was filled, Tina (our guide) did a fantastic job making us each feel welcome and maximizing our time to and from the glacier site, as well as our time within the glacier itself. Definitely worth the price tag if you have half a day!
Steven griffin
rented a vehicle
Amazing experience. Totally unique and enjoyable. Kids (2 and 6) loved it also.
Paul betteridge
rented a vehicle
So amazing! Worth the money. Definitely dress warmly though, you're in ice. Definitely one of the coolest things I've ever done. And our guide Bear (or God Bear as his name translates to) was so informative. Really knew what he was talking about.
Cassie diceman
rented a vehicle
Everything about this trip is awesome - from the NATO middle carrier which you travel up to the glacier in, to the fascinating and slightly surreal experience of being tens of metres underneath the surface of a glacier. If you are lucky, the views from to the top are absolutely amazing too. The guides speak extremely good English and are clearly very passionate about their jobs.
Travis bramley
rented a vehicle
Great fun for the whole family. Professional and very friendly guides. I would recommend this experience to both locals and people visiting Iceland. My kids had an awesome time.
Asgeir hoskuldsson
rented a vehicle
Great Adventure! Beautiful views! Nice experience! Super friendly staff
Ekaterina maximova
rented a vehicle
Really enjoyed it! Reuben is a great guide, very chilled out. Would definitely recommend doing this. Perfect if you go in the evening when it's bright if your tour in the morning finishes early. Or if you go to the blue lagoon for one half of the day and this for the other half as the location is just 5 minutes away and they pick you up. Thanks again!
Maurice dunne
rented a vehicle
Absolutely amazing. We were made to feel very welcome, we saw some amazing sights. Absolutely the best thing we've done while we've been here.
Mazzie cain
rented a vehicle
Awesome! My wife and 8 year son (sitting in the back) loved it! :-)
Gunnar steingrímsson
rented a vehicle
Very easy, no fuss. Equipment worked great. Scenery was unreal in terms of beauty. Staff were extremely knowledgeable and friendly and fun
Cody buchanan
rented a vehicle
I recently took 2 tours with Bustravel Iceland. I'd give 1 star for the Northern Lights tour, and 5 stars for the Golden Circle tour - so I'm giving them a 3 overall. I booked the Premium Northern Lights tour for the evening of 30 January 2019. We drove out to the national park, and after looking at an unimpressive grey glow along the horizon (not terribly different from the light pollution coming from Reykjavik), our guide decided that though it was technically the northern lights, it was not good enough to be considered "legal" lights, and so we could re-book. We stopped on our way back at our initial stop, and the light was marginally better - we briefly saw a flattened "U" on the horizon. We stopped once more on our way back to town, but no luck there. Because of the slightly better lights on our third stop, our guide decided that we had now technically seen enough northern lights activity that we were no longer eligible to re-book. I agree with the other folks on the bus whose first words on our departure were "unlucky". I understand that we were out to see a natural phenomenon, and so can't count on anything, but more so felt unlucky that the bar was set so low that we weren't able to try again. I would try with another tour operator for the Northern Lights. On the other hand, I did the Golden Circle Tour with guide "Snow" yesterday, and he was excellent. I would highly recommend that trip, and cross your fingers that your guide is Snow!
Heather smith
rented a vehicle
Matthew and Lucas is a amazing pair of tour guide for our Southern Tour. Super engaging and he equipped us with local knowledge, forklores, many many fun facts and jokes. He also took many beautiful pictures for us. We couldn't ask for a better guide. Matthew is definitely one of the best Tour guide I ever experienced in my many years of traveling. Continue the good job, Matthew and Lucas! Thank you for making our trip so enjoyable!
James li
rented a vehicle
We took the Grand Golden Circle tour. Simply excellent, with our funny and knowledgeable tour guide Rokkvi. Staff were very nice, and we recieved a lot of information about the places we stopped, and several different stories about other things as well. Highly recommended
Teitur vestergaard
rented a vehicle
Booked 3 tours with them (golden circle, southern island and northern lights). Booking was easy, pickup was well organized and tours were great. Also the tour guides were really nice and had a lot to tell. Can really recommend them!
Felix frantzmann
rented a vehicle
I went on both whale-watching and northern lights tours. Their boats are spacious and comfortable, so even if there is a lot of people you do not really feel it. They also provide pills in case you feel sick on the sea, and my guides were nice and willing to explain any facts and answer any questions!
Eduard fraile
rented a vehicle
Great experience. We saw dolphins and whales. Very environmentally conscious. We were hoping to see some puffins.
Shaun cooney
rented a vehicle
We used this service for their Northern Lights tour and was lucky to see one of their best shows this winter. So informative for the couple of hours we were out there the staff were constantly telling us new information about the lights and Iceland. We might be biased because we saw such an amazing show but I would really recommend this company for Northern Lights tours!
Rosie springett
rented a vehicle
Excellent! Very knowledgeable guide, she gave us lots of in depth information about the whales, as well as what they do to conserve and study them. I felt very safe for the whole duration of the trip. The boat was very sturdy and I felt the captain was in full control of the vessel. We were incredibly lucky that day as there were quite a few whale, porpoise and minke sightings! It was very exciting!
Railey bailey
rented a vehicle
The best company to go whale watching. We've been in March and the weather was amazing. Megan was our guide for the day. I couldn't have asked for a better guide. She knew so much about Iceland and the ocean and the animals it was so interesting to listen to her. Very well organized trip. We actually saw whales! But even if we didn't, I would totally recommend this company for you trip!
Dany mii
rented a vehicle
Very nice and frendly horsefarm, i can recomend anyone to go on tour with Eldhestar
Christer alexandersson
rented a vehicle