Recensioni per le Migliori Auto a Noleggio in Islanda
I prezzi migliori dei noleggi auto in Islanda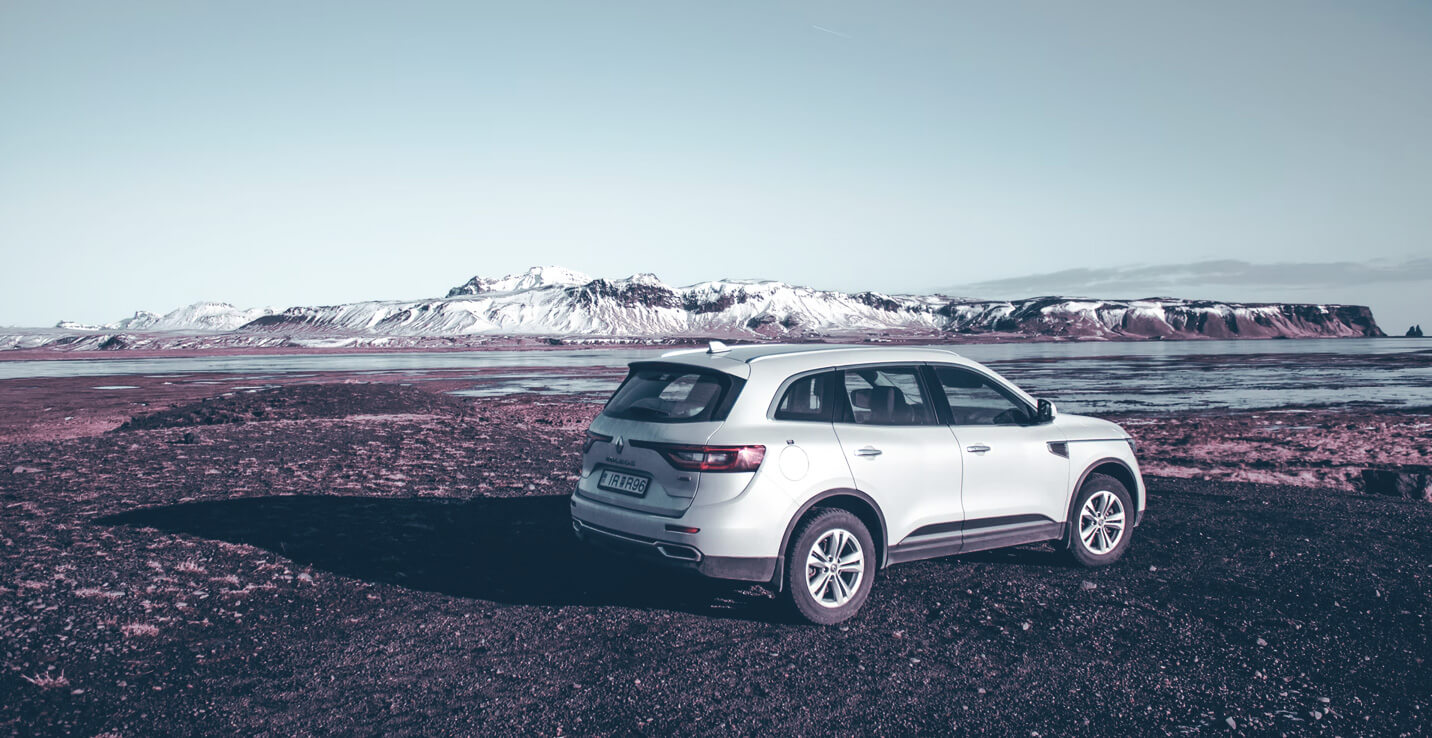 Recensioni per tutte le aziende
Submitted 18. Aug 2016
Unreal experience
I'm trying desperately to figure out the right words to say but the one thing that pops to mind is that this tour is an unreal experience within an aldready unreal country. Booked the tour through Northbound and everything went perfectly from A to Z.
Deborah lopez
rented a vehicle
Submitted 19. Sep 2016
Good
A funny and nice experience in iceland! If I have more time, I would like to participate longer tour like 5hrs or more to hike on glacier.
Submitted 21. Sep 2016
Outstanding!
A brilliant tour with a very polite,knowledgable and humorous guy. Excellent price and service. I will not hesitate to recommend Northbound to anybody I know who will be visiting Iceland.Many thanks Martin Holt uk
Submitted 14. Oct 2016
Highlight of our trip!
This was the a highlight of our trip! My teenage daughters and I loved it and I think it would be loved by boys and men as well. We were in port on a Disney Cruise and there seemed to be a lack of excursions for boys so I would highly recommend this one.

Kristjan provided all safety gear and helmets so we just needed to wear comfy clothes and socks underneath. He breeds Icelandic horses so he told us a bit about this and we could view the horses before gearing up. He led us up the mountain and we stopped at various places of interest.

Even though it was too foggy to see the view at the top and a bit rainy, we had a blast splashing through water and viewing the scenery. Though it's late at night, it's completely light out and Kristjan took us to a lower hill with a view of our cruise ship. There we could see the Midnight Sun and the spectacular view of a capital city with so much open land and beauty. It was so fun and amazing!
Robin meltvedt
rented a vehicle
Submitted 21. Feb 2017
Good
I got an awesome experience with Arctic Adventures! The snorkeling is just unbelivably and breathtaking. But I would recommend it to anyone to rent a car and drive around iceland, because the tours are more expensive than a car and you don't have as much time as you want at one place!
Submitted 03. Mar 2017
Outstanding!
Everything worked well, even the refund for a cancalled tour because of the weather worked well and fast...!
Submitted 03. Mar 2017
Outstanding!
The guide and the bus driver were nice and good. We were able to see the northern lights... Wonderful!
Submitted 05. Mar 2017
Outstanding!
It was cancelled due to a large storm that morning. The manager was very apologetic and we were given the option of an atv tour or refund. Although we were disappointed we know the weather can't be controlled (especially in Iceland!!!) The day manager made it very easy and simple to receive a refund and we carried on with our tour. The rest of the tour was fantastic!!! The driver was great and the guide was informative and funny.
Submitted 11. Mar 2017
Outstanding!
Submitted 23. May 2017
Good
General experience was just ok. There was nothing that special about the tour, and as educated as our 20 year old tour guide was, he didn't know a great deal about Iceland's history with beer.
Submitted 29. May 2017
Outstanding!
It was a SUPER experience!!! We've seen several whales, very close and lots of puffins. Very well organized!
Submitted 29. May 2017
Outstanding!
Totally top! Beautiful to be on and learn about the ice, nice to learn about walking on crampons and beautifull ice for taking pictures
Submitted 14. Jun 2017
Fine
Over an hour was spent picking up people...some didn't show so the driver Viktor had to go back again to pick people up. Viktor was very nice and friendly but he is not a good driver - drove way too fast, was constantly checking his phone. He made me and several others very nervous!! The planning seemed off - we went to the Hidden Lagoon first. Had almost 2 hours there...when we got to the geysers we had 2 hours there...and the frustration was when we got to the beautiful waterfalls, we had 20 minutes!!!!! It didn't make sense...the geyers should have been an hour...and at least an hour at the waterfall.
Submitted 15. Jun 2017
Outstanding!
Our experience on our ATV tour was excellent!!

We were so very happy with our tour guide who made the experience fun while still educating us on interesting facts along our tour and even shared some suggestions for where we should go next.

We took MANY pictures along the way and would be happy to share.

I would definitely recommend this experience to a friend. We had a lot of fun and definitely got wet wet, but the cold is easily mitigated by the suits and gloves.
Submitted 18. Jun 2017
Enjoyed all of the amazing sights. Secret Lagoon was a good experience - a natural pool in a thermal area and uncrowded. There was a viewing walkway surrounding the lagoon , even could see a very small geyser while bathing. Disappointed that there was no information shared re: history, culture, geology ( i.e. it wasn't a guided tour) - driver only drove the mini van which was not in good condition ((broken entry step, worn interior/exterior). Too much time was allotted at Geysir ( 2 1/2 hours) and not enough time at Gullfoss ( 1/2 hour). Recommend this itinerary but with another vendor.
Submitted 18. Jul 2017
Outstanding!
Excellent, and I would like to try some more new excursions next time I visit Iceland!
Submitted 09. Oct 2017
Outstanding!
The owner was very friendly. My 2 friends and I were the only persons who booked the tour. so we get a private tour. It was great. Our guide kiddi was really friendly. So we feel very comfortable and save on the ice. We trust him at the first time. It was a great experience.
Submitted 29. May 2018
Outstanding!
This little excursion was a ton of fun. Fjallsárlón is sublime and beautiful and the tour guide was fantastic. The facilities at the "base camp" are clean and modern, with fresh food offerings. Parking is ample.
Submitted 25. Jun 2018
Outstanding!
Great! Easy to use and a great service.
Submitted 03. Jul 2018
Outstanding!
Excellent
Submitted 10. Jul 2018
Excellent
It was great to see whales! It was frustrating to have so many people on board as we couldn't see all the whales,depending on which side of the boat we were on. The snack didn't seem necessary and time would be better spent seeking whales a few minutes longer in my opinion. It was well organized and the overalls helped with warmth. The speaker was well informed but it was hard to hear frequently so I only caught a portion of his good information.
Submitted 15. Jul 2018
Outstanding!
Submitted 25. Jul 2018
Outstanding!
We had an excellent tour guide- Kathi - who was very accommodating and made sure we were back to the airport in plenty of time while still fitting in everything possible in our tour. Although the weather was quite cold and rainy, Kathi made it a cheery day with gorgeous scenery and interesting commentary. I am looking forward to my next visit to Iceland and will recommend Reykjanes Tours!
Submitted 18. Sep 2018
Outstanding!
Really nice, we both fall in love with the Icelandic horses. The hiking was incredible, we were lucky to have a sunny day and the guide that went with us was really nice. I would definitely recommend Eldhestar for anyone who wants to experience riding an Icelandic horse. For hiking you really need to be in good shape, you will walk a mountain!!! (Totally worth it, reaching the end is a huge experience)
Submitted 16. May 2019
Perfect!
Everyone should go see the Aurora museum and you will find the nicest people there. Very helpful and knowledgeable. The place offers you free hot drinks and information on the Northern Lights. very educational for children and adults. fascinating facts and the best part is you are shown how to set your camera then practise using it to take photos in a specially prepared booth. it was hard to find but well worth a visit. maybe on the tickets they could have simple directions as many visitors couldn't find it and we gave them directions to get there. it was a free entry with the Aurora sight trip so well worth it. Maybe have information in hotels directing visitors to it?
Debbie g
rented a vehicle
Submitted 16. May 2019
Outstanding!
Having failed to see the real thing the previous evening, we were very interested to see what we had missed. The whole exhibition was well laid out with excellent displays and photographs. Free coffe, what's not to like?
Usyorkies
rented a vehicle
Submitted 16. May 2019
Perfect!
Very informative presentation and an interesting place unfortunately we didn't see the aurora as the sky was too cloudy but this presentation made up for it. Well worth a visit.
Wildthing100
rented a vehicle
Submitted 17. May 2019
Outstanding!
Me and my wife stopped 2 days in Reykjavik during a cruise. Puffin watching was on my bucket list so I did not want to miss this opportunity. We booked tickets as soon as we got down from our cruise liner from the Tourist information centre and immediately got the shuttle bus to Reykjavik Old Port where we validated our tickets at the Elding Whale Watching Company Office and headed for the boat since boarding time was 10.00am. The cruise only took about 20 minutes and we were soon circling this small Island. We were very lucky to see hundreds of these beautiful Puffins, along with other seabirds hustling and bustling to and fro with mouthfuls of herring for their little ones in their burrow nests. We spent around 40 minutes watching these amazing unique sea birds before we cruised back to the Port. Wonderful experience not to be missed. The excursion was very informative and exceeded our expectation. Amazing experience!!!!!!
Dlionking
rented a vehicle
Submitted 17. May 2019
Perfect!
The Elding Puffin Watching tour far exceeded any expectations I had. Mike, the boat captain, and Rodrigo, our guide, were so personable and knowledgable. We had plenty of time to view, watch and enjoy the adorable birds. Rodrigo was full of interesting facts and information, all the while snapping photos with his professional camera and lens. At the end of the tour, he shared their website to request copies, and the photos were the icing on the cake. Look no further for your amazing adventure!
Lelhardt
rented a vehicle
Submitted 17. May 2019
Perfect!
We booked this tour mainly because one of our children is obsessed with penguins and puffins and this was the #1 thing she wanted to do. The tour was wonderful. Despite it being late in the season to view puffins, we saw hundreds. Mia, our guide, was great and the boat got us really close to the island where we could see puffins, arctic terns, gulls, and other birds. I HIGHLY recommend this tour.
Journey857
rented a vehicle
Submitted 17. May 2019
Perfect!
We thought we would never see the northern lights during our trip because of bad weather, but we booked the tour the day of our arrival for the coming night as the weather changed for a clear sky. And we did good.
The tour was very pleasant with a very good and funny guide (and a kind driver). They drove us to Þingvellir where the lights appeared quasi immediatly. Amazing experience.
Fabienfeub
rented a vehicle
Submitted 17. May 2019
Good
The night we had booked this tour was cloudy and we spent nearly 6 hours in the coach trying to find clear skies. Got back to the hotel at nearly 3am! We were all exhausted. Said we could rebook as we didn't see the lights. I emailed them and we were booked the following night. Unfortunately one of our party was too exhausted to go due to the late night before. There were clear skies and the northern lights were visible (it was a shame one person missed it though). I don't think they should take you out if it's cloudy because there is no way you will see the lights and driving round for hours on a stuffy coach in the pitch black is no fun. However there were no problems rebooking.
Jackiestanding1
rented a vehicle
Submitted 17. May 2019
Perfect!
Very pleased with the service we received from BusTravel. If you don't see the NorthernLights on your tour, you can rebook for free for any other night over the next 3 years (should you be revisiting Iceland!) - we went out 3 nights in a row and finally last night saw the most awesome display imaginable. Worth all the late nights for the end result. Our guide Chiara also took professional pictures which were emailed to us for free after the tour. All the guides were very knowledgeable and the free Icelandic hot chocolate and doughnuts just add to the excitement! The most amazing sight you could imagine.
Charlotte m
rented a vehicle
Submitted 17. May 2019
Outstanding!
We had a brilliant time in May with these guys hiking on the glacier. The weather was great and our guide Ryan was a very funny and smart guy. He knew everything about the glacier and answered all of our questions!
Really great tour and super easy climb which i was happy about. Didn't last too long either so it wasn't drawn out. Highly recommended.
Aimeebannister2016
rented a vehicle
Submitted 17. May 2019
Perfect!
Finished up the Three hour hike yesterday. Ryan and Roggi (no idea if that is spelled correctly) were great. Guides were very well informed and shared a lot of great information on the glacier. I was here a few years ago and went with another outfit on another tour and this one was much better. It was a very short drive and hike to the glacier, I was surprised how high up we went.
Houston823
rented a vehicle
Submitted 17. May 2019
Perfect!
We are glad to have such an amazing experience in Iceland, the glacier hiking was fun, and our guide Deividas is knowledgeable and funny, we highly recommend him and Troll expeditions :)
Janet970922
rented a vehicle
Submitted 17. May 2019
Perfect!
Awesome experience. Our guide Carolina was a lot of fun and very knowledgeable about the glacier environment and associated geology. Recommend this as a must to do activity. It is normally quite cold so one should layer up.
Vikash k
rented a vehicle
Submitted 17. May 2019
Perfect!
We spent a couple of days in Iceland doing all of the touristy things, including the blue lagoon and this glacier hike was the coolest! Our guide Stella was so precious! She was so sweet, informative and a total bad ass. Definitely worth the money and the million dollar views will take your breath away. Definitely recommend!
Owensodyssey
rented a vehicle
Submitted 17. May 2019
Outstanding!
We pleased to have Michael as our tour guide to this beautiful glacier walk.
You don't have to be an expert mountaineer to follow the group. Everything is done in an easy and nice way. Worth every penny. Our guide, Michael, was super explanatory, highly educated, providing interesting information about geological formations. Consider also in plus his bilingual aptitude, guiding simultaneously in English and in French.
Gr_globetrotter
rented a vehicle
Submitted 17. May 2019
Perfect!
Few weeks ago my boyfriend and I went for the first time in our life to see and walk on the glacier. We were lucky to have had wonderful weather, sunny and without wind, so we gladly exposed our faces to sun and enjoyed beautiful view. Our guides explained how to walk on the ice and told us many interesting things about glaciers, volcanos and Iceland in general. The ice on the top looks amazing, smooth, a little bit blue and is very slippery, but thanks to good equipment we were given, walking on it wasn't very difficult. For me the best part was climbing the vertical ice-wall. It was quite challenging... :o The day was full of new experiences and we had a great time! Walking on the glacier is really fun! Big hug to our awesome guides, Kasia and Sigurpáll. Thank you so much, guys :)
Submitted 17. May 2019
Perfect!
We had a great time and we saw so many humpback whales. The tour was nice and we did not bother the whales by remaining quiet and not getting in their way. Extremely recommended :)
Submitted 17. May 2019
Outstanding!
We took a trip with our 8-year-old daughter to see the Golden Circle from Reykjavik. Our guide was friendly and very knowledgeable - he took us to some added surprise places too. The music on the bus was another plus as it fitted well with the beautiful landscapes. And the amount of time we spent at each location was more than sufficient. I'd recommend this company for any family with young kids.
Shahabj71
rented a vehicle
Submitted 17. May 2019
Outstanding!
This was third tour operator we were booked through Guide to Iceland. Our day tour of the Golden Circle was beautiful, but not as incredible as South Coast or Akureyri (Northern Iceland). I only say this if your time is limited to three full days. We had four so the Golden Circle tour is a bonus.

Our guide Saf was exceptionally knowledgeable and helpful. Their van was brand new.

By the way, wi-fi works great on all the tour company vans.

Make sure you ask to stop at local farm for the ice-cream....they'll know exactly where.

Also, if you want a truly authentic Iceland wool hat, gloves or sweater, ask to stop at working farm. Owner, with friends, weave their own and they are beautiful.

Wish we spent more time in Þingvellir National Park.
Pa-pathfinder
rented a vehicle
Submitted 17. May 2019
Good
Lots of helpful advice and good information provided by Gusti, (along with his choice of Icelandic music) Being a smaller group did make it easier to fit site seeing stops around some of the bigger tourbuses. The brief stop with the Icelandic horses and sheep was lovely extra. Not wanting to drive, this was a great way of meeting others and getting to around the country with the bonus of information being given when appropriate. Great day
Sheila h
rented a vehicle
Submitted 17. May 2019
Outstanding!
This tour was brilliant, Oskar was a fab guide. I did quite a lot of research before deciding which company to book with and I'm so glad we chose this one. Oskar was funny, friendly and very knowledgeable. He took us to a number of additional stops, all of which were great. The little extras made it extra special and I can't recommend this tour and company enough.
48claireh
rented a vehicle
Submitted 20. May 2019
Perfect!
It is a great museum to get a good idea about the whales that pass Island. Our guide CLAIRE was fantastic - thank you very much for your great explanations. Best wishes, Frank and Sandra, Düsseldorf, Germany
Fschaffran
rented a vehicle
Submitted 20. May 2019
Good
We visited Whales of Iceland and thoroughly enjoyed it. The audio guide describing the life size models was very interesting. It was great to get to see the size of the whales as it is difficult to imagine how large they are. The cafe was very reasonably priced and the hot chocolate was delicious.
Wander814108
rented a vehicle
Submitted 20. May 2019
Outstanding!
Of course Jokulsarlon is spectacularly beautiful - but, if you want spectacular beauty as well as peace, this is the place to come to. There are very few people at this glacier lagoon (unlike Jokulsarlon), so you can really immerse yourself in the beauty of a glacier lagoon. The day we were there, there were lots of icebergs floating in the lagoon. The young people in charge of the zodiac trip were very professional and very charming. Moreover, it turns out they are members of the extended family that owns the land. During our boat trip, which gave us amazing views of icebergs, glaciers, and distant peaks, they told us about their grandmother who lived there at a time when there were no roads to the cities, so people crossed large streams on strong horses to get supplies. The trip was very memorable all around, one of the highlights of our 14 day trip to Iceland. Not to be missed if you have a day in the area! Plus it is easy to get to - about 10 min west of Jokulsarlon by car and 40 min east of the National Park visitor center at Skaftafell. Just a few minutes of driving on a dirt road (turn left at the fork). We also recommend the Fjallsarlon to Breidarlon hike.
I_dream_of_iceland
rented a vehicle
Submitted 20. May 2019
Perfect!
This trip gives a great insight into glaciers and the scenery is dramatic and spectacular. You get very close to the glacier and many of the icebergs floating in the lagoon. Our guide Joao made the tour very interesting. They gear you up in a really warm coat and life jacket. Wear gloves and a hat!
Submitted 20. May 2019
Perfect!
This boat tour is not to be missed if you re in the area. Very knowledgeable guides. Gets you very close to the glacier and the icebergs in the lagoon. Left us in awe.
Basmaberti
rented a vehicle