Recensioni per le Migliori Auto a Noleggio in Islanda
I prezzi migliori dei noleggi auto in Islanda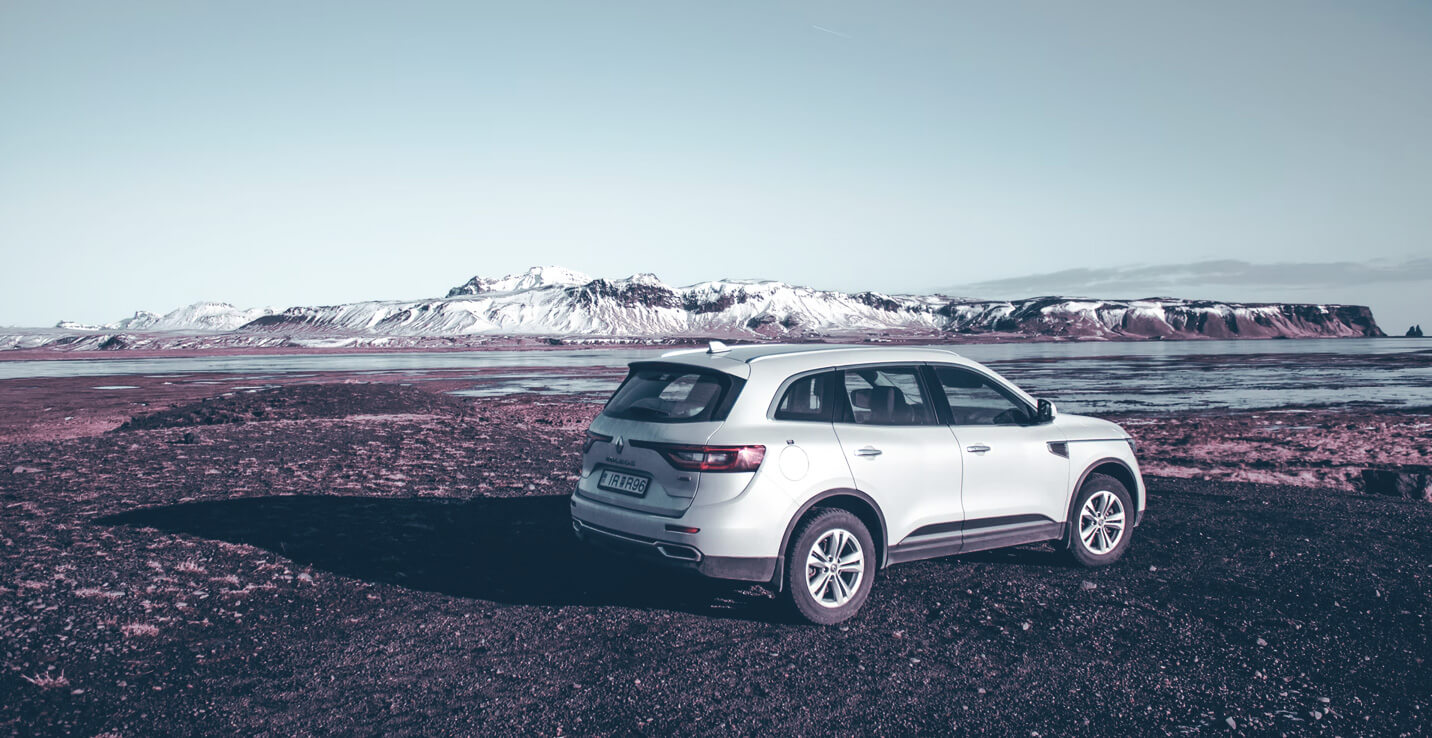 Recensioni per tutte le aziende
Worth the investment! As far as I know, there's nowhere else on earth like this. Just breathtaking. The fresh lamb soup at the end is a nice touch. This is a once in a lifetime opportunity.
Paul czubryt
rented a vehicle
Worth the price, very unique experience to get lowered into a volcano. If you're thinking about it, just do it. We went at the tail end of the season and the hike was slushy and a little rougher than I imagined it should have been. Definitely worth dressing warm for.
Tony nunn
rented a vehicle
Fun tour and explanations of what we were looking at. Be prepared for a bit of a hike. 3km each way. Mostly flat until the base of the volcano and then a short, semi step climb to the lift that lowers you down into the volcano about 400 meters. Was fairly cold down inside. Dress warm.
Mark valentine
rented a vehicle
My girlfriend and I took the trip up at the end of April. Even though our tour was filled, Tina (our guide) did a fantastic job making us each feel welcome and maximizing our time to and from the glacier site, as well as our time within the glacier itself. Definitely worth the price tag if you have half a day!
Steven griffin
rented a vehicle
Amazing experience. Totally unique and enjoyable. Kids (2 and 6) loved it also.
Paul betteridge
rented a vehicle
So amazing! Worth the money. Definitely dress warmly though, you're in ice. Definitely one of the coolest things I've ever done. And our guide Bear (or God Bear as his name translates to) was so informative. Really knew what he was talking about.
Cassie diceman
rented a vehicle
Everything about this trip is awesome - from the NATO middle carrier which you travel up to the glacier in, to the fascinating and slightly surreal experience of being tens of metres underneath the surface of a glacier. If you are lucky, the views from to the top are absolutely amazing too. The guides speak extremely good English and are clearly very passionate about their jobs.
Travis bramley
rented a vehicle
Great fun for the whole family. Professional and very friendly guides. I would recommend this experience to both locals and people visiting Iceland. My kids had an awesome time.
Asgeir hoskuldsson
rented a vehicle
Great Adventure! Beautiful views! Nice experience! Super friendly staff
Ekaterina maximova
rented a vehicle
Really enjoyed it! Reuben is a great guide, very chilled out. Would definitely recommend doing this. Perfect if you go in the evening when it's bright if your tour in the morning finishes early. Or if you go to the blue lagoon for one half of the day and this for the other half as the location is just 5 minutes away and they pick you up. Thanks again!
Maurice dunne
rented a vehicle
Absolutely amazing. We were made to feel very welcome, we saw some amazing sights. Absolutely the best thing we've done while we've been here.
Mazzie cain
rented a vehicle
Awesome! My wife and 8 year son (sitting in the back) loved it! :-)
Gunnar steingrímsson
rented a vehicle
Very easy, no fuss. Equipment worked great. Scenery was unreal in terms of beauty. Staff were extremely knowledgeable and friendly and fun
Cody buchanan
rented a vehicle
I recently took 2 tours with Bustravel Iceland. I'd give 1 star for the Northern Lights tour, and 5 stars for the Golden Circle tour - so I'm giving them a 3 overall.

I booked the Premium Northern Lights tour for the evening of 30 January 2019. We drove out to the national park, and after looking at an unimpressive grey glow along the horizon (not terribly different from the light pollution coming from Reykjavik), our guide decided that though it was technically the northern lights, it was not good enough to be considered "legal" lights, and so we could re-book. We stopped on our way back at our initial stop, and the light was marginally better - we briefly saw a flattened "U" on the horizon. We stopped once more on our way back to town, but no luck there. Because of the slightly better lights on our third stop, our guide decided that we had now technically seen enough northern lights activity that we were no longer eligible to re-book. I agree with the other folks on the bus whose first words on our departure were "unlucky". I understand that we were out to see a natural phenomenon, and so can't count on anything, but more so felt unlucky that the bar was set so low that we weren't able to try again. I would try with another tour operator for the Northern Lights.

On the other hand, I did the Golden Circle Tour with guide "Snow" yesterday, and he was excellent. I would highly recommend that trip, and cross your fingers that your guide is Snow!
Heather smith
rented a vehicle
Matthew and Lucas is a amazing pair of tour guide for our Southern Tour. Super engaging and he equipped us with local knowledge, forklores, many many fun facts and jokes. He also took many beautiful pictures for us. We couldn't ask for a better guide. Matthew is definitely one of the best Tour guide I ever experienced in my many years of traveling. Continue the good job, Matthew and Lucas! Thank you for making our trip so enjoyable!
James li
rented a vehicle
We took the Grand Golden Circle tour. Simply excellent, with our funny and knowledgeable tour guide Rokkvi. Staff were very nice, and we recieved a lot of information about the places we stopped, and several different stories about other things as well. Highly recommended
Teitur vestergaard
rented a vehicle
Booked 3 tours with them (golden circle, southern island and northern lights). Booking was easy, pickup was well organized and tours were great. Also the tour guides were really nice and had a lot to tell. Can really recommend them!
Felix frantzmann
rented a vehicle
I went on both whale-watching and northern lights tours. Their boats are spacious and comfortable, so even if there is a lot of people you do not really feel it. They also provide pills in case you feel sick on the sea, and my guides were nice and willing to explain any facts and answer any questions!
Eduard fraile
rented a vehicle
Great experience. We saw dolphins and whales. Very environmentally conscious. We were hoping to see some puffins.
Shaun cooney
rented a vehicle
We used this service for their Northern Lights tour and was lucky to see one of their best shows this winter. So informative for the couple of hours we were out there the staff were constantly telling us new information about the lights and Iceland. We might be biased because we saw such an amazing show but I would really recommend this company for Northern Lights tours!
Rosie springett
rented a vehicle
Excellent! Very knowledgeable guide, she gave us lots of in depth information about the whales, as well as what they do to conserve and study them.

I felt very safe for the whole duration of the trip. The boat was very sturdy and I felt the captain was in full control of the vessel.

We were incredibly lucky that day as there were quite a few whale, porpoise and minke sightings! It was very exciting!
Railey bailey
rented a vehicle
The best company to go whale watching.
We've been in March and the weather was amazing. Megan was our guide for the day. I couldn't have asked for a better guide. She knew so much about Iceland and the ocean and the animals it was so interesting to listen to her. Very well organized trip.
We actually saw whales! But even if we didn't, I would totally recommend this company for you trip!
Dany mii
rented a vehicle
Very nice and frendly horsefarm, i can recomend anyone to go on tour with Eldhestar
Christer alexandersson
rented a vehicle
Great
Mateusz witoszek
rented a vehicle
The riding group could have been smaller. I guess, I could have been able to continue riding, if there had been any chance (=time) to take a deep breath, very deep one
Sari virtanen
rented a vehicle
So friendly! (The people AND the horses) :)
Lori roes
rented a vehicle
Had a great experience, took 2 tours with them, both were perfect.
Coppola sb
rented a vehicle
I am so glad I didn't read any reviews prior to booking! It seems there may be a little issue with their airport transfer service but read this review if you are planning any day trips with them! We chose this tour company because they had a pick up/drop off service to hotels on the outskirts of the city centre, which was perfect for us. We were given a pick up time and a small minibus took us to their main depot to catch a larger bus to start our trips. The first trip we took was the South Iceland And Black Sand Beaches. This was a full day trip but our 2 children (5 and 3) managed this easily as the stops were set out so well over the day. I will not spoil the experience and say everything you will see but it is well worth it! The second trip we took was the Golden Circle And Secret Lagoon. Please pay the extra to go to the Secret Lagoon as it is a very relaxing end to the day (there is an allocated 2 hours at the Secret Lagoon which is a perfect amount of time)! Their transport services are so slick....buses always waiting to transport you and people who had seperate aspects of their day booked had transport ready and waiting for them. The tour guides we had were AMAZING....they were hilarious and informative and they made our children feel so special and included. We spent this time in Iceland for our 10th wedding anniversary and these tours were a brilliant way to see some incredible things! Children under a certain age are free and I think the cost of the adults was extremely reasonable!
Michelle murphy
rented a vehicle
On my visit to Reykjavik, my group sought out this place. You see, we came in May and, even then, nighttime wasn't particularly dark. Knowing we would miss seeing the aurora, this place provided some nice visuals. Sure, it was an also-ran but it was enjoyable and informative, nonetheless.
Neal dixon
rented a vehicle
So glad we went. Interesting. They showed us how to set up our cameras to get the Aurora lights. Thanks or we would never would have gotten the pics!!!
Betty newton
rented a vehicle
There are free coffee and water at souvenir shop. Good collections of all things aurora for gifts and memory. Helpful staffs.
Fun to visit. Learn about the Aurora on your own pace. Fun photo opportunities inside. Includes VR at the end.
Robert turner
rented a vehicle
We came in May and knowing we missed the "aurora season", we thought we'd give this place a try. And it was great! Kids, and parents, loved it. The VR part was a great experience too: perfect for this type of thing I think.
The person working at this place, at the time, (sorry didn't ask her name, but she's been to Pennsylvania, USA!) is *phenomenal*. She's very knowledgeable in this, answered all our questions, and even helped us out figuring things out for the rest of our trip.
This is so rare to find people with knowledge of where they work at. Keep it up!
Luc pezet
rented a vehicle
Highlight of our trip in Iceland! Aksel was a great guide and made everyone feel relaxed and excited at the same time. Definitely pay extra for the rib / speed boat package as we got to whale spotting area much faster than the bigger boats, and also got closer to the whales.
Great tour guide! Saw a 2 Humpback whales and 1 Minke whale. We have only good things to say about this company and the people.
James phillips
rented a vehicle
Very enjoyable excursion. Fast boats. Great guides. And we saw whales!!!
Koppány tuba
rented a vehicle
Amazing trip with Gentle Giants. Nice crew which give a lot of explications and who made their best to give you the best experience they can. Go on without doubt :)
Mathieu samet
rented a vehicle
Great scenery and trip was good. Not too many whales to see this time. Spotted only 3.
Marcos romero
rented a vehicle
The calm and peaceful is a great place to have reflection on your trip. Just be sure to dress warmly as winds can force your visit to a quick end due to the bitter cold!
Chase nunes
rented a vehicle
Wow, breathtaking stunning boat ride through the icebergs up to the farce of the glacier. Max was a great guide!
Must visit place. Amazing glacier view. You can touch and see the icebergs closely. It is Better than jokulsarlon in my opinion.
Levvin winata
rented a vehicle
Great experience, very good guide and interesting information. Would recommend, just try not to drink the water, tried it, it was ok.
Umi tatsuya
rented a vehicle
I recommend.
Artur jensson
rented a vehicle
If you want to ice climb don't bother looking around. My friend and I went with asgard beyond and had a amazing time.
You get enough climbing time and a very friendly knowledgeable guide who walked us back over the glacier after it snowed without breaking a sweat.
Christopher simpson
rented a vehicle
My husband and I really enjoyed our hike on Sólheimajökull with this tour company. We were lucky because unlike other groups we saw these guys didn't over book with a ton of people. We had a nice size group and our guide (Ragnar) took his time and educated us about the glacier and the surrounding volcanos. We never felt rushed and Ragnar helped with lots of pictures too.
I would highly recommend these guys.
Callerina natori
rented a vehicle
The sea is rough and you do get water in ur face & mouth... but it was the best experience once u see the whales
Sri sanan
rented a vehicle
A business clearly expanding with some promising signs! Booked the RIB tour and found 3 humpback whales, unlike the other operators we had a pragmatic guide who acted as our font of knowledge having studied whales herself. Latest generation RIBs with inboards, captain was considerate to the environment and the whales. Insulated waterproofs provided. Would recommend if your in the area looking to find some whales...
Amazing experience! The size and speed of the boat let us come real close to the whales. So close we could actually touch one who was particularly friendly.
We saw 3-4 whales at least 7-8 times. And one was extra friendly, moving 4-5 times from one side of the boat to the other and one time even raising his head out of the water to watch us.
Kelly and Laura were so nice, informative, helpful and friendly. Thank you!
Nir marom
rented a vehicle
Great tour. The staff could not be nicer, very friendly and accomodating. We did not get to see the whales due to the bad weather. The company has a great equipment and is very recommendable.
Gabriela lopez
rented a vehicle
It was amazing! The guide Laura was so good, the best! She explain us all the interesting thinks about whales. We saw differents humpback whales and so close to them. We have the luck to be in a tour were the people were spainish or understanded spanish, although the tour was in English, they explained many things in Spanish. The price was so so good. And the experience was one of the best thinks in our travel around Iceland!
Patricia sagues
rented a vehicle