Customer reviews for this vehicle
We thoroughly enjoyed our visit of Iceland. Entire Island is absolutely beautiful. It started with the car rental experience. Ours was a team of 12 friends. With Northbound help, we were able to rent two vehicles including Mecedes Benz Vito and Suzuki
Vitara. Both cars worked perfectly. We wish you good luck with your business.
Siddharth rented this vehicle on 21. Jul 2019
If you need a large van to tour Iceland, Northbound and Lotus Car Rental is the company to use! They made renting a van easy and affordable. They offered clear instructions on airport shuttle service to and from their office, their customer service was
top notch and the vehicle was durable and spacious for our 5 day tour through Iceland's south coast!
Heidi rented this vehicle on 23. Jul 2019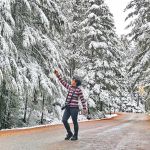 Excellent customer service. Staff was friendly and informative. The car we were given was brilliant and great to drive and dropping off at the airport was swift and easy. We would highly recommend Lotus Car Rental to anyone looking for a car in Iceland.
Junthapa rented this vehicle on 17. Jun 2019