Customer reviews for this vehicle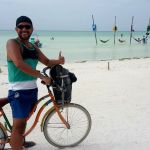 We visited Iceland for 9 days in April 2019, and we rented a car from Nordic Car Rental. Their service was very good. The price was the best I found in Iceland. There were no issues with the car. Highly recommended.
Diego rented this vehicle on 21. Apr 2019
Our expectations were exceeded big time - an upgrade on the car, wonderful support from staff, very nice and reliable cars, perfect location (when we booked we had no idea you are around the corner from Fosshotel Baron), reasonable prices and no deposit
if a credit card is used. I have no doubt where we are going to rent a car when next time in Iceland!
Lina rented this vehicle on 02. May 2019
Just back from using Nordic Car Rental on a first time trip to Iceland with my boyfriend. They were incredibly easy and professional to deal with. The pick up and drop off service at the airport was very handy. The vehicle we drove was great. For people
not used to driving a right hand drive car, I recommend renting an automatic, like us. Definitely will use them again if going back to Iceland in future.
Dervilla rented this vehicle on 17. Apr 2019