When you think of snorkeling, what do you imagine?
Tropical seas and the hot sun above beaming down on you?
If that's what you're looking for, then snorkeling in Iceland might not be for you.
But, don't rule it out quite yet.
If you want to swim in crystal clear water, snorkel above the border of two continents, and have an experience that will stay with you forever, then you should consider Iceland as your next snorkeling or diving destination.
You can use the quick navigation below to quickly head to the area of this blog you're interested in.
Can You Snorkel in Iceland?
While you might not think of it as a snorkeling destination, Iceland is an excellent place for it.
In fact, it's well-known in the snorkeling and diving community due to the unique snorkeling experience available to anyone willing to pull on a drysuit and brave the cold waters.
The visibility in the crystal clear glacier-fed waters is better than almost anywhere else in the world, and it's the only place in the world where you can snorkel between two tectonic plates.
You can also snorkel in Silfra all year round, so no matter when you're visiting, you can book a snorkeling tour.
Where Can You Snorkel in Iceland?
Snorkeling in Thingvallavatn Lake (Silfra Fissure)
The most popular spot to Snorkel in Iceland is in the Silfra Fissure, located inside Thingvallavatn Lake.
Silfra is located in the Þingvellir valley, within the Þingvellir National Park (also referred to as "Thingvellir"). Thingvellir National Park is a UNESCO World Heritage Site, and like most of Iceland, it's a beautiful place to visit.
Silfra lies at the rim of the Þingvallavatn Lake (Thingvallavatn Lake) and is one of the largest and deepest fissures in the Lake.
Silfra, and the majority of Thingvellir's fissure, was formed in 1789 after an earthquake. Since then, there have been earthquakes every ~10 years, which have caused rockfalls and movements in the landscape. These movements have created tunnels, caverns, and a highly unique geological formation that you can snorkel inside.
The water in Silfra is glacier meltwater, originating from one of Iceland's second-largest glacier - Langjökull. When the fissure cracked open in 1789, it also broke through into the underwater spring, allowing the water to rise into the fissure.
There are four main dive sites in Silfra:
Silfra Big Crack

Silfra Hall

Silfra Cathedral

Silfra Lagoon
You won't be able to dive into any underwater caves or areas under rock formations, as they can be unstable and potentially dangerous (Silfra is located on a tectonic plate boundary, and earthquakes are a risk). Snorkeling is the perfect way to see the fissure.
Snorkeling tours of Silfra usually take around 30-40 minutes.
Why is Snorkeling in Iceland so Popular?
Due to the abundance of activities available in Iceland, snorkeling is often overlooked by travelers.
But, it's a unique and highly recommended activity.
The most popular snorkeling destination, Silfra, has unique characteristics different from any other snorkeling spot in the world.
1. Crystal Clear Waters
One of the major selling points of snorkeling in Iceland is that Silfra has the clearest water on the planet.
It comes from the melt water of the Langjökull glacier. Now, you may be thinking - isn't glacier water usually murky?
Well, you're right. In most cases, glacier water would be murky as it contains mineral deposits. However, Silfra's water is uniquely filtered to make it so transparent.
Around 12,000 years ago, there was a volcanic eruption in Iceland that covered huge glaciers in lava, and those glaciers are the source of water for the Silfra Fissure.
Before the water enters Silfra, it has to travel approximately 50km through this layer of lava, which takes 30 to 100 years. Lava is one of the best water filtration methods out there, and we're lucky enough that Silfra is filled with lava filtered glacier water.
If you're new to snorkeling and not sure how to quantify the clarity of the water, let's put it into perspective.
Most popular diving and snorkeling spots in the world allow for visibility of around 10 to 30 meters. Silfra has a visibility range of approximately 90 meters. It's not the deepest diving spot in the world, and you're unlikely to see many sea creatures, but you'll rarely be able to experience snorkeling in water as clear as this.
Another interesting fact about Silfra's water is that it's completely safe to drink. If you end up getting some through your breathing apparatus, you can just drink it to get rid of it!
2. Swim Between Tectonic Plates
As mentioned above, the Silfra fissure is on the boundary of the North American and Eurasian divergent tectonic plates.
The tectonic plates are slowly moving away from each other by approximately 2cm each year, and the crack between the two is filled with glacier meltwater that comes up from the spring below.
It's the only spot in the world where you can snorkel or dive in between two continents, and you'll have a clear view of the point where the tectonic plates meet.
Every 10 years or so, there are small earthquakes that move the rock formations around, so if you visit at different times of your life, you might see different rock formations in the fissure.
The constant current from the spring below Silfra will allow you to relax in the water and be gently floated along, so you can relax and take in the magnificent view.
3. Consistent Water Temperature All Year Round
Silfra is consistently fed a new supply of water, and therefore never completely freezes over. It maintains an above-freezing level temperature, and the current keeps the water moving to avoid any ice formation.
Although, you may see some icicles outside of the fissure's water.
Whether you're visiting in the summer or winter, you'll be able to experience the magic of the clear waters and enjoy a unique, fun activity in Iceland.
Because of its cold temperatures, not much lives here. You won't see much fish (although the odd one may have found its way into the Silfra fissure from the main body of Thingvallavatn Lake). You'll be able to see unusually colored algae and other plant life.
What Do You Wear to Snorkel in Iceland?
Unsurprisingly, you won't be snorkeling in Silfra in your regular bathing suit or bikini.
You'll need to wear a wet suit or drysuit designed to keep your body temperature up.
Many tour operators will only offer wet suits to experienced divers as they won't protect you from the cold temperatures as well as dry suits will. However, wet suits do allow for more flexibility and enable you to dive deeper than dry suits do.
If you're looking to stay dry (and slightly warmer), then you'll be able to use a drysuit instead.
These block water from entering so you'll stay dry. Underneath the drysuit, you'll need to wear a warm thermal layer (or two) and some warm socks. Drysuits may feel slightly constricting and tight, but that's normal. They're designed to keep the water out, so they need to be well sealed.
We would also recommend bringing a change of clothes for after your snorkeling session. While the dry suits will likely keep you dry, water can enter them, so you might end up slightly damp by the end of your snorkeling trip. Having a dry change of clothes will be a relief once you're out of the cold water.
How Cold is the Water in Silfra?
The water in Silfra stays around 2-4°C (35-39°F) temperature all year round.
Silfra's water comes from springs fed by from meltwater of the Langjökull glacier, hence the consistently low temperature and lack of temperature change through the different seasons.
No matter the time of year you want to snorkel in Silfra, the temperature to be within that 2-4°Celsius (35-39°F) range.
You'll be wearing either a wet suit or a dry suit, and these will help take the edge off of the cold water.
Can You Snorkel in Iceland in winter?
Yes, you can snorkel in Iceland in the winter. The water is a similar temperature in winter as it is in the summer as Silfra is fed by glacier meltwater.
However, as the weather is colder in general, and the chances of bad weather are more likely, it may be more pleasant to go snorkeling during the summer months (or at least save it for a day when it's not raining!).
Getting There: How Far is Silfra From Reykjavik?
Silfra is approximately 54 kilometers from the Icelandic capital, Reykjavik.
If you're traveling to Silfra in your car or a rental car, it will take you approximately an hour to get there.
Parking at Silfra
You'll be able to park close to Silfra for 750,- ISK per day.
Most scuba diving tours at Silfra may offer a bus or coach from Reykjavik to Silfra to save you the need to drive, but either way, it should be easy to find with a GPS or prior route planning.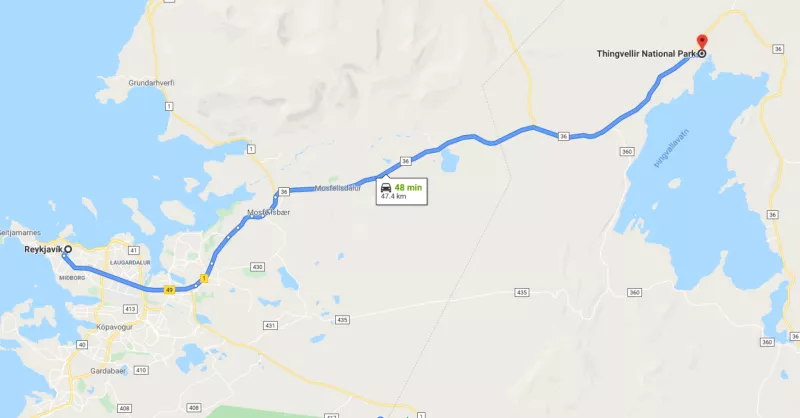 Can You Snorkel Alone in Silfra?
No. You're not allowed to snorkel without a certified snorkeling guide in Silfra.
Regardless of your skill level, we would not recommend snorkeling alone in Silfra, or anywhere else in Iceland.
Both snorkeling and diving are inherently dangerous sports even in warm waters, and the cold water can exaggerate those risks.
While we don't want to put you off snorkeling, you do need to be aware of the dangers.
You also aren't allowed to dive alone in Silfra. The national park has additional rules that apply to divers, which you can read up on here.
Who Can't Snorkel in Silfra?
You'll need to be a minimum of 145 cm and a maximum of 200 cm tall, and be in the weight range of 45 kg to 120 kg. No one under 14 years old is allowed to snorkel or dive in Silfra, and if you're pregnant, you won't be able to snorkel either.
Due to the shape of the snorkeling masks, anyone who usually wears glasses will either need to bring their own prescription mask or should wear contact lenses. Otherwise, you'll be unable to snorkel.
We'd recommend being in good physical shape and a confident swimmer before snorkeling.
Despite the current that helps you float through the fissure, you're in deep, cold glacier water, and you'll feel much safer knowing you're a competent swimmer.
Is Snorkeling in Iceland Really Worth It?
If you're still wondering if it's worth snorkeling in Silfra, the answer will depend on you.
We'd recommend it. Silfra is famous all over the world for its crystal clear water, and you're unlikely to be in many places like it again.
If you're new to snorkeling and are worried about your level, we'd recommend speaking directly to the tour operators. Most are beginner-friendly, and as long as you meet the necessary fitness, height, age, weight, and health requirements, you'll be allowed on the snorkeling tours.
Drysuits contain air, so you'll never need to worry about sinking.
However, if snorkeling isn't for you, Silfra is still a beautiful place to visit as it's located in the heart of Thingvellir National Park.
If you want to snorkel in Iceland, you're in for a treat.
With Thingvellir National Park as your backdrop, Silfra's clear waters offer a once-in-a-lifetime opportunity to snorkel on the border of two continents.
The cold temperatures sound daunting, but as soon as you're inside the water in your drysuit, you'll be so in awe that you'll hardly notice the chill.
You'll only need to travel a short distance out of Reykjavík to get to Silfra, and we recommend the trip. You'll make memories that you'll never forget.
Comments
We'd love to hear what you have to say