Search for Whale Watching Tours in Iceland
Whale Watching Tours In
Iceland
Find the Best Prices for Whale Watching Tours in Iceland
Get the best results
Search & compare the lowest prices from the very best tour operators in Iceland.
No hidden Fees
No hidden or added fees. Free cancellations & amendments.
As easy as possible
Simple booking process with instant confirmation and availability from your chosen activity in Iceland.
The Best Car Rentals in Iceland
We are proud of our standards of quality and service and those standards are reflected in what our users have to say about us. Book your rental car or day tour with Northbound and rest assured that a strong team of travel advisors is prepared to assist with any of your questions or concerns both before or after your Adventure. #AdventureAwaits
Take a look at some of our Whale Watching tours
Where to Go Whale Watching in Iceland?
Iceland has several fantastic locations to go Whale Watching, and it hardly matters which part of the country you're in, you'll likely find a Whale Watching operator somewhere in the region. You can find Whale Watching tours in any of these places:
Keflavik Marina, only 5 minutes from KEF Airport.
Reykjavik Old Harbor, right in downtown Reykjavik.
Husavik, a little way's up north from Akureyri.
Holmavik, in the Westfjords.
Akureyri, the capital of North Iceland.
Hauganes, close to Akureyri.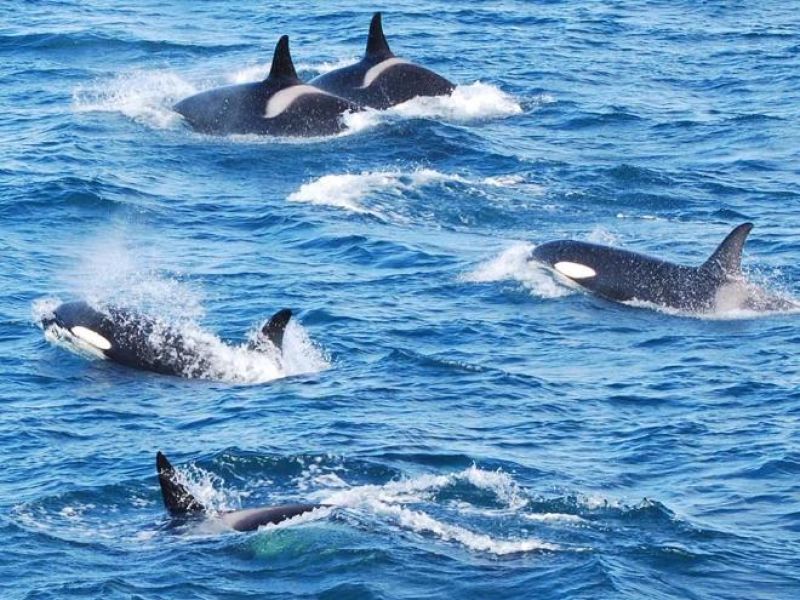 Iceland Whale Watching Season
Most Whale Watching tours are operated all year round, but anywhere between April and November is considered to be the high season for Whale Watching, with the biggest chance of seeing whales in June, July and August.
There is, however, an excellent chance of seeing whales or dolphins all throughout the year.
Is Whale Watching in Iceland Worth It
Out of all of the day tours on offer in Iceland, Whale Watching is one of the most affordable activities for tourists. You can take a tour right out of the Reykjavik Harbour, no lengthy travel required, with an average sighting success rating of 95% to 100%.
If you're doing any single tour on your Iceland trip, then Whale Watching would be a strong contender as it is definitely worth it.
How Much is Whale Watching in Iceland?
Whale Watching prices in Iceland usually range from €50 to €120 for the basic tours, while combo tours and the smaller and more intimate tours can cost around €200+.
The prices vary depending on where in Iceland you take the tour, what part of the year it is and how long the tour lasts.
Can I Go Whale Watching Without a Tour?
Trying to spot whales from shore is a daunting process and you'll likely not see anything at all so, unless you have your own boat, you would be better off hopping on one of the hundreds of Whale Watching tours available in Iceland.
If you don't mind the whales being made from cardboard, then the Whales of Iceland exhibit houses several life-sized models of all the whales found along the coasts of Iceland.
Sign a Stop Iceland Whaling Petition
If you want to help put an end to the needless killing of whales in Iceland, please head over to Sealegacy and sign the petition to apply pressure on the government to choose tourism over whaling.