A quick guide to the rules, road signs, and experiences you may encounter while traversing the Icelandic road network.
Iceland is famous for its spectacular scenery. Breathtaking waterfalls, glaciers, hot springs, lava fields, rock formations, and seascapes present a sublime and otherworldly experience.
With this wonder comes potentially challenging driving. Iceland's weather is fiercely unpredictable. Roads are subject to flash ice, wind, and sandstorms.
There are blind curves, single lane bridges, unexpected obstructions, wayward sheep, and distracted fellow travelers. Understandably, Iceland takes road safety very seriously.
Before you get behind the wheel, take time to familiarize yourself with these essential rules of the road. And safely enjoy your Icelandic adventure!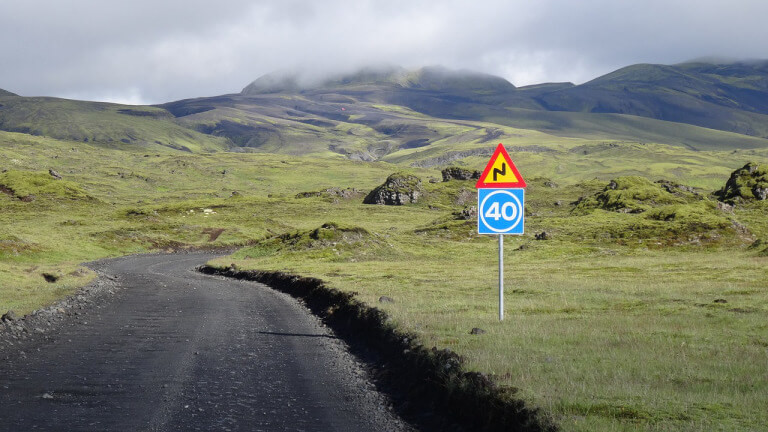 Basics
Icelandic roads are not designed for speed. Urban areas generally have a speed limit of 50km/hr. Outside of urban areas, the speed limit is typically 90km/hr on paved roads and 80km/hr on unpaved roads. Paved roads are monitored by cameras and the fines are serious. For your own safety and the safety of others, mind speed limits.
Always use headlights when driving.
Seatbelts are mandatory for all passengers.
Driving off road is prohibited.
Be sure you have a detailed road map. Google and Mapping programs are often inaccurate. Keep your eyes on the road, follow signs, and use common sense.
Cell phone use is only permitted in hands-free mode.
Use designated pull-offs for photography.
Common Road Signs
Watch for paved roads that turn into gravel.
Road closed.
One lane bridge ahead. Slow down and use pull off to let approaching cars pass.
Blind curve, slow down.
Watch for sheep or other animals.
For more info on road signs click here.
Weather
Weather changes rapidly in Iceland. High winds, flash storms, and road icing are just a few extremes you are likely to encounter. Bookmark these three sites for official emergency alerts, weather updates, and road status. You can also phone 1777 (or +354 522 1100) for updates.
safetravel.is
road.is
en.vedur.is
Be Prepared
Plan your route. Alert others about your departures and arrivals and communicate any variations from the plan. Use Safetravel for status updates.
Pack necessary weather safety equipment in your vehicle.
Use Safe Travel's emergency system and the SafeTravel app.
Cell Phones: While service may be unpredictable in areas, or non existent in parts of the interior, remember to keep your cell phone charged when traveling. In an emergency, keep your phone on. The signal can be transmitted to a locater regardless of service.
Insurance
When renting a car, be absolutely clear about what the insurance covers. Talk with your rental agent about. Ask for advice about the choice of vehicle for your route and what insurance they suggested. If you are planning a trip beyond urban areas, take your insurance seriously.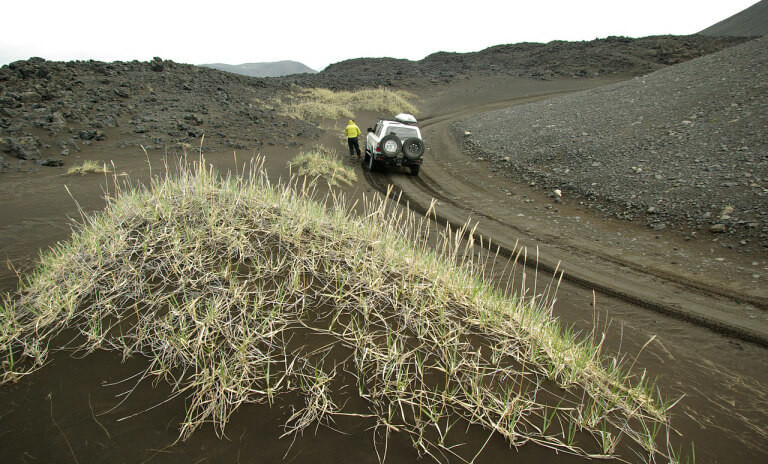 F Roads
F Roads (F stands for fjall which means mountain in Icelandic) are unpaved. They range in condition from gravel to dirt to a mix of surprises. Only 4WD cars are permitted on the F roads. Weather emergencies, unexpected obstructions in the road, fording rivers, and flat tires are a few challenges you may encounter. Some interior treks are best travelled in a ?Super Jeep? or other high clearance 4WD vehicle.
Planning a trip to the interior highlands?
F Roads are generally open between late June-August, weather permitting. Check up to date road status when traveling.
Get in the spirit - virtually! Check out some youtube videos for dashcam footage to prepare for your journey.
Essential driving links
Enjoy this instructional driving safety video!