Car Rental at Keflavik International Airport
Rent a car from the International Airport in Iceland
Compare prices, features and reviews with a huge selection of rental cars!
Free Iceland 101 eBook with every booking!
Low prices and no hidden fees!
Pick-up available in Reykjavik and Keflavik International Airport!
Compare Car Rental Prices at KEF Airport
The Best Car Rentals in Iceland
We are proud of our standards of quality and service and those standards are reflected in what our users have to say about us. Book your rental car with Northbound and rest assured that a strong team of travel advisors is prepared to assist with any of your questions or concerns both before or after your Adventure.

#AdventureAwaits
Keflavik International Airport (KEF)
Also known as KEF Airport, Keflavik International Airport is the largest airport in Iceland and the country's only international airport. It is located right outside the town of Keflavik, about 40 minutes drive from Reykjavik City.
There are approximately 28 airline companies that fly to and from Keflavik Airport including Icelandair, United Airlines, Delta Airlines, EasyJet, SAS, Air Berlin and many more.
Keflavik Airport has been voted Europe's best airport a few times and is internationally recognized as one of the world's cleanest and efficient airports.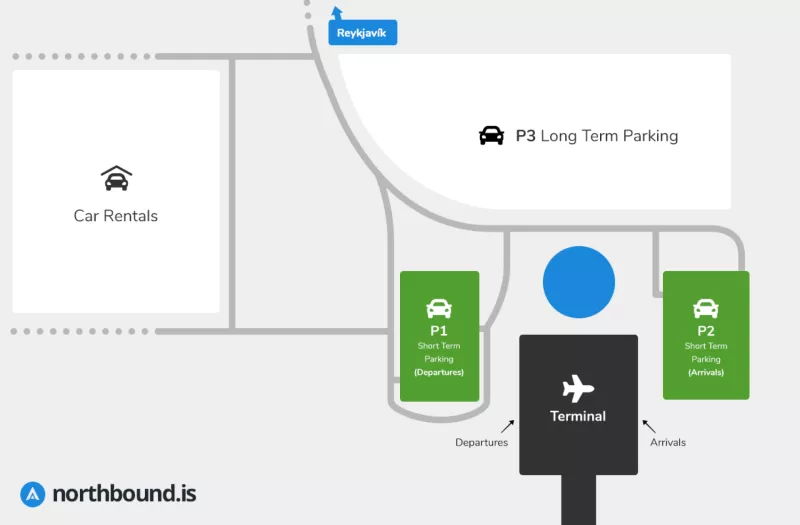 Am I arriving at Keflavik Airport or Reykjavik Airport?
Keflavik Airport is Iceland's only international airport so unless you are arriving from Greenland or Faroe Islands then you are most likely arriving at Keflavik Airport. Many airlines and booking websites label Keflavik Airport as "Reykjavik Airport" but this often causes confusion as Reykjavik Airport is a small domestic air terminal inside the city center.
The best thing to do is to look at your flight ticket and see what the (code) is by the airport's name. The code for Keflavik Airport is (KEF) while Reykjavik Airport has the code (RKV).
Which car rentals are in the terminal at Keflavik Airport?
Inside the actual airport terminal at Keflavik Airport you will find the following car rental brands:
Europcar
Rás
Avis
Budget
Hertz
As you exit through customs, simply turn left in the arrival hall and keep walking until you see the car rental desks.
What car rentals are located by Keflavik Airport?
While the big brand car rentals can be found inside the terminal, there is also the so-called Car Rental Zone which only takes a couple of minutes to walk over to. There are also shuttle buses that run between the arrival terminal and the car rental zone every 15 minutes in case the weather is bad.
At the car rental zone by Keflavik Airport you can find the following brands:
Thrifty and Dollar
Lagoon Car Rental
Blue Car Rental
Sixt Rent a Car
Geysir Car Rental
Lotus Car Rental
+ the drop-off locations for the big brands in the terminal.
Where is the car rental drop-off at Keflavik Airport?
If you refer to the map above, you'll find the drop-off area for many car rentals on the right side where it says "Car Rentals". Keep it mind, however, that many car rental agencies prefer that you bring the car back to their office in Keflavik and will then provide you with shuttle transport to the airport.
This process includes companies like:
Northern Lights Car Rental
Lava Car Rental
Icerental4x4
Camping Cars
Nordic Car Rental
Star Car Rental