Campervan Rental in Iceland
The Best Camper Rentals in Iceland
Compare prices, features and reviews with a huge selection of campervans!
Free Iceland 101 eBook with every booking!
Low prices and no hidden fees!
Pick-up available in Reykjavik and Keflavik International Airport!

The Best Car Rentals in Iceland
We are proud of our standards of quality and service and those standards are reflected in what our users have to say about us. Book your rental car with Northbound and rest assured that a strong team of travel advisors is prepared to assist with any of your questions or concerns both before or after your Adventure. #AdventureAwaits
The Perfect Camper For Your Iceland Journey
In a country as wide and uninhabited as Iceland, the ultimate road trip waits behind the wheel of a campervan vehicle. Unbound by hotel reservations, you have the freedom to explore the vast wilderness of Iceland, where there are, on average, only three people per square kilometer.
In your Icelandic motorhome you have complete control over your holiday in Iceland, and the type of holiday you wish for rests on the type of campervan you choose. Do you prefer the large residence on wheels or something economic, small and easy to handle? You will find the perfect camper with us.
Best Campers Iceland has to offer
One of the largest selections of Campervan rental cars in Iceland, Northbound is proud of the service we give our travelers and the excellence rating we have been gifted by our followers on Facebook and Google.
Explore our booking engine and find the perfect campervan for your upcoming Icelandic Adventure.
Best Campsites for Campervans in Iceland
Fully equipped campsites can be found throughout Iceland, conveniently situated along the ring road, welcoming you for the night as you pursue your journey.
Our favorite campsites for campervan and motorhome travel include:

Camp Egilsstadir
Located in East Iceland, along the ring road in the small town of Egilsstadir, Camp Egilsstadir claims to be the happiest campsite in Iceland, and we agree. Their 24/7 facilities include bathrooms, showers, washing & drying machines, luggage storage, bike rental, children's play park, dishwashing area, kettle, microwave, and even free WiFi.
If you're passing by Egilsstadir, we recommend you pop by Camp Egilsstadir.
Grindavik Campsite
Conveniently located approximately 20 minutes from the Keflavik Airport, the Grindavik Campsite is a perfect last stop before an early morning flight. The facilities include warm & cold water, bathrooms, internet, playground, showers, washing machines and waste disposal for mobile homes.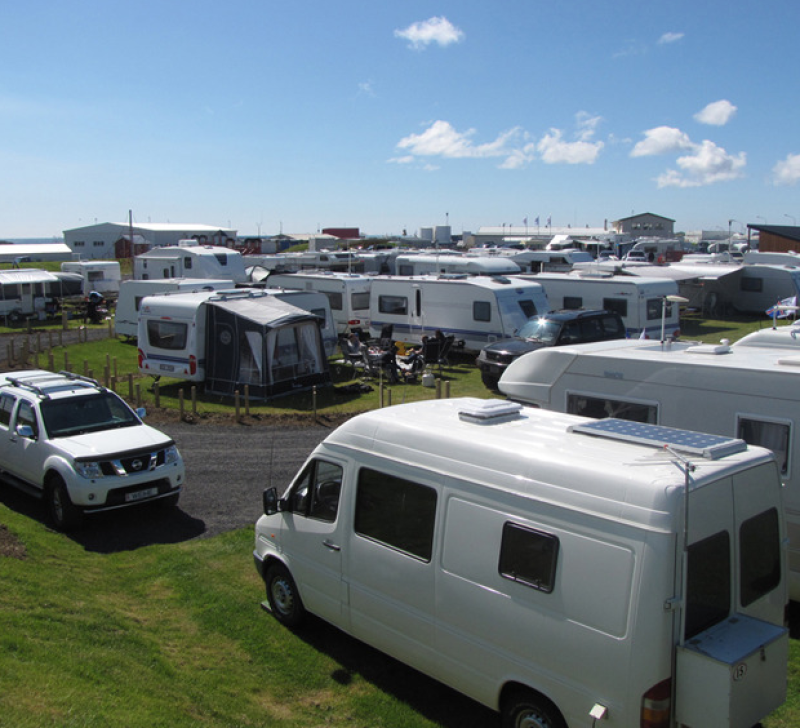 Skaftafell Campsite
Sheltered by the surrounding trees, Skaftafell on the Icelandic south coast has a designated area specifically for motorhomes and campervans. The facilities include bathrooms, warm and cold water, a restaurant, internet, electricity, wheelchair access, washing machines, showers and waste disposal for mobile homes.
Head on over to our map of Icelandic Attractions for more campsites in Iceland.
Should I hire a motorhome or a campervan in Iceland?
Iceland is perfectly suited for both campervan and motorhome travel, with campsites spread across the country and most of them even offering waste disposal and other facilities necessary for motorhomes. Whichever you should go for, depends on what type of travel you're looking for.
For couples or small groups, who don't mind not having a bathroom, shower and ample space on-board, a campervan is perfect and affordable. The motorhome, while more expensive, is better suited for families with children or those who prefer a fully equipped RV on their journey around Iceland.
Both options afford you the opportunity to travel across Iceland's majestic landscapes with a new backyard every morning.
Can I Drive On F Roads In A Campervan in Iceland?
Not the normal ones, but there are plenty of 4x4 camper options available that do allow you to travel uninhibited on F-roads if you choose.
How old must I be to rent a campervan from Northbound?
The minimum age for a campervan rental is 20 years, although some specific suppliers may have that bar a little higher. You can find the age requirement by clicking the Important Information tab on the vehicle page.
Where can I park the campervan?
The website of the Environment Agency of Iceland states:
"Camping with no more than three tents is allowed on uncultivated ground for a single night unless the landowner has posted a notice to the contrary. However, campers should always use designated campsites where they do exist."
Iceland is blessed with hundreds of campsites scattered all over the country. Your best bet would be to show up to one of those to spend the night, with bathroom facilities and plenty of space abound.
Can I rent extra equipment like camping chairs, tables or BBQ grills?
In some cases, yes. It would depend on the vehicle you have chosen and what extras that supplier offers.
Should I rent a campervan during winter?
During the period of December-January, and even longer in some cases, we would not recommend renting a campervan unless you fully comprehend what to expect during your stay. The wind speed can reach furious heights and the cold drops well below -0­° Celsius at times. You must decide whether you're prepared and willing to brave these challenges or if you'd rather take the safe route and rent a hotel room and a 4x4 vehicle.
How are the roads in Iceland?
They are considerably narrower than what you may be accustomed to in your own country, so please be careful and pay close attention to www.road.is for road conditions and troubling weather.
How long does it take to drive the ring road (route 1)?
The ring road can be done in about 7 days, but if you want to thoroughly enjoy it then we recommend at least 12 days for the journey.