Your Guide to the Highland Areas of Hekla, Landmannalaugar, and Þórsmörk.
While it's natural to want to take in as much of Iceland as possible, driving the entire Ring Road (Route 1) in a single visit can result in car fatigue. Instead, try planning a regional itinerary that gets you outside and into the beauty of Iceland. For example, the south of Iceland is a haven for outdoor enthusiasts. In the summer, seasonal mountain roads (known as F Roads) open up and offer access to the wonders of Landmannalaugar and Þórsmörk. Located within a day's drive of Reykjavik, they offer a rich experience of Iceland's natural wonders.
If you're renting a car in Iceland, then check out our 2020 Iceland Car Rental Definitive Guide.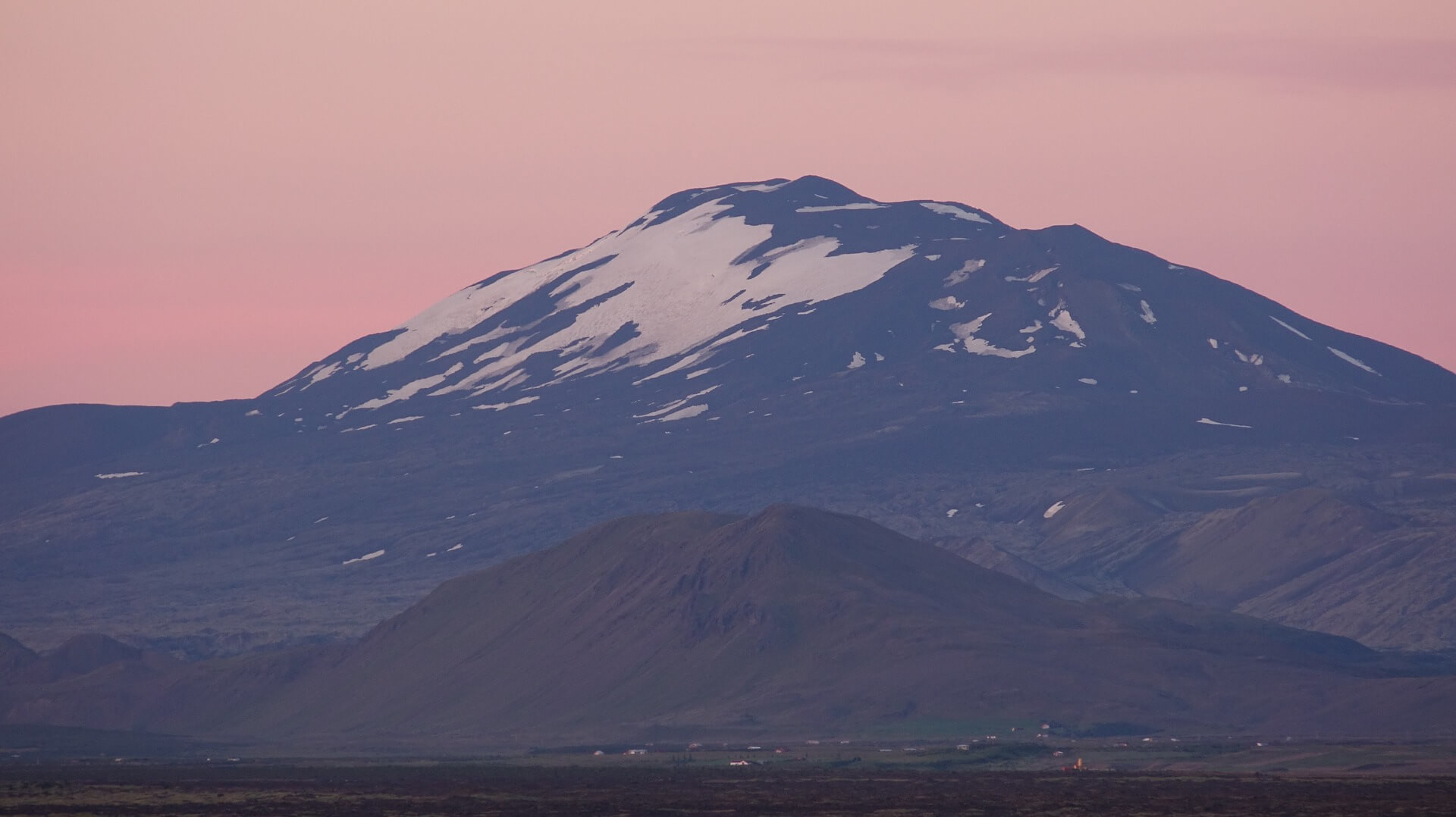 Mount Hekla
Early in Iceland's history, the fiery and destructive volcano Hekla was feared as the literal ?Gateway to Hell?. It remained unexplored until 1750 when two students, Eggert Olafsson, and Bjarni Palsson, first made it up to the top. In the eruption of 1947, the peak rose 50m. Recognized as Iceland's most active volcano, Hekla has erupted 23 times since 1104, most recently in 1991 and 2000. Volcanologists expect Hekla is due at any time for another eruption, a fact which Icelanders take in due course. As always, we recommend you keep an eye on road conditions and weather updates but until further notice, the area is accessible to visitors.
Getting there
The name ?Hekla? translates to ?hooded one? and refers to the clouds that commonly shroud the peak. On a clear day, Hekla can easily be seen from the Ring Road. To get there, take R26 from R1 (about 30km past Selfoss). Drive 30km on R26 until you reach Leirubakki, the town closest to Hekla.
Leirubakki
Visit The Hekla Center to learn more about the volcano and find out the latest hiking information. There's a 3-4 hour hiking trail that leads up near the summit (1491m). You may also want to opt for a guided hike or Super Jeep tour led by an experienced driver for more insight into this volcano's unique character. Leirubakki has a hotel, guest house, and restaurant open year-round and opportunities to take in the sights by horseback.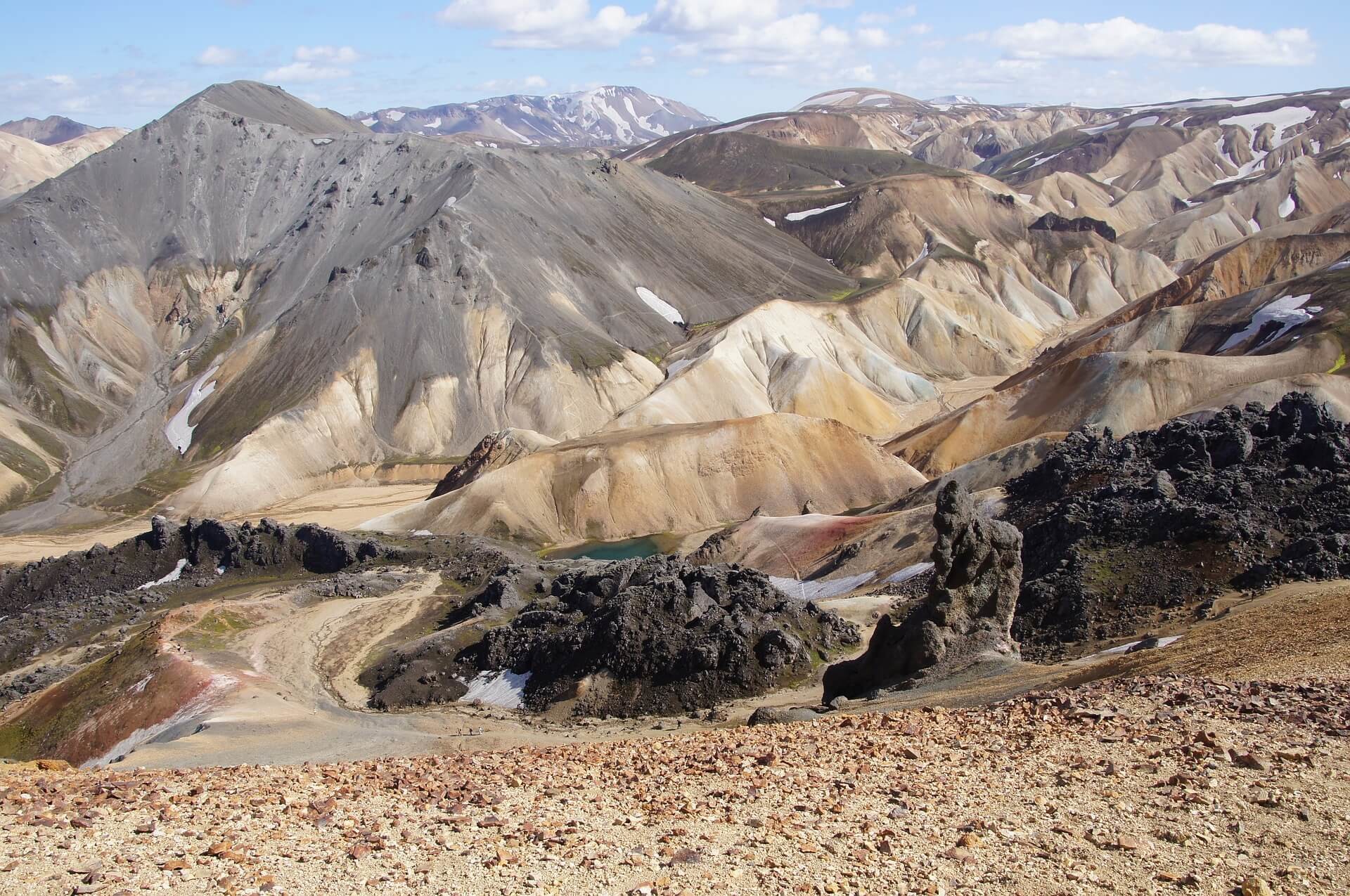 Landmannalaugar
To the east of Hekla lies Landmannalaugar, a colorful range of snow-capped rhyolite mountains and breathtaking vistas. If you are coming from the north, Landmannalaugar marks the end of the Sprengisandur Route through the barren desert plains of central Iceland. Landmannalaugar is also the launch point for the famous Laugahraun trail that runs 54 km south into the verdant glacial valleys surrounding Þórsmörk.
Getting to Landmannalaugar
Continue along R26 from Leirubakki for roughly 45km. You will pass The Highland Center (a wise choice for refueling with gas and a meal). Turn south on F208 and drive 20km until you reach Landmannalaugar. (Note: On the map, F225 appears to be a more direct route from Leirubakki to Landmannalaugar. Bear in mind that maps of mountain roads can be deceiving and road status varies from year to year. Before taking F225, be sure to ask a local's opinion using Reddit for example, and check road conditions.)
Please note: Driving any road marked with an F will require you to have a 4x4 vehicle, and Landmannalaugar travel will require a suitable vehicle with sufficient ground clearance.
Arrival
Upon arriving at Landmannalaugar you will find the central camping area and hot springs bath. The FI Center provides information about area hikes and camping. This is a popular destination during the summer season and we recommend you book accommodations in advance. There are four prevailing day hikes that display different facets of the area. More seasoned hikers may want to check out a day hike and enjoy the hot springs before gearing up to embark on the Laugavegur Trail to Þórsmörk.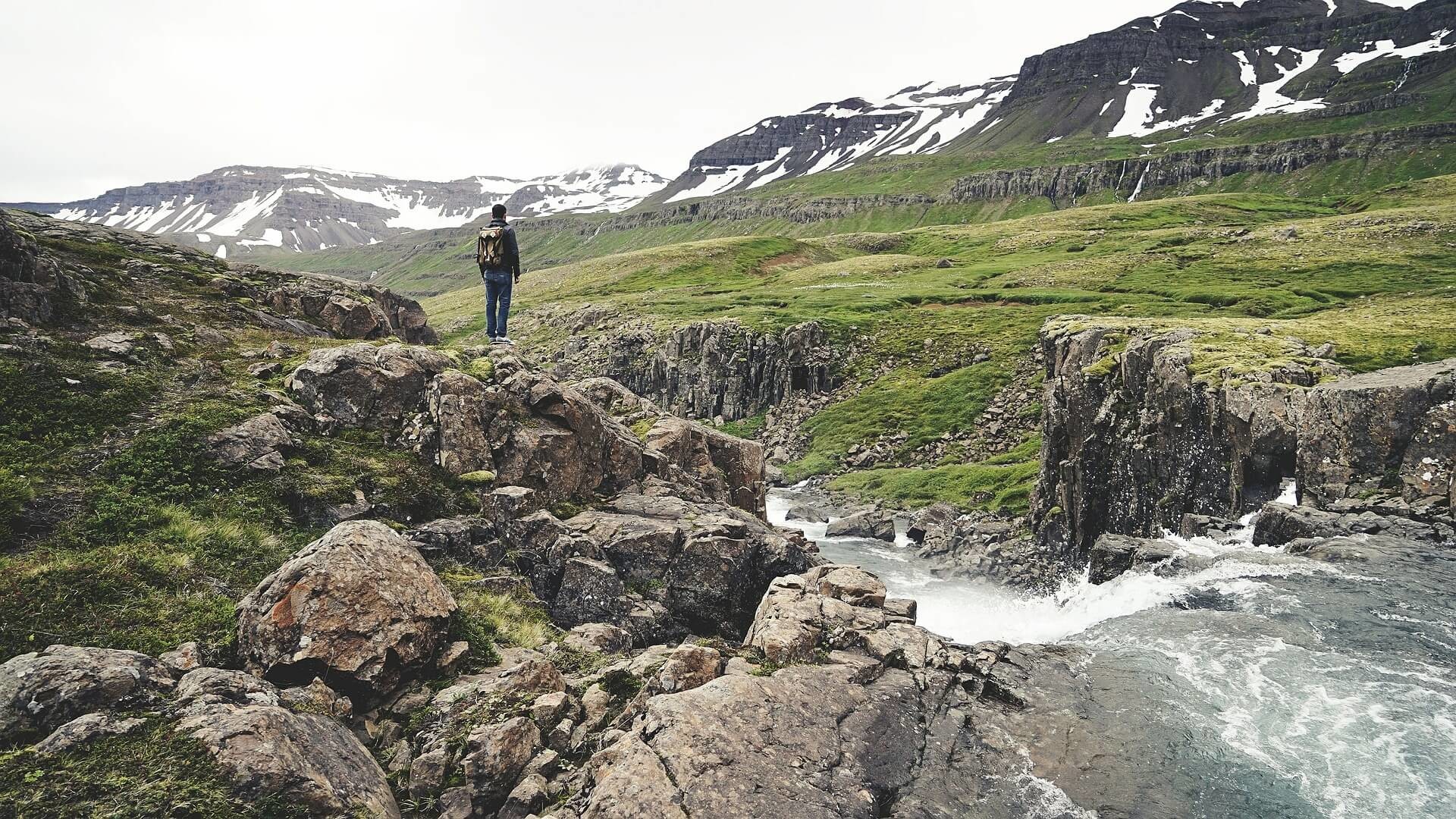 Day Hikes
Laugahraun Trail
This accessible 5km loop runs from the camping area, through Laugahraun, a black basalt lava field with shining pieces of black obsidian rock and to the base of Mt. Brennisteinsalda.
Brennisteinsalda (Sulfur Hill)
A short hike up to the peak of the small volcano that offers excellent views of Landmannalaugar.
Mt. Bláhnjúkur (Blue Peak)
This hike is not to be missed. You can choose to hike up to the summit and back or make it into a loop. The panoramic views from the top are spectacular. It's the steepest hike of the four, but straightforward, and well marked. From the FI service center, the elevation is an additional 320m (total elevation 945m).
Sudurnamur Mountain Ridge
This hike is the longest of the four we've listed here. In addition to the Landmannalaugar area, you will be able to view the Torfajokull volcano to the south.
Laugavegur Hiking Trail - Landmannalaugar-Þórsmörk
National Geographic has called the Laugavegur Hiking Trail one of the most beautiful trails in the world. From the rhyolite mountain range of Landmannalaugar to glacial valleys of Þórsmörk, this destination trail delivers a memorable and spellbinding experience.
The 54km route through the southern highlands has camping huts spaced 12-16km apart. Trails are well marked and detailed maps can be found via The Iceland Touring Association (FÍ) as well as on site.
The Laugavegur Trail covers a variety of terrain with snow in the mountains year round. Highlights include black sand lava deserts, Landmannalaugar's colorful rhyolite mountains, lake Álftavatn, hot springs, geysers, glacial rivers, and a richly forested area near Þórsmörk that sits at the base of the Myrdalsjokull and Eyjafjallajökull glaciers.
Travelers commonly divide the trail into four segments with a day for each. A quicker trip is possible, and there's even an ultra marathon on the trail each summer that draws a group of endurance athletes from around the world.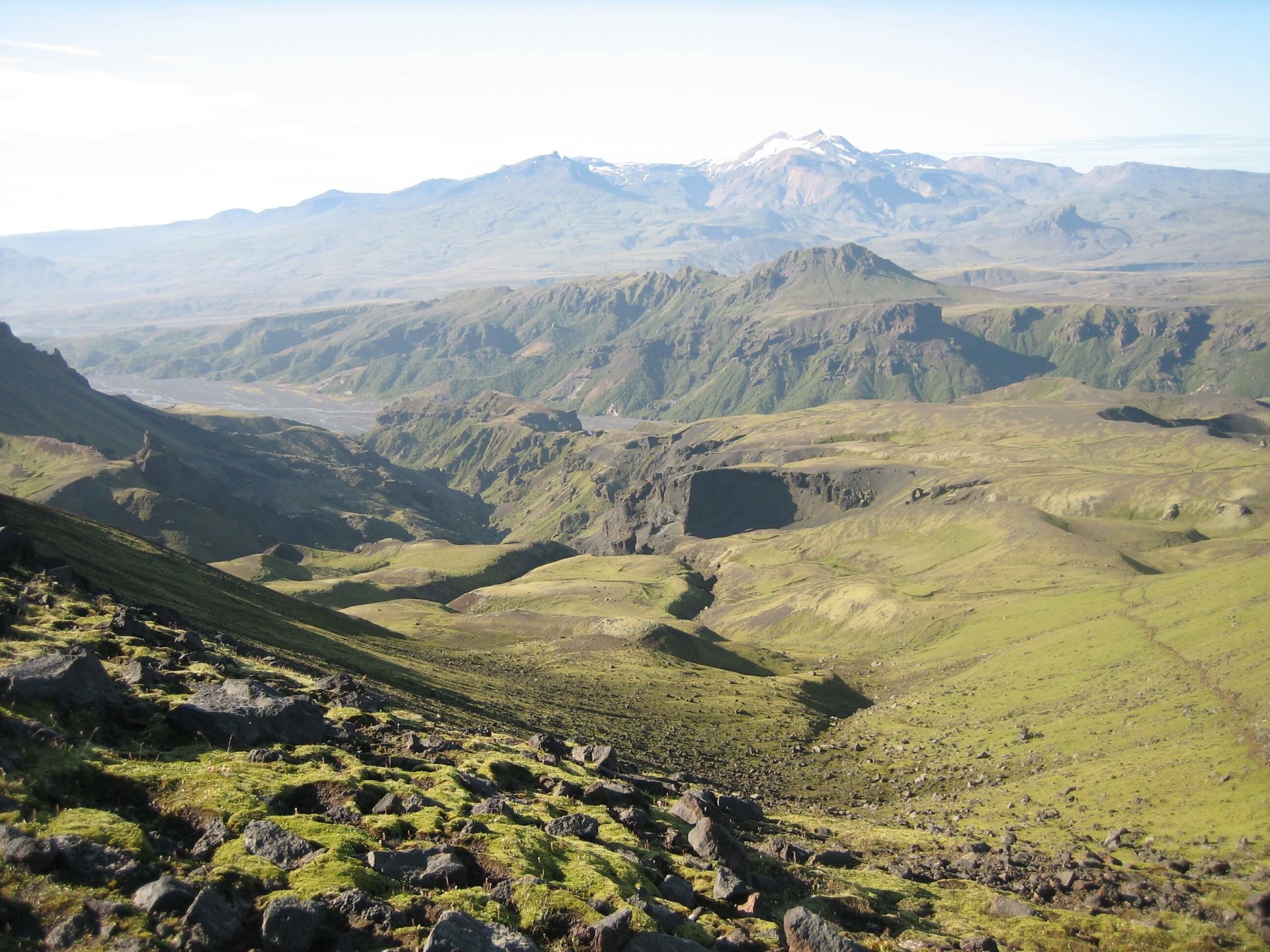 Þórsmörk
Getting to Þórsmörk
Hikers may approach Þórsmörk from the Laugavegur Trail (north) or Skogar Trail (south). If you are driving, the most popular option is F249 (unpaved, but well traveled) from Seljalandsfoss, but you will need to take one of the 4x4 bus services all the way as normal vehicles will not be able to cross the rivers further down F249. We recommend always checking road conditions.
Seljalandsfoss
Any regional itinerary of Iceland would not be complete without at least one waterfall stop! Seljalandsfoss Falls marks the F249 turn off to Þórsmörk. These falls originate from the nearby Eyjafjallajökull Glacier. Take a stop and appreciate one of Iceland's biggest drops (60m). These falls crash dramatically from a cliff onto grassy rock formations and there's a paved path that leads behind the falls for an unexpected view. Then proceed to F249 and Þórsmörk - the drive is roughly 20km.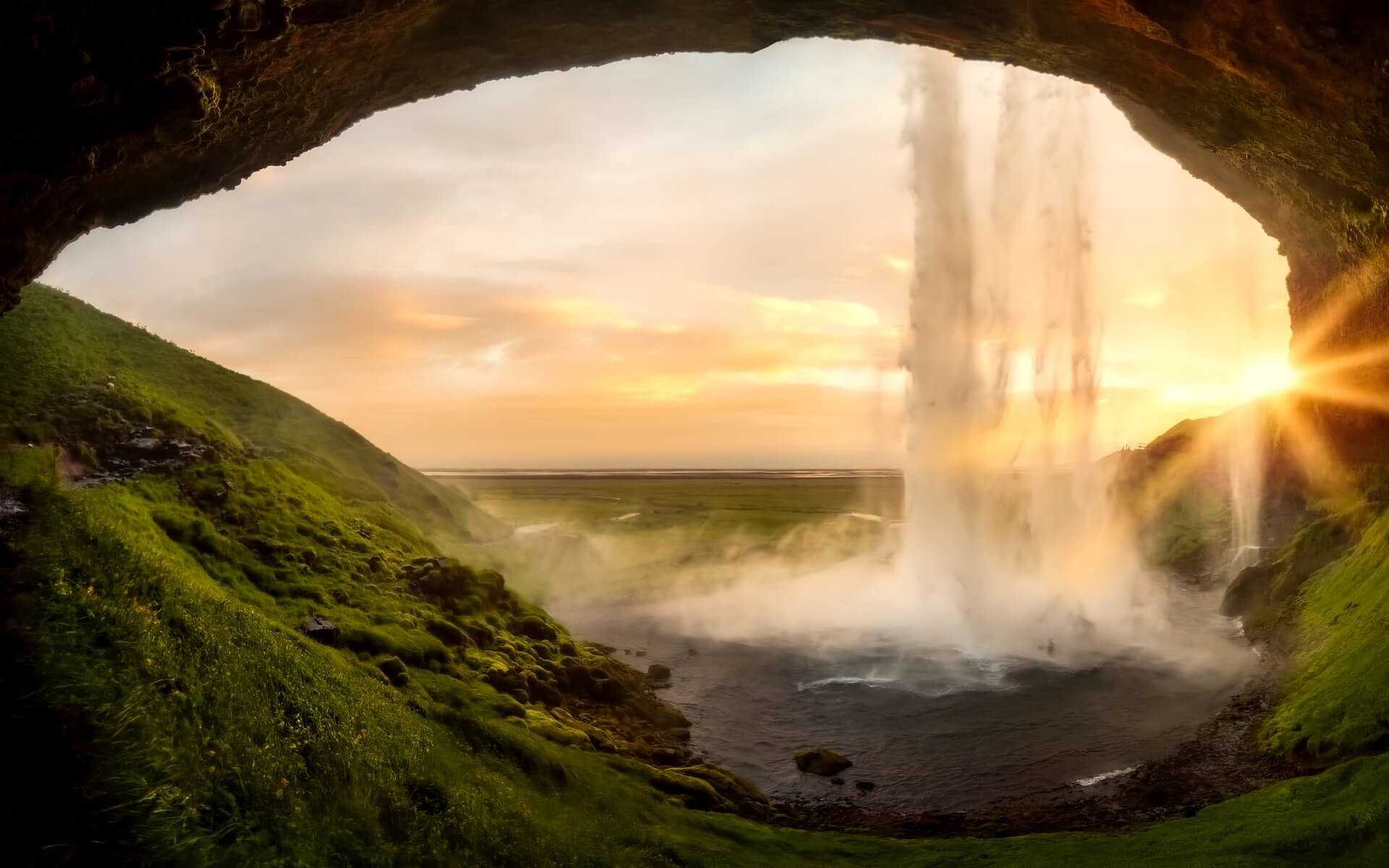 Enjoying Þórsmörk
Þórsmörk (Thórsmörk) is a protected natural area named after the Thunder God, Thor. This idyllic spot sits tucked away behind a ridge of mountains and glacial peaks. The name specifically refers to the mountain ridge between the Krossá, Þröngá, and Markarfljót Rivers, but also is used to speak generally of the area. The weather in Þórsmörk is typically warmer and calmer in comparison to the rest of the region and fosters a variety of flora and fauna. The lush green area is fed by rivers from the Myrdalsjokull, Tindfjallajökull and Eyjafjallajökull Glaciers. This unforgettable majestic valley features fields of wildflowers, moss, and ferns along with delicate dwarf birch trees.
At Þórsmörk there are numerous hiking trails and opportunities for guided adventures. You will also find a variety of accommodations from basic camping to more comfortable private rooms. We leave you here and hope you have enjoyed your adventures in southern Iceland! Cheers and onward to the next journey!
Popular Hikes
Þórsmörk Panorama takes you over the peak of the Valahnúkur mountain with 360-degree views of the region. (2 hrs)

Merkurrani Plateau Trail to the steep Merkurrani Cliffs and through black sands of the Markarfljót Riverbed (2-3 hrs)

Stakkholtsgjá Canyon is on the southern side of the Krossá River and brings you to a canyon, waterfall, and spectacular cliff views. (2-4 hrs.)

Þórsmörk Highlights features a walk through the birch woods in the Húsadalur Valley to the base of the Tindfjöll Mountains and through the last part of the Laugavegur Hiking Trail. (3-4 hrs.)

The Tindfjöll Circle is a steeper hike which covers highlights of the Þórsmörk Nature Reserve. (5-6 hrs.)

Experienced hikers may want to explore the higher mountain areas in Goðaland (Land of the Gods) with spectacular rock formations, or take the Þórsmörk - Skogar Trail that leads out to the coast and the Ring Road. It's possible to take a bus back into Landmannalaugar or Þórsmörk if you are hiking one way.
?
Driving Notes
To get to Landmannalagar and Þórsmörk you will be traveling on class F Roads (mountain roads). These are unpaved and open seasonally (typically between July and September). A 4-wheel-drive vehicle is required and high clearance is recommended; rivers may need to be forded so a properly outfitted vehicle is essential for safety. Always keep an eye on road conditions via road.is and safetravel.is.