Iceland Car Rental
The Definitive Guide
Since our old guide to renting a car in Iceland became so incredibly popular we decided that it might be a great idea to create a newer, bigger and more in-depth version of the old post. So, here you have the new and improved Iceland Car Rental Definitive Guide.
We hope that this guide helps you manage through the many pitfalls and confusion involved with renting a car in Iceland. If the post helps you out, we'd love to hear about it in the comments below!
In this guide we will teach you:
Everything you need to know before deciding to rent a car in Iceland.
How to find the best and cheapest options for your trip to Iceland.
What car rental reviews to trust and when to be skeptical.
What you need to know before you arrive in Iceland.
What you need to watch out for while in Iceland.
And much more...
↓ You can jump to specific chapters using the menu below. ↓
Chapter 1
Car rental reviews, prices, and trusted sources.
Reviews for Car Rentals
Reviews are important. I think we can all agree on that.
I've started checking reviews for absolutely anything before I make a purchase, and if I'm taking the time to do meticulous research before buying that new scratch-proof frying pan, you can bet your tuckus that I'm researching everything from heaven to hades before choosing a car rental company to rent me a car and carry me and my loved ones around a dreamy destination like Iceland.
Or any destination for that matter.
Every car rental you find is going to have some fancy words about them on their own website. You'll see 5 stars from Jessie and another 5 from Jim, which is great, but you'll normally not find anything critical on the rental's own website.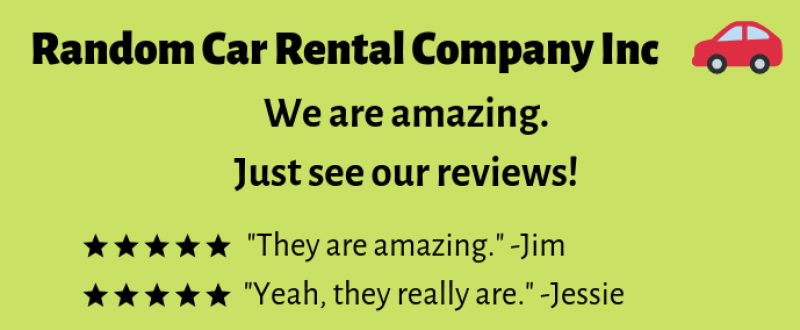 We want critical and honest reviews.
It's the 4,3,2 and even some 1-star reviews that give us the clearest picture of how the car rental experience is going to be if we book with this particular rental car company.
Just make sure you don't put too much faith in every review you find.
On TripAdvisor, for example, there has been a common practice among some questionable companies to create fake profiles that loudly profess their love for the company's services.
The safest way to evaluate whether a TripAdvisor review is trustworthy or not is to look at the user's profile.
Is he a regular poster who has reviewed multiple businesses?
Great!
If, on the other hand, he only has 1 review to his name, then it's entirely possible that you're either looking at a fake user or someone who may have received a partial refund or some incentive in exchange for a public recommendation.
Take the comments of 1-post users with a healthy dose of skepticism.
Sources you can usually trust:

Facebook Reviews.
Google Reviews.
Northbound Reviews.
Trustpilot Reviews.
Tripadvisor Reviews.

Sources you want to be skeptical with:

Tripadvisor Forums.
Travel Forums.
Reddit.
Sponsored blog posts.
Facebook is a relatively dependable place to check for Car Rental Reviews.
Businesses need to go through a whole lot of trouble to fake reviews there, so I doubt that even the sketchiest business would bother with all that.
Also, since we're on the subject of Facebook.
Beware pages that have hidden their reviews. While Facebook pages can't remove or hide individual reviews, they do still have the option to disable the reviews altogether.
If pages get a ton of bad reviews pouring in, this is often what they resort to.
I include the Northbound reviews in the list of trusted sources for the simple reason that it's impossible for anyone to fake a review on there. They are all submitted by verified users who have gone through a legitimate rental process.
So, what reviews are the ones to trust?
In my experience, the most constructive reviews are in the 2-4 star range. They'll usually go into details on what went well with the car rental and what felt lacking.
An underrated place to go searching for reviews or discussions about car rentals in Iceland is the Visiting Iceland Subreddit.
You'll be sure to find valuable advice there, and if you search for a car rental's name, you'll find all the relevant discussions to help you make your choice.
But, what's the most valuable content in a car rental review?
Well, look for anything that mentions rude employees, dirty or damaged vehicles, or perhaps someone bought expensive insurance and still got charged for some tiny damages.
One thing to keep in mind though, is that there are a lot of people out there that don't buy any insurance, damage the car and then get furious when they are expected to pay for what they damaged.
You can usually spot these reviewers right away.
Trust your judgment.
Finding And Keeping The Best Car Rental Prices
It's what it all boils down to.
Money makes the world go round, and we'd rather have more of it and spend it a bit less. I'm sure you've heard the saying: "You get what you pay for." While accurate in many cases, it's not the holy truth. At least not when it comes to Icelandic car rentals.
There may be numerous reasons why a car rental has better prices than its competitors and it's not always because they have less quality.
Perhaps they have a more automated process, or they happen to have a gap in availability over certain seasons and so they drop their prices, or maybe they're just new and feel like being competitive.
I like to suggest the following rule of three:
| | |
| --- | --- |
| | Take the 3 car rentals that you find with the lowest prices and then compare their reviews and what they have to offer. |
But, while the price may be the first thing you see, there are other things you need to consider such as:
1. What insurances are included?
Check to see if there are any insurances included, and be sure to check how much the self-risk happens to be on those insurances.
Car rentals often like to label things differently.
Car Rental A may include a Collision Damage Waiver for free that carries a self-risk of 2.000 EUR while Car Rental B includes a SUPER Collision Damage Waiver, but that carries a self-risk of 3.500 EUR.
Read the fine print.
2. What extras or features are included?
If one car has a GPS and Wifi included, but a slightly higher price, it might still come out cheaper for you if you planned on getting those things anyway.
You'll also want to check out the list of features by each vehicle. Does it have air conditioning? ABS? Automatic transmission?
Decide what's important to you, and factor that into your decision.
3. Is there a security hold?
This is the source behind a lot of 1-star reviews.
You arrive in Iceland, ready to explore, go to pick up your pre-booked rental car only to find out that the car rental needs to take a hold of 3.000 EUR on your credit card as a security deposit while you have their car.
That's a pretty rough start to what was supposed to be a magical journey, and perhaps a huge hit to your budget.
There are usually two scenarios whereas the car rental either takes hold of funds or it may only take an imprint of your credit card without actually holding any funds.
Make sure you read the fine print.
4. Are the reviews mostly positive?
I'll say it again.
Read the experiences of other travelers who came to Iceland before you.
Scroll up if you need a reminder on why.
Most car rentals charge by the day.
What does this mean?
Let's say you're booking a 4x4 car for your Iceland trip. You'll be staying from September 1st until the 14th.
You decide that you want to pick up the car at Keflavik International (KEF) Airport when you land at approximately 7:00 AM, and then you'd like to drop off the car on the 14th at 9:00 AM.
How many days is that?
13?
Wrong. That's gonna result in you getting charged for 14 days.
You see, if your drop-off hour exceeds the pick-up hour, then the booking engine is gonna charge you for an extra day's cost.
If you can, try to drop off the car at the same time as your pick-up time, or earlier, and save yourself a bit of money.
A few ways to save money on a rental car:

Book in advance. This is especially important if you're coming to Iceland during high season. A lot of car rentals will start by offering their most reasonable prices but will then raise those prices as demand increases. Book early and snatch those early bird prices.

Even though you book early, you should check the prices right before arriving to see if they've gone down on the car you picked. If they have, you should be able to get a price match for it as long as it doesn't conflict with the cancellation policy.

Pick up and drop off at KEF Airport in Keflavik. This is the area where most car rentals are based, so in normal circumstances, it will be cheaper for you to take and leave the car there. Plus, you'll save on the bus or taxi ride.
Frequent Budget Questions
• What is the cheapest month to Travel to Iceland?
Based on Northbound's data collected from our rental car bookings, the cheapest months to rent a car in Iceland are February, March, and November.
These three months are followed closely by April and October.
Then come December, January, and May.
And while June is quite a lot more expensive than the aforementioned months, it pales in comparison to the prices in July and August, the absolute most expensive months to travel to Iceland.
• How much does it cost to rent a car in Iceland?
The average costs of 4x4s and small hatchbacks for a week, with basic insurances and no extra items, are as follows:
| | | |
| --- | --- | --- |
| Month | 4x4 Price | Hatchback Price |
| January | €575,34 | €296,59 |
| February | €552,05 | €309,33 |
| March | €549,56 | €331,74 |
| April | €548,66 | €319,63 |
| May | €498,85 | €258,58 |
| June | €615,21 | €318,21 |
| July | €842,09 | €433,11 |
| August | €868,87 | €464,19 |
| September | €553,43 | €323,32 |
| October | €521,06 | €256,35 |
| November | €502,82 | €247,71 |
| December | €502,03 | €282,62 |
• How do I compare car rental prices in Iceland?
The best way is to use a price comparison engine like Northbound that presents information clearly and concisely.
• Do I need a credit card to rent a car?
No. There are some car rentals that will allow you to rent their vehicles without a credit card. Some conditions normally apply. Check here for more info.
Start Comparing Rental Car Prices
Chapter 2
Choosing the right type of rental car
Do you know what type of car you want for the trip in Iceland?
It's an important question because people may be booking their car hire during different stages of their planning.
• Best Cars for the Icelandic F-Roads
If the sights around the ring road or the Golden Circle are not enough to sate your adventurous spirit, then you might be interested in the untamed highlands of Iceland.
But, to get to the highlands, you'll need a car with enough ground clearance to easily clear the rocky roads and potential rivers that need to be crossed.
Important! F-roads are only open during summer, so if you're coming during early spring, fall or winter then you can save yourself some money and go with a smaller car.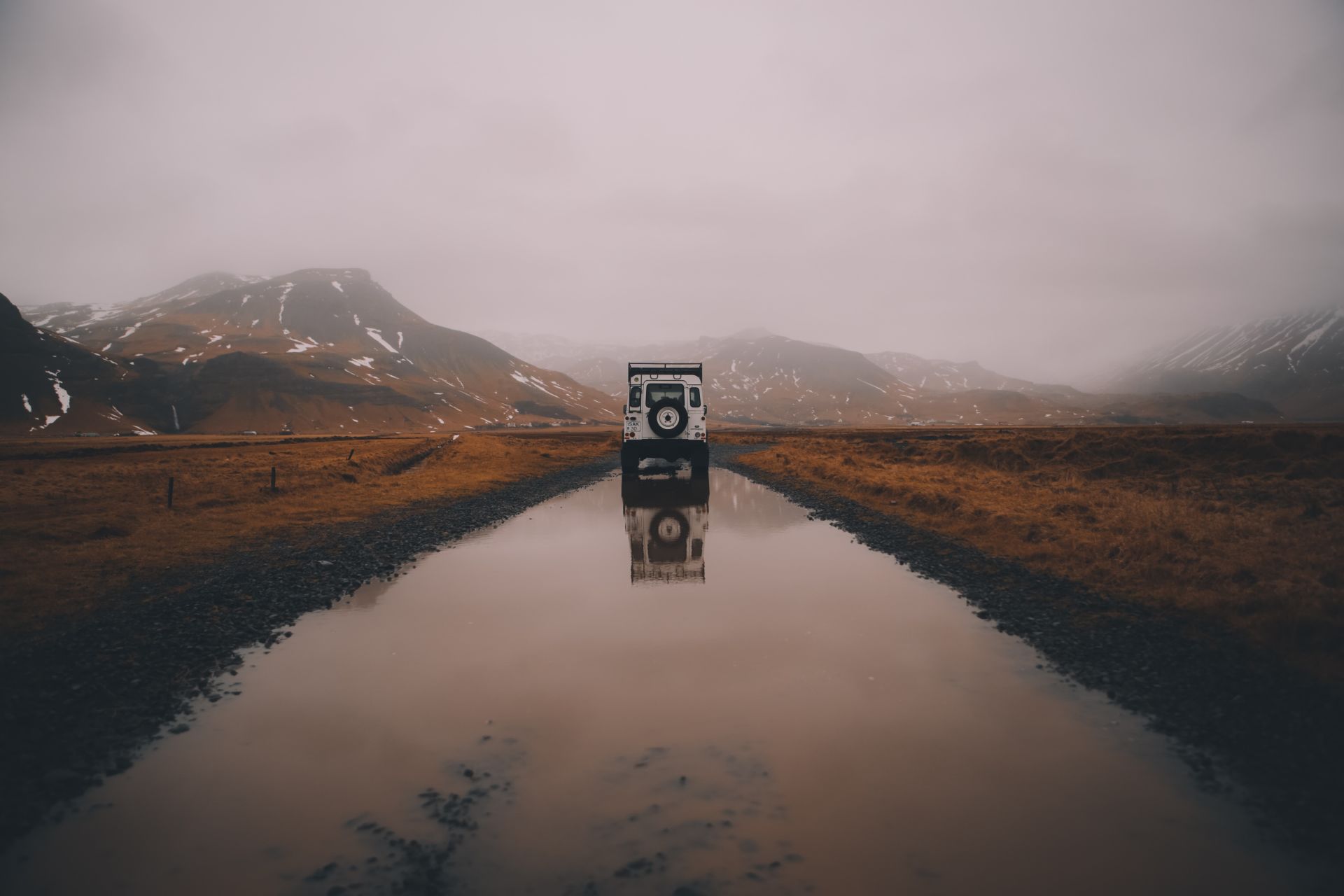 F-roads can vary a lot. Some are fairly easy like F35 and some can be quite a rollercoaster ride and may even require river crossing, like the F26. Make sure you do your research on F-roads and which ones you will need to drive through, and then pick your car based on that.
If you're only headed for the smaller, easy ones, then a Dacia Duster or Suzuki Jimny will do you well, and won't cost an arm and a leg.
If you're planning on driving to Landmannalaugar or Sprengisandur then you might consider something bigger like a Land Cruiser or Ford Expedition.
• Best Cars for Luggage Space
Out of the most popular hatchback rental cars in Iceland, the winner is the Hyundai i30 with a boot space of 395 liters. It does sacrifice a bit of the passenger space in the back, but all that boot space is great for those planning on bringing lots of luggage with them around Iceland.
The Kia Cee'd and Renault Clio seem to be the next best choices while the Toyota Aygo, Volkswagen UP! and Hyundai i10 are the cars you want to avoid if you're carrying more than a couple of medium-sized bags.
In the 4x4 category, the Land Cruiser, Mitsubishi Pajero or Ford Expedition would probably make for the best carriers of luggage and people.
It's important to note, however, that cars like Land Cruisers can come in 5-seater or 7-seater versions. If you go with a 7-seater, you need to be aware that the 2 extra seats come at the cost of some of the luggage space and are normally only really suited for small children.
For minivans, MPVs or smaller people carriers, the top options are the Renault Trafic (1500 liters) or the Ford Tourneo (1180 liters). Another popular choice in the MPV category is the Mercedes Benz V-Class, and while it's an extraordinary car that places comfort above all else, the boot space falls a bit short.
• Campervans and Motorhomes
If you'd like to avoid booking hotels and having to stick to specific schedules to fit each hotel's check-in times, then perhaps you might want to consider a campervan.
Imagine being able to drive wherever the road takes you and simply pulling up to the nearest campsite to whip out the BBQ and then rest for the night.
The weather in Iceland can be incredibly random at times, which makes it important to be able to change plans and "follow the sun" as we Icelanders sometimes call it.
Renting a campervan allows you to change course and follow the sun, flee the storm or just have a change of heart about what you'd like to see.
Compared to having a regular rental car and hotel reservations, you're essentially unlimited in your travels, except perhaps for the fact that you can't go on F-roads, but that's easily resolved by renting a 4x4 campervan.
What to Consider when Choosing a Campervan
The first thing you need to consider is obviously the sleeping arrangement.
Are you a couple? A throuple? A group of friends? Do you mind sleeping huddled up with the rest of the gang or do you need your space?
There are all manner of campers and RVs available to suit whatever your needs might be, within reasonable terms.
There are the small mini campers, perfect for couples or lone-wolves. These usually come in 2-person arrangements, but there are 3-person variations out there.
The mini camper is affordable, easy to drive and usually comes with everything you'd need if you don't mind the tight space.
The next size up is the larger campervans that can hold up to 5 people. These are perfect for a group of friends, families or just a couple who prefers more space around them.
They normally come equipped with bedding, utensils, a gas stove and most other things you might need. The exact inclusions are normally described very well on the booking page for each car.
If you'd like to take it a step further, then you might like to hire a motorhome for your journey around Iceland.
Motorhomes come in different variations and sizes from 4-person budget to 6-person luxury and are usually incredibly well equipped with comfortable beds.
Another thing to consider is heating.
As the name implies, Iceland can get cold. You might get away with renting a campervan without any sort of cabin heater during the summer, but honestly, I wouldn't recommend it as the weather can quickly turn on you.
In winter, it's absolutely necessary to have a cabin heater in the van. It'll be worth the bit of extra cost when the chilling winter air hits you.
A common mistake that people make is assuming that their campervan has a cabin heater in it without actually confirming it. Go over the details of the booking page carefully and make sure that the van you're choosing includes a cabin heater, often labeled Webasto.
• 4x4 Campers & Roof Tents
If you want the freedom to roam that a campervan offers without being limited to regular roads like some regular person, then you might want to consider a 4x4 camper.
There are normally two variations in this category.
The first is the fully equipped campervan that has the same amenities as any other camper; gas stove, bedding, utensils, a warm bed and so on. These can sometimes be modified 4x4s, pickup trucks with houses on the back, or even a raised van.
Those are the more luxurious variations but are normally the most expensive rental cars you can find.
The other option is considerably cheaper, at the cost of some luxury.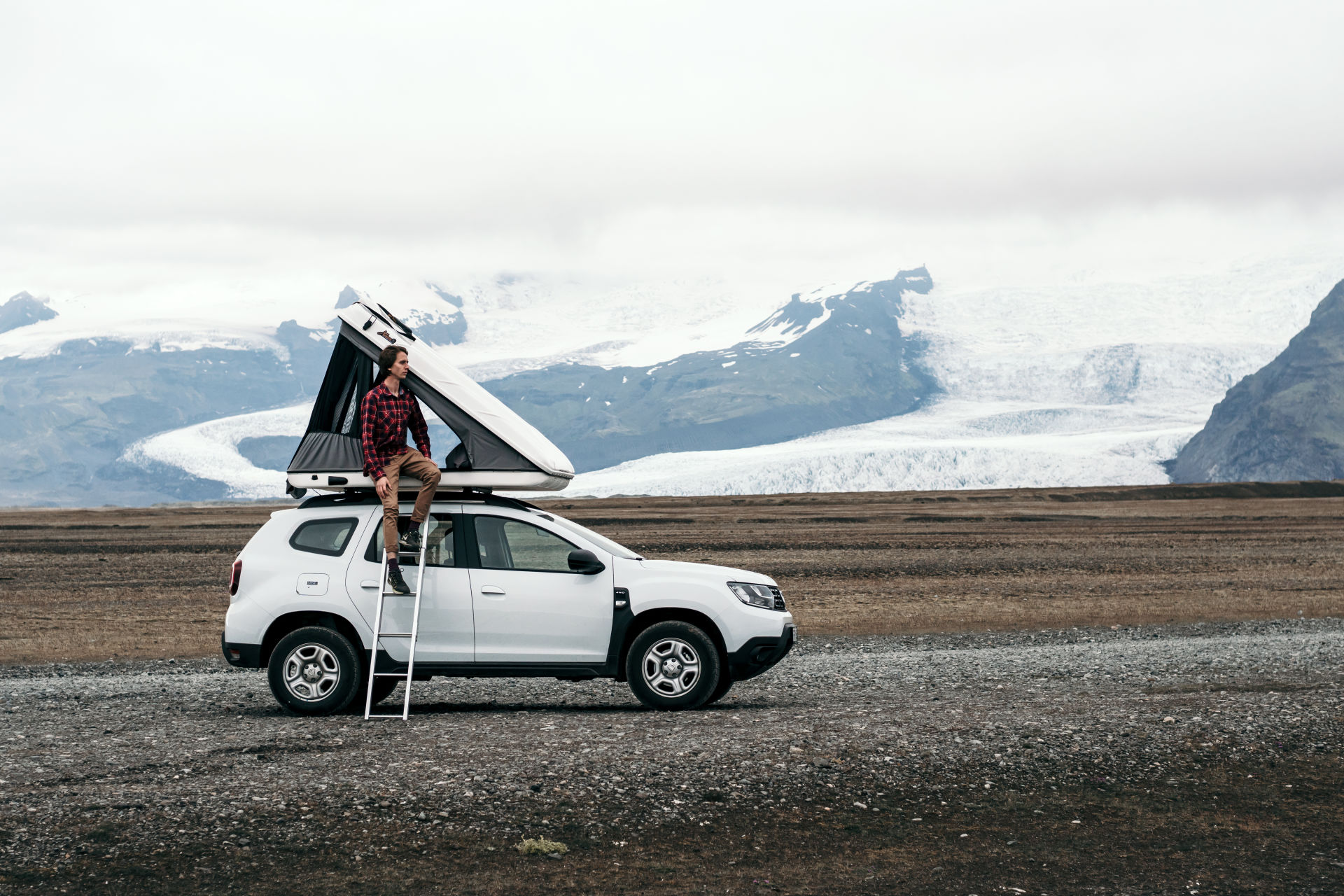 Roof tent 4x4s can be a fantastic, budget-friendly alternative to the campervan if you'd like to have the option to venture on to Iceland's many highland F-roads.
These roof tents normally come equipped only with the bare minimum like the tent itself, a foam mattress and a pillow. Some might include sleeping bags, but normally you would need to rent those extra.
Chapter 3
Picking up your rental car in Iceland
We all get that gnawing anxiety at the back of our heads when we travel.
"Is my booking definitely confirmed?"
"I hope they still have the car I booked."
"Where will I find the car…?"
In this section, I hope to put that anxiety to rest so that you can rest easy on that flight to Iceland and dream about all the sights you're gonna see.
• What are the car rental pick-up procedures?
While this can be very specific to which company you go with and the information is normally found on your voucher, sometimes it can still be a bit unclear and intimidating.
Pick-up at Keflavik International (KEF) Airport.
Keflavik International Airport (KEF) is the only international airport in Iceland.
Sure, you might possibly fly in from Greenland through Reykjavik Airport, but in 99% of cases, you would be arriving at Keflavik International Airport.
Please note that some travelers do get confused when airlines refer to this airport as Reykjavik Airport on their tickets or booking confirmations, which can cause confusion since there is a tiny domestic airport in the city center called Reykjavik Airport, but if the 3-letter airport code is (KEF) then you'll be arriving at Keflavik International Airport.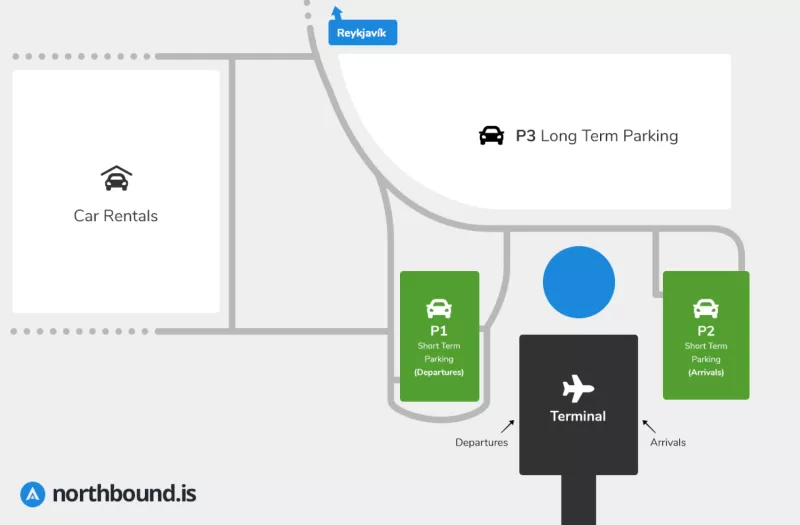 There are normally 3 varying procedures for picking up at the Keflavik International Airport.
Procedure 1
The Meet & Greet.
Most car rental companies, especially the smaller ones, will be meeting you in the arrival hall right as you step through customs. Check your voucher and make sure you're aware of what the car rental's name is and what their logo looks like.
In the arrival hall, you should then be able to find someone standing with a smile, with a sign that carries the car rental's name or logo.
Side Note: Some car rental companies own multiple brands, so the sign might have more than 1 brand on them.
After you find the agent with the sign, he will normally drive you in a shuttle to the car rental office, located close by. However, if he is coming from Reykjavik City, it might be a bit of a ride to the office, or he may have brought the vehicle with them.
This all depends on what car rental you went with.
Procedure 2
The Big Car Rental Brands
This procedure applies if you're booked with any of the following brands:
Avis, Budget, Payless (Budget & Avis Sub-Brand), Europcar, Rás (Europcar Sub-Brand), Hertz
After you've claimed your luggage and stepped through customs, you'll want to turn left in the arrival hall and follow the signs to the car rental desks.
You'll find desks for the above brands right inside the arrival terminal, so it's simple and easy… unless there's a queue.
Procedure 3
The Car Rental Zone
Roughly a 5-minute walk from the airport terminal at KEF is the Car Rental Zone, where you will find offices for multiple large local brands like Geysir, Lotus Car Rental, Blue Car Rental as well as the service buildings for global brands like Europcar, Hertz, and Thrifty.
If your chosen car rental company is based in this area, then you will need to either walk on over to the area located west of the KEF terminal\
Side note: Renting a car on the day is always an option but due to supply and demand it will cost you more than if you would rent your vehicle in advance.
Or, you could make use of the regular shuttles that run between the arrival terminal and the car rental zone. You should see signs in arrivals that will point you to these shuttles.
But, if the weather is nice, you're better off just walking over.
Pick-up at Reykjavik Airport (RKV)
If you're arriving from Greenland, Faroe Islands or another place in Iceland such as Akureyri, then chances are you might need a rental car from Reykjavik Airport.
It's important to note that this is a domestic airport, so if you're arriving from New York or Berlin then you're more likely arriving via Keflavik International Airport (KEF).
RKV is a small airport so picking up there should be a fairly straight-forward process. Some companies like Hertz, Thrifty, Avis, and Europcar will have a presence at the airport, either at small desks in the terminal or an office next door.
Whether you arrange for a pick-up at a hotel in Keflavik or in Reykjavik, the process should be fairly straight-forward.
Normally, the car rental delivers the car to the hotel and finishes the paperwork with you on-site but, if their office is not located too far away, they might pick you up from the hotel and bring you to their office to sign the agreement.
Either way, it's easy and quick, but might cost a small fee.
Pick-up at the car rental office
Possibly the easiest option.
If you have the car rental agency's address then Google Maps should be able to point you in the right direction.
Just make sure you plot out the journey between the office and your accommodation and be sure that it's the most convenient option for you.
Frequent Pick-up Questions
• Do I need to have my voucher printed out?
No. In most cases it should be enough to show your voucher on your phone or even just state your name.
• How long does the pick-up process take?
It can vary. Normally it only takes 15-30 minutes, but I would be prepared for it to take an hour if the rental office is very busy.
If you're picking up a motorhome, the process might take up to an hour as it can sometimes involve a detailed orientation class before they let you go.
• Do I need an international driver's license when I pick up my rental car?
No. Any domestic driver's license is fine as long as the text is printed in Roman letters.
Chapter 4
Icelandic Roads & F-Roads
You could say that Iceland is just one long stretch of road that reaches around the island.
It's known as route 1, or the ring road, and it's the road you need to follow if you'd like to drive out of Reykjavik for a few days and wind up again in Reykjavik eventually.
Along this road, you'll find several of Iceland's most popular tourist sights including: Skógafoss Waterfall, Reynisfjara Black Sand Beach, Jökulsárlón Diamond Beach, Mývatn Natural Baths and the majority of the country's glaciers, volcanoes and mountain peaks.
The popular route around the ring road is to drive east from Reykjavik, through the south coast, up the east fjords, across the north of Iceland and down the west side with, an optional detour into the Westfjords, until you reach Reykjavik again.
The road itself has a speed limit of 90 kilometers per hour and is a single lane road for the most part so exercise caution and keep your eyes peeled as you never know when a car might appear from the opposite direction or on the other side of a blind hill.
There's also the sheep.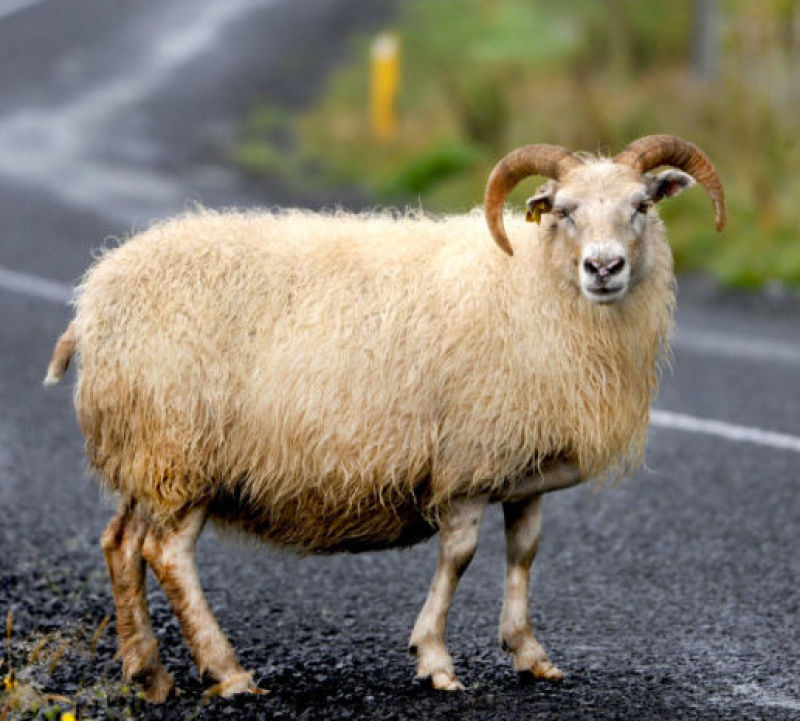 As you're going to be driving through the Icelandic countryside, it's important to keep in mind that Iceland is home to approximately 800,000 sheep. These sheep will be wandering the mountainsides and fields surrounding your entire journey so make sure you keep alert and aware of any wooly families crossing the road.
Route 1 provides access to most of Iceland's main attractions and is the favored route of the majority of visitors, however, those who seek true adventure might want to look to the Icelandic highlands.
F-Roads
Highland roads in Iceland
F-roads are specifically marked roads that lead from the main road network into the more remote interiors of Iceland.
These can be used to cut a shorter path from one part of Iceland to another, like how you can take F-35 from Gullfoss to the northern coast for a shorter and more scenic journey.
The thing is, though, F-roads are only accessible behind the wheel of a 4x4 vehicle, so if you want to have the opportunity to drive on an F-road and experience unique sights in breathtaking and uncrowded places like Landmannalaugar, Lakagígar or Hveravellir, then you might want to consider renting a 4x4 vehicle for your Iceland trip.
• How long is the ring road in Iceland?
The ring road, route 1, is 1,332 kilometers or 828 miles and takes about 17 hours to drive during good conditions. To experience the road and all of its sights, it's recommended to take give yourself at least 10 days to travel.
• What cars are allowed on F-roads in Iceland?
Most car rentals will only permit you to take their 4x4 vehicles on F-roads but it is your responsibility to judge whether a particular road is safe for your vehicle to cross. For example, a Dacia Duster might be fine for F35 but would not carry you over Sprengisandur on F26 without severely damaging the undercarriage.
It's important to note that the undercarriage is almost never covered by car rental insurance.
• What happens if I get a speeding ticket?
If you get pulled over for speeding by the police then you will have the option to pay the ticket on the spot. If you don't, then the car rental will be forced to deal with it and will therefor charge you an administrative fee for doing so.
Chapter 5
Car Rental Insurance & Damage Prevention
The thing most people worry about, understandably, is causing damage to the rental car and being potentially liable for thousands of dollars in damages.
This is why we get insurance, kids.
I get it, though. The insurances can be pricey so you might feel the urge to listen to that voice in the back of your head telling you to just… risk it.
The risk might be acceptable in most countries, but Iceland is different.
Most countries don't have an abundance of gravel on their main highways,
Iceland does.
Most countries do not have sheep roaming around at the side of the road that won't hesitate to dart across at the worst possible times.
Iceland does.
Most countries do not have sand or ash storms that can strip the paint off the car.
Iceland does.
Most countries do not have one-way bridges and tunnels in abundance that often cause accidents.
Iceland does.
Oh, you want to listen to me speak about insurances now?
• What is Third Party Liability
Often shortened to TPL, the Third Party Liability insurance is a legally mandated insurance that covers damages caused by you to others.
In short, the TPL is going to cover that fence you just drove through and most other property damage that happens to get caused by your actions or inactions.
It's an external insurance, meaning it covers the things around your car, but not your car itself. And there's usually still some self-risk involved, so I don't recommend being careless.
• What is a Collision Damage Waiver?
This is your other standard, legally mandated insurance that comes with every rental car. The CDW covers your rental car for most types of damages.
However, this normally comes with a substantial liability amount that can often be as high as 4,000 dollars.
But, that's why we have the Super Collision Damage Waiver.
While it won't come with a cape, it will come with substantially lower self-risk. This is a way for you as the renter to upgrade the regular CDW and decrease the risks involved.
The Super CDW normally only lowers the self-risk down to about 800-1000 dollars, but some car rentals go even further and offer Premium or Platinum CDWs that may eliminate the self-risk all-together.
I'd recommend going over the terms of the insurance carefully, however, as there may be some types of damage not covered by that particular insurance.
• What is Gravel Protection?
Whenever someone on a budget asks me:
"What insurance would you recommend getting at the least?"
I say Gravel Protection.
As I mentioned above, Icelandic roads are just bad.
It's sad but true.
There's so much gravel on the paved roads themselves and even if you only plan to drive route 1 around Iceland, you can expect a part of that route to be unpaved in the South-East corner.
Gravel damage is the most common type of damage to rental cars in Iceland, so if you're only taking ONE insurance, then I'd take that one.
• What is Sand and Ash Protection?
In the years following an eruption like the one in Eyjafjallajökull, you can expect volcanic ash to settle on the ground only to be swiped up and tossed around whenever we get stormy conditions.
And this is Iceland.
More often than not, we get stormy conditions.
These clouds of ash can hit you when your driving, severely damaging the paint job on your car. And that type of damage can be very expensive to repair.
You may be asking yourself, but what about when there hasn't been an eruption in years?
You would think Iceland would give you a bit of break.
I'm afraid not.
You see, on the south coast as well as some other parts of the country, you will find these vast fields of sand often very close to the roads.
Much like the ash, this sand can and often will get tossed up by the wind, severely damaging passing cars such as the one you plan to drive.
This scenario is likely to occur during months like March and April, when the snow has thawed but the grass has yet to grow enough to keep the sand in its place.
The one time of year when you can safely not bother with Sand and Ash Protection is winter.
Frequent Insurance Questions
• Are rental car insurances expensive in Iceland?
Yes. Good, extensive coverage can actually cost you as much as the rental price itself. Insurance is usually charged on a per-day basis like the rental car itself, and the more favorable self-risk the more expensive it gets.
But having to pay for the damages to your rental car is far more expensive.
• What rental car insurance should I get in Iceland?
Gravel Protection. Hands down, the most useful insurance you can get in Iceland. Just make sure you look at how excessive the self-risk is before you commit.
• What is the most common type of damage to rental cars in Iceland?
Besides grave damage, the most common incident that travelers experience is when their car doors get flung open by the harsh winds. This type of damage can be very expensive to repair, so you are advised to park against the wind and always keep a firm grip on the car door when opening it.
• Why are car insurances so expensive in Iceland?
This is due to a few varying factors. First, the entire insurance market is pretty much monopolized by 3 large corporations that are very difficult to deal with. To be fair, that might be influenced by how common damage is to rental cars in Iceland.
Another factor is large costs involved with repairing the vehicles. I can't speak to where in the process the cost begins to rise, perhaps due to being imported from mainland Europe and imposed by high taxes and fees when they arrive here, but the fact remains.
Car repairs are expensive in Iceland.
Bonus Chapter
Valuable Resources & Websites
Other Guides
Useful Websites
Author
A little bit about the author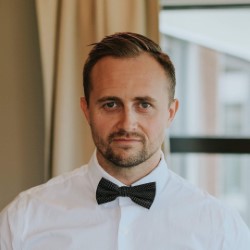 Daniel Cramer is the Marketing Director at Northbound. He has a Master's degree in Leadership and Management: Servant Leadership as well as a Bachelor degree in Social and Leisure Studies. He was a flight attendant with an Icelandic Airline so he's seen his share of the world with abundance of great tasting food and weird smelling places. His strengths are that he doesn't know his own strength so he just crushes obstacles with "whatever happens, happens" attitude.
Read more posts by Daniel
Comments
We'd love to hear what you have to say