Landmannalaugar is amongst the most unique volcanic landscapes on Earth, situated in Fjallabak Nature Reserve, in the Highlands of Iceland. Thousands of tourists, local and international, flock to observe and hike the area that's filled with colorful mountains, black obsidian lava fields, and plenty of geothermal hot springs.
Unsure how to get to Landmannalaugar or what the best hiking routes are?
No problem, we've got you covered in this ultimate guide to the pearl of the Icelandic Highlands, Landmannalaugar.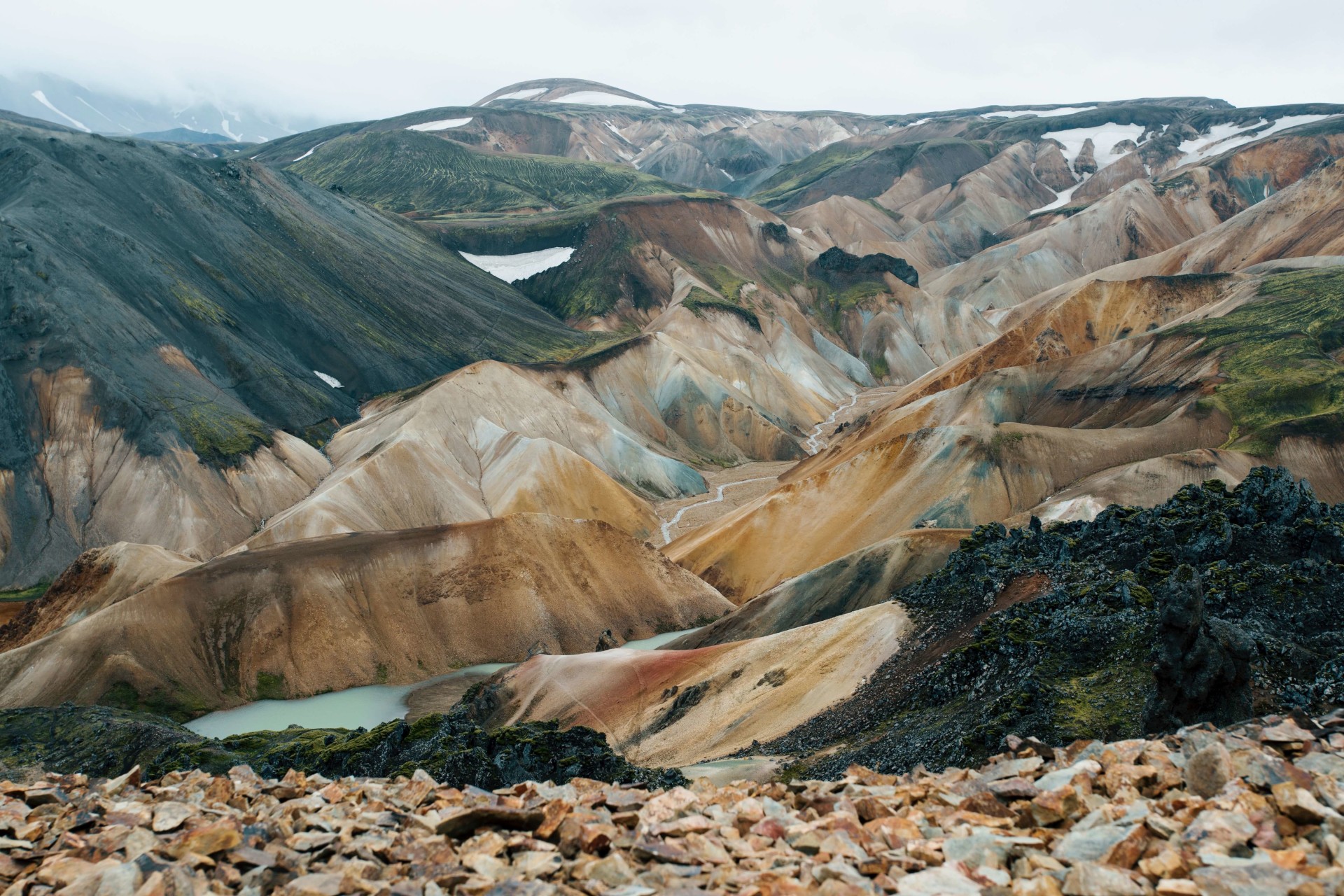 Where in Iceland is Landmannalaugar?
Landmannalaugar is situated in the south of Iceland, just off the Ring Road. The whole area is located in the Fjallabak Nature Reserve in the Southern Highlands. Landmannalaugar is at the edge of the Laugahraun lava field, which is a result of an eruption that occurred in 1477.
Fjallabak Nature Reserve
The Fjallabak Nature Reserve, where Landmannalaugar is found, was established in 1979 and is over 47.000 hectares (470 sq. km) big. The bedrock of the reserve dates back 8-10 million years and it's the largest rhyolite area of Iceland and the second most geothermally active area after Grímsvötn. Much of the bedrock and lava fields in Fjallabak are thanks to eruptions of the past from the Torfajökull volcano.
Torfajökull was one of Iceland's most active volcanoes over the last 10,000 years, and although it's still considered an active volcano today, it has been in a declining fumarolic stage for quite some time. In fact, the last time it erupted was around 3500 years ago in 1480 BCE. It was this last eruption that formed much of the landscapes we see today in Fjallabak Nature Reserve.
How to get to Landmannalaugar?
Landmannalaugar is around 180 kilometers (112 miles) from Reykjavik, which is roughly 3-hours of driving. There are generally two ways of getting to Landmannalaugar, this includes self-driving or joining a tour.
There are three main roads that can take you to Landmannalaugar. The easiest and perhaps most popular road is the F208 from the north. If you're coming from Reykjavik then follow Road 1 south until the intersection with Road 30. Follow Road 30 all the way down until you reach the exit for Road 32. Follow Road 32, it will eventually turn into Road F26, keep following it until you reach F208 which will lead you straight through the Highlands and eventually to Landmannalaugar.
Option two is the most scenic but also the hardest route, which is also on the F208, but coming from the south. If you're setting off from Reykjavik then again follow the Ring Road (Road 1) south. Drive all the way, past Vik, until you reach the exit for Road 208. Follow this road until you pass a place called Grafarkirkja. In Grafarkirkja the road will divide into 210 and 208, however, continue driving on the 208 until it turns into the F208 leading you to Landmannalaugar.
The third option, which is to come from the west is the second easiest route. If you're coming from Reykjavik follow Road 1 and take the exit onto Road 26 as you get into Hella. Follow Road 26 all the way down until you take the exit west onto F 225, which will lead you all the way to Landmannalaugar.
Before renting a car, make sure that it's allowed to drive on F-roads. The road conditions can be challenging and large parts of it are made of gravel. We highly recommend doing the journey in a 4x4 car. If you're still unsure, take a look at our ultimate guide on renting a car in Iceland to answer any and all questions you may have.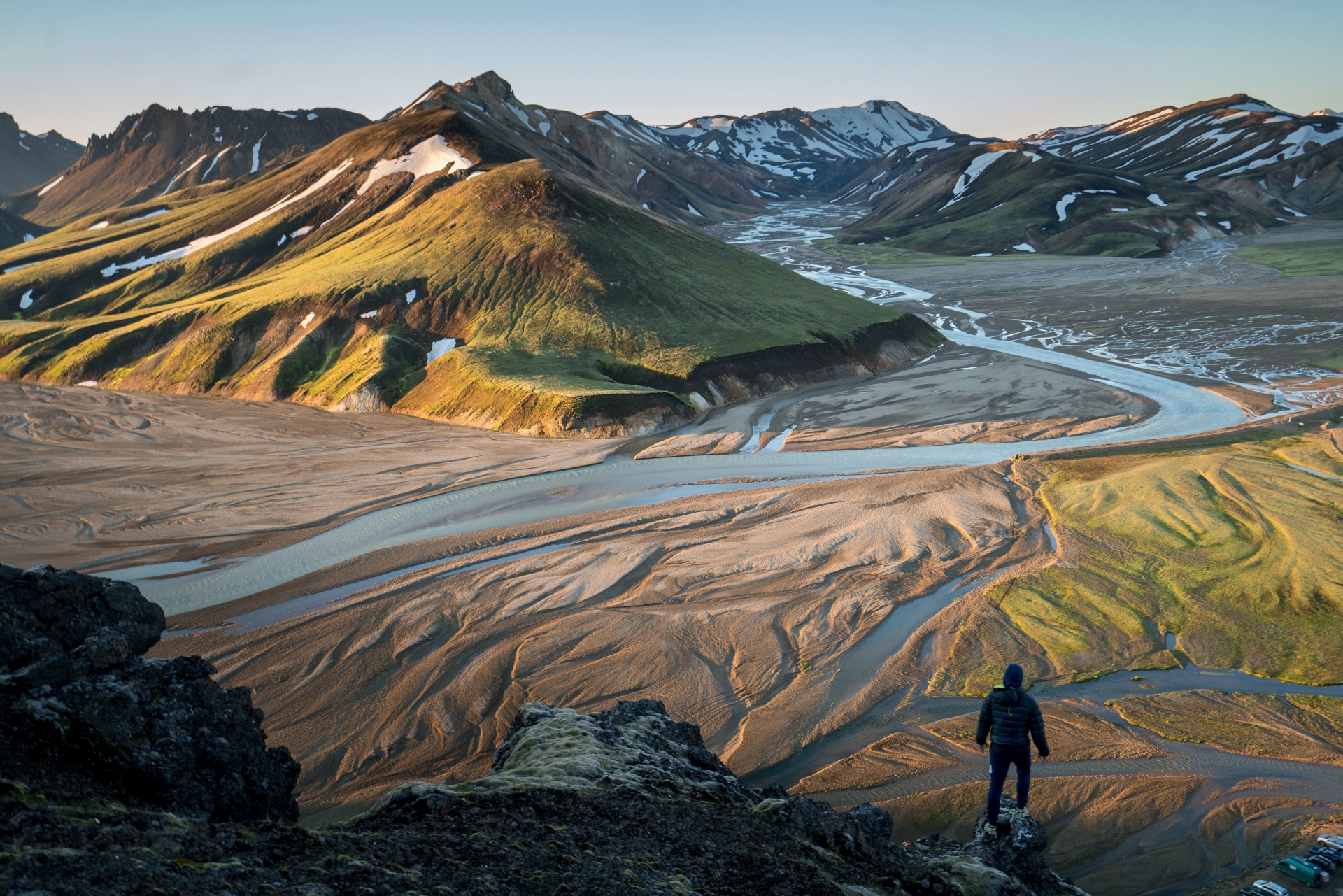 When is the best time of year to visit Landmannalaugar?
Depending on what time of year you decide to visit Landmannalaugar will make a difference to what you'll be able to see. During the summer months, you'll be able to admire the vibrant colors in the mountains and explore the area better. In the winter months, you get to see the landscape with a sheet of white snow, which also looks beautiful and mysterious.
Because it's such a beautiful part of Iceland, the area can get a lot of tourists visiting throughout the summer months. The winter months are quite the opposite and make for a great escape from the crowds of people. The huts here remain open for tour guests all year round, however, many roads and hikes are only possible to do during the summer.
It's important to note that the area is only available to self-drivers throughout the summer. The winter makes the roads too dangerous and therefore it's only accessible via an official tour. Because of the intense conditions, only specialized super jeeps can make their way through the terrain.
Best Natural Attractions in Landmannalaugar
The Rhyolite Mountains
The Rhyolite Mountains are the main reason why many people come to Landmannalaugar. These mountains are made of a special volcanic rock called rhyolite, which gives them a distinctive reddish-brown color. Other elements such as obsidian, iron, and sulfur have painted these rocks with shades of blue, yellow, pink and orange.
Two mountains in particular that showcase the various colors are Brennisteinsalda, which translates to "Sulfur Wave", and Bláhnúkur, the "Blue Peak". Due to their closeness, the colors reflect off each other and create a beautiful contrast between the two mountains. Brennisteinsalda mainly showcases shades of yellow, red, pink and blue, whilst Bláhnúkur is covered in black, dark grey and blue with patches of green moss.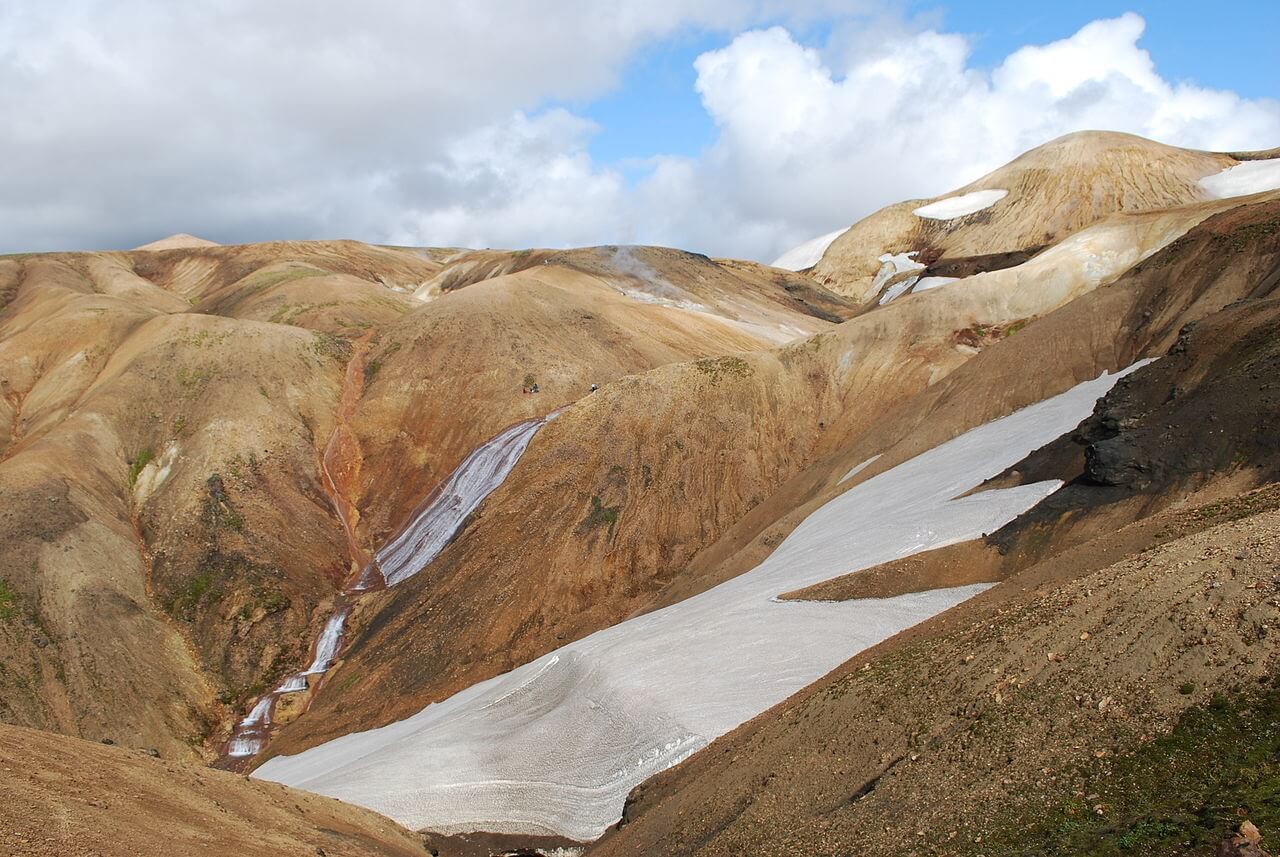 The Lava Fields
What makes the rhyolite rocks strikingly standout are the magnificent vast black lava fields found in the valleys of the mountains.
The largest of the lava fields is Laugahraun, which formed after an eruption of Brennisteinsalda volcano in 1477 AD. Nearby are Hrafntinnuhraun and Namshraun, lava fields that are equally as impressive.
According to Icelandic folklore, solidified lava fields are home to various mythical creatures like elves and trolls.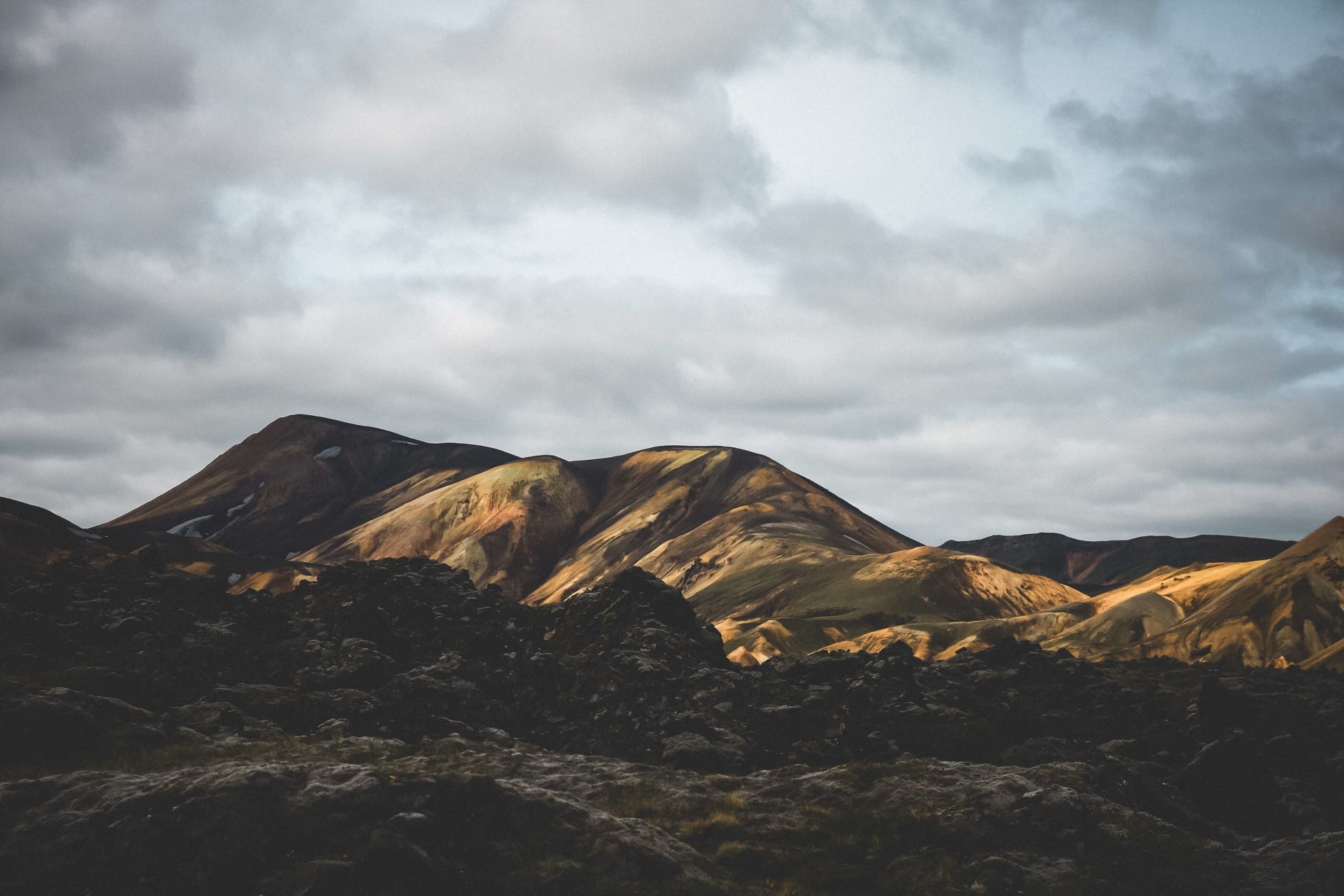 The Hot Springs
Landmannalaugar is situated near the mid-Atlantic ridge, which means it's one of the most geothermally active areas of Iceland. Several hot water streams and hot springs are found throughout the area.
For the last centuries, Landmannalaugar was used as a place to relax and revitalize travelers crossing the highlands. In fact, Landmannalaugar literally translates to "People's Pool". The pools are free to the public still today and attract many visitors. Some of the natural pools remain at a constant temperature between 36–40ºC (96.8–104ºF) all year round - even in the midst of an Icelandic snowstorm.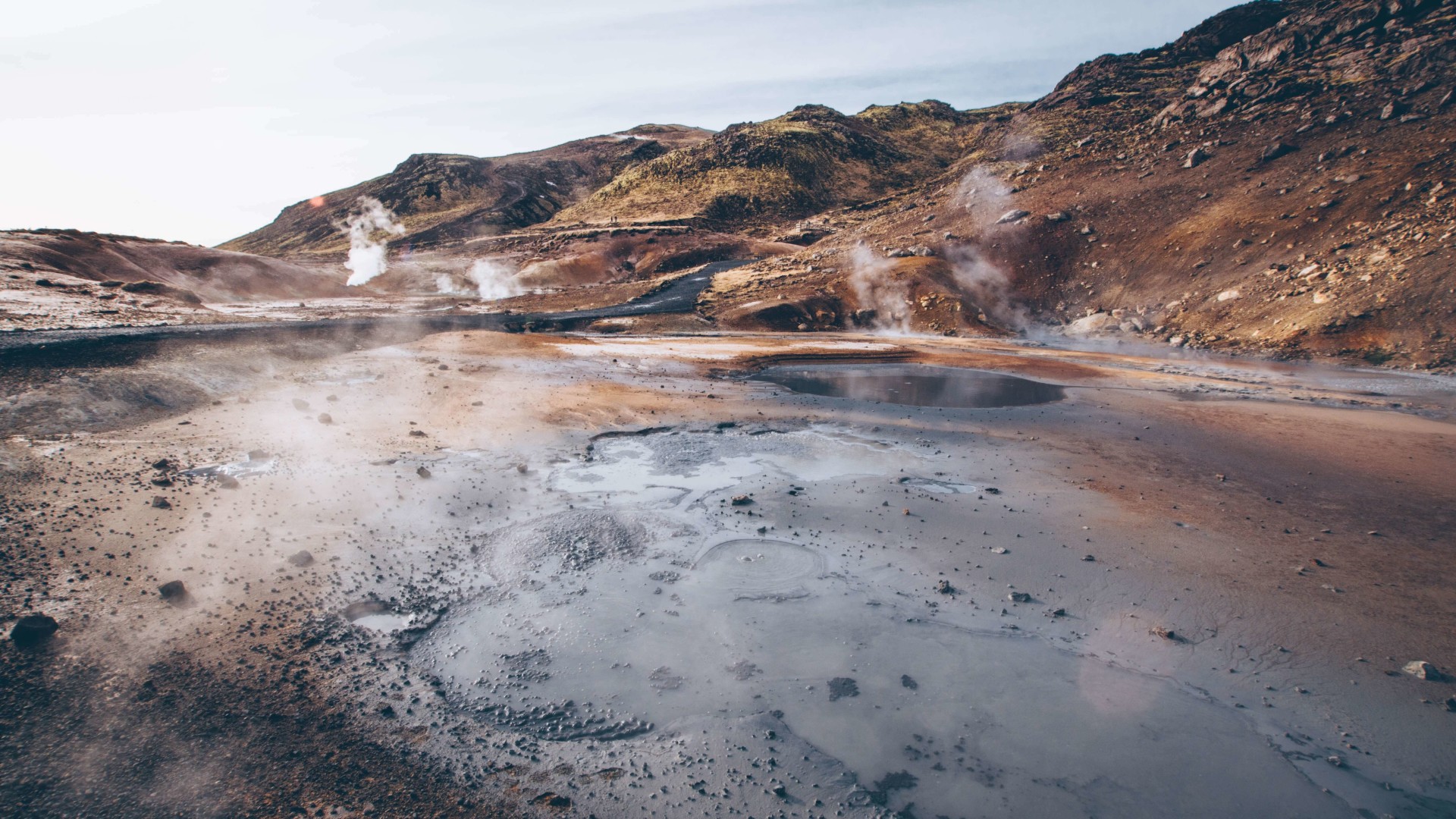 Best hiking trails in Landmannalaugar
Landmannalaugar is known to be a hikers dream. Beautiful landscapes and well mapped out hiking trails make this a popular destination for hikers of all experience levels. We've listed the top five trails below to help you get started.
The Laugavegur Trail
The Laugavegur Trail is Iceland's most famous and popular hiking trail. The entire trek takes four days and goes from Landmannalaugar to Thórsmörk. For four days you'll trek 55 kilometers (34 miles) through some of Iceland's most beautiful landscapes. From glaciers and lava fields to colorful mountains and geothermal pools, you'll experience some of the best Iceland has to offer
The Sulphur Wave Trail
The Sulphur Wave trail is another popular route. It's a great option for those looking for a short hike that's packed full of beautiful scenery. From start to finish this trail takes about two hours. The hike commences at Landmannalaugar and leads you across the Laugahraun lava field to Mt. Brennisteinsalda.
Ljótipollur "Ugly Puddle" Trail
Ljótipollur translates to "Ugly Puddle" in Icelandic, but don't be fooled by the name as it's one of Iceland's most beautiful lakes. The Ljótipollur trail takes between four to five hours from Landmannalaugar.
Ljótipollur is a volcanic lake that sits inside of a 1.5 kilometer (1 mile) long crater. The lake itself is very calm and peaceful with a metallic blue color and contrasts beautifully with the rough and dark red volcanic terrain around it.
The Trail to the Blue Peak
The Trail to the Blue Peak is another shorter hike that takes around two to three hours. This trail takes you up to Mt. Bláhnjúkur, a beautiful volcano that has a height of around 940 meters. Although this trail isn't difficult, it is quite steep in certain areas.
Bláhnjúkur translates to "Blue Peak," which comes from the shades of blue and black found on the sides of this volcano due to the volcanic ash and lava. On a clear day, you can observe five different glaciers from the peak of Mt. Bláhnjúkur.
The Hellismannaleið Trail
The Hellismannaleið Trail is a long trail that's adored by many hiking enthusiasts. The trail takes between three to four days to complete and starts at Landmannalaugar. Over the few days, it takes you around the base of the famous Hekla volcano and through the lava fields of Rjúpnavellir.
On the Hellismannaleið trail, you'll experience everything Iceland has to offer, from extensive lava fields, volcanoes, glaciers and beautiful rolling meadows. You'll encounter several geothermal baths where you get the chance to soak in hot water in the middle of the Icelandic wilderness.
The Sprengisandur Trail
If you're an experienced hiker and are looking for a real challenge then the Sprengisandur Trail was made for you. The route is around 200km long and crosses a barren volcanic desert, which was once an ancient pass during the period of the Icelandic Free State (930 AD to 1265 AD). Back then, this trail was an important road that connected the north and south of Iceland. The trail is impassable during the winter when it's covered in snow, and in the spring when the snowmelt can cause great flooding.
On a sunny day, one can observe the glaciers and volcanoes of Askja and Herðubreið along the route. Although perhaps a little less scenic than other trails, it's an interesting way to experience the raw conditions that the first settlers experienced when they arrived in Iceland. However, please note that long hikes such as this one require good planning, preparations, and excellent physical fitness.
Accommodations at Landmannalaugar
Accommodation is available in Landmannalaugar for those looking to spend a night or two to fully immerse themselves in the ample hiking and geothermal bathing opportunities around.
Please be aware that there are no supermarkets or petrol stations here, it's a remote campsite that contains only the very basics. Therefore, make sure that you've got plenty of food and petrol for your time at Landmannalaugar before you get here.
<Beds are available to hire in a hut for 9000 ISK (70€, 90$USD) per person per night. Landmannalaugar is becoming more and more popular and huts book out quickly, so be sure to book well in advance. The huts are operated by The Iceland Touring Association (Ferðafélag Íslands), so for more information or to book a hut please check their website here.
<Another option for accommodation is to bring your own camping equipment and tent and rent a spot on the campsite. The cost per person per night starts at 2000 ISK (17€, 20USD), however, if you'd like to use the shower and toilet facilities then it's an extra 500 ISK per day.
Near to the campsite and hut, there are natural hot springs that are open for anyone to use. It's the perfect way to end a long day of hiking to come back and relax in a warm natural bath out in the open.
The Weather in Landmannalaugar
The Highlands of Iceland are known to have some of the harshest weather conditions on the island. Snow melts quicker in coastal areas due to the slightly elevated temperatures near the ocean, in Landmannalaugar the snow and cold temperatures stay much longer. The winter temperature in Landmannalaugar averages between -5°C to -10°C (14°F - 23°F). Landmannalaugar is usually covered by snow for 8 months of the year, which is why many of the hiking trails are only accessible in the summer months.  
In the summer, the temperature rises to around 10°C to 15°C (50°F - 59°F). Although the weather is slightly more comfortable in the summer, you can still expect strong winds on most days. If you're planning a hike then we recommend checking the Icelandic Meteorological Office's website a few days before you plan to visit.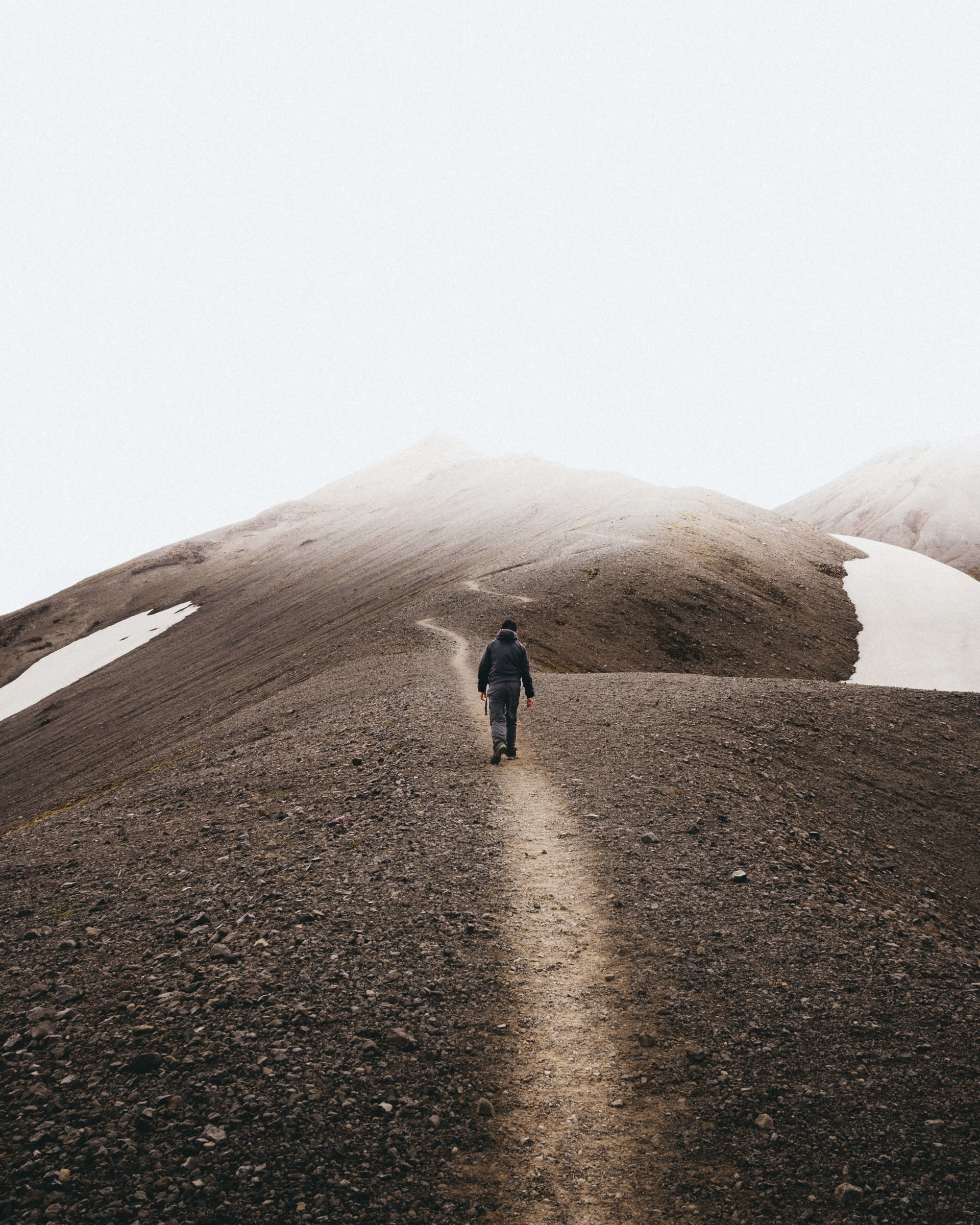 What to bring and how to dress for Landmannalaugar
If you're planning on going hiking around Landmannalaugar and in the surrounding Icelandic Highlands then we recommend bringing a waterproof and windproof jacket, a sweater, comfortable trousers, thick socks, and hiking boots. If you're traveling in the winter then we recommend also wearing a thick scarf, gloves and a hat. There are many geothermal pools in this part of Iceland and they are a great way of relaxing after a day of hiking so make sure to also bring a swimsuit and a towel along.
For anyone completing a long hike, please also bring a GPS device with you for safety reasons. If you plan on camping around Landmannalaugar then, of course, bring your own tent, a mattress with good insulation and a sleeping bag that can keep you warm in temperatures between 0–5°C (32–41°F).
Safety and Travel Etiquette
The natural ecosystem in Landmannalaugar might look robust, however, in reality, it's a delicate and fragile landscape. Please remember that driving off-road is not only highly illegal in Iceland, it also severely damages the natural environment. The Icelandic government has given substantial fines in the past to tourists who thought it was a good idea to drive off the road for fun.
As well as keeping to the roads, we remind all hikers to please stay on the designated hiking paths. Even the smallest of damages can cause irreversible erosion in Iceland that can spread over a large area. Leave no trace behind and remember to take all of your litter with you. If you see any garbage left by other visitors then we ask you to kindly pick it up in order to protect this beautiful landscape.
Hiking in the highlands doesn't come without any dangers. It's important that all hikers bring a GPS device with them. Network coverage issues for your phone can easily occur and when that's combined with storms or poor visual conditions it can be dangerous. Although many of the trails are suitable for hikers of all experience levels, it's important to know your own limits. If you plan on trekking alone then please leave your travel plan somewhere behind.
To wrap everything up, make sure to stay safe but of course, have fun and enjoy the pearl of Iceland!