Motorhome Rental in Iceland
Hire a Motorhome or RV in Iceland
Compare prices, features and reviews with a huge selection of motorhomes
Free Iceland 101 eBook with every booking
Prices as advertised, no hidden fees!

The Best Car Rentals in Iceland
We are proud of our standards of quality and service and those standards are reflected in what our users have to say about us. Book your rental car with Northbound and rest assured that a strong team of travel advisors is prepared to assist with any of your questions or concerns both before or after your Adventure. #AdventureAwaits
Motorhomes are the ultimate way to experience Iceland
With boundless landscapes to explore, Iceland truly provides an extraordinary opportunity for adventure and there is no greater sense of freedom than hitting route 1 behind the wheel of a motorhome. Wake up to the early Iceland sun and sip your coffee within earshot of a running river, with majestic mountains embroidered on the horizon and songbirds dancing in the clear blue sky.
This is the Icelandic experience as it should be...
An RV or motorhome provides you with everything a hotel room does, with the added benefit of four wheels transporting you to your heart's desire.
Best Campsites for Motorhomes in Iceland
Fully equipped campsites can be found throughout Iceland, conveniently situated along the ring road, welcoming you for the night as you pursue your journey.
Our favorite campsites for motorhome travel include:

Camp Egilsstadir
Located in East Iceland, along the ring road in the small town of Egilsstadir, Camp Egilsstadir claims to be the happiest campsite in Iceland, and we agree. Their 24/7 facilities include bathrooms, showers, washing & drying machines, luggage storage, bike rental, children's play park, dishwashing area, kettle, microwave, and even free WiFi.
If you're passing by Egilsstadir, we recommend you pop by Camp Egilsstadir.
Grindavik Campsite
Conveniently located approximately 20 minutes from the Keflavik Airport, the Grindavik Campsite is a perfect last stop before an early morning flight. The facilities include warm & cold water, bathrooms, internet, playground, showers, washing machines and waste disposal for mobile homes.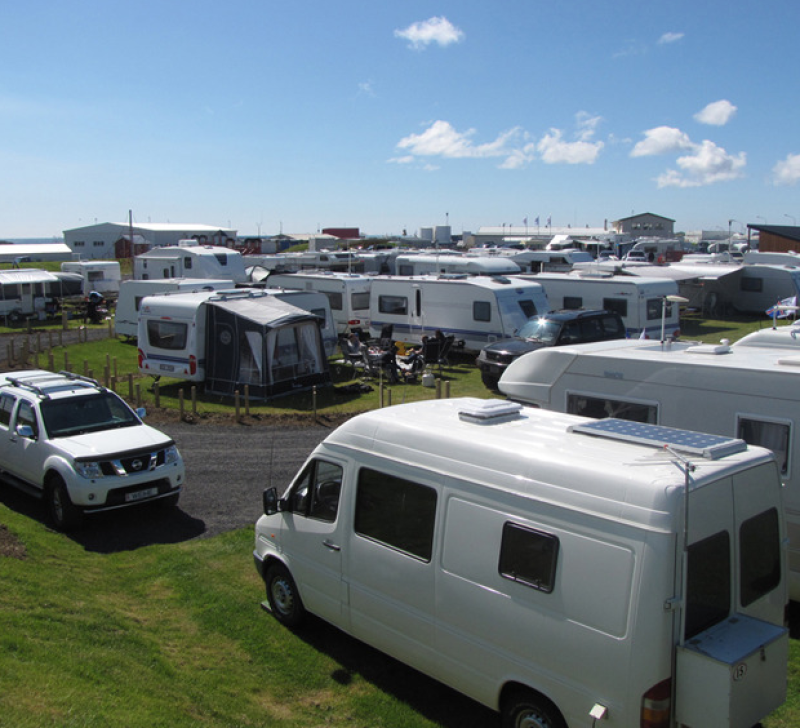 Skaftafell Campsite
Sheltered by the surrounding trees, Skaftafell on the Icelandic south coast has a designated area specifically for motorhomes and campervans. The facilities include bathrooms, warm and cold water, a restaurant, internet, electricity, wheelchair access, washing machines, showers and waste disposal for mobile homes.
Head on over to our map of Icelandic Attractions for more campsites in Iceland.
Should I hire a motorhome in Iceland?
Iceland is perfectly suited for motorhome travel, with campsites spread across the country and most of them even offering waste disposal and other facilities necessary for motorhomes.
A motorhome affords you the opportunity to travel across Iceland's majestic landscapes with a new backyard every morning.