If you find yourself wondering about things to do in Iceland or day trips from Reykjavik, then look no further than The Golden Circle, home of the Gullfoss waterfall, Geysir geothermal area, and Þingvellir National Park.
As perhaps the most popular sightseeing route in Iceland, for anyone who doesn't have enough time to drive the entirety of Iceland's iconic ring road, the Golden Circle offers the perfect experience of everything Iceland's beautiful fire and ice landscapes have to offer.
It's the ideal day trip from Reykjavik and a great option for those with a short layover in Iceland. Use our complete guide to the Golden Circle to find out everything you need from which sites to see, what clothes to pack, the various detours to take, or some delicious restaurants to try.
Map of the Golden Circle
The Golden Circle tour is made up of three primary stops: the Þingvellir (Thingvellir) National Park, the Geysir Geothermal Area, and the Gullfoss waterfall. The entire loop of the Golden Circle is around 250 km and starts in Iceland's capital city, Reykjavik.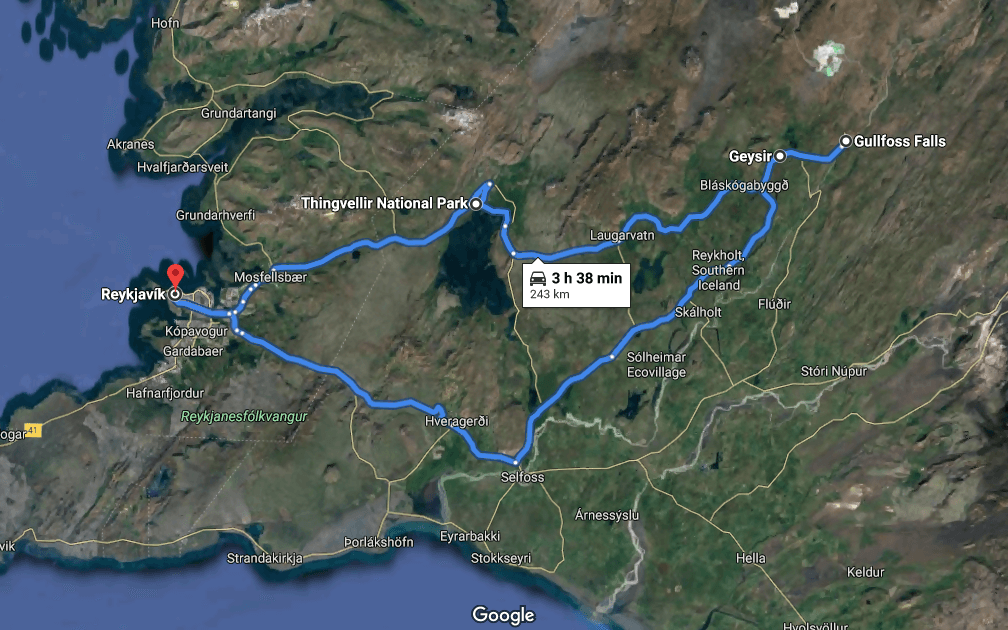 If you were to drive it all in one go, it would take you nearly 4 hours. In reality, taking into account the stops you'll want to make along the way, the Golden Circle should take you between 7 to 9 hours.
Remember, it's not a race, so set off early and give yourself plenty of time to enjoy the vast amount of natural beauty to be experienced on the Golden Circle.
Þingvellir (Thingvellir) National Park
The first stop on any clockwise Golden Circle tour is the stunning Þingvellir National Park, just 40 km from Reykjavik.

This site is filled with cultural, historical and geological significance. It became the first National Park of Iceland in 1930, and was described as ?a protected national shrine for all Icelanders, the perpetual property of the Icelandic nation under the preservation of parliament, never to be sold or mortgaged." In 2004, Þingvellir was designated as a UNESCO World Heritage Site.
Þingvellir National Park lies in a rift valley, which marks the Mid-Atlantic Ridge, making it a visible landmark between the American and Eurasian tectonic plates. Iceland is a result of the tectonic activity between these two plates, which have been moving apart from one another for millions of years at a rate of around 2cm per year!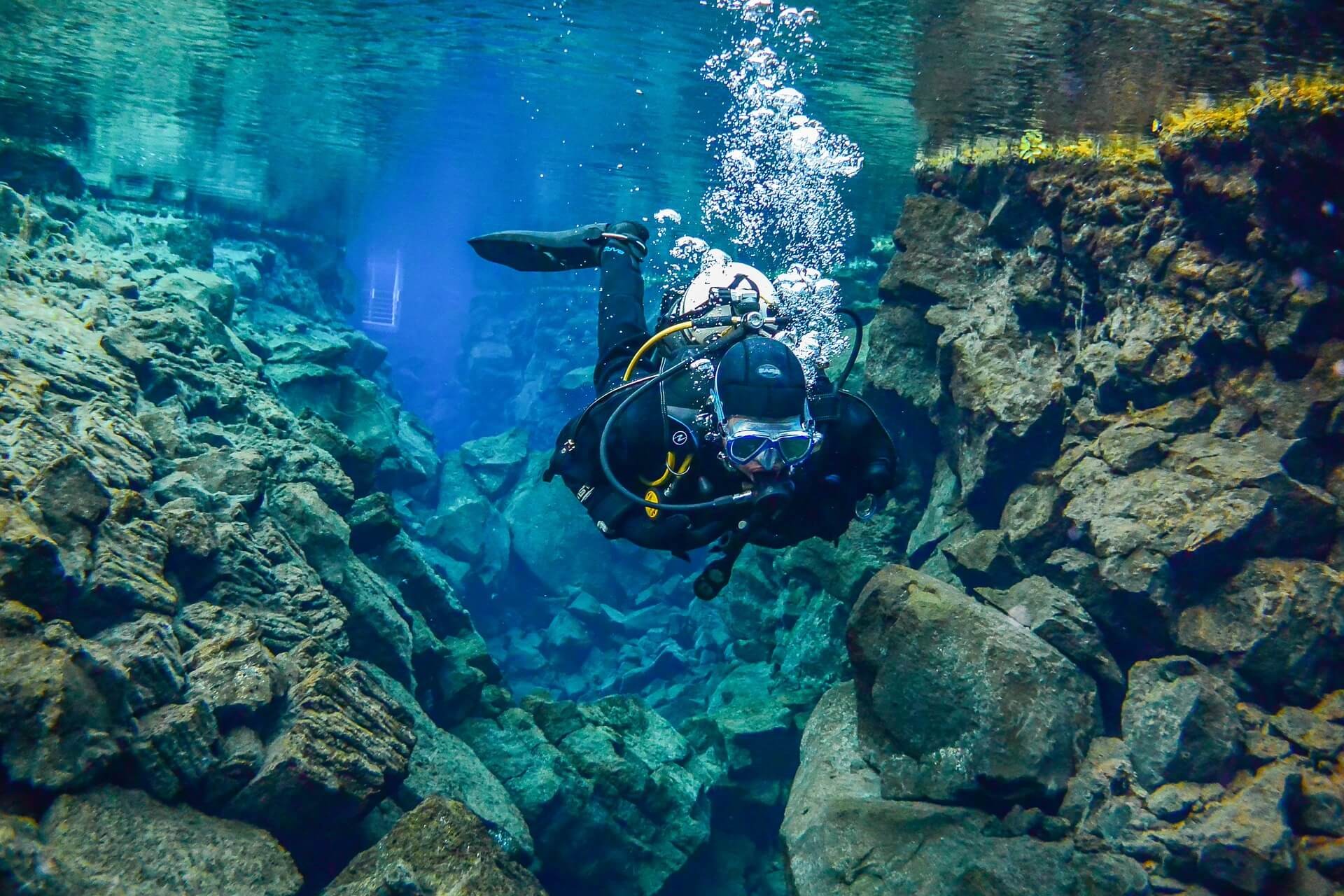 Within the National Park, you can also find Þingvallavatn, the largest lake in Iceland and Silfra, a tectonic rift, popular for both diving and snorkeling. Silfra by itself has become an iconic destination for travelers on the Golden Circle.
The National Park is also the home to Iceland's first parliament, named Alþing (Althing), which was founded over one thousand years ago in 930 AD. Parliamentary sessions were held here until the year 1789 until it was moved to Reykjavik.
For hundreds of years, people from all around Iceland would flock to Thingvellir once a year for the assembly of parliament. Thingvellir also became a popular gathering spot for ordinary people for two weeks during the assembly. It attracted merchants, entertainers, tanners, blacksmiths, and various other professions, making it a site of social and cultural importance in Iceland.
Today you can find an interactive, multimedia visitor center where you can learn more about the nature and history of Þingvallavatn National Park. The visitor center is located at the main lookout point at Hakið, where you can look over the entire Þingvellir Park. A footpath behind the center leads down through the great Almannagjá fault, an amazing and highly recommendable walk!
Geysir Geothermal Area
The second stop on the Golden Circle is the world-renowned geothermal field around Geysir. It's about 50 minutes drive from Þingvellir.
As you approach the Great Geysir by car or bus, you will notice steam rising from the ground near the roads. The terrain begins to showcase the incredible powers of the earth until you eventually reach the Haukadalur valley, where most of the geothermal activity is concentrated.
A footpath leads you through a landscape dotted with turquoise colored hot pools, oozing clay pots, and furiously steaming fumaroles. It's an impressive site that is also home to two famous geysers: The Great Geysir and Strokkur.
The Great Geysir in South Iceland is named after the Old Norse verb geysa, which means ?to gush'. It's the oldest documented geyser in European literature and is thought to have formed in the 13th century after a strong earthquake hit the Haukadalur valley and at the same time as the big eruption of Mt. Hekla.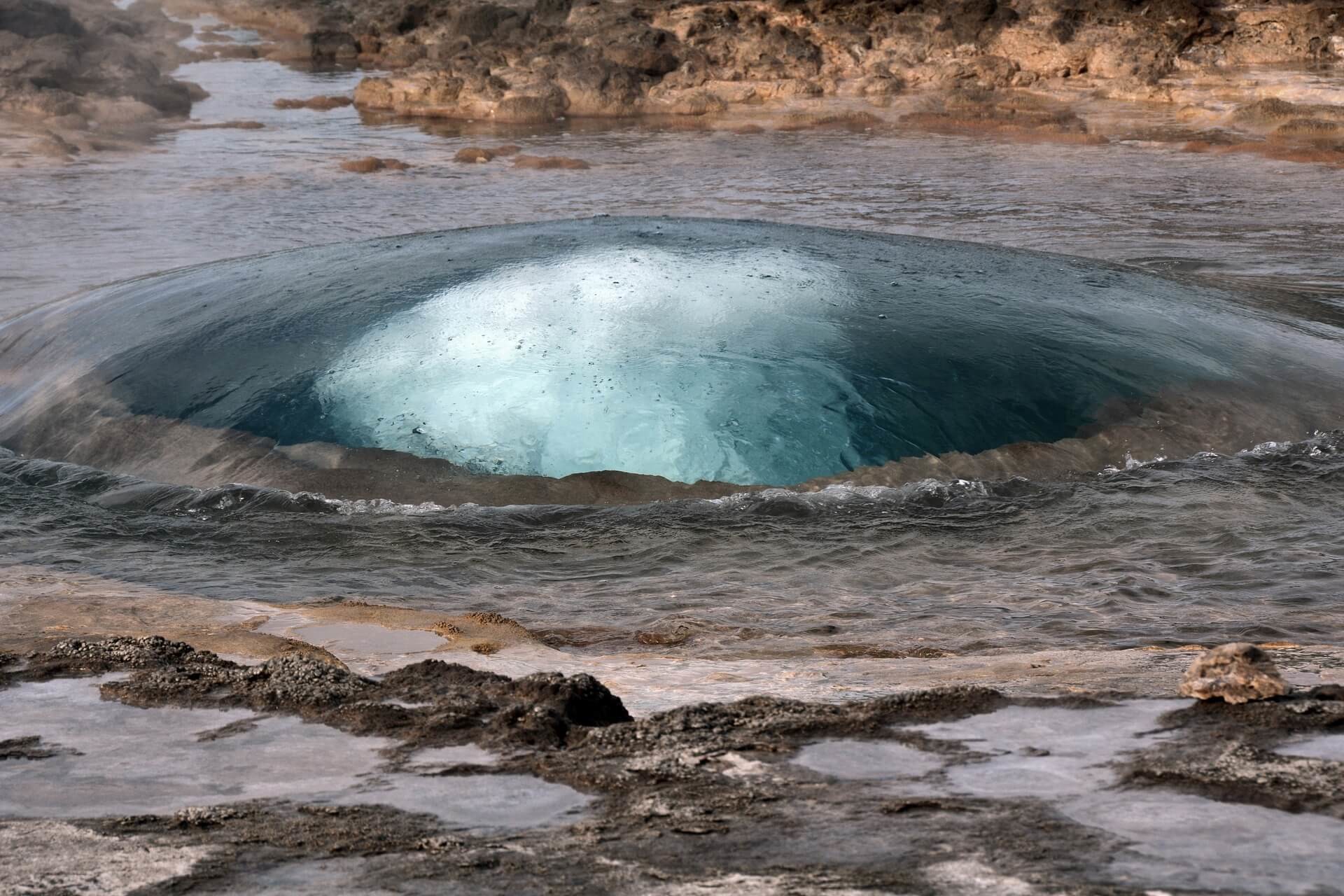 Until the 19th century, The Great Geysir would shoot water multiple times a day at extremely high distances. In 1845, the spouted water was said to have reached a height of over 170 meters! By the early 20th century it only erupted every six-hours and by 1916 the eruptions stopped completely.
Several man-made interventions were made in the subsequent years to restore the eruptions. In 1935 a channel was dug in the outer silica rim of Geysir's vent, and while it revived the eruptions for a short period, it soon became too clogged again.
In the 1980s the channel was cleared again, plus they discovered that by adding soap to the hot spring you could force the Geysir to erupt. However, due to the unknown environmental impact of adding soap to the water, this practice was stopped in the 1990s again.
It still erupts occasionally, in 2000 its eruption reached a height of 120 meters and some activity was recorded in 2016.
Today, the Great Geysir has calmed down and eruptions are very rare. Thankfully Geysir's neighbor, Strokkur, is still active. Strokkur still spouts boiling water every ten minutes up to 40 meters high.
Geysers are an incredibly rare natural phenomenon and walking around this geothermal field leaves you in awe of the astonishing forces at play in nature.
Opposite the geysers, you can find The Geysir Centre, and if you're self-driving the golden circle then this is where you can park your car as well. The Geysir Centre has a big shop with plenty of handcrafted and locally sourced Icelandic artifacts.
Inside the center, you'll also find a museum exhibit with more information on the area, as well as a restaurant serving traditional Icelandic food.
Gullfoss Waterfall
The third stop on the Golden Circle tour (only 10 minutes down the road from the geysers) is the Gullfoss Waterfall. It's perhaps the most famous waterfall of Iceland, and the word ?Gullfoss' directly translates to the ?Waterfall of Gold'. When you see it for yourself you'll not be surprised as to why it's been given that name.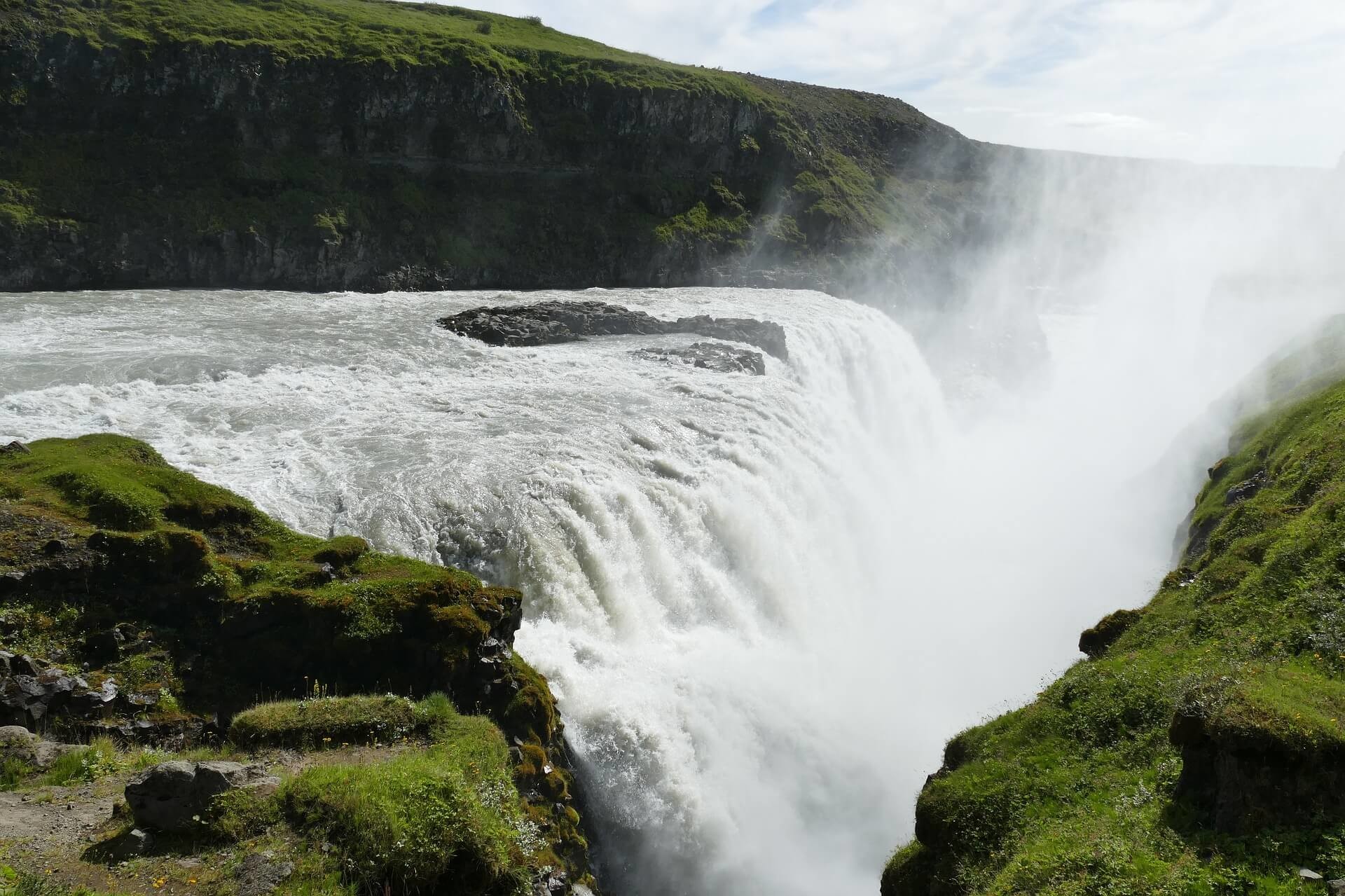 The water of Gullfoss waterfall plunges over two gigantic steps, the first is 11 meters tall and the second is 22 meters until it eventually drops into a 32-meter deep pool.
During the summer months when the Gullfoss waterfall experiences its heaviest flow, up to 140 cubic meters rush down Gullfoss per second. The heaviest water flow Gullfoss ever experienced was 2000 cubic meters per second!
Equally as impressive as the sheer quantity of the water is the dramatic backdrop of the large cliff edges of the canyon formed by the Hvítá river. The contrasting landscape surrounding Gullfoss adds to the surrealness of this site, with a serene green meadow stretching as far as the eye can see. If you're lucky you'll see the occasional rainbow forming in the mist, produced by the river.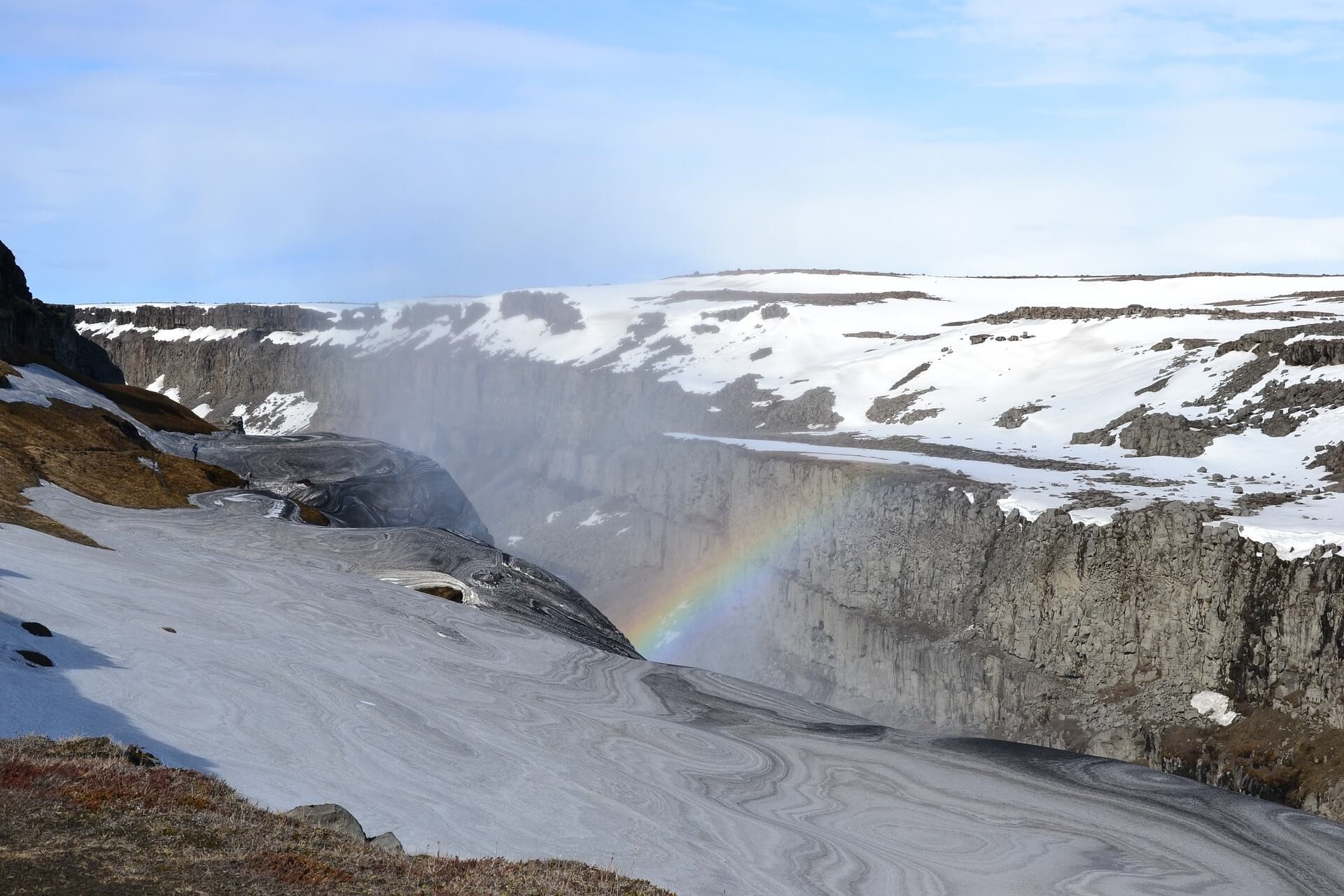 In the winter, much of the waterfall freezes and the flow reduces down to 80 cubic meters per second.
Upon arriving at the Gullfoss you will find a car park, with a large staircase that will bring you to the top of the waterfall lookout. Here you will also find a cozy cafe, along with an information center where you can learn more about the nature and history of the Gullfoss waterfall and its surrounding area.
There is a very special lady, named Sigríður Tómasdóttir, to thank for the preservation of Gullfoss. At the beginning of the 20th century Sigríður's father, Tómas Tómasson, who owned the land of Gullfoss, was determined to sell it off to the authorities to generate electricity through the construction of a hydroelectric dam.
However, Sigríður loved the Gullfoss waterfall so much that she protested to her father and even went so far as to threaten to throw herself down the waterfall. The plans of the power plant eventually fell through, thanks to the criticism it received from the Icelandic population, and it was ultimately made into a protected site.
Sigríður has since become a national hero and a stone memorial can be found at the top of the Gullfoss waterfall. She is now a symbol of environmentalism and feminism, values which have paved the way for modern Iceland.
What to Wear for the Golden Circle
Knowing what to wear in Iceland can be a tricky ordeal as it's possible to experience all four seasons in just one day.
We suggest wearing layers that are easy to remove and put back on. If you're planning on visiting Iceland in the summer then we encourage you to bring along a fleece or lightweight jumper, a rainproof jacket, shorts, sturdy footwear (such as hiking boots or waterproof trainers), a hat to protect from the sun as well as sunglasses.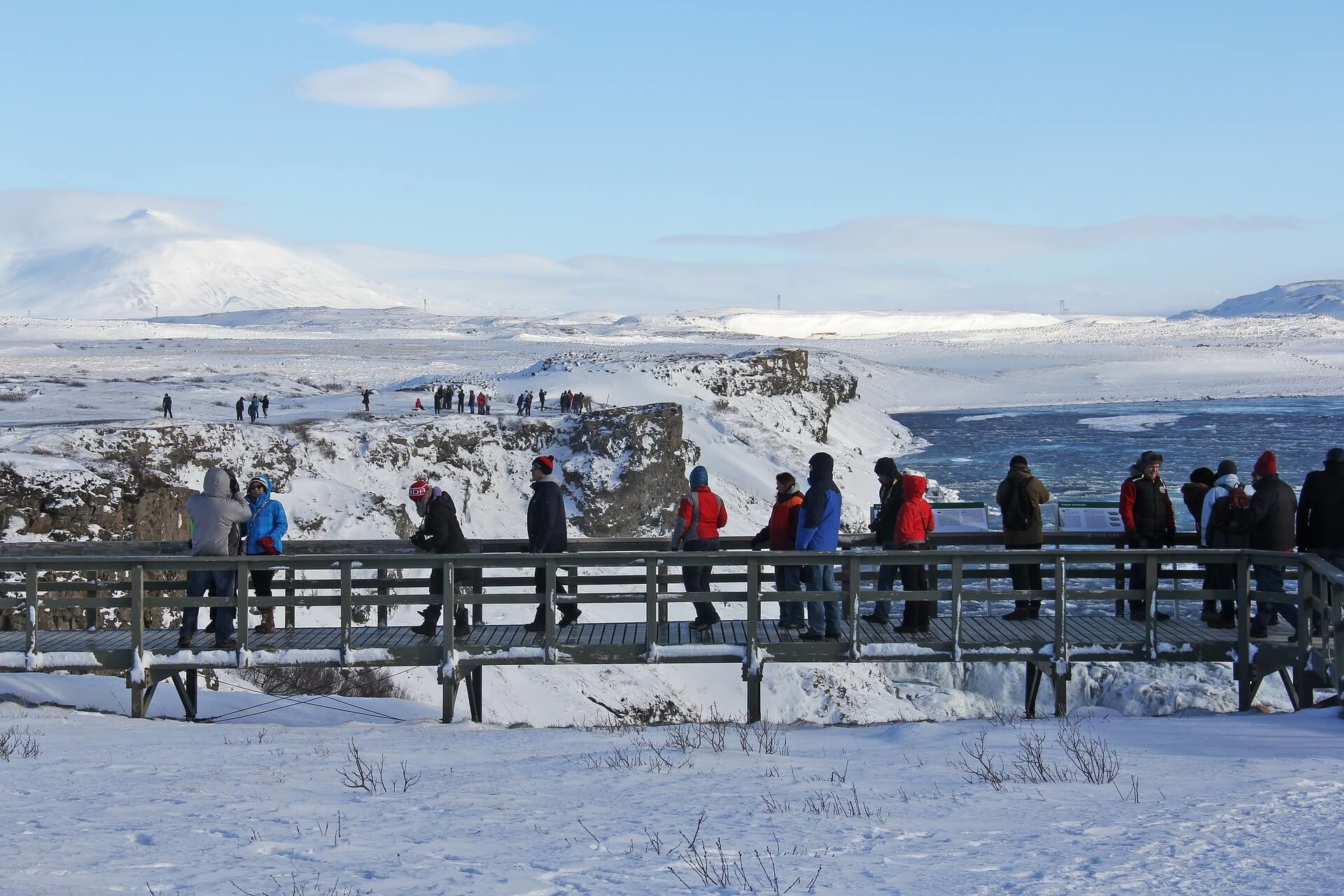 For visitors planning on arriving in the winter months, we recommend to wrap up as it can get uncomfortably icy and windy. Pack a thick jumper with a t-shirt underneath that you can wear in the car or inside shops, waterproof outdoor trousers, a waterproof and ideally windproof jacket, hiking boots or winter shoes, thick socks, a hat, a scarf, and a warm pair of gloves.
Self-Driving around the Golden Circle
If you're up for an amazing experience and are a seasoned driver, then we would recommend driving the Golden Circle yourself! It's fun and easy and the roads are extremely well maintained.
Renting your own car gives you the freedom to stop anywhere you like, and for as long as you wish.
If you're not sure what type of car you'll need, rest assured that the roads are fairly well maintained so that even a small low-budget economy car could do the entire trip without a problem in summer.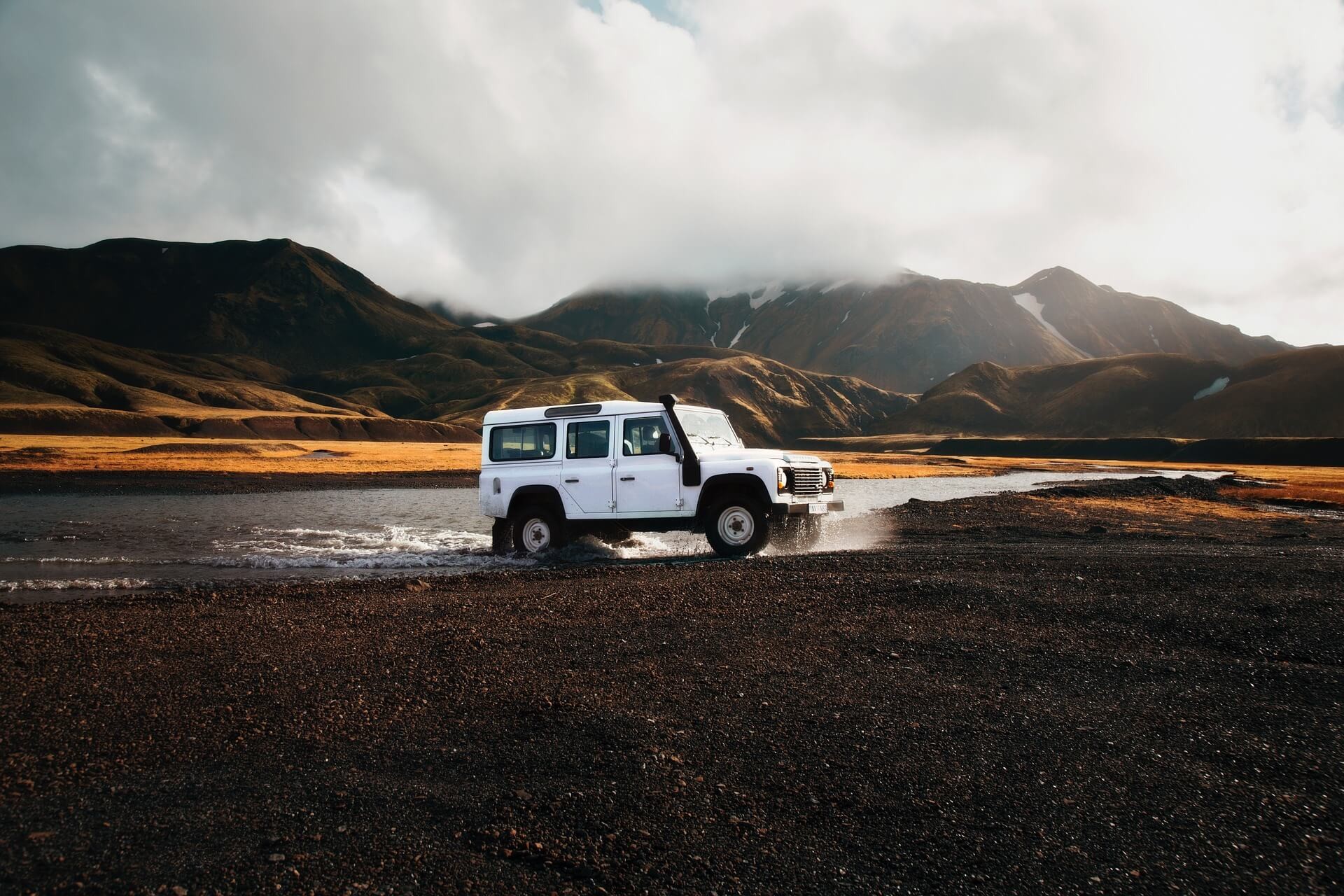 However, road conditions in the winter can be icy and whilst it's not impossible to do without in the winter, it might be the safest option to rent a 4x4 car.
If you want to take your Iceland experience to another level, why not rent a campervan to do the Golden Circle?
Top Tips for Renting a Car in Iceland
To rent a car in Iceland you'll need an international driver's license and be at least 18 years of age.
Traffic drives on the right side of the road and road rules are very similar to other countries. There are generally three speed limits, these include:
City (31mph/50kph)
Open roads (49mph/80kph)
Highways (55mph/90kph)
There are no highway tolls along the Golden Circle. The only thing that's worth checking before setting out on the Golden Circle Tour is to fuel up your car at a gas station.
Whilst there are gas stations along the way, you don't want to worry about fuel when you're surrounded by bubbling hot springs and gushing geysers.
Also, when it comes to insurance, we highly recommend not to opt-out. Whilst the road conditions are great, there can be the occasional gravel along the roads which could leave small dents in the car.
Top Detours from the Golden Circle
One of the great advantages of renting your own car to complete the Golden Circle is all the extra stops and detours you can take along the way.
Kerid Crater
You'll pass the Kerið crater on your way back from the three main attractions of the Golden Circle. If you've got a chance to stop at this 6,500-year-old volcanic crater then we highly recommend you don't miss out.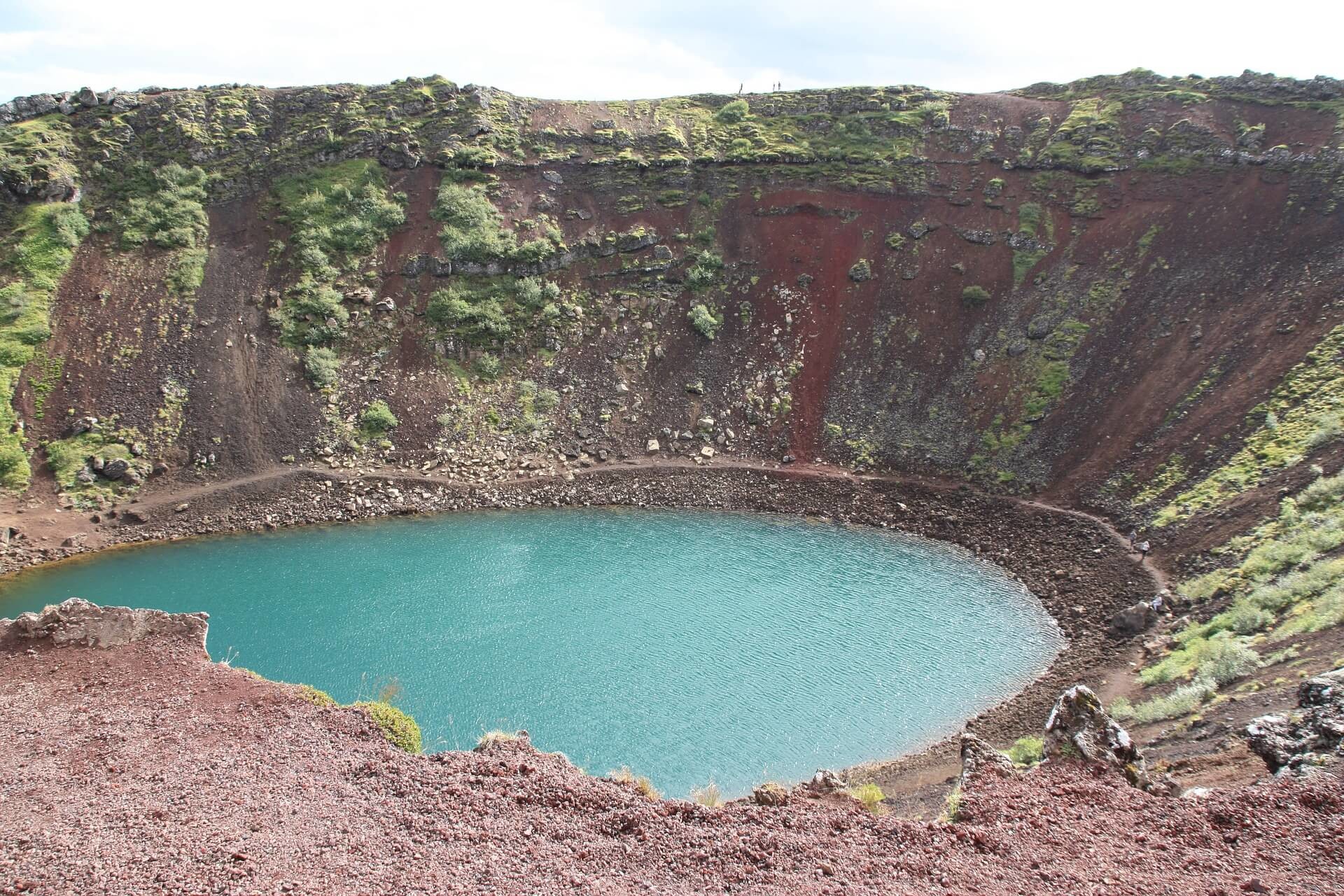 Within the oval Kerid crater, you'll find an azure-colored lake that beautifully contrasts with the shades of red, orange and black from the sand and rocks. If you go in the summer you'll find bright green grass surrounding the crater, whilst in winter you're more likely to find a white blanket of snow.
Kerid crater is near to the town of Selfoss, with a small parking lot designated for visitors. Please note that there is a small fee of 500 ISK per person to be paid just before entering the parking lot.
Faxi Waterfall
Located just 12 km from the great Gullfoss Waterfall you can find a smaller but just as beautiful waterfall that's definitely worth a visit.
Unlike the Gullfoss waterfall, which is located on the Hvítá river, Faxi waterfall is on the Tungufljót river which is famous amongst the fishing community for being filled with salmon.
The Faxi waterfall has considerably less of a drop than Gullfoss, but it's just as wide. It's a serene spot where you can sit and take in the Icelandic nature whilst enjoying a picnic.
The Secret Lagoon
The Secret Lagoon has been around since 1891, making it one of the oldest geothermal pools in Iceland. It's also one of the most magnificent natural hot spring pools in the world, located just 25 km from the Geysir geothermal area in the small village of Flúðir (Fludir).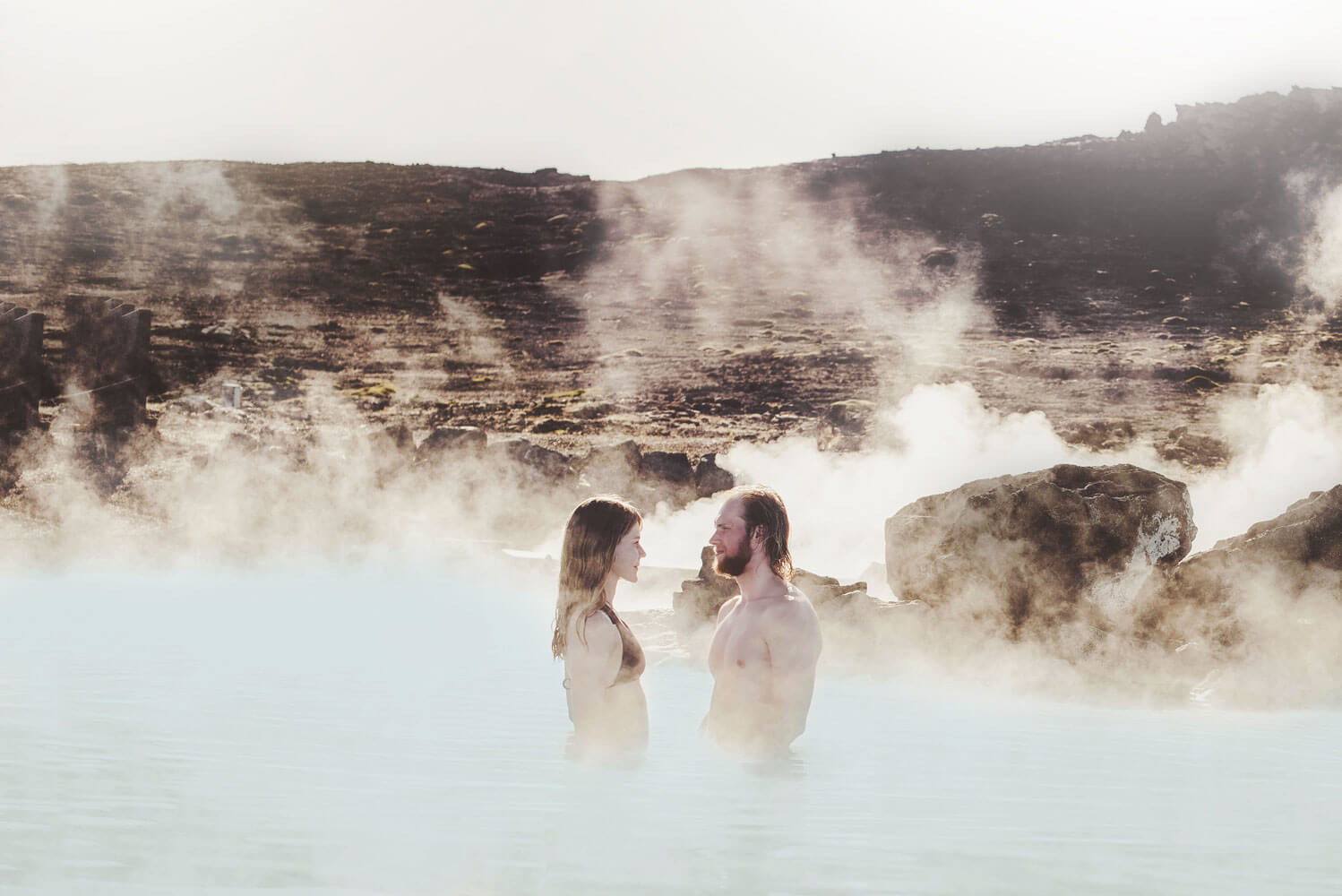 The natural temperature of the secret lagoon is around 38 to 40°C all year-round. It's smaller than the iconic Blue Lagoon in Iceland, but that means it's also less busy, making it the ideal place for a relaxing golden circle detour.
Fridheimar Tomato and Horse Farm
This family-run vegetable farm is a must if you're up for a culinary delight. Located slightly off the main Golden Circle track on Route 35, only 20km from the Geysir you'll find the Friðheimar (Fridheimer) farm, a series of greenhouses with bright artificial lighting.
The owners, Knútur and Helena, have run the operation since 1995 and today they produce over a tonne of tomatoes every single day!
The cool thing about these greenhouses is that they entirely run on the local geothermal energy sources.
Inside one of the greenhouses, nestled between the tomato vines is a cozy little restaurant. On the menu, you'll find a delicious selection of tomato-based dishes served with freshly-baked bread.
In 2007, Fridheimer farm built an equestrian center where they breed horses and offer tourist activities. The restaurant is open every day between 12 pm and 4 pm, if you'd like to participate in a greenhouse visit or horse show then you'll need to book in advance!
Sólheimar Eco-Village
This small eco-village was originally formed in 1930, and today it is home to nearly 100 people. The community is famous for its environmental ethics as well as their artistic and unique work philosophy.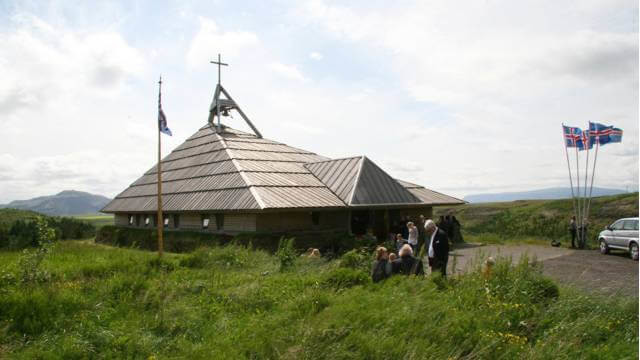 Although it's such a small village, you can find an organically certified greenhouse, egg production, forestry, and arboretum. Within the village, you'll also find everything you need including a bakery, a cafe, a guest house, and several art venues.
Sólheimar eco-village hosts plenty of workshops from candle-making to ceramics. The village is a 45-minute drive from Thingvellir and Geysir and can be found just off Route 35.
Efstidalur farm
Another charming farm found on the Golden Circle route. Efstidalur is the perfect pit-stop when traveling between Thingvellir National Park and the Great Geysir. This small dairy farm is run by four siblings and the farm has been in family hands since 1750.
They run a small ice-cream shop with various ice-cream flavors using milk from their own cows - talk about fresh!
Inside the farm, you can find a shop where they sell the iconic Icelandic skyr yogurt, as well as a great restaurant serving traditional Icelandic food.
Skálholt
This historical site was perhaps the most important place in the country during the Middle Ages. It was the de-facto capital of Iceland from 1056 to 1785 as it became Iceland's main political and cultural center.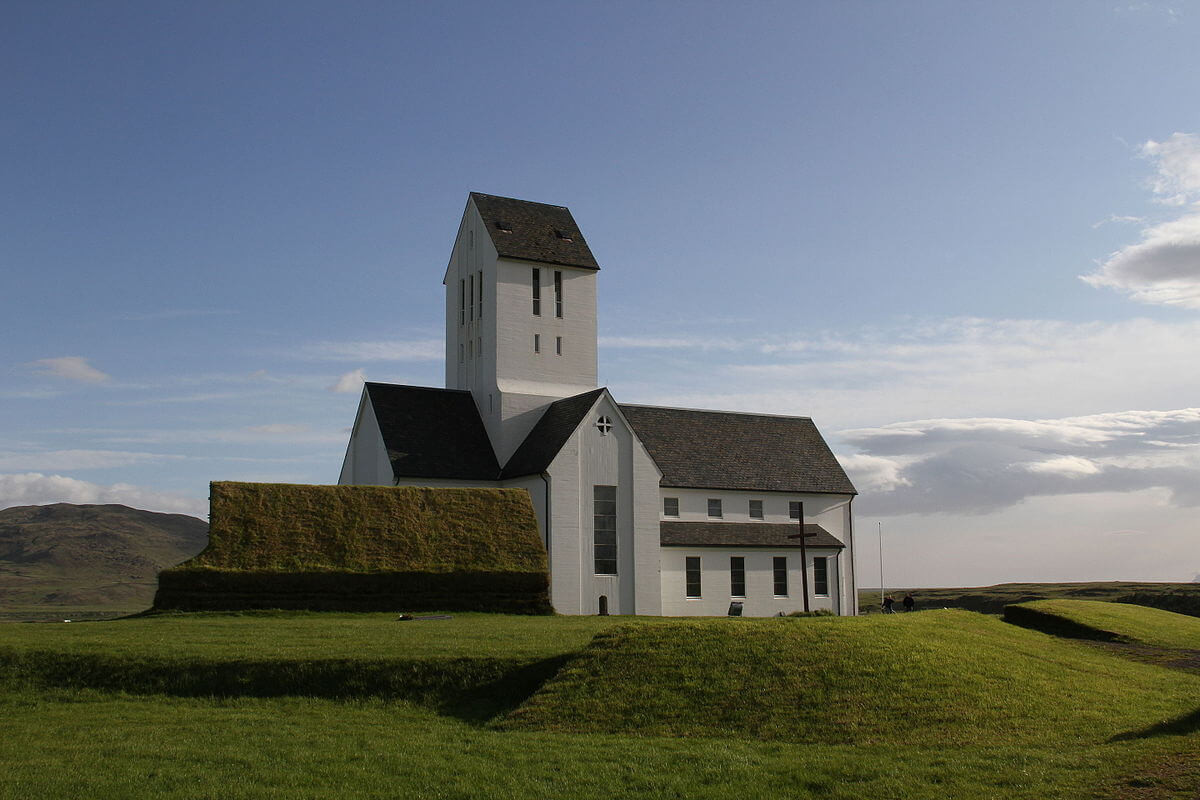 Today, Skálholt attracts many visitors who are particularly drawn to the large cathedral. The cathedral was constructed in 1956 and showcases an impressive stained glass window display.
Skálholt is only 15 km from Geysir and is worth checking out, not least of which for its social, cultural, and historical importance.
Activities around the Golden Circle
Hiking - There are numerous hiking trails within Thingvellir National Park. Probably the most popular route is the Öxarárfoss Waterfall Trail, a 4.2 km hike that is suitable for all skill-levels.
Along the way, you'll encounter beautiful scenery as well as a stunning waterfall that is well known amongst Icelanders but lesser known to tourists.
Another recommendable hike is the Reykjadalur valley, which is best suited for more experienced wanderers. The total distance of the hike is around 7 km with steep inclinations, and you should give yourself at least 3 hours to complete it.
Reykjadalur translates to ?the steamy valley' and along the way, you'll see plenty of geothermal activity. There is so much to see in Reykjadalur, from boiling pools of water to a hot river that runs through rolling hills of lush green grass.
Diving & Snorkeling - Diving and snorkeling are both possible in Thingvellir National Park. Within the park, there are two spots where you can dive and snorkel, Silfra and Davíðsgjá. Both of these are along the submerged rift, allowing you to see the Mid-Atlantic Ridge from underwater.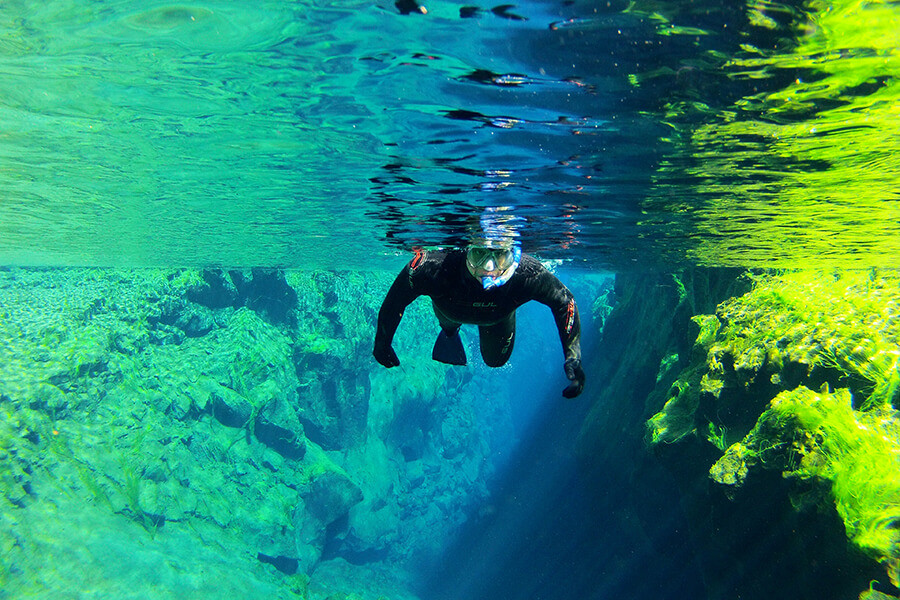 What makes snorkeling so astonishing in this lake is the clarity of the water along with the various shades of blue and green.
Anyone who can swim and is over the age of sixteen is able to go snorkeling in Silfra. Only the diving tours require individuals to be a qualified PADI Open Water Scuba Diver with experience in dry suit diving.
Angling - Another great activity to do in Thingvellir National Park. The Angling season is open from the 1st of May till the 15th of September.
It's important to note that any fishing equipment brought in from outside Iceland must be disinfected properly by approved methods - find out more about this on their website here.
Horseback Riding - Experiencing the Golden Circle on a horse is a great alternative to driving in a bus or car. There are two horse trails that run through Thingvellir National Park. These historic trails have been used for centuries with one leading into the Stekkjargjá fault and up the way of Langistígur.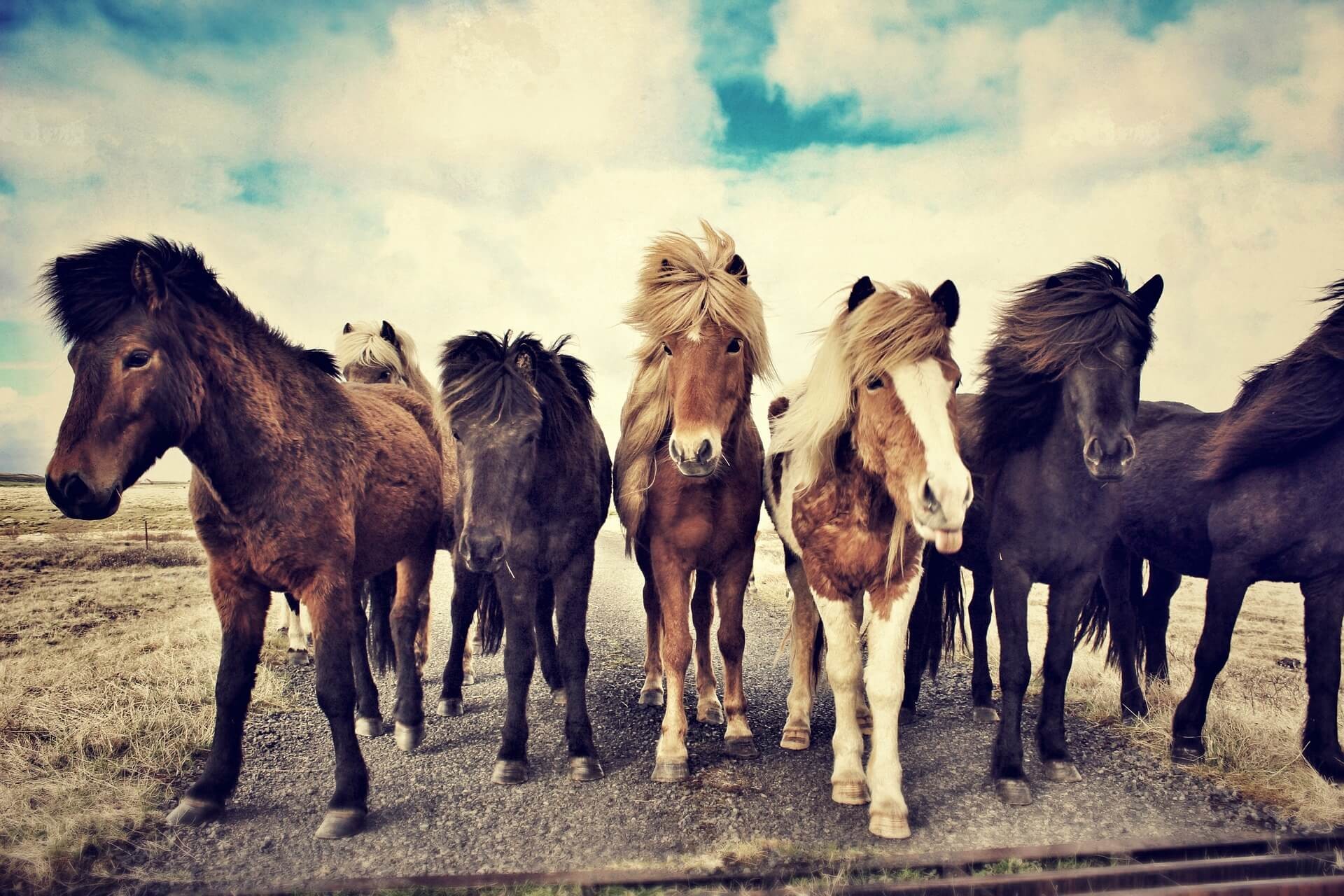 The second path goes north to the Sandskeið flat and past mount Ármannsfell. Both paths are incredibly scenic and traveling with your equestrian partner can give you a feeling for what life was like for settlers in Iceland hundreds of years ago.
Rafting - For all of the thrill-seekers out there, get ready to tick rafting down the epic Gullfoss canyon off of your bucket list. Rafting is available from May to September and is great for all skill and experience levels.
The entire journey takes approximately 4 hours and is a fantastic way to enjoy breathtaking nature whilst gliding down the Hvítá river.
Caving - If you've never been in a cave then this is your opportunity. Leiðarendi cave, which translates to ?The End of the Road', is a perfect example of the fascinating world of Iceland's lava tubes and volcanic cave networks. It's a total of 900 meters in length and you'll need special equipment to explore this cave.
We recommend booking a tour in advance that will provide you with everything you need. Another great caving experience along the Golden Circle is the Gjabakkahellir lava tube, which formed as a result of an eruption in the area nearly 9000 years ago. This 360-meter long cave is located in Thingvellir National Park.
Restaurants around the Golden Circle
Good news for all you foodies reading this Golden Circle guide, there are plenty of great cafes and restaurants where you can sample some of the local delicacies.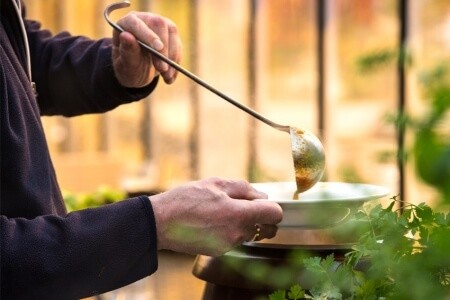 From fresh geothermal grown tomato soup to smoked trout, there's something for everyone along the trail.
Below we have listed some of the restaurants we recommend:
Hotels around the Golden Circle
For those who aren't looking to complete the Golden Circle within a day, and instead want to take their time or participate in a few activities, rest assured that there is plenty of accommodation on-route for all types of tourists. Below we have listed some recommended hotels ordered by budget, mid-range, and luxury stays:
Budget Hotels
Selfoss Hostel
Héradsskólinn Guesthouse
Solheimar Eco-Village Guesthouse
Mid-Range Hotels
Hotel Geysir
Hotel Eldhestar
Farmhotel Efstidalur
Luxury Hotels
Frost and Fire Hotel
Hotel Selfoss & Spa
ION Design Hotel
Campsites around the Golden Circle
Whether you're looking for a place to park your campervan or pitch a tent, there are many sites located around the Golden Circle for you. Take a look at some of our favorites below:
Campsite at the Geysir geothermal area
Campsite Selfoss
Campsite by Faxi Waterfall
---