Rent a 4x4 Camper in Iceland
Best Prices for Roof Tent 4x4s and Campervans in Iceland
Get the best results
Compare prices, features and reviews with a huge selection of campervans!
No hidden fees
No hidden or added fees. Free cancellations. CDW insurance included.
As easy as possible
Simple booking process with instant confirmation and availability from your chosen car rental in Iceland.
Pick-up available in Reykjavik and Keflavik International Airport!
Shuttle service between airport, hotel and car hire office.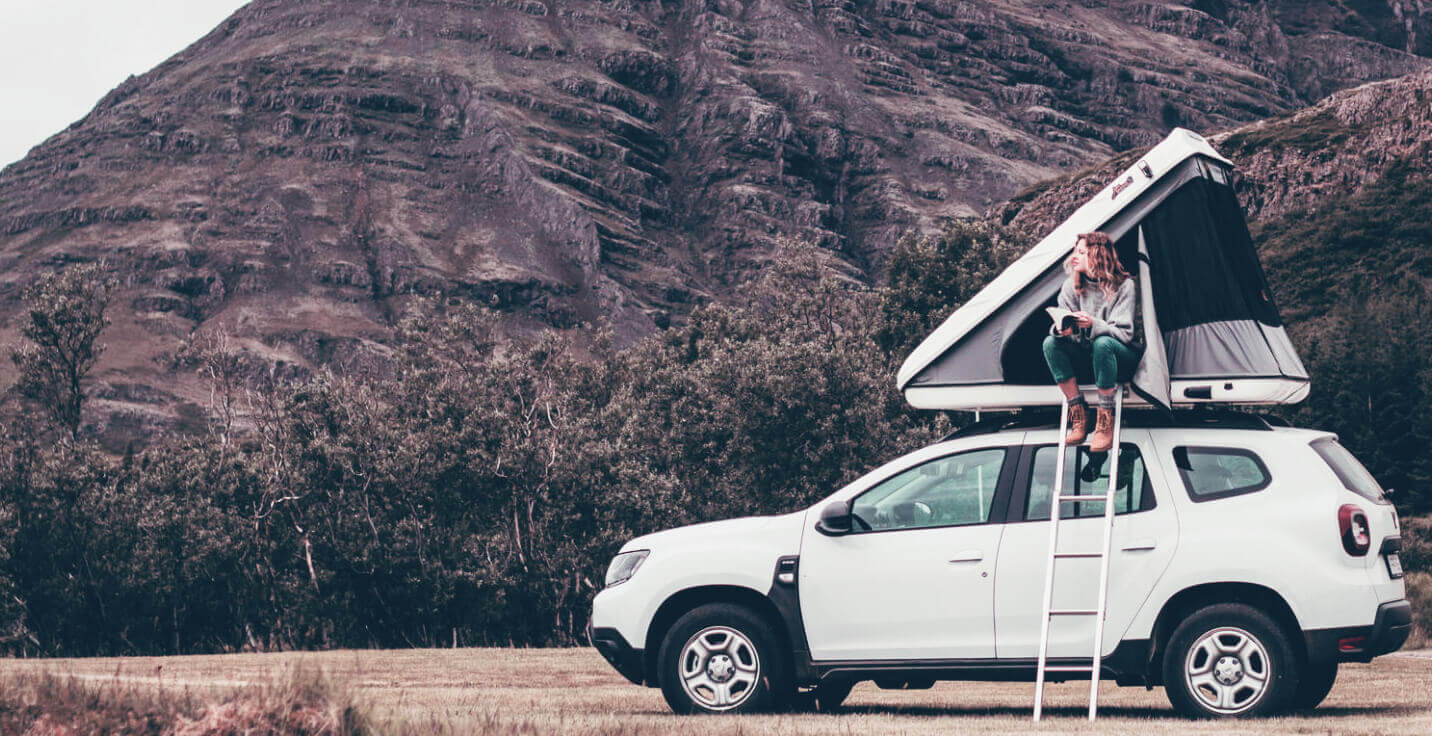 Reviews from around the web
What people are saying about us
We are proud of our standards of quality and service and those standards are reflected in what our users have to say about us. Book your rental car or day tour with Northbound and rest assured that a strong team of travel advisors is prepared to assist with any of your questions or concerns both before or after your Adventure.
10.000+ from verified customers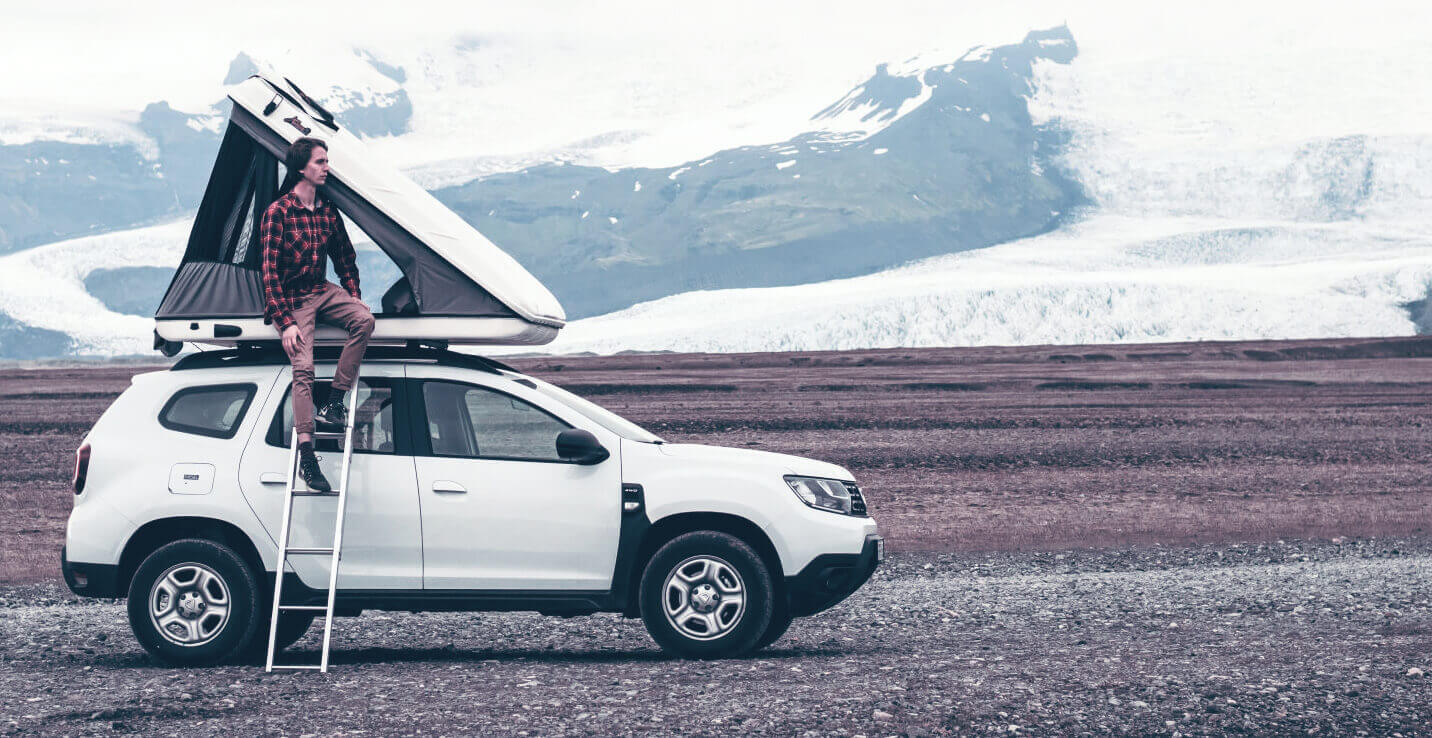 Enjoy Iceland in a unique way
Freedom to Roam the Icelandic Countryside
Travel through Iceland in the true adventuring fashion. No hotel check-ins, no strict schedules, just you and the road.\n\nA 4x4 camper affords you the freedom to roam as you please, unrestricted by challenging highland paths or strict time schedules due to varying hotel bookings. Just explore at your own pace and then pull into the nearest campsite for the night.
What's included in a roof tent camper?
Normally, with a roof tent, you have a simple foam mattress, some bed linens, duvets and in some cases there might be sleeping bags included.\n\nExact inclusions depend on which car you end up selecting, but you'll see them listed out on the booking page clearly so you can review before you commit to booking.
View all 4x4 Campers
Real Reviews from Real Customers
Our customer written reviews
Car rental companies in Iceland can be incredibly different from one another which is why reading the reviews and hearing what others have to say about them is probably the most important thing you'll do before you settle on a car. Visit our review center to compare over 10.000+ testimonials from verified travelers.
Reviews for Car Rentals
Perfect!

Rented a 4x4 in September 2023

We were very happy with the car and the service from Ring. The car was really new (26.000 km), clean and perfect to explore the whole country without any problems. We can really recommend both the dacia duster, the Ring car rental and booking with no...

Perfect!

Rented a camper in September 2023

The trip was perfect. The van was as described and even better than expected. The booking process in Northbound was quick and easy. I would use it again and I recommend it

Perfect!

Rented a 4x4 in August 2023

Everything went perfect. Airport pick up & drop, new car, extremely clean and very nice people. I'll definetely recommend Northbound.

Perfect!

Rented a 4x4 in August 2023

Amazing to have rented through Northbound! Made my reservation well in advance, had the car rental company (Go Iceland) contact me stating that they didn't have my vehicle at the price anymore, Northbound stepped it and made it all right and I receiv...

Outstanding!

Rented a 4x4 in August 2023

Hi,
I wish to let you know that Ring rental was very smooth and the Staff very helpful and nice and would like you let them know this. It was really a pleasure.
The car was in excellent condition.
I will certainly use Northboun...

Outstanding!

Rented a 4x4 in August 2023

Dear Northbound-Team,
all the service and handling were great: booking, adjustments that had to be made due to dates and times shifts, check-in and check-out with the My-Car Team! The car itself was clean, reliable and without any incidences o...

Fantastic!

Rented a 4x4 in August 2023

My experience with Lava Car Rental via Northbound was good. We have rented Toyota RAV4; we were planning to use some of the F-Roads. The condition of the car was very good. It was in a pretty good condition. You could see that it's well maintained. W...

Outstanding!

Rented a camper in August 2023

The service of Northbound are super that IS permited a very good travel.

Perfect!

Rented a 4x4 in August 2023

It was perfect ! L'accueil à l'aéroport, le transfert, le check in / out et bien sûr, le véhicule, une jeep Renegade automatique, tout à été parfait. Très bonne voiture, propre, récente, sans aucun souci. Je recommande Northbound, et repasserai par l...

Outstanding!

Rented a 4x4 in August 2023

The Kia Sportage provided by Lotus was perfect for my wife and I and our 20 year old son - including all our backpacking gear - as we drove the Ring Road and hiked the Laugavegur Treck. The car and its built-in navigation unit and ApplePlay worked...
Best Campsites for Campervans in Iceland
Fully equipped campsites can be found throughout Iceland, conveniently situated along the ring road, welcoming you for the night as you pursue your journey.\n\nOur favorite campsites for campervan and motorhome travel include: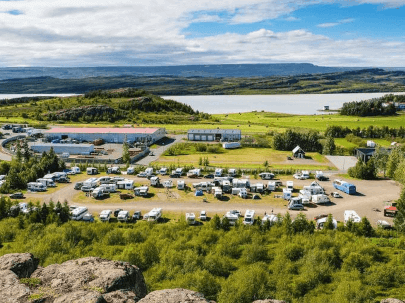 Camp Egilsstadir
Located in East Iceland, along the ring road in the small town of Egilsstadir, Camp Egilsstadir claims to be the happiest campsite in Iceland, and we agree. Their 24/7 facilities include bathrooms, showers, washing & drying machines, luggage storage, bike rental, childrens play park, dishwashing area, kettle, microwave, and even free WiFi.\n\nIf youre passing by Egilsstadir, we recommend you pop by Camp Egilsstadir.
Grindavik Campsite
Conveniently located approximately 20 minutes from the Keflavik Airport, the Grindavik Campsite is a perfect last stop before an early morning flight. The facilities include warm & cold water, bathrooms, internet, playground, showers, washing machines and waste disposal for mobile homes.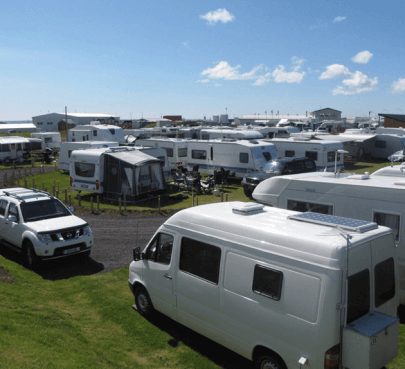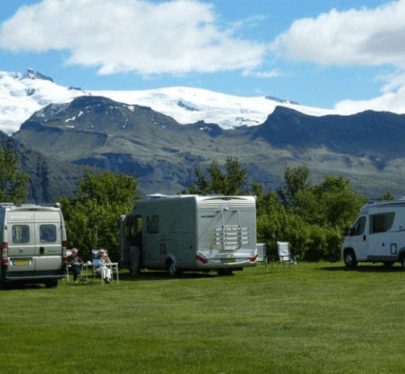 Skaftafell Campsite
Sheltered by the surrounding trees, Skaftafell on the Icelandic south coast has a designated area specifically for motorhomes and campervans. The facilities include bathrooms, warm and cold water, a restaurant, internet, electricity, wheelchair access, washing machines, showers and waste disposal for mobile homes.
Comparing prices for rental cars in iceland
Search now and get the best deals on campers in Iceland
Ultimately, the smartest thing to do is compare the prices. You may have your eye set on a specific type, but there are many car rentals who supply that type and some are far more affordable than others. You can use price comparison engines like Northbound to search and compare camper prices from multiple car rentals to ensure that you book the right car for your journey.
Frequently Asked Questions
Driving a Camper in Iceland
What to know before renting a camper in Iceland
Should I hire a motorhome or a campervan in Iceland?

Iceland is perfectly suited for both campervan and motorhome travel, with campsites spread across the country and most of them even offering waste disposal and other facilities necessary for motorhomes. Whichever you should go for, depends on what type of travel you're looking for.

For couples or small groups, who don't mind not having a bathroom, shower and ample space on-board, a campervan is perfect and affordable. The motorhome, while more expensive, is better suited for families with children or those who prefer a fully equipped RV on their journey around Iceland.

Both options afford you the opportunity to travel across Iceland's majestic landscapes with a new backyard every morning.

Can I Drive On F Roads In A Campervan in Iceland?

Not the normal ones, but there are plenty of 4x4 camper options available that do allow you to travel uninhibited on F-roads if you choose.

Check out 4x4 Campers here!

How old must I be to rent a campervan from Northbound?

The minimum age for a campervan rental is 20 years, although some specific suppliers may have that bar a little higher. You can find the age requirement by clicking the Important Information tab on the vehicle page.

Where can I park the campervan?

The website of the Environment Agency of Iceland states:

"Camping with no more than three tents is allowed on uncultivated ground for a single night unless the landowner has posted a notice to the contrary. However, campers should always use designated campsites where they do exist."

Iceland is blessed with hundreds of campsites scattered all over the country. Your best bet would be to show up to one of those to spend the night, with bathroom facilities and plenty of space abound.

Can I rent extra equipment like camping chairs, tables or BBQ grills?

In some cases, yes. It would depend on the vehicle you have chosen and what extras that supplier offers.

Should I rent a campervan during winter?

During the period of December-January, and even longer in some cases, we would not recommend renting a campervan unless you fully comprehend what to expect during your stay. The wind speed can reach furious heights and the cold drops well below -0­° Celsius at times. You must decide whether you're prepared and willing to brave these challenges or if you'd rather take the safe route and rent a hotel room and a 4x4 vehicle.

How are the roads in Iceland?

They are considerably narrower than what you may be accustomed to in your own country, so please be careful and pay close attention to www.road.is for road conditions and troubling weather.

How long does it take to drive the ring road (route 1)?

The ring road can be done in about 7 days, but if you want to thoroughly enjoy it then we recommend at least 12 days for the journey.
Frequently Asked Questions
Insurances for rental cars in Iceland explained
What insurances should I get?

Every rental car in Iceland comes with the standard CDW and Third Party Liability insurance included. These insurances can carry a self-risk of up to 3,000 EUR which can be a lot of liability for someone to carry. In this case, you may like to upgrade the CDW insurance to a Super CDW, therefore lowering your self-risk amount significantly.
Other specialized insurances such as Gravel Protection or Sand and Ash Protection could also be great additions to protect against special circumstances such as gravel bombarding the car or even a sudden sandstorm raging through.

Read more about Gravel Protection or Sand and Ash Protection.



Gravel Protection
Most of the roads in Iceland, outside of towns, are not paved. Even Route 1, Iceland's longest and most driven road, isn't fully paved. The Gravel Protection usually covers damages from gravel roads to the body of the car, the headlights, and the front windscreen.
Sand and Ash Protection
We all remember the Eyjafjallajökull eruption. The fact is, loose ash and fine sand still cover much of the terrain in certain areas of Iceland. As the wind blows, the ash and sand may whirl up and blow towards anything and anyone unlucky enough to be in its path. This may cause serious damages to the car and gives it an undesired, matte finish. Icelandic insurance companies do not cover damages such as this in the regular CDW policies, which is why this protection is offered as an optional damage waiver, covering sand and ash damage to your rental car.
Theft Protection
Iceland may be one of the safest countries in the world but, believe it or not, crime still happens here. The theft protection lowers the lessee's self-risk down to 0 EUR in the case of vehicle theft. It may be worth it for the added peace of mind. Bear in mind though, in the case of gross negligence this protection may be void.
Super Collision Damage Waiver
An upgrade to the standard Collision Damage Waiver, lowering the self-risk of the lessee considerably. Note: amounts may vary depending on which car rental you choose.

What is the cancellation policy?

Bookings can be cancelled free of charge for a full refund up to 48 hours before the start of the rental period. Bookings cancelled with less than 48 hours advance are subject to a cancellation fee equal to 15 - 20% of the total price, depending on the minimum required deposit for the rental.

For motorhome bookings, the following cancellation policy applies: Filling out our cancellation form and submitting a notice of cancellation with 30 days or more until your booking begins, will make you eligible for a full refund of your booking. Cancelling with less than 30 days until your booking begins will render your deposit nonrefundable.
NO-SHOWS
If the vehicle cannot be picked up due to any of the following:


Insufficient documentation
Failure to provide a valid credit card containing sufficient funds to cover the deposit amount.
Failure to collect the car at the specified time/date.

Refunds are not available for no-show cases.
Frequently Asked Questions
F-Roads, Highlands & Offroad Driving
F-Roads are special roads in Iceland that usually lead through the highlands
F-roads in Iceland

The highland F-roads of Iceland have become increasingly popular throughout the years for those travelers that seek a bit of uncharted adventure and to escape the crowds of the more popular sights found along the ring road. Traveling an F-road can be demanding and even dangerous if you're not properly prepared and behind the wheel of a suitable car.
Car rentals in Iceland will not permit you to take your regular car on F-roads but most will allow you to take a 4x4 rental there with the exception of a few of the more challenging roads like F249 to Þórsmörk.
Read our Guide to F-Roads in Iceland.

Which F-Roads can I drive?

The highland F-roads in Iceland are many and varied. While some, like the F35, can be driven in any small 4x4 SUV others will involve deep rivers or rocky terrain and may thus require a bigger, more capable vehicle such as a Land Cruiser or a Ford Expedition. The best way to get familiar with which roads are suited to your vehicle would be asking beforehand or upon pick-up
Smaller 4x4's are generally suited for roads like F35 or Kaldidalur while the F206 and F26 will require a bit more firepower.
Whichever F-road you do venture on, remember to drive carefully and don't underestimate the rivers or roads.

Read our comprehensive F-roads Guide

Can I drive highland roads with my rental car?

If your vehicle is a 4x4 then in all likelihood it is Highland Capable, but some smaller 4x4's are forbidden on F-roads. Certain roads, such as F249 in Þórsmörk, are usually forbidden to drive no matter what rental car you have chosen.

Difference between F-road and off-road

F-roads are not off-road. Driving off-road is illegal in Iceland as you would be damaging terrain and landscape that can take several hundred years to grow back to its former state. Off-road driving can result in extremely high fines if caught. As F-roads are actual roads, only with more treacherous terrain than normal roads, they can be driven as long as you have the suitable vehicle necessary for them.

Read more about the differences between F-roads and going off-road.

Can I drive off-road?

No. Off-road driving is illegal in Iceland and will result in a fine, issued by police, of up to 100.000 ISK.

Can I cross rivers and fords in my 4x4?

This depends on which 4x4 you have chosen, which road you are taking and what rental you have rented from. The conditions vary, but if you contact us we may able to help you find the answers you seek.