F-Road Guides for Iceland
F-roads are roads that access the highlands of Iceland. They are breathtaking routes, whilst also being very challenging and, in some cases, dangerous. These F-roads can contain a lot of loose gravel and some of them can also contain quite deep and wide rivers. If you are not a confident driver, then I would recommend avoiding F-roads.
To drive on F-roads, you are required to drive a 4x4 vehicle which most visitors rent (For the F-roads with rivers, It is required that you have a raised 4x4 or a guide). It is also recommended that you drive the F-roads in a group of at least 2, in case any trouble arises.
---
---
When are F-Roads Open in Iceland?
Due to weather conditions and safety, F-roads are not open all year round. In fact, they are only open for a short period of time. Some of the roads open in June, whilst others open in July. They will usually close around mid to late September.
The opening of F-roads is determined by the amount of snow cover on the roads and how much damage the roads have taken during the winter months. The roads need to be in good condition to withstand the amount of driving that takes place during their opening.
You will see the opening times for 2018-2021 below (they are valid for 2022):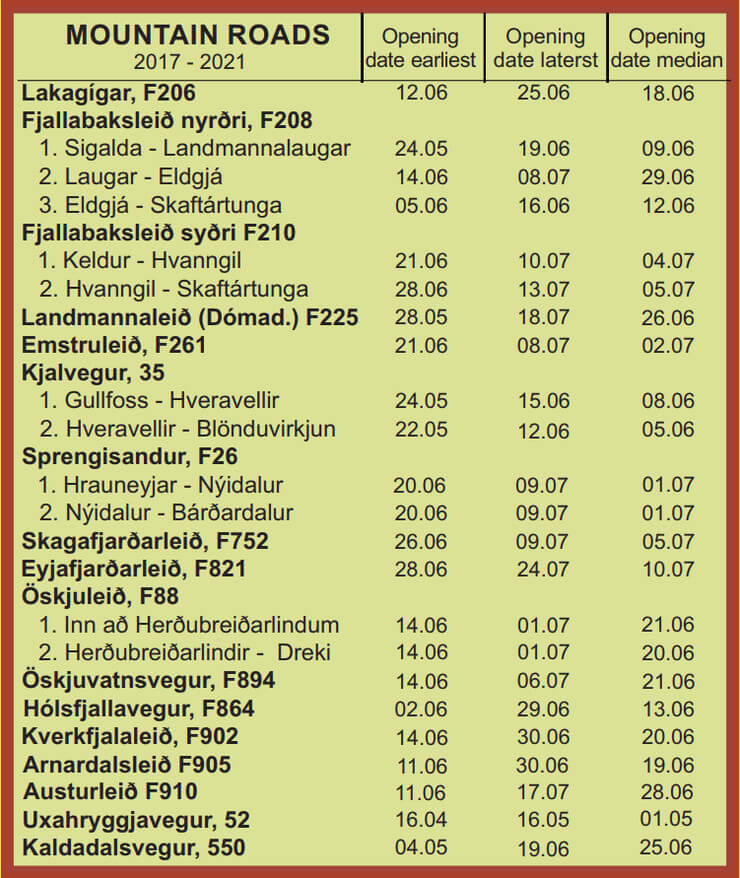 Remember that these are the projected opening dates, and may change depending on the road conditions.
A Brief Overview Of The Most Popular F-Roads
When renting a car, in most cases, it will state whether the rental car is or isn't suitable for F-roads. As previously mentioned, 4x4's rentals are the only rental cars that can access F-roads. However, not all 4x4's can handle every F-road.
One of the most popular routes that are accessed via F-roads is Landmannalaugar. To get there, there are 3 main routes:
When renting a car, always remember to read the included and additional insurances carefully. Usually, car rental agencies in Iceland do not have an insurance for the undercarriage of the vehicle or for water damage caused by crossing rivers.
Due to the conditions of F-roads, the recommended insurances at the very least are 'Gravel Protection' and 'Super Collision Damage Waiver'. F-roads pose a high risk of damage, so protecting yourself and the rental car is worth the cost compared to what you would pay if any damage was to occur to the vehicle.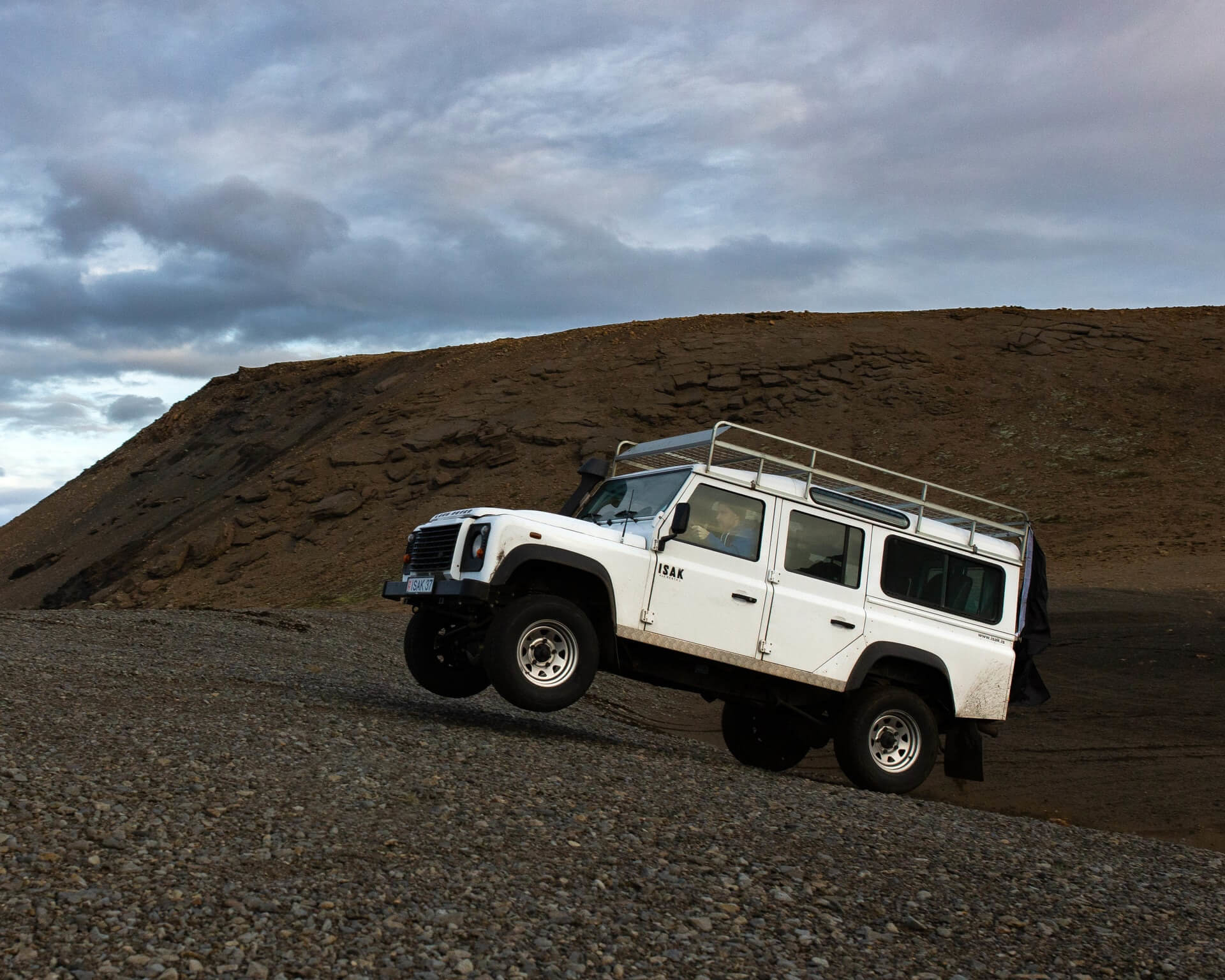 It is worth noting that some F-roads aren't even marked with the 'F' sign, even though they are F-roads and still only accessible with 4x4's.
Here are a few popular non marked F-roads:
The most popular route that is not marked with an 'F' is 35 or Kjalvegur which is one of longest roads in Iceland, taking five hours to traverse. This F-road continues North from Gullfoss to the North of Iceland (Blöndulón).
Also, mid-way through this route, there is the possibility of a slight detour to Hveravellir, an amazing area containing accessible hot springs and great hiking trails.
This route is also popular as it is probably the easiest route to drive and can be driven by every F-road accessible 4x4.
---
---
Map of Gas Stations in Iceland
It is also worth mentioning that gas stations are usually not available on F-roads, so be sure to have a full tank (and even a spare fuel can).
Does My Route Contain F-Roads?
Due to how confusing the F-roads can be, a lot of travelers tend to ask if their intended route contains F-roads. I can tell you that, in most cases, it does not.
The traditional routes that people will travel are The Golden Circle, The South Coast and The Ring Road. These routes do not contain F-roads, though it is possible to take detours on F-roads from these routes.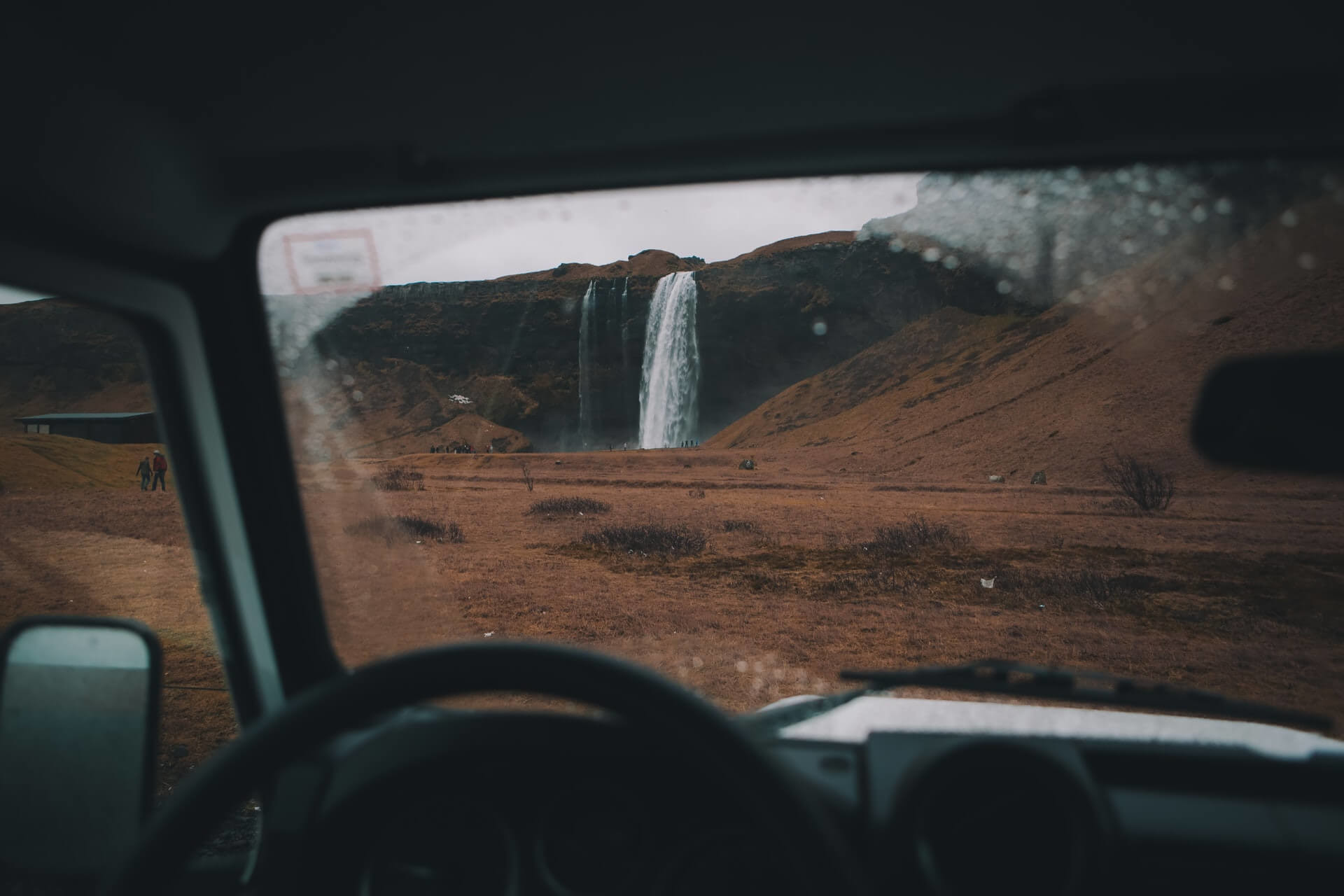 However, some key routes can contain F-roads. These are Láki, Landmannalaugar, and Þórsmörk among others. If you intend on accessing any of these attractions, then chasing some of most popular F-roads in section of this post will be beneficial to you.
It is also worth noting that some routes may not be F-roads but it is still recommended that you rent a 4x4 to go there. This includes the Westfjords and the North-East. The reason for this is that a lot of the roads in these areas can be quite damaged, muddy and also contain a lot of loose gravel.
If you are unsure if your route does or does not contain an F-road, then do not hesitate to contact us.
---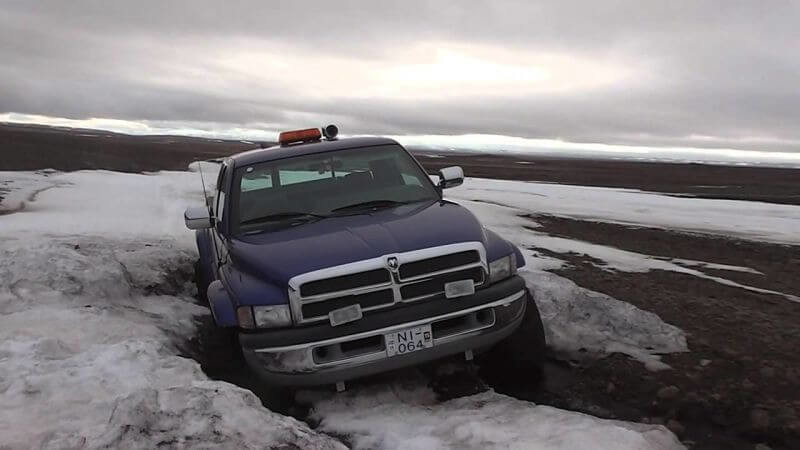 If you are feeling adventurous, and are extremely confident at driving, then F-roads are 100% worth it. If you want to make the most of your trip, F-roads are the best way to do so. They take you to the most beautiful secluded places and even the drive is both a fun and testing experience. Definitely, one to tell your friends back home.
But remember that safety comes first. Always drive carefully and be sure to, at least, have a working phone (especially if traveling alone) in case you get stuck.
DO NOT take risks. If you're on an F-road containing a river it's always best to stop and evaluate the river before attempting to cross.
If the river is deep and/or the current strong, then always avoid crossing. If you do attempt to cross, then be sure that your vehicle is in 4x4 mode.
One tip is to look for tire marks. If you can see where others have entered and exited the river then follow those tracks. Keep a steady pace, do not change gear and do not stop.
---
Which 4x4 Should You Hire For F-Roads?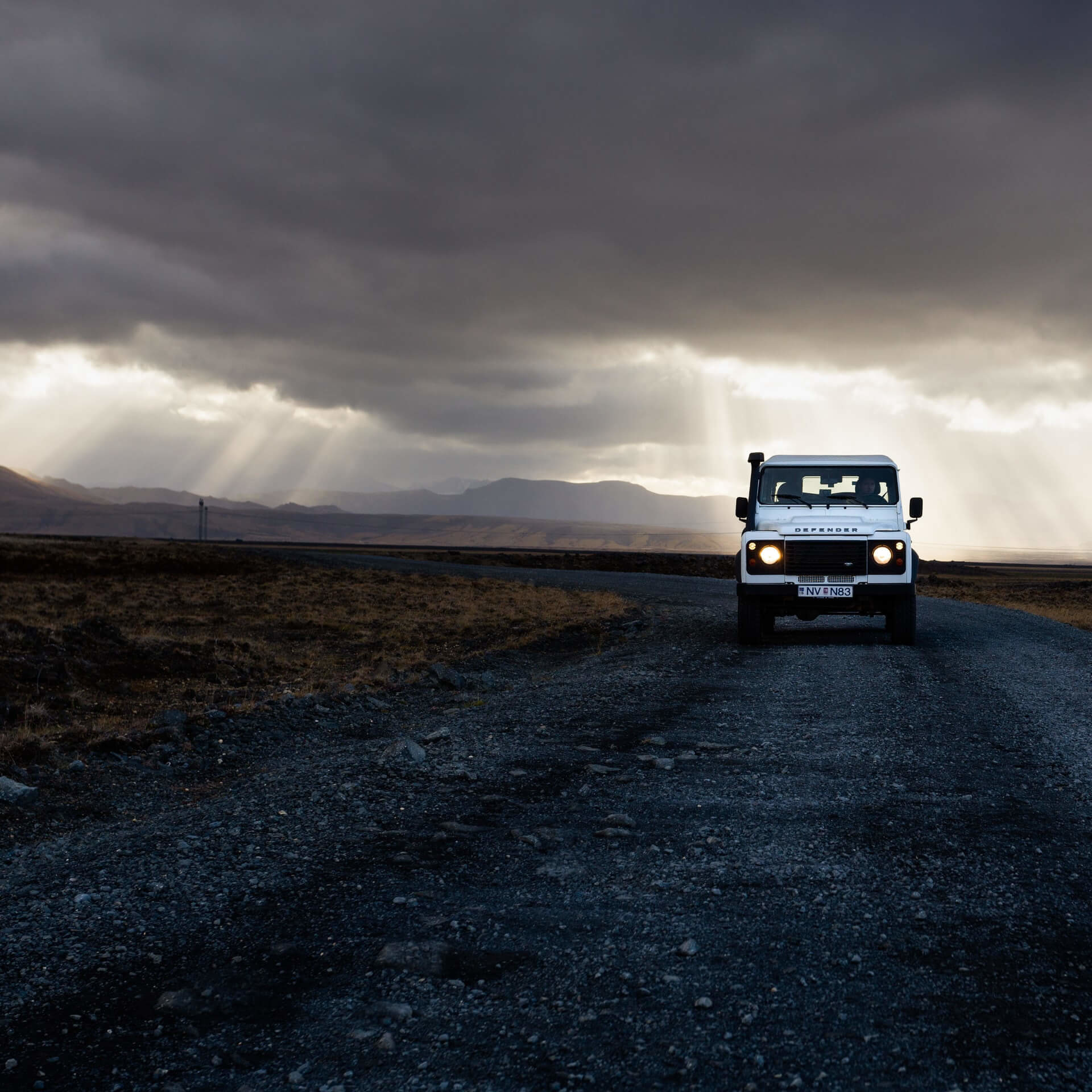 There are many types of 4x4 availble for hire in Iceland. Many of the rental agencies are offering different types. The difference is in the size and height of the vehicle, the bigger the vehicle the further away from the ground so you will then be able to cross rivers and drive on the more rough F-roads. Some also have more suspension which makes the ride even better.
To Cross Some (NOT ALL) Rivers The Car Should Have A Clearance Of Aprrox. 18 Centimetres
You should ALWAYS check the depth of the river before crossing
---
---
Small 4x4's
The smaller 4x4's are only suitable for thse F-roads that have no river crossings. The F208 from the North to Landmannalaugar as well as the 35 Kjölur Road on the way to Kerlingafjöll. The smaller 4x4's have less height so you should drive carefully and the drive will be bumpier that those with greater suspension. Also, the trunk is smaller so be aware of that.
Examples of a Small 4x4's:
Huyndai Santa-Fe (Height Clearance: 17.6cm)
Forda Kuga (Height Clearance: 16.3cm)
Medium Sized 4x4's
The medium sized 4x4's are helpful on the F-Roads that a river crossing that aren't deep, such as F910 to Askja, the F225 West Of Landmannalaugar and the F26 to Sprengisandur. It also offers a better driving experience as well as a bigger trunk.
Examples of Mid Sized 4x4's:
Toyota RAV4 (Height Clearance: 20.1 cm)
Dacia Duster (Height Clearance: 21 cm)
Large 4x4's
Land Cruiser and larger 4x4's are more suitable for river crossings. F88 to Askja, F249 to Þórsmörk and the F578 to Arnarvatnsvegur are the more difficult and treacherous river crossings. The larger 4x4's will give you more peace of mind when crossing rivers but that also comes with a price. The trunk is also larger and some offer a box on the overhead for you to store more items.
Examples of Large 4x4's:
Land Cruiser (Height Clearance: 21.5cm)
Jeep Wrangler Rubicon (Height Clearance: 27.4 cm)
Note that the undercarriage is seldom insured as is water damage, so read the insurance description carefully.
---
---
---