One of the many unique features of Iceland are its many natural hot springs. Chances are you've already heard about the famous Blue Lagoon. Whilst it's an amazing sight to see, there are dozens of other amazing geothermal pools all around the island.
Want to know which have the best views, or which are completely free to enter? Keep reading this ultimate guide on the best natural hot springs and geothermal pools to be found in Iceland!
Natural Hot Springs vs. Geothermal Pools
Iceland is one of the most active volcanic regions in the world. The island is the result of the widening of the mid-Atlantic Ridge and the Eurasian and North American plates, which are moving apart from one another. In fact, Iceland is growing as you read this post at a rate of 2 cm per year.
It's thanks to this volcanic activity that you can find hundreds of natural hot springs around Iceland. The hot water occurs when groundwater is warmed up completely naturally by the heat of the earth's crust. A quick online search, however, will provide you with various terms like hot springs and geothermal pools in Iceland - but what's the difference between the two?
Natural Hot Springs
These can be found all across Iceland and are completely natural. They are essentially nature's version of a hot tub. Water in these springs can vary from mildly warm to scorching hot. Some natural hot springs are so hot that they can cause severe burns to the skin so you need to be careful where you decide to go for a soak.
Geothermal pools
Although the original source of heat for these pools still comes from geothermal activity, the actual pool themselves are largely man-made. As the water from the Earth's crust is incredibly hot, geothermal pools will cool the water to the perfect temperature to bath in, between 34° to 40°C. The best example of a geothermal pool would be the famous Blue Lagoon.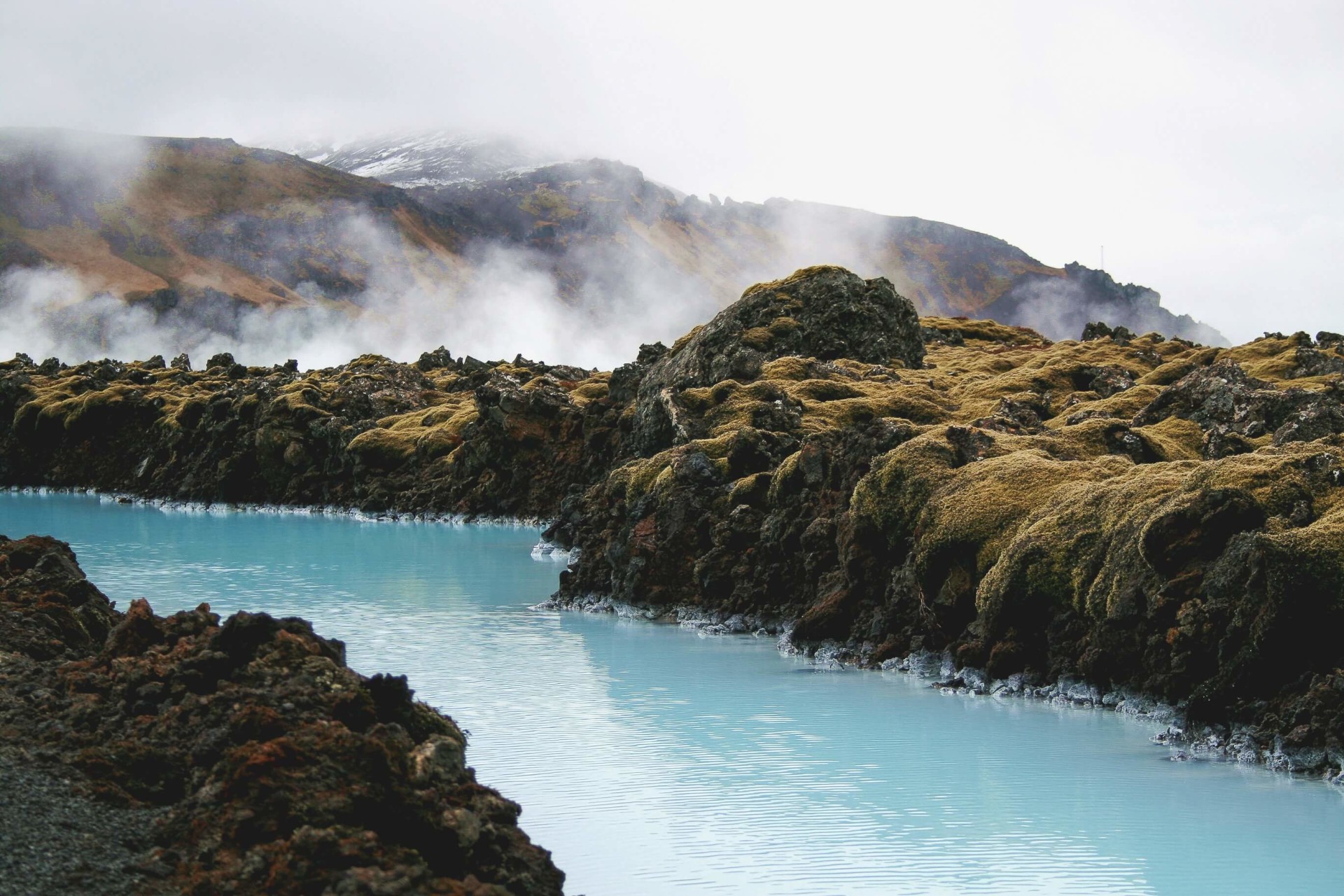 Where in Iceland can you find Natural Hot Springs and Geothermal Pools?
There are natural hot springs and geothermal pools all across Iceland. However, certain areas have more geothermal activity than others. For example, West and South Iceland are particularly active and this is where you will find the most natural hot springs. The only part of the island that doesn't have geothermal hot water is the East coast of Iceland.
Don't rule out all of East Iceland though, as in the Eastern Highlands you'll find some incredible hot spring locations. The best ways to reach most hot springs in Iceland, especially the smaller ones found off the beaten path, is to rent a car and drive there yourself.
Best Geothermal Pools in Iceland
Dotted across Iceland you'll find a mixture of completely man-made swimming pools with showers and bathroom facilities as well as more rural semi man-made pools. Many of these geothermal pools have incredible views to enjoy whilst you bathe in warm water that's heated up naturally by the earth. In more rural pools where there are no trash cans, no showers, bathrooms, remember not to leave any behind to preserve these sites.
Below we've curated a list of some of the best geothermal pools you can find in Iceland.
One of Iceland's oldest man-made geothermal pools, this 25-meter long and 10-meter wide construction was made nearly one-hundred years ago in 1923. This outdoor swimming pool is built into a mountainside and is surrounded by incredible scenery.
The water here isn't as hot as you might expect and might be a bit too chilly in winter for some, but a perfect soak for the long Icelandic summer days for everyone.
You'll find a small house at Seljavallalaug with two rooms that act as a changing room where people can leave their clothes. The site is only rarely visited by the volunteers who look after Seljavallalaug, so please leave it as clean and tidy as possible.
It was this group of volunteers who in 2010 spent days cleaning the pool and bringing it back to the condition it is today after it was covered with ash from the Eyjafjallajökull eruption.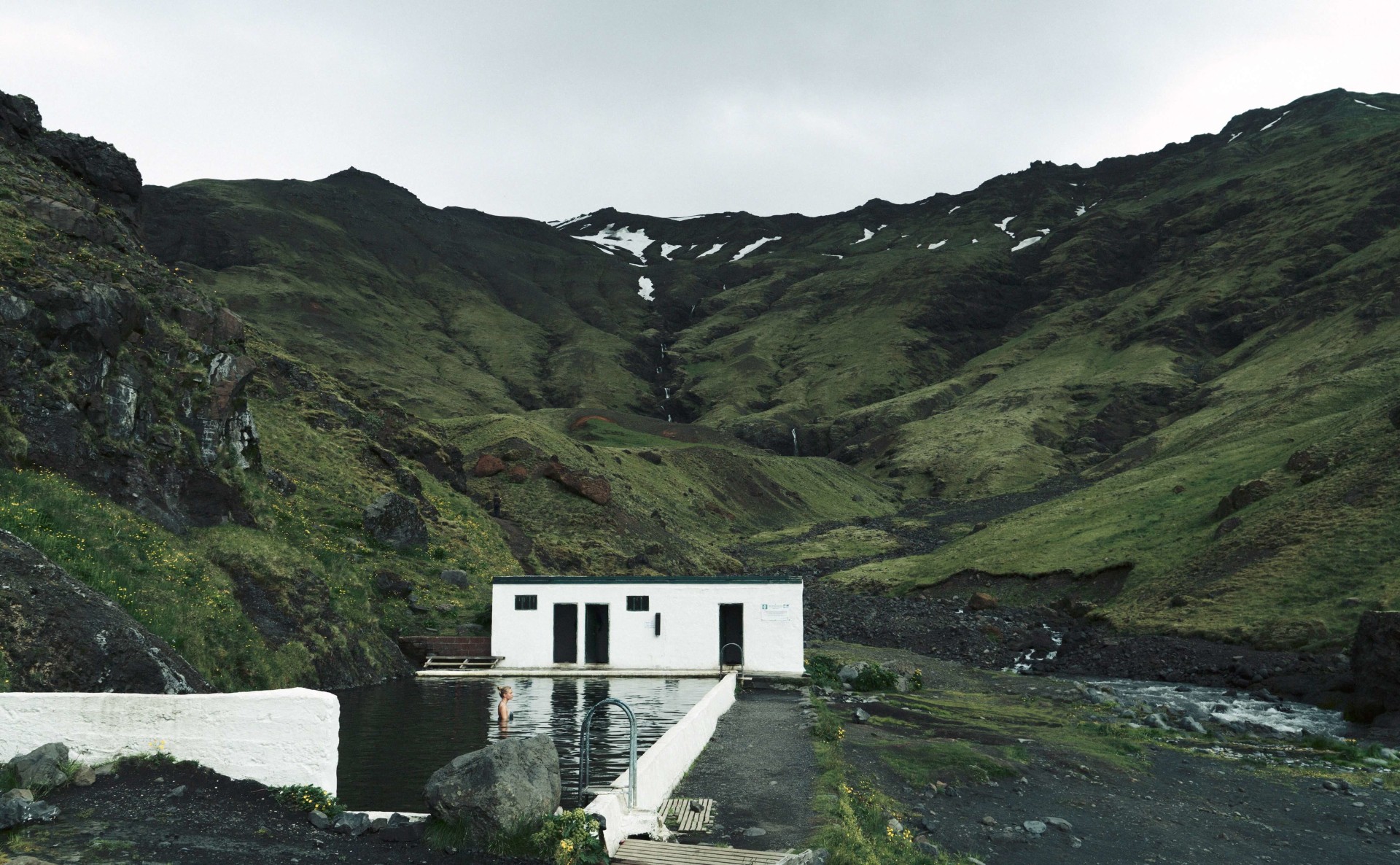 Seljavallalaug is located on the South-Coast of Iceland, around 10 km (6 miles) east of Ásólfsskáli and situated between the waterfalls Skógafoss and Seljalandsfoss. It's a 2-hour drive south on the Ring Road from Reykjavik.
Just before you reach Skógafoss there's a small dirt road with a sign towards 'Seljavellir' where you'll find a parking space. Take a 15-minute walk along a gravel track and you'll find Seljavallalaug.
If you happen to be exploring the northeastern coast of Iceland in the Westfjords then Krossneslaug is well worth a visit. The water at Krossneslaug is completely sourced from a nearby hot spring, a rarity in the Westfjords as there are not many natural hot springs left here.
What makes Krossneslauf so unique is that this infinity-pool has incredible views across the ocean, with a hot tub available as well. At Krossneslaug you'll find a showering facility and a simple changing room. There's also an entrance fee of 500 ISK, which helps maintain the cleanliness and preservation of the site.
Getting here isn't as simple as other geothermal pools, as it's a long, slow drive along a gravel road, Road 643. Once you're here you'll know why the drive was worth it as soaking in hot water overlooking the ocean gives you the feeling of being at the edge of the world.
---
Grettislaug is found in the north coast of Iceland in the Skagafjörður fjord. This pool is situated on private property so you'll be expected to pay a small entrance fee to use the changing and shower facilities.
At the site, you'll find two big pools, each reaching a temperature of around 39°C. From these geothermal pools, you can take in the incredible beauty of Iceland's coast, including Drangey Island.
The name, Grettislaug, originates from a Viking character named Grettir from one of the many famous Icelandic Sagas. In the tale, Grettir lived as an outlaw in Iceland for 20 years and his outpost was on Drangey Island. To protect himself from the cold, harsh winter temperatures, Grettir used the geothermal pools to keep warm.
Another one of Iceland's oldest thermal baths, Gudrunarlauf, has existed for more than 1000 years. However, for 140 years the site was blocked off due to a major landslide.
The site reopened in 2009 after reconstruction cleared the pool much to the relief of many Icelanders and tourists.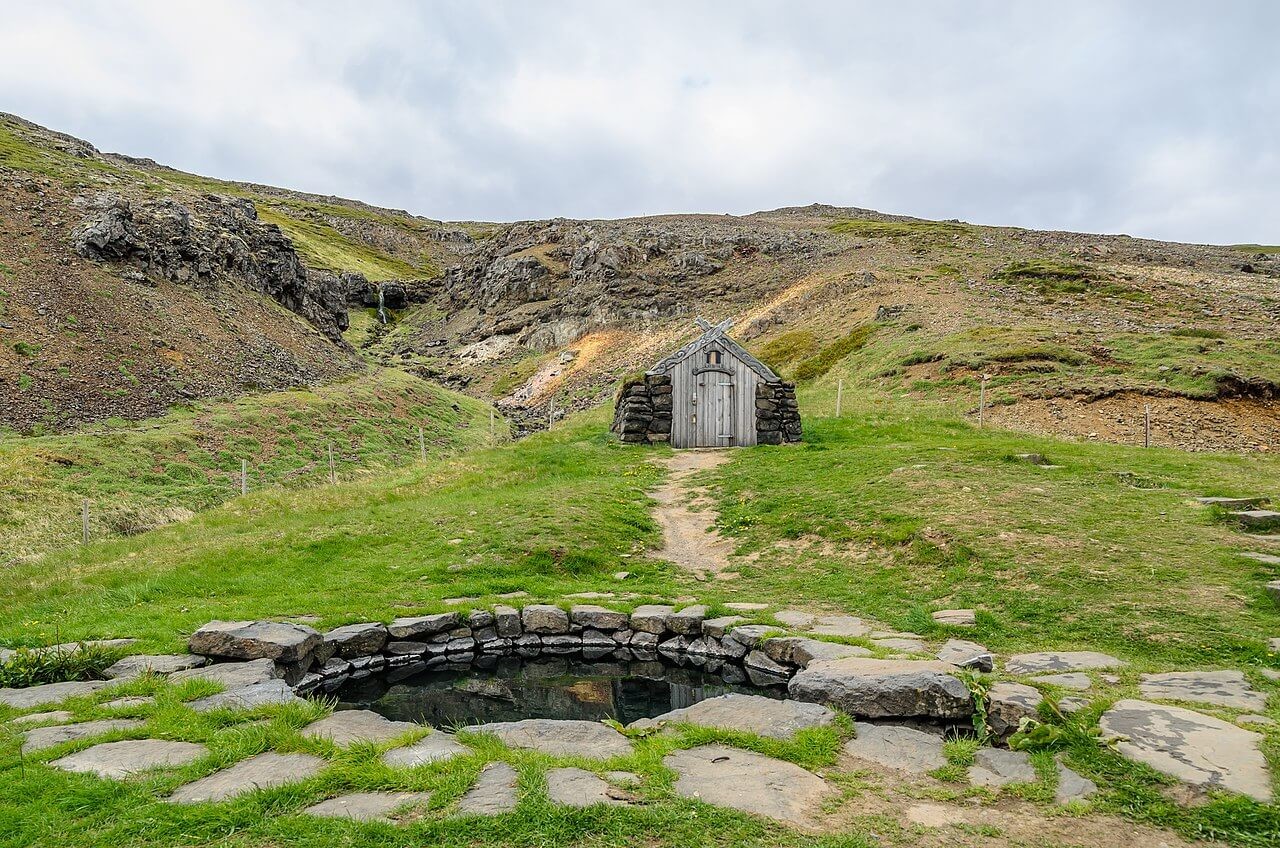 Gudrunarlauf is **free of charge** and you can find a small changing room nearby.
It's located in West Iceland on the way to the Westfjords if you're driving from Reykjavik. The pool isn't huge but it's a great place to unwind and soak in a location that was used by the early settlers of Iceland.
This small bathing pool is only around 90cm wide and 30cm deep. As the name suggests, it's ideal for warming up your feet in the 39°C water. Carved into a rock, this hot spring was designed by Ólöf Nordal, an Icelandic artist.
There are no changing facilities, however, the site is only designed as a footbath and the entry is free. Kvika Foot Bath is located in Reykjavik near the Grótta lighthouse. From this footbath, you can enjoy a spectacular view over the ocean and onto the Snæfellsjökull glacier.
The area is also a popular destination for many locals who enjoy watching the Northern Lights and the Midnight Sun sunsets from here.
Another pool situated on the coast with an amazing view of Iceland's coastline. Hofsós is found in northern Iceland in a small quaint village. It's one of the large geothermal pools, maybe not as large as an Olympic sized pool, but big enough to have a splash.
You'll also find two hot tubs on-site, as well as changing and showering facilities. The pool is the same height as the nearby cliff, making it appear as though it's connected to the ocean.
Hofsós was designed by the same architect as the famous Blue Lagoon. Although not quite as blue as the Blue Lagoon, the water has a striking blue-tone, contrasting beautifully with the emerald green ocean in the backdrop.
Sunbathing on the beach isn't usually the first thought for tourists visiting Iceland. However, the Nauthólsvík geothermal beach pool is situated right on a small strip of Reykjavik's beach. The pool was opened in 2001 and has become a popular spot for many locals to enjoy in the summer months.
With a water temperature between 15-19°C, Nauthólsvík pool is slightly colder than other geothermal pools in Iceland. What makes this geothermal pool so unique is that you can jump directly from the cold ocean into the warmer water.
There's also a hot tub for those looking to really enjoy this golden sand beach in Reykjavik.

Best Geothermal Spas in Iceland
Geothermal pools are great if you're looking to experience Iceland's naturally hot water for a quick dip.

For those of you who enjoy a little extra luxury and comfort, rest assured that Iceland has plenty of geothermal spas as well.

Just like the pools, the hot water for these spas is sourced from natural springs and boreholes dotted around Iceland.

Take a look at our list of the best geothermal spas in Iceland and get ready to pamper yourself whilst enjoying Iceland's spectacular volcanic landscapes
The Blue Lagoon has become Iceland's most famous and popular geothermal spa for tourists visiting the country. It's even been listed as one of the Top 25 Wonders of the World by National Geographic.
The milky blue water here is a perfect 38-39°C, and its rich in nourishing minerals such as silica and algae. However, what only few people know is that the milky blue water was the result of a man-made accident. In 1976 a geothermal power plant was built on the lava field nearby.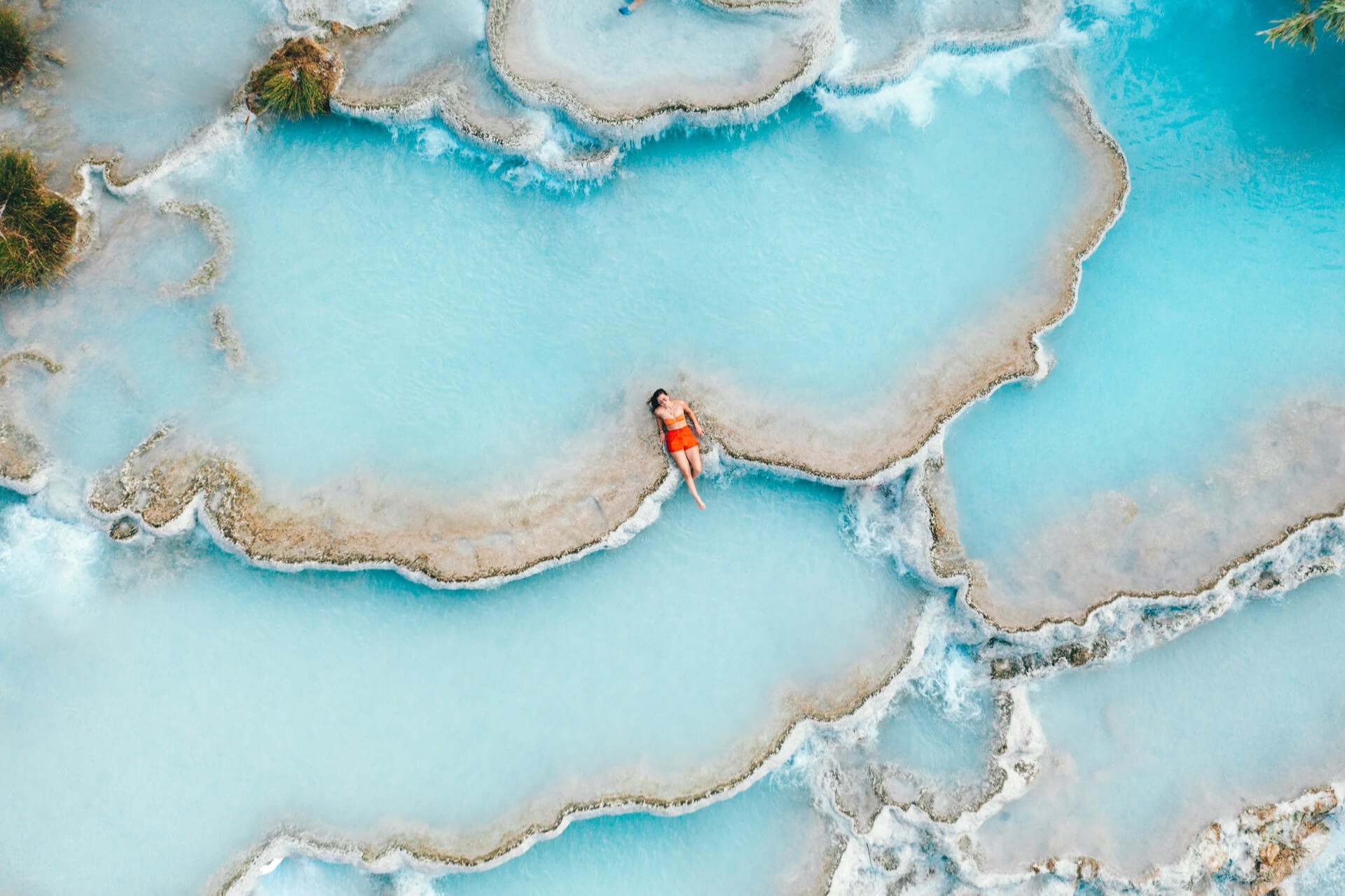 Unsure what to do with the wastewater, the power plant drained the water into the lava field now known as the Blue Lagoon. People started bathing in it in the subsequent years as they realized its many healing properties.
The Blue Lagoon is conveniently located near Keflavik Airport, which means that even if you're travelling to Iceland for a short stopover, you could still enjoy a relaxing dip.
As well as the lagoon, you can also find a Blue Lagoon Clinic, which specializes in skin treatments and also has a research facility that studies skin diseases.
Tickets for the lagoon start at 77 EUR / $81 USD / 10.990 ISK for adults.
Due to high traffic of visitors pre-booking is required. We recommend you do so as soon as you can, to make sure you don't miss out on this wonderful visit.
---
_______
Dating back to 1891, The Secret Lagoon is the oldest geothermal pool in Iceland. For many years it was abandoned until it was renovated and reopened in 2014. Today it's a popular destination for tourists before or after travelling the famous Golden Circle route, as it's conveniently located near the village of Flúðir.
There's no surprise why it's so loved as the geothermal water is an enjoyable 38-40°C. Not only is the water relaxing, but the surrounding landscape is also equally as fascinating. You can find bubbling hot springs, surreal mossy lava fields and a small geyser that erupts every 5 minutes.
Although it's not quite as full as the Blue Lagoon, you still need to pre-book tickets ahead of time during the summer months due to its popularity.
Tickets for adults start at 3000 ISK, and a swimsuit and towel can be rented if you need to for 900 ISK a piece.
Having opened up in late 2017, Krauma Bath Resort is the latest member to join the list of geothermal spas in Iceland. Found in the north of Reykjavik, this spa is located next to Deildartunguhver, Europe's most powerful hot spring.
It's been designed with modern black marble, giving the place a very luxurious feel to it. Krauma offers a mixture of hot tubs, saunas, and pools with varying temperatures. You'll find five warm pools and one cold one with a temperature of 5-8°C designed to boost your blood circulation and immune system.
Krauma Bath Resort is still a relatively well kept secret amongst locals and is a less known to tourists.
The price for an adult ticket starts at 4900 ISK for adults, 2450 ISK for ages 13-16 while children pay 350 ISK.
This includes access to the spa facilities, a changing room, showers as well as a modern restaurant.
Located in the north of Iceland, a 6-hour drive from Reykjavik, is Myvatn Nature Baths.
This geothermal spa has similar milky blue water as the Blue Lagoon but with far fewer people. Just like The Blue Lagoon, the water at the Myvatn Nature Baths is filled with nourishing minerals like sulphur, that is especially beneficial to those who have respiratory or skin problems.
On-site you'll find shower and changing facilities, as well as various pools and saunas. Unique to Myvatn Nature Baths are the two steam baths that are situated on top of a hot spring. The steam reaches a temperature of up to 50°C and the humidity level is near 100%.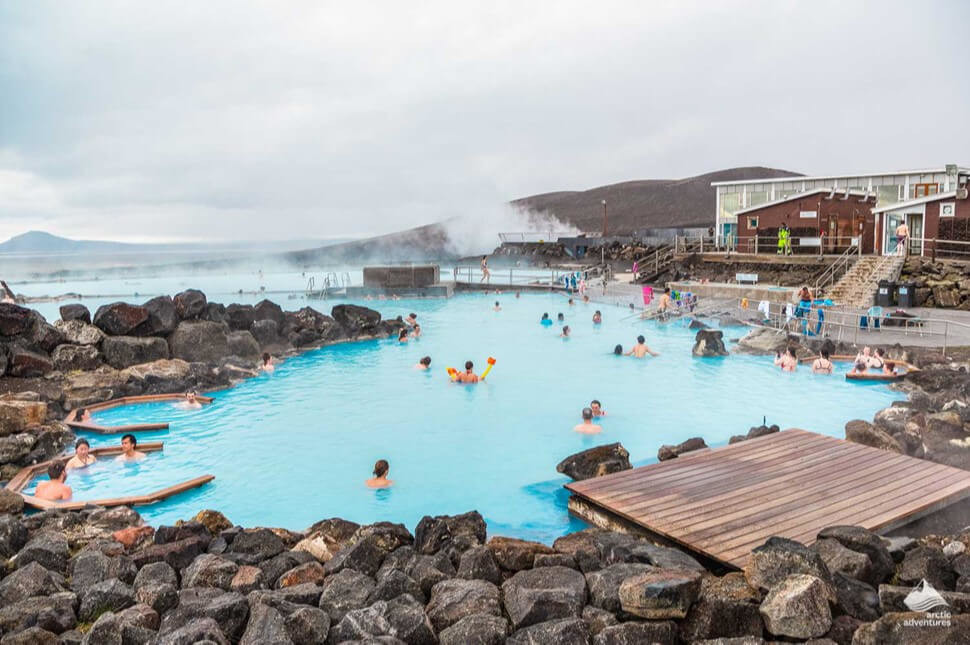 There's also a cafe where you can grab a bite to eat before or after enjoying the Myvatn Nature Baths.
The entrance fee for an adult ticket is 5900 ISK, teenager (13-15) 2900 ISK & senior (65+) / disabled 3900 ISK.
Fontana Geothermal Baths is a 90-minute drive from Reykjavik and, like the Secret Lagoon, it's located near the Golden Circle route.
The spa is based in the Laugarvatn area and next to the Laugarvatn Lake, where the local people have been using the hot geothermal water for cooking, bathing and heating their houses since 1929.
One of the saunas found at the Fontana Baths is actually the same one that the original villagers used back in the day (don't worry - it's been renovated since).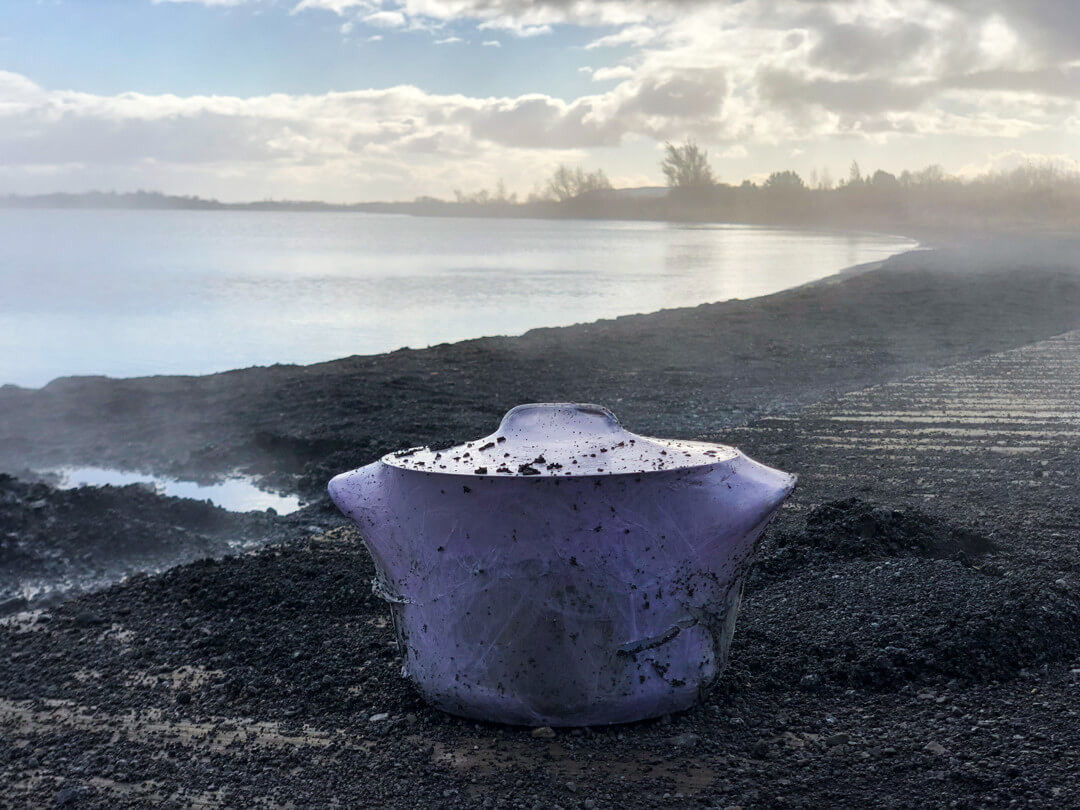 At Fontana, you can find a variety of steam baths, pools, saunas, and you can even go for a dip in the Laugarvatn lake.
The entrance fee for an adult ticket to the baths costs 4500 ISK. Also unique to this spa is the geothermal bakery where you can learn more about the traditional Icelandic rye bread that's cooked using heat from the Earth. To dig up a rye bread it will cost and know the process costs 2500 ISK
---
_____
Best Hot Springs in Iceland
Along with the dozens of man-made geothermal pools and spas in Iceland, you'll also find countless natural hot springs where you can take a dip.
To make your life easier, we've compiled a list of the best hot springs that you can find in the whole of Iceland - take a look below.
However, remember that the temperature in hot springs are not regulated and can sometimes be scorching hot - so please be careful!
Reykjadalur literally translates to ?The Valley of Steam,' thanks to the geothermal heating of the river that runs through this valley.
Boiling hot water from hot springs in the surrounding area is combined with the glacier water, making it an ideal temperature to bathe in. In fact, different parts of the river are hotter than others. So, depending on what your ideal water temperature is, you can move up or down the river to find your perfect spot.
Reykjadalur is one of the most popular natural hot springs in Iceland. It's simple to get to from Reykjavik and only takes about a 45-minute drive.
Many people combine a hike and dip in Reykjadalur when they travel the famous Golden Circle route. There are no changing or showering facilities here so remember to come prepared.
Found in the Westfjords, the Hellulaug hot spring is located directly on the Icelandic coast. This natural hot pool has a depth of around 60 cm, with a water temperature of this hot spring is an enjoyable 38°C. The beautiful view of the tranquil landscape makes Hellulaug a great place to relax.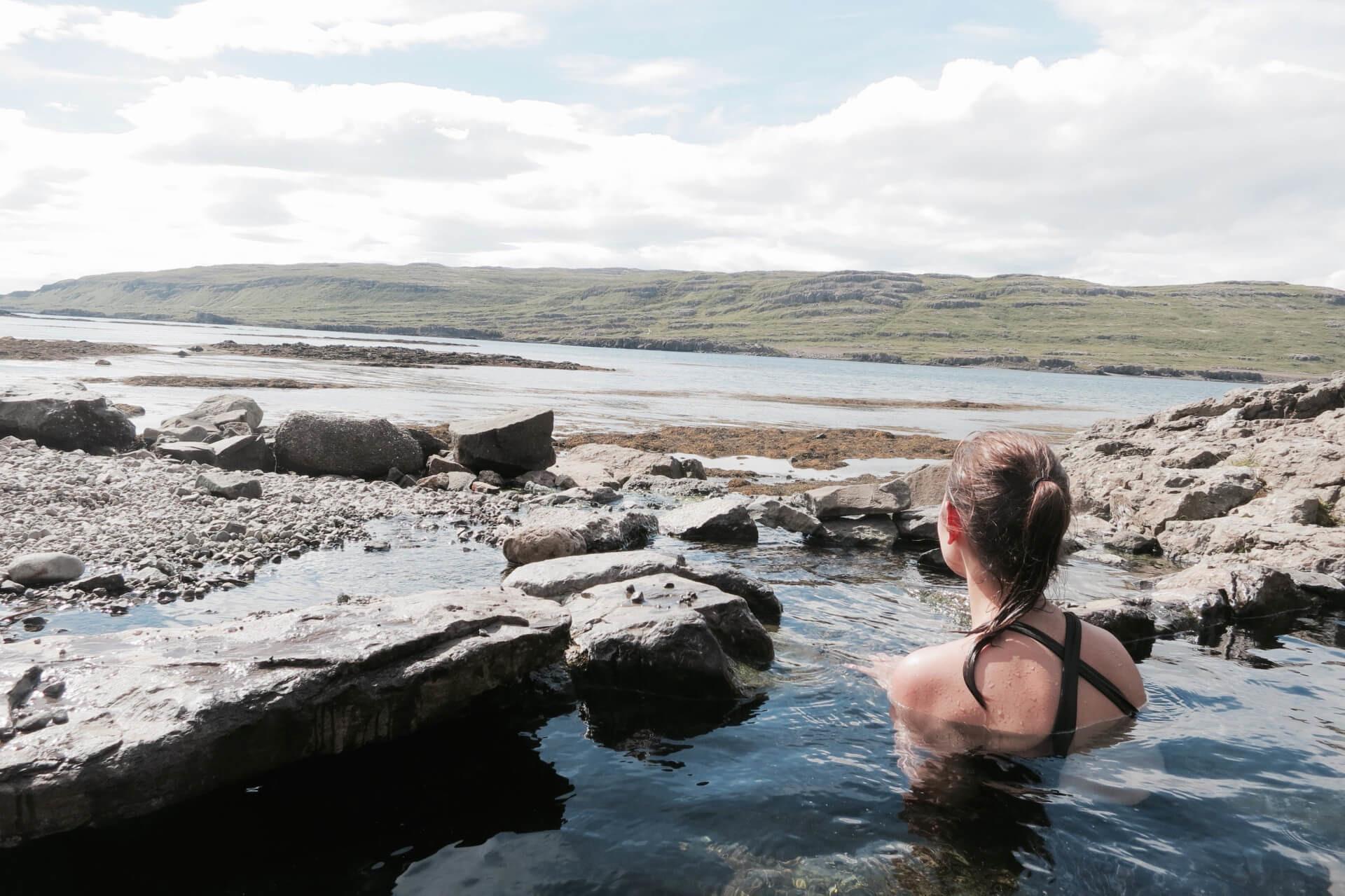 The nearby cliffs are also home to an impressive amount of birds. Just like other hot springs in Iceland, there are no changing, showering or bathroom facilities, so please bear that in mind before going for a dip in this natural hot pool.
Located in the heart of Iceland's southern Highlands is Landmannalaugar, an area of Iceland that's famous for its colourful landscapes, stunning hiking trails, and natural geothermal baths.
The mountains in this area contain volcanic rock and sand with unusual shades of red, blue, yellow, green, purple and black.
For centuries the natural geothermal baths in Landmannalaugar have been a sanctuary for dreary hikers and travellers looking to relax in the warm waters.
Remember to bring a bathing suit and a towel and as with the other natural geothermal baths, there are no shower or changing facilities here.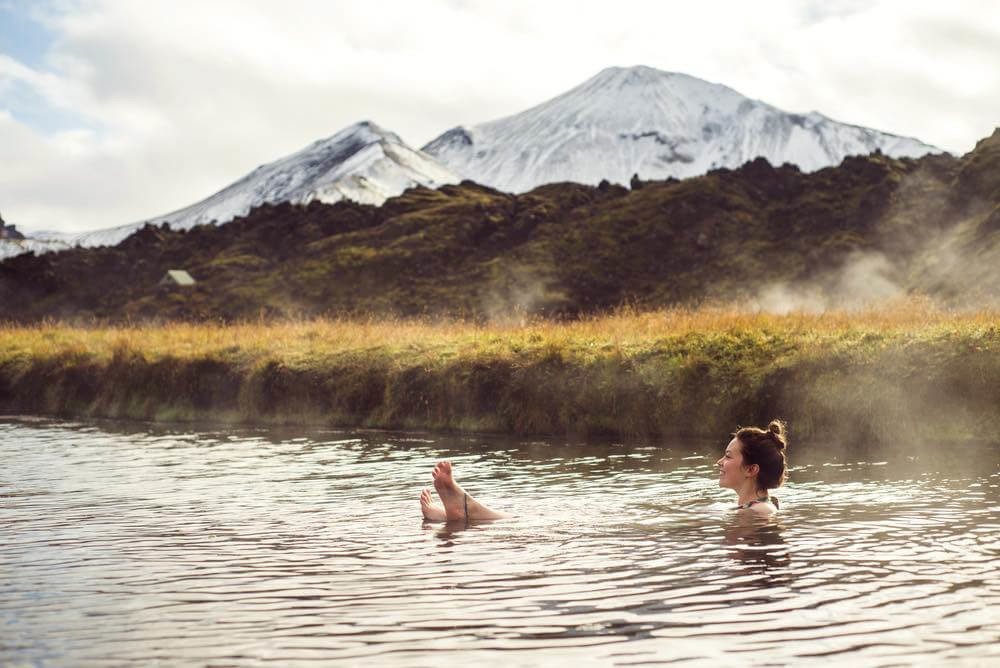 Also, please be aware that there is a parasite called Swimmer's Itch in many of these pools. Although they are harmless, their bites can be itchy, similar to mosquitoes, so if you are allergic to insect bites you may want to avoid bathing here!
Laugavallalaug is found in the eastern Highlands of Iceland, only reachable with a 4WD car on windy F-roads. However, once you reach Laugavallalaug, you'll realise quickly that the drive was worth it. This site is not just a geothermal pool to bathe in, but also a natural hot waterfall.
Near to the waterfall, you will also find natural pools to bathe in, as well as a cabin that can be booked for the night. If you're hiking in the Highlands or are planning on exploring the area then it's a brilliant relaxation oasis.
---
Viti, which translates to Hell, is a geothermal crater lake situated in the Icelandic Central Highlands. It's a bizarre sight as the water has a milky green tint to it and the whole landscape looks like something from a Sci-Fi movie set.
The lake is a popular destination to bathe in as the water has an average temperature of about 25°C. That being said, the temperature can go up to 60°C in some corners of the lake and the floor is very muddy, so do be careful!
No Bathing Geothermal Pools and Hot Springs
Some geothermal pools and hot springs have scorching temperatures and can be dangerous to visitors so authorities have banned people from bathing in them for their safety.
Please follow all guidelines set by authorities and be careful.
Geysir is on of the first geysers known to modern Europeans. The word geyser is derived from the Icelandic Geysir and is a spouting hot spring. It can spout boiling water up to 70 meters (230 ft.) in the air.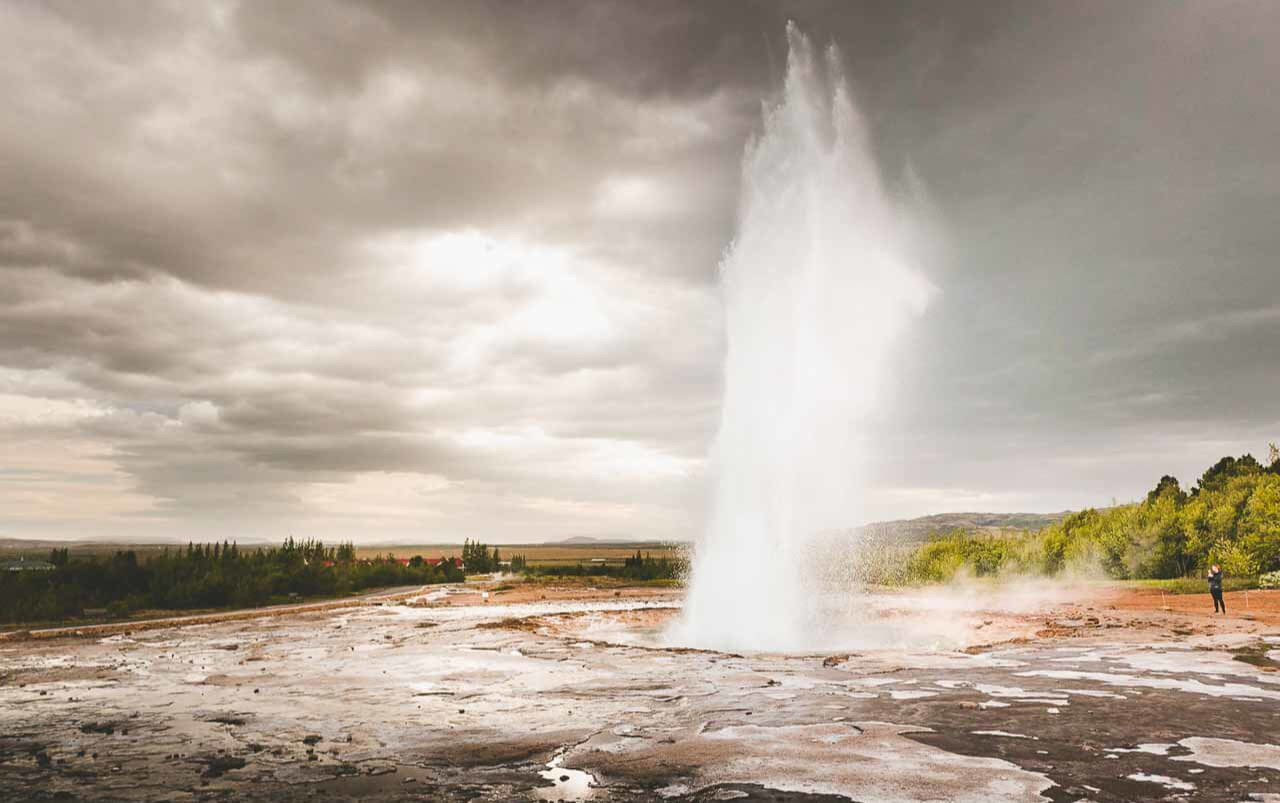 Eruptions are rather infrequent and can stop altogether for years at a time. However, there is another geyser which is called 'Strokkur' that erupts every few minutes located in Geysir's geothermal area.
We recommend you stick to the beaten path. Geysir last erupt in the year 2000 and left many visitors with burns on their feet and legs.
It is part of the Golden Circle which we highly recommend you visit.
Grjótagjá is a small cave that is located near Mývatn in Iceland which has a geothermal hot spring beneath. It has unstable temperatures which is why you are not allowed to bathe.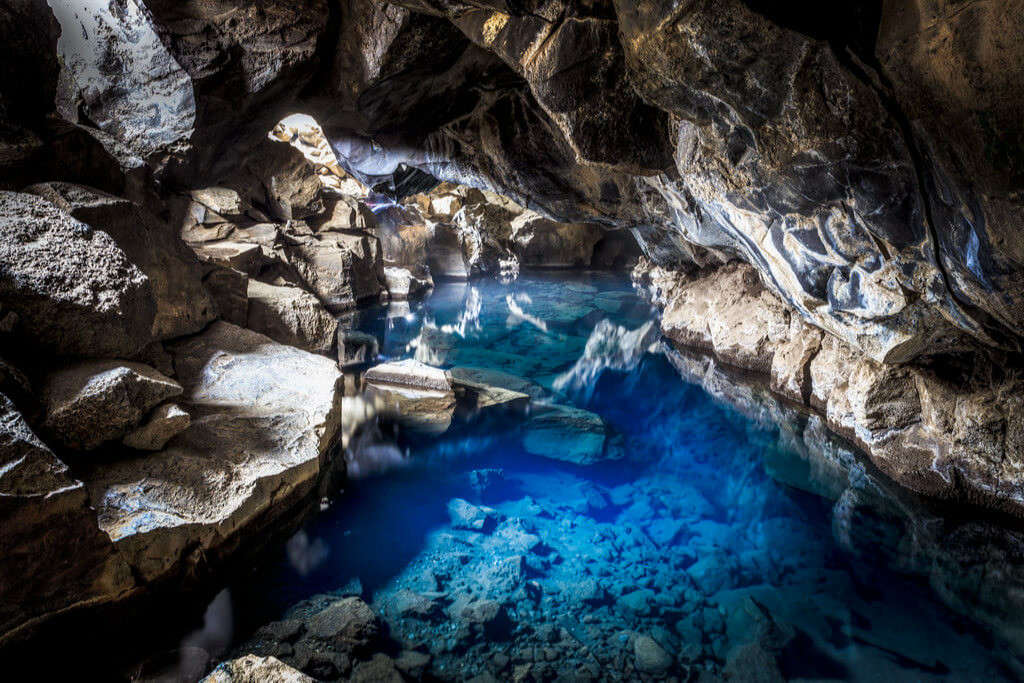 It has such immense beauty that HBO's Game of Thrones shot one of their iconic love scenes there. We know that Game of Throne is known for spectacular scene landmarks so this is definitely worth a visit.
Blahver is in the geothermal area of Hveravellir, which is located near lake Mývatn. It is fenced off so guests will need to gaze at it from afar.
Now, Blahver might look like a calm and easy bathing place to stick your toes in, but it hides scolding temperatures and fragile edges so walking close to the geothermal pool would leave you severely burned.
Brimkettill is not a hot spring nor is it a geothermal pool but it is worth a mention as it was once a pool that many visitors could bathe in.
Actually, it is so cold that you could get hypothermia if you would stay in there for too long as it has seawater from the Atlantic Ocean.
Due to it's hazardous location authorities have banned visitors from bathing in the wonderful pool. When the weather is perfect it may be exciting to try it out but soon as it gets windy you are in real trouble.
Brimketill means 'Whitewater Cauldron' and is quite impressive to look at while the waves crash into the rocky shore.
The pool is believed to have been built in the 13th century, and is named after Snorri Sturluson who was an Icelandic historian, poet and politician. He was an active scholar and, among other things, the author of Snorri-Edda. He was also the author of Heimskringla, which tells the story of the Norwegian kings.
There is a tunnel that surrounds the pool. It is believed that the tunnel was constructed by the same 10th-century stones that lay at the helms of the pool. Snorri used this as a private tunnel that led to his home.
Do not forget to carry your camera. You can take some breathtaking pictures inside the tunnel and around the pool. The entire fantastical aura of the place excites the curious visitors.
This is a good place to visit with children if you want to give them a historical tour. The vast green fields around the hot spring will fill you with tranquility. Away from the crowd and city noise, you can keep a book to read.
According to their website it is no longer allowed to bathe in Snorralaug but that is a recent change.
It is now protected and preserved by law due to its historic significance.
---
______
How to Use a Natural Geothermal Pool in Iceland
The last years have seen a surge in tourists visiting Iceland, and as a result, many hot springs are not as secret as they may have been in the past. With more people wanting to experience the amazing geothermal waters it's becoming more important than ever to look after them.
Iceland's popularity as a tourist destination is thanks to the raw, untouched and unspoiled nature that can be found here. However, it'll only stay like this if we take care of the environment and cause as little disruption as possible. When visiting a natural hot spring in Iceland, remember that there are a few basic rules to keep in mind:
Stick to the paths: You'll find that the roads and trails that lead to the hot springs can sometimes be very muddy. When this happens, a lot of people choose to avoid the paths and walk on the moss or grass instead. Although it sounds like a reasonable thing to do, it can actually cause a huge amount of damage to the fragile ecosystem. So keep to the paths, no matter how muddy they are!

Shower well before entering: It might be tempting to use a natural hot spring as the perfect bath to cleanse yourself after a long hike. Unfortunately, bacteria can easily accumulate in these small, warm springs especially when many people are using them in a short period of time. Remember, there are no showers in the wilderness so be sure to wash thoroughly at your hotel or campsite before entering a hot spring.

Don't leave anything behind: There are no trash cans in the wilderness, so if you have anything to throw away make sure you take it with you. Even biodegradable trash, like banana peels or egg shells, can be destructive to the Icelandic environment so please do not leave any trash and double-check before you go.

Use the bathroom before visiting: There are no bathrooms in sight at the hot springs. There are also no trees to hide behind so make sure you are comfortable not to use the bathroom for a few hours. If it's an urgent matter then dig a hole far away from the hot spring, or farm and bury it properly without causing any damage to the landscape.
---