Search Rental Car Deals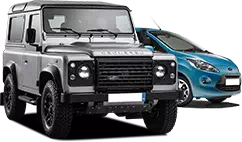 Rent a Car in
Iceland
The Best Rental Car Prices in Iceland
Find the lowest car rental prices
Search & compare the lowest rental car prices from the very best car rentals in Iceland.
The best car rentals in iceland
No hidden or added fees. Free cancellations. CDW insurance included.
Pick up your car rental in Reykjavik or Keflavik Int. Airport!
Shuttle service between airport, hotel, and car hire office
Simple booking process
Simple booking process with instant confirmation and availability from your chosen car rental in Iceland.

The Best Car Rentals in Iceland
We are proud of our standards of quality and service and those standards are reflected in what our users have to say about us. Book your rental car with Northbound and rest assured that a strong team of travel advisors is prepared to assist with any of your questions or concerns both before or after your Adventure. #AdventureAwaits
We believe in forming long-term relationships with our users, which is why we only partner with local Iceland car rentals that provide the best possible service. From beginning to end, your journey shall be spectacular.
The Northbound platform is designed by us from the ground up with user experience in mind so that you may find everything you need to assemble the perfect holiday in Iceland with the simple click of a button. Your Iceland rental car is waiting.
All bookings are reserved and confirmed immediately, leaving you with peace of mind and security in knowing that your Icelandic journey is waiting for you to arrive as you rent a car in Iceland.
Why rent a car with us?
Northbound is one of the largest marketplaces for rental cars in Iceland, with over 300 curated options for you to choose from and over 6.000 verified reviews to help your decision. Our best price guarantee will ensure you will always get the best prices from the car rental and we do not add any fees on top of that price.
What type of Car is best for Iceland?
Iceland is a bigger place than many travelers realize and the Icelandic weather is about as random as it gets. What type of car hire you need ultimately falls down to when you're traveling to Iceland and where you need that rental car to take you.
In winter, it might be ideal to rent a 4x4 car in case that Iceland gets blanketed with snow while you're here. Some areas around the ring road get more snowfall than others, so having a 4x4 vehicle with decent ground clearance can make a huge difference when traversing through snow-covered roads.
In summer, a 4x4 car is only needed if you intend to head to the highlands for some adventure on the Icelandic F-roads. These roads are rougher than the ones found along the ring road and often require you to cross rivers, making them accessible only to 4x4 vehicles.
If you only intend to drive the ring road around Iceland, making stops at the popular attractions found along the way, then a perfectly suitable option might be a small economy car rental or anything else a bit friendlier to your budget.
Our Icelandic
Rental Cars
You'll find these types of rental cars on Northbound
Reviews from around the web
What people are saying about us. Over 6000+ Reviews from real and verified people who rented a car with us
What to know before renting a car in Iceland
There are a lot of things to keep in mind before booking your rental car like; what insurances to purchase, which car rental to choose, what type of car is ideal, the pick-up procedures available, which reviews to trust and all the things you should familiarize yourself with.
Check out our Definitive Guide to Iceland Car Rental for all the answers you need.
What insurance coverage do I need in Iceland?
As you may have seen, there are a lot of different insurance options to choose from for your car rental. Of course, we recommend sufficient coverage for your car hire as long as it's affordable and inclusive, but that's not always the case, which is why you should read the fine print by every insurance option carefully to make sure you're well aware of what the inclusions are for your car hire.
Here are some great resources to help you:
Where can I pick up my rental car?
Normally, you can pick up your car hire at your hotel in Keflavik or Reykjavik, get it directly from the car rental office or have it delivered to you right at KEF Airport when you arrive.
What options are available depends on which rental car you choose, and you will see those options available right in the search or on the vehicle page when you compare car rentals on Northbound.
What are the best car rentals in Iceland?
In 2017, we chose Lava Car Rental as our Car Rental of the Year and in 2018 the recipient was Star Car Rental. You can find vehicles from both of these rentals when you compare prices on Northbound.
For Campervans, read our Overview of the Top 6 Camper Rentals in Iceland.
Car Rental at KEF Airport
KEF Airport in Keflavik is the only international airport in Iceland with the exception of a few flights from Greenland and the Faroes arriving at RKV Airport in Reykjavik. However, KEF Airport is often referred to by airlines as Reykjavik so this may cause confusion at times. When selecting the pick-up location on Northbound, pay attention to the airport code in brackets () and make sure that matches with the code found on your flight ticket.
Picking up at KEF Airport can be a convenient way to begin your car hire in Iceland, especially since most of the car rentals in Iceland are located close to the airport terminal.
For more information about picking up at KEF Airport read our Guide to KEF Airport.
Are rental cars in Iceland expensive?
The average price for a 4x4 car hire in August 2019 was 869 EUR with no optional extras added. The average 4x4 price in December was 502 EUR.
See a full breakdown of the cheapest and most expensive times to visit Iceland in our Definitive Guide to Iceland Car Rentals.
Iceland Car Rental Reviews
The most important thing to check before booking your rental car is what other people are saying about the car rental. Make sure to read Google, Facebook and of course the Verified Reviews on Northbound.
Icelandic Traffic Rules
Depending on where in the world you're coming from, the traffic laws in Iceland might be different to what you expect. In Iceland, we drive on the right side of the road and the speed limits are 80-90 km/h outside towns and cities while 50-70 within cities. The speed limit is marked on each road.
Read more about Icelandic Traffic Rules here.
International Driver's License in Iceland
In Iceland, you do not need an international driver's license unless your domestic license may be hard to understand by the rental agents in Iceland. For example, if your license is written in simplified Chinese, Arabic or any other non-roman alphabet, then you will need to procure either an English version or an International license.
Unlimited Mileage
Most, if not all, car rentals in Iceland come with unlimited mileage included in the price. That means you're free to drive the open road wherever it may take you, to explore everything Iceland has to offer. Keep in mind though, you are not permitted to leave the country with the rental car.
Is fuel expensive in Iceland?
In Iceland, the prices for petrol and diesel are very high and can take a toll on your budget if you don't plan accordingly. Consider the fuel consumption of the rental car you choose and do some research to find the cheapest fuel prices in Iceland.
Documents needed for car hire in Iceland
When you pick up your car rental, you will need to have your voucher with you (on your phone is fine), a valid driver's license and a credit card that belongs to someone in your group and has enough funds on it to cover any security deposits necessary.
Do rentals cars in Iceland have A/C?
Most cars in Iceland do not have an AC in the traditional sense, simply because it's not needed. Every car does come equipped with a heater, however, and you can adjust the temperature on that heater as suits you from the car's dashboard.
F-roads in Iceland
The highland F-roads of Iceland have become increasingly popular throughout the years for those travelers that seek a bit of uncharted adventure and to escape the crowds of the more popular sights found along the ring road. Traveling an F-road can be demanding and even dangerous if you're not properly prepared and behind the wheel of a suitable car.
Car rentals in Iceland will not permit you to take your regular car on F-roads but most will allow you to take a 4x4 rental there with the exception of a few of the more challenging roads like F249 to Þórsmörk.
Frequently Asked
Questions
For quick answers to your queries
Our customer written
Reviews
Real Reviews from Real Customers