Campervan camping in Iceland is a popular and common way to see the country's stunning sights. While there are costs that come with a campervan Iceland vacation, it's a great way to combine your accommodation with transportation.
Not only that but by renting a campervan in Iceland, you'll be able to see Iceland's beautiful scenery at your own pace.
We have also made a blog post about 10 common mistakes made when renting a car in Iceland, check it out.
So, how do you get started on an Iceland campervan adventure? This article will tell you everything you need to know about campervans in Iceland and how to plan the ultimate Iceland campervan vacation.
This is long post, so feel free to use "Jump to Chapter" here on the side to find the answers to your questions.
---
Happy camping.
---
---
What are Iceland Camper Rentals Like?
Campervans are smaller than your average motorhome and are great for smaller or more adventurous groups.
There are a wide variety of campervans available in Iceland and they come in different sizes. They can range from small vans to SUV 4x4 camper rentals.
They come in a variety of makes and models from the classic Volkswagen to Ford and Mercedes both old and new. It all depends on where you rent a campervan in Iceland.
Campervans usually have standard amenities like a place to sleep and materials for dining, but these can also change depending on the camper chosen. For example, some Iceland campers come equipped with roof tents for sleeping space.
The type of campervan that's best for you will depend on your needs; especially the size of your group. Most campervans are best suited for 1-4 persons and it might be best to go larger if you're 3 or more.
Manual vs Automatic Campers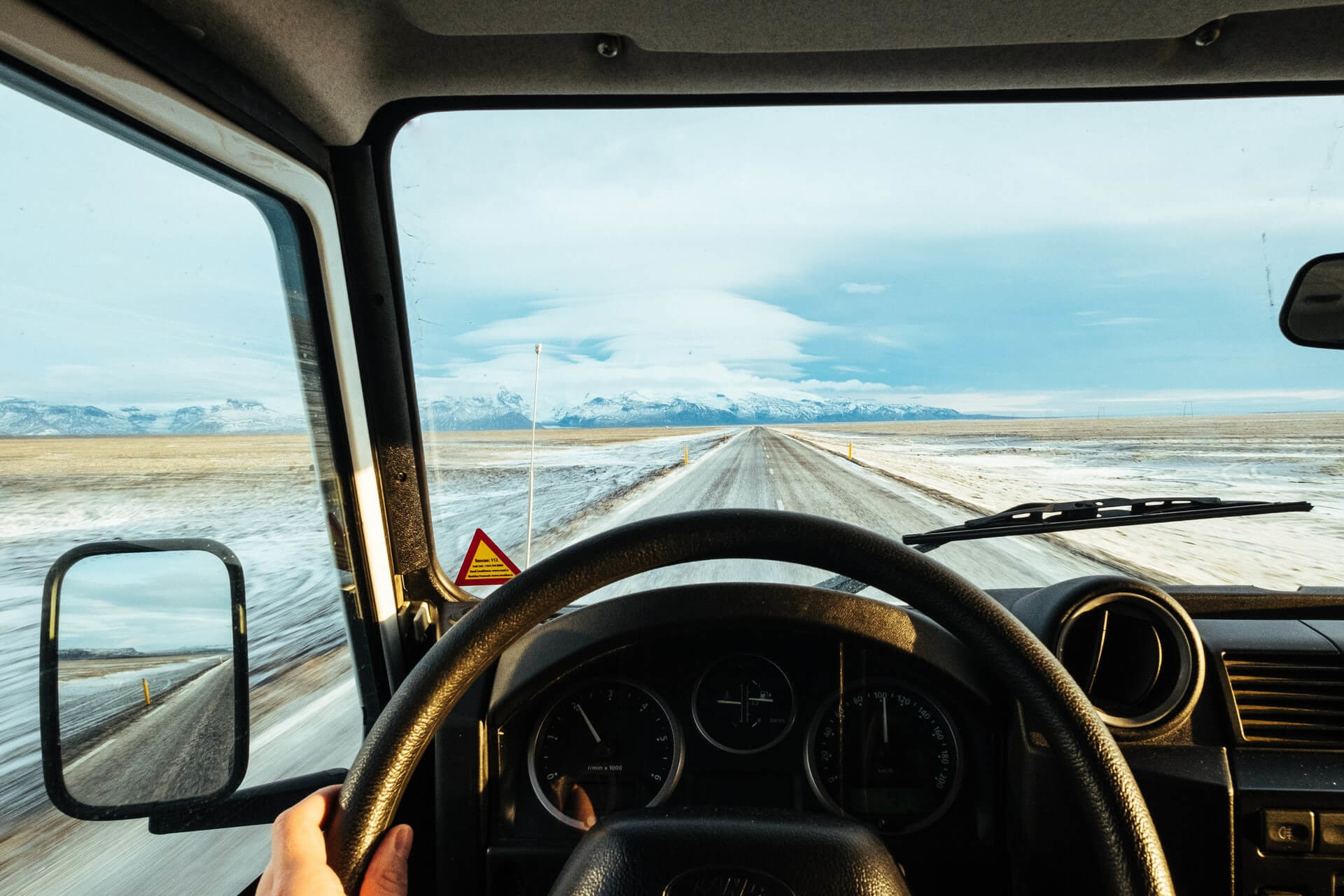 Iceland campervans with manual transmission are usually the more common types of campervans you'll encounter in the country. If you're familiar with a manual transmission you'll have a whole world of Iceland campervan options open to you.
That being said, automatic campervans are becoming more typical today in Iceland as campervans remain a popular way to explore the country's scenic landscape. So automatic drivers aren't out of luck, just be sure to check in advance whether an automatic transmission will be available to you.
What Does it Cost to Rent a Campervan in Iceland
While you do save money by combining your vehicle rental with where you sleep, Iceland campervans can still be quite costly. Gas in Iceland isn't cheap, and most campgrounds charge fees for their facilities.
Depending on things like the size, model, and type of vehicle you choose, Iceland campervans can usually range in prices from around 10,000 to 28,000 ISK per night.
---
---
Cheap Campervan Rentals in Iceland
While traveling by campervan can add up in cost, finding a cheap Iceland campervan rental isn't unheard of.
There are a number of campervan hire companies specializing in cheap Iceland campervan rentals. Older campervans will often be cheaper than newer Iceland campervan rentals but older vehicles can sometimes mean more problems.
Be sure to do your research on these companies before booking and read Iceland campervan reviews to make sure you're getting a good deal and not a dud.
---
---
The cost of your campervan will also depend on the time of year you choose to go camping in Iceland. You'll likely find cheap Iceland campervans in the offseason or in the winter months. Prices tend to be at the highest during the popular tourist season. Just make sure you get a car that has a cabin heating system if you come during winter, often advertised as Webasto Cabin Heater.
Making an Iceland campervan reservation sooner than later will also help you lock down a great price on your rental. If you have specific requirements (or a cheaper price) in mind, it's best to plan ahead, especially during the high season.
Campervan camping in Iceland can sound like an expensive way to see Iceland's sights but it can actually be quite cheap. Considering the cost you would pay on accommodations, transportation, tours, and food, this can be a more affordable way to see the country.
And since campervans are more minimalistic than motorhomes, they can be a much cheaper alternative to exploring Iceland at your leisure.
How to Rent a Campervan in Iceland
There's a large number of Iceland campervan rental companies all over the country. With the boom of campervan travel in Iceland, a variety of car rental and motorhome hires offer Iceland campervan rentals.
It's best to do your research, read Iceland campervan reviews, and consider your requirements when choosing the best Iceland campervan company for you. While you can definitely hire an Iceland campervan on-site, it's usually more convenient and affordable to book online.
To rent a campervan in Iceland you'll normally need to be over the age of 21 with a driver's license. Usually, a regular driver's license will allow you to drive a campervan in Iceland as long as it is written with roman letters.
Iceland Campervan Insurance Options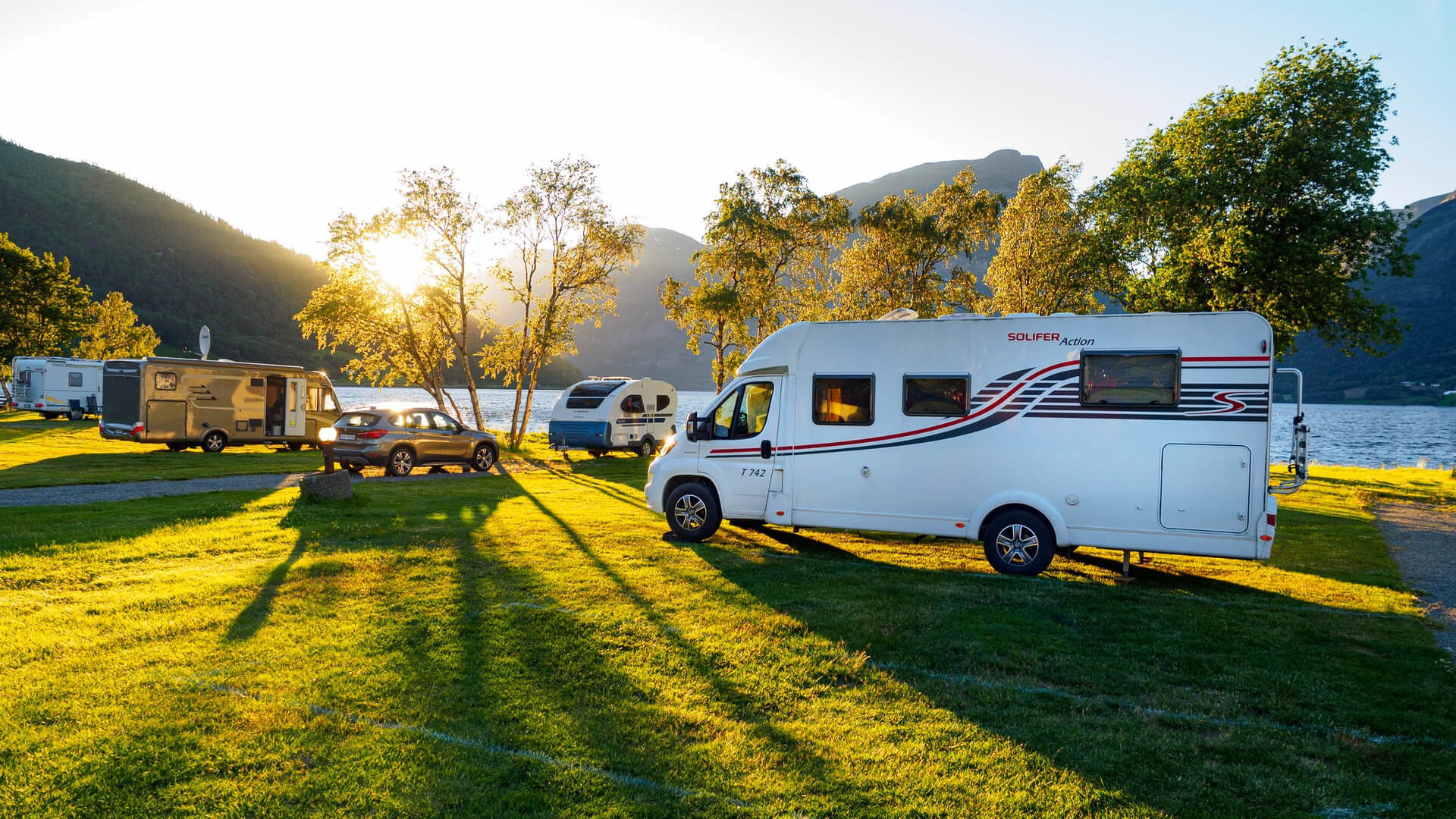 Just like renting a car, Iceland campervans come with a number of insurance options to choose from. Most campervan hires in Iceland will come with standard (CDW) insurance options included, but it can certainly be beneficial to add extras.
Options like gravel insurance aren't always included and should be seriously considered when renting an Iceland campervan. Iceland is known for its gravelly roads and windshield cracks aren't rare, so it's best to be protected to avoid any surprises. If you'd like to hire a 4x4 camper rental in Iceland, this insurance is especially important since you'll likely be taking your vehicle on gravelly highland roads.
Other insurance options common in Iceland include sand and ash protection. The time of year and your Iceland campervan itinerary will help to hint at which options are worth it. For example, Sand and Ash Protection is most important during months like March and April when the snow has just thawed but the grass has not grown sufficiently to keep the sand in place.
If you have auto insurance and you'd like to transfer it to the campervan, be sure your insurance company covers campervan vehicles before using this option; the same goes for credit cards.
Travel insurance is also a great addition to have while campervan camping in Iceland, not only for your safety, but some also include car rental insurance. Just be sure this coverage is available for campervans as well.
What About Mileage?
Most Iceland campervan rental companies will include unlimited mileage in your reservation.
This is so you can go and explore Iceland without the worries of having to pay for going over an allotted mileage allowance. No one needs that stress.
---
---
Putting Gas In Your Iceland Camper Rental
Gas is obviously important when it comes to keeping your Iceland camper rental going to all the stunning sights in the country. So it's important to know how and where you can fill up your Iceland campervan.
There's a large number of gas stations scattered throughout Iceland, but filling up early and often is best to ensure you don't run out of gas while out on the road. You normally need to bring the tank full back to the rental agency, so why not keep it full.
You can also map out gas stations beforehand on your Iceland campervan itinerary. And when you stop to fill up, it's as easy as filling up a regular car. You can check out the sites below for fuel station locations.
Highest / Lowest Petrol Prices Today
---
ISK
Highest petrol price today: 327.9kr
Lowest petrol prices today: 274.7kr
Highest diesel prices today: 328.1kr
Lowest diesel prices today: 283.7kr


---
USD
Highest petrol price today: .36 $
Lowest petrol prices today: .36 $
Lowest diesel prices today: .04 $

---
EUR
Highest petrol price today: ?2,19
Lowest petrol prices today: ?1,83
Highest diesel prices today: ?2,19
Lowest diesel prices today: ?1,89

---
How Much Are Gas Expenses For an Iceland Campervan?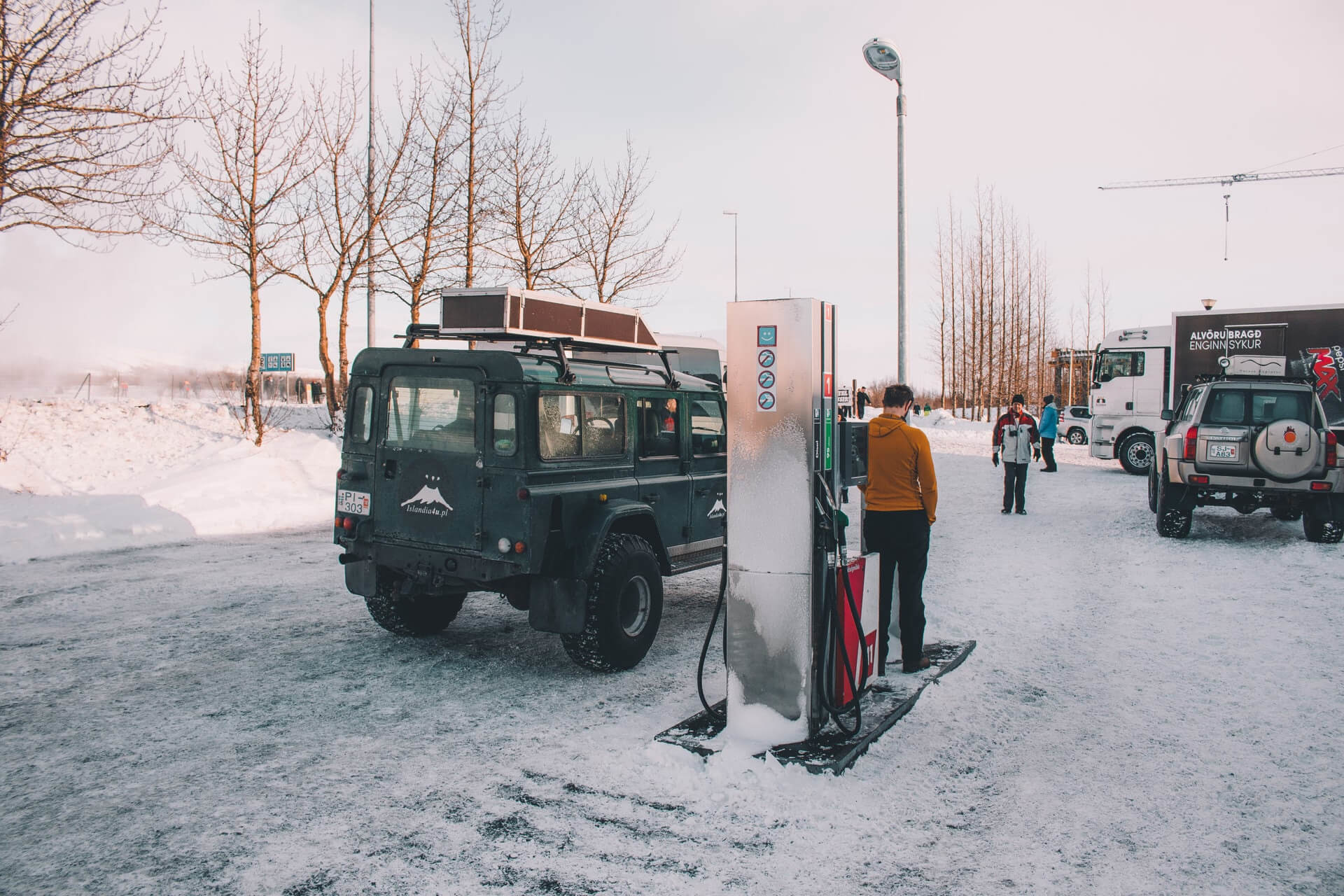 Iceland is known for having expensive gas stations (gas in Iceland is usually over $7 per gallon) but the cost of gas for your Iceland camper will also depend on your itinerary and vehicle.
Of course, longer trips will cost more money in gas and the size, as well as the gas mileage of your campervan hire, will also dictate how expensive the gas will be on your trip.
Gas stations in Iceland usually take both cash and credit cards and are great places to stock up on other campervan essentials like water and food.
Read our Where to the Cheapest Fuel in Iceland for more details.
Driving a campervan in Iceland
Driving in Iceland isn't that different from driving anywhere else (though probably with fewer vehicles on the road). And campervans aren't that much different to drive than your regular car or van.
When it comes to driving a campervan in Iceland though, there are some things to keep an eye out for.
For example, Iceland's F-roads (or highland roads) are dodgier than main roads. They are only accessible by 4x4 camper rentals and are much easier to get to in the warmer months.
If you're driving in Iceland during the colder season, be aware of road closures that are often restricted in extreme weather.
Parking and camping on the side of the road are also not allowed in Iceland, and while campervans make it easy, you'll need to find designated campgrounds for the night.
---
---
Iceland Speed Limits
Of course, it's important to be mindful of the speed limit when driving a campervan in Iceland. Usually, the speed limit is 50km on city roads and 90km on main roads.
Like anywhere else, not only do you risk your safety and the safety of others, but you risk an expensive fine for exceeding these limits. Iceland is known for having speed traps and cameras, especially in cities, to catch speedy drivers.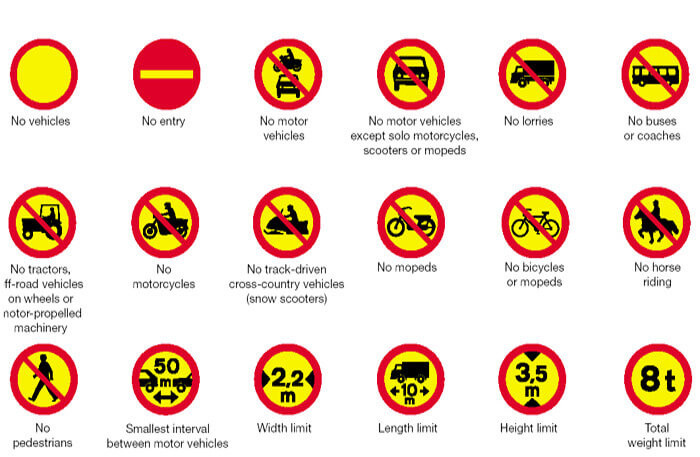 Check out this guide to roadsigns on Wikipedia.
The Best Time to Rent a Campervan in Iceland
While the shoulder season or off-season in the fall, spring and winter are cheaper times to rent an Iceland campervan, the best time to rent a campervan in Iceland all depends on what you're most comfortable with.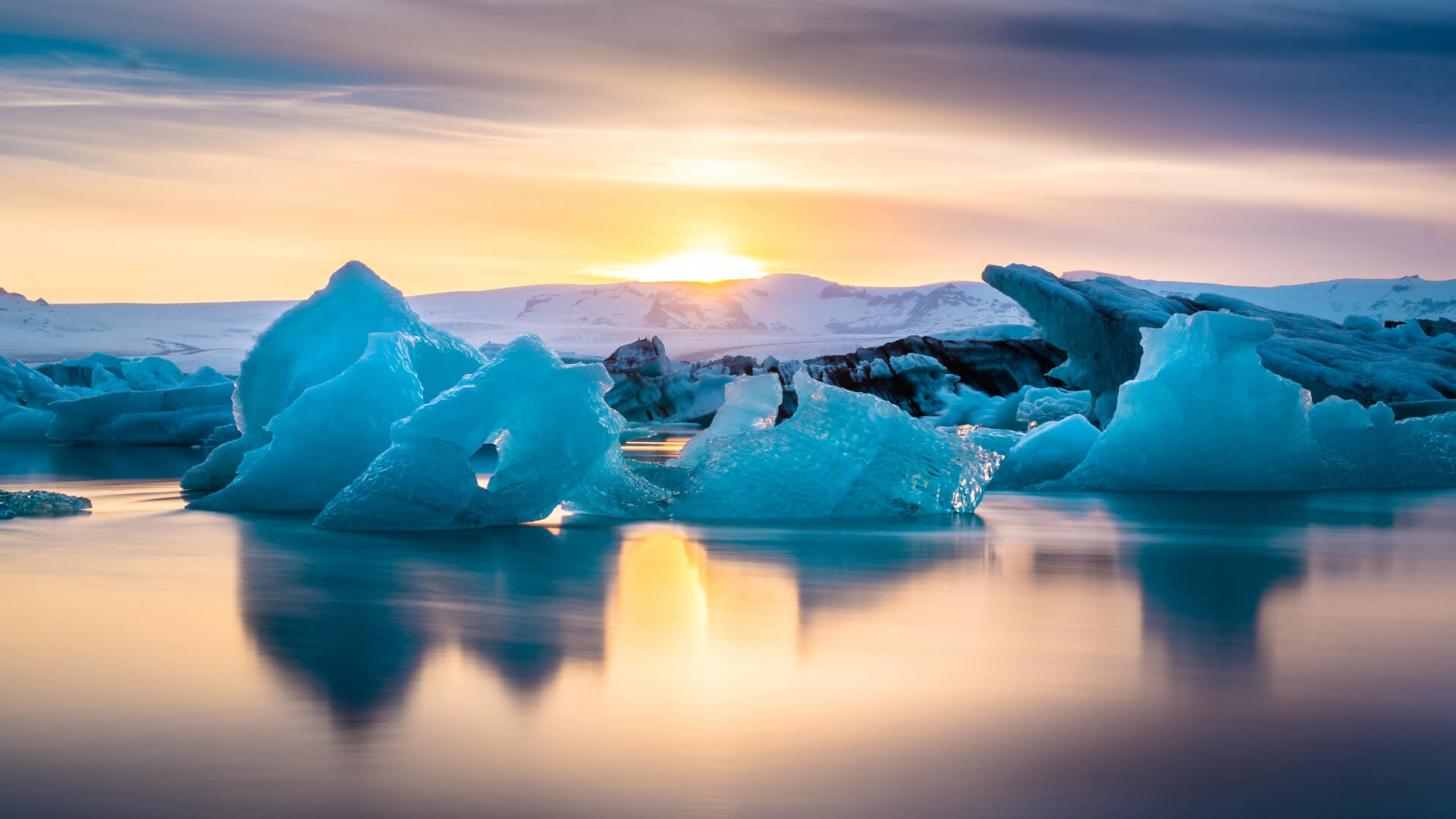 Summertime Iceland Campervan Rentals
The Icelandic summer is the most popular time of year to rent a campervan in Iceland. Not only do campers benefit from long days and views of the midnight sun, but most Icelandic campsites are open during this time of year.
Since the weather is milder, campers won't have to overpack for warmth, and you'll also have access to some areas of the country that are unreachable during other times of the year via highland roads.
Summer in Iceland brings festivals with a number of tourists flocking to cities like Reykjavik as well. These festivals can easily be added to your Iceland campervan itinerary throughout the summer months.
All this Iceland summertime excitement does come at a price. The summer months are when campervan prices are at their highest. The high season also brings higher prices to tourist areas and landmarks as well.
Expect a summer Iceland campervan trip to be on the pricier side in comparison to other times of the year.
Renting an Iceland Campervan in the Spring and Fall
Renting a campervan in the shoulder seasons means you'll benefit from cheaper campervan and campground rates but those aren't the only benefits.
If you want to catch the northern lights without traveling to Iceland in the winter, the fall months are a great time for an Iceland campervan trip. From September through October, you can catch Iceland in beautiful fall shades of red, orange and bronze with the option to pick wild berries like Icelandic blueberries!
The weather in Iceland can be temperamental this time of year, so it's best to come prepared for your Iceland campervan trip with rain gear, as well as warm clothing to layer on and off. A number of Iceland campervan campsites tend to close in the fall, so be sure to do your research beforehand.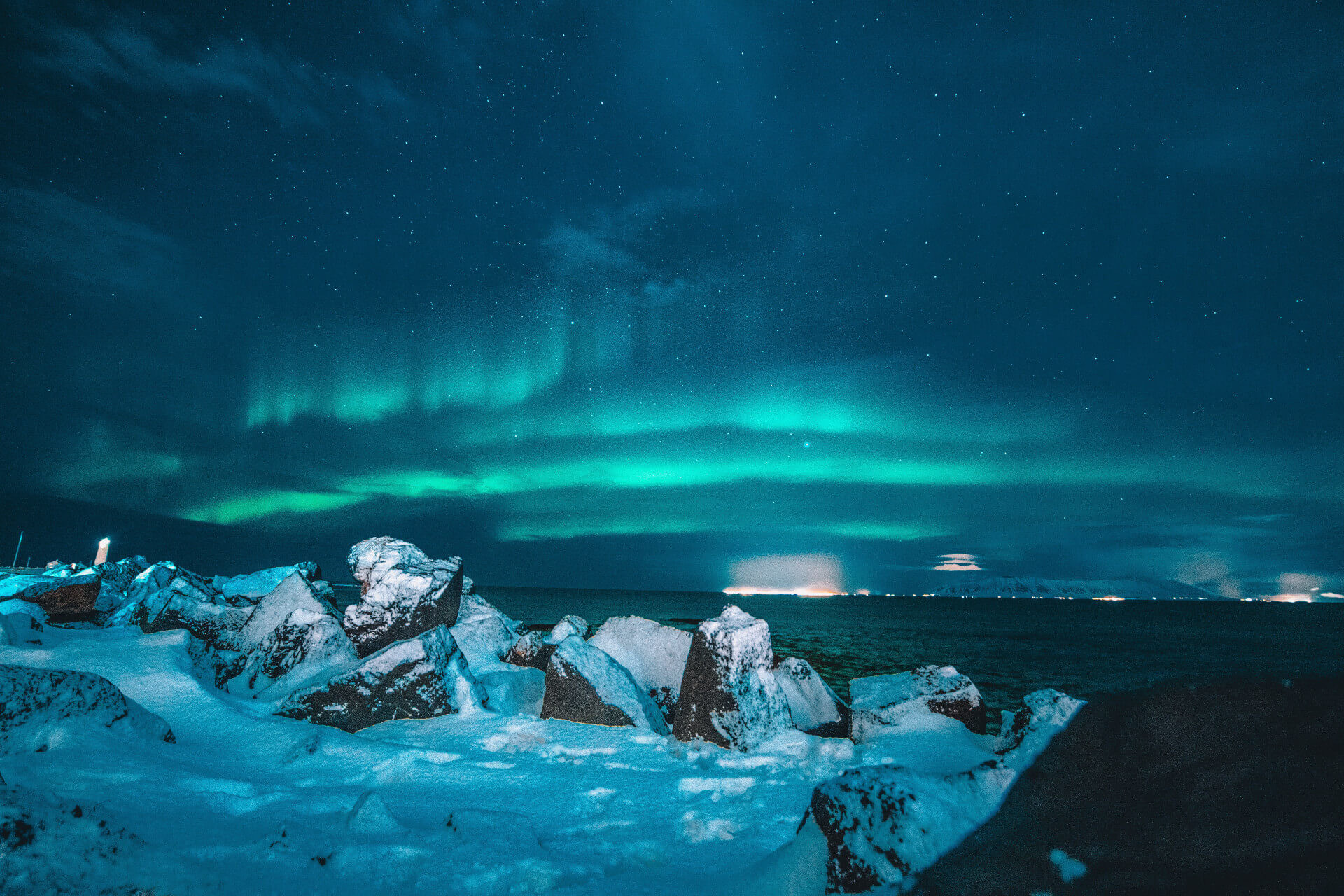 The spring months of March through May also offer cheaper Iceland campervan rental rates and is great if you want longer days in the shoulder season to explore.
Expect the weather to also be up in the air this time of year, but the trade-off is that you'll still be able to see the northern lights during the early part of spring.
As things start to warm up, you can see more wildlife and greenery than you would in the winter months, but just like in the fall, be sure that the campground you intend to stay at will be open.
Reserving an Iceland Campervan Rental in The Winter
Winter may not be the most popular time of year for an Iceland campervan rental, but it does have its benefits.
The winter months between November and March is where you'll get the cheapest rates on Iceland campervan rentals, and it's the best time to see the northern lights glimmering above your camp.
Iceland becomes a winter wonderland in the winter, with ice caves, magical icy waterfalls, and mystical snow-swept landmarks to discover. Winter in Iceland is also a great time to plan a unique Christmas or New Year's Eve Iceland campervan getaway.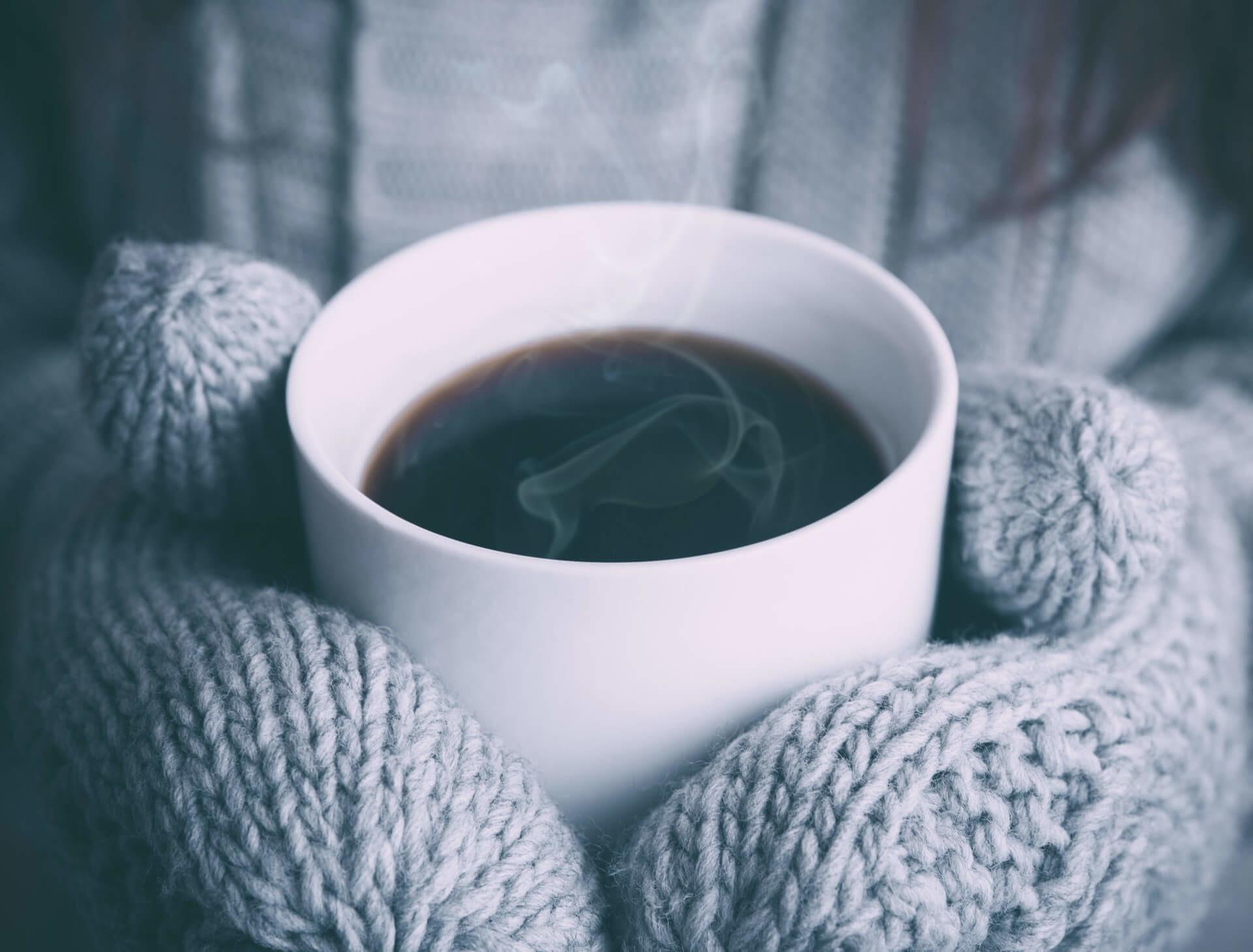 This time of year is best kept for more adventurous travelers since snowy weather and blizzards can mean a constant change of plans. Not to worry, most Iceland campervan rentals are outfitted for the winter season with winter tires and other safety additions.
Needless to say, many Iceland campervan campsites will be closed this time of year, but there are a number of them that stay open year-round throughout the country.
What Should I Wear for Campervan Camping?
No matter the season you choose for your Iceland campervan trip, it's best to be prepared. Ensuring you have the right attire will make your campervan rental all the comfier and your trip all the more fun.
Since Iceland is mostly about exploring the natural outdoors, you can forgo the trendy outfits and stick to comfortable and durable clothes.
Waterproof items are best, especially for travel during the colder months and comfortable shoes for walking and hikes will ensure you're not miserable while riding around Iceland in a camper.
The temperature can get colder in the evening (even in the summer) so be sure to pack some warm clothes as well. If you'll be traveling in the winter, you'll want to pack a lot of warm clothes including comfortable boots.
Since Iceland is filled with a number of hot springs to jump into, don't forget swimwear so you can join in. Warm socks, hats, a few fleece blankets, and gloves are also great to bring in an Iceland camper. Ultimately, dress for warmth and comfort, not style.
---
---
What's Included in a campervan rental?
While you should definitely be prepared by packing some or all of the items listed above, some Iceland campervan rentals do come equipped with some camper essentials.
Most Iceland camper rental companies will include items like:
Kitchen essentials (pots, pans, plates, and cutlery)
Gas stove
Bedding including sheets, pillows, mattresses
Fleece blankets
If they're not already included in your Iceland camper rental, you can also add on items including sleeping bags, tents, folding chairs and other extras from Iceland campervan rental providers. Some Iceland camper companies even offer wifi!
If you'd like a pick-up or drop-off from the airport, some Iceland camper rental services also provide this option for more convenience.
Things to Pack on an Iceland Campervan Trip
To round out your clothing and what the camper rental company provides, you'll want to also pack a few extra things in your bags for a comfortable Iceland camper vacation.
It's always best to try to pack light. This helps you stay organized and you'll have a lot fewer things to worry about if you forgo unnecessary items.
Your Iceland campervan trip can benefit from packing the following:
Travel toiletries (travel-sized soap, shampoo, toothpaste etc.)
Sunscreen and sunglasses to stay protected from the sun
Daypacks for taking on hikes and walks away from the camper
Collapsible Tupperware (these are lightweight) or Zip-loc bags
Water bottles or refillable water bottles and jugs
Toilet paper
Portable chargers or car chargers for keeping your devices going
Towels
And of course, you'll also want to make sure you have your Iceland camper stocked up with some food.
What to Eat During Your Iceland Camper Trip
Whether you're stocking up on food at the beginning of your trip, or during your Iceland camper adventure, Iceland grocery stores are the best place to stay fed while on the road.
While you can opt for restaurants or gas stations, local supermarkets are great for saving money on the cost of food during your Iceland camper trip. Buying easy to prepare meals like oatmeal and pasta as well as plenty of snacks will make it all the easier to have meals while camping in Iceland.
Local supermarkets we recommend:
Take note of what's available to you in your camper to help decide what you should buy. For example, if your campervan doesn't have a fridge or cooler, stick to items that won't spoil easily.
Where to Sleep in a Campervan in Iceland
Iceland made it illegal to park and camp outside of designated camping zones in recent years. While it's tempting, this means that it's super risky to stop and sleep anywhere in your Iceland camper unless you have permission from the landowner.
There are a large number of Iceland campgrounds all over the country, so you're sure to find a place to spend the night either by booking ahead or driving right to the campsite.
Some Iceland campsites do come with a fee and will cost about $10 to $20 per night. With campground access, you'll also have access to showers, toilets, hookups, electricity, and even wifi. Some campgrounds also include play areas while others are super close to exciting landmarks.
If you'll be spending time hopping around from campsite to campsite on your Iceland camper vacation, you can also opt for the Iceland Camping Card which gives you access to 42 locations around the country.
Where to Shower and Use the Toilet
Unlike motorhomes, most campervans don't come conveniently outfitted with a shower. Fortunately, most campgrounds have showers available to campers for a small fee.
Otherwise, a number of Iceland camper travelers wait until they're at heated pools where showers are required before entering.
It's also likely that you won't have access to a toilet onboard your Iceland camper either. While you'll have access to bathrooms with your Iceland campground reservation, you can also stop at public bathrooms while on the road.
Some public bathroom facilities do require a small fee so it's best to keep some cash on hand.
Sleeping In an Iceland Campervan
Many Iceland camper travelers have a very comfortable time sleeping in their campervan.
As long as you've considered the number of people and have enough space to accommodate, sleeping in a campervan can be an ideal way to see Iceland at your pace. Make sure your campervan is parked on a flat surface for ultimate comfort in a safe space.
Do remember that the temperature will drop significantly at night, especially in the spring, fall and winter. It's best to have extra blankets or sleeping bags to accommodate, as well as super warm clothes.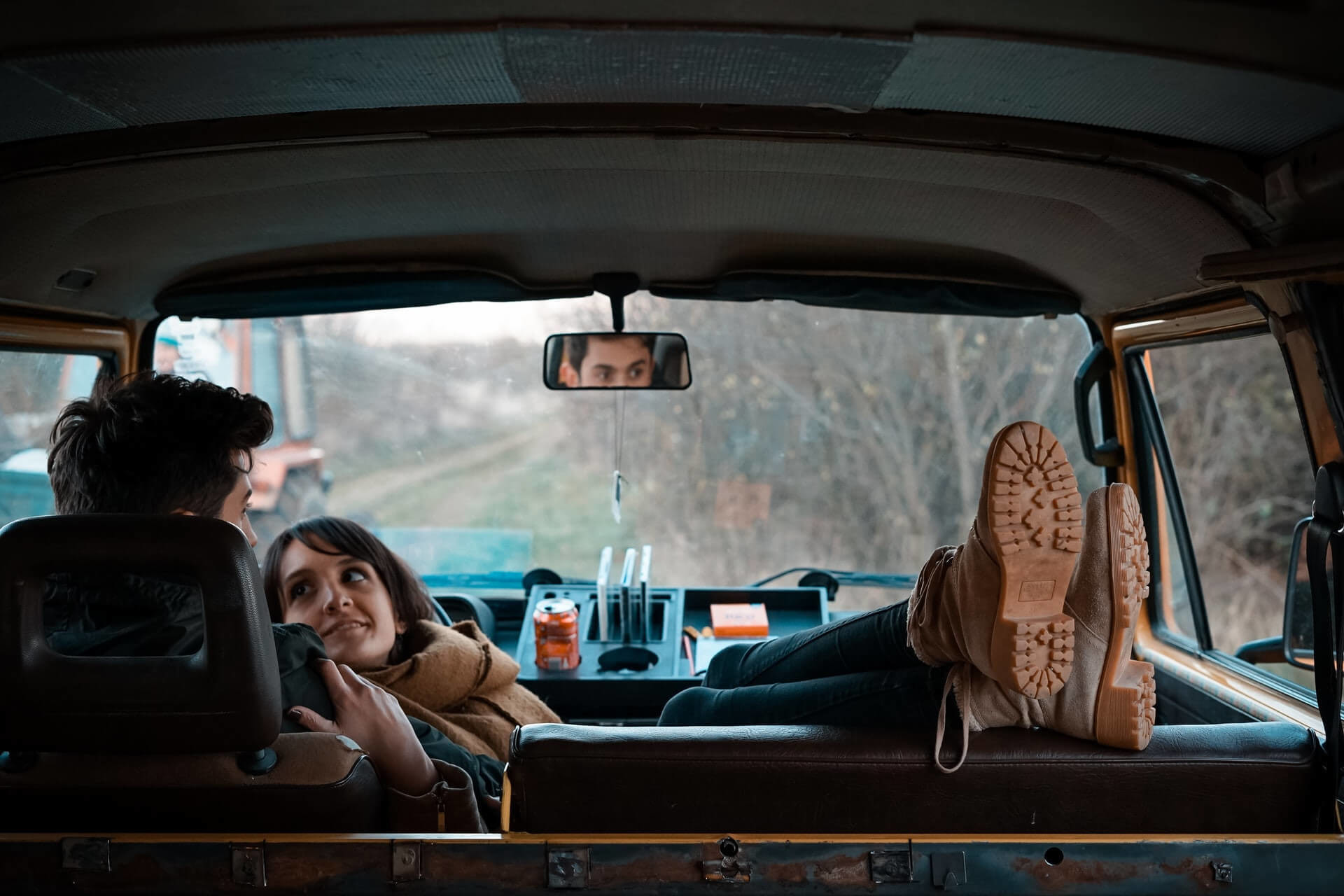 How to Stay Safe In Your Iceland Camper
Iceland is very safe as a country. There's not much to worry about when it comes to crime or dangerous wildlife. If you follow Icelandic road rules and laws, respect campgrounds, and keep a diligent eye, you should have a safe Iceland campervan vacation.
Of course, you'll also need to be aware of things that may happen while out on the road. This includes flat tires, engine problems, and other car issues that may arise.
Ensure your campervan is in top shape before leaving the Icelandic Campervan rental service you choose, and bring up any concerns with the rental service before departing.
---
FAQ
---
What camp sites in Iceland are open for Campervan's in the summer?
On the map below you can see many camping sites open in the summertime in Iceland.
Roam around and plan you trip accordingly.


---
What camp sites in Iceland are open for Campervan's all year round?
On the map below you can see many camping sites open year round in Iceland.
Roam around and plan you trip accordingly.


---
What facilities can I expect at campgrounds for Campervans?
Facilities in campgrounds vary greatly when it comes to facilities offered to guests.
Best you can find have cold and hot running water with kitchen, outdoor grills, washing facilities and electricity. We always recommend checking out each facility before arriving to make sure it serves your needs.
Check out our Ultimated guide to the best natural hot springs and geothormal pools in Iceland. Most visitors use those to shower and bath, if there aren't facilities to do so in the campgrounds.
---
How much does it cost to camp a Campervan in the campgrounds in Iceland?
Camping is by far the cheapest form of accommodation in Iceland. Campsite prices range anywhere from 1375 ISK to 2750 ISK or about ?10 to ?20 per person.
Certain amenities may require an additional fee, but this varies from campsite to campsite.
---
Can you camp just anywhere in Iceland?
No, just recently Iceland passed a new law to regulate camping.
The law states that if you are traveling in a camper van or a car with a rooftop tent, you MUST camp at an established campsite OR get the landowner's written permission to camp on their property (including farmland).
So always make sure you camp legally as it can result in big fines.