Did you know that Iceland is

Icelanders love their cup of coffee and the average person here enjoys ~9kg of coffee every year. Funny enough, however, you won't find a single Starbucks, Costa, or other major chains on the island.
The spirit of independence still remains strong and that's apparent in the number of independent cafés you can find in Iceland. Unsure where to find the best coffee in Reykjavik, or perhaps you're interested in learning more about the coffee culture here?
First we want to go over the history of the coffee culture and then list up some wonderful coffee shops in Reykjavik.
Happy reading.
History of Coffee Culture in Iceland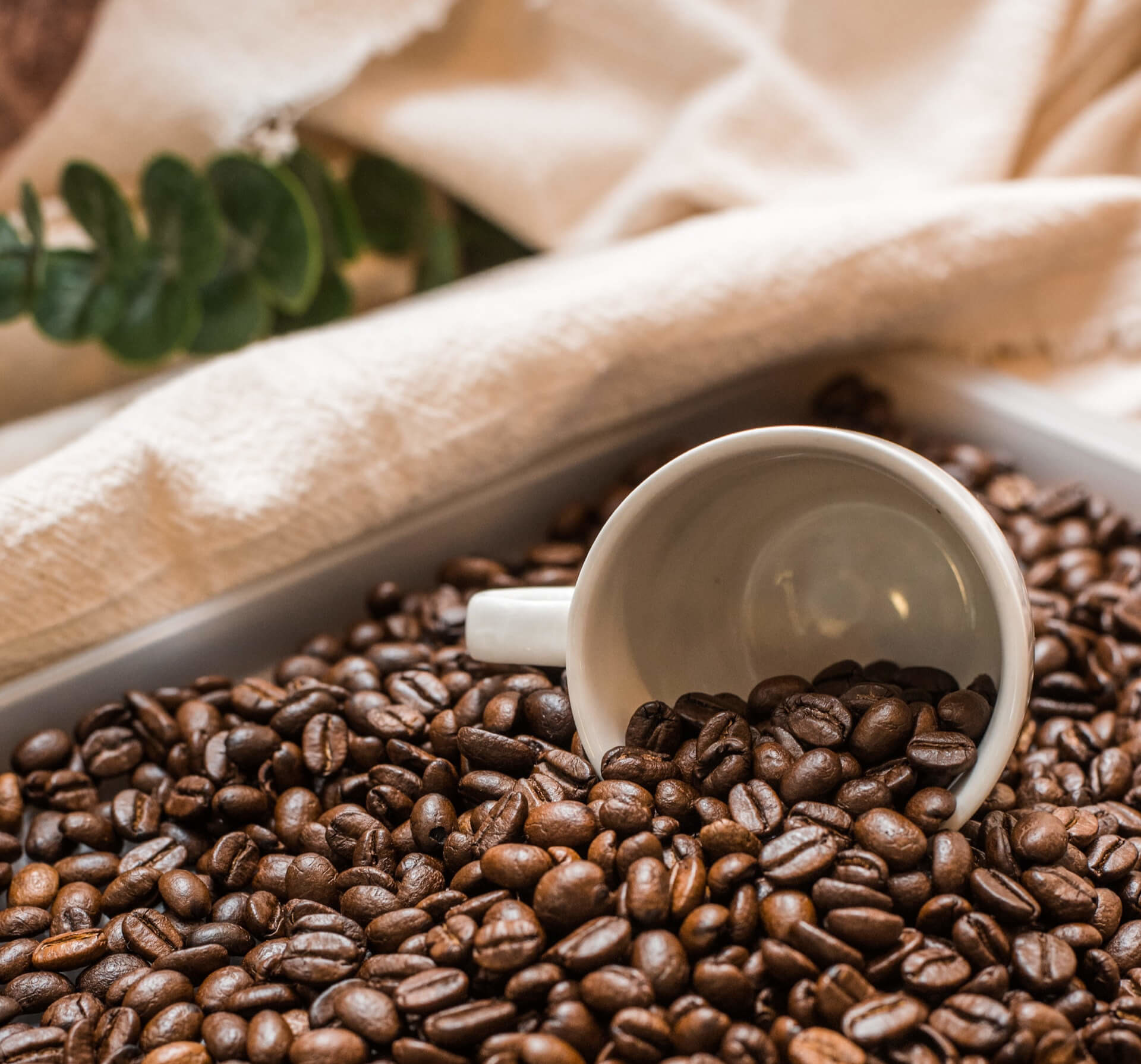 Coffee was introduced to Iceland in 1703 when Árni Magnússon, a scholar and collector of valuable manuscripts got his hands on a quarter pound of coffee beans. Because of its rarity at the time, coffee remained in the hands of a few privileged and wealthy men.
It wasn't until the middle of the 18th-century that coffee became a common product and by the end of the 1700s almost every household in Iceland had their own roaster and grinder.
At first, coffee was only consumed on Sundays or to treat visitors. However, over time, coffee drinking became a daily habit and Icelanders started to enjoy several cups throughout the working day.
The coffee imported to Iceland was raw, green coffee beans. Therefore roasting coffee became a craft and fine skill of every household that was generally quite hard to master.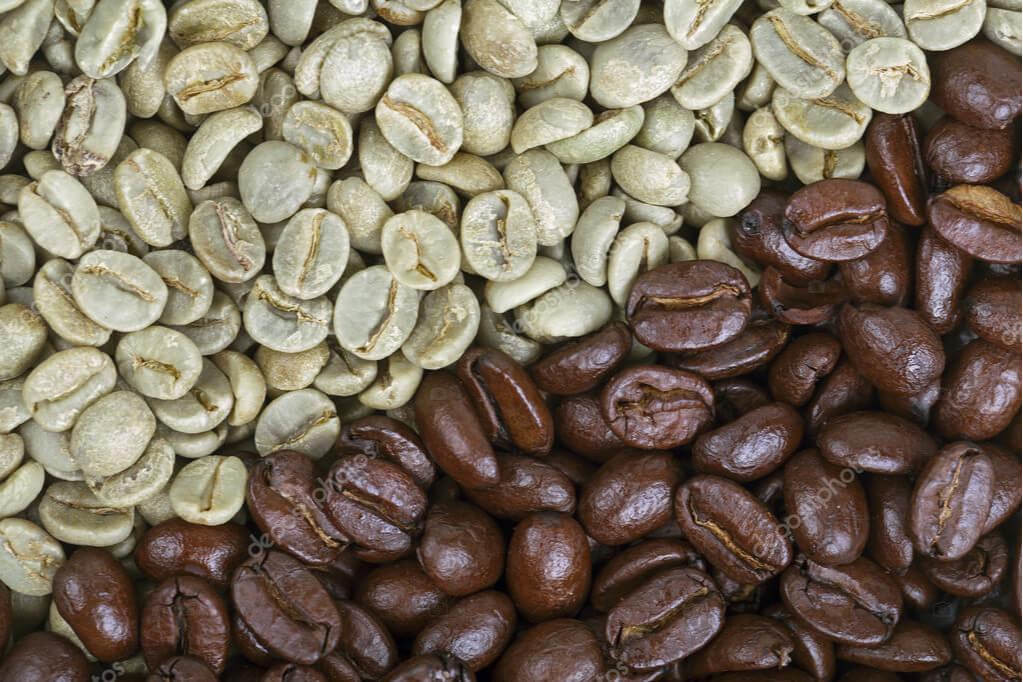 The goal is to produce an even roast with a certain dark colour - some even added butter to give it that distinctive shiny gloss on the beans.
In the 19th and 20th century it was common to add kaffibætir, dried chicory root, to the ground coffee. This made the coffee very bitter, but it became part of the coffee culture and is even mentioned in several national poems and rhymes.
Although some Icelanders were influenced by the infamous Norwegian kokekaffe, also known as ketilkaffi in Icelandic, the more traditional method was to brew the coffee using a cloth filter.
Later on in the 1940s and 1950s industrial roaster eventually replaced the home roasting tradition.
Drinking Habits and Superstitions in Iceland
Despite being an extremely forward-thinking and modern society, superstitions and folklore still play an important role in Iceland. These superstitions didn't fall short when it came to the coffee culture here.
Some Superstitions in Iceland:
If you serve guests coffee in a cup that doesn't match the saucer, which is referred to as þrælapar in Icelandic, it means that your guests will either have an affair or remarry.
Refilling your cup before you've finished your first serving means you'll get an unbearable mother-in-law.
in the early 20th century, you were meant to put sugar into the cup before the milk. Had you switched the order around then the spirits would make sure you wouldn't marry for another seven years.
Another popular one was that drinking coffee when it was still scolding hot made you ugly, whereas enjoying coffee at a colder temperature made you more beautiful.
Lastly, if there is sediment at the bottom of your finished cup of coffee, then it is generally seen as a good omen.
Top Cafés & Roastaries in Reykjavik
Despite Reykjavik being a fairly small capital city, you will find an impressive number of independent coffee shops all around town. Below we've listed some of the local's favourite cafés and places to hang out.
This coffee company was established in 1990 and has played an important role in shaping the modern coffee culture you can find in Iceland today. Kaffitár takes great pride in the transparency in the sourcing of their coffee beans and tea leaves.
They offer a diverse selection of coffee origins to try from, including Brazil, Colombia, Guatemala, Indonesia, Ethiopia, Nicaragua, and Kenya.
In addition to their single-origin coffees, they also offer delicious blends like chocolate and almond coffee.
You can find Kaffitár in seven different locations around Reykjavik.
Reykjavik Rost (Reykjavík Röst) opened in the summer of 2017 and is a wonderful coffee shop/bar that is located by the Old Harbour in Reykjavik. They offer many quality traditional coffee's, as well as Keto coffee or coffee called Magic Mushroom with Chaga and Reishi mushrooms.
They also offer tasty sourdough sandwiches that is delivered fresh everyday from a local bakery. They pride themselves in only using fresh local ingredients f.x. Icelandic smoked salmon and smoked lamb to mention a few. They also offer vegan options.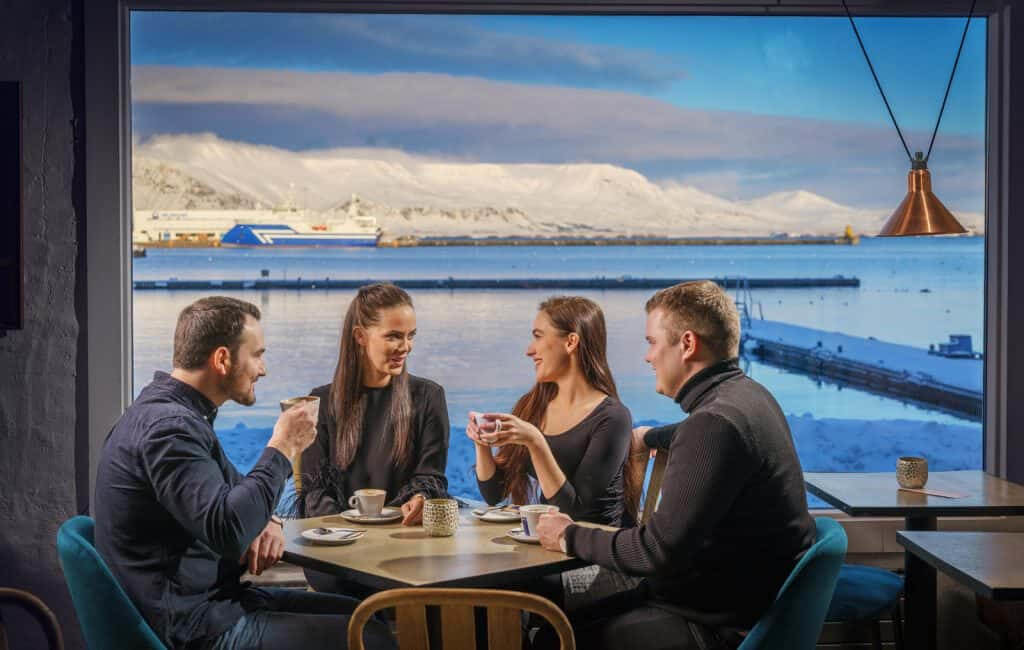 They have a great selection of icelandic cakes and traditional pastries where you can also have a taste of famous Icelandic shark with a shot of Brennivín.
They offer local beers on tap, coctails, bar snacks and an amazing harbor view.
This is one coffee shop you wouldn't want to miss out on.
Found along Skólavörðustígur, the road in downtown Reykjavik that leads to the famous Hallgrímskirkja, is this easily recognisable bright orange café. It's been around since 2004 and its unique interior is like no other café you'll have seen before.
Inside you'll find a vibrant mix of ancient maps, colourful flower baskets, money notes from around the world, old postcards and so much more. The decoration of this establishment gives this place a vintage and cosy feel to it. The coffee tastes great as well and you have a selection of various coffees and delicious cakes.
This establishment is one of four coffee roasters in Iceland. It was originally founded as Kaffismiðja Íslands, but was later rebranded in 2013 to Reykjavik Roaster. Their boutique roastery and coffee shop can be found in a residential area just off of one of Reykjavik's main shopping streets.
You can expect a fantastic cup of coffee here as the owners and staff are well-trained coffee professionals, with a few of their baristas having won the Icelandic Barista Championship several times.
Inside this quirky little café you'll find their hot pink coffee roaster where they roast beans five days a week. For Reykjavik Roasters, transparency and honesty are two of the most important values when it comes to running their business and sourcing their beans.
For those looking for the ultimate coffee experience, Reykjavík Roasters offer roasting and brewing workshops. The aim of the workshop is for those looking to improve their barista skills. You'll be overseen by two skilled instructors who will teach you all about how to master the craft.
There are six places per workshop and a ticket will cost you 7900 ISK.
Te & Kaffi is a family-owned business that began in 1984, making it one of the oldest cafés in Iceland. Not only is it one of the oldest, but it's also known as the café that started the specialty coffee movement on the island. They operate thirteen coffee shops around Reykjavik and the surrounding area.
As the name implies, this establishment focuses on both fine coffee as well as tea. Similar to other Icelandic cafés, Te & Kaffi primary focus is on delivering a top-quality cup of coffee using beans from a transparent and honest supply chain.
Over the years Te & Kaffi has become one of the largest brands in Iceland, dominating a whopping 25% market share in the Icelandic coffee sector.
If you enjoy more of an outdoor café ambiance then you'll love the Floran Garden Bistro. Located in a greenhouse within the Reykjavik Botanical Gardens is this exquisite bistro that serves amazing dishes and drinks inspired by the surrounding plants. Each dish is beautifully presented, as the theme of this café and restaurant is to celebrate the relationship between food and the environment. Enjoy a delicious coffee served with a freshly baked piece of cake whilst learning more about the flora of Iceland.
If you've got some time to spare then we recommend this cosy café located in the heart of Reykjavik. Kaffi Loki is a popular place to hang out for many locals, and there's no surprise why. It is a family run restaurant specialising in class Icelandic home style food. They only use the freshest ingredients available and pride them selves in great service and affordable prices.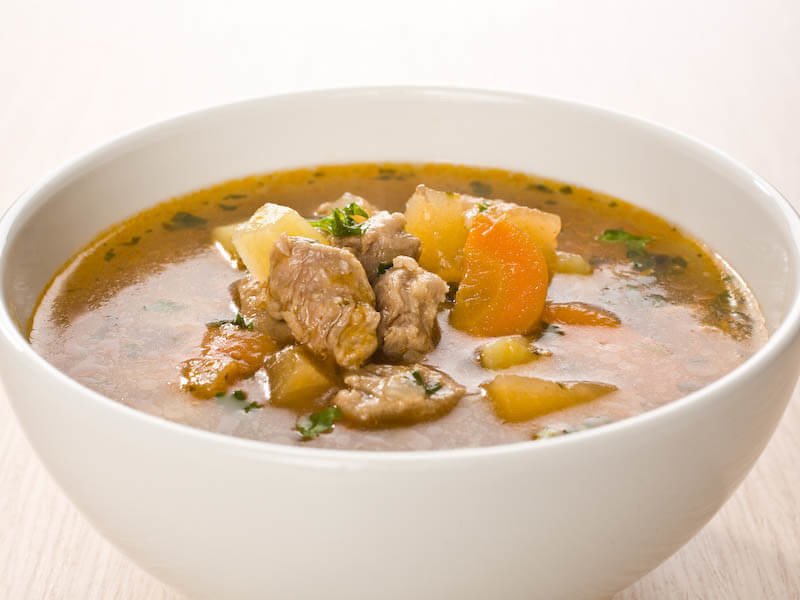 As well as coffee and tea, you'll find a selection of local Icelandic food options, such as their popular Icelandic plates.
Icelandic Plate Loki
Rye bread slices, with mashed fish (Plokkfiskur) & smoked trout.
Flatbread with smoked lamb.
Dried fish with butter and taste of fermented shark.
Meat Soup (Kjötsúpa)
Icelandic lamb meat soup.
Amongst the oldest cafés still in existence in Reykjavik, Mokka Kaffi has been around since 1958. It was originally founded by husband and wife team Guðný Guðjónsdóttir and Guðmundur Baldvinsson. They were the first establishment in Iceland to own an espresso machine and the first to serve Italian style coffee. Though much has changed in Iceland since the 1950s, this café still has a similar interior decoration as when it was first built.
Mokka Kaffi also offers exhibition space for both local and international artists to showcase their creations. The exhibition changes every month and each artwork is purchasable. So no matter what month of the year you decide to visit Mokka Kaffi, it will always be a new experience. Unsurprisingly, Mokka Kaffi has a very loyal customer base who enjoy Icelandic waffles and delicious coffee.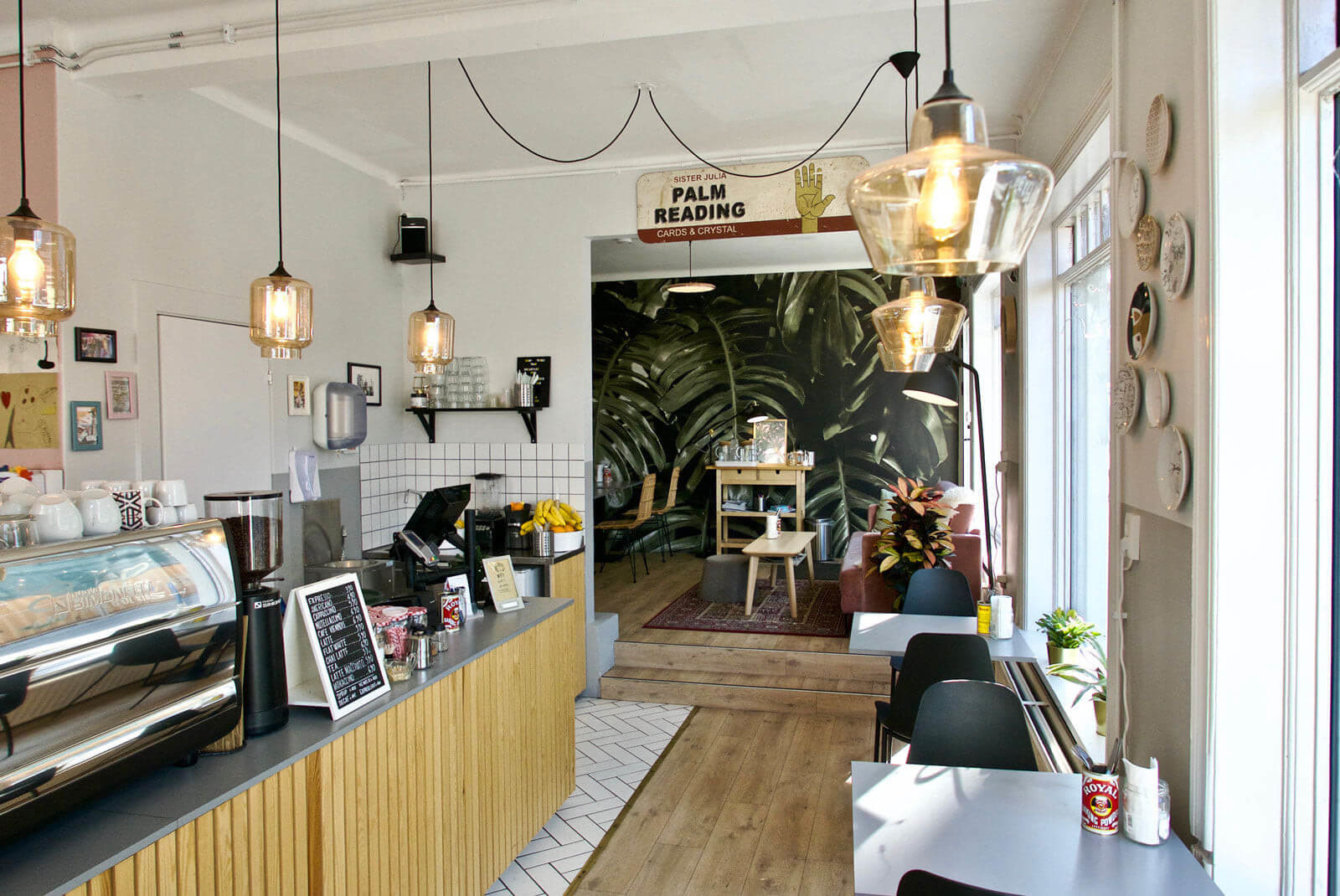 Emilie and the cool kids was created in Nice 10 years ago. It's the first shop outside the French Riviera.
At Emilie and the Cool Kids, they prepare homemade cookies and great pastries everyday. They also provide coffee and fresh bagels on demand, all day.
Located in the center of Reykjavik, Emilie and the Cool kids is a popular visit by both locals and guests.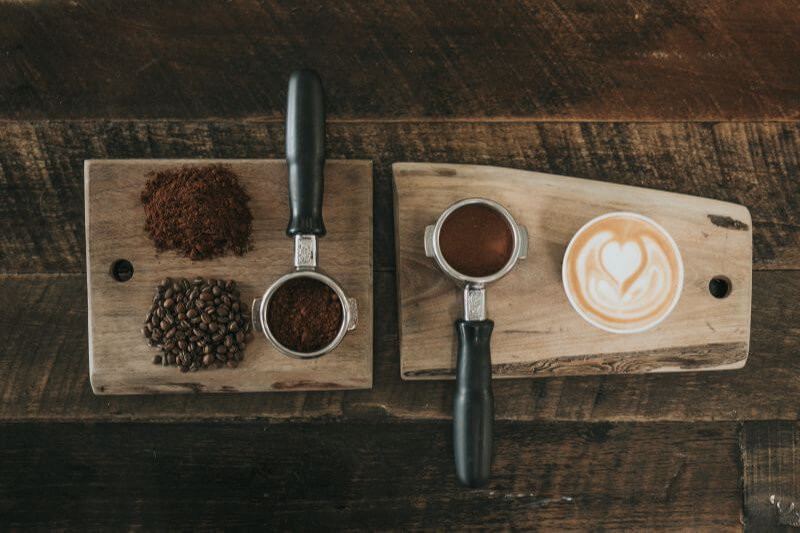 Love making coffee at home? Check out this great coffee grinder comparison by Fourth State Coffee.
---