Iceland is one of the best locations in the world for whale watching. Surrounded by the North Atlantic Ocean, whale watching in Iceland is one of the top tourist attractions thanks to the variety of whales that flock to the country's shores.
There are no shortages of whale watching experiences in Iceland, with over 20 species of whales to see. If you're wondering how to make the most of your experience, this guide will explain all the details on how to go whale watching in Iceland.
Complete Guide to Whale Watching in Iceland
Whale watching can be a once-in-a-lifetime experience for some. For Iceland, whales are familiar creatures that go deep into the country's history.
Whales have been highlighted in Icelandic folklore, and one of the most famous whales in the world (Keiko the Orca from Free Willy) hails from Icelandic waters.
Traditional and commercial whaling is legally practiced in Iceland, and whale watching is one of the top activities for tourists in the country.
Whales are a huge part of the Icelandic culture and whale watching is one option that brings you up close with some of the country's iconic animals.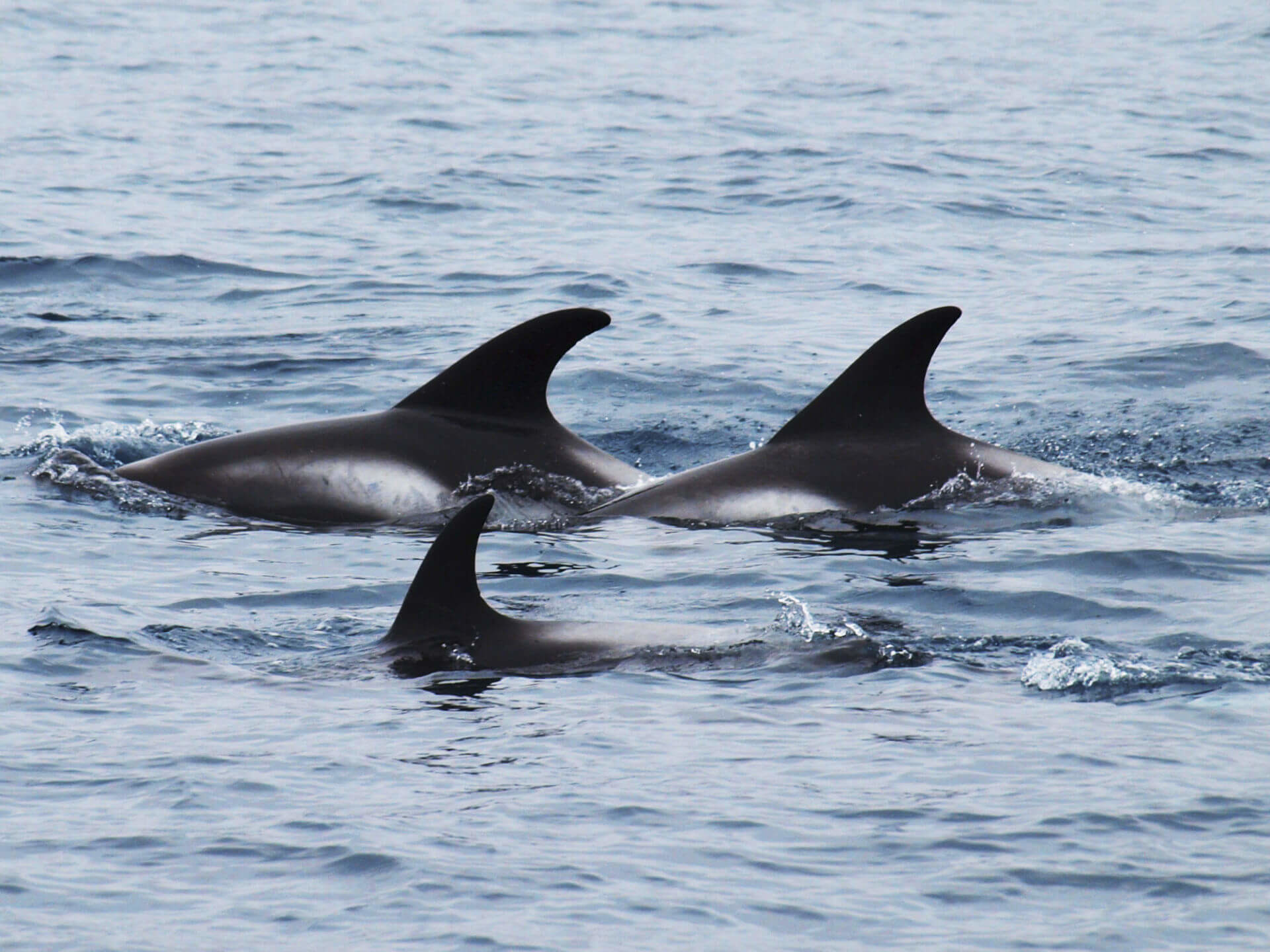 Best Time to Go Whale Watching in Iceland
Whale watching in Iceland can be experienced year round, but of course, each season offers a different adventure.
Some might argue that the best time to see whales in Iceland is between April and October or during the summer. Fortunately, you'll find whales hanging around Iceland all throughout the year.
This means the best time to go whale watching in Iceland is different depending on the person, with each season giving its own pros and cons. Note that some whale watching tours and locations in Iceland operate year round, while others close during the winter.
Whale Watching in Spring and Fall
The spring months of April, May, and June fall into the ideal time to see whales in Iceland. Whale watching during March means most tours will be operational since larger species of whales start flocking to the area during this time.
Whale watchers will have a high chance of seeing marine life during the spring months, with June being one of the best months for whale watching in Iceland. June whale watching in Iceland brings calmer weather and winds for a more comfortable experience and is a great choice for first-timers.
Whale watchers can still find a large number of species of whales in Iceland in the fall. This is especially true when whale watching in Iceland in November. After November, most species of whales have continued on for breeding and food.
Whale watching during the spring and fall in Iceland also means fewer crowds sitting outside of the high tourist season. An influx of whales and small tour groups makes spring and fall an ideal time to see whales in Iceland for many.
Summer Whale Watching in Iceland
As mentioned, June is one of the best months for seeing whales in Iceland. This is due to the influx of species in the area, but the main reason people book a whale watching tour in Iceland in the summer is the weather.
Guests on tours during the summer will get ideal temperatures and calm winds. Since days are at their longest during the summer, chances of clear sunny skies are as high as the chances of seeing a large variety of whales.
While the summer brings a great deal of marine life to Iceland, an array of birds can also be seen on whale watching tours in the summer months. Puffins especially are a big reason whale watchers book a tour during the summer.
The summer may sound like the best time for whale watching in Iceland, but it does have its disadvantages. The longer days and warmer weather mean that whale watching tours are likely to be more crowded than any other season.
Since summer falls during peak travel season in Europe, whale watching tour tickets may also be higher and harder to get.
Can I Go Whale Watching in Iceland in Winter?
Since most species of whales tend to shy away from Icelandic waters after November, many might think winter whale watching is out of the picture.
Icelandic weather can be harsh in the winter making whale tour cancellations more of a risk. Whale watchers will also have a higher chance of seeing whales in the summer.
That doesn't mean a whale watching in Iceland in January isn't possible or rewarding. Whale watching in Iceland during the winter actually has a number of advantages.
The main advantage of whale watching in the winter in Iceland is the chance of fewer crowds. Guests on-board a tour will have more opportunities to get up and close with the whales and the tour guide, personalizing your overall experience.
Whales can still be found at specific locations in Iceland during the winter months including the north, and Iceland's winter landscape also makes for a gorgeous backdrop to any winter whale watching tour.
How Much Does it Cost To Go Whale Watching in Iceland?
Most whale tours in Iceland cost around 9,500 to 11,500 ISK (approx. $78 to $95 USD) depending on the tour operator.
The location of departure and season of the whale watching tour will also affect the overall price of your whale watching trip.
The cost of a whale watching trip in Iceland includes access to the boat and a guide. Depending on the provider, the overall cost may also include whale-watching gear (gloves and overalls) and snacks.
Boats Used for Whale Watching
Whale watching in Iceland costs can also differ depending on the boat used for a tour.
Classic Tour Boats: Whale watching tours with a classic boat option will often have a cheaper price tag than others. They carry larger volumes of guests and usually include a cabin useful for keeping dry.
RIB Boats: RIB boats (Rigid-hulled Inflatable Boats) are fast, high-quality boats that are used for getting super close to whales during a tour.
RIB boats usually have less space than regular boats used on whale watching tours. This means you have less of a chance of your tour being crowded. Whale watching options that include RIB boats tend to be more expensive.
Schooners and Traditional Oak Boats: Those looking for a whale watching tour in Iceland will also find options that include schooners and traditional oak boats. These options can add a special feel of authenticity to your tour.
Since these boats carry more passengers than a RIB boat, the costs are usually reflected and can be cheaper than a RIB whale watching tour.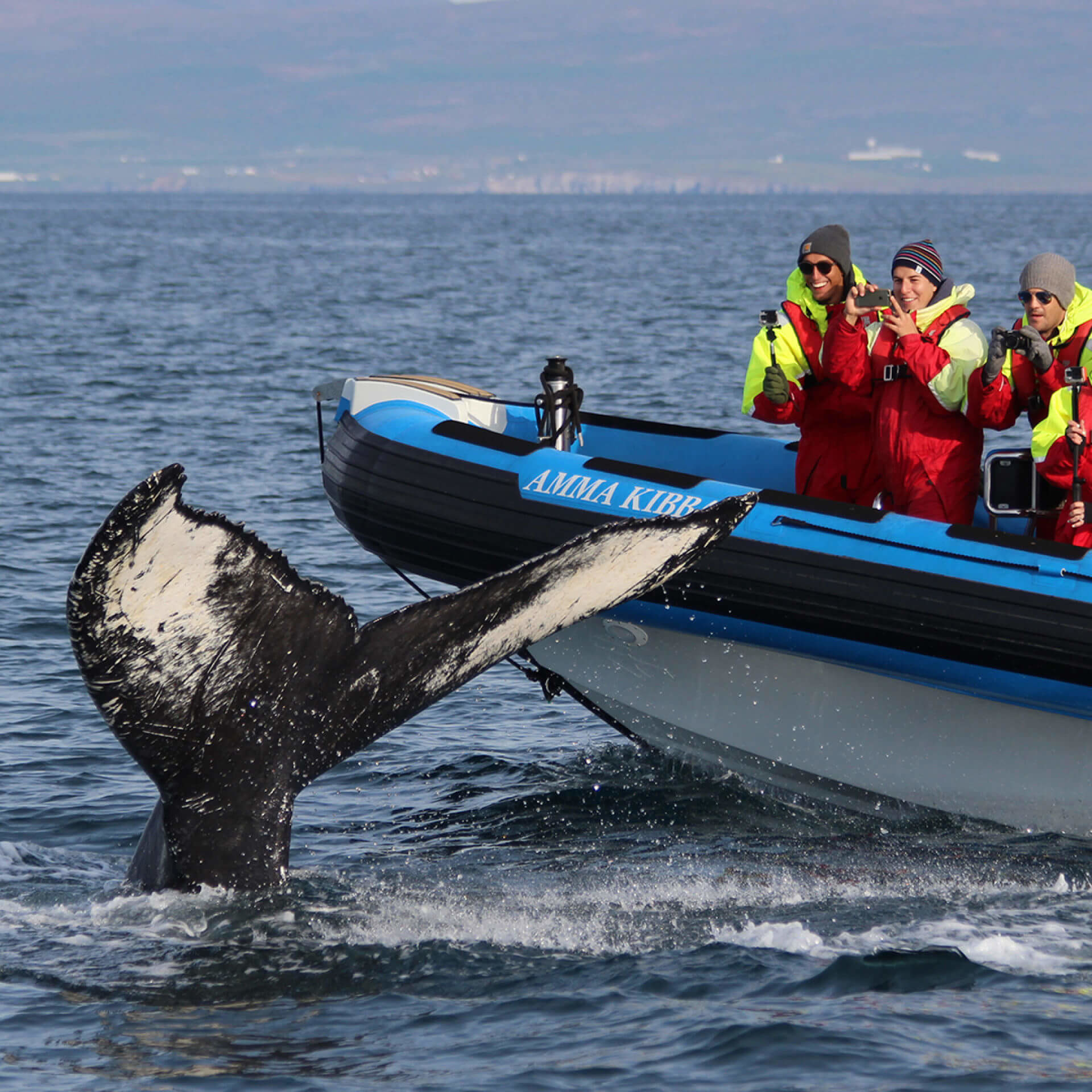 What to Wear Whale Watching
Iceland is known for having colder weather, and the more you embark on the ocean, the colder it will feel. Since the weather in Iceland changes with the season, it can be confusing when deciding what to wear while whale watching in Iceland.
As a general rule, it's best to dress comfortably in warm clothing. Many Icelandic whale watching tours will provide guests with warm overalls and accessories, but it's best to be prepared to make the most of your time out on the water.
Layer Up: Regardless of the temperature, it's best to wear layers when going on a whale watching tour. Layer a sweater and a long shirt under a warm jacket to ensure utmost coziness.

Pack a Hat: A winter hat will keep your head and ears warm from the wind at sea. Beanies are a great option since they're lightweight and can be easily tucked away if things warm up.

Wear the Right Shoes: If you're on an open boat like a zodiac or RIB be sure to wear shoes with a rubber bottom to avoid slipping. Sturdy shoes like hiking boots are recommended.

Gloves and Scarves: While gloves are often provided, it's best to bring your own just in case.

Sunscreen: No matter the weather, the sun can be very strong while out on a boat. Be sure to pack sunscreen to protect your skin against the sun's rays.

The Different Types of Whales in Iceland
In Iceland, whales come in a variety of species. Over 20 species can be found in Icelandic waters thanks to the abundance of krill and other food during peak whale-watching months.
When Iceland becomes a feeding ground for whales, quite a few famous species can be found when whale-watching in Iceland.
Blue Whale and Fin Whale
One of the rarest of the whales tends to make an appearance during the summer months in Iceland. The Great Blue Whale is the biggest mammal on the planet, growing up to 30 metres in length and is known for dropping jaws.
The Fin Whale loses to the Blue Whale in size comparison by some metres, but both giants can be found from spring to fall in Iceland.
You're likely to find the Blue Whale in Iceland during the months from April through July in the north, and you'll find them in the south during September and October.
Minke Whale
The Minke Whale is the most common great whale species seen in Iceland and are often spotted on many Iceland whale watching tours. They're known for being curious creatures and get up to 10 meters in size.
Minke Whales in Iceland can be spotted year round but come greater in number during the summer months.
Humpback Whale
Also known for being curious, Humpback whales like to put on a show and have a reputation for being very active. Often found in the north of the country, Humpback whales in Iceland are a treat to see!
While Humpback whales are most commonly seen during the summer months, they've also been spotted during February and March as well.
Orcas
Orcas in Iceland are often seen in the summer months of June and July. Also commonly known as Killer Whales, Orcas tend to move frequently, making them harder to spot. Once they're seen though, they're known for making a splash on an Iceland whale watching tour.
If you're seeking out Orca whales on your Iceland whale watching tour, try the south, or the east fjords. While they might be easier to spot in the summer, Orcas in Iceland can also be found in the winter including November and March.
Sperm Whale
The largest of the toothed whales, and famous for being featured in Moby Dick, Sperm whales in Iceland can also be spotted while whale watching.
While they like to stay underwater, they can be spotted in summer months from April through September, especially in the west.
Amongst other whales, marine life like sharks, dolphins, and seals can be found in Iceland. There's no lack of other Icelandic wildlife either, as well as photo-worthy natural scenery while whale watching in Iceland

Best Locations for Whale Watching in Iceland
You can see whales from locations all over the country, making it easy to book a whale watching excursion in Iceland.
That being said, what you see and your overall experience will differ depending on the whale watching location you choose. There are a number of whale watching locations to choose from in Iceland from convenient to remote.
The following locations are the most popular with high success rates of seeing whales in Iceland.
The Best of Iceland Whale Watching in Húsavík
Known as Europe's whale watching capital, Húsavík is one of the most popular places for whale watching in the country, and possibly the continent.
Located in the north of Iceland, Húsavík whale watching tours are famous for having the highest success rates in Iceland. This is thanks to ample food in the surrounding waters.
Whale watching in Húsavík often leads to Skjálfandi, with a large variety of wildlife in the area (including puffins). This makes for an exciting, scenic tour no matter the boat you choose.
While Humpback whales are the most commonly sighted on whale watching tours from Húsavík, Orcas, Minke and Blue whales are also spotted in this area.
Convenient Whale Watching in Akureyri
Akureyri is also located in the north of the country near Húsavík with easier access. This location is recommended for families and those who want to opt for a milder whale watching experience.
Not only are tours in Akureyri located near a number of inviting attractions, but its location at the end of the country's longest fjord. This protects against strong winds and waves while out at sea.
Humpback whales are usually the stars on Akureyri whale watching tours. Minke whales and dolphins can also be seen as well.
Orcas in the Snæfellsnes Peninsula
If you're seeking out orcas while whale watching in Iceland, the Snæfellsnes Peninsula is a good bet. It's known for being a favorite location for orcas to hang out.
Orca sightings are said to be more common in this area than others in Iceland, making it a great spot for whale enthusiasts.
The Snæfellsnes peninsula is also a great place to head to in the winter since whales head here in the colder months.
While whale watching tour operators in this region are sparse, whales are also commonly seen from land thanks to the abundance of herring.
Capital City Whale Watching in Reykjavík
Iceland's capital city of Reykjavík is conveniently one of the best locations to see whales in the country. Thanks to its location near the Faxafloi Bay, you won't have to go far for an assortment of marine life.
Minke and Humpback whales are the most common in these waters, as well as dolphins, harbour porpoises, and a number of puffins. The backdrops on tours from Reykjavík are also scenic, decorated with a number of stunning sites like volcanoes.
This central location makes it easy to get to and from tours, and reschedule if cancelled. As a bonus, if you don't feel like getting on a boat, you can use the binoculars on shore to get a glimpse.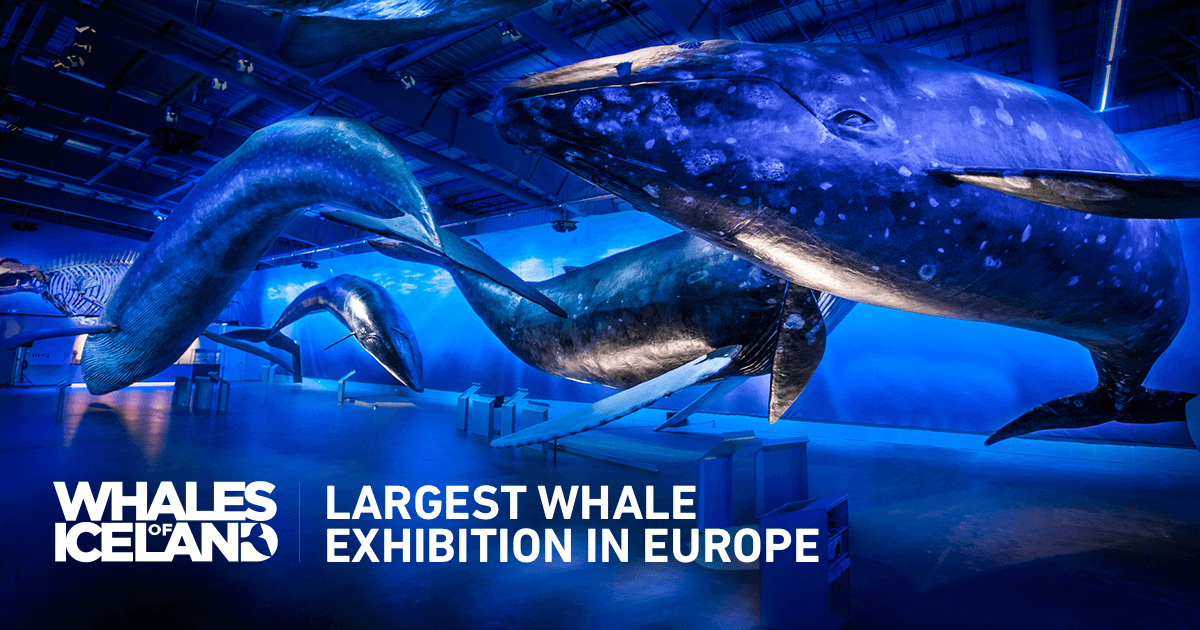 Whales of Iceland Museum
Reykjavík is also home to the Whales of Iceland Museum. This museum is great for brushing up on whale facts before heading out on a whale watching excursion.
Featuring educational exhibits and lifesize whale replicas, this museum stands as the "Largest Whale Exhibition in Europe".
Guests can wander through interactive activities, hear whale sounds, and learn facts about whale species through virtual reality experiences. This museum may be a perfect beginning or end to any whale watching tour; you'll be an expert before you know it!