Iceland is the dream destination for any photographer. Whether you're into wildlife, portrait or landscape photography, Iceland has something for everyone.
The great part about Iceland is that the unique geography provides endless beauty everywhere you look, so even if you're only joining us for a short layover you'll find plenty of opportunities to take fantastic shots. Now, you might be wondering where the best photography spots in Iceland are located and what's the best time of year to visit?
Continue on this ultimate photography guide to Iceland and let's find out!
As this article is quite large, you can use the Jump To Chapter to quickly go to the section you want.
Landscape and Nature Photography
The geography of Iceland makes landscape photography fun and almost too easy. This small island has an incredibly diverse amount of views, from large mountain ranges, waterfalls and glaciers to lava fields, black sand beaches and geothermal landscapes.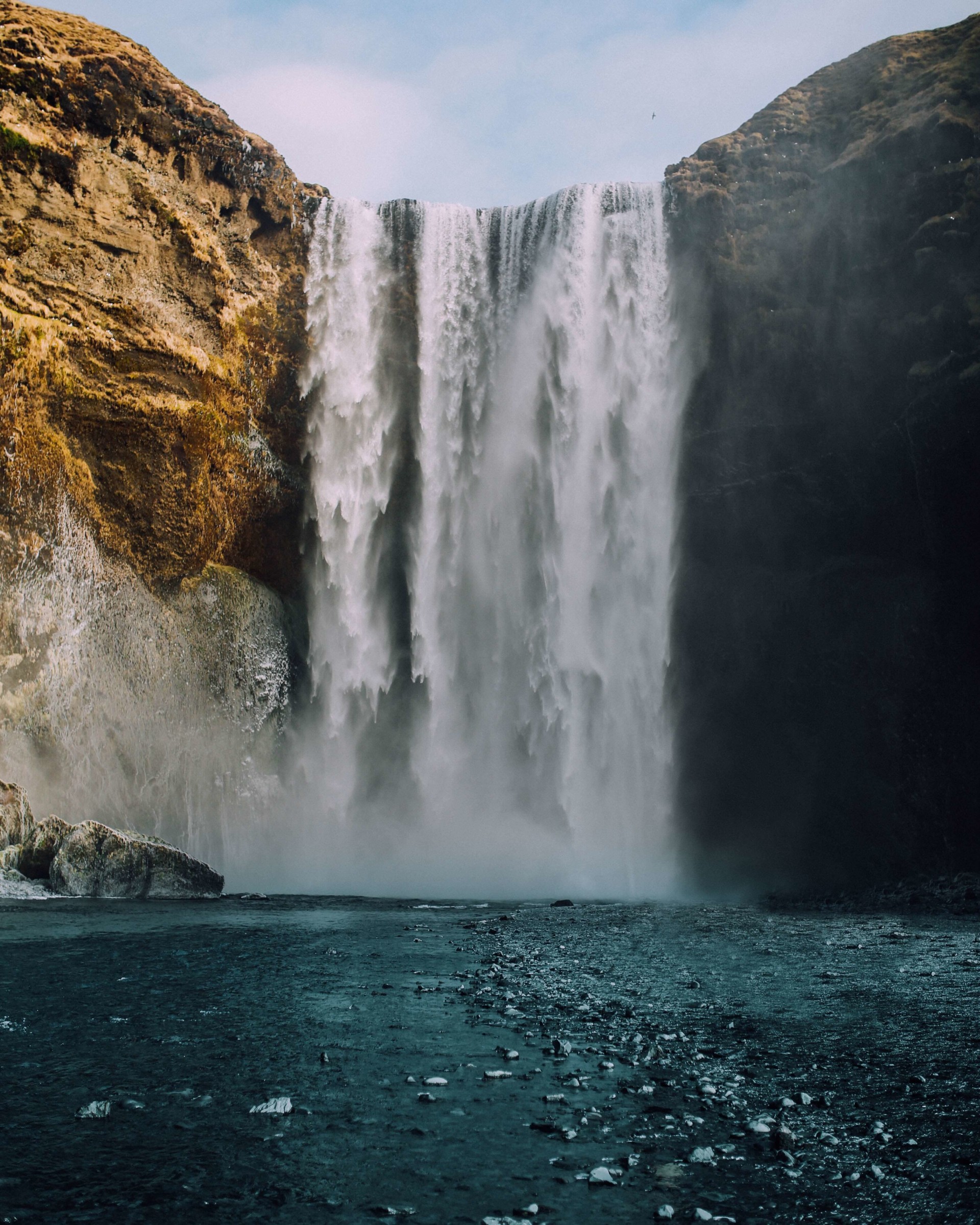 Skogafoss Waterfall
Skogafoss is one of Iceland's biggest waterfalls, with a width of 15 meters and a drop of over 60 meters! Because of the spray this waterfall produces, you can often catch a glimpse of a rainbow, sometimes even a double rainbow, on a sunny day.
Skogafoss waterfall makes for a beautiful photo, not only because you can go right up to where the waterfall crashes into the pool below. If you'd like to get a photo of Skogafoss from above, then you can follow a steep staircase up to an observational platform.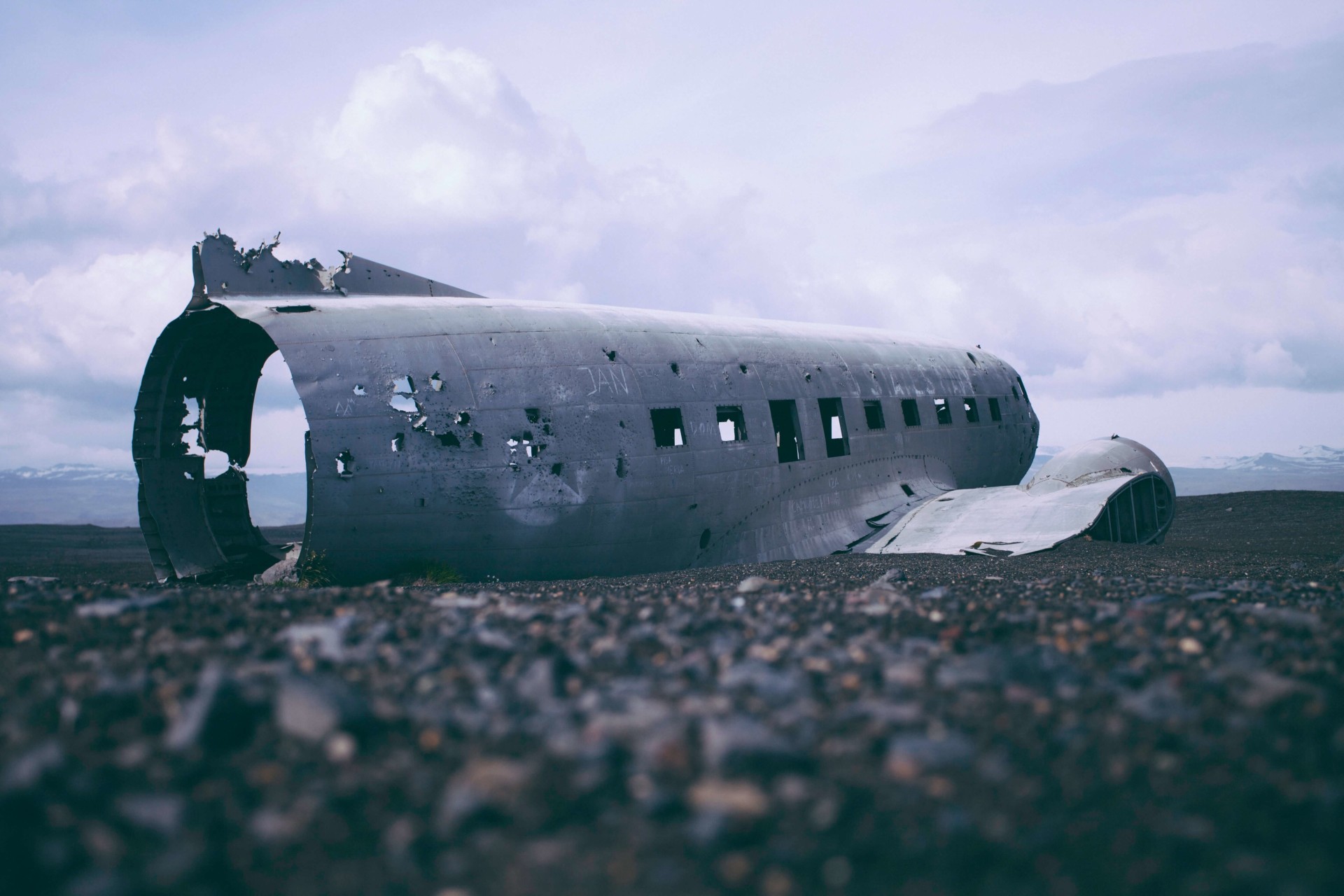 Sólheimasandur Plane Crash
Perhaps one of the most iconic photo locations of Iceland is this plane wreck. The origins of the plane date back to 1973 when a US Navy DC plane ran out of fuel and crash-landed on the black beach at Solheimsandur.
Today, the plane still rests on the black sand and resembles something you might expect to see in a sci-fi movie. It's a popular destination for anyone looking to photograph the northern lights thanks to the area having very few settlements nearby and therefore has little light pollution.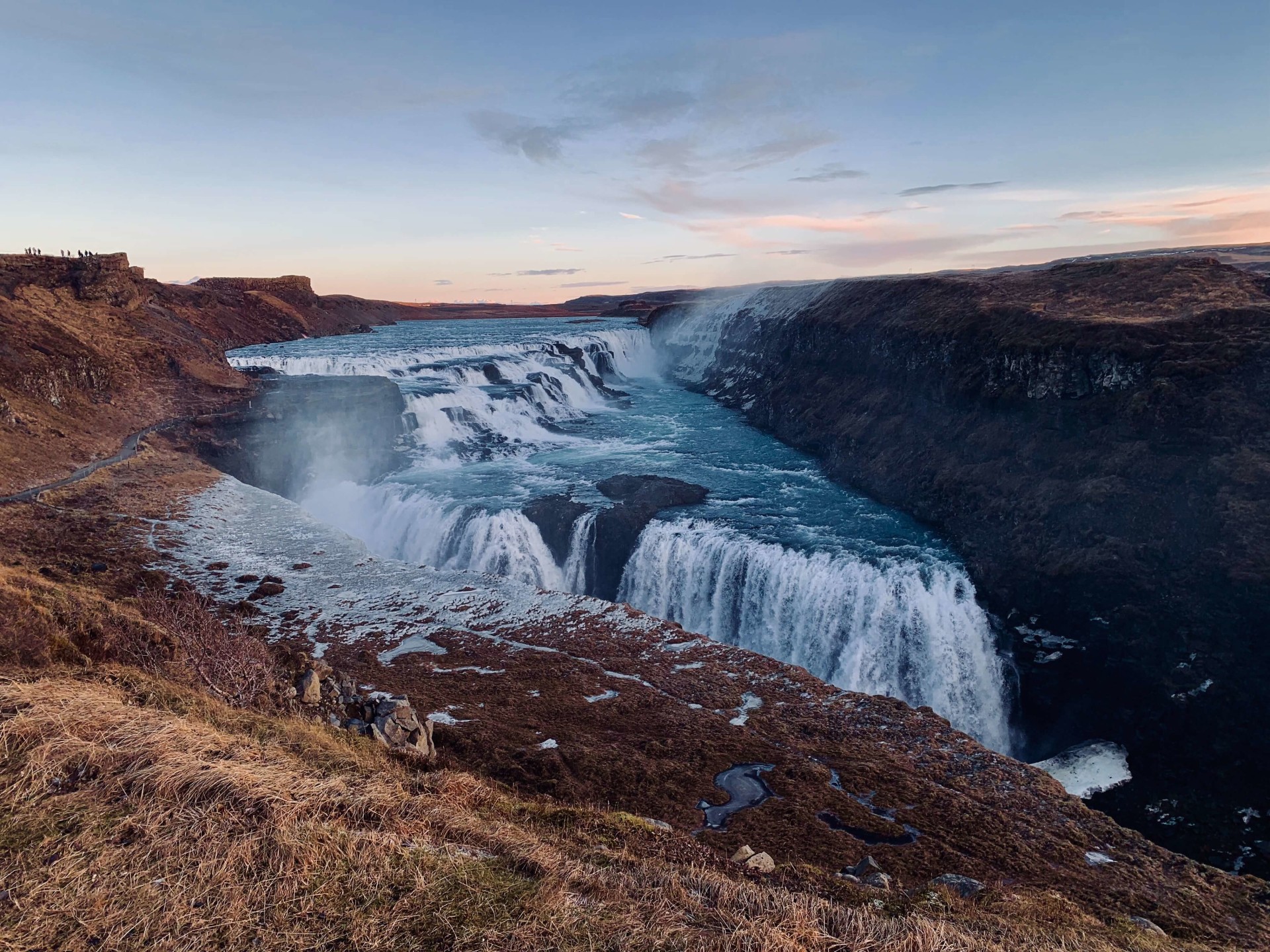 Gullfoss Waterfall
Gullfoss waterfall, which translates to Golden Waterfall, is located on the famous Golden Circle route. It's Iceland's most iconic waterfall where the water dramatically cascades down two cliffs at a speed of 140 cubic meters per second.
If you want to capture the raw power of nature in a photograph then Gullfoss is the motif you're looking for.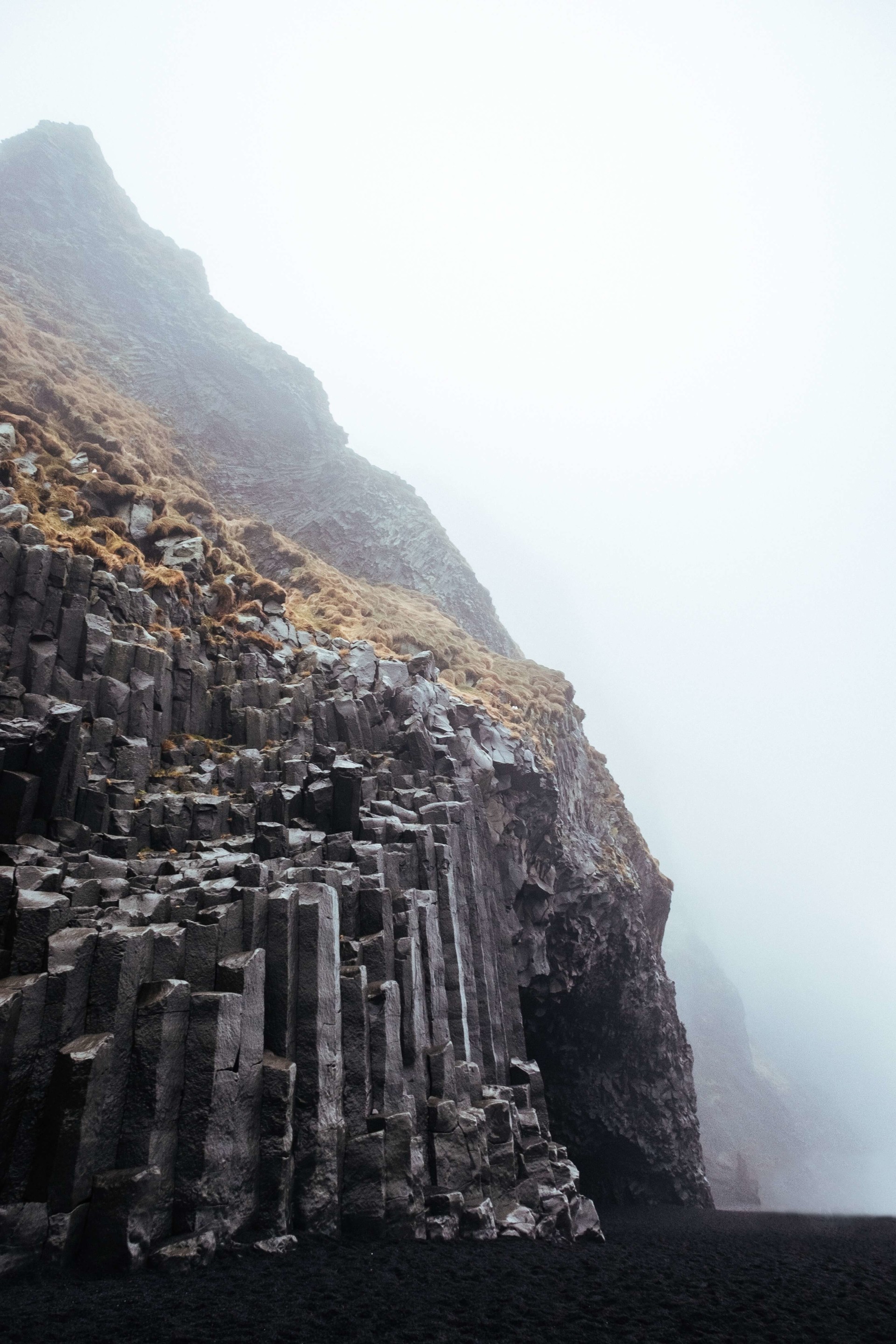 Reynisfjara Black Sand Beach
If you're driving along Iceland's ring road then you'll come across the Reynisfjara black sand beach, located in the south of the island. What makes this black sand beach unique is the amazing basalt rock column formation you can find here.
There's also three large pillars of stone that can be found offshore by the beach that are wrapped in Icelandic folklore. The way these pillars came to be was the result of a battle between two trolls and a three-masted ship. When daylight broke in the morning, the two trolls turned to stone and the ship was trapped in all eternity. The troll and the ship then formed the pillars you see today.
The obscure shape of these stones makes for a dramatic photo, especially with the black sand and the mist that often rolls over this beach.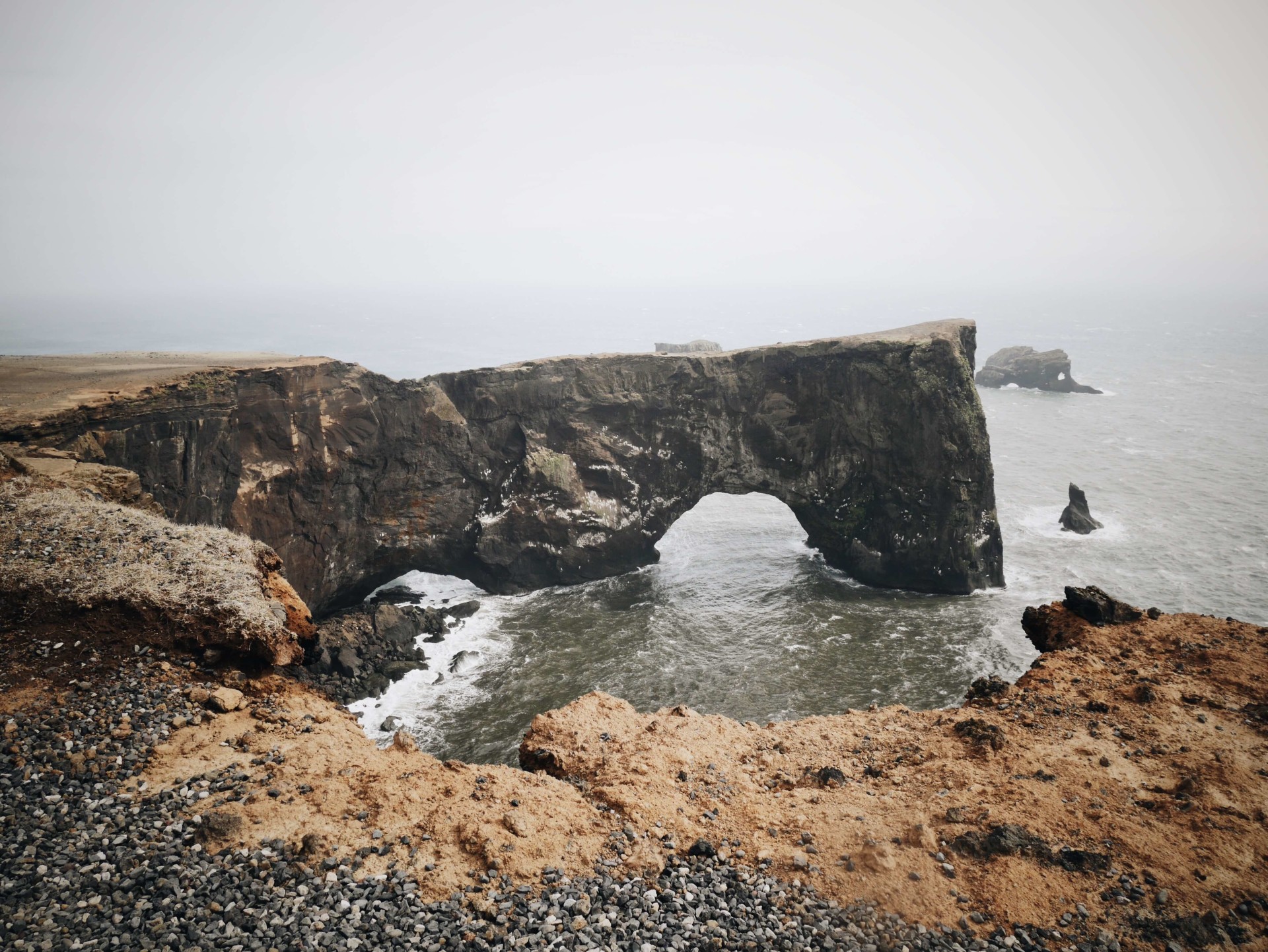 Dyrholaey Arch
Near Reynisfjara, you will find Dyrholaey Arch, a 120-meter long promenade stone arch that goes out into the ocean. The name Dyrholaey actually translates to Door Hill Island. As the name implies, it used to be an island until volcanic activity in the area caused it to join up with the mainland.
You can drive to the cliff tops near the Dyrholaey Arch. Here you can get a spectacular photo of the natural stone arch, as well as the best photo opportunity if you're after a panoramic shot of the black sand beaches from above.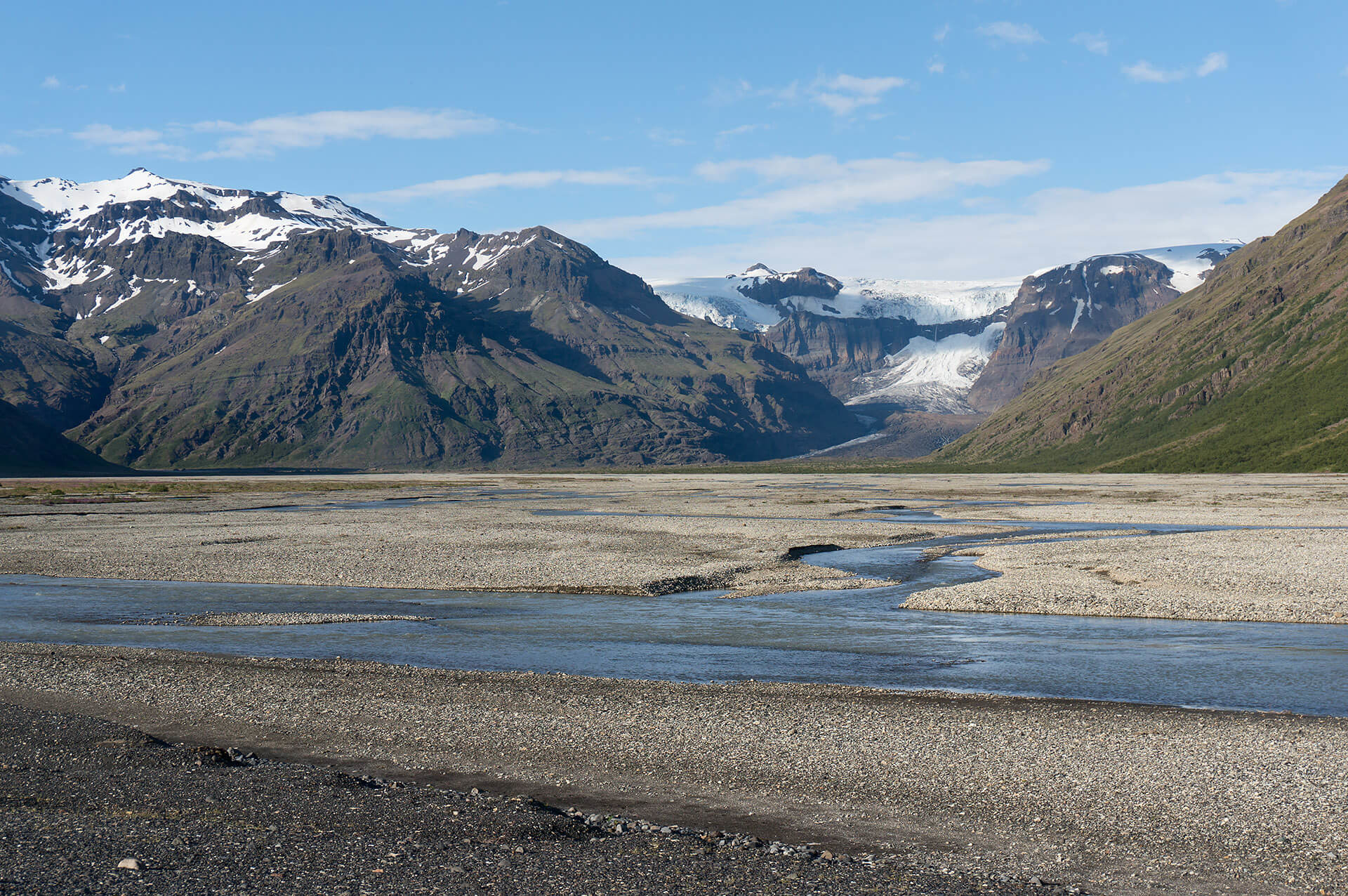 Skaftafell Nature Reserve
Skaftafell is sometimes referred to as the ?hikers paradise'. The nature reserve can be found in the south-east of Iceland and since 2008 it is part of the larger Vatnajökull National Park. Skaftafell is notable for its diverse fauna as well as landscapes you can find here.
The photo opportunities here are endless as you'll find majestic waterfalls, astonishing geological formations, black sand landscapes, glacier lagoons and much more.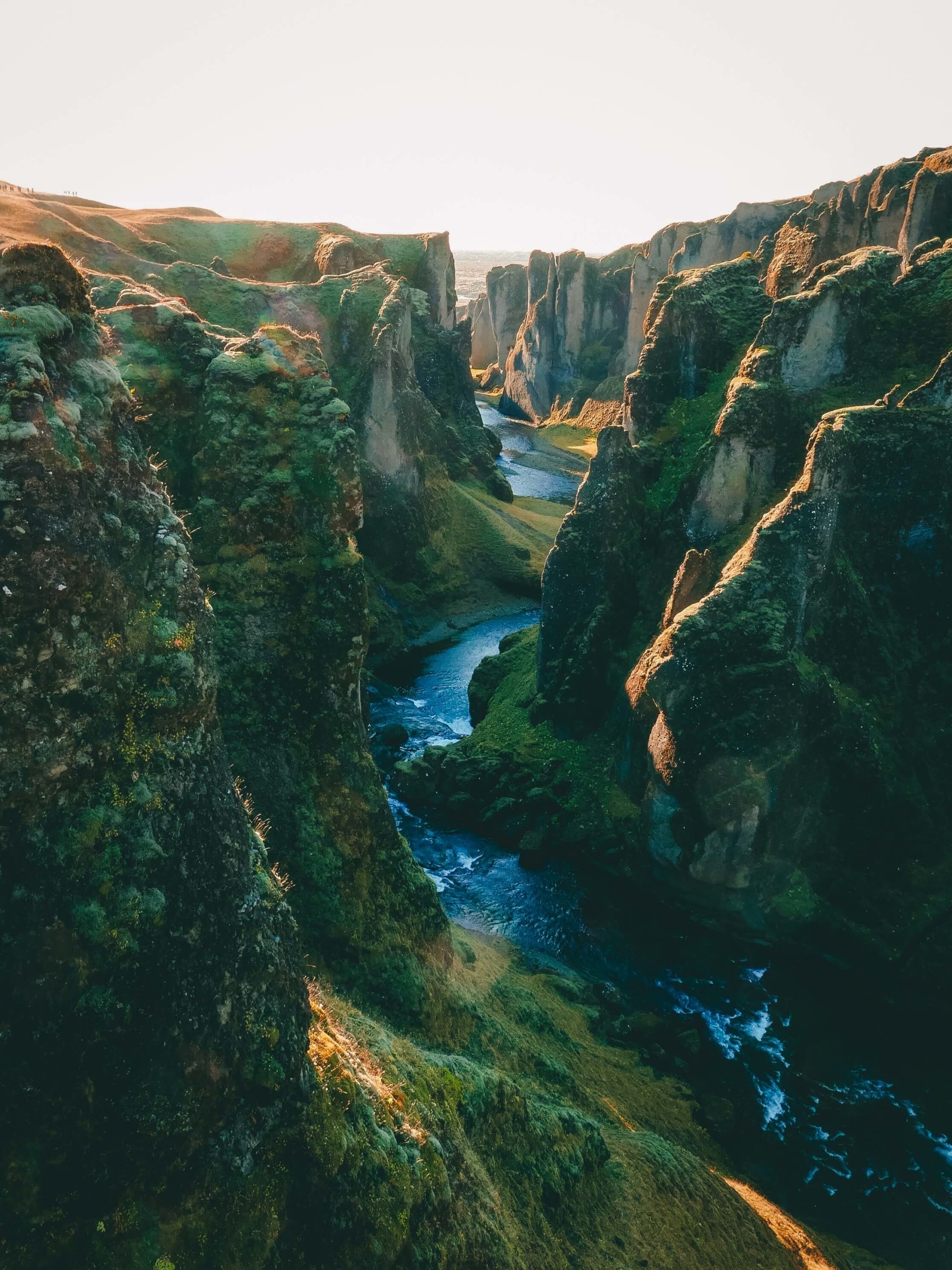 Fjaðrárgljúfur Canyon
Fjadrargljufur Canyon is one of the lesser known tourist destinations of Iceland but equally as impressive as the other sites this island has to offer. There are two ways to photograph this eerie canyon. The first is to walk along the base of the canyon, where you can look up at the cliffs.
Alternatively, you can walk along the edges of the canyon and look down onto the river below.
Note: As of May 2019, the canyon is still closed to visitors but is scheduled to open up in June.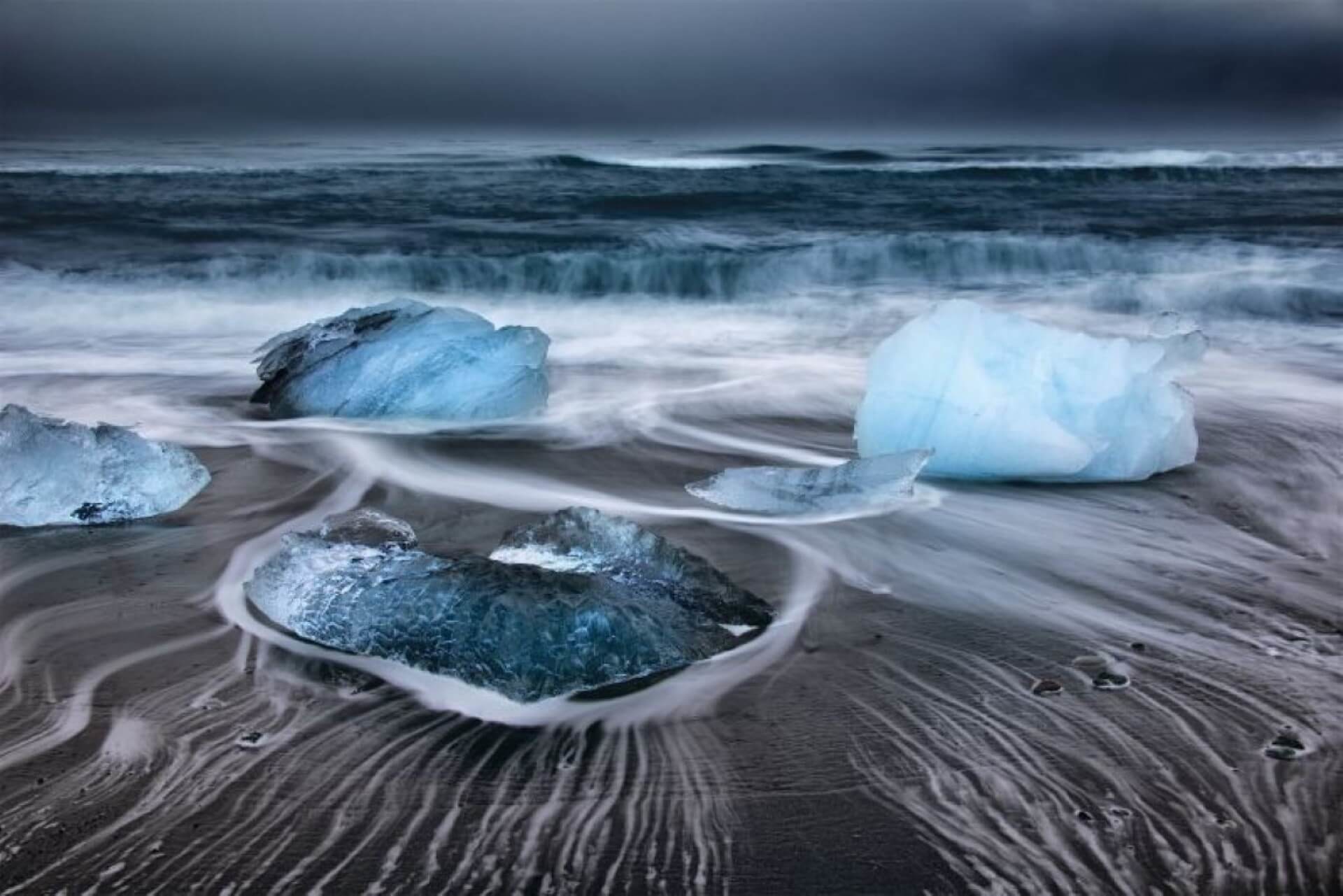 Diamond Beach
Diamond beach is located next to Jökulsárlón Lagoon. This epic beach has been given its name due to the big diamond looking ice-chunks that wash up on the shore. It's an amazing photo opportunity as the crystal blue ice creates a beautiful contrast with the black sand underneath.
To make the most of this landscape, come here at sunset or sunrise when the fiery skies add an extra colour dimension to your pictures.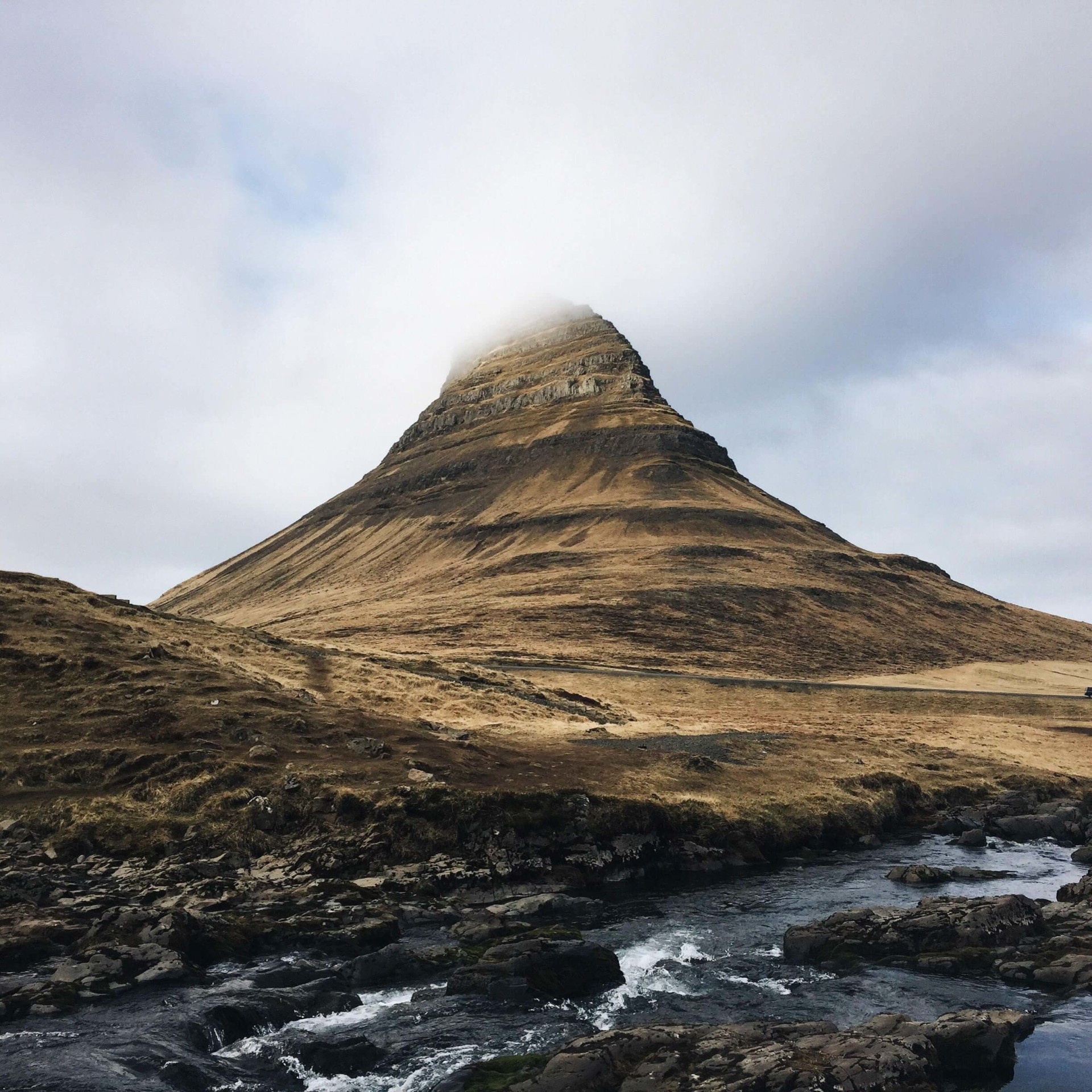 Kirkjufell
Kirkjufell is another iconic landmark of Iceland, this 400-meter mountain is found on the north coast of Iceland's Snæfellsnes peninsula.
Rumour has it that Kirkjufell is the most photographed mountain in Iceland, and thanks to its oddly symmetrical shape as well as its coastal location, there's no surprise why.
The mountain is also known for being one of the filming locations of the famous Game of Throne TV series. If you're looking for a great shot of Kirkjufell then head over to Kirkjufellsfoss, a small waterfall that makes an excellent subject for your photo with the mountain in the background.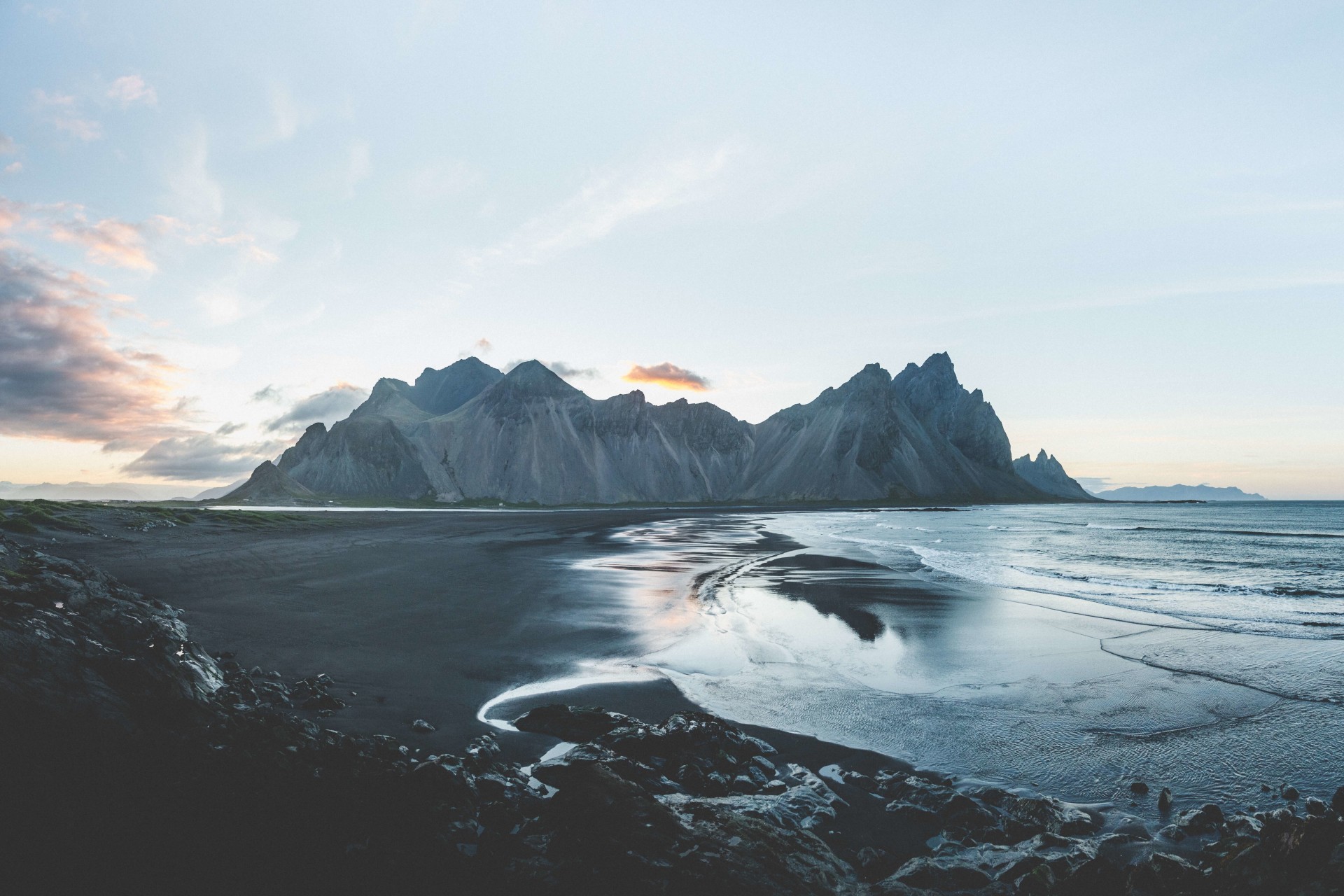 Mt. Vestrahorn
Located in the east of Iceland is Vestrahorn, a mountain range with dramatic peaks that reach a height of over 450 meters. Vestrahorn is located at the coast, but thanks to a small strip of land which almost entirely blocks out the Atlantic ocean, the water here is often very calm and creates a great mirror of Vestrahorn for pictures.
Please note that the road to Vestrahorn is on private property and you'll be charged a fee to use it by the farmer who owns the land. Vestrahorn is a brilliant location if you're looking to get a photo of the northern lights.
Hvitserkur
Another popular destination for photographers is Hvitserkur, which is also known as the troll of northwestern Iceland. This 15-meter basalt rock stands proudly in the Hunafloi Bay.
Hvitserkur is a photographers dream, thanks to the way the stars, northern lights, midnight sun and other natural phenomena reflect on the calm water around it. It's also a popular nesting ground for many of the native bird species of Iceland, which add a certain motion and life-like characteristic to this mythical rock.
Svartifoss
Another photogenic waterfall, which is located in the Vatnajokull National Park. Svartifoss is known for the unique rock columns, similar in shape to those found on Reynisfjara Black Sand Beach, which have formed around the waterfall.
Northern lights Photography
As a photographer, you've probably always dreamed of the day you could stand beneath the night sky and capture the mesmerising Aurora Borealis in all its glory. If that's the case then Iceland is a fantastic place to do so. With the breathtaking nature found on this volcanic island, the number of interesting subjects for your Aurora photography is endless.
Auroral displays appear in a multitude of colours, the most common, however, is green and pink. The northern lights are a result of collisions between solar winds from the sun and the magnetic field of our planet.
If you're coming to Iceland specifically for the northern lights then we recommend visiting between September and April. The winter months in Iceland can get very dark and therefore enhance your chances of seeing this breathtaking natural phenomenon. However, remember that they aren't guaranteed to appear and depending on solar activity may not appear all the time.
The Icelandic Meteorological Office actually has a forecast which you can check here. Other things to watch out for include the weather, as you'll ideally want a clear night sky with no clouds blocking your view. The brightness of full-moon nights can also make it more difficult to see the northern lights.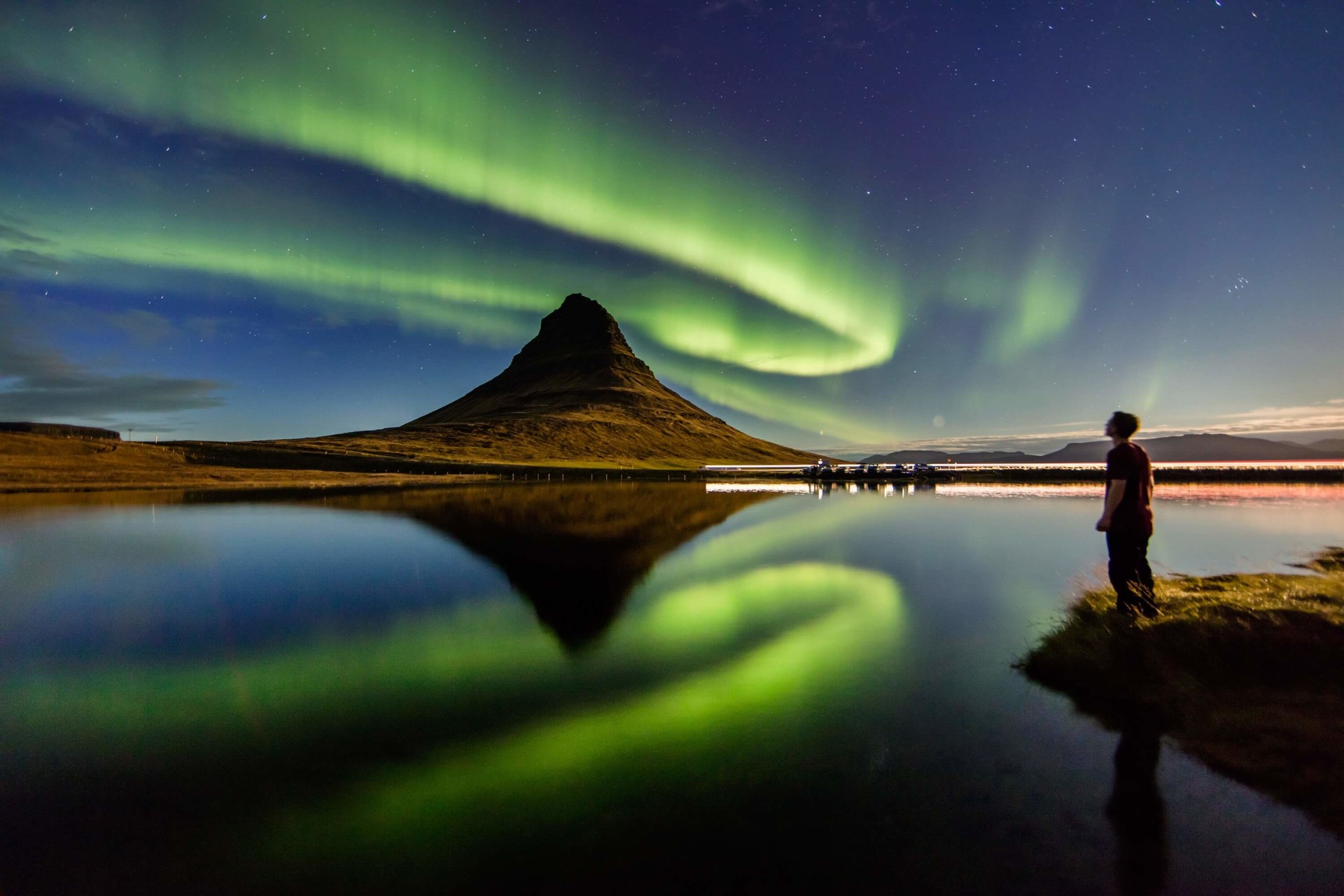 If all of the above points align (solar activity, weather, and not a full moon) then next up you'll want to find a location that is as dark as possible and far away from light pollution. If you're staying in Reykjavik then the nearest and most popular destination to see the northern lights is Thingvellir National Park.
Other popular sites include the plane wreck site near Solheimsandur, Kirkjufell, Hvítserkur, or Vestrahorn.
Northern Lights Camera Settings
Capturing the northern lights can be a challenge because of the constant movement of the Aurora as well as the fluctuating intensity of the light. Therefore you'll have to play around with your camera's features in order to get that perfect snap.
As a general rule of thumb, however, make sure your camera is set to manual mode so that you can adjust settings such as the shutter speed. Play around with the shutter speed, start off with anywhere between 2 and 14 seconds.
Depending on the photograph you're after you can set the shutter speed up to 15 or 30 seconds. However, remember that because of the movement of the Aurora a longer shutter speed will most likely result in a slightly blurry photo. Set your ISO to a low light setting of between 800 and 3,200 and keep your aperture anywhere between f/2.8 and f/5.6, where you can capture as much light as possible.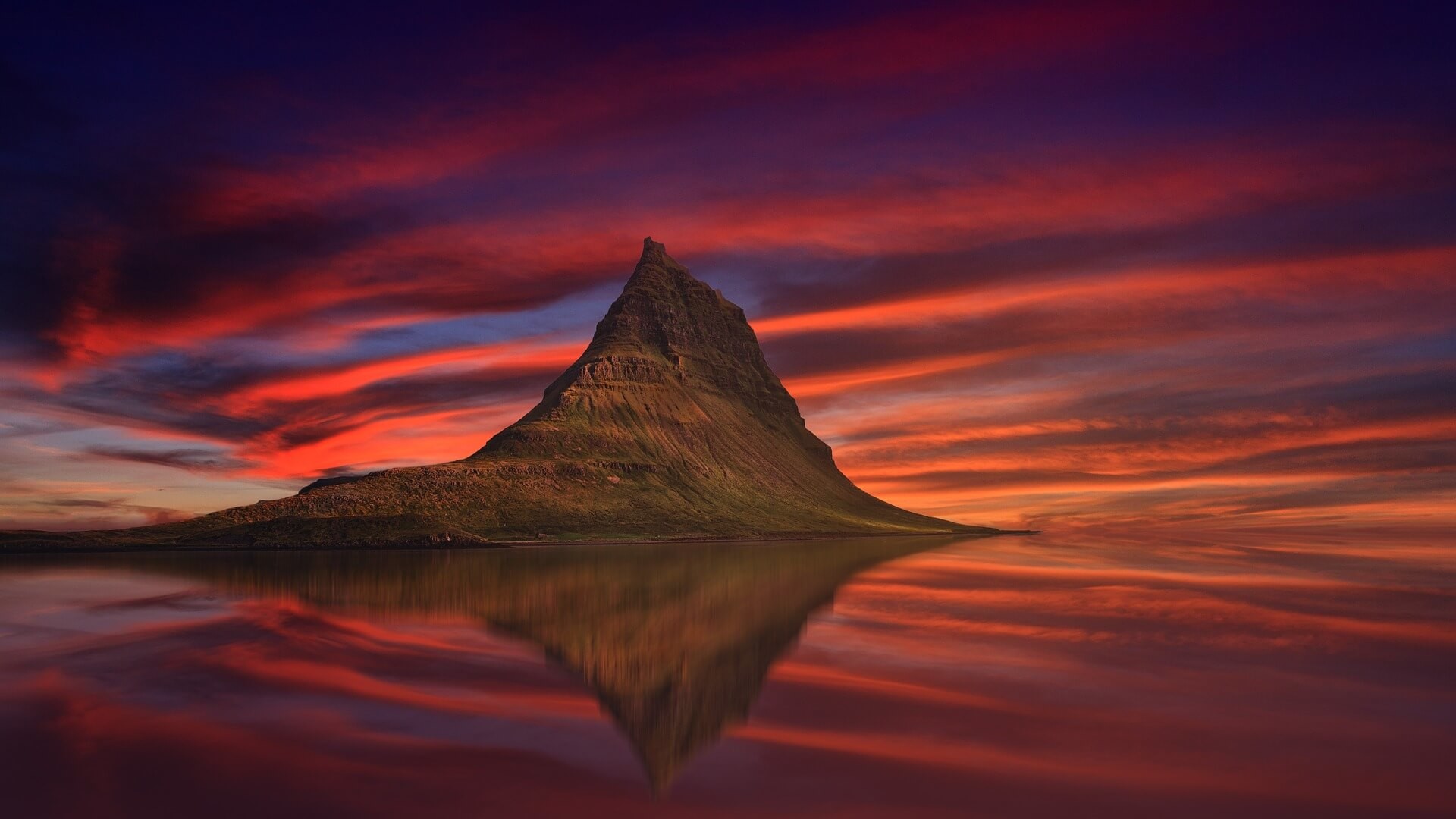 Midnightsun Photography
An unusual event occurs in Iceland in the two weeks surrounding the summer equinox, between the 16th and 29th of June where the sun doesn't set. In the evening it sets as always, however, it makes a loop and never quite makes it under the horizon.
For two weeks, Icelandic nights are without total darkness and instead experience a limbo between dusk and dawn. This sounds like a photographer's heaven, as the ?golden hour' extends much longer than other parts of the world south of Iceland.
Wildlife Photography
Despite being, geologically speaking, a relatively new island, as well as being isolated from Mainland Europe and North America, you can still find an impressive amount of wildlife in Iceland.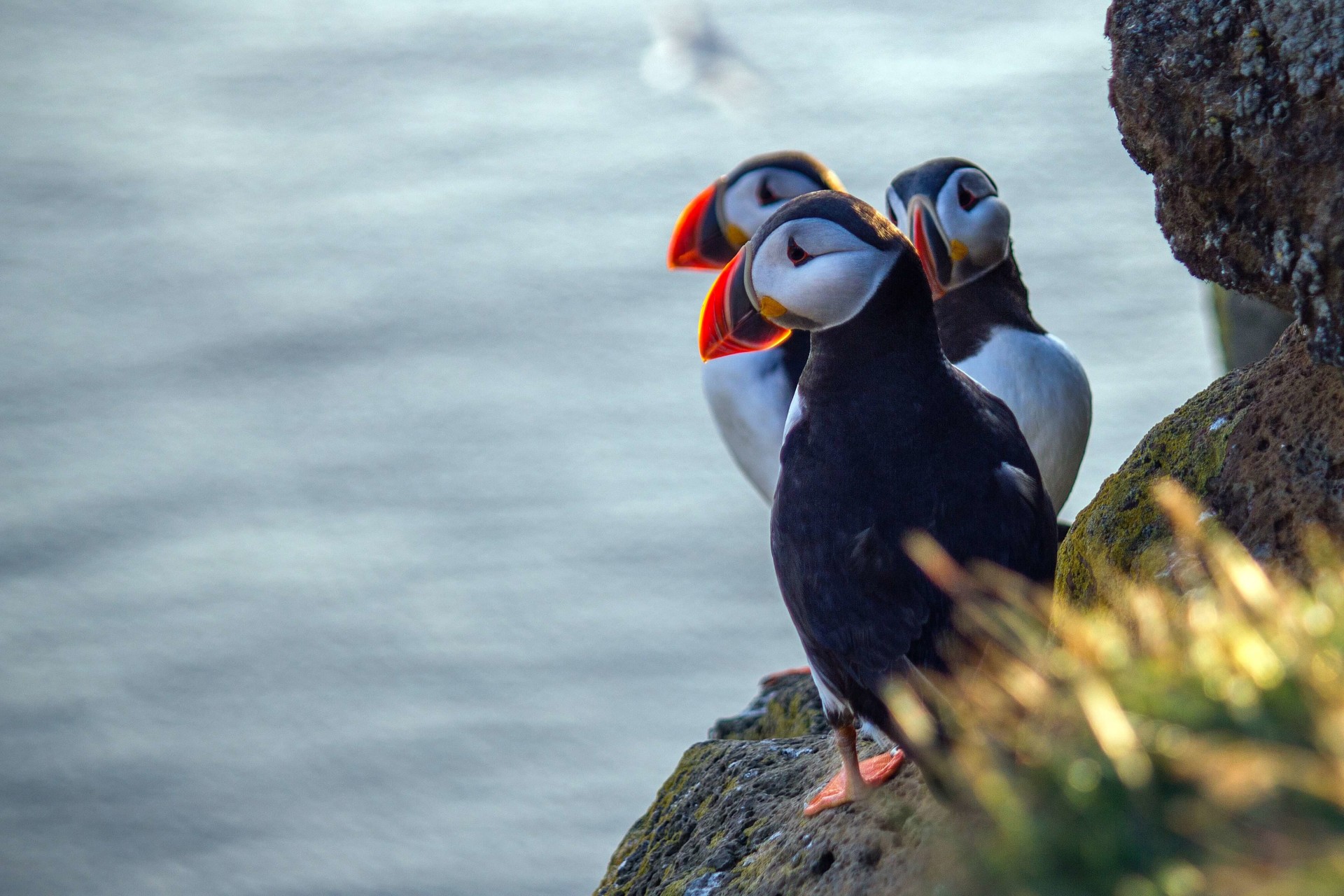 Puffins
Perhaps the most iconic animal in Iceland is the puffin bird. Iceland is home to 10 million puffins, which is over 60% of the world population of Atlantic puffin birds. With their unique and colorful beaks, puffins are brilliant subjects for photographers.
Puffins are also not as shy as other birds and so you can get close enough to capture some brilliant wildlife photography. You can find these birds around Iceland's shoreline, but some of the puffin's breeding locations include the Lundey island (which literally translates to puffin island), and Látrabjarg cliffs in the Westfjords.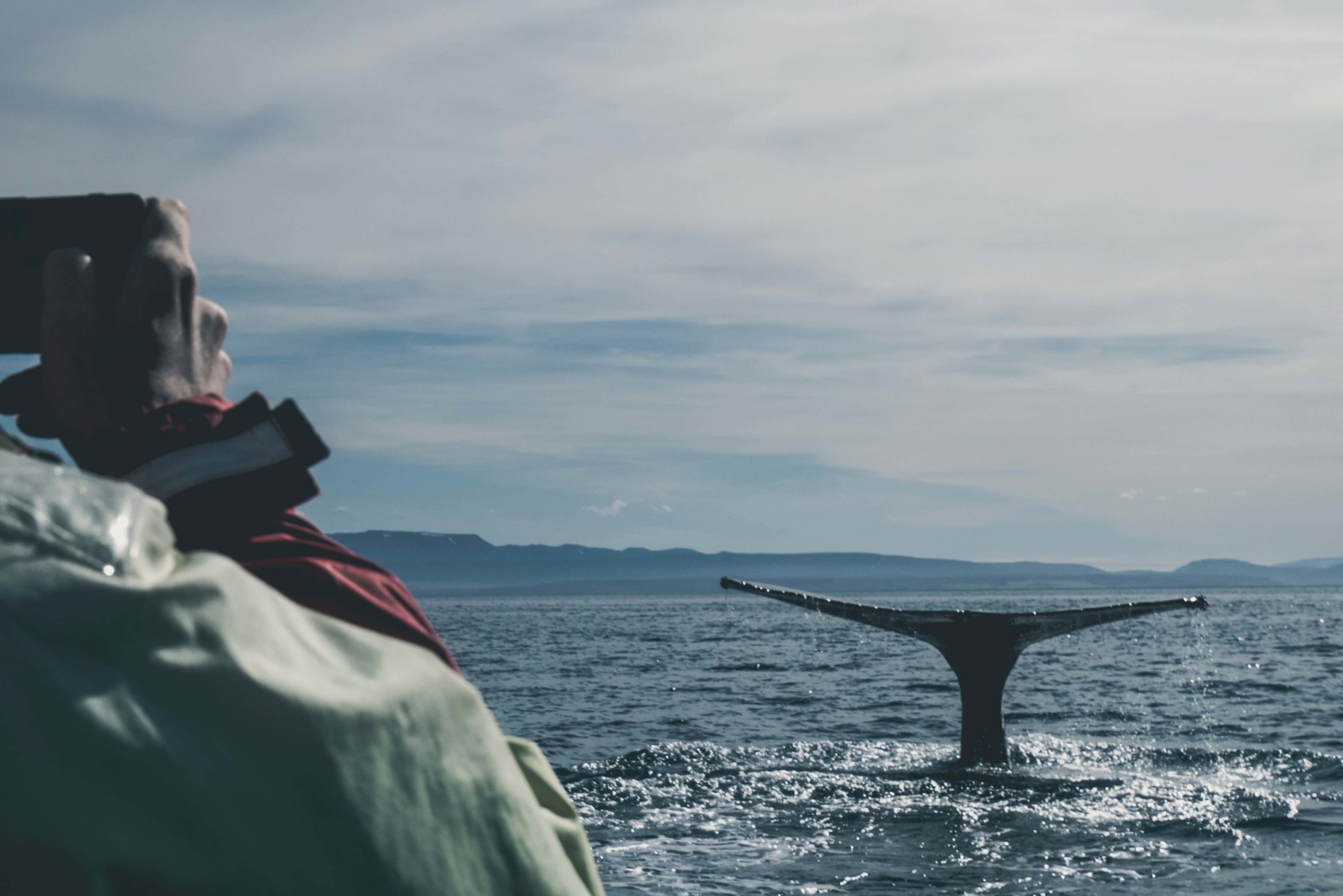 Whales
As well as puffins, Iceland is also known for its diverse whale and dolphin populations. In fact, did you know there are over twenty species of whales and dolphins that frequently visit the waters of Iceland? In order to photograph these beautiful mammals, we recommend joining a whale watching tour.
Photographing whales in Iceland has the added bonus of always having a beautiful backdrop for your pictures.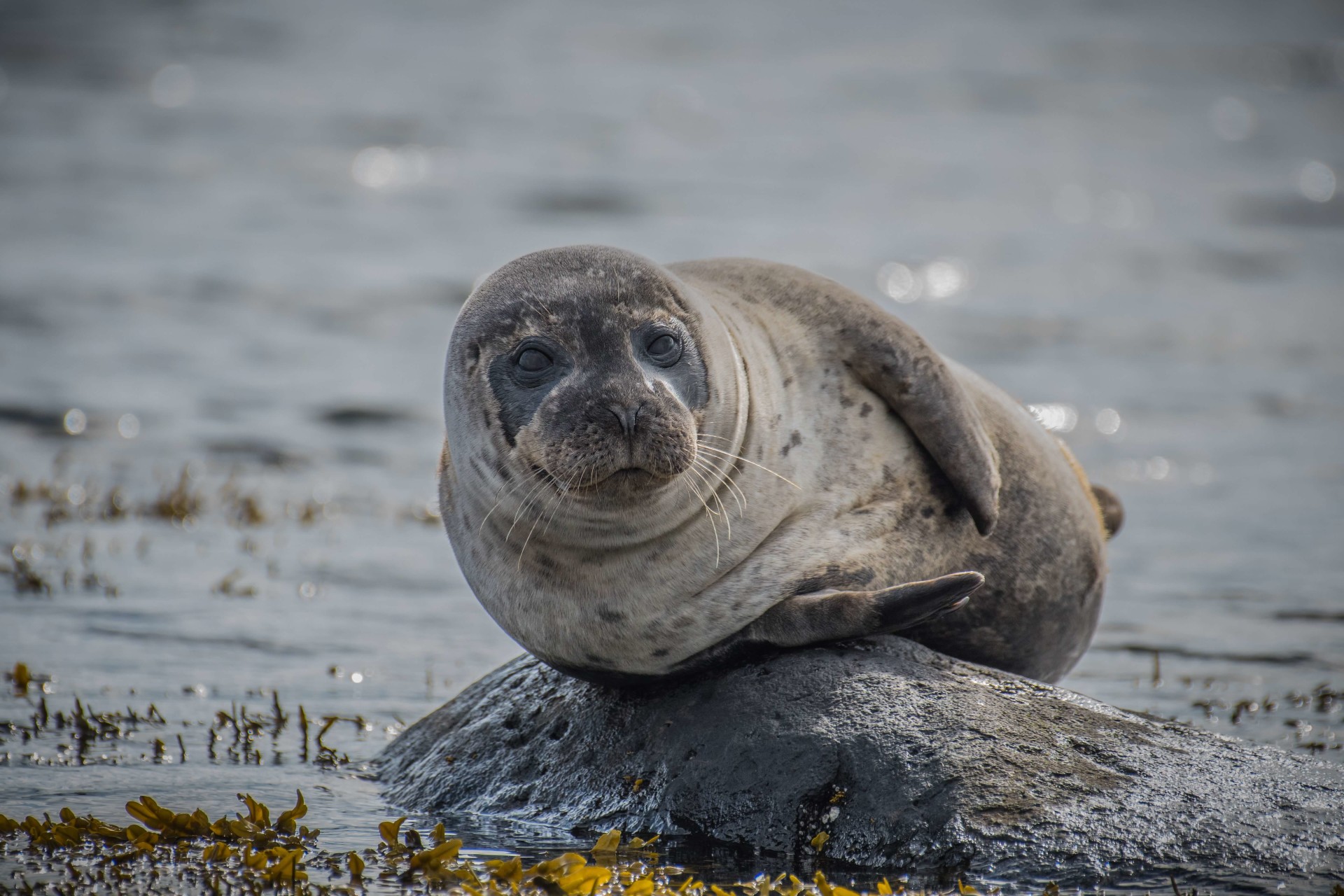 Seals
Another popular marine mammal to photograph in Iceland is the seal. They can be found all around the coast of Iceland, but particular hotspots include the Jökulsárlón glacier lagoon, Westfjords, and Ytri Tunga Beach as well as Illugastadir, Svalbard and Hvitserkur.
Hvitserkur can be a very photogenic location even if you don't see a single seal.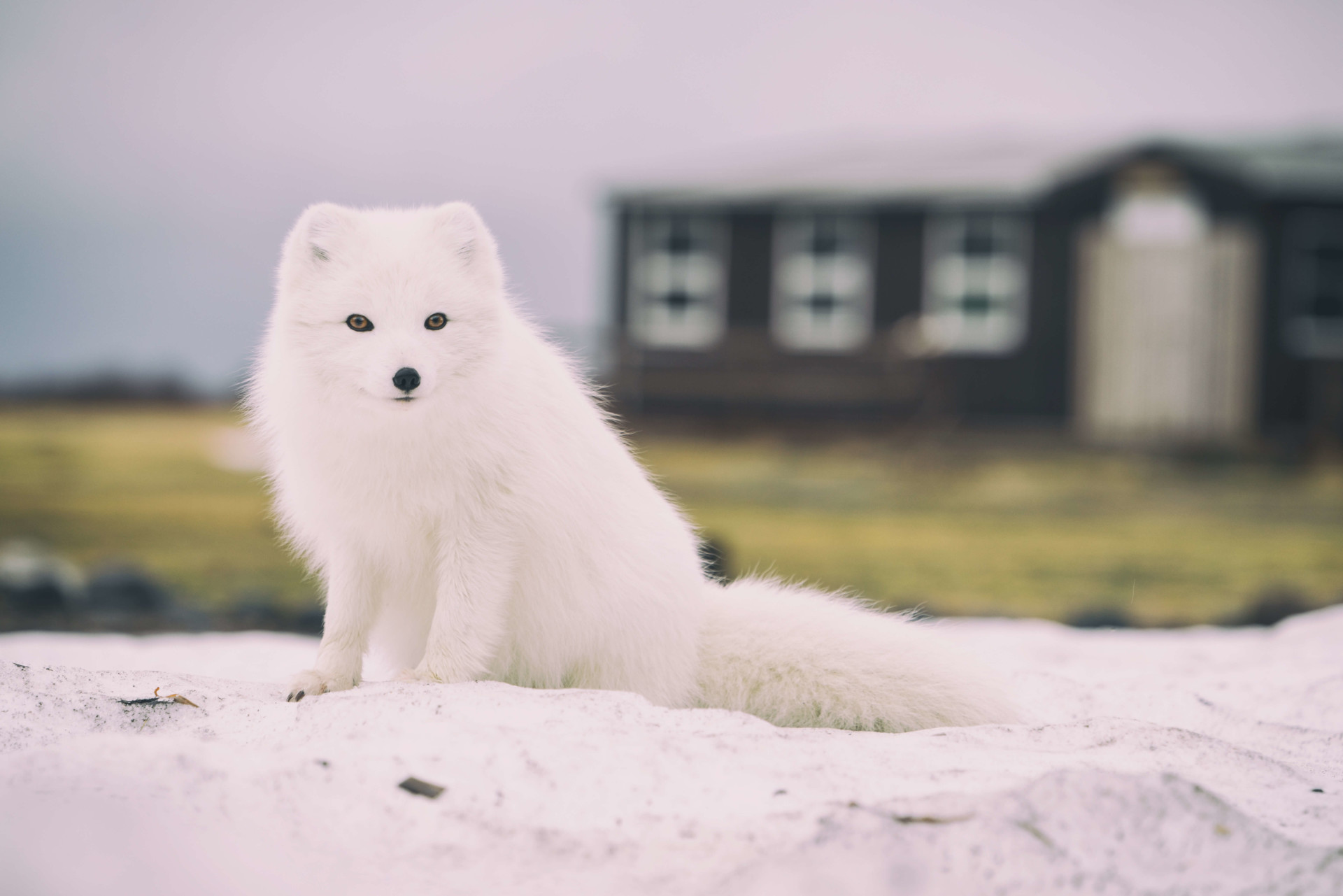 Arctic Fox
The Arctic Fox is Iceland's only truly native land mammal, all other animals were brought over by settlers. It can be very difficult to photograph the fox, especially in the winter thanks to being well-camouflaged. Its white fur makes the Arctic Fox almost invisible in the snow, especially when it's sat down.
Although they can be found around Iceland, their population is most abundant in Hornstrandir Nature Reserve in the north of the country.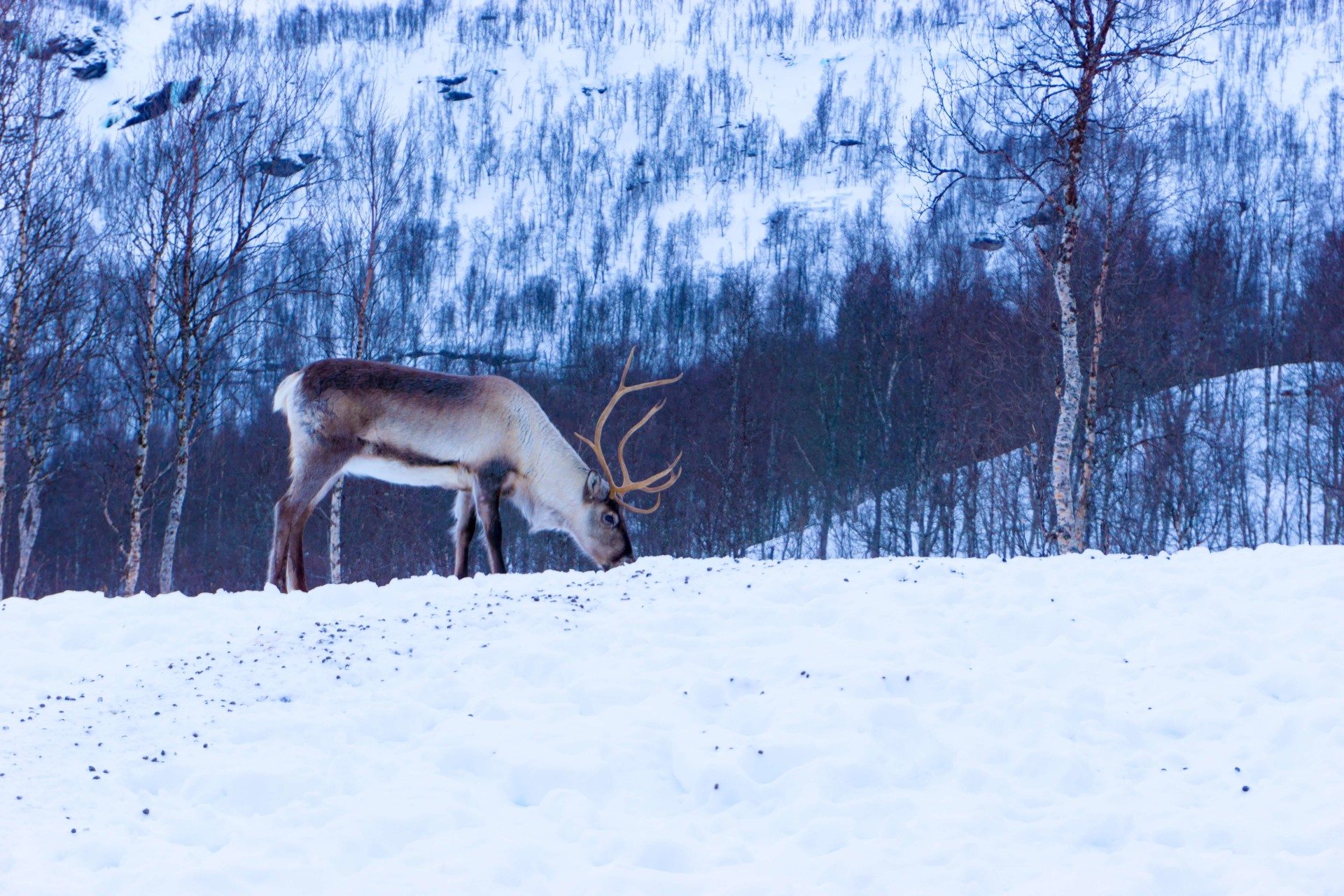 Reindeer
One of the land mammals that was brought over by early settlers were reindeer. They can predominantly be found in East Iceland around Mount Snaefell. These majestic animals make for beautiful snapshots with the dramatic Icelandic nature in the background.
Reindeer are also relatively easy subjects to photograph, especially in the winter months when the graze in the lower grounds. As well as reindeer, you can also find plenty of sheep and cows which are easy to photograph in the rural parts of Iceland.
Icelandic horses
The iconic Icelandic horse can be found all across the country, no matter the season. Icelandic horses are extremely curious and will often approach photographers. This, of course, makes them an easy target for brilliant wildlife photographs.
Cultural Photography
As well as landscape and wildlife photography, there is also plenty of Icelandic cultures to photograph. From old settlements to modern sculptures, many of the cultural sites in Iceland make for brilliant subjects especially with the dramatic nature that surrounds these places.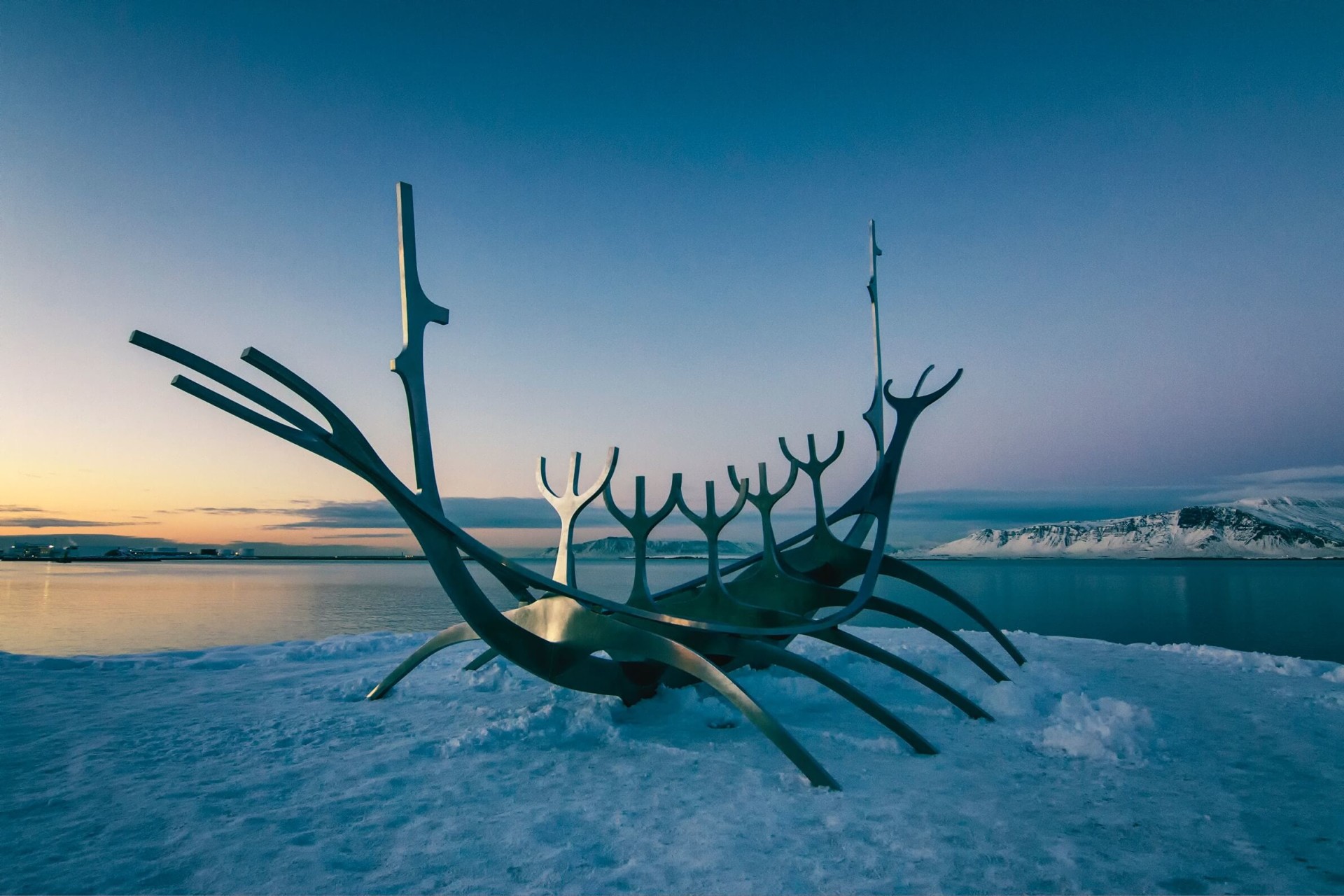 The Sun Voyager, Reykjavik
The Sun Voyager is a large steel sculpture, which was unveiled in 1990. The sculpture resembles a Viking looking ship and its shapes fit well into the surrounding landscape. It can be found by the seaside of central Reykjavik and is a popular destination for many tourists visiting the capital.
What makes this sculpture so unique to photograph is the way it integrates the ocean as well as the mountains in the backdrop.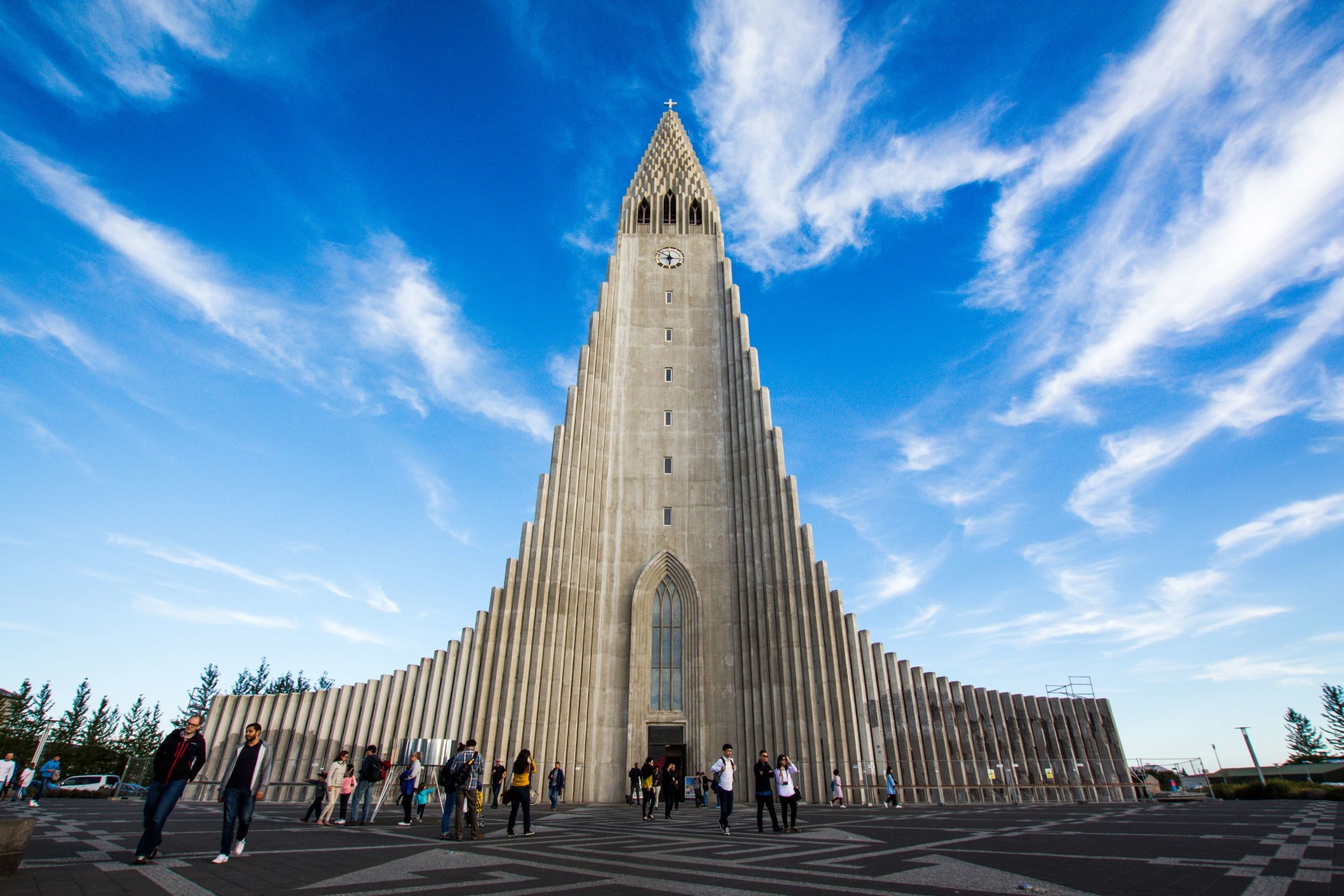 Hallgrimskirkja, Reykjavik
Hallgrimskirkja is the iconic Lutheran church that can be found in the heart of Reykjavik. It's the largest church in Iceland, reaching a height of 74.5 meters. The building itself is a great photo opportunity, however, it also offers the opportunity to get a spectacular panoramic view of Iceland's capital city.
The photo opportunity up here is endless, from the colorful buildings of Reykjavik to Faxafloi Bay and Mount Esja.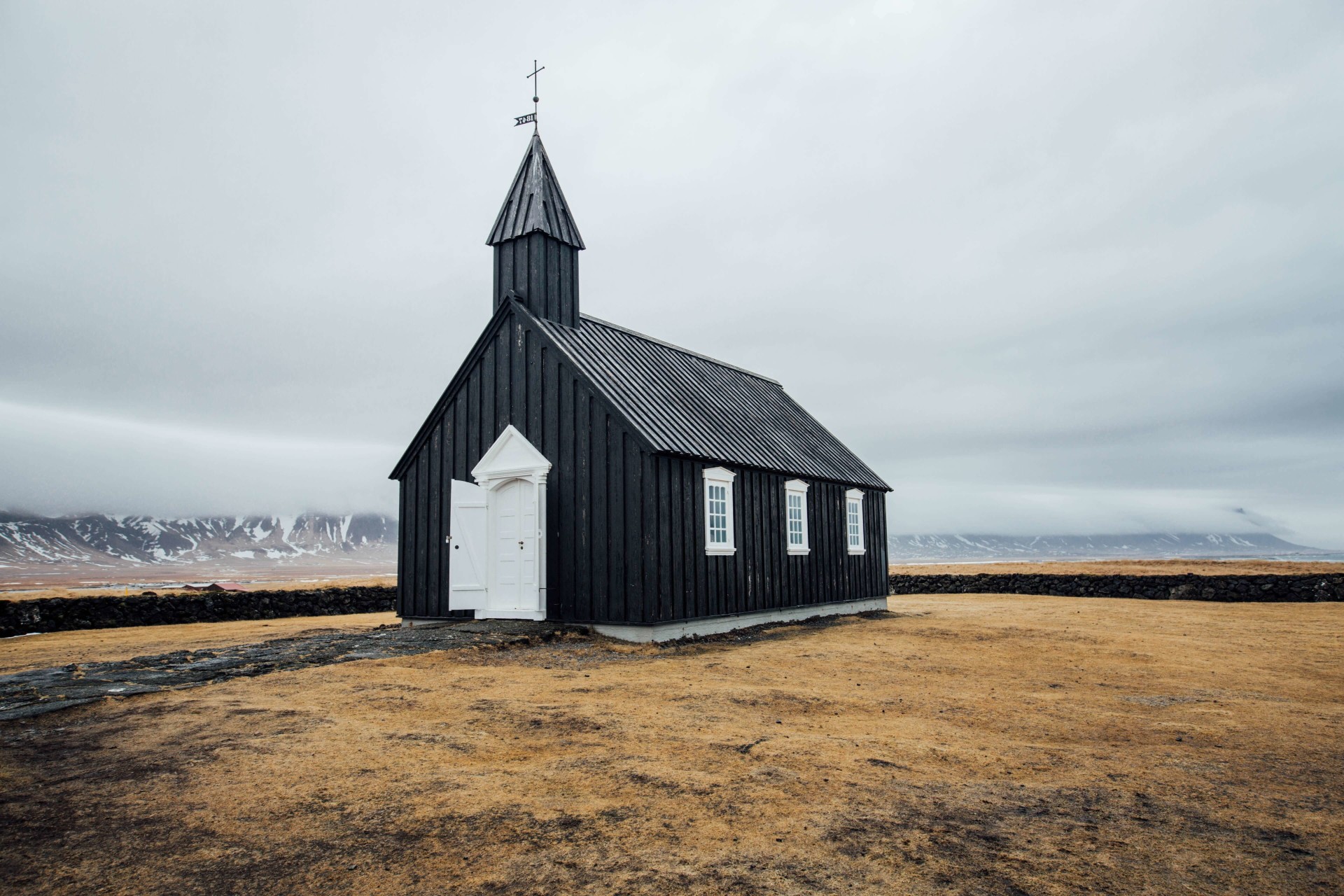 Búðir Black Church
Reykjavik may be home to two-thirds of Iceland's population, however, you'll find plenty of historic buildings to photograph in other parts of the country as well. For example, on the Snaefellsnes Peninsula, you'll find the iconic Budir Black Church.
This abandoned hamlet houses a quaint church that is painted completely black. It's a popular destination for photographers as the black church beautifully integrates with the beautiful landscapes surrounding it.
The Budir Black Church is often used as a subject for northern lights photography, also because of the darkness that can be found here at night. If you keep driving easter from Snaefellsnes Peninsula you'll find many turf-houses which resemble how settlers in Iceland used to live and showcases the harsh yet natural way of life in Iceland for hundreds of years.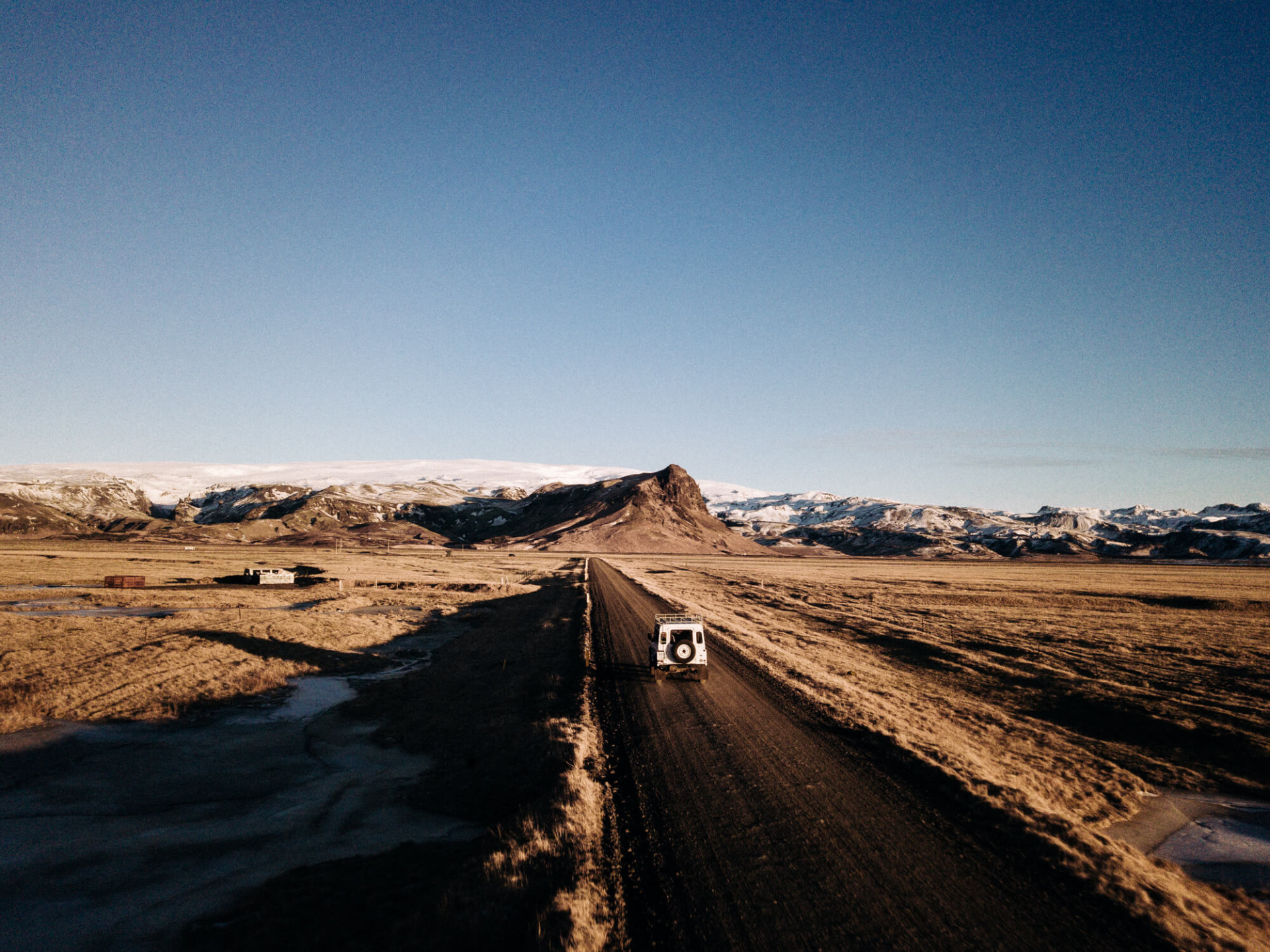 How to get around Iceland
There are many different ways of getting around Iceland. If you're up for the challenge and consider yourself a seasoned driver then why not rent a car yourself and explore your own photography adventure of a lifetime. Driving your own car gives you the immense freedom to stop anywhere you like and to take photographs for however long you wish. Of course, we recommend using Iceland's highest-rated booking website, Northbound.is, to rent your car.
The roads around the country are very well maintained all year-round, making the driving great fun that even a small low-budget economy car can get you around without a problem. However, road conditions in the winter can be icy and whilst it's not impossible to do without in the winter, it might be the safest option to rent a 4x4 car. If you want to take your Iceland photo-safari adventure to another level, why not rent a campervan?
What camera equipment to bring to Iceland
You may be thinking, all of these waterfalls, volcanoes and arctic foxes are cool and all but, what equipment should I bring along to make the most of photographing Iceland?
To make the most of the plentiful of dramatic scenes Iceland has to offer, we recommend you bring your favorite landscape lenses. Remember that you should bring only what you feel comfortable with carrying about with you as sometimes you may need to do the odd hike or climb to get the perfect shot.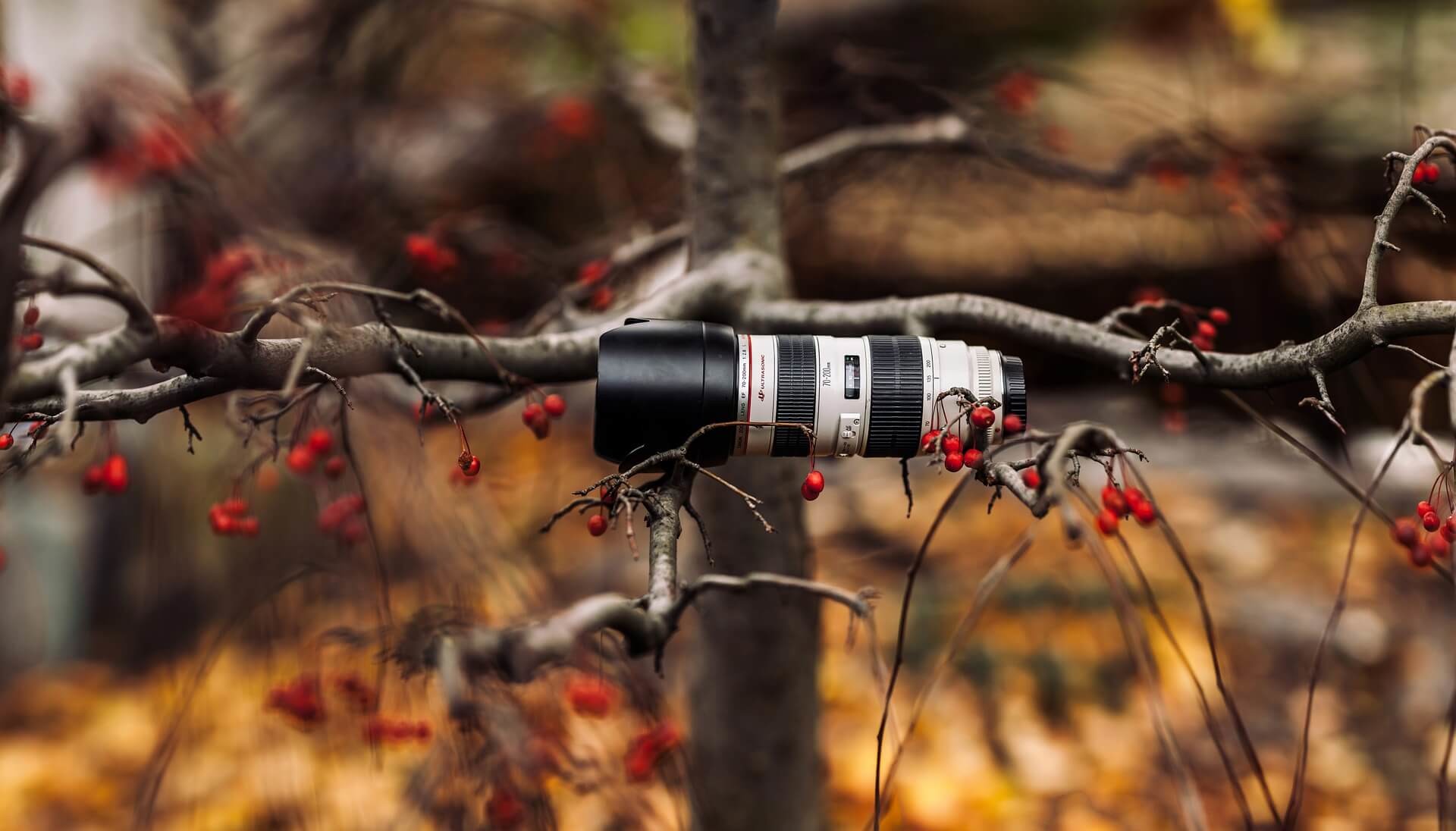 Lenses
The two lenses we recommend packing most are a wide-angle lens and a telephoto lens. A wide-angle lens is brilliant for capturing panoramic views of Iceland, as well as being perfect for photographing the Northern Lights.
Your telephoto lens will be great for taking close up shots of the Icelandic horses or the puffins that can only be seen on a distant cliff.
You'll also want to keep your lenses safe, especially from the sometimes erratic weather in Iceland. Bring a filter that protects your lens. However, as well as acting as protection, a filter such as a circular polarizer can also enhance some of Iceland's most beautiful shots.
Tripod
Did you know Iceland is the second windiest inhabited place on Earth? For photographers, this means bringing a good tripod. The sturdier the tripod the better.
However, as previously mentioned, bring equipment that is easy to lug around with you, especially if you plan to take these on hikes. A tripod is also essential if you're looking to take any night time photographs such as the Northern Lights.
Other Equipment
As well as your prized lenses and tripod, make sure to pack plenty of memory cards and spare batteries. Other useful photography equipment you'll want to bring along include a lens cleaning tissue in case it starts to drizzle or you're standing too close to a waterfall.
Finally, if you're coming to Iceland to take an epic shot of the northern lights then don't forget a shutter release!
Pro-tips for Photography in Iceland
Photography in Iceland is great fun, as the opportunities are really endless. However, there are a few tips and tricks to know in order to make your experience as seamless as possible.
Cold batteries die faster than warm batteries, so having a warm battery is key. Keep a spare battery in your jacket pocket or somewhere where it will stay warm when you're out and about.
If you're in Iceland in the winter then chances are you'll be going from the cold outdoors to a heated hotel or campervan quite frequently. To avoid condensation from forming inside of your camera we recommend keeping your camera in a ziplock back until it's adjusted to the ambient temperature of wherever it is you're trying to take a photo. The ziplock back limits the amount of moisture that can build-up in and around the camera.
If you have a drone then we definitely recommend bringing it along! Iceland is all about the panoramic views and drones are perfect at capturing these landscapes. However, do be aware of the windy and sometimes harsh weather conditions - so don't let your drone go out too far!
Have fun and be in the moment! Iceland is an unforgettable destination, so as much as you want to get that perfect shot, remember to be in the moment and take in the landscapes and wildlife around you.
Don't forget to tag @NorthboundTravel on Instagram so we can see all your beautiful photos!