Whilst renting your own car in Iceland can be an incredible adventure, there are plenty of alternatives to exploring the country. You might be wondering how to get from the airport to Reykjavik or even how to travel the entire Ring Road without a rental car; don't worry, we've got you covered. In this guide, we'll give you all the information you need to travel across Iceland without a car and we'll cover travelling by bus, taxi, bike, hiking, carpooling, hitchhiking, plane, and boat.

Travelling Iceland by Bus
Transferring To / From the Airport & Reykjavik with the Bus
If you're arriving in Iceland via an airplane then chances are you'll be landing in Keflavík International Airport, the main port of arrival within the country. Keflavík International Airport is not actually in the capital city, in fact, it's around 50 kilometres (31 miles) from Reykjavik.
Keflavík Airport Express Bus
Don't worry though, there are several ways of transferring easily between Keflavík and Reykjavik without a rental car. The first option is the Keflavík Airport Express Bus, which operates every 30 minutes and drives between Keflavík and Reykjavik Gray Line Bus Terminal at Klettagarðar.
The advantage of the Express Bus is that it's low cost, quick and convenient. Another great feature is that each passenger has a baggage allowance of 2 bags, each weighing up to 30kg each. One downside is that once you arrive in Reykjavik, you might need to catch another bus to your accommodation, depending on where you are staying. The bus does stop at six different stops in Reykjavik, however, be sure to check where you are staying first as the city is quite spread out. Whilst public transport is easy to navigate in Reykjavik, this option is suited to those who are travelling light.
Click here to know more and make your booking.
Airport Direct Premium Bus
If you're looking for more convenience and less hassle, then you can upgrade to the Airport Direct Premium Bus. The premium bus is a door to door service, which means you'll be brought directly to your accommodation; no transfers needed. Each bus has eight seats, so make sure you book this service before your arrival.
Click here to know more and make your booking.
Private Airport Transfer
Finally, if you'd prefer a little more privacy and convenience then there's also the option to get a private airport transfer. Depending on the size of the group you're travelling with, there's the private airport transfer for 1 - 4, as well as for 5 - 8 people. The private transfer is, of course, a door to door service as well, which means you'll be driven straight to your accommodation from the airport. This transfer is ideal for families or individuals who are travelling for business.
Click here to know more and make your booking.
Getting Around Reykjavik with the Bus
Reykjavik: Public Transport
Once you arrive at your accommodation in Reykjavik you'll probably want to explore the city. Much of downtown Reykjavik around the Hallgrímskirkja area is walkable. Some museums and other sites, however, are slightly outside of the city centre.
The good thing is, Reykjavik has a brilliant and easy bus system. The bus company in Iceland is called Strætó BS, which is operated by Reykjavík City and other neighbouring municipalities. They run a network of 27 bus routes within the capital city and 21 further routes outside of the city.
Buses in Reykjavik run every day of the week. On weekdays they start running around 6:30 AM, on Saturdays around 7:30 AM and on Sunday's and public holidays at 9:30 AM. The cost of a single fare is 470 ISK (approx. 3.35 EUR or 3.70 USD). Although you can buy tickets on the bus, please note that the drivers do not carry change any more. The easiest way to pay for a ticket is through their App - which you can download here.
Taking the public bus is a great way to experience Reykjavik through the eyes of a local. If you choose to take the bus then we recommend considering the Reykjavik City Card. This card not only gets you 24, 48 or 72 hours unlimited travel throughout the city but also gets you free access to various attractions around the country.
Reykjavik: Private Tour
If you'd prefer to go around Reykjavik in a group or tour, then there are plenty of opportunities for this as well. For example, you can book a Reykjavik City sightseeing tour with a minibus. For three hours you'll join along on a tour of all of the most iconic sites in the city, including the Perlan dome, Hallgrímskirkja, the old harbour and a few other stops.
Click here for Reykjavik City Sightseeing Tour
Another brilliant tour to consider is the northern lights & stargazing trip around Reykjavik. Iceland is known to experience some of the most beautiful night skies in the world. You'll be joined by a team of experts, who have been hunting the Aurora Borealis for years and years. These guys also know the perfect spots to see them; so you'll be in good hands!
Click here for Northern Lights & Stargazing tour
Getting Around Rural Iceland with the Bus
The great thing about Iceland is that not just the capital has great public transportation facilities; the rest of the country does as well. There's a very easy and convenient Public Transport Map, that shows you every bus route in Iceland. The map has been designed so that you can simply click on the bus route you'd like to take and it'll take you to the company offering that route so that you can simply book your tickets.
Many of the bus operators offer a ?bus passport,? which allows you to travel freely around the country without worrying about tickets. However, these bus passports can be quite pricey and it does limit you to only one bus operator who may not travel to every spot you'd like to visit - so make sure to research where the buses drive to before you buy a bus passport. Please also note that buses run very frequently between June and September. Outside of these months, bus schedules may vary, especially as the road conditions start to become tricky.

Travelling Iceland by Taxi
Travelling via taxi can be an option if you're travelling within Reykjavik. Be aware that taxis in Iceland can be quite pricey, so if you're on a budget then this option might not be suited to you. That being said, sometimes a taxi is the easiest option to get around, especially if you don't have much time. Many taxi companies in Reykjavik operate 24/7, and can often be found in the city centre near restaurants and bars, outside the airport as well as bus stations.
Taxis in Iceland come in all colours and sizes, there's no one particular type of taxi. Companies like Uber and Lyft don't operate in Iceland, so you'll need to wave down a car with a yellow taxi sign on top like the good old fashioned way. You can also call a taxi to come to pick you up. There are two main taxi operators in Reykjavik, Hreyfill Bæjarleiðir and BSR. To order a taxi with Hreyfill Bæjarleiðir, you can call +354-588-5522, and for BSR you'll need to call +354-561-0000.

Travelling Iceland by Bike
Another great way to explore Iceland without a rental car is by bike. There are plenty of opportunities to rent city bikes and ride around for all experience levels in Reykjavik. However, if you're planning on touring the entire Ring Road then you'll need to be an experienced cycler who is well everything from strong gusts of winds, sandstorms and heavy rain. Before heading out into the countryside make sure to bring a puncture repair kit, plenty of water, as well as a phone with you.
Cycling Iceland has produced a free cycling map of Iceland - which you can download here. The map highlights all of the roads suitable for riding a bike. Please be aware that for much of the Ring Road you'll be riding close to the traffic and roads can get quite narrow. When you're on a bike you'll need to abide by all the normal traffic laws of Iceland.
Many airlines allow you to carry your bike in the hold of the aircraft if it's packed correctly. Conveniently, once you arrive at Keflavík Airport, there is a Bike Pit, kindly provided by the airport operator. It's free to use and open 24/7 and it's a great place to either assemble your bike upon arrival or pack it away properly before departure. Another option to bring your bike to Iceland is to take a ferry from Denmark.

Travelling Iceland by Foot
If you've got the time, then exploring Iceland via hiking trails is another fantastic experience. Hiking is similar to cycling in that you'll be fully exposed to Iceland's temperamental weather; so it's important to come prepared. The most ideal time to go hiking in Iceland is during the summer months, between May and September. Not only is the weather slightly calmer during this period, however, the days are also much longer. In June there are nearly 24 hours of daylight, whereas December averages around 4-5 hours of daylight.
Some of the great hiking trails can take several days, so you'll want to bring both wind and waterproof clothing that will keep you warm. Several of the trails in Iceland have been used for over 1000 years since the first settlers arrived on the shores of Iceland. Walking these paths is a great way to experience what life was like back then when walking and horseback were the only modes of transport.
If you do plan on hiking in the winter then you'll need crampons, as well as an ice axe. The paths will be extremely snowy and icy, especially in the highlands, and without these two bits of equipment, you will likely get stuck. You'll also want to bring a good GPS, as the landscapes can be difficult to navigate, especially when the weather conditions get bad. Don't worry if you don't have all of the equipment for this already; there are shops in Reykjavik that rent out the suitable gear.
Along the trails, you will usually find small huts along the way which you can book ahead of time. Each hut is different, but you will usually need to bring a sleeping bag as bedding is not provided. These huts are usually equipped with kitchen and bathroom facilities, however, make sure to research this before you set out in order to avoid disappointment. It's also possible to camp at designated campsites, again make sure you bring the right equipment beforehand. Many parts of Iceland are very rural, with few inhabitants and even fewer shops.
There are some brilliant websites out there, such as All Trails or Nat.is, with detailed hiking maps. These maps show you how to get around and where you can find accommodation. If you'd prefer to not go at it alone then you also have the option to join a hiking tour. These tours are operated by professionals who have been navigating the Icelandic terrain for many years and definitely know what they are doing.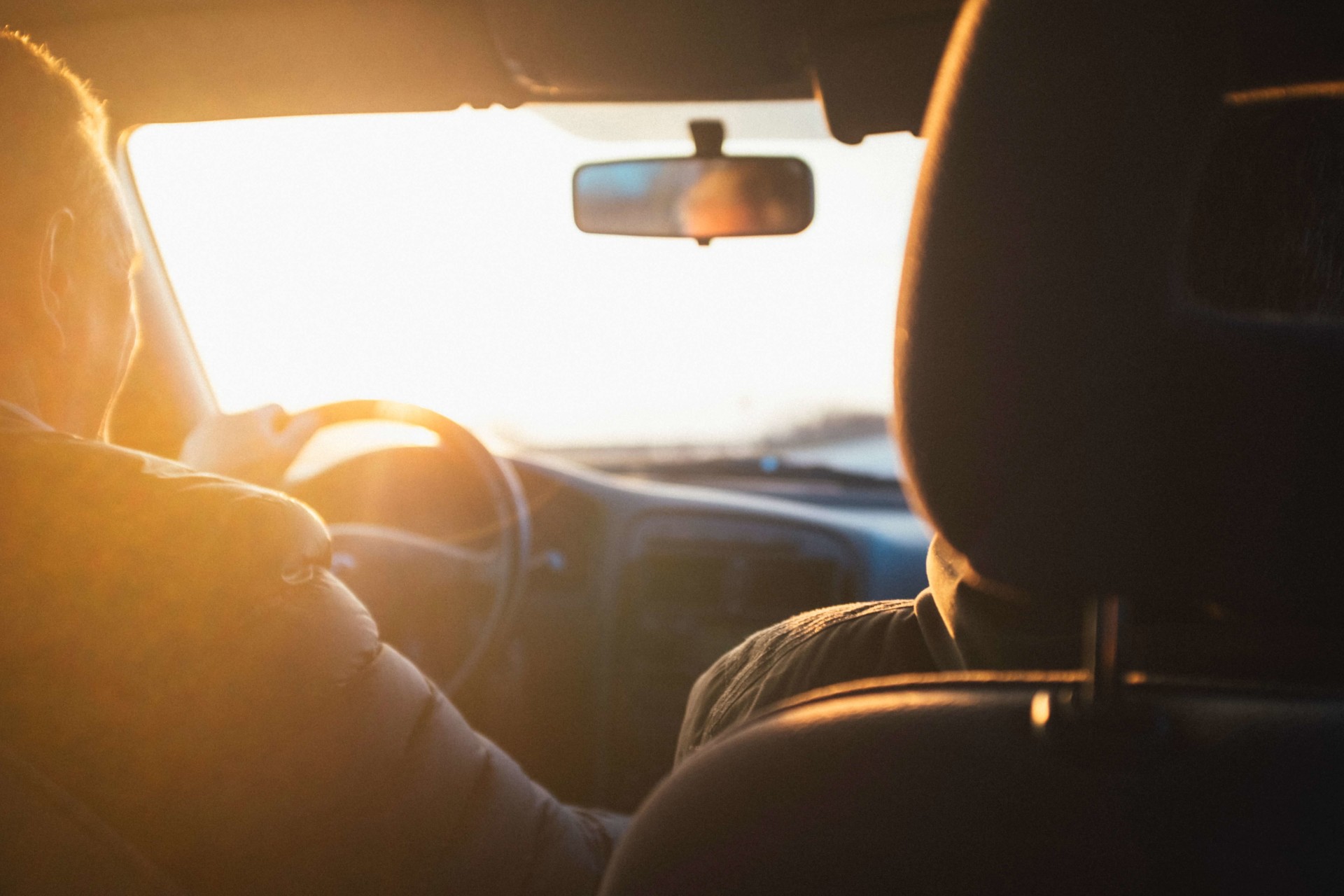 Travelling Iceland by Carpooling
If you're not looking to hire your own car, then sharing a ride with others might be another option for you. In fact, there's even a whole website dedicated to carpooling in Icelandic, it's called samferda.net. Samferða is an Icelandic word which literally translates to ?travel together?. The website was created back in 2005 when a German girl by the name of Anita Hubner came up with the idea after realising that travelling around Iceland can be both expensive and difficult. Anita then partnered up with Birgir Thor Halldorsson to establish the website, and it's been smoothly running ever since.
The way the website works is that users either request a ride or passengers. So in your case, you'll be requesting a ride from point A to B. Someone with a car will then have the opportunity to accept your request and you'll agree on a place where they can pick you up. All travellers then split the cost of gas and other transportation costs, in order to make it fair for the driver. The price isn't always available on the website, however, there are always contact details so you can negotiate in advance.
There are more cars than people in Iceland, so there is bound to be someone, somewhere in Iceland that will be travelling to where you're looking to go with an empty space in their car. Samferða is better for the environment, and it also can be great fun meeting and chatting to new people. The whole website is in English and it's incredibly easy to navigate.
Another option for carpooling is a Facebook group called Skutlarar!. Skutlarar means drivers, and the principle is very similar to the website above in that users either post where and when they plan on driving or they request a ride. People can then match up and exchange details such as the price of the ride and pick up information. These trips are usually much cheaper than if you were to call a taxi.
The Facebook group was started 6 years ago and already has over 45,000 members, and that number keeps on growing. Much of the content in the group is Icelandic, as it was designed by Icelanders for Icelanders, however many here also speak English. On a side note, even though Iceland is one of the safest countries in the world, always make sure you feel comfortable with the person you're about to share a ride with. It's a good idea to contact them beforehand via telephone to get a sense of whether you trust them or not.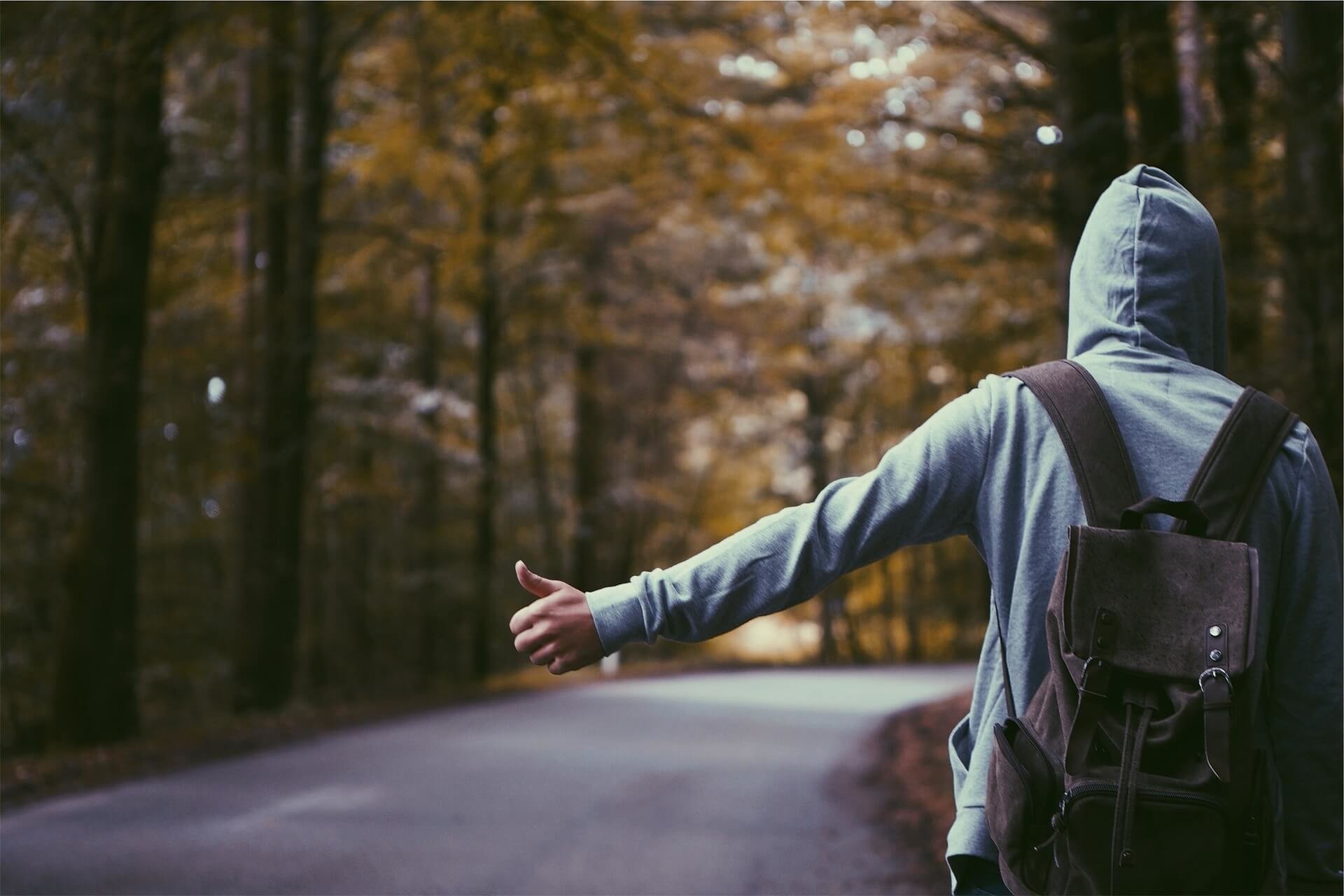 Travelling Iceland by Hitchhiking
If you like the idea of carpooling but want to be more spontaneous with your travelling then an alternative is to hitchhike. Jumping into the back of a complete strangers car can seem unsettling for most people, and it surely isn't for everyone. However, do remember that Iceland consistently ranks as the number one safest country in the entire world, according to the Global Peace Index.
You still need your wits about you and you should always follow your gut instinct if something is telling you not to get into a certain car. Getting out of Reykjavik can be a challenge, as many of the main roads heading out of the city are difficult to stop at the side of the road. So it's probably a good idea to try at a gas station or a calmer side street. The Ring Road is much simpler to hitchhike, as there's only one road all around the country with lots of space and little traffic.
It's recommended to hitchhike during the summer months, from June to September. Not only is there more traffic then, however, there's also much more daylight and the weather conditions are more favourable. Most people drive the Ring Road counterclockwise, south-east of Reykjavik, so it's probably easiest to be picked up if you go where the traffic is flowing. Hitchhiking is another environmentally friendly mode of transport and a way to meet people as well.
There is plenty of accommodation along the Ring Road for you to stay in. If you're planning on camping then make sure you find out where the nearest campsite is. Wildcamping is forbidden in nearly all parts of Iceland and we do not recommend this either as it can do significant damage to the already fragile environment.

Travelling Iceland by Plane
Iceland has a fully functioning network of domestic flights across the country. Tourist arriving in Iceland via aeroplane always arrive and depart at Keflavík International Airport. However, there are smaller domestic airports in Reykjavik, Akureyri, and other cities and towns around Iceland. Throughout the winter months when the roads are blocked with snow, flights can sometimes be the only connection between some towns.
There are two main domestic flight operators, Air Iceland Connect and Eagle Air Iceland. Travelling via aeroplane can significantly cut the travel time. For example, to drive from Reykjavik to Akureyri takes you around 5 hours on the road. In the aeroplane the journey would take you a mere 40 minutes. And although you don't get to witness the beautiful landscapes from the road, you do get a unique perspective of the island from above.
If you're unsure where you can fly to from Reykjavik, then take a look at their website here. As you can see on their website, there are currently 12 destinations within Iceland that you can reach from Reykjavik. You'll also note that it's possible to fly to Greenland and the Faroe Islands from Reykjavik Airport.

Travelling Iceland by Boat
Travelling by boat gives you access to parts of Iceland that are otherwise inaccessible, such as the Hornstrandir Nature Reserve in the Westfjords or the Westman Islands in the south of Iceland. Most ferries in Iceland only have limited spots available, so it's usually a good idea to book in advance, especially if you're travelling in the busiest times of the year.
The various destinations by boat include the Westfjords, Hrísey, the Westman Islands, Grímsey Island, Viðey, Hornstrandir, Látravík, Papey, and Drangey. Take a look at this website, Rent.Is, to learn more about the various boat journeys available in Iceland and where they set off.
---
Use the Search Form to See the Best Prices in Iceland