Vik Iceland | The Complete Guide
Vík í Mýrdal, or simply Vik, is a small village located on the south coast of Iceland, about 116 miles(187 km) from Reykjavik City. Despite its small size, Vik is a popular stop for travelers due to its unique location being sandwiched by Mýrdalsjökull Glacier to the north and Reynisfjara Black Sand Beach to the south.
Use the menu below to navigate quickly to the section you want.
At 63°25′N 19°00′W, Vik is the southernmost town in all of Iceland, located centrally on the Icelandic south coast, south of Mýrdalsjökull, east of Skógar and west of Kirkjubæjarklaustur. Iceland's main highway, the ring road or route 1, leads straight through the town.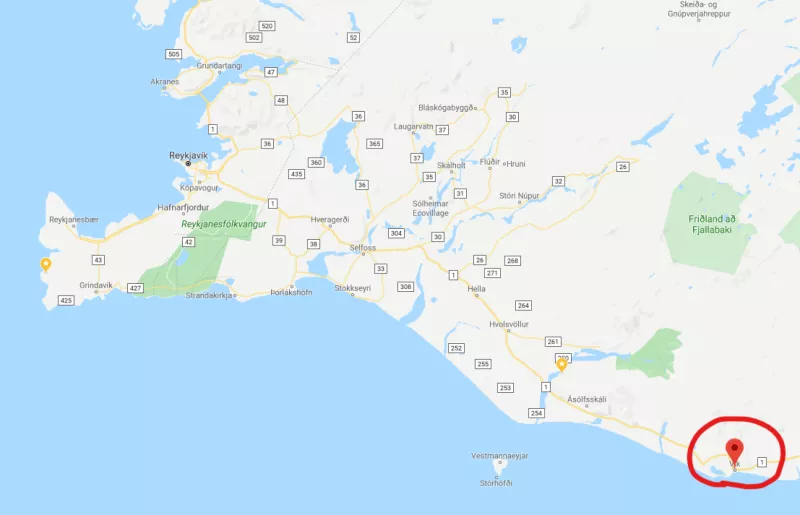 Reynisfjara is the most popular black sand beach in Iceland, located only a 10-minute drive out of Vik i Myrdal. The beach itself is incredibly picturesque with long stretches of black sand, stunning basalt columns in the cliff face and the Reynisdrangar pillars rising from the ocean not far from shore, making it a popular destination for tourists that are traveling the Icelandic ring road.
How to get to Reynisfjara Beach?
The quickest way to get to the Reynisfjara black sand beach is by renting a car and making the drive yourself. It'll take you approximately 2 and a half hours to drive there if you make no stops, but I'd recommend at least stopping at the usual spots like Seljalandsfoss and Skógafoss on the way there.
If you don't plan on renting a car, the other way would be to join any of the scheduled South Coast tours. Most of them do make stops at Reynisfjara, like this one, but make sure to read the itinerary carefully on other tours to make sure a stop is scheduled at Reynisfjara.
Is Reynisfjara dangerous?
Yes, Reynisfjara can be extremely dangerous and should only be approached with extreme caution, especially during harsh conditions. The beach is routinely swept with so-called sneaker waves that reach far further inland than they initially seem to, often mowing down visitors that are distracted or careless.
In 2007, an American woman drowned due to being swept out to sea, a Chinese man drowned in 2016 and a German woman lost her life in 2107.
Please be aware of the dangers if you go there and exercise caution when you venture onto the beach.
To get a better idea of how dangerous Reynisfjara can be, watch the videos below.
Why is the sand in Reynisfjara black?
The sand at Reynisfjara and other Icelandic black sand beaches in Iceland are black for the same reason so many European flights were canceled in 2011… volcanoes.
Black sand beaches in Iceland are black due to the sand being mostly made up of basalt and obsidian (volcanic glass). This owes its origin to ancient eruptions where the lava flow spread into the ocean and rapidly cooled, eroding down into fragments through the ages.
Things to do in Vik Iceland
Vík is conveniently located in the center of the Icelandic South Coast, halfway between Reykjavik and Jökulsárlón Glacier Lagoon, making it the perfect base camp for launching off into the variety of activities found in the surrounding area.
As is the case with most Icelandic churches, the hillside Vík church is incredibly photogenic with stunning glaciers and mountains serving as its backdrop. It is the highest point in the town of Vik, making it the default shelter in the case of a volcanic eruption and flooding. In the case of flash floods, most of the town of Vik would be destroyed but the church would likely survive.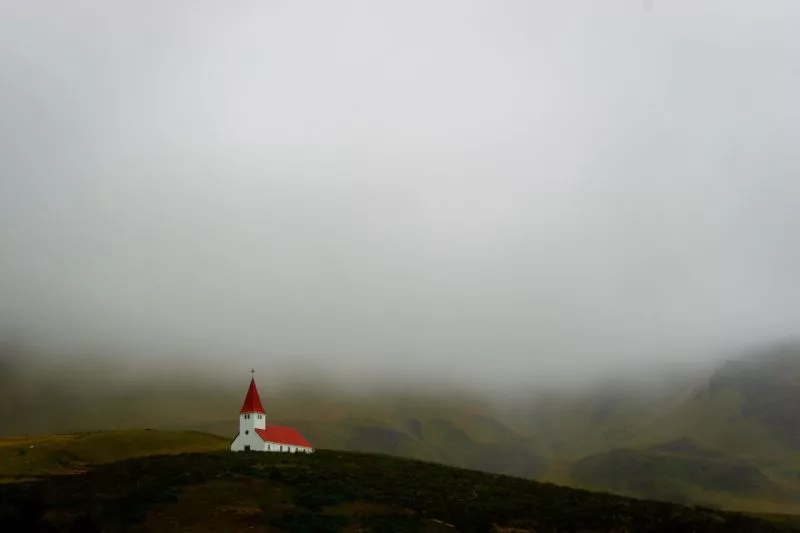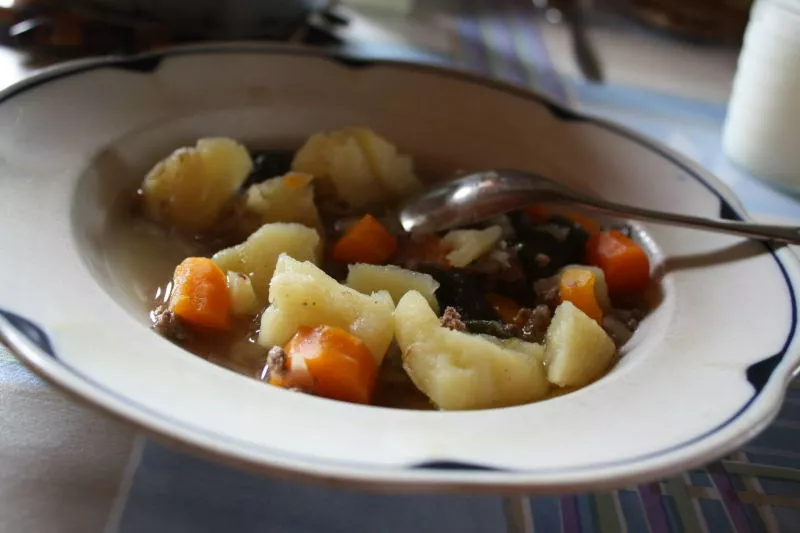 Icelandic Meat Soup & Traditional Food
Try some Arctic Char at Ströndin Pub, traditional meat soup at the N1 Víkurskáli or have a rack of lamb at Berg Restaurant. Vík is home to many restaurants that offer traditional Icelandic food.
The mountain Reynisfjall, that stands between the town of Vík and Reynisfjara Beach is home to colonies of Puffin and is, as such, a great place for birdwatching. Reynisfjall is a popular hiking spot that offers stunning views across the Mýrdal municipality as well as the long Reynisfjara black sand beach.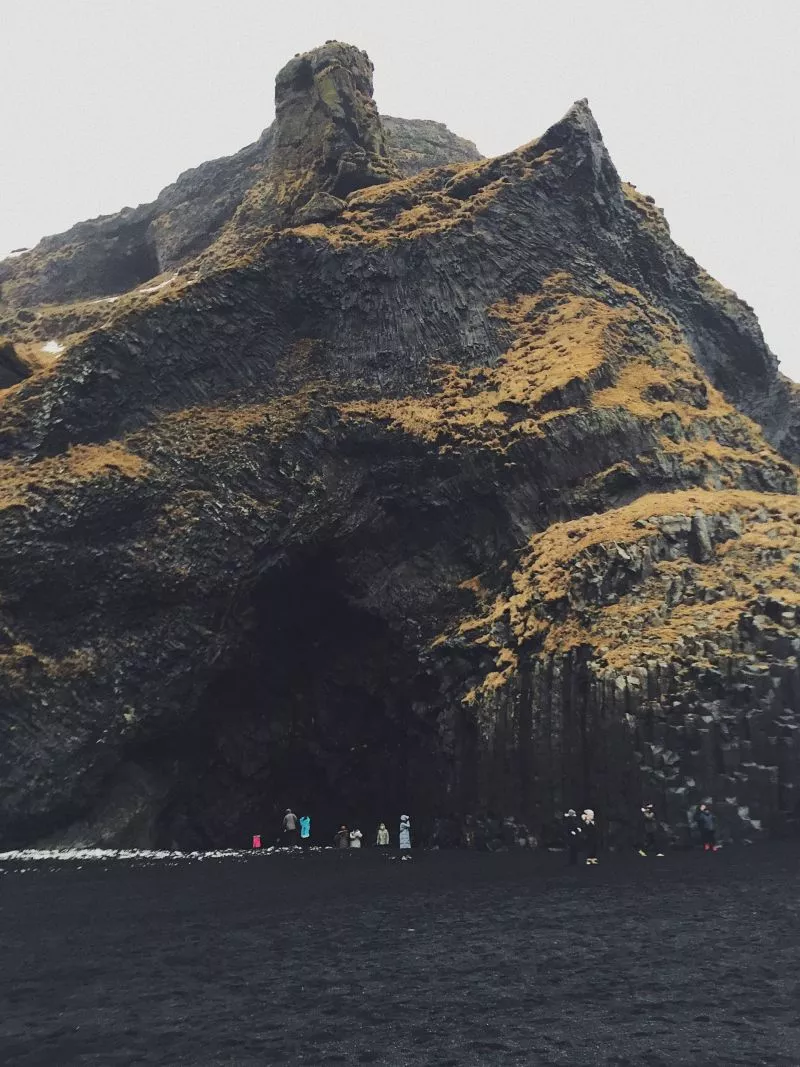 Explore the Hálsanefshellir Cave found right by Reynisfjara Black Sand Beach and gaze across the ocean from shelter. Make sure you appreciate the sight of the Reynisdrangar Pillars visible from the beach. Legend tells that the pillars were once a pair of trolls who were trying to drag a three-mast ship to shore, but the task took longer than expected and the unlucky pair were turned to stone.
If you visit the cave, please be careful of potential sneaker waves on the beach.
Another cave is the recently-famous Yoda Cave, AKA Hjörleifshöfði Cave, located approximately 9 miles from Vík in Mýrdalssandur. It's a bumpy 15-minute detour from the ring road but this Yoda-shaped cave is a popular stop for Instagram material.
Smiðjan Brugghús is a fairly new addition to the town of Vík, serving a wide range of fast food and drinks. But their star appeal is the in-house brewery, concocting an exciting range of craft beers like their Kind IPA or the sour Rósa Frænka, made with Icelandic skyr.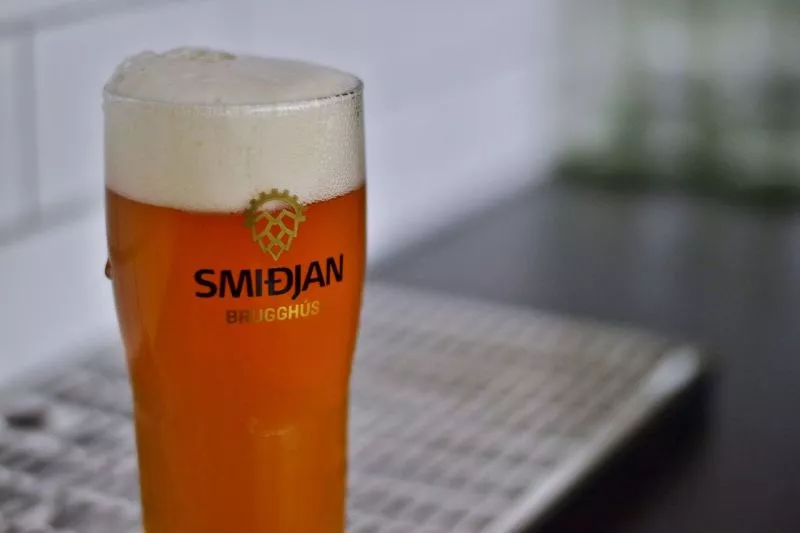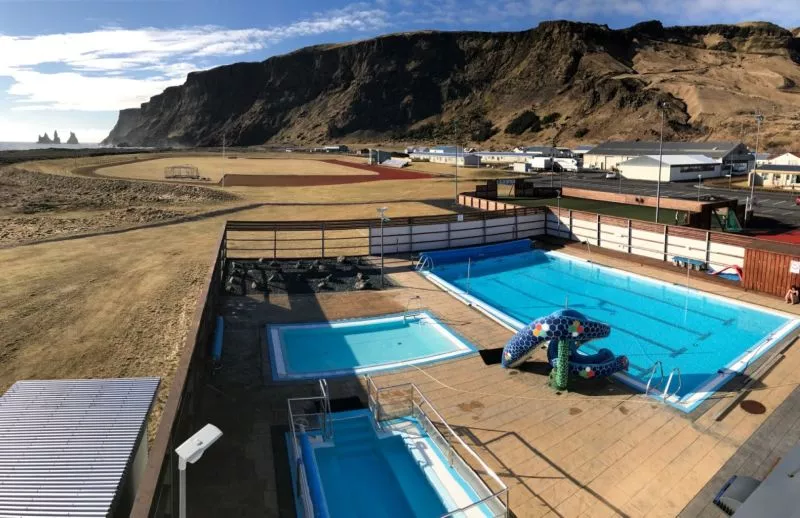 Like most towns in Iceland, Vík is home to its own geothermal swimming pool. The one in Vík has two outdoor pools and one hot tub that is 40-42° celsius.
Visit a Viking Burial Mound
In the same area as the Yoda Cave, you'll be able to find the site where the Viking explorer Hjörleifur Hróðmarsson is said to have been put to rest. The entire cape is named for Hjörleifur who sailed to Iceland from Norway before being killed by his slaves in South Iceland.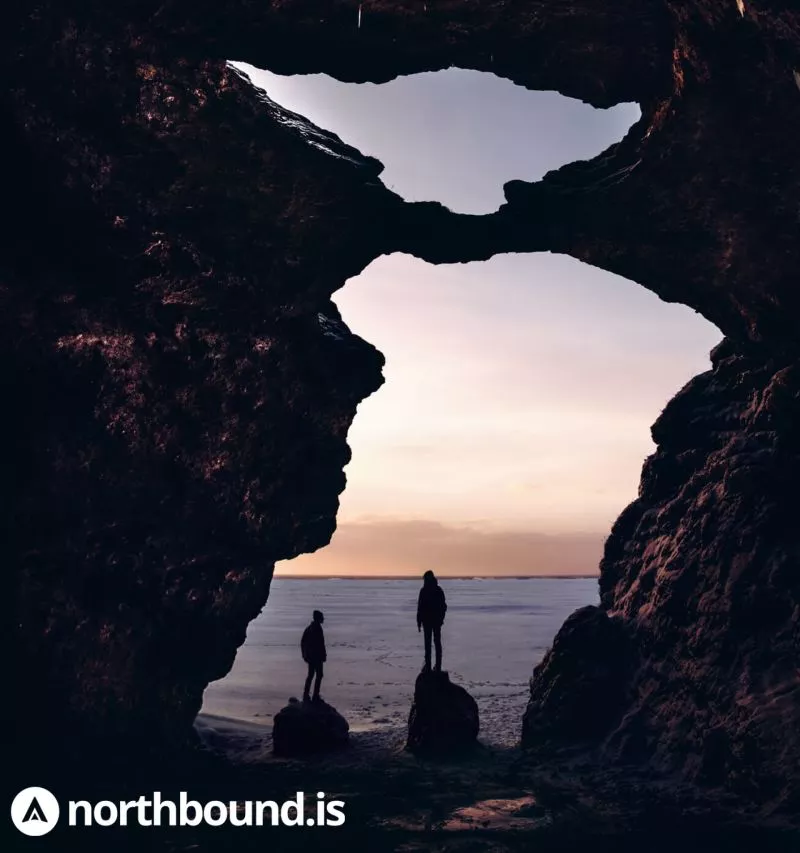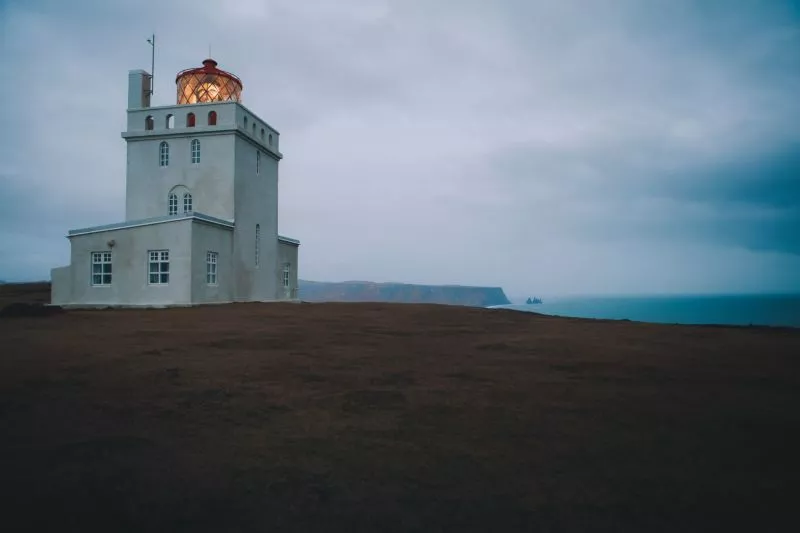 If you want to catch some great pictures and feel like going for a bit of a hike, then consider going up Dyrhólaey and visiting the lighthouse there. It's especially popular for night time photography in the winter when you could catch the dancing northern lights.
Ice Caves & Glacier Hiking
The main attractions in the Vík area lie to the north of the town where, under the sheet of Iceland's 4th largest glacier Mýrdalsjökull, the volcano Katla rests. The glacier offers boundless activities like glacier hiking or ice climbing and is even home to ice caves that you could journey to. The glacier is only accessible under the guided supervision of certified guides.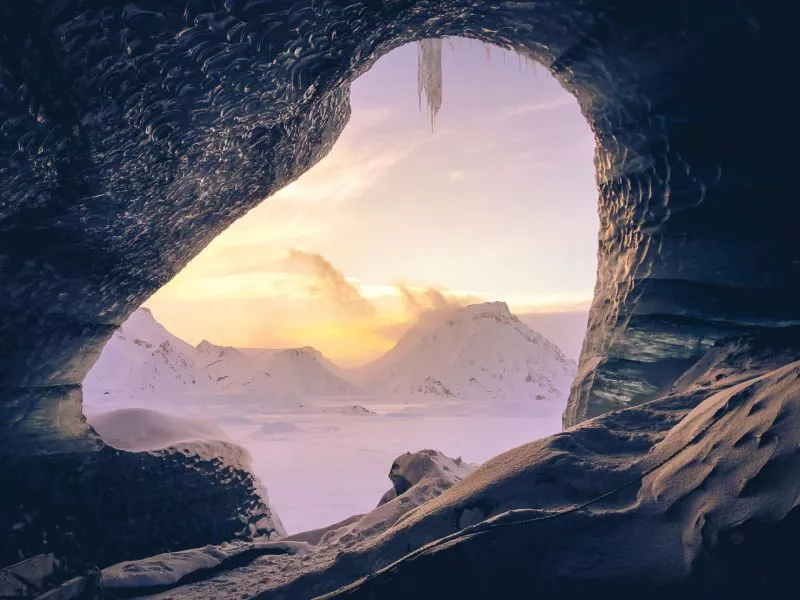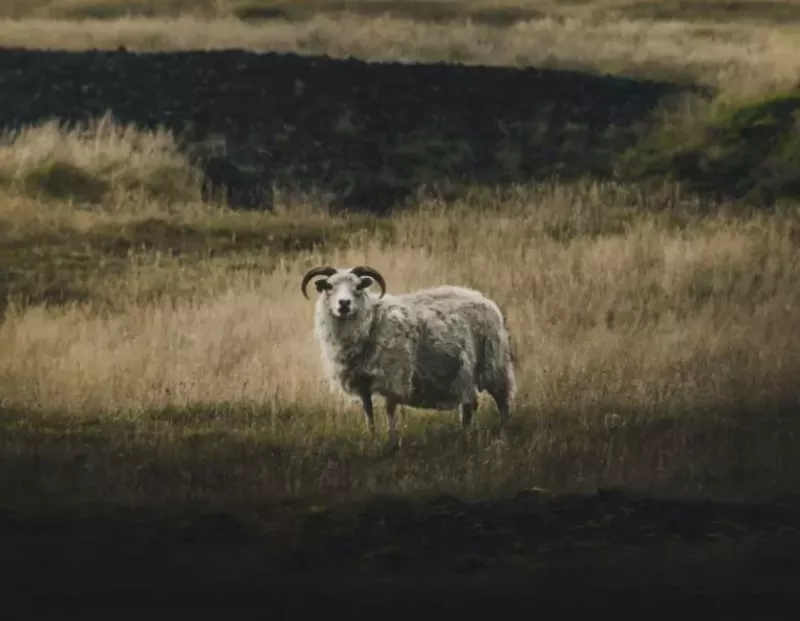 Handcrafted Icelandic souvenirs and knitted wool sweaters that will keep you warm for the rest of your journey around Iceland. Make sure you stop by this place right next to the ring road on your way through town.
Surrounding Vík are numerous opportunities for hiking, whether you'd like to go on your own up many of the local trails or sign up for a guided tour on the Mýrdalsjökull glacier.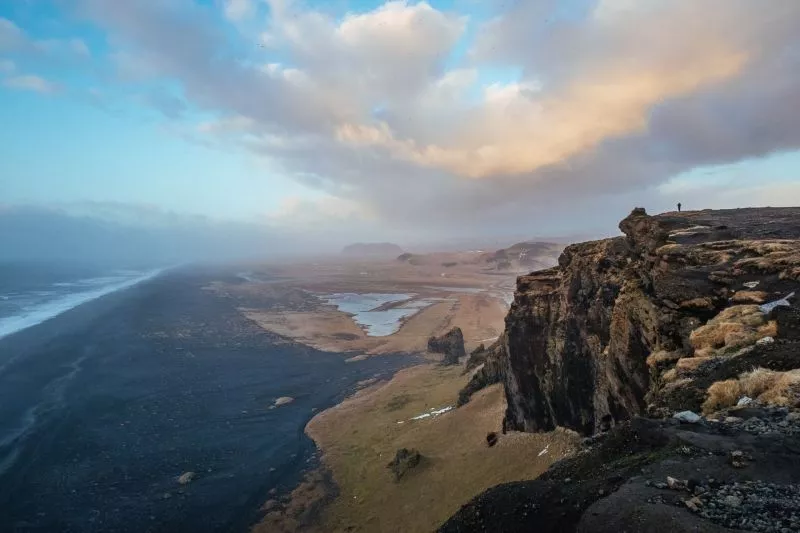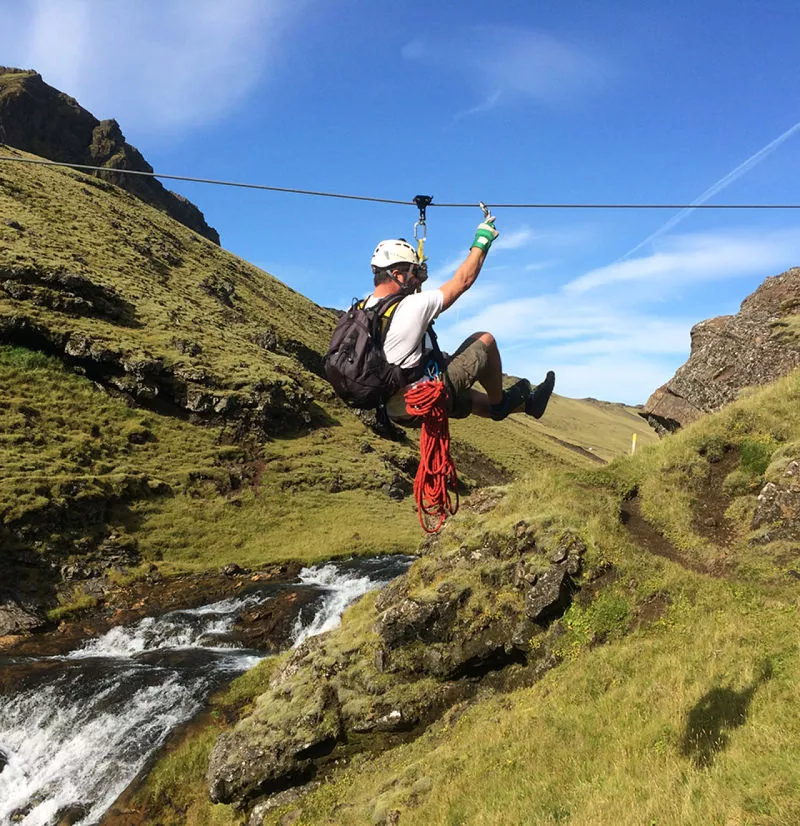 If the thrill is what you seek, then look no further than the hills outside the village of Vík where Ziplining tours are routinely offered for those who dare. Three zip lines to choose from ensuring that there's a choice for everyone in the family.
Vík í Mýrdal has several great accommodation options due to its convenient location on the Route 1 ring road.
Black Beach Suites
Modern studio apartments conveniently located on road 215 in walking distance from Reynisfjara Black Sand Beach and only a minute off route 1. The surrounding area offers undisturbed views of Mýrdalur and mountainscapes.
The Barn
Also conveniently located on road 215 by Vík is this newly-renovated hostel that was transformed out of an old barn, as you might imagine by looking at the name or the building itself.
Hotel Katla
Situated roughly 5 kilometers outside the town of Vík is Hotel Katla, a medium-sized hotel part of the Kea Hotels chain. The location is beautiful (as any location in Mýrdalur) and the hotel offers a geothermal pool and sauna, a gym and an in-house restaurant.
Guesthouse Carina
A quaint little bed and breakfast in a newly-refurbished estate built in 1956, Guesthouse Carina is located by the entrance to Vík right by route 1.
Vik HI Hostel
Part of Hostelling International, this little hostel is one of the more affordable accommodations on the south coast.
Vík Cottages
If the country life is what you seek, then these tranquil little cottages located in beautiful farmland outside Vík might be a great choice.
Volcano Hotel
Name for the nearby volcano Katla, Volcano Hotel is one of the smallest country hotels in Iceland so if peace and quiet are what you seek, this place may be a safe choice.
Hvammból Guesthouse
A family-run guesthouse with comfortable studio apartments, located right by the ring road a short distance outside of Vík.
Skammidalur Guesthouse
Located right on the farm property of Skammidalur with stunning hillside views over a vast undisturbed south coast countryside.
Campsites near Vik Iceland
Þakgil
Volcano Huts
Vík Camping Ground
Skógar Campsite
Hólaskjól
Check out more campsites in Iceland on our interactive map of Iceland.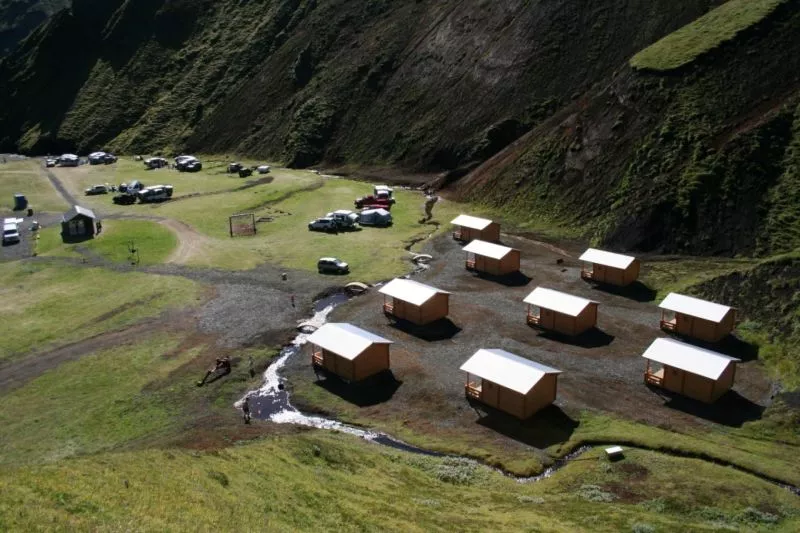 Restaurants in Vik Iceland
Restaurant Suður-Vík - Traditional fish & meat courses, pizzas, and fast food. See menu.
Ströndin - Modern pub serving seafood and pub meals. See menu.
Halldórskaffi - A wide range of meal options including several vegan choices. See menu.
The Soup Company - Serves traditional Icelandic lamb soup as well as several other great soup options. See menu.
Berg Restaurant - An upscale restaurant in the Icelandair Hotel in Vík. See menu.
Víkurskáli - Fast and easy meals close to the ring road.
Ice Cave Bistro - A slightly nicer fast food option located by the road as you pass through Vík.
Smiðjan Brugghús - Brewpub offering various pub-food options paired with Icelandic craft beer, brewed in-house. See menu.
Black Beach Restaurant - Located on the parking lot by Reynisfjara Black Sand Beach and serves options such as traditional soup, burgers, fish, pasta and some vegan options. See menu.
How far away from Vík is...
Jökulsárlón is 193 kilometers (2h 32min) from Vík.
Skógafoss is 33.7 kilometers (31min) from Vík.
Seljalandsfoss is 60 kilometers (50 min) from Vík.
Fjaðrárgljúfur is 69 kilometers (57min) from Vík.
Reynisfjara is 10.5 kilometers (11 min) from Vík.
Kirkjubæjarklaustur is 74 kilometers (1h) from Vík.
Reykjavik is 186 kilometers (2h 30min) from Vík.
Comments
We'd love to hear what you have to say