Landmannalaugar is a goal for many travelers in Iceland. They want to see the island at its best and most volcanic, with crazy lava flows and geothermal waters to soak in. The area is well-traveled now during the summer months, but there are still parts of it that few people venture into.
Let's break down this top destination, with consideration for all types of traveler.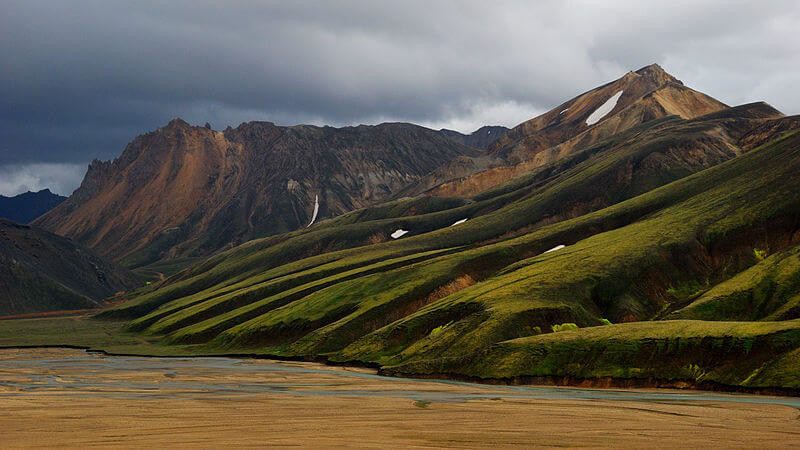 (Image provided by wikimedia)
How can I get to Landmannalaugar?
You'll need to find a way to this part of the highlands. Luckily, Landmannalaugar falls in the highly-connected southern portion of Iceland, not far from the Ring Road and on the path that even many short-term visitors take.
You have at least six ways to arrive at 'The People's Pools.' Options include:
Day tour by bus

Day tour with Super Jeep (souped-up, seriously-cool, and uniquely Icelandic transportation)

Self-Drive with 4x4

Hike the Laugavegur trail there from Þórsmörk or Skógar

Take the Highland busses there to start the Laugavegur Trail

Hitchhike (technically possible, but not recommended)
Some winter tours to the area use specialty equipment like snowmobiles to gain access to the beautiful snows of the Highlands in the darker, more-frozen months.
If you choose to do a self-drive tour, be aware that the roads to Landmannalaugar are F-roads, which means that it is against the law to drive regular cars on them.
You need to have experience driving in 4x4 conditions, check the weather before setting out, and recognize your own limitations in terms of the changeable conditions in the Highlands.
Don't try to ford the rivers in a Suzuki Jimmy! You will get stuck. It will be embarrassing and expensive.
I can't drive a 4x4 and I still want my mind blown by Rhyolite! What should I do?
If you just have to see a Rhyolite canyon, you can always leave the driving to a professional.
In case you want to see a similar landscape but don't trust your driving skills on a self-drive tour in Iceland, check out Hvannagil Canyon in East Iceland.
You can stay at a small and cozy campground called Stafafell and hike directly into the colorful canyon from there. Day tours focusing on geology in the area also provide guides if that's more your style.
Can I camp in Landmannalaugar?
Yes.
However, this is the Highlands so you need to prepare for any weather, at any time. A French backpacker made a hilarious illustrative video in summer 2017, when a heavy storm rolled in and closed the access trails to Landmannalaugar for three days.
Early and late snows are not out of the question. Dress in appropriate hiking clothing, layers, and quick-dry everything. This is an unpredictable area in Iceland; Hekla the 'most active' volcano on the island is nearby and a whole lake randomly appeared near the campsite this summer! Be prepared.
(image provided by wikimedia)
Are the day tours worth it?
Everyone has different preferences and traveling styles. Some may want to conquer the Laugavegur for their own pride or for charity, but some may just want to see the best things in the area without quite so much sweating.
The day tours to Landmannalaugar generally start in Reykjavik, with pick up points along Route 1. They tend to last all day and visit many different points of interest, so it's truly a day of a tour!
This is a great way to cram in a visit to the Highlands if you only have a little bit of time in Iceland.
Landmannalaugar's most important feature is the hot pools. I mean, the place was named for them after all.
However you choose to arrive and whatever your plans for your stay, make sure you budget an hour or two to relax in the natural geothermal baths.
Your body will thank you, and your trip to Landmannalaugar will be complete.