Tesla has, without a doubt, made a thrilling strike on the vehicle market by manufacturing a car that is luxurious, affordable and runs solely on electricity.
As gas prices keep their status of unpredictability, Tesla was a welcoming change to a very demanding market.
Rental car companies have now started giving their customers the chance of saving money by paying the same as you would for a large compact car without the added costs of fuel.
We here at Northbound have a few Tesla's available from our suppliers and would like to introduce you to CAMP MODE.
This is certainly a game changer and if you are thinking about visiting Iceland and renting a camper, I recommend you give this a quick read.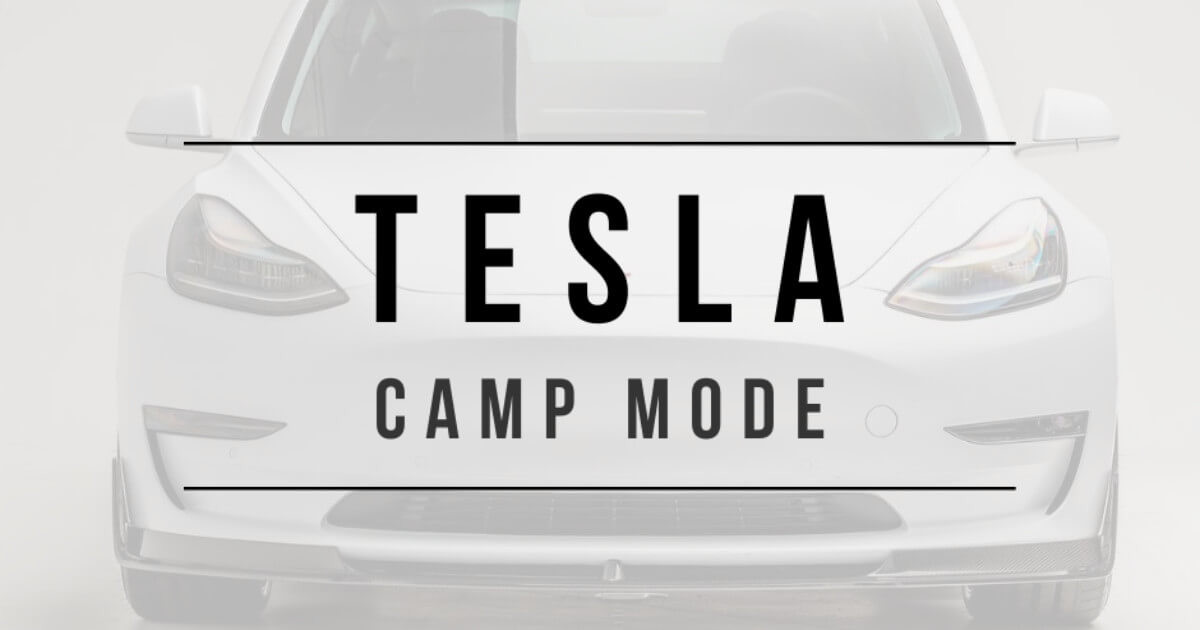 ---
Summary
Tesla is one of the leading car manufacturers in the world.
Safety is the name of the game and Tesla is the quarterback.
Save heaps of money with fully electric vehicles by not purchasing petrol.
There are charging stations located conveniently around the island for your charging needs.
Camp wherever, whenever and with whoever. Just fold the seats, throw in the mattress and gaze at the stars.
Renting a Tesla requires no more than just a type of the keyboard and a click of the mouse, just the same as any other rental car.
---
Should you hire a Tesla in Iceland?
In recent years Iceland has seen a jump in Electric Vehicles purchased and Tesla has been the front runner. This comes as no surprise as Tesla is one of the world's most valuable companies and remains the world's most valuable automaker.
If you have driven a Tesla before you will know the comfort in riding quietly and enjoying all the features the vehicle has to offer. If you haven't, you probably have heard of it and wouldn't mind giving it a go.
I say yes, you should.
Fuel Prices
The same story is to be told in Iceland as the whole world; fuel prices are ridiculously high. We also have a price per liter, while fx. The US has a price per gallon. We are paying roughly 9$ per gallon, think about that for a minute.
When you look at the price of fuel vs price of electricity charge it just isn't even close:
Fuel Price in Iceland
The lowest price per liter is 293.7kr
The highest price per liter is 334.6kr
Price for Charging in Iceland
Charge Type and ISK per kWh (KiloWatt Hour)
Charge (AC 22 kW): 25 kr./kWh og 0,5 kr./mín.
Fast charge (DC 50 kW): 50 kr./kWh
Fast charge (DC 225 kW): 65 kr./kWh
Price Comparisson
So, basically, filling up a vehicle that has a 50 liter gas tank it will cost you between 15.000 and 17.000 ISK or $106.13 to $120.29
A Tesla Model Y LR has a 75 kWh battery, so if we use the Fast Charge (DC 50 kW) it will cost you 3.750 ISK or $26.53
You can save so much if you plan on traveling Iceland for a longer period of time just by charging your EV instead of filling up your vehicle with petrol. Most Teslas have a range of somewhere between 200-400 miles (depending on weather conditions). The drive from Keflavik International Airport to Reykjavik is about 30 miles, still plenty left in the tank.
Some rentals offer your unlimited Supercharging for your Tesla for a one-time price, which would be a great option to check out.
ON tariffs can also be found here but ON holds the largest network of chargers in Iceland.
Charging Stations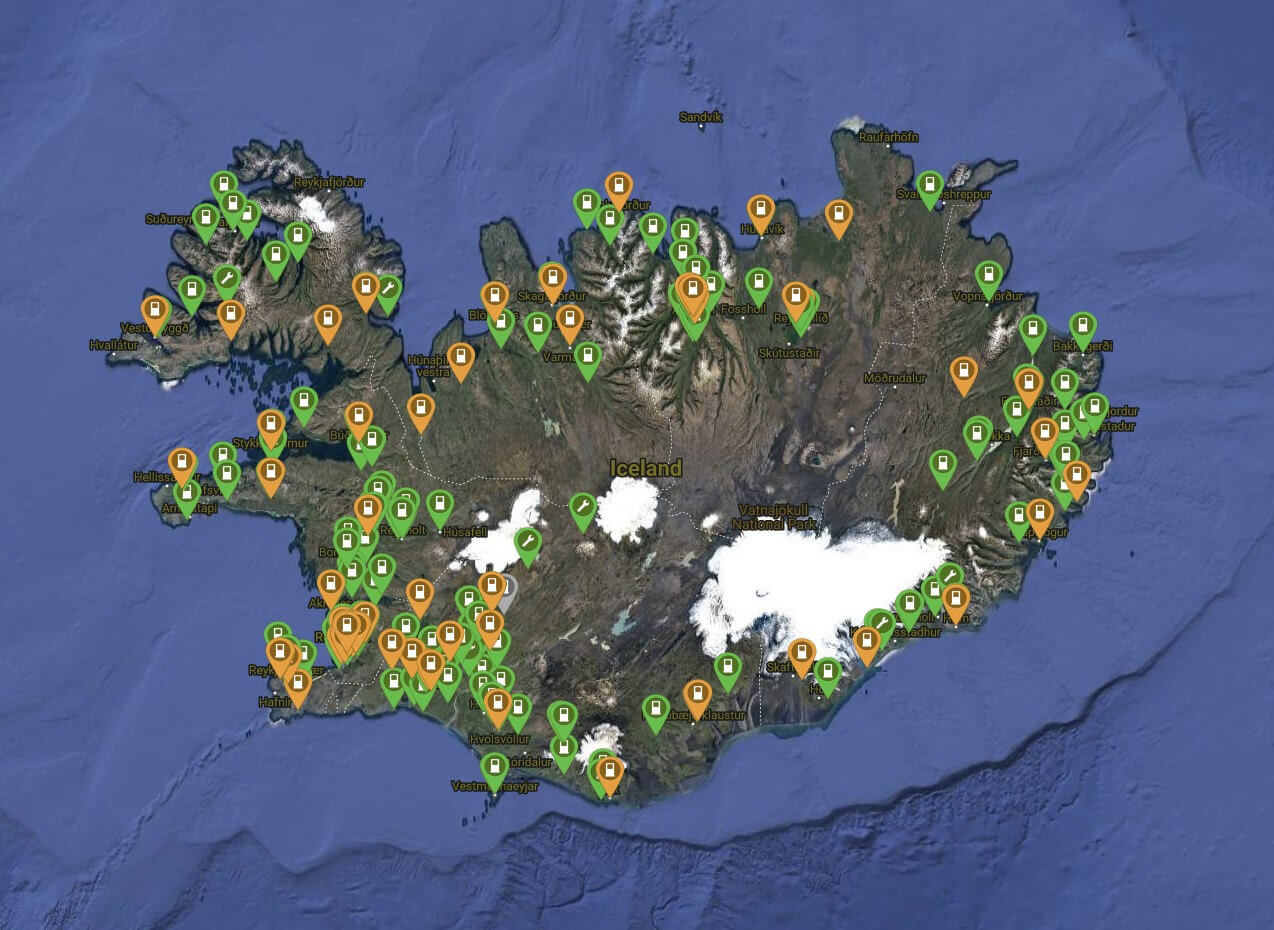 As mentioned before ON the largest network of charging stations in Iceland. You can find a map of them here.
There are also Tesla Supercharger stations scattered around the Island. Tesla Superchargers can charge your Tesla up to 200 miles in about 15 minutes, which is just a quick rest stop for a cup of coffee and to stretch a bit. Click here for information about their locations.
You shouldn't worry about not being able to charge your EV as there are plenty of charging stations, and even some of them are located at your hotel (or very close) so you can charge while you rest.
Safety
Tesla's Model Y received a 5 star overall safety rating from NHTSA (National Highway Traffic Safety Administration). Model 3 (as well as Model S and Model X) achieves the lowest probability of injury of any vehicle ever tested by NHTSA.
Tesla believes they have made the safest cars in the world and it's hard not to believe them. They use data from sensors located in each car from past crashes and use that data on each new car build. The great thing is that Tesla can update each cars safety system over-the-air and introduce better and more developed safety features and enhancements.
Tesla also has Sentry Mode. It adds a unique layer of protection to your Tesla by monitoring the environment around the car when it's parked and left unattended. When Tesla has Sentry Mode activated it is on a Standby state but when there is a minimal threat, perhaps someone leaning on your car, Sentry Mode switches to Alert state. It will start to record on it's surrounding camera system and put a message on the touchscreen that it is recording.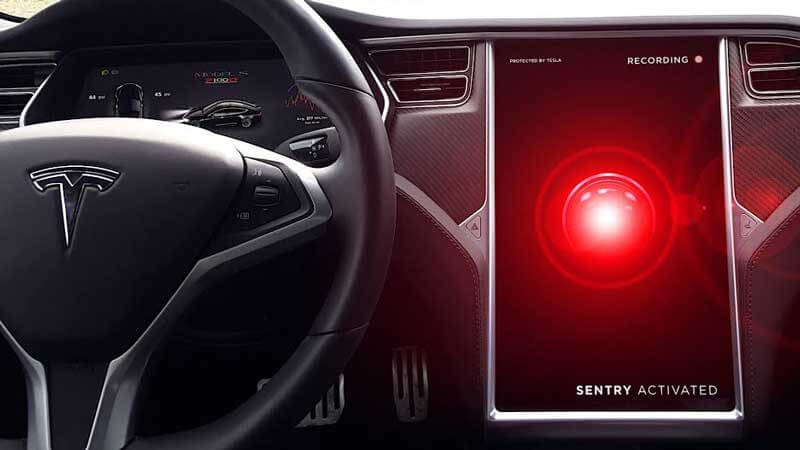 If someone were to break into the vehicle it will then turn on Alarm State which activates the car alarm, increases the brightness of the center console display and plays music at maximum volume from the car's audio system.
Your items should be safe inside the Tesla when you have the Sentry Mode activated.
Renting a Tesla
Booking a Tesla for your trip is the same as when you book anything else, it's a choice which is either beneficial for your journey or not. That's the great thing about having a choice, it's just there and you can click or scroll.
Northbound partners with 30+ car rental suppliers and it is our goal to give you the choice and the Tesla just happens to be one, a good one at that.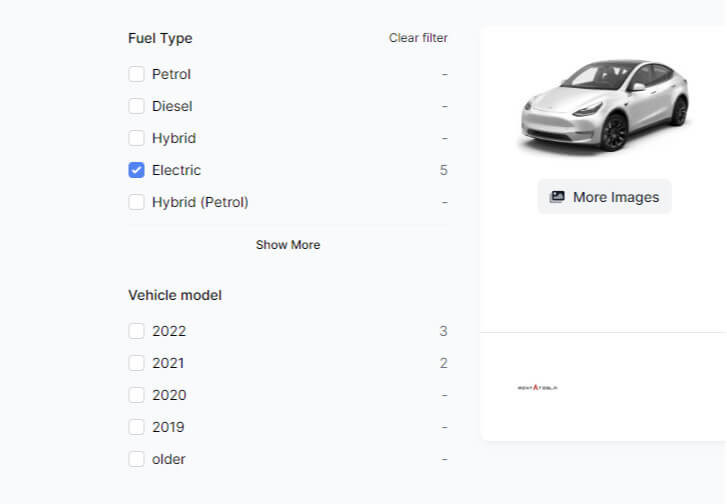 When you are looking for a Tesla you go through the same motion as always, you choose the dates, type of car and wait for results. On the left on our search page you will find options to narrow your choices, there you will find Fuel Type. Click on Electric and you will now only see Electrical Vehicles as an option for rent on the dates chosen.
Some Tesla's are Sedans and some Campers. The reason why it's a Camper is because it comes with a mattress that fits perfectly in the interior of the Tesla.
Which brings us to the Tesla Camp Mode.
Camp Mode
Tesla has updated its software and added in ?Camp Mode?.
Camp Mode basically means that the car turns into an area suitable for sleeping in. When your Tesla is in the Camp Mode it will maintain an optimal temperature and airflow inside the vehicle, this can be adjusted to your will and needs.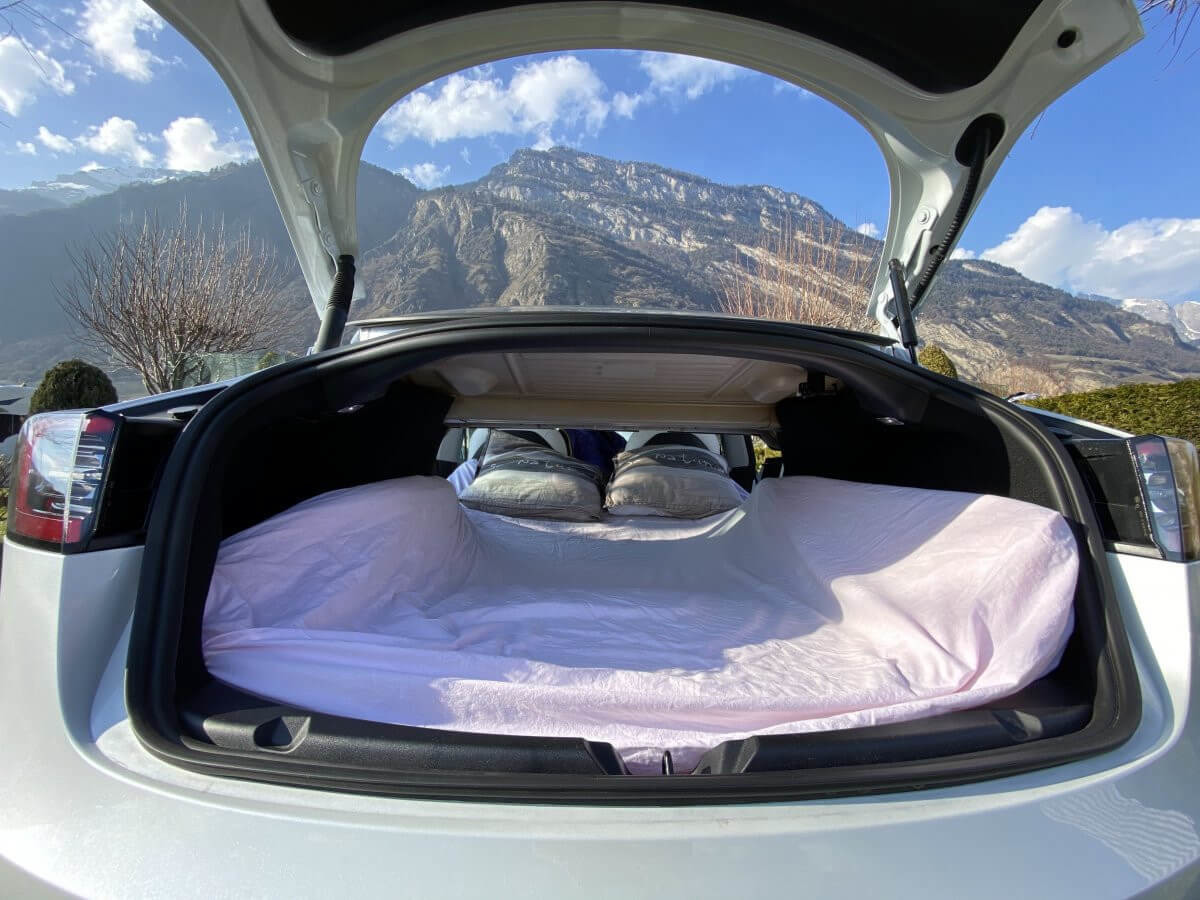 It also has the low voltage outlet and USB's power on so you can charge your devices. Touch screen also remains on so you can browse or listen to music.
Recommendations and Tips
1. Lock your car.
When camp mode is on the Sentry Mode and car alarm system is turned off. We recommend locking your car manually when sleeping but you can also always activate Sentry Mode after Camp Mode has been activated.
2. Plan Ahead.
In an eight-hour period, the typical battery consumption of Camp Mode is roughly 10% of the charge. If it is really cold, which Iceland usually is, the car will work harder to maintain the correct temperature. Make sure you have enough charge on the battery when you start camp mode.
If the battery is below 15% you cannot use Camp Mode.
3. Park the vehicle.
Camp Mode cannot be turned on when driving or moving the vehicle. It has to be in park, so find where you want to camp for the night and turn on camp mode as late as possible to reserve battery power.
4. The Mattress.
If your Tesla is considered a Camper then the mattress will be included in the price, otherwise you will have to rent the mattress for an extra cost.
All you have to do is fold all the seats down, lay the mattress over the seats, get in your pajamas and rest for the night.
We recommend you rent a mattress if you plan on camping, just check in with us here at Northbound and we will help you figure all this out.
5. Storage
The great thing about Tesla is the storage option that is called the frunk (forward trunk). That is basically the forward trunk, where the engine usually is on petrol powered vehicles. There is plenty of space for your stuff. There is also a sub-trunk underneath your regular trunk which can for example store your food items.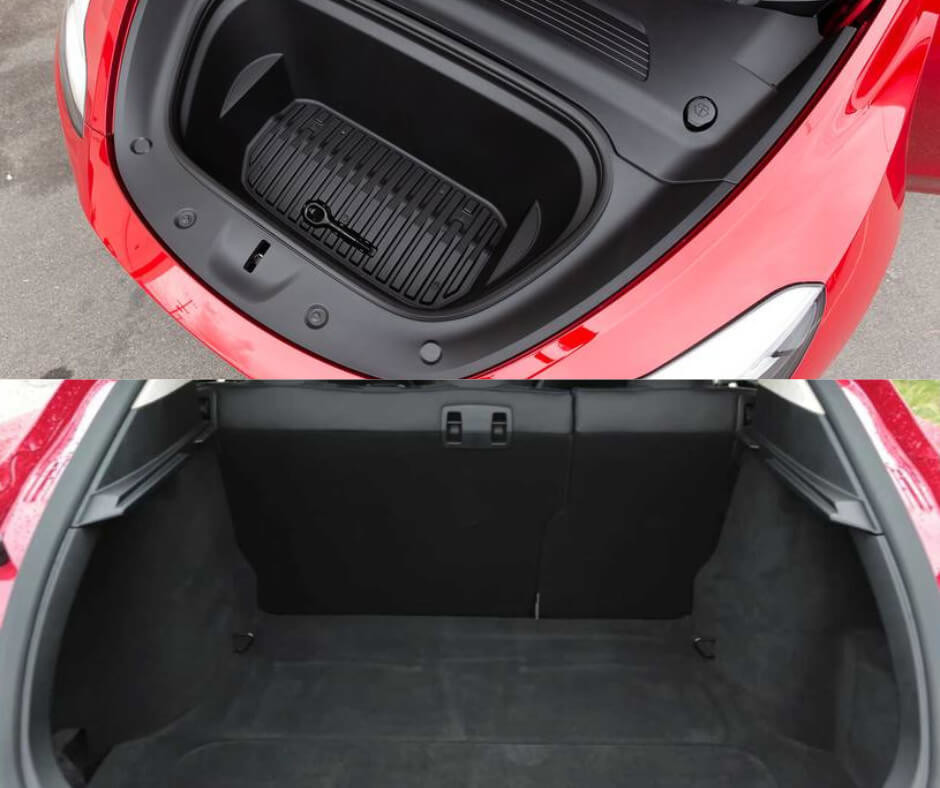 When the mattress sits on top of the folded seats there is also plenty of storage space in the footwells behind the front seats where you could easily fit a backpack, camera equipment or more.
6. Stargazing
One of the awesome things about camping in a Tesla is the panoramic view. You will be sleeping under the stars and gazing through the top glass, which sounds like something from a western.
The glass is tinted which makes it perfect for the beautiful summer's midnight sun. It also keeps you dry in a rain storm and away from the bugs at night. Turn on Netflix and just chill.
7. Hot or Cold
You can use the Camp Mode in both hot or cold conditions. You simply use the AC to cool or heat the vehicle, depending on outside conditions.
Here is a video of an owner camping with his family in winter time. He only had a drop of 10% in battery with over 11 hours of camp mode, not bad if you ask me.
---
FAQ
How Does Charging Work ?
Charging is very simple, it's just plug'n'play, same as charging your phone.
On some charging stations there is a cable provided but you can also find a charging cable in the trunk of the car. As you would approach a petrol station, you simply roll up on, park your car and plug the cable. You can follow the charge of the Tesla inside the vehicle, on the center console.
When you are finished, you just unplug, pay and drive off into the windy sunset.
---
How Many Miles can I Drive in a Rental in Iceland?
When you book your car with Northbound.is you will have unlimited miles included.
---
I've Never Driven A Tesla, Is There Someone There To Show Me?
Yes, if you have never driven one before and want a quick course just ask the supplier and he will be there to introduce you to the features.
---
Are all Electric Vehicles the same?
No, we have different types of EV's. There are Hybrids, Plug-in Hybrids and then Fully Electric Vehicles.
All of them will impact fuel consumption (except for fully Electric of course) and we do recommend each and every one of them.
Hybrid Vehicles still run by petrol but uses technology to charge it's battery while driving and braking, and you don't plug your car in, just drive.
Plug-In Hybrid also runs by petrol but you can also charge the battery while driving but you can also charge the battery by plugging your car in and the mileage depends on the size of the battery.
Electric uses only the power from the battery.
All cars will give you great mileage and save heaps on fuel.
In Northbound you can chose either "Hybrid" "Hybrid (petrol)" or "Electric".
---
How Can I Charge my Tesla?
Charging a 100-kilowatt-hour battery EV takes less than an hour to more than a day. It depends on the type of charging you use. Using a plug from your home can take over 12 hours to add 25 - 60 miles of range, which is fine for a plug-in hybrid but can be difficult for an EV.
Luckily, there are charging stations that have fast charging. Commercial rapid-charging stations (Supercharger for Tesla and DC Fast Charging for everyone else) have the ability to fully charge most new EVs in under 50 minutes, and 30 minutes is a near-term goal.
---