The South of Iceland is one of the most traveled routes in Iceland. This is due to it containing many of the country's finest attractions, including waterfalls, the black sand beach Reynisfjara, and the jaw-dropping Glacier Lagoon.
Now, one of the other popular routes in Iceland, the Golden Circle, is also in the South but I like to classify that route as its own separate entity and therefore, will not be including it in this post. Instead, If you want more information on the Golden Circle, you can read more about it in our 'Guide to the Golden Circle'.
We also have another quick Highlights of the Southern Highlands in Iceland that is worth mentioning.
Also, 5 Places You Should Visit on The South Coast of Iceland. We have plenty of material about the South, it's just that great!
Below will be a list containing a mixture of my personal recommendations, most popular attractions and even a lesser-known attraction that most people miss!
It's easy to see why the South of Iceland is so popular with one of the most Instagrammed places in Iceland located there: Jökulsárlón.
So, let's start there...
We have the lowest prices and best service, guaranteed! Have a look.
## Jökulsárlón
Chances are you have heard of the 'glacier lagoon'. If not, then go ahead and add this to your list of places to see for your upcoming trip to Iceland. Located approximately 5 hours from Reykjavik, Jökulsárlón is one of the most popular stopping points for people traveling the ring road.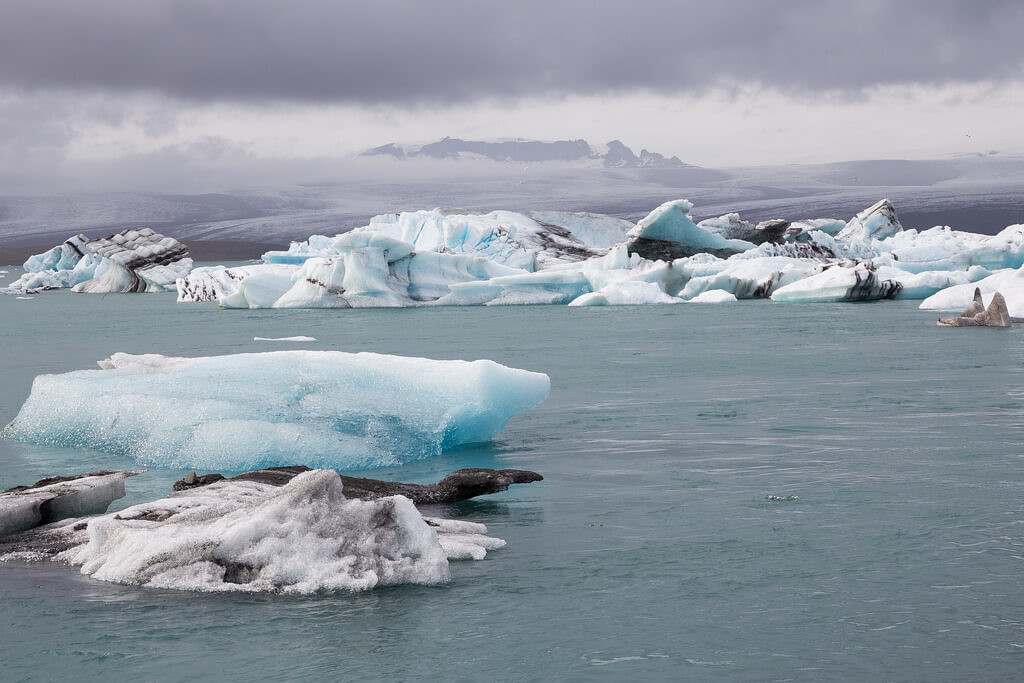 The lagoon is filled with meltwater from the closely located glacier Breiðamerkurjökull, and often incredibly large Icebergs break from the glacier creating a setting that your camera will not want to miss.
The icebergs will often drift onto the shore, which has lead to the beach being nicknamed 'The Diamond Beach' because of the way the ice glistens against the black sand (see video below).
Jökulsárlón actually only formed in 1935 following rapidly rising temperatures here in Iceland. The glacier, Breiðamerkurjökull, has been shrinking since 1920 and is slowly being replaced by the lagoon. The growth of the lagoon is expected to continue until the area becomes a Fjord.
In 2017, Jökulsárlón was added to the Vatnajökull National park and therefore, is now protected by Icelandic law. The local government intends on renovating the area by adding a new visitor center and improving car parking facilities.
Tour opportunity - One of the greatest features of Jökulsárlón, is the amphibian boat tour! The boat takes you up close and personal with the icebergs, and you're even offered the chance to eat a piece of the ice.
Fjallsárlón
Located on the southern side of Vatnajökull, Fjallsárlón is a lesser-known glacier lagoon. Often, many tourists will avoid or miss this lagoon due to the popularity of Jökulsárlón. So, if you're looking to avoid crowds then definitely head here.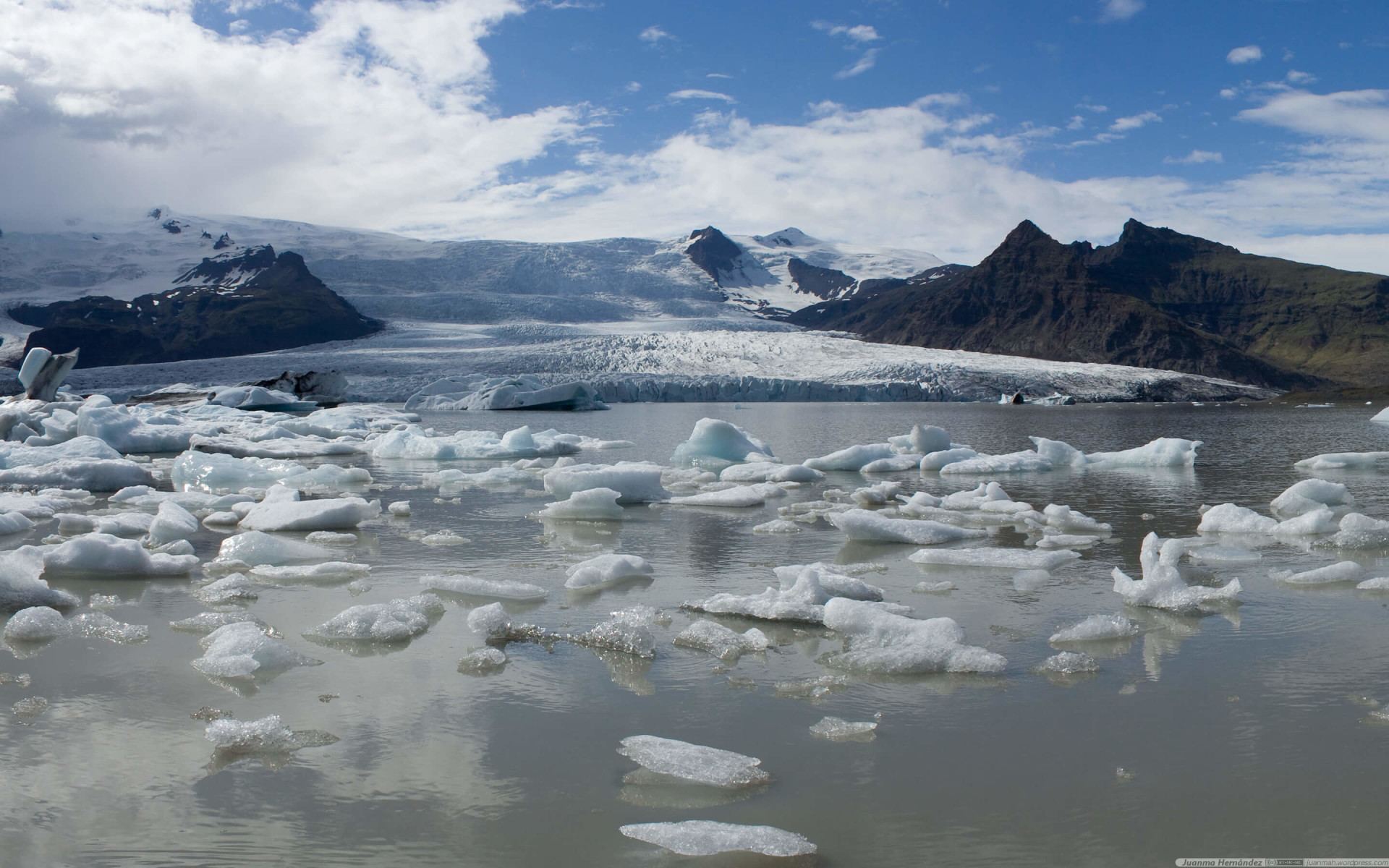 Just as in Jökulsárlón, there is also the opportunity to take a boat tour. Whilst there is also a small bistro that usually has great food such as Icelandic meat soup,sandwiches,and sugary goods.
In both the Jökulsárlón and Fjallsárlón area, there is the possibility of seeing some great Icelandic wildlife. Seals can sometimes be seen sunbathing on the surface or their heads may casually pop up from the lagoon.
I must warn you though, the lagoons are home to large seabirds called 'Skuas' which can be very territorial if you happen to get too close to their nests. They have been known to divebomb at some unfortunate tourists, so be aware of your surroundings.
Skaftafell
Another location in the Vatnajökull National Park is the Skaftafell area, which is filled with unique waterfalls, black sand beaches, and rugged scenery. The area is home to many of Iceland's great hiking trails, with many trails suitable for beginners and the more experienced hiker.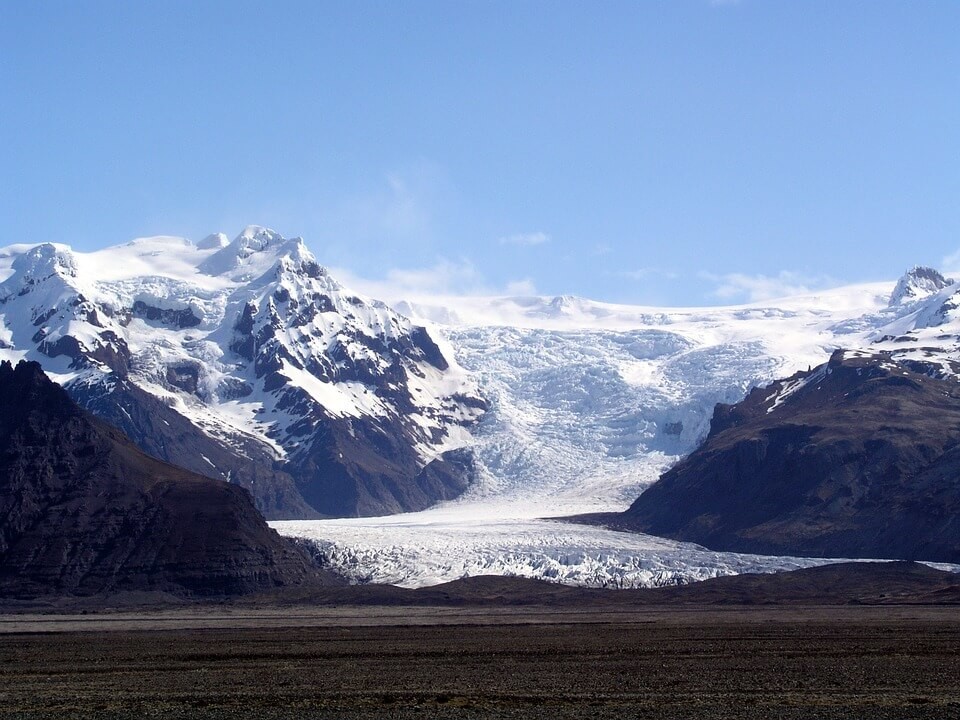 In fact, Skaftafell is actually the base camp for people looking to climb Iceland's highest peak, Hvannadalshnúkur, which is located on the north-western rim of Öræfajökull Volcano.
Skaftafell is within close proximity of Vatnajökull and Jökulsárlón, so for those of you heading to the south, don't miss out on this amazing area. You will also find a visitors center in Skaftafell, where you can gather maps and information on the area.
One of the most popular attractions in Skaftafell is Svartifoss Waterfall. You may not know its name but you most certainly know its appearance.
Svartifoss
Standing at a mere 20 meters, Svartifoss is easily the most bewitching waterfall within the Skaftafell area. Svartifoss means 'Black Fall' in Icelandic, which comes from its black columnar basalt formations draped around the waterfall.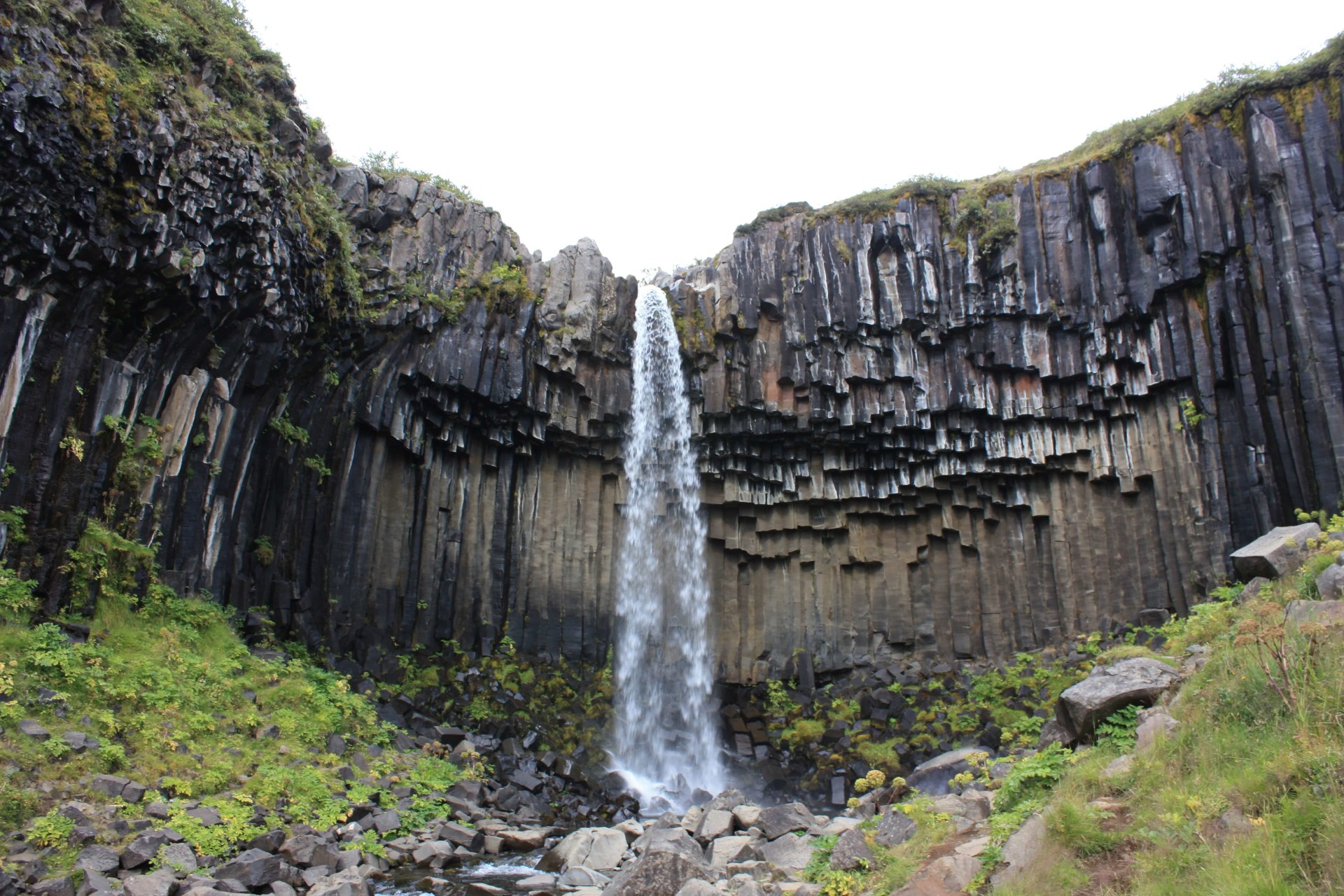 I mean... just look at it!
Its unique basalt columns have inspired many artists, photographers and even the famous Icelandic church: Hallgrimskirkja. Though not a particularly powerful waterfall, its appearance most certainly is. Tourists flood the area just to catch a glimpse of its beauty.
Similar columns can be found at the Gerðuberg Cliffs on the Snæfellsnes Peninsula, and even at Reynisfjara Beach, also in the South Coast (more on that later!).
Unfortunately, Svartifoss is only accessible from a 1.5km hike (you can get information on the route from the Skaftafell visitor center), though don't let that deter you because the hike is definitely worth it. Not only will you get to see Svartifoss, but there are also many waterfalls along the route.
You can walk within close proximity of the waterfall, though some of the area has now been fenced off to prevent damage to the nature there.
Skógafoss
Standing at an astonishing 60 meters and with a width of 25 meters, Skógafoss is easily one of Iceland's biggest and most treasured waterfalls.
This mighty waterfall is visible from Route 1 and has great parking access for travelers and locals alike who want to get a close-up shot of its majesty.
Skógafoss is also an extremely popular destination for campers as there is a campsite right in front of the waterfall, making for an out-of-this-world camping experience!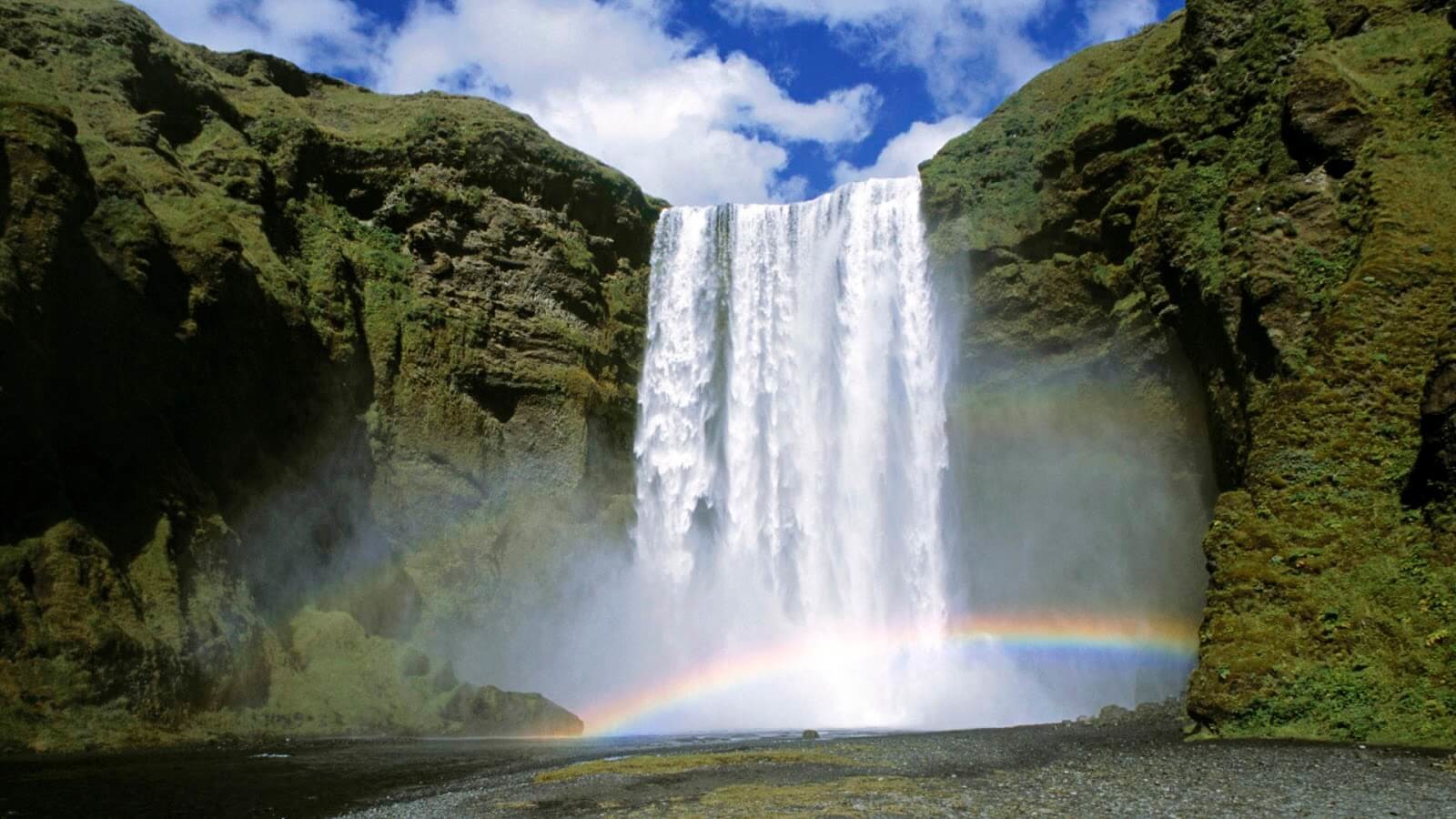 It is possible to walk right up to the waterfall, though expect to get very wet due to the heavy spray. This spray also means that if the sun is present then chances of a rainbow appearing are very high (makes for some great photo ops).
You can also head to the observation platform at the top of Skógafoss (as seen in the video below), and the 527 steps that lead you there will make for some great mid-vacation cardio. Beyond the observation platform, there is also the starting point for the popular hiking trail 'Fimmvörðuháls', which ends at Thorsmork.
The trail is home to many magnificent waterfalls, Skóga river (which is what Skógafoss leads from) and also many craters that were formed following the Eyjafjallajökull eruption (more on that later!).
Skógafoss has gained more popularity in recent years due to being featured in 2 of Justin Bieber's music videos; 'I'll show you' and 'Cold Water'. People were amazed by the power and beauty of the waterfall. So... Thanks, Justin!
Seljalandsfoss
Seljalandsfoss' popularity stems from the fact that you can walk behind the waterfall, making for a great experience and stunning photo opportunity (see below).
The waterfall has a drop of around 60 meters and, similarly to Skógafoss, is situated just off of the route 1 ring road which makes it very easy to find.
Image by Bernd Thaller
Arguably, the waterfall's most distinguishable feature is the fact you can walk behind the falls. Though, you should do so at your own risk as the walking path can become very slippery and there's a very high chance of getting wet from Seljalandsfoss' spray.
**Hidden Gem Alert!** - If you continue north, you will stumble across the waterfall Gljúfrabúi which is often overlooked due to Seljalandsfoss' popularity. Hidden behind a rock face, there's a very high chance you will be visiting this waterfall alone!
## Landmannalaugar
'The People's Pools' is a large area in the Fjallabak Nature Reserve in the Highlands of Iceland. It was formed at the edge of the Laugahraun Lava Field following an eruption in 1477.
Landmannalaugar is known for containing many geothermal hot springs and stunning landscapes. It marks the Northern end of the Laugavegur hiking trail, which is one of Iceland's most popular hikes and connects Landmannalaugar and Þórsmörk before ending at Skógafoss.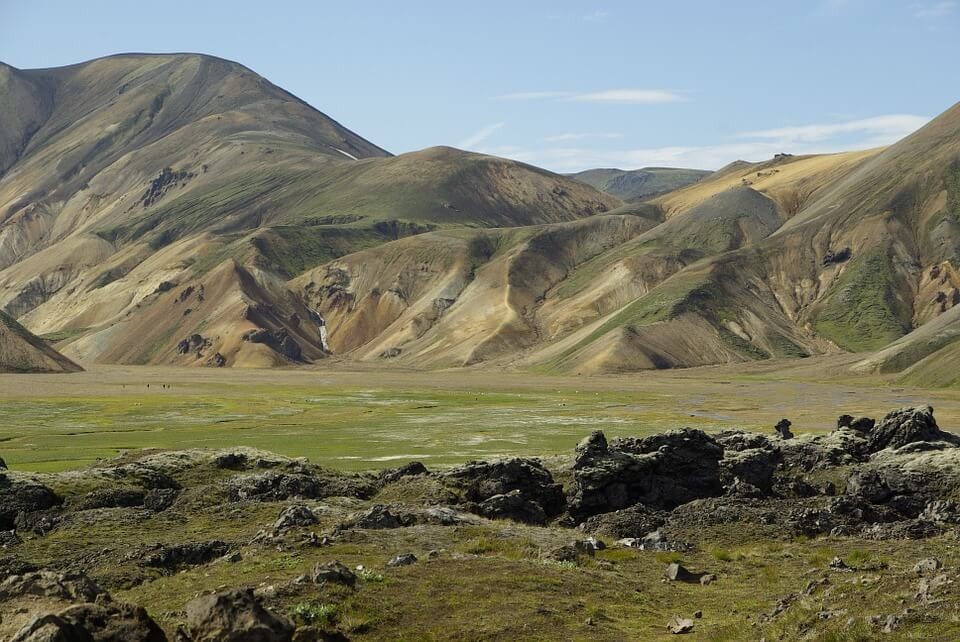 Landmannalaugar is particularly known for its many natural geothermal pools. This is why it was given the name 'The People's Pools'.
The area used to be used by settlers who were tired after long journeys. However, these days, it is used by tourists tired after hours of hiking. If you fit into the 'tired tourist' category, then do not worry, as there are 3 campsites in Landmannalaugar and also a small shop.
It is recommended that you head to Landmannalaugar as part of a tour. This is for safety reasons and also for the risk of damages to your vehicle. If you do persist on driving yourself, then it must be noted that Landmannalauagar is only accessible by a raised 4x4.
Remember this? I bet you do! The volcano that everyone struggled to pronounce on television. I wouldn't be surprised if 'How do you pronounce EYJAFJALLAJÖKULL?" was the top search of Google in 2010.
Eyjafjallajökull erupted on April 14th, 2010 and by the following day the ash was already flying over the United Kingdom and even as far as Germany. Due to this, many flights were delayed over an 8-day period.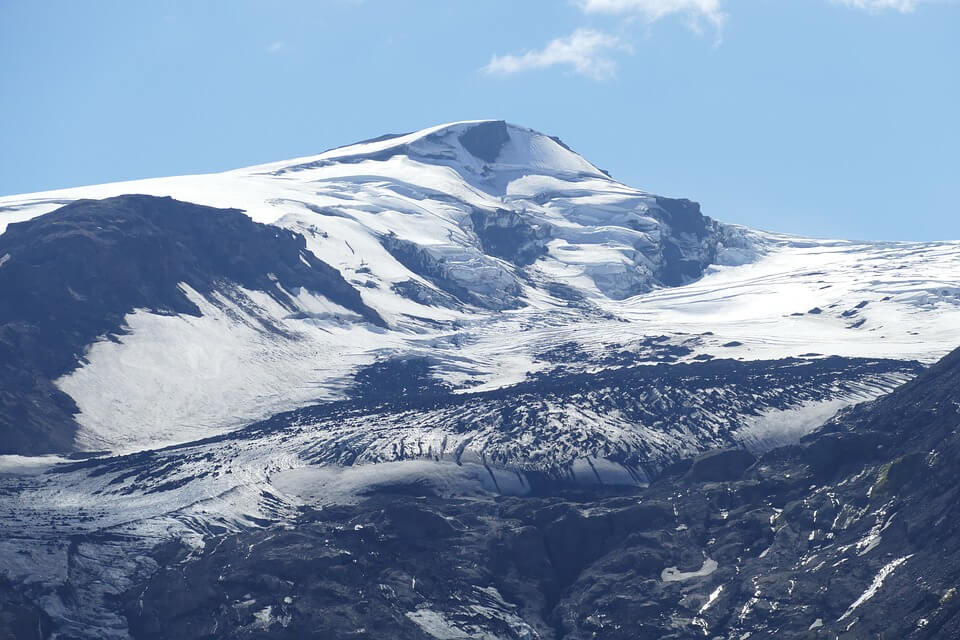 Luckily, Eyjafjallajökull's eruption didn't lead to any injuries. However, some Icelanders in the South did suffer from respiratory issues. Also, many farms and land in the area were destroyed by the ash and glacial floods.
Thorsmork
Thorsmork (or Þórsmörk in Icelandic), 'The Valley of Thor', is a nature reserve in the southern highlands of Iceland. It is one of the most popular hiking locations here in Iceland.
If you are a photographer then you will definitely want to head to Thorsmork. Its flowing glacier rivers, rich moss and unique mountain ridges make for some stunning photos that you will be eager to show off to your friends, family, and followers.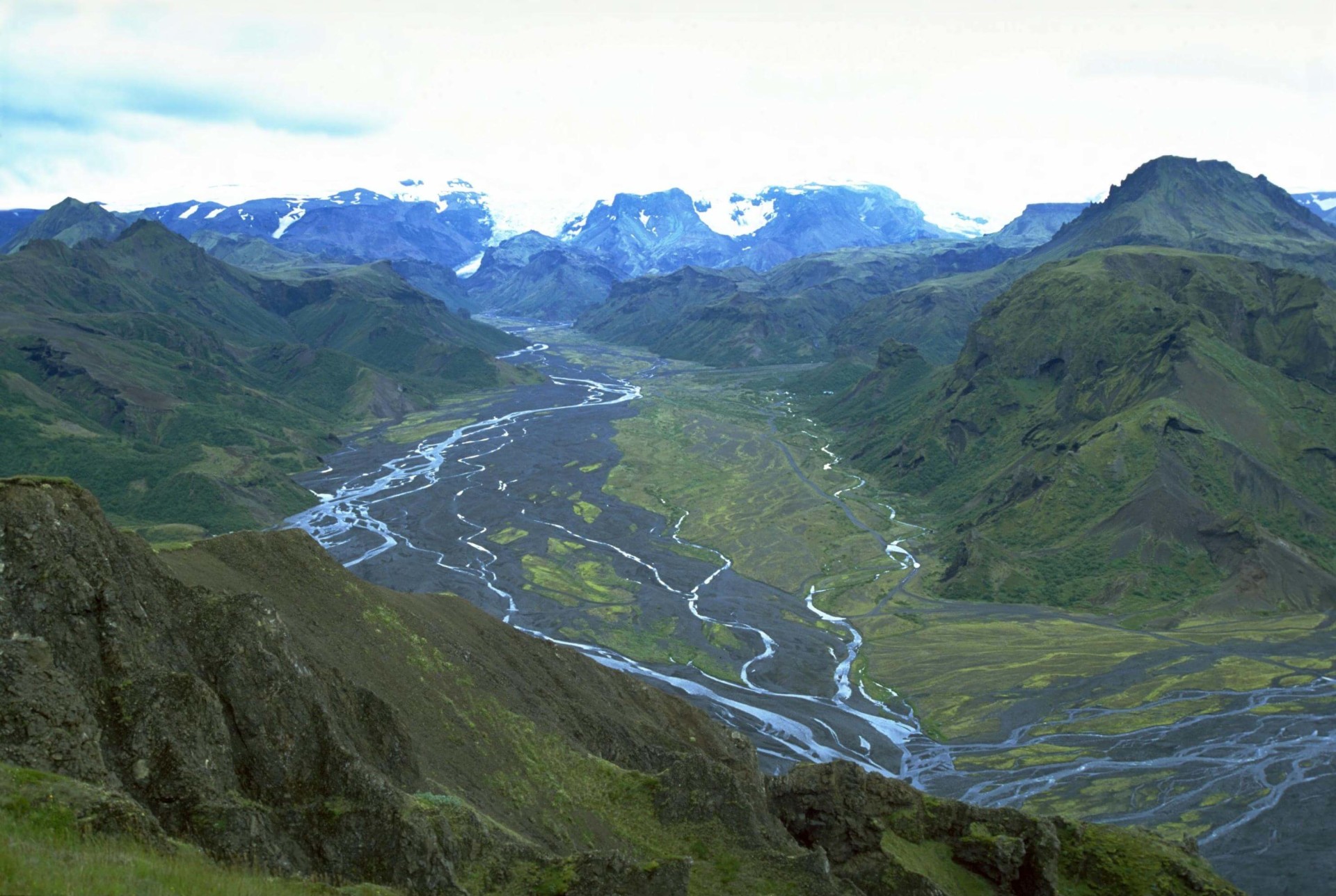 The Valley of Thor is full of natural beauty, which can be fully appreciated with the many hiking trails on offer. In fact, Thorsmork is home to 2 of the most popular hiking trails in Iceland, Fimmvörðuháls, and Laugavegur.
For those of you that are experienced hikers and love a challenge, then you could also hike from Thorsmork to Útigönguhöfði. This route takes you to some mind-blowing views.
Hekla
Hekla is known as the 'Gateway to Hell'. It has been one of the most devastating volcanoes in Iceland, with around 20 to 30 recorded eruptions since the settlement.
Hekla stands at around 4,892 feet tall and can be seen from long distances. Its first recorded eruption was in 1104 and caused disruption to the weather, led to people having breathing difficulties and ruined agriculture for many years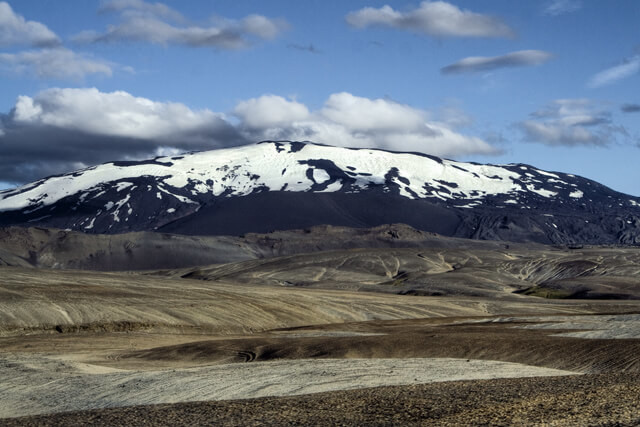 Its most recent eruption was in the year 2000, though it was very minimal and deemed inconsequential. Though, it has later been discovered that Hekla is more deadly than originally feared.
Despite this, wildlife and activities are in full flow in the surrounding areas. There are many active hiking trails used by tourists and locals daily, and tour agencies often head there in super jeeps to give travelers a unique experience.
We must note that Volcanologists have stated that Hekla is overdue, therefore, you should regularly check the met office's website if you intend on heading to Hekla during your visit.
Laki
Lakagígar (or 'Laki') is a volcanic fissure located in the south of Iceland. The 2 are actually separate, with Lakagígar being the fissure and Laki the mountain that the fissure bisects.
Laki was home to a large eruption in 1783 that led to global temperatures dropping. 120 million tons of sulfur dioxide entered the Northern Hemisphere causing crop failures in Europe, whilst it may have also been the cause of a drought in North Africa and India.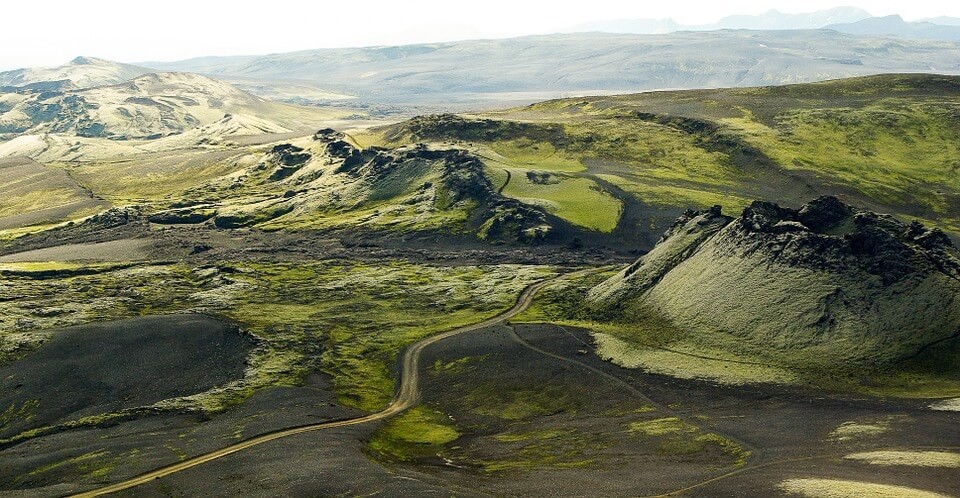 Laki has some of the most beautiful attractions in Iceland, including Fjaðrárgljúfur Canyon (a huge 100-meter deep canyon), Tjarnargígur (a crater formed in 1783 following the aforementioned eruption), and Fagrifoss (which means 'Beautiful Waterfall' in Icelandic and is known for it's thin streams of water that fan out before merging gracefully at the bottom).
Secret Lagoon
Many people are looking for alternatives to the 'Blue Lagoon', if you're one of those people, then look no further than the 'Secret Lagoon'.
The Secret Lagoon isn't as busy as the Blue Lagoon, but it is becoming more and more popular due to its lower cost and more 'natural' feel.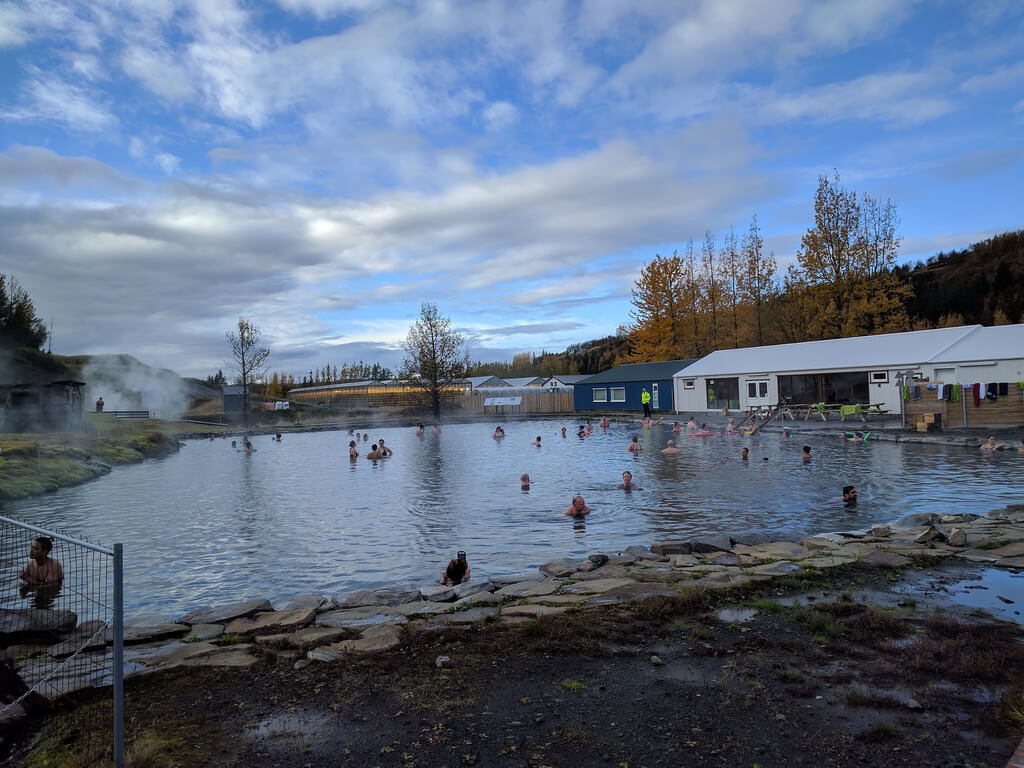 Located fairly close to the popular 'Golden Circle', this man-made hot spring has a temperature of around 38-40°c and is surrounded by mossy lava fields and a small geyser that erupts roughly every 5-minutes.
The Secret Lagoon is actually Iceland's oldest pool (constructed in 1891) and is referred to as 'Gamla Laugin' (The Old Pool). In fact, the country's first-ever 'swimming lessons' were conducted in this pool before being relocated to Flúðir in 1947.
After the departure of the swimming lessons, Gamla Laugin became abandoned before it was saved by new owners and turned into the magical tourist-friendly attraction it is today.
Seljavallalaug
A lot of tourists are always looking for a 'hidden gem', and Seljavallalaug will definitely fall into that category. Whilst it is fairly well-known, a lot of people avoid going there due to it only being accessible following a short hike.
Built in 1923 for locals to learn how to swim, the pool is now mostly taken care of by local volunteers (so please, do not leave any mess or litter).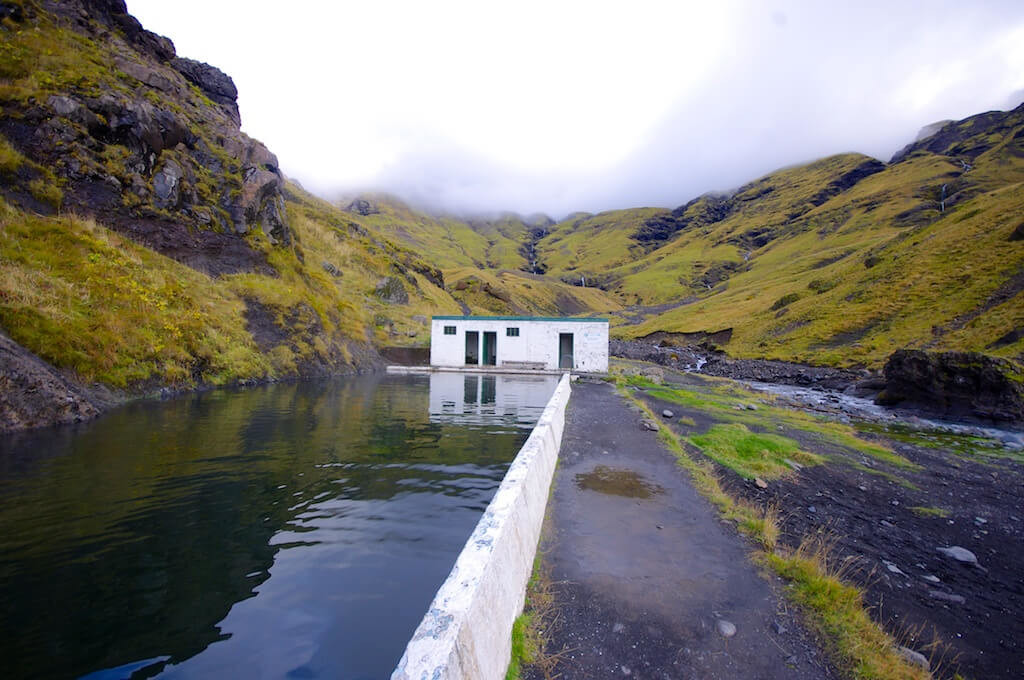 The mildly-hot water comes from a natural hot-spring located close-by. The pool is 25 meters long and 10 meters wide. It has changing rooms (but no showers) and is also free access, though there is a small donation box where any donation is appreciated.
If you're coming during the summer period, then try heading to this pool late into the evening. The 24-hour sunlight means you can still enjoy this pool in light, even at midnight. Going at this time also means you will avoid the crowds.
Reynisfjara Beach
If you have watched the hit TV show 'Game of Thrones', then you would have already witnessed the magnificent Reynisfjara Beach (otherwise known as 'The Black Sand Beach').
The Eastwatch scenes were filmed at Reynisfjara, along with various other scenes on different parts of the beach.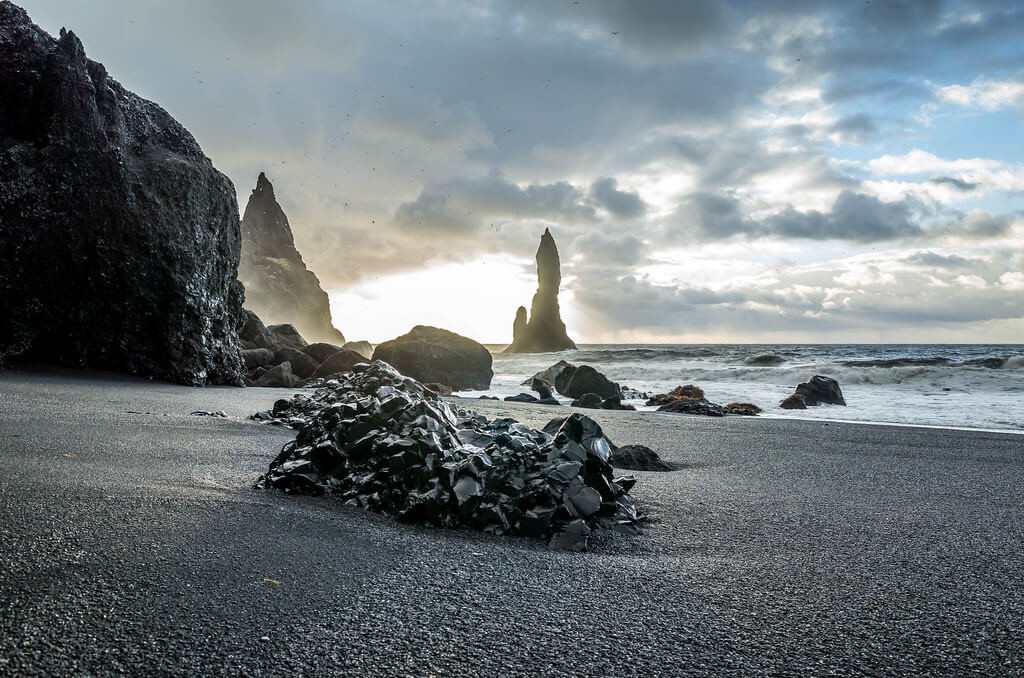 Voted by 'National Geographic' as one of the Top 10 beaches to visit on the planet, The Black Sand Beach has become one of the most popular tourist attractions in Iceland in recent times.
This is because of its gigantic basalt stacks, the incredible Hálsanefshellir cave and also the closely-located Dyrhólaey (a small promontory).
Reynisfjara is a regular stopping-point for people traveling the ring road, especially as it is situated within close proximity of the popular town 'Vík'.
Sólheimasandur Plane Wreck
The amazing, and somewhat haunting, Sólheimasandur plane wreck has become a phenomenon. Its popularity has continued to grow with tourists every year. Any photographer that comes to Iceland is itching to get a shot of this piece of history.
It's not known why the plane crashed, but what is known is that it is from the US Navy and was departing from Höfn with 7 passengers on board. It crashed on November 21st, 1973, around 14:00. No one was killed in the crash, with passengers only receiving minor injuries.
Iceland is a NATO member and up until 2005, there were permanent US force bases located on the island; Most notably in Keflavik.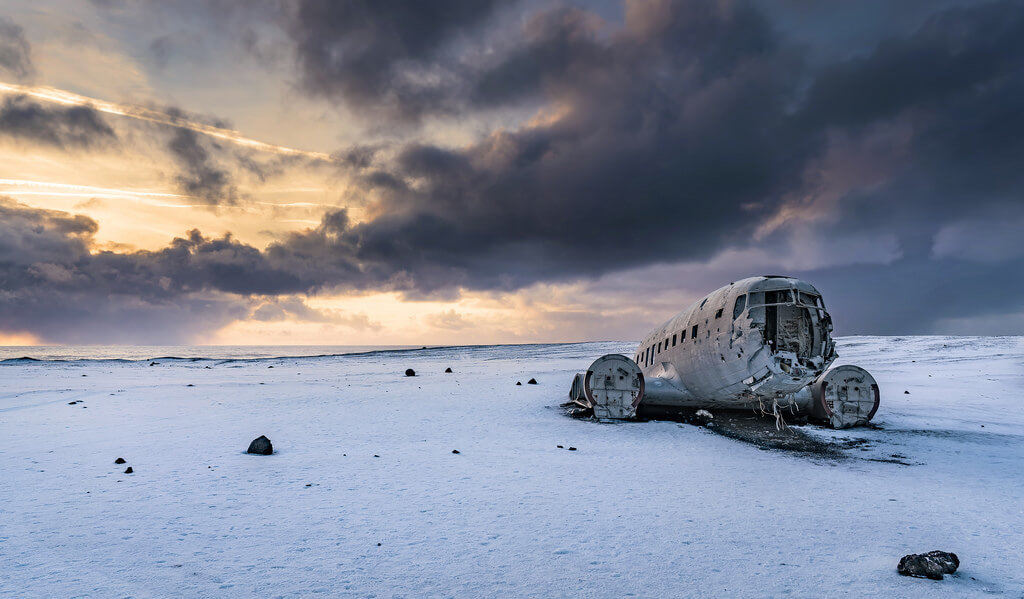 The plane has slowly but surely eroded due to the tough weather conditions in Iceland. It has lost both wings, most of its tail and has also rusted in several locations. The whole interior of the plane is filled with the black sand from the beach it is located on.
Funny story: It is rumored that a local farmer cut off the tail many years ago in order to cash in on the material! Those pesky farmers, eh!
It is anticipated that the plane wreck will cease to exist in the future, due to both weathering and the fact it is located within close proximity of the glacier 'Mýrdalsjökull', meaning the flooding from any potential eruption could wash the wreck away.
Mýrdalsjökull covers Katla, one of the countries most dangerous volcanoes. In fact, Katla is said to be 'long overdue', so go get your photo taken at the plane wreck whilst you have the chance! It may not be around much longer. That pesky... nature!