There are many countries and areas which you could label a 'Hiker's Paradise', and one of those is most definitely Iceland. You could, in fact, consider the whole of the country one big hiking trail, with so much to explore and many different types of trails leading you there.
For those of you that aren't avid hikers, we would highly recommend you jumping out of your rental car and embarking on an adventurous hike. There are trails suitable for everyone, and it will definitely be a highlight of your trip. Why come to a country rich in beautiful nature, and just stay cramped up in a hotel, tour bus or rental car, admiring from a distance? Get out and be one with nature!
This blog post will highlight what you may want to bring with you and also the most popular hiking trails in Iceland. All of the information will be relevant, whether you are a hiking newbie or an experienced pro!
What to pack?
When travelling to see what hiking trails other countries have to offer, then high-quality planning and packing are very essential to your success. When it comes to Iceland, you may need quite a few more supplies than other countries, especially during the winter months.
The most obvious thing you will need is good-quality hiking boots, a lot of people may want to try and buy boots as cheap as possible to avoid overspending. However, there are a few items that are definitely worth spending more on, and one of those is hiking boots. You will want the boots to be waterproof, have good ankle support and also be lightweight. If you're coming during winter, you may also want to buy boots with extra grip or even invest in a set of spikes to attach to the bottom of your shoes to help prevent slipping on the ice.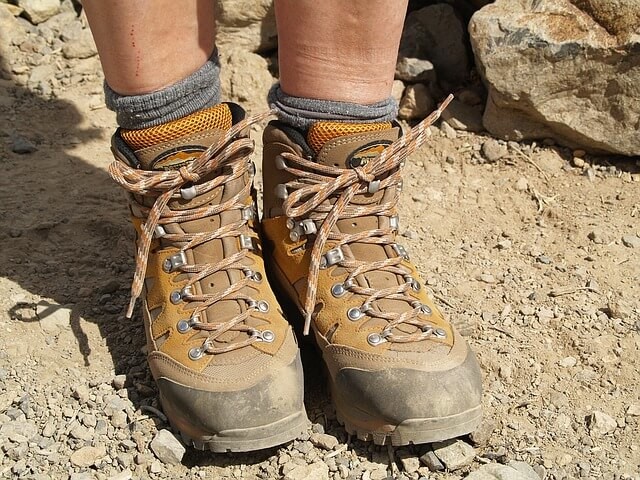 The other items it may be worth investing 'more expensively' in, are a waterproof jacket and pants. Though this is more directed towards the winter period, having good waterproof clothing is still recommended during the summer also. It might also be worth purchasing clothing that is both waterproof and windproof. You can usually get great waterproof and windproof clothing from any outdoor activity store or even online. Try checking reviews to see what people say about them, as some waterproof clothing may not withstand very heavy rain and wind, something that you will be prone to here in Iceland.
The third item where you may want to spare any expense is your backpack. This too will need to be wind and waterproof, as well as being big enough to carry all of the equipment you will require. You will also want a backpack that is very functional and lightweight. This will help to ensure that your hiking experience is as comfortable as possible. If you plan on long-distance hiking, then you may want to also bring hiking sticks (Trekking poles) to help with balance and reduce the impact on your joints and leg muscles.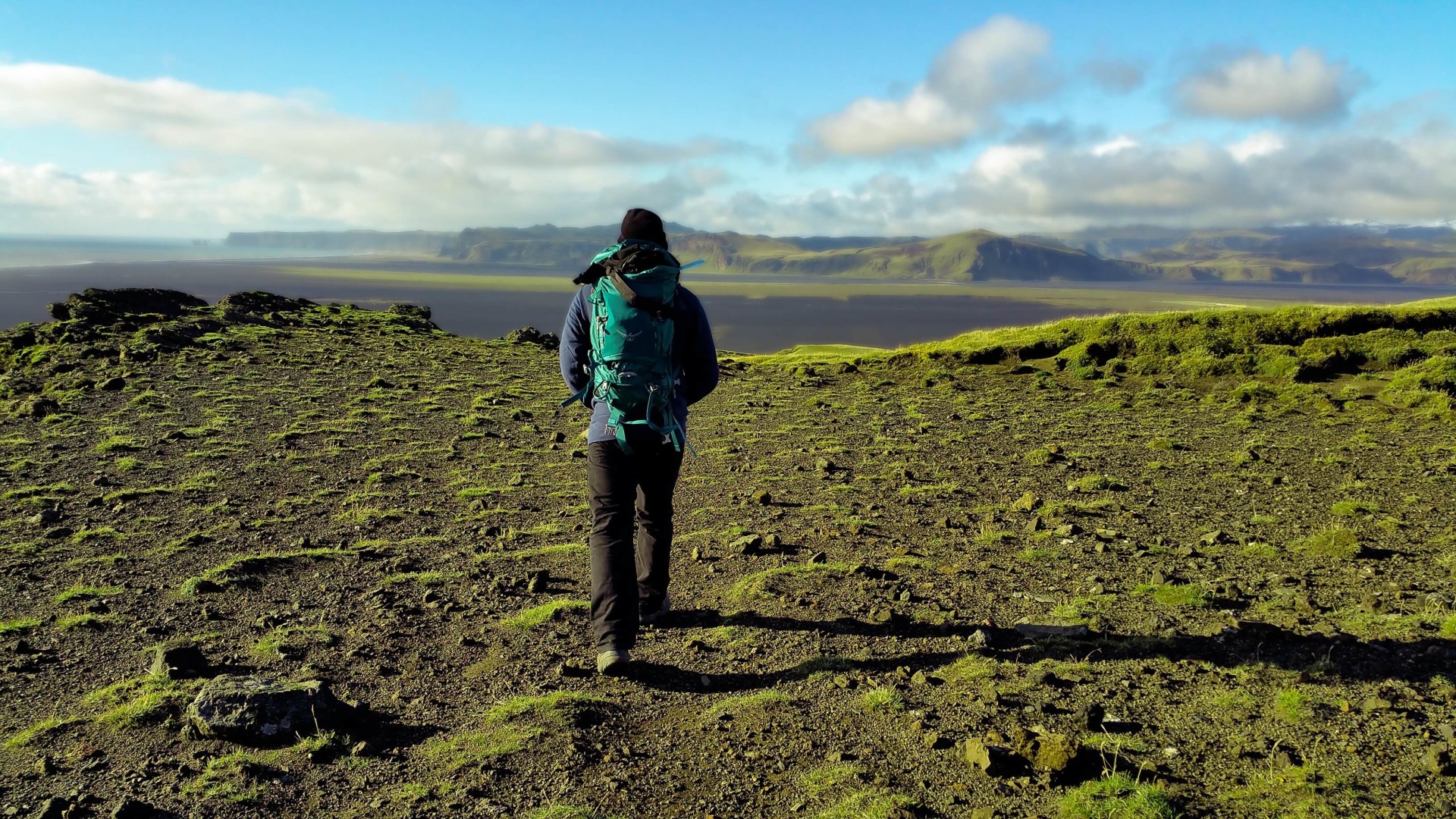 Other items you may want to pack include: a map, for which you can get at the airport or from any tourist information centre. You will find tourist information centres in downtown Reykjavik as well as some being dotted all over the ring road. You may also want to pack bottled water (which you can also refill at most streams here in Iceland) and energy bars or drinks (think NUUN or Gatorade). Electrolytes are very important when hiking, they can energise you and help to prevent any cramps from walking a long distance.
The final items you may want to have are a mobile phone, this can be for many reasons. Taking great photos of your memories, and also for any safety reasons. You never know what can happen, and having phone access will be very useful. During the summer and even winter (due to the low sun), you may want to have a pair of sunglasses handy, trust me, the sun can be very torturous when it is glaring directly into your eyes. Suntan lotion may also be quite useful during the summer as the sun can sometimes be very direct which can lead to some unfortunate burning, surprisingly!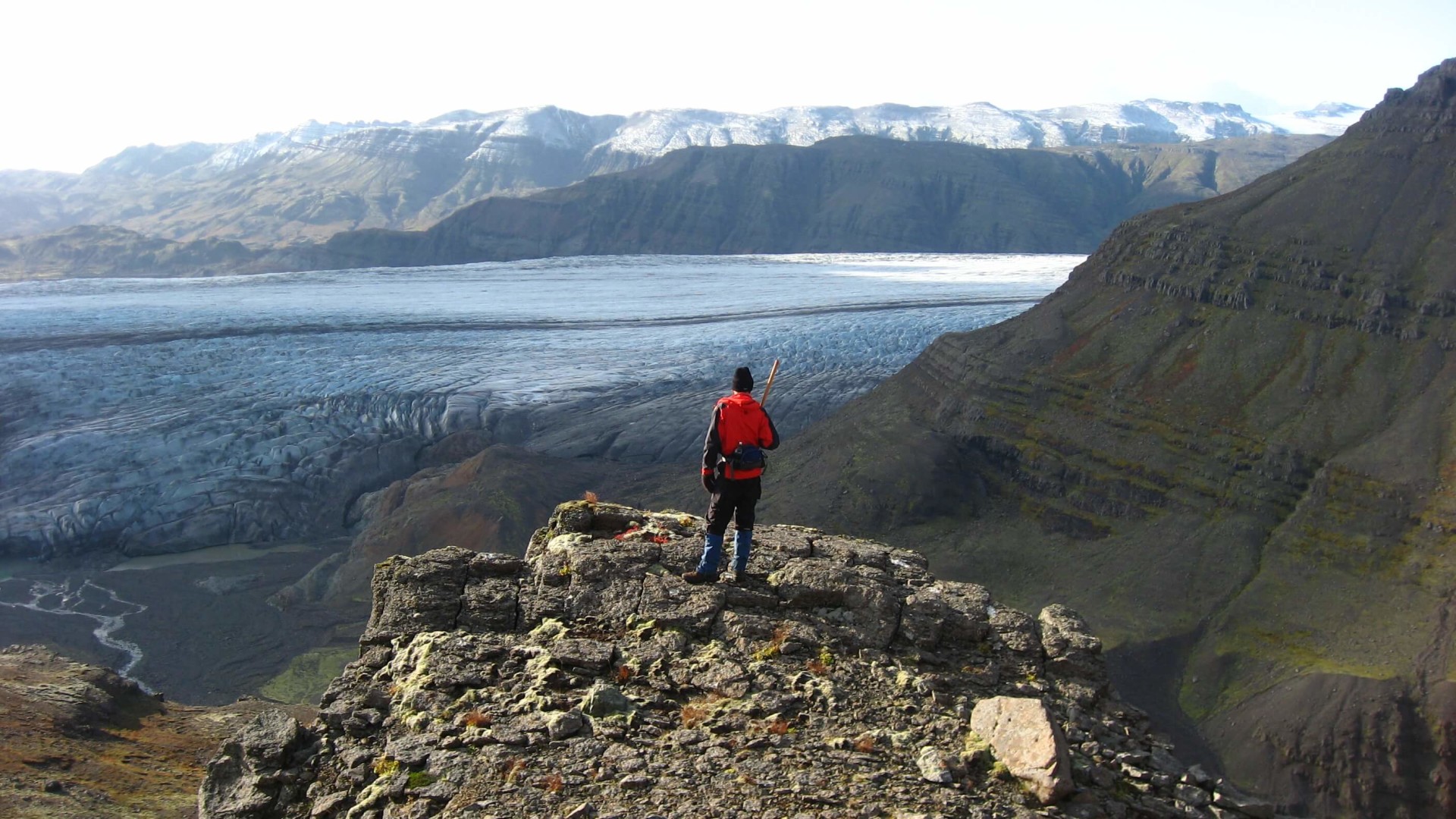 If you plan on camping overnight during your hikes, then you may want to take a tent, sleeping bags, camping mattresses, gas stove, cooking equipment and toilet roll (most important, of course!). You can rent most of these from www.iceland-camping-equipment.com, or bring your own in your luggage. I would recommend avoiding camping during the winter period as it can be very dangerous. The cold temperatures and strong winds will make the experience very difficult for you, and with road conditions and heavy snow, it may be difficult for rescue teams to find you if anything serious was to occur. This also reminds me, if you do plan on hiking and camping (during either season) remember to register your plan on www.safetravel.is. This way, if you were to get lost, the SAR team may be able to locate you based on your itinerary.
Tip: Remember to bring swimming gear, as you never know if you will run into a hot spring during your hiking trail!
Popular Hiking Trails
The best thing about hiking in Iceland is that the surrounding natural beauty makes you forget about how tired you are from walking. You can hike up mountains, through rivers and streams, and also areas rich with geothermal activity. In fact, on some of the routes, you can finish the day with a nice dip in a geothermally heated river or pool.
There is a whole range of different hiking trails available here in Iceland. Some of them are less demanding and suitable for anyone, even those that aren't used to hiking. However, there are also some trails which can be very physically demanding and requires careful planning and hiking experience. Some of the trails can be very short, taking only around 90-minutes. However, there are also multi-day hikes available. Vastly experienced hikers have actually hiked around the whole of Iceland, with this said to have taken up to around 20 days to complete.
Below will be a list of some of the available hiking trails, with a mixture of so-called 'easier' trails as well as those for more experienced hikers.
Ulfarsfell
Ulfarsfell is often referred to as a mountain, however, to locals it is viewed more like a hill due to it not being very big or steep (296 metres). Due to it being a very easy hike, a lot of locals will hike it regularly. In fact, many will take their dogs for walks on Úlfarsfell. If you're coming from downtown Reykjavik, then you can take the number 15 bus to get here. Just ask the driver when to get off, or if you trust your Icelandic language skills then listen for the 'announcer' to say 'Vesturlandsvegur/Úlfarsá'.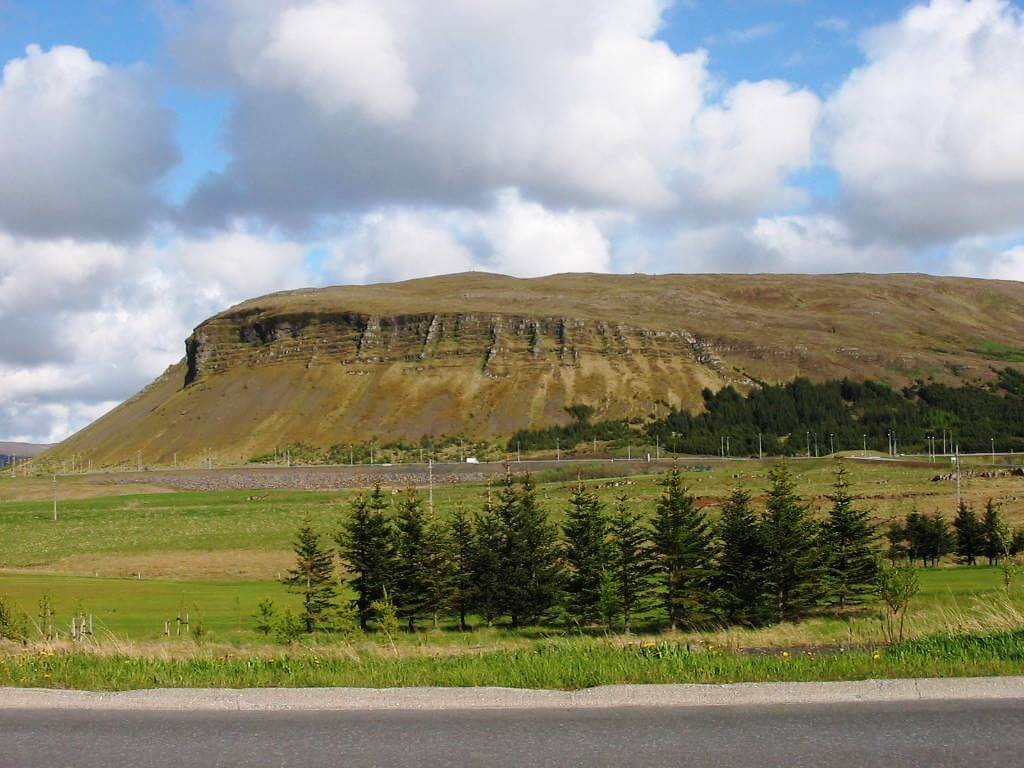 This hike is suitable for anybody and is actually a very pleasant, short walk. The first 300 metres of the hike is on an asphalt pavement before coming to a dirt track and then the short hike to the peak of the mountain. When on the dirt track, be sure to be aware of your surroundings as sometimes there may be an ATV/Buggy tour en route. A lot of the time they head to Úlfarsfell as part of a tour and when they drive past it can be both very noisy and messy as the tires will throw the mud all over the place. Once you pass the muddy section, the path becomes narrower to the peak so be careful.
There are a few different routes to the peak, with the most common being the westernmost. This path leads to the best overview of Reykjavik, Esjan and the Atlantic Ocean. On top of the mountain, you will find a building, antennas and also a stone-made shelter. All of the routes to the summit are very simple as you can see the top of the mountain during almost the whole of the route. To get down to the start, just go back down your route or the Eastern side. They join up at the same point. Or, you can take one of the other routes, though they take you to the other side of the mountain.
Esja
For people spending their time in Reykjavik and looking for some great hikes then Ulfarsfell is a great option, however, there is also a hike that is more popular and bit more difficult. The hike I am talking about is, of course, Mount Esja! The gigantic mountain that can be seen from Reykjavik over the ocean and even on your drive from Keflavik Airport to Reykjavik.
Esja stands at around 914 metres and is accessible all year round, though, if there is heavy snow then I would recommend avoiding hiking it as it can become very slippery. Once you get to Esja's car park, you will notice that there is a restaurant at the starting point of the hike, called Ejustofa (House of Esja). They serve great Icelandic Meat Soup, as well as other Icelandic treats such as Kleinur and a smoked trout bagel. Outside of the restaurant, you will see a whole bunch of maps which detail all of the trails available as well as information on the surrounding area.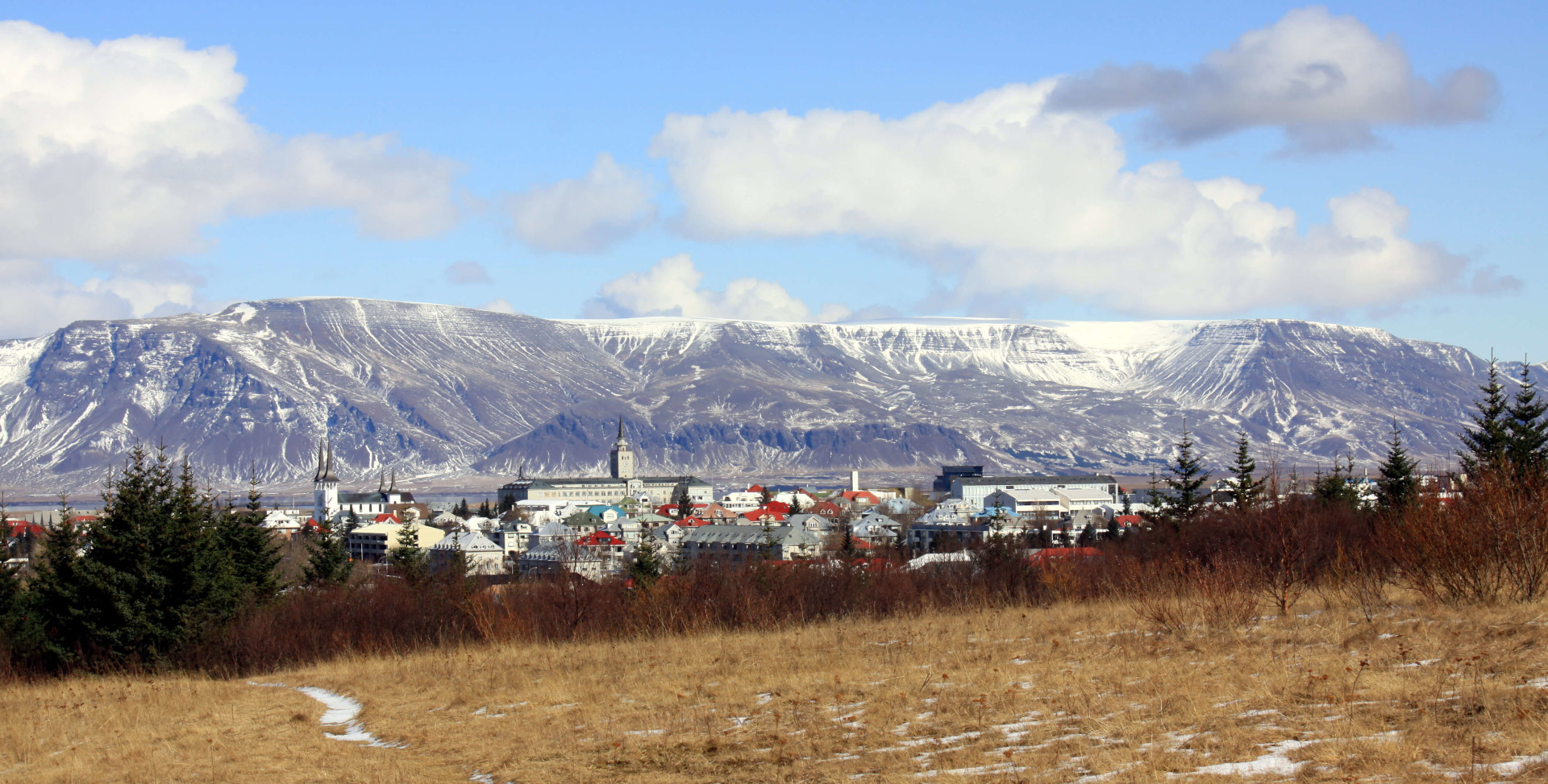 There are many different trails with them all being clearly marked along the route, the signs also have a grading system ranging from 1 (easy) to 3 (challenging). Only access the level 3 routes if you are an able climber and trust your hiking capabilities. For the level 3 routes and also after the 5th station, you will need crampons and also an Ice Axe for climbing.
On the 5th station, most people will choose to stop here and then head back down as from that point on the trail becomes more difficult with the requirement of climbing. The 5th station is marked with a stone that has 'Steinn' labelled on it. If you're hiking Esja during the winter, even if you're an experienced climber/hiker, then I would recommend stopping here as the route becomes incredibly dangerous with icy conditions. The trail has ropes and steps for you to hold on to in order to reach the peak, and if you are brave enough then I definitely recommend doing so during the summer as the view is incredible. There is a beautiful stream that runs alongside the route and during the summer, it is possible to drink the water from it. So, be sure to fill up your water bottles here!
Landmannalaugar
During the summer period, Landmannalaugar is probably the most popular hiking destination. It is filled with many different trails, all with their own unique appeal. You could actually spend a few days in the area and experience all of the different trails, in fact, this is very common. The whole of Landmannalaugar is surrounded by rhyolite mountains, which leads to a dazzling display of colours, be it red, pink, green, blue and even a golden yellow.
The area is best known for its natural geothermal baths, and that is why it gained its name which translates to 'The People's Pools'. If you do plan on hiking Landmannalaugar, then I would definitely recommend taking a swimsuit/shorts with you, so you can take a dip into one or more of the many hot pools.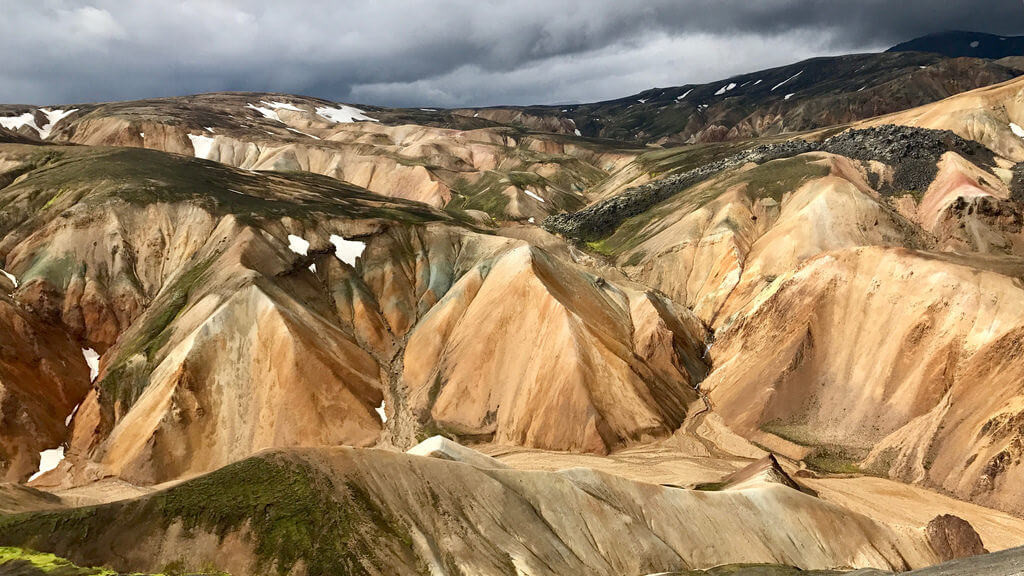 Landmannalaugar is the northern point of the Laugavegur trail, Iceland's most popular hiking trail. Laugavegur connects Landmannaluagar and Þórsmörk, before ending at Skógafoss waterfall. It takes multiple days to hike, and you'll find campsites along the route for you to spend the night. The route is marked with colourful stickers so you don't get lost. You'll hike past beautiful volcanic plains, glaciers, canyons and snow-capped mountains. Other trails in the Landmannalaugar area include the hike to the Mountain 'Brennistensalda', as well as the trail to Bláhnjúkur volcano, a 60,000-year-old volcano where you can hike to the top and have extraordinary views of the surrounding area.
Most people will head to Landmannalaugar as part of a tour, however, it is also possible to access the area on your own accord. Though, you will need a 4-wheel-drive in order to do so. If you do plan on self-driving, then I would recommend taking F208 from the North as it is the easiest route and only contains little streams as opposed to rivers like the other routes. If you have an adventurous side and want to try out river crossing then take F208 from the South, though, you will need a slightly raised 4x4 for this as the river can sometimes be very deep.
During the winter period, Landmannalaugar is completely inaccessible due to safety reasons. The F-roads that lead to the area usually open around mid-June before closing again in late-September. The Icelandic Touring Association operates a small shop during the summer month where you can stock up on some food and drinks for your hike. They also have 3 campsites, as well as a mountain hut which comes with sleeping bags and can accommodate up to 80 people.
Hornstrandir
Possibly the most remote location in Iceland, Hornstrandir is filled with untouched beauty. It is a nature reserve located in the West-fjords and has been deserted since the 1950s. Hornstrandir was established as a nature reserve in 1975 and is protected under law. There are still some summer houses located on the island, though the majority of the time they are left empty.
Due to Hornstrandirs remoteness, more and more hikers are heading there every year. The chance of hiking in an area that isn't destroyed by humans is something extremely unique. One of Hornstrandirs biggest inhabitants is the Arctic Fox, the chances of seeing one there are extremely high so photographers will want to head to this area. It is asked that you try to disturb the Fox as little as possible, as it may be mating season. It is also because they are wild animals, so provoking them may be quite dangerous. As well as this, please avoid leaving any litter behind, especially those of you planning on camping overnight and that lighting fires in Hornstrandir is also highly illegal.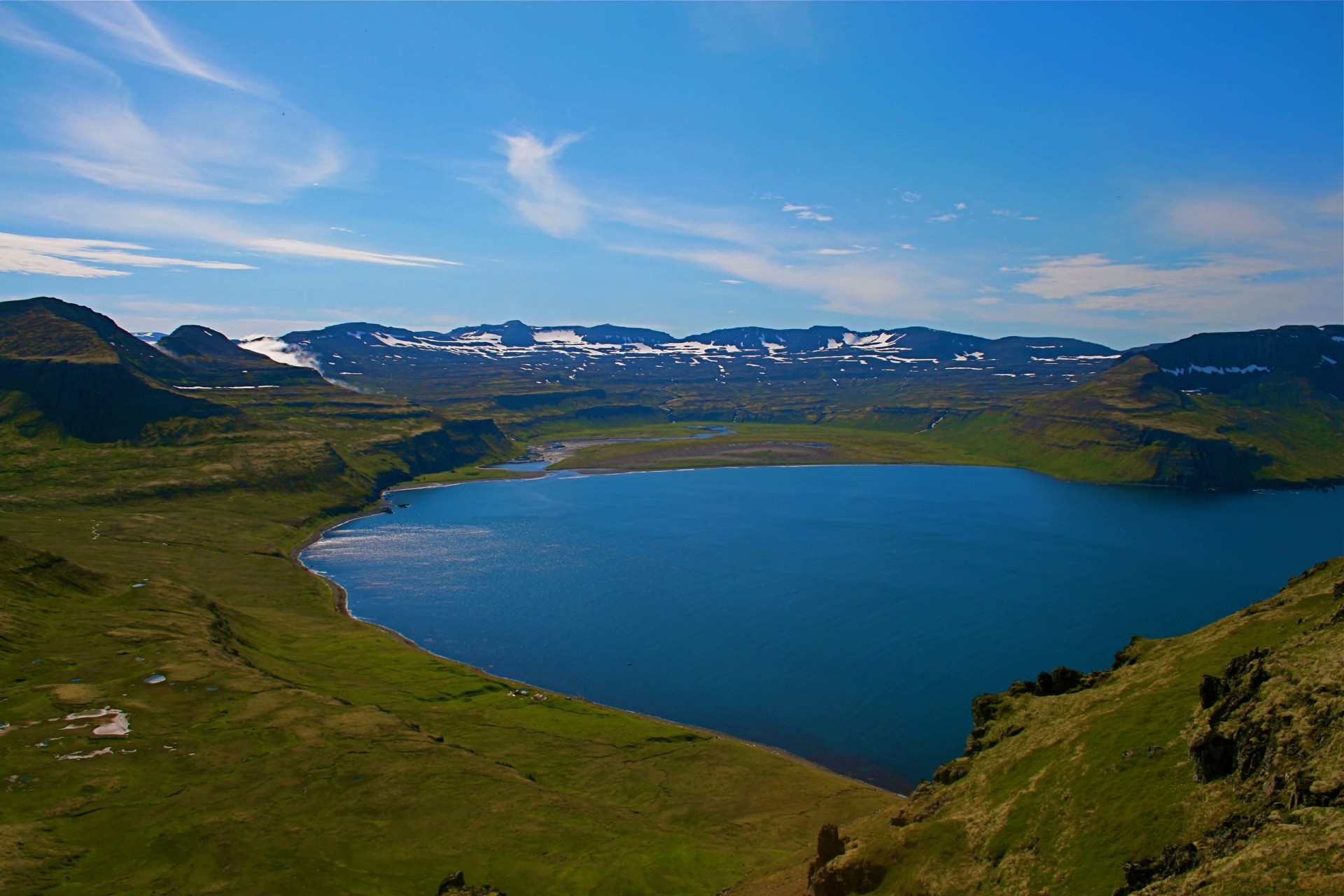 To get to Hornstrandir, you will need to take a ferry from Ísafjörður over to Hesteyri. The ferry is available from Mid-June to late August, it is completely inaccessible during the winter months. Remember there are no stores on Hornstrandir, so be sure to pack food, drinks and all the equipment you will need for hiking and camping.
There are many hiking trails in Hornstrandir, with one of the must do's being the hike to Hornbjarg. This is the areas most prominent feature, it is a huge cliff right at the top of Hornstrandir that has incredible views of the ocean and usually has a tonne of birds in the surrounding area. The most common hike taken by people is a 3-day hike that begins at Hesteyri and ends at Veiðuleysufjörður, where you take the boat back to Ísafjörður. There are a few campsites in Hornstrandir for you to camp, with the most common being 'Hornvík'.
Remember that the area is very remote and cell coverage is pretty much non-existent. If you do run into an emergency, then there are emergency shelters located over the island where you will find supplies and a radio to call for help. It is asked that you leave the shelter as you find it, sign your name into the guestbook and intended route, and also to only use the shelter if there is an absolute emergency.
Laugavegur & Fimmvörduháls
Named as one of National Geographics '20 Best Hikes in the World', the Laugavegur trail is both fun and challenging. This hike is only recommended for those of you that regularly hike and/or are physically fit. The trail is 55km long and begins at Landmannaluagar before ending at Þórsmörk. You can then continue a further 25km to Skógar, with this route called 'Fimmvörðuháls'.
The hike is usually split up into around 6 days, though it is possible to do it in more or less. 4 of the days will be spent on the Laugavegur trail and other 2 on Fimmvörðuháls. Along the route, you will find camping sites where hikers can stay overnight. There are also mountain huts at Hrafntinnusker, Alftavatn, Hvanngil, Laugahraun and Emstrur.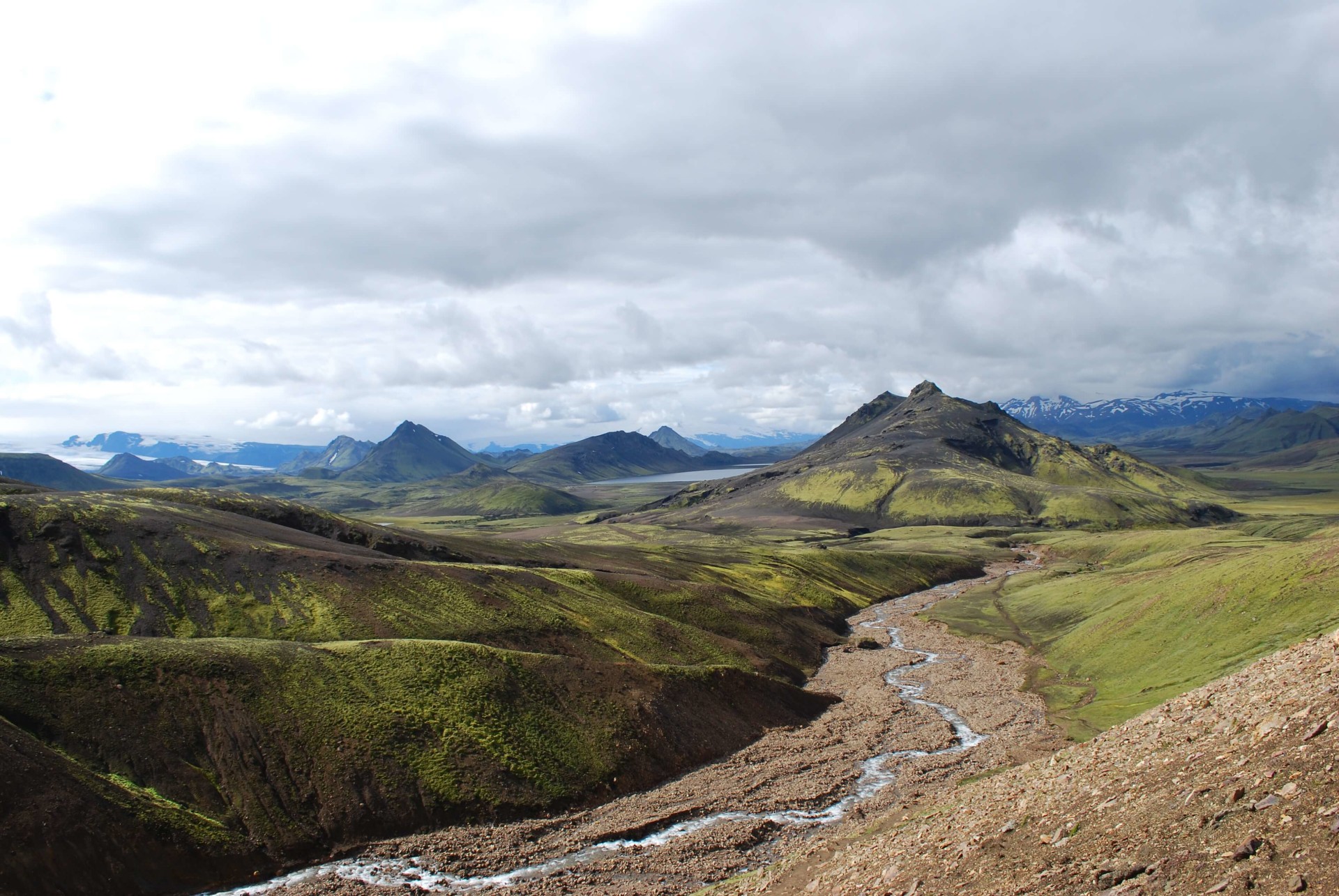 On this hike, you will be required to cross through rivers, hike up mountains and cross rugged landscapes which can take a toll on your feet and ankles. Having ankle supported boots are a definite must for this hike, as well as some form of muscle cream to help alleviate any muscle cramps and pains. The route is also marked with poles that have colours on top. When you get to the higher ground, these poles will come in handy as visibility can sometimes be null.
The Laugavegur trail passes some great sights, which includes the black sand desert 'Mælifellsandur', which has a stunning mountain called 'Stórasúla'. You will also pass Álftavatn, otherwise known as the 'Swan Lake'. The trail also passes through one of Iceland's most beautiful locations, Þórsmörk (more on that later). Along the route, you will also manage to get a glimpse of the world-renown 'Eyjafjallajökull'. This is the volcano that erupted in 2010 and led to those funny clips of journalists trying to pronounce the name on live television!
As previously mentioned, the Laugavegur trail is quite challenging. If you're not an experienced hiker then you may want to join one of the available hiking tours. Otherwise, if you do plan on hiking yourself, be sure that you are well equipped. You will want to ensure that you have sufficient food, water, energy bars, a means of sodium, hiking poles, good boots, clothing for all conditions and also a cell phone, in case of an emergency. You should also look to register your intended route on www.safetravel.is in case an emergency was to arise. This way the SAR team will know roughly where about you may be.
Þórsmörk
Filled with towering mountains, rich moss, birchwood and ice-capped peaks on the horizon, Þórsmörk is visually stunning. As previously mentioned, Þórsmörk is a part of the Laugavegur trail. However, if you don't want to do the whole Laugavegur trail then hiking just Þórsmörk is definitely worth it. Translated to 'The Valley of Thor' in English, this area is regarded as a haven for nature lovers, photographers and hikers alike.
Aside from the Laugavegur trail and Fimmuvörðuháls, there are also shorter and less physically-demanding trails within Þórsmörk. One of those is the hike up the Mountain 'Útigönguhöfði', which is less-demanding but is pretty narrow and steep towards the peak so be sure to take care. The walk is very beautiful and the views across the horizon are breathtaking. Take your camera, trust me!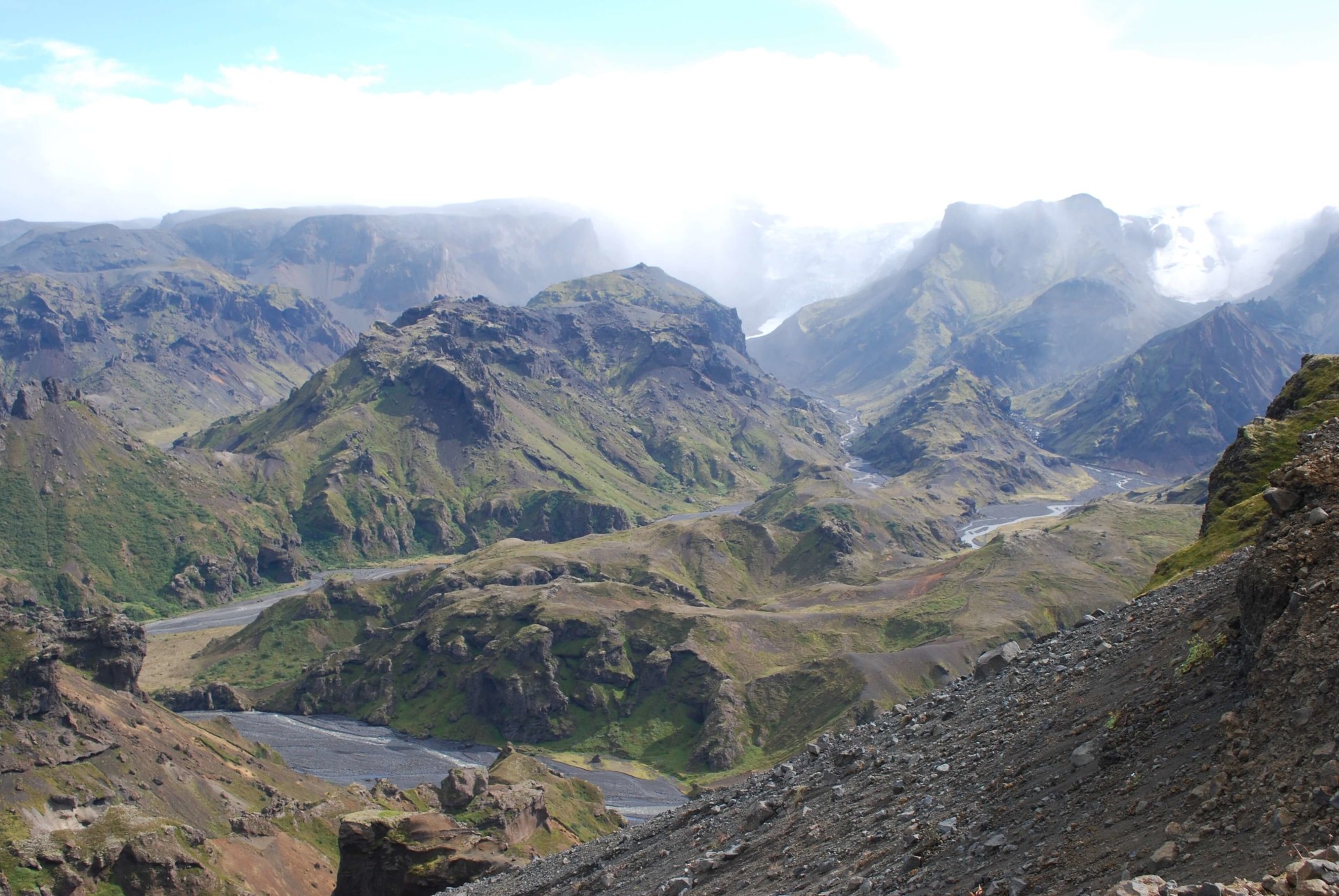 Other popular hikes in the area include 'Valahnúkur' a short mountain hike which also has stunning views from its summit (spotting the trend?), Tindfjöll Circle, which is a 6-hour hike and can be challenging in some parts but is still accessible for anyone looking to venture into some hiking. It begins at the Langidalur hut, ascends up the Tindfjöll Mountains over the Stangarháls Ridge and down to the Krossá riverbed. From here, you can either head back to the huts or you can continue on to the previously mentioned Valahnúkur and/or hike to the forests in Langidalur and Húsadalur.
One of my favourite hiking locations in Þórsmörk is the 'Stakkholtsgjá Canyon'. To get there, you can either cross the river Krossá via the footbridge or take a bus from the volcano huts that leave once per day at 12:30 pm. The bus drops you right at the opening of the canyon and returns to collect you 2-hours later. Stretching at around 2 kilometres long and surrounded by mossy cliff faces standing at 100 metres tall. You hike along and even through small rivers (wear waterproof shoes and clothing!) until you reach the Stakkholtsgjá Ravine. Here, you will find a small waterfall, however, be sure to take care as rocks and ice are known to fall from the surrounding cliffs.
To get to Þórsmörk you can either go as part of a tour or take one of the mountain buses from the BSÍ bus station. If you plan on renting a car, then be sure to rent a raised 4x4 as Þórsmörk is only accessible by cars with 4WD. You will need it to be raised as you are required to cross rivers on the route into Þórsmörk. During the summer months, Þórsmörk can actually get pretty warm due to it being protected by its high ridges. However, Þórsmörk is also notoriously wet so be sure to pack waterproof clothing, especially as you will need to walk through rivers.
Glymur
Standing at 199 meters tall, Glymur was previously regarded as Iceland's highest waterfall before being surpassed by Morsárfoss (228 meters) in 2011. Glymur wasn't well known until quite recently, in fact, in 2015 I hiked Glymur during June and was pretty much all alone. However, it is a different story these days! If the weather is good then you can expect hundreds, if not thousands, of people to flock there to catch a glimpse of this mighty waterfall.
Glymur is located in the Hvalfjörður Fjord in West Iceland and is around a 50-minute drive from Reykjavik. Just before the Hvalfjörður tunnel, you will see a sign by the road 47 which points you in the direction of Glymur. Once you get there, you will need to park on the car park (more of a gravel patch) and then take a short 10-minute walk to the main hike. The entrance is actually through a small cave, which is pretty incredible.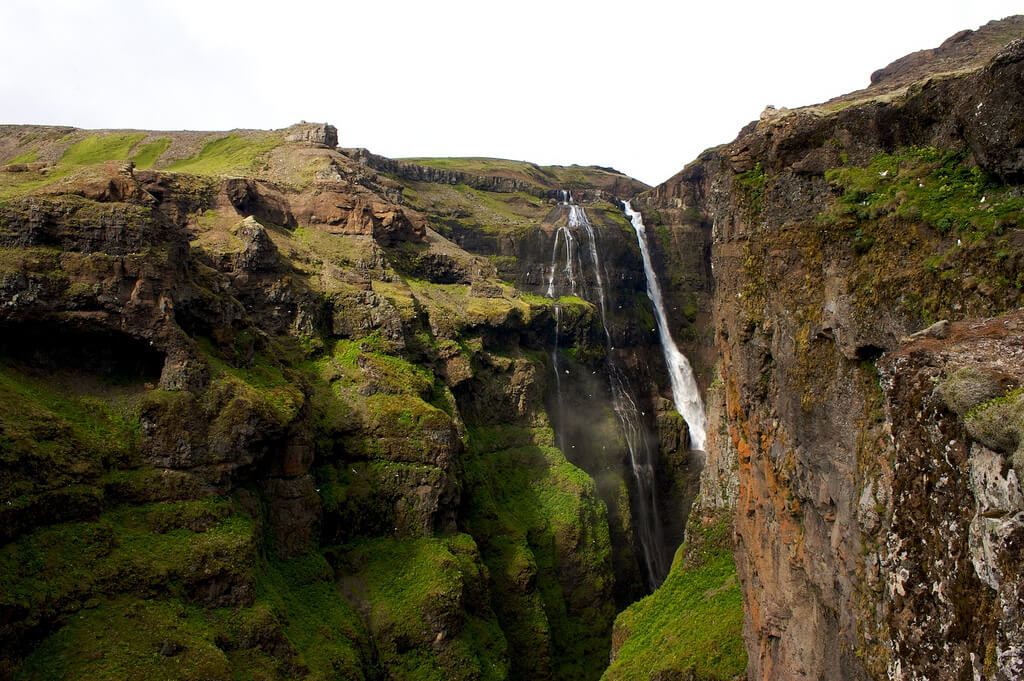 Once you pass through the cave, you will no doubt hear the water falling in the distance. If you walk forward a little bit and then down the slopey hill, you will come to the river. Here, you will have a great view of Glymur and should notice a log bridge with ropes. You need to cross the log bridge over the river before ascending up the hill to the top. The hike is quite steep but very simple and is not too demanding. After a 15 to 20 minute hike, you will reach the viewing point which overlooks the waterfall. This is a great spot to take photos as you have a very clear view of the waterfall. Most tourists will stop here, have some packed lunch, and then descend back down.
However, it is also possible to continue onwards, right to the top of the waterfall. This route does get a little tough as you are required to scale across the hill (don't worry, there is a rope to hold on to). The additional hike takes around 10 to 15 minutes until you reach the top, but is definitely worth it as the view is incredible and much better than the view from where most people stop. At the top, you can see all over the horizon, including distant mountains and the Atlantic ocean. My favourite part about the top of Glymur is that you can walk through the river that Glymur flows from, this is fun as you get to see people screaming and having fun from walking through the water. Whilst you're crossing, I would recommend filling up any bottles you have with the river water. It is glacier water and is extremely clean and packed with minerals. Once you cross, you can descend back down to the start.
Hvannadalshnúkur
Hvannadalshnúkur is the highest peak of Öræfajökull glacier in the Vatnajökull National Park. It is the tallest mountain here in Iceland, measuring at around 2,109 metres tall. Due to Iceland being located over a rift valley, the tectonic plates are pulling apart rather than crushing together, this means that most mountains in Iceland never go over a thousand metres tall. This makes Hvannadalshnúkur unique and somewhat of a mystery.
To hike on Hvannadalshnúkur, then an experienced mountain guide is recommended, as it is a very challenging hike. The mountain is covered in snow year round which adds to the difficulty, there are also many crevasses, steep inclines and also weather conditions towards the top can become very tough, particularly if it is a windy day.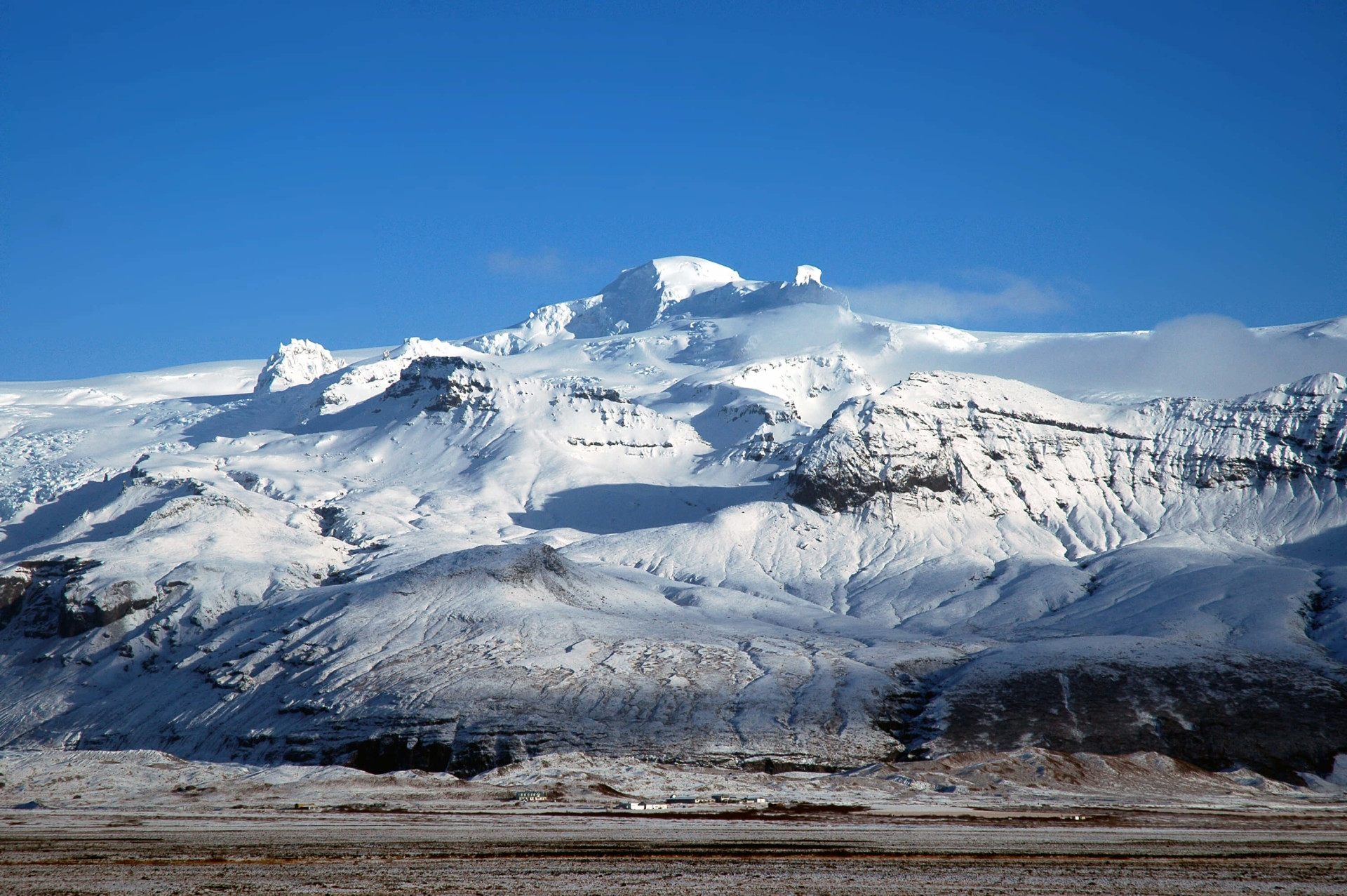 There are 2 main routes, with both gaining an elevation of around 6,600 feet. For both routes, you start on the Western side of the mountain. The first of those is the Hryggjaleið route from the Virkisjökull Glacier. However, this route closes in July due to an increase in crevasses and dangerous icy conditions. The most common route is Sandfellsleið, which is open almost all year round and takes around 12 hours to complete (8 hours up, 4 hours down).
People will hike between May and September, with July and August being the most popular months because of weather conditions. As previously mentioned, a guide is recommended for Hvannadalshnúkur. You can check with Icelandic Mountain Guides, to arrange climbing the mountain with them. It is also possible to climb it without a guide, however, if you do so I would still recommend checking in with Icelandic Mountain Guides beforehand to get safety and condition reports, as well as the best route to take.
Reykjadalur
Located around 45 kilometres from Reykjavik, you will find Reykjadalur or the 'Steam Valley'. It is closely located to the town of Hveragerði. The valley is filled with hot springs, mud pools and also a river which is flowing with warm geothermal water that you can bathe in. The Reykjadalur area has become one of the more popular stopping points for tourists during the summer as they go in search of hot springs. But, there's plenty of room for everyone so don't let that deter you. The Reykjadalur Valley hike is very simple and suitable for anyone.
The hike begins from the 'Dalakaffi' restaurant, from here you cross the bridge over the river and then hike on a gravel trail up the 'Rjúpnabrekkur Ptarmigan' slopes. The hike is around 3km long and takes 45-60 minutes before reaching the Reykjadalur Hot Steam Valley. The trail can be quite steep but is suitable for anyone to walk, however, be sure to take care as there is a high chance of there being horse manure on the route. There are some horse riding tours which take you to Reykjadalur Valley, so if you enjoy horse riding you may want to delve into that!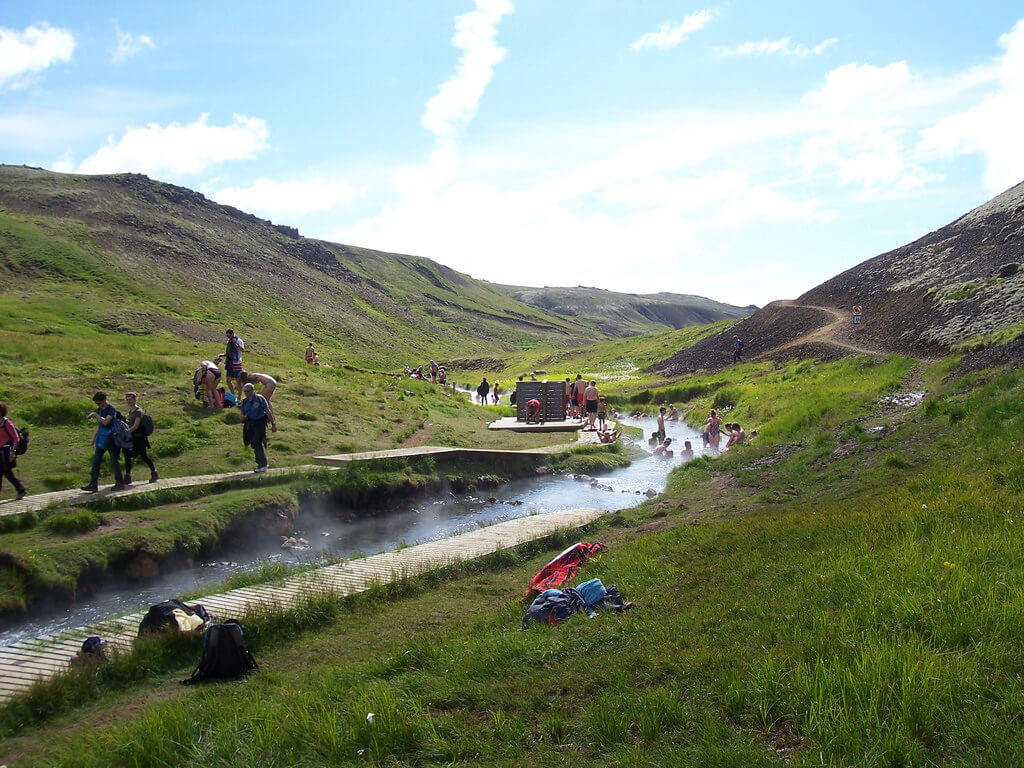 Along the hike, you will come across the Djúpagil canyon. For those of you not afraid of heights, you might want to look down into the canyon to see the waterfall below, called Djúpagilsfoss. A little further on and you will reach the steamy Reykjadalur Valley. At first, you cross a little river before descending into the geothermal heaven. Right at the beginning, you will see a little hot pool which is a rich blue colour, similar to that of the Blue Lagoon. However, don't get touching any of the water in this area as it is boiling hot. For further safety, please stick to the specified pathways as you never know where a hot pool or steam vent may be hiding.
Then you have probably the biggest highlight of Reykjadalur, the geothermally heated river which you can bathe in. Chances are the river will be very busy with fellow travellers, however, there is plenty of room so simply find a good spot for you and enter relaxation. If you're lucky and there is good weather then this will be a terrific experience. My recommendation would be to bathe in the river once you have explored the area. This way, the hot water will help to soothe any sore muscles and general tiredness.
Continuing along the trail, you will find the 'Klambragil Canyon' as well as further hot springs and fumarole. You will also find plenty of geothermal plants which can be many different variations of colour due to the high levels of geothermal activity. The plants are classed as endangered, so please refrain from touching them. On your way back to the beginning of the hike, you can walk down to the previously mentioned 'Djúpagilsfoss'. Here, some people will even get into the water as it can sometimes be quite warm.
Helgafell
Helgafell isn't a challenging hike but does take good endurance and being physically fit, this is due to its length. The mountain is located in Hafnarfjörður and is around a 15 to 20-minute drive from downtown Reykjavik. Use GPS to reach there, you will need to park outside the gates as vehicles are not permitted in the area. The ascend begins from the Kaldársel sheep corral. To begin with, there is around a 20-30 minute walk where you will walk across asphalt roads and dirt tracks until you reach the foot of the mountain. En route, there is a beautiful lake, which is a good stopping point, either before or after hiking Helgfafell, for you to recharge and eat.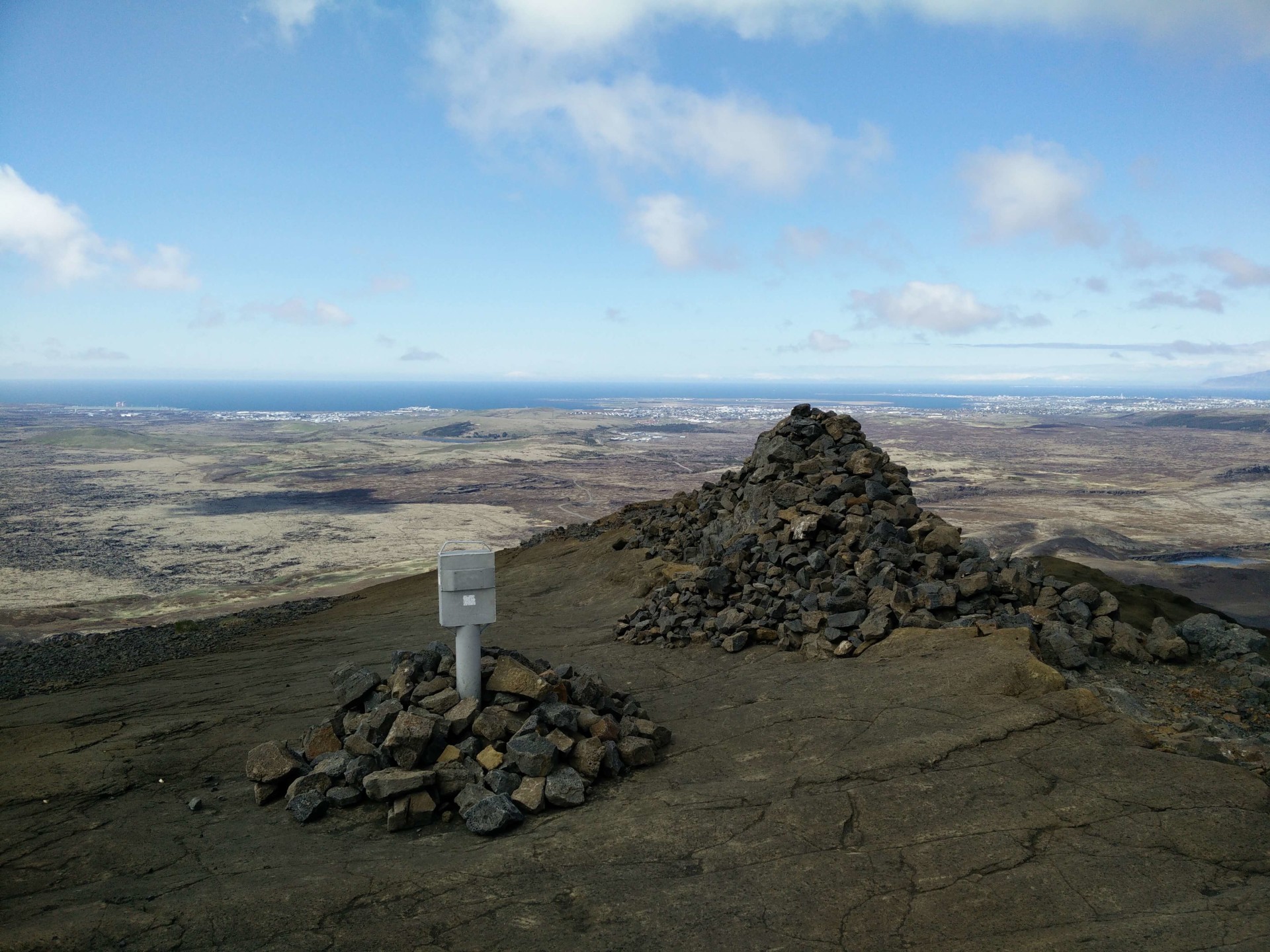 The hike to the top of Helgafell is very straightforward, almost literally. It is fairly steep and contains a lot of bumpy, loose gravel so I would advise wearing hiking boots. You will pass many pahoehoe and pseudocraters before hitting the grassy slope towards the summit. Despite Helgafell standing at only 1,300 feet, from the top you will have stunning views of the Atlantic Ocean and surrounding mountains.
To get down, you can just take the same route as you came up. The whole of the hike (not including time spent at the summit) is around 90-minutes. This hike is suitable for anyone, and a lot of Icelanders that live in Hafnarfjörður are known to take regular walks on Helgafell. If you have some time to kill when in Reykjavik and are looking to get away from the busy city then a short hike like Helgafell is definitely recommended.