Rent a 4x4 Camper in Iceland
Best Prices for Roof Tent 4x4s and Campervans in Iceland
Krijg de beste resultaten
Compare prices, features and reviews with a huge selection of campervans!
Geen verborgen kosten
Eenvoudige boekingsprocedure met directe bevestiging en beschikbaarheid van de door u gekozen huurauto in IJsland.
Zo eenvoudig mogelijk
Eenvoudig boekingsproces met directe bevestiging en beschikbaarheid van de door u gekozen huurauto in IJsland.
Pick-up beschikbaar in Reykjavik en Keflavik Internationale Luchthaven!
Pendeldienst tussen luchthaven, hotel en autoverhuurbedrijf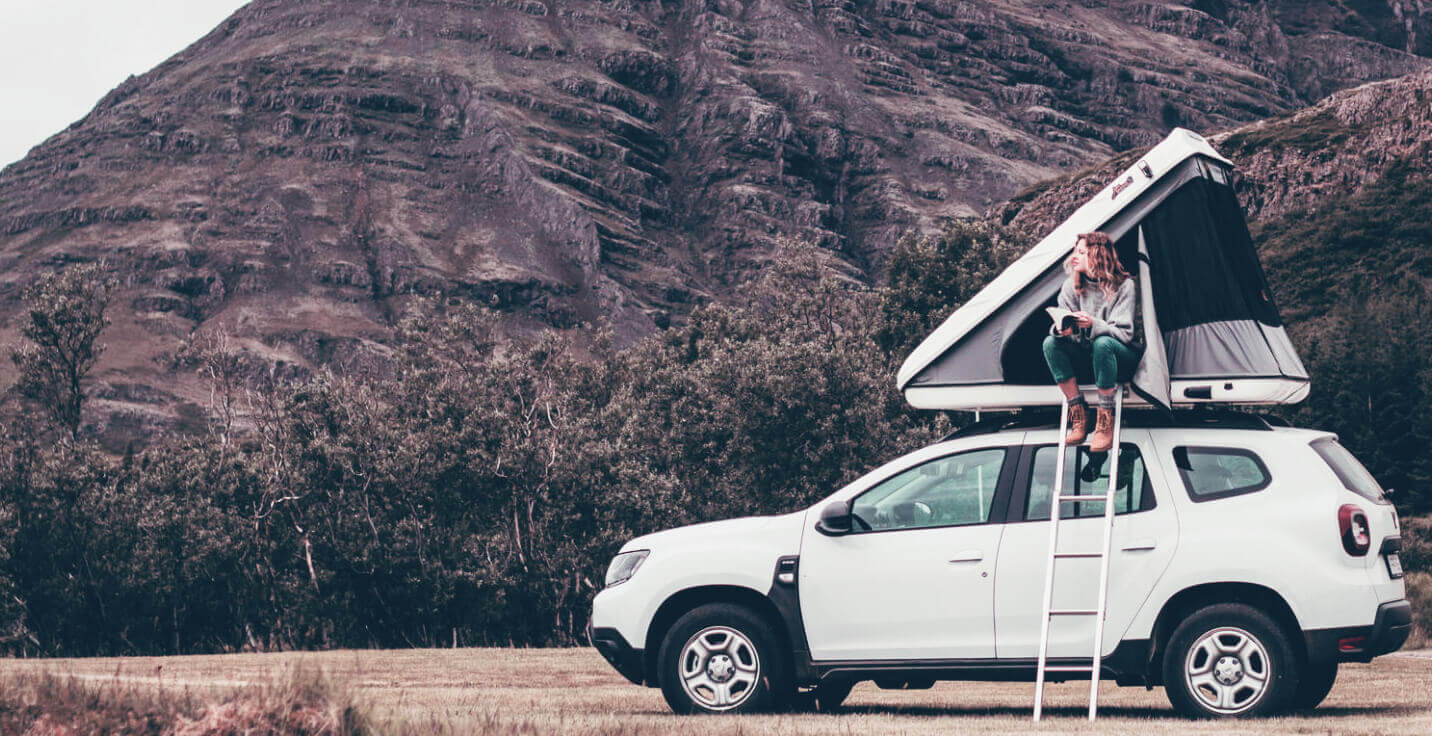 REVIEWS VAN OVER HET WEB
Wat mensen over ons zeggen
Wij zijn trots op onze normen van kwaliteit en service en die normen worden weerspiegeld in wat onze gebruikers over ons te zeggen hebben. Boek uw huurauto of dagtour met Northbound en wees er zeker van dat een sterk team van reisadviseurs klaar staat om u te helpen met al uw vragen of zorgen, zowel voor als na uw avontuur.
4.8/5
9.000+ Beoordelingen
9.000+ from verified customers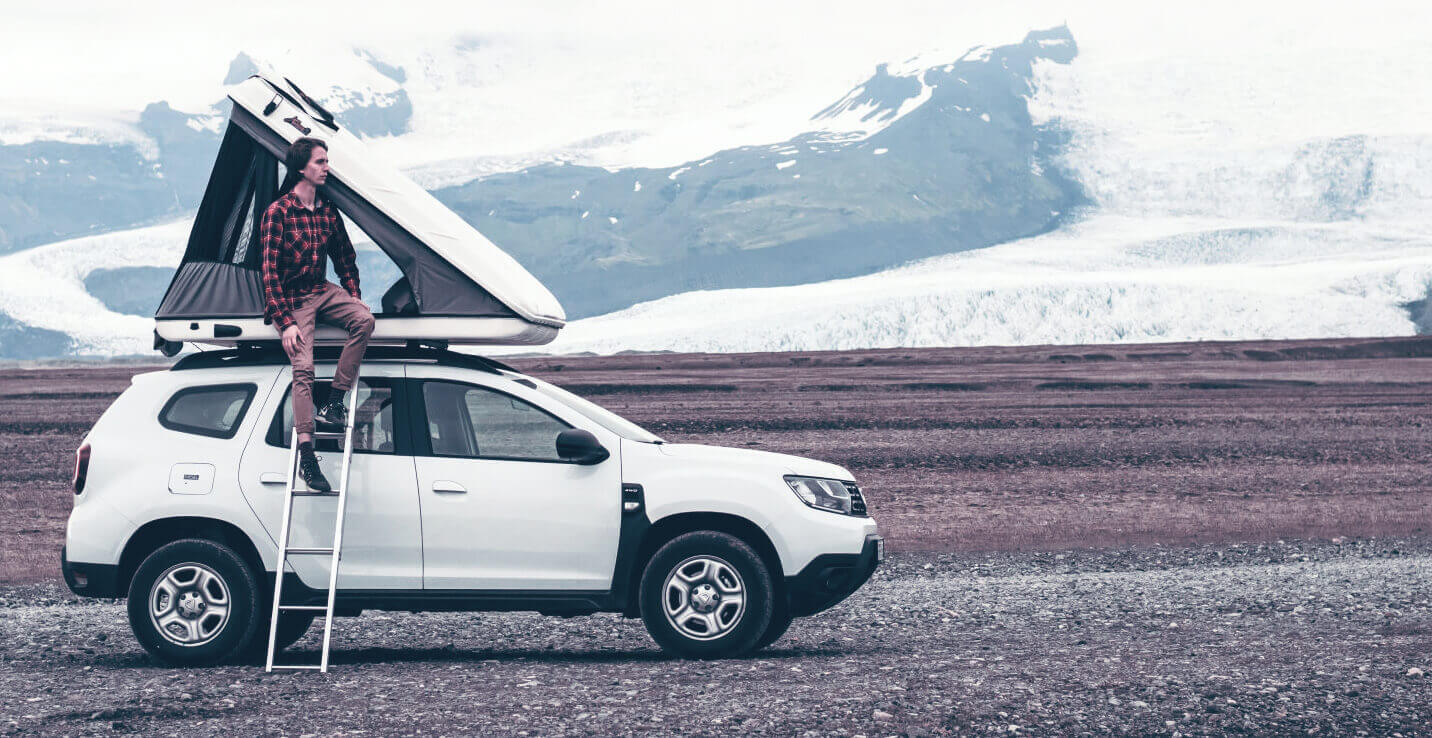 Enjoy Iceland in a unique way
Freedom to Roam the Icelandic Countryside
Travel through Iceland in the true adventuring fashion. No hotel check-ins, no strict schedules, just you and the road.

A 4x4 camper affords you the freedom to roam as you please, unrestricted by challenging highland paths or strict time schedules due to varying hotel bookings. Just explore at your own pace and then pull into the nearest campsite for the night.
What's included in a roof tent camper?
Normally, with a roof tent, you have a simple foam mattress, some bed linens, duvets and in some cases there might be sleeping bags included.

Exact inclusions depend on which car you end up selecting, but you'll see them listed out on the booking page clearly so you can review before you commit to booking.
View all 4x4 Campers
ECHTE RECENSIES VAN ECHTE KLANTEN
Onze klant schreef Beoordelingen
Autoverhuurbedrijven in IJsland kunnen ongelooflijk verschillen van elkaar dat is waarom het lezen van de beoordelingen en horen wat anderen te zeggen hebben over hen is waarschijnlijk het belangrijkste wat je zult doen voordat u zich op een auto. Bezoek onze review center om meer dan 9.000+ getuigenissen van geverifieerde reizigers te vergelijken.
BEOORDELINGEN VOOR HUURAUTO'S
Outstanding!

Rented a 4x4 in September 2022

Our trip was excellent, made all the better by the excellent pre-trip communication with Northbound, as well as of course, the car. It was very comfortable, easy to drive and took us into Landmannalauger on the west (two river crossings) and north ro...

Perfect!

Rented a camper in September 2022

The Northbound team were very helpful and easy to deal with. transfers to and from the airport were swift and comfortable. We were given an upgrade as our car had a fault. The car was in great condition and dealt with the "F" roads with ease. Highly...

Outstanding!

Rented a camper in August 2022

Was a fantastic experience, and a super smooth connection. I don't normally book things through a third party but sometimes exceptions are the right choice. Would recommend using North Bound.

Perfect!

Rented a hatchback in September 2022

It was our first time renting a car and everything went really well with Northbound. The staff were nice and flexible. The car worked perfectly, only one thing we'd change is being more careful while choosing the car model because of its trunk capaci...

Perfect!

Rented a 4x4 in August 2022

Hi!
We enjoyed our time with the Dacia Duster.
The pickup and dropoff with the shuttle was really uncomplicated and the contact persons were absolutely courteous.
Thanks a lot! We will recommend Northbaund.

Kind re...

Fantastic!

Rented a 4x4 in August 2022

Excellent service and response to questions. Great car too and we were pleased to get an upgrade. Super work Northbound

Fantastic!

Rented a 4x4 in August 2022

Hi
Transfers were both immediately. Car was brand new. We had to wait 30 min due to missing car (same happened to the family present when we left). Communication was very reduced. I would liked to have seen a written report on existing damages...

Perfect!

Rented a 4x4 in August 2022

Overall I found the experience of Northbound very satisfying. From the ease of comparing rental cars available, to the many details provided on the website, to the very quick response time by email, there were many things they did well. The rental co...

Perfect!

Rented a 4x4 in August 2022

The car rental experience with Northbound and Lava Car Rental was great and we would definitely recommend you guys to our freinds and family travelling to Iceland.

The car and the service was up to the mark, however as discussed with t...

Outstanding!

Rented a 4x4 in August 2022

It was a perfect car to travel in! Road great and did not have any trouble.
Best Campsites for Campervans in Iceland
Fully equipped campsites can be found throughout Iceland, conveniently situated along the ring road, welcoming you for the night as you pursue your journey.

Our favorite campsites for campervan and motorhome travel include: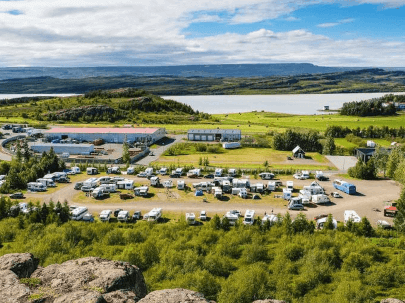 Camp Egilsstadir
Located in East Iceland, along the ring road in the small town of Egilsstadir, Camp Egilsstadir claims to be the happiest campsite in Iceland, and we agree. Their 24/7 facilities include bathrooms, showers, washing & drying machines, luggage storage, bike rental, childrens play park, dishwashing area, kettle, microwave, and even free WiFi.

If youre passing by Egilsstadir, we recommend you pop by Camp Egilsstadir.
Grindavik Campsite
Conveniently located approximately 20 minutes from the Keflavik Airport, the Grindavik Campsite is a perfect last stop before an early morning flight. The facilities include warm & cold water, bathrooms, internet, playground, showers, washing machines and waste disposal for mobile homes.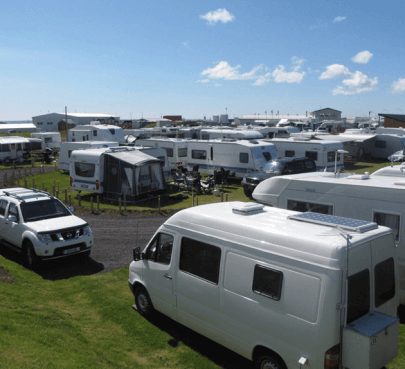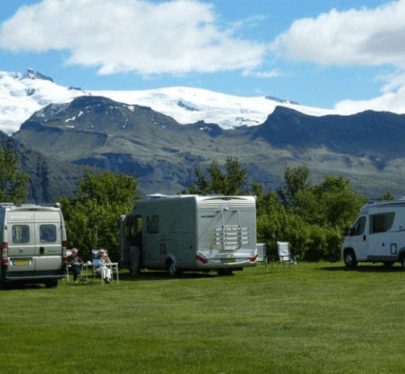 Skaftafell Campsite
Sheltered by the surrounding trees, Skaftafell on the Icelandic south coast has a designated area specifically for motorhomes and campervans. The facilities include bathrooms, warm and cold water, a restaurant, internet, electricity, wheelchair access, washing machines, showers and waste disposal for mobile homes.
Comparing prices for rental cars in iceland
Search now and get the best deals on campers in Iceland
Ultimately, the smartest thing to do is compare the prices. You may have your eye set on a specific type, but there are many car rentals who supply that type and some are far more affordable than others. You can use price comparison engines like Northbound to search and compare camper prices from multiple car rentals to ensure that you book the right car for your journey.
Veelgestelde Vragen
Driving a Camper in Iceland
What to know before renting a camper in Iceland
Should I hire a motorhome or a campervan in Iceland?

Iceland is perfectly suited for both campervan and motorhome travel, with campsites spread across the country and most of them even offering waste disposal and other facilities necessary for motorhomes. Whichever you should go for, depends on what type of travel you're looking for.

For couples or small groups, who don't mind not having a bathroom, shower and ample space on-board, a campervan is perfect and affordable. The motorhome, while more expensive, is better suited for families with children or those who prefer a fully equipped RV on their journey around Iceland.

Both options afford you the opportunity to travel across Iceland's majestic landscapes with a new backyard every morning.

Can I Drive On F Roads In A Campervan in Iceland?

Not the normal ones, but there are plenty of 4x4 camper options available that do allow you to travel uninhibited on F-roads if you choose.

Check out 4x4 Campers here!

How old must I be to rent a campervan from Northbound?

The minimum age for a campervan rental is 20 years, although some specific suppliers may have that bar a little higher. You can find the age requirement by clicking the Important Information tab on the vehicle page.

Where can I park the campervan?

The website of the Environment Agency of Iceland states:

"Camping with no more than three tents is allowed on uncultivated ground for a single night unless the landowner has posted a notice to the contrary. However, campers should always use designated campsites where they do exist."

Iceland is blessed with hundreds of campsites scattered all over the country. Your best bet would be to show up to one of those to spend the night, with bathroom facilities and plenty of space abound.

Can I rent extra equipment like camping chairs, tables or BBQ grills?

In some cases, yes. It would depend on the vehicle you have chosen and what extras that supplier offers.

Should I rent a campervan during winter?

During the period of December-January, and even longer in some cases, we would not recommend renting a campervan unless you fully comprehend what to expect during your stay. The wind speed can reach furious heights and the cold drops well below -0­° Celsius at times. You must decide whether you're prepared and willing to brave these challenges or if you'd rather take the safe route and rent a hotel room and a 4x4 vehicle.

Hoe zijn de wegen in IJsland?

Ze zijn aanzienlijk smaller dan wat u misschien gewend bent in uw eigen land, dus wees voorzichtig en let goed op www.road.is/ voor de wegomstandigheden en het storende weer.

How long does it take to drive the ring road (route 1)?

The ring road can be done in about 7 days, but if you want to thoroughly enjoy it then we recommend at least 12 days for the journey.
Veelgestelde Vragen
Insurances for rental cars in Iceland explained
Welke autoverzekeringen moet ik afsluiten?

Elke huurauto in IJsland wordt geleverd met de standaard CDW- en Wettelijke Aansprakelijkheidsverzekering inbegrepen. Deze verzekeringen kunnen een zelfrisico tot 3.000 EUR met zich meebrengen, wat voor iemand een grote aansprakelijkheid kan zijn om te dragen. In dit geval kan het zijn dat u de CDW-verzekering wilt upgraden naar een Super CDW-verzekering, waardoor u uw eigen risico aanzienlijk kunt verlagen.

Andere gespecialiseerde verzekeringen zoals Grindbescherming of Zand- en Asbescherming kunnen ook een goede aanvulling zijn om je te beschermen tegen bijzondere omstandigheden zoals het bombarderen van de auto met grind of zelfs een plotselinge zandstorm die erdoorheen raast.

Lees meer over Grindbescherming of Zand- en Asbescherming..

Wat is de annuleringsregeling?

Bookings can be cancelled free of charge for a full refund up to 48 hours before the start of the rental period. Bookings cancelled with less than 48 hours advance are subject to a cancellation fee equal to 15 - 20% of the total price, depending on the minimum required deposit for the rental.

For motorhome bookings, the following cancellation policy applies: Filling out our cancellation form and submitting a notice of cancellation with 30 days or more until your booking begins, will make you eligible for a full refund of your booking. Cancelling with less than 30 days until your booking begins will render your deposit nonrefundable.
NO-SHOWS
If the vehicle cannot be picked up due to any of the following:


Insufficient documentation
Failure to provide a valid credit card containing sufficient funds to cover the deposit amount.
Failure to collect the car at the specified time/date.

Refunds are not available for no-show cases.
Veelgestelde Vragen
F-Roads, Highlands & Offroad Driving
F-Roads are special roads in Iceland that usually lead through the highlands
F-wegen in IJsland

De F-wegen van IJsland zijn door de jaren heen steeds populairder geworden voor reizigers die op zoek zijn naar een beetje onbekend avontuur en om te ontsnappen aan de drukte van de meer populaire bezienswaardigheden langs de ringweg. Reizen op een F-weg kan veeleisend en zelfs gevaarlijk zijn als je niet goed voorbereid en achter het stuur van een geschikte auto zit.
Autohuur in IJsland staat u niet toe om uw gewone auto mee te nemen op de F-wegen, maar de meeste zullen u toestaan om een 4x4 huurauto mee te nemen, met uitzondering van een paar van de meer uitdagende wegen zoals F249 naar Þórsmörk.
Lees onze Gids voor F-wegen in IJsland.

Welke f-wegen kan ik rijden?

De hoogland F-wegen in IJsland zijn talrijk en gevarieerd. Terwijl sommige kunnen worden gereden in een klein compact voertuig zoals de F35, zullen andere diepe rivieren of rotsachtig terrein en kan dus een groter, meer geschikt voertuig, zoals een Landcruiser of een Ford Expeditie nodig zijn. De beste manier om vertrouwd te raken met welke wegen geschikt zijn voor uw voertuig zou op voorhand of bij het ophalen van uw voertuig worden gevraagd.

Kleinere 4x4's zijn over het algemeen geschikt voor wegen zoals F35 of Kaldidalur, terwijl de F206 en F26 iets meer vuurkracht vereisen.

Welke F-weg je ook kiest, vergeet niet om voorzichtig te rijden en onderschat de rivieren of wegen niet.

Lees onze uitgebreide F-wegwijzer 

Kan ik met mijn huurauto over hooglandwegen rijden?

Als uw voertuig een 4x4 is dan is het naar alle waarschijnlijkheid Highland Capable, maar sommige kleinere 4x4's zijn verboden op F-roads. Bepaalde wegen, zoals F249 in Þórsmörk, zijn meestal verboden om te rijden, ongeacht welke huurauto u hebt gekozen.

Verschil tussen F-weg en off-road en off-road

F-wegen zijn niet off-road. Off-road rijden is in IJsland verboden, omdat het terrein en het landschap beschadigd zouden worden en het honderden jaren zou duren voordat het weer in de oude staat is. Off-road rijden kan resulteren in extreem hoge boetes als je gepakt wordt. Omdat F-wegen echte wegen zijn, alleen met meer verraderlijk terrein dan normale wegen, kunnen ze worden bereden zolang je er het geschikte voertuig voor hebt.

Lees meer over de verschillen tussen F-wegen en off-road gaan.

Can I drive off-road?

Nee. Off-road rijden is illegaal in IJsland en zal resulteren in een boete, uitgegeven door de politie, tot 100.000 ISK.

Can I cross rivers and fords in my 4x4?

This depends on which 4x4 you have chosen, which road you are taking and what rental you have rented from. The conditions vary, but if you contact us we may able to help you find the answers you seek.