There is a waterfall in every dream. Cool and crystal clear, it falls gently on the sleeper, cleansing the mind and soothing the soul. - Virginia Aliso
If you are planning to travel to Iceland, you must have heard about the many beautiful calming waterfalls waiting there. People all over the world travel for miles and hike for hours to see these picturesque work of nature.
However, how do you know which ones are the best? Where do you find these waterfalls? How can you access them? Well, no worries. We have answered many such questions that you might have in the following article.
---
Iceland Rental Car - Lowest Price Guarantee!
----
8 Must-See Waterfalls in Iceland
With over 10000 waterfalls, it is impossible to visit each and every one of them. Hence, we have compiled a detailed list of some of the best ones that you can surely not miss!
Glymur
Until 2011, Glymur was the highest waterfall in Iceland. However, this record was broken when the retreating Vatnajokull glacier revealed another waterfall, Morsarfoss. Still, with a magnificent height of 198m, Glymur is a popular tourist destination. It is located in a valley of Hvalfjordur known as Botnsdalur, just north of Reykjavik, and can be observed fully from the edge of the deep canyon. This waterfall can easily be considered as one of the most physically demanding to reach. Even after an hour and a half long drive from Reykjavik and more than an hour long hike, you need to cross the river for the best possible view. However, the log bridge is removed in winter and the river can only be crossed in the summer.
During winters, you can reach the waterfall by going up the side instead of crossing the river. Even though it does not provide the best view, there are fewer people in winter than summer which is a huge advantage. Since it is harder to access in winters, it is recommended to visit Glymur in summers. Apart from all this, the famous and old legend, Story of the Red Head, takes origin from this area and accounts it as another attraction to tourists.
Gullfoss
Not only is Gulfoss the most visited waterfall but it is also one of the most visited natural attractions of Iceland. This waterfall takes its origin from the glacier river called Hvita which flows from the Hvitarvatn Lake and the Langjokull glacier.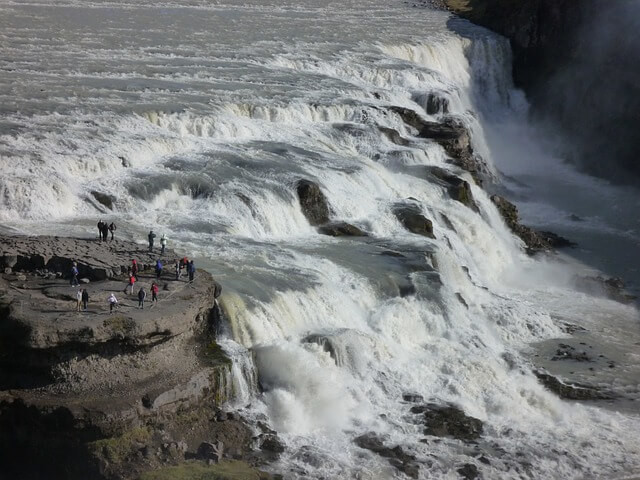 With a total height of about 32m, the most impressive part of Gulfoss is that it plunges in two steps- one of 21 meters and the other of 11 meters. Its immense width is an added bonus that attracts tourists from all around the globe. Interestingly, this waterfall is at about 1.5 hours' drive from Reykjavik on the famous Icelandic route of the Golden Circle. Therefore, it is named as Golden (Gull) and Falls (Foss).
You can view Gulfoss from the different levels of this fall. The greatest quality is that they are accessible in both summers and winters. However, the higher platform gives you the best view of the whole sheer scale of these waterfalls. Sometimes, you can even manage to see rainbows formed in the mist in summer if you are lucky enough. Besides all this, Gulfoss has a very strong history.
Many foreign investors were interested in harnessing hydroelectric power from this waterfall in the early 20th century. Although they would have made a lot of energy, these investors would have ruined the pure natural beauty of this waterfall. To help protect the waterfall, Sigríður Tómasdóttir and her lawyer, strongly protested against the construction of this plant. After a lot of hardship, these two along with the locals managed to conserve this waterfall for everyone to enjoy. The lawyer, Sveinn Bjornsson, later managed to become the first Icelandic President.
Godafoss
The waterfall of the Gods, or as it's better known as, ?Goðafoss', has a height of about 12m but an immense width of 30m. With a horseshoe shape and a very large volume of water, it is easily one of the largest and impressive waterfalls of Iceland. Moreover, it is located in Northern Iceland along the Ring Road which is beside the Fossholl farm. Taking less than an hour to travel from Akureyri, this waterfall's location means that it is a very popular tourist destination.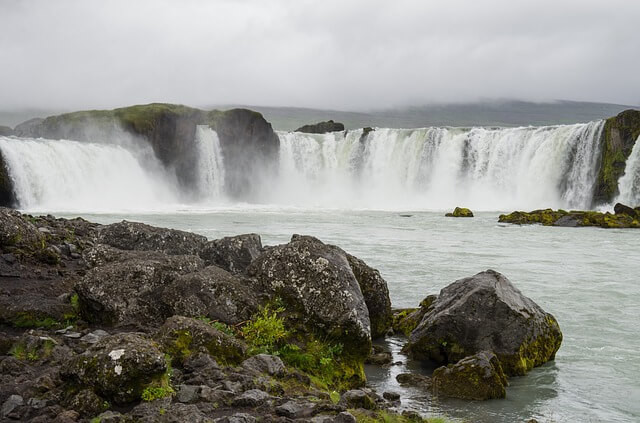 Godafoss offers two different viewing points at a distance of just a two-minute drive from each other. These two spots are found on each side of the waterfall and are close to the parking area. Thus, if you want, you can view the waterfall from both the spots effortlessly.
This waterfall has a connection to the Icelandic Sagas as well as a strong connection to the history of this country. In 1000 AD, Thorgeir Thorkelsson, a Law speaker of the parliament and a Pagan Priest, decided in favor of Christianity over Norse Paganism for all of Iceland. However, he did not forbid the people from practicing Paganism. Instead, he asked them to do so in privacy. As a symbol of finalizing his decision, he threw his heathen idols into the waterfall. This is how this waterfall came to be known as the Waterfall of the Gods or Godafoss.
Skogafoss
Not far from the village of Skogar, just south of the Eyjafjallajökull volcano, you will find the beautiful Skógafoss. It is only 2 km from the ring road and 500 m from road 1, making it easily accessible for the visitors. With a height of 60 meters and a width of 25 meters, Skogafoss is one of Iceland's most visited waterfalls. Uniquely, Skogafoss comes directly from two glaciers, Myrdalsjokull and Eyjafjallajökull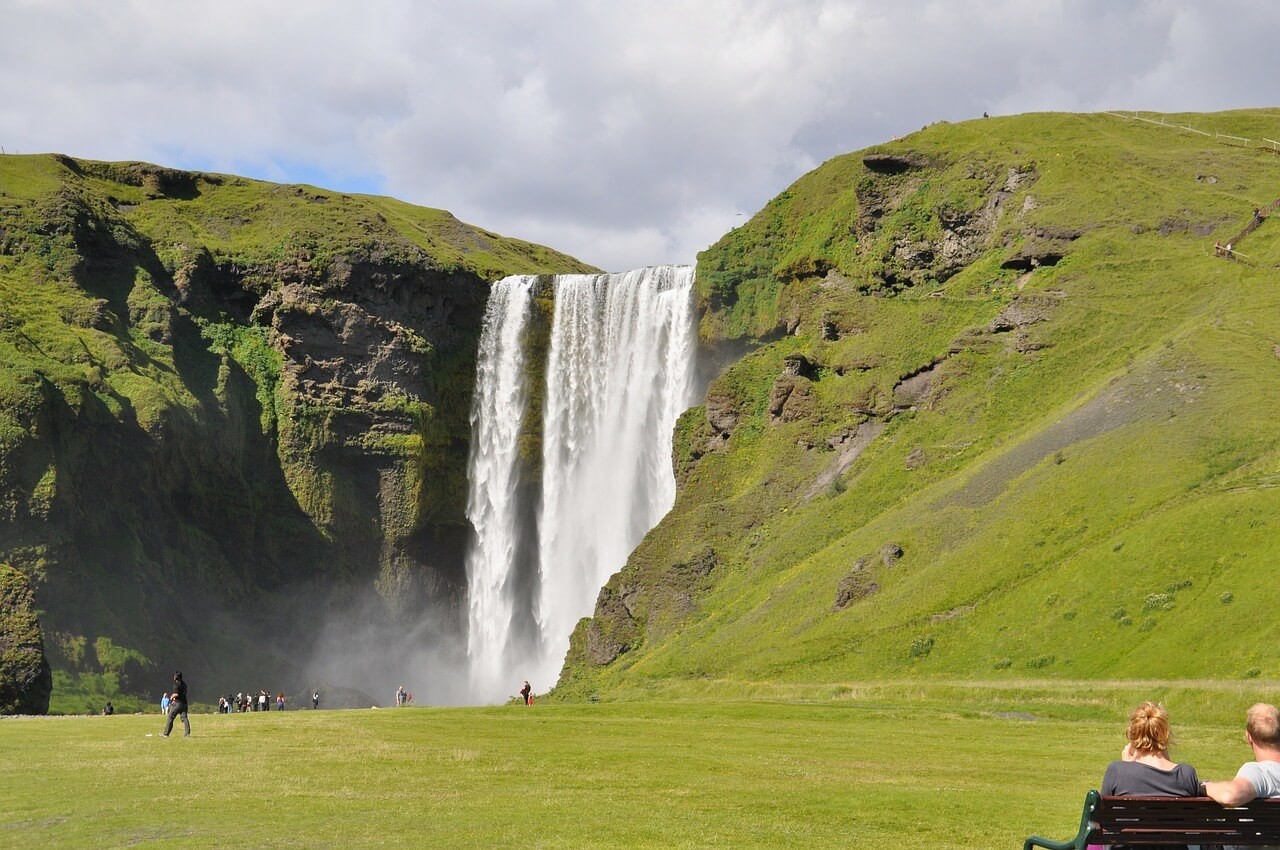 Moreover, there are 2 viewing points for this waterfall. One can be found at the base which is just a 2-minute walk from the parking. Firstly, the height of waterfall spreads shower to wide distances, giving you a great view from this spot. Secondly, it is an ideal place for photographers who travel many miles just to reach this location.
After climbing 500 steps of the staircase, the upper platform gives you the second viewing point. Even though this can be extremely strenuous, you get a staggering view of mountain cliffs and the Atlantic Ocean from the observation platform. There is interesting folklore associated with this waterfall. According to rumors, a Viking settler, Þrasi Þórólfsson, hid a treasure chest in a cave behind the waterfall. Stories say that people searched for this chest but could only retrieve its side ring. Legend also suggests that whoever finds the chest will be the owner of its treasure.
Hengifoss
Hengifoss or ?Hanging Falls?, is the third highest waterfall of Iceland at a height of about 128m. It is located about 34kms away or a 30-minute drive from Egilsstaðir which is an important town with services as well as an airport in Eastern Iceland.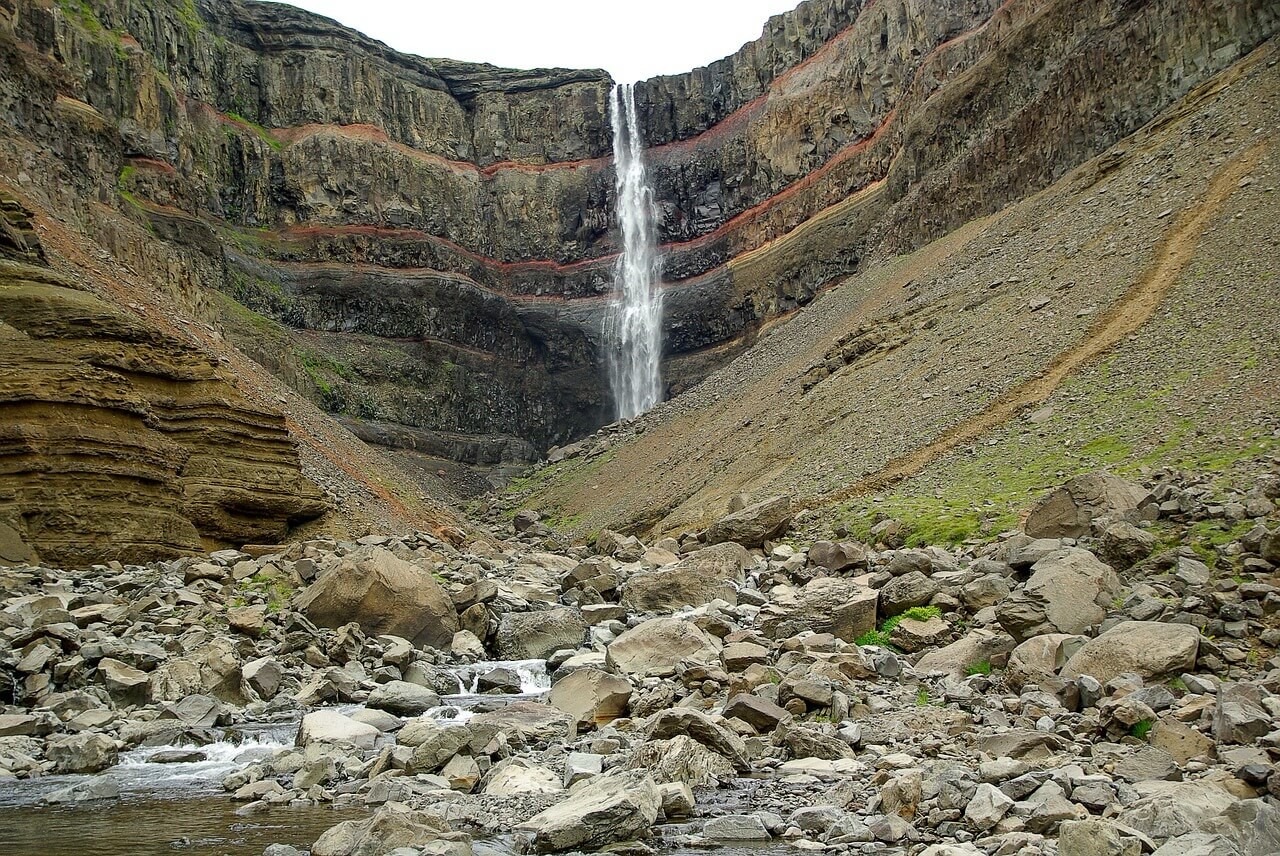 After leaving Highway 1 to reach Hengifoss, you can either drive east or west of the Lagarjljot Lake. Even though the distance to the waterfall is the same, you get a gravelly road on the western side and a popular eastern route that gives you beautiful views of the Hallormsstaður Forest and Mount Snaefell. Reaching this waterfall can also be quite physically demanding. You need to hike upwards for almost 2.5km for around 40 minutes to an hour. To make this strenuous climb rewarding, you get to see another waterfall, Litlanesfoss, along the way. Moreover, you will find benches to rest in between your long tiring hike. Hengifoss is quite importantly geologically since you find multiple layers of red rocks between the basalt layers of the cliff. These red rocks result from oxidation of the iron found in the clay and show the various volcanic eruptions of Iceland that had happened during the Tertiary Period.
Dettifoss
Dettifoss is a 100m wide and 44m tall waterfall located on an active volcanic zone. It is the most powerful waterfall in Iceland as well as the whole of Europe. It has the highest volume of water with a flow of 193-cubic meters per second. The powerful flow of Dettifoss causes the earth beneath to vibrate strongly. Hence, why people have dubbed this waterfall as the Beast.
You can find Dettisfoss following a 30 minutes drive to the north of Ring Road, forming a part of the Diamond Circle. This waterfall takes its origin from the glacial river, Jökulsá á Fjöllum and offers a beautiful home for birds and pretty sights for visitors. To reach these falls, you can take both 864 and 862 roads. However, only the former one is asphalted and both are inaccessible during winters. Apart from this, Road 864 is extremely gravelly and requires a 4WD vehicle for transport purposes. Two equally beautiful yet completely different viewing points give the visitors more options for sight-seeing. In addition to this, these two points are far, almost an hour drive apart from each other. The western side of Dettifoss has a view of the whole waterfall while the eastern side provides a better view of the drop and not the fall. Since Dettifoss has a high volume of water, its drop results in a lot of showers making it the wettest waterfall. Be prepared to be soaked from top to bottom if you get too close to this waterfall. Additionally, you can see another waterfall, Selfoss, by hiking for about 15 minutes upriver. It is also worth mentioning that the beautiful Dettifoss was featured in the film, Prometheus, in 2011.
Svartifoss
Vatnajokull National Park contains the largest glacier of Iceland which feeds many waterfalls. One of these waterfalls is the Svartifoss, about 20m tall, whose trail starts from the Skaftafell Visitor Center. Here, you will find a large parking area with multiple signs for hiking trails.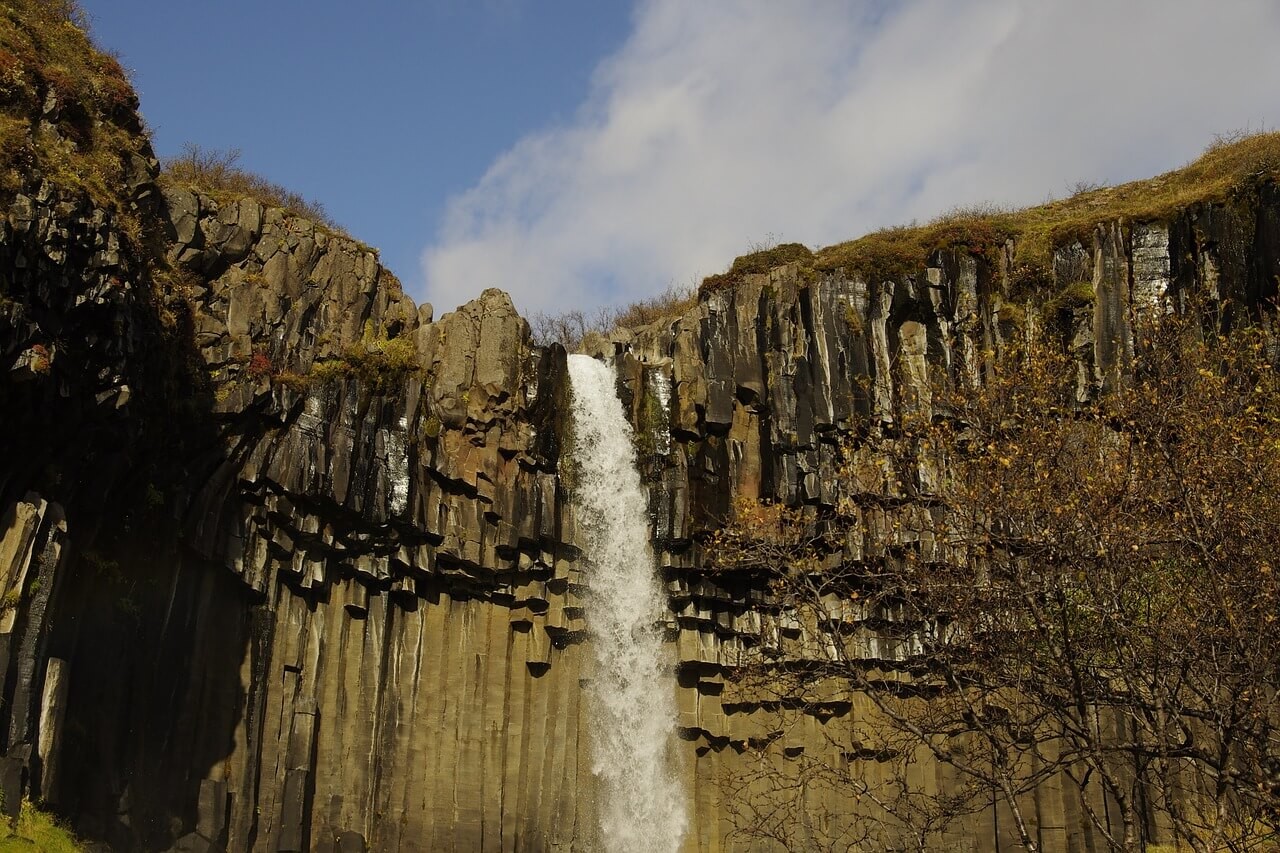 The hike to Svaritfoss takes almost 45 minutes with a distance of about 2km. The best part about this hike is that you get to see three other waterfalls along your way- Magnusarfoss, Þjófafoss, and Hundafoss. The word, ?Svartifoss', means Black Falls and is inspired by the surrounding dark lava or the basalt columns. These black colored rocks are the result of the crystallized molten rock and cooled lava. An interesting fact regarding this unique waterfall is that it inspired the architect who built the famous church, Hallgrimskirkja, in Reykjavik.
Seljalandsfoss
This is another of Iceland's most popular tourist attractions and one of the few that allows you to walk behind it. This unique experience offers you an amazing view of the falls at the cost of getting wet from the widespread spraying. Make sure to be prepared as you will most likely ruin your clothes and digital equipment.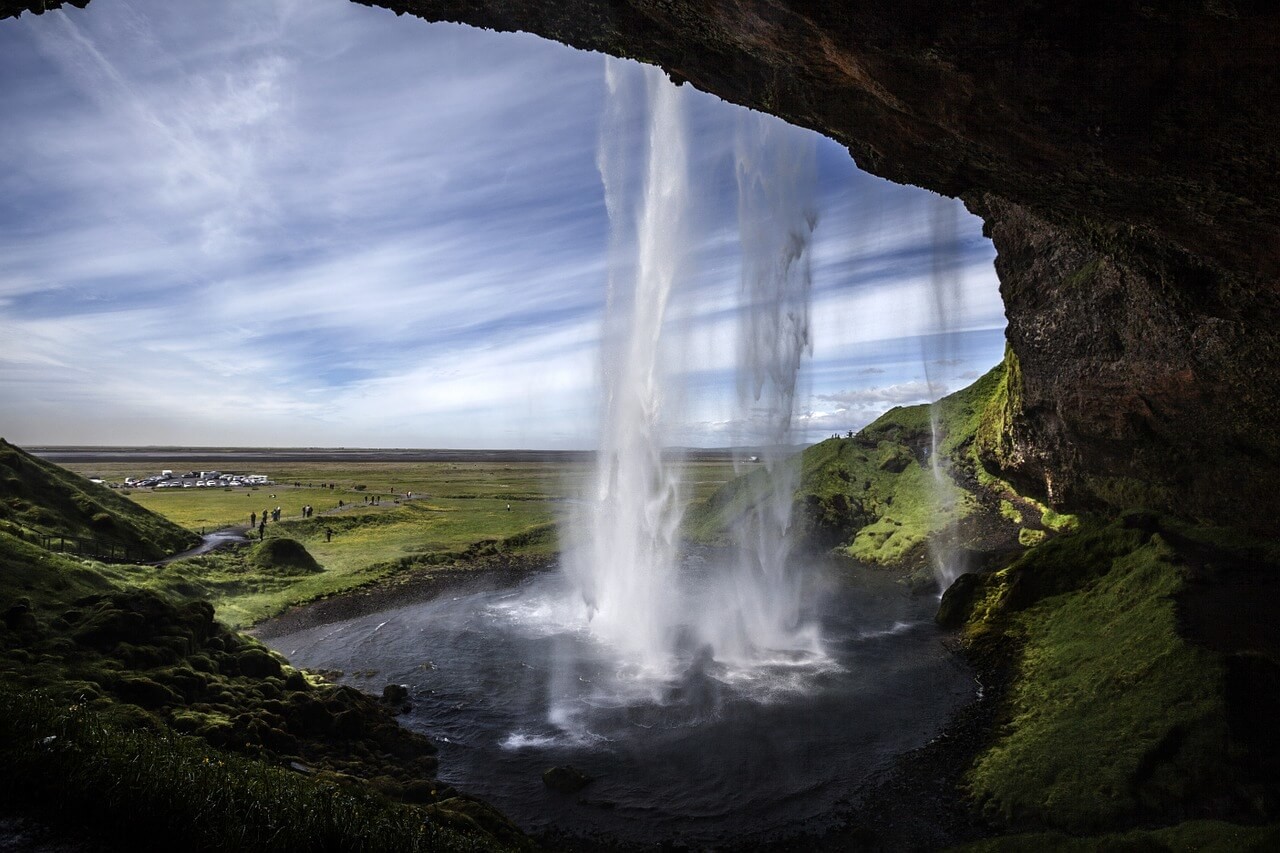 This picturesque waterfall plummets down 60m from ancient cliffs into a shallow pool. It is located on the South Coast of Iceland, near the Ring Road, and is only 1.5-hour long drive from Reykjavik . You can reach this fall through the farm of Seljaland or take the Road 249 which leads to Thorsmork. Seljalandsfoss flows from the river Seljalandsa which originated from the remarkable volcano glacier called Eyjafjallajokull. Notedly, you cannot access this waterfall during winters. This is due to the fact that it becomes quite slippery and dangerous for visitors, leading to accidents. If you are fortunate enough, you can even get the chance to see a rainbow during summers.
Conclusion
If you are planning to visit Iceland and want to make your experience quite memorable, you should definitely add such waterfalls in your list. Not only are the mesmerizing to look at but such creations of God gives you a calming sensation that will leave you revitalized.
Since Iceland houses thousands of beautiful waterfalls, it can be quite difficult to choose which ones to visit and which ones are accessible at your time of visit.
Hopefully, this article has been helpful enough for you to prepare for your tour.
---