You are now on Google and looking for advice and tips before you book your stay in Iceland. We have all been there because visiting a foreign country can be worrisome and, to be honest, expensive as w(h)ell.
This post will have over 25+ important advice and tips for you and your family to make sure your stay is comfortable and unforgettable without all the stress that comes with it.
All of the tips are from locals who have lived here all their lives and they know their way around the country, as well as all the nooks and crannies that others might have missed.
FYI: We are a booking office for rental cars in Iceland, so you might see some advert banners and other such things while reading. We don't advertise for anyone else but our own site, these are just rentals from our partners that we trust and would like to make it visible for you, if you decide to rent one for your trip to Iceland.
Happy reading.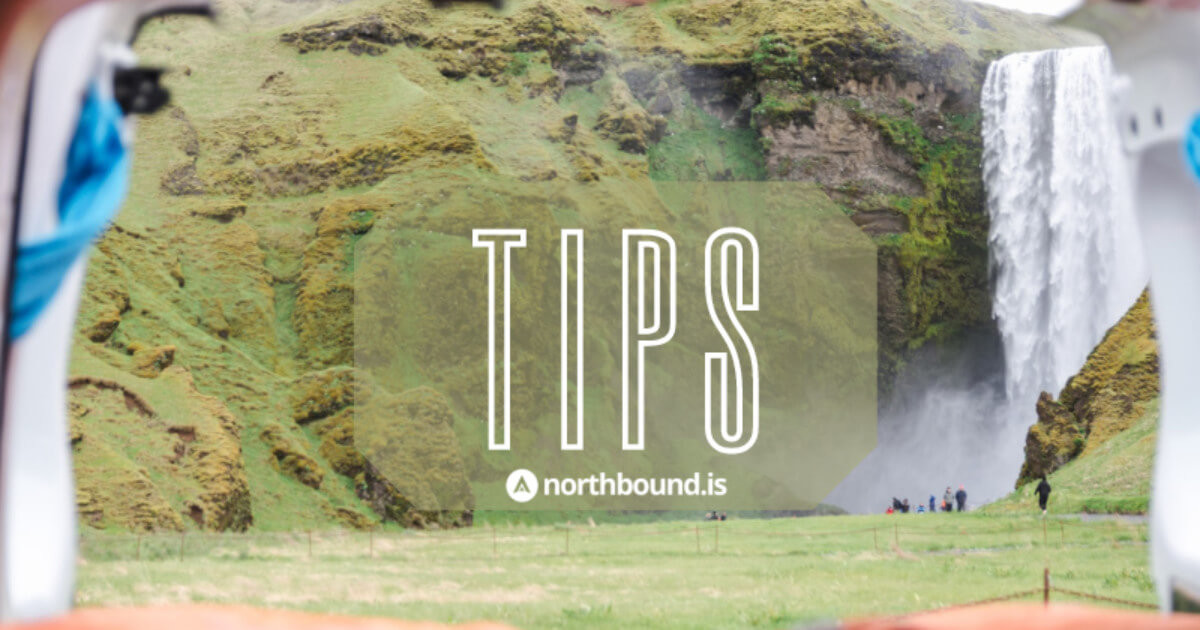 ---
Tip 1 - Book Everything in Advance
This is, I think, the most important tip for your trip to Iceland. Not only does it save you money, but also saves you time and effort when you arrive. You want your vacation to be semi effortless, so booking in advance will make everything so much easier.
I know that sometimes it can be hard to book well in advance because you never know what might happen. We know how this works because soon as there are fewer seats on the aircraft, less rental vehicles available or fewer rooms at hotels the leftovers will be more expensive. First come, first serve kind of thing.
I recommend booking your flight with the option to change the dates without any added costs. This might add to the price of the airfare but at the end of the day having the freedom to change, if something unexpected happens to you, is kind of priceless.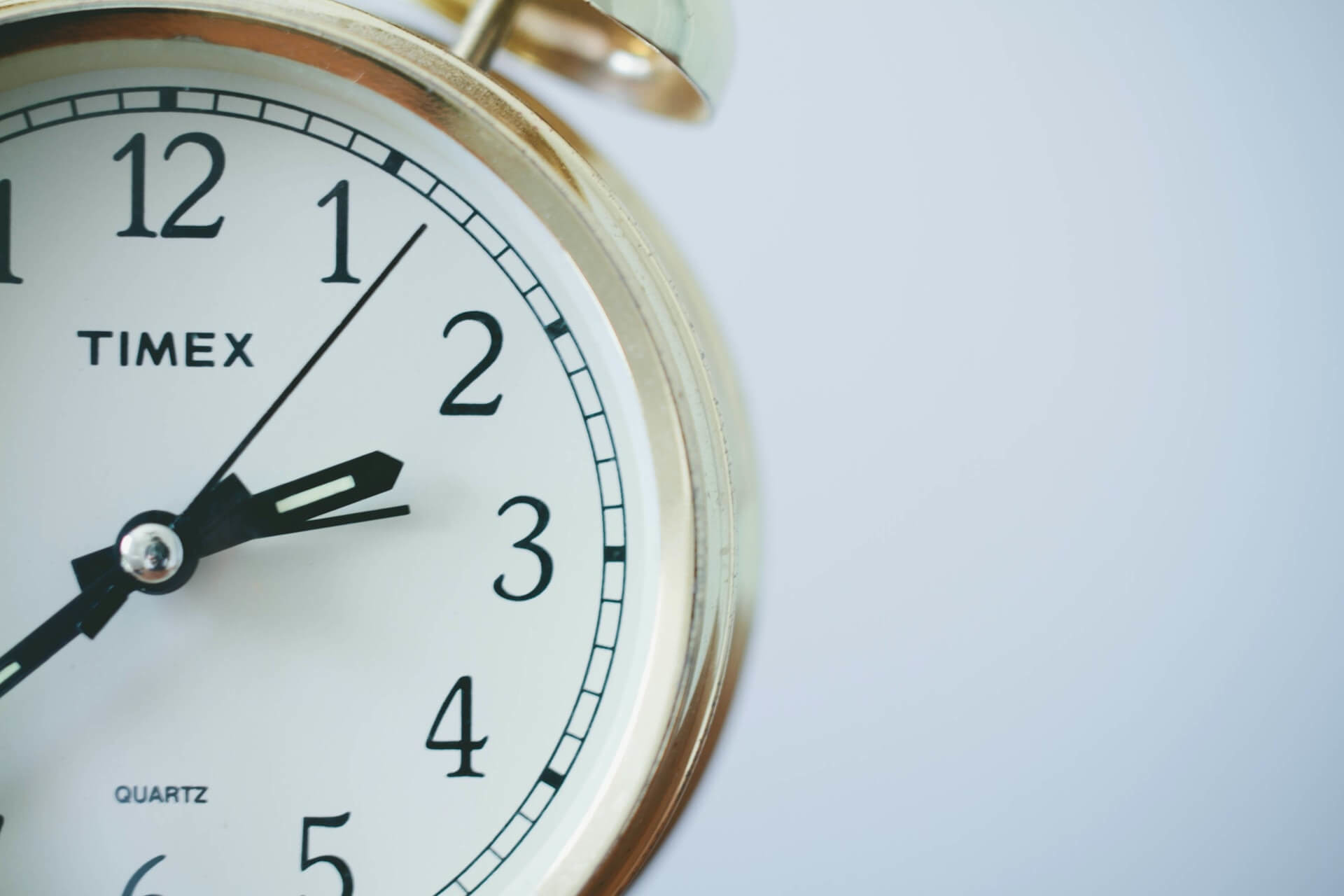 This goes the same for renting a vehicle or booking a stay in Iceland. Make sure you have a 24-48 hour cancellation policy that you can use and might only have to pay a little, or nothing, up front. This way you have booked your vehicle or your stay at a reasonable price but don't have to pay until you arrive, and adds the freedom of canceling with short notice.
You might need to book tours and attractions in advance so if you have a dream of seeing whales or going to the Blue Lagoon, book it ASAP.
Most places let you book 6+ months ahead of time so plan your trip wisely and timely.
---
Tip 2 - Weather in Iceland is Not to be Trusted.
There is a saying in Iceland that goes like this:
Don't like the weather in Iceland, wait five minutes.
And well, it's the truth. The weather changes on you just like LeBron changes teams, you just never know what happens next.
The most important tip and advice here is to be prepared for anything. The weather will change abruptly and, sometimes, the weather channel doesn't get it right either so it can be a fun game to start the day by asking everybody how they predict the weather and see who gets it right. The winner gets free lunch, basically the worth of gold.
Of course, if you are traveling during winter you will have to dress in many layers, have good winter boots and a car that can drive in snow (preferably 4x4).
The wind can be terrifying in Iceland, it really can be. We have a color warning system; yellow, amber and red warnings.
Here is a little explanation, straight from the meteorologist office:
Yellow Weather Warning:
Medium or high likelihood of medium impact weather which can have localized affects. This weather could affect travels between different areas of Iceland. The weather is potentially hazardous if precautions are not taken and can cause damages or accidents.
Amber Weather Warning:
Medium or high likelihood of medium or high impact weather. This weather can will likely have short term impact on transportation, public services and infrastructure. This weather may cause damages or accidents. Can be a threat to lives if precautions are not take.
Red Weather Warning:
High likelihood of extreme weather causing high societal impact. Extreme weather with very hazardous conditions is forecasted. This weather can cause threat to life and property. High likelihood of nationwide disruptions to transportation, public services and infrastructure.
So yes, we do see yellow warnings fairly often but amber and red weather warnings do happen on occasion and that pretty much puts the affected area on pause until it blows over.
We recommend keeping an eye on Icelandic Met Office for any weather reports.
Do as the locals do; follow the weather. Just go where the best weather forecast is and trust the process. In case, make sure that everything you have is water- and windproof and you should be all set.
Tip 3 - Rent a Car
On that note, following the weather is best described as checking the weather on your phone, getting into your car and driving in whatever direction the weather app says is sunny. So renting a car should be a no brainer when visiting Iceland.
Renting a car in Iceland not only makes it easier to follow the "good" weather in Iceland, it also means freedom to roam around the island without having to stop where you don't want to stop. The open road in Iceland is awesome and it has twists and turns that might just be that unplanned adventure we all yearn for.
You can also change your plans as you would like, which just adds to the freedom. There is a road in Iceland called the "Ring Road" which is about 828 miles long (1332 km) and can easily be driven in few days. We recommend doing the whole circle in at least seven days but to each its own, free to do as you please.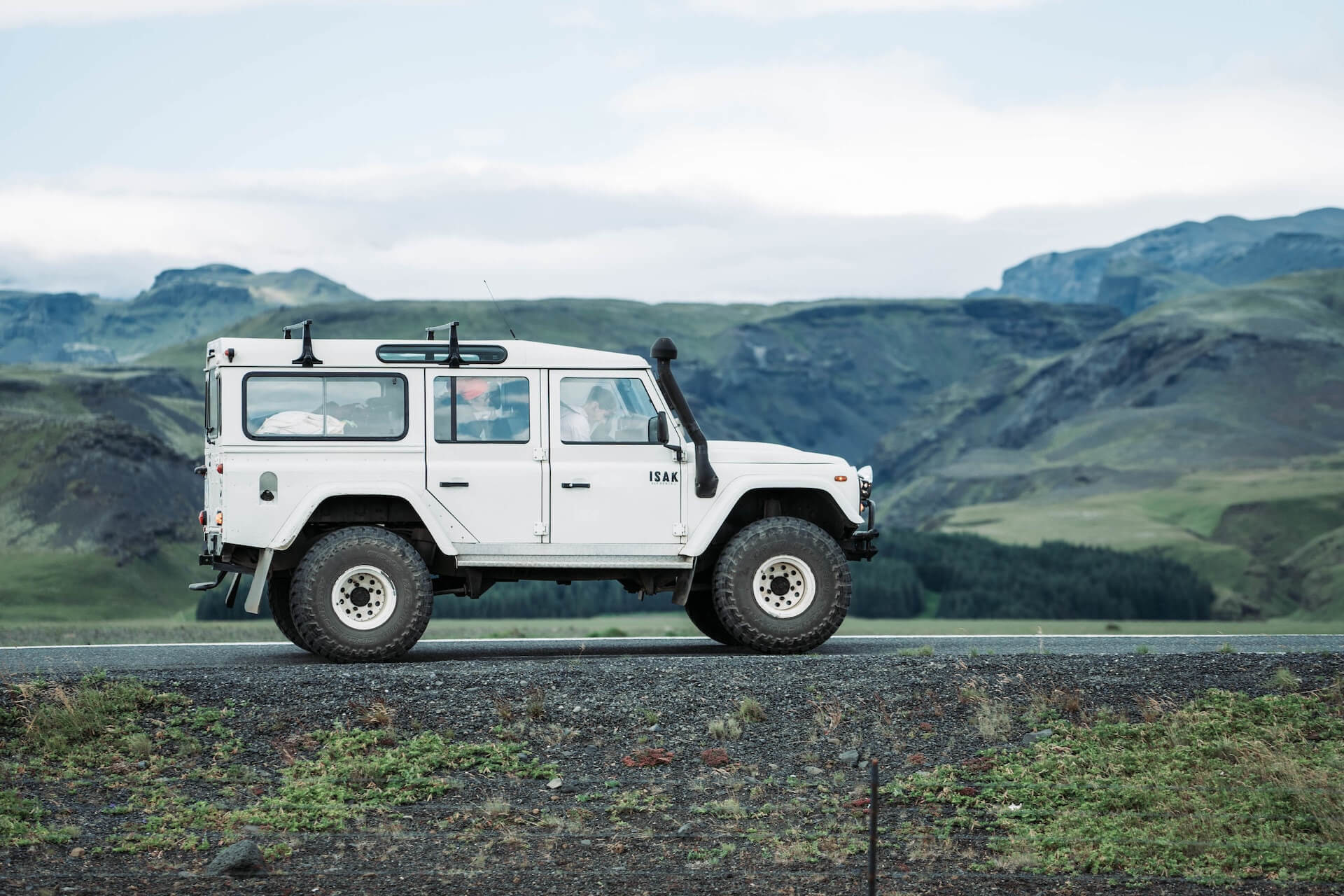 Now, what kind of car you should rent is always the biggest question. Iceland has F-Roads, which are basically highland or mountain roads that are marked with F-# (F and a number) and they can, mostly, only be driven by a 4x4.
As a car rental booking office we know how many have spoken to us after their rental and if they rented a small compact car, their only regret was not renting a larger 4x4 SUV. Just be sure you know what you are missing, because the open country road and driving through mountain ridges is an experience like no other.
---
Tip 4 - Fuel Prices
Aaa, the ol' fuel dilemma, never gets old.....
Well, as we all know fuel prices are just in another dimension these days and we are all looking to save as much as we can when we travel.
We made a cool thing that tells us what the highest and lowest prices are in Iceland and it updates whenever the fuel price changes, so here are the lowest and highest petrol prices today:
Lowest today:

.10

per liter
Highest today:

.48

per liter
Pretty cool, am I right?
Well, our tip is always to drive carefully and be mindful of others, thus saving fuel.
Always ask your car rental supplier if they have a fuel discount card to save a little extra next time you fill up. Just don't buy to much stuff at the gas stations, they might ask you for a first born for a grilled sandwich (just kidding, not really). It's crazy expensive, so just buy it at a grocery store (pref. Bonus).
Another tip is to rent a hybrid / plug-in hybrid / electric car. You can save so much on fuel prices if you plan on driving a lot by renting a car that is partly or fully accelerated by a battery. There are plenty of charging stations located in Iceland for your charging needs.
---
Tip 5 - No Cash & Know your PIN
We don't recommend using cash as your main payment option in Iceland. Wherever you go, you can use a credit card while most (if not all) places won't accept other currency than ISK (Icelandic Krona).
It's OKAY to have something equivalent of around 50-100 USD/EUR on you in ISK in case you run into a place that will not accept a credit / debet card but I highly doubt that will be a problem.
Iceland is always quick on it's feet when it comes to the newest available anything and most places already have APPLE PAY or other means of wireless / touchless payments by card. But (always a but) have your PIN memorized or written down somewhere where you can access it just in case you might need to enter it every now and then.
There are some WC / restrooms / toilets at tourist locations that might only take cash to be used (yes, some charge for going potty) but that is just to keep it nice and tidy. The restroom at Thingvellir fx. charges a dollar or two but that can be paid by card.
Again, if you feel safe with cash it will have to be in Icelandic currency (ISK) otherwise you might get into trouble with all your items on the register, like the tourist you are.
---
Book Your Rental Car Here:
_____
Tip 6 - Camp Around
Camping in Iceland is awesome. I have done it many times with friends and family and it just brings a different atmosphere to the whole "Icelandic experience". You can rent a Campervan or you can just bring a tent with you, some chairs and good company and look at the midnight sun from wherever you desire. That line literally gave me chills.
Being in touch with nature in Iceland is just so wholesome. Listening to the rustling of leaves, birds singing and an old drunk seaman telling stories is just something out of a fairy tale if you ask me.
There are plenty of camping sites in Iceland, some that are open year round and some that aren't. Most of them charge a nightly fee but it will always be much cheaper than a stay at a hotel.
Just be mindful that in 2015 Iceland regulated camping that you will have to camp at a camp site otherwise you could receive a large fine. This was due to people camping on land owned by people and they weren't taking good care of it.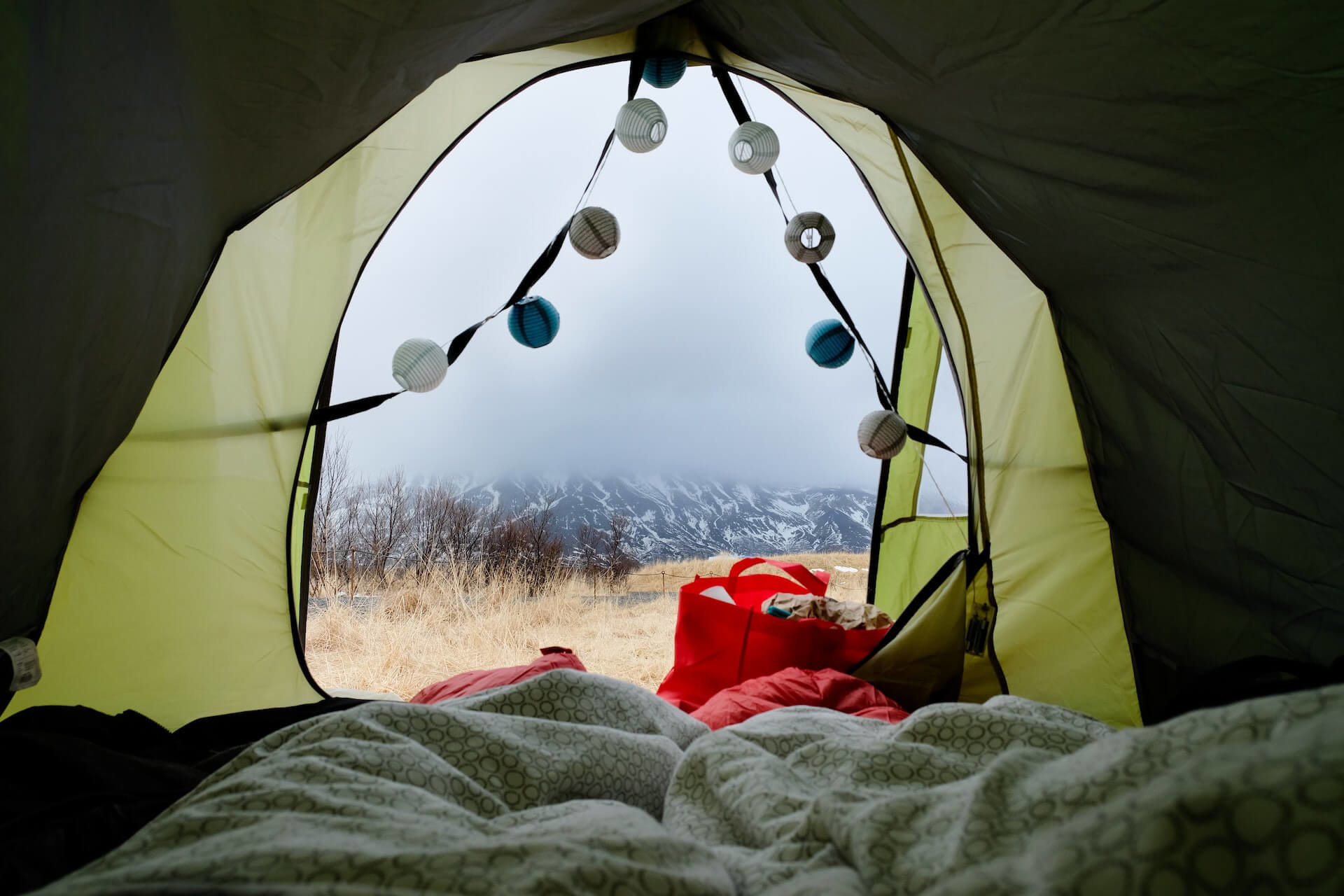 Camping with three or fewer tents is permitted on uncultivated public land for a single night unless you see a sign that says otherwise. However, please note that wild camping in Iceland's national parks is strictly forbidden.
You should never camp close to or on farms without seeking permission. However, most farmers are willing to host campers for a minimal fee. Just try a knock on the door and ask politely.
This only applies for those who are camping with tents, as campervans, tent trailers, or collapsible campers will have to camp at designated camping sites.
Always make sure you leave camping sites by throwing away all trash and leaving Icelandic nature untarnished, so that others have a great experience as well.
---
Tip 7 - Trust the Tap Water
In Iceland you can drink straight from the tap and it tastes delicious. Well, you know what I mean.
Iceland is privileged in the sense that it has great natural resources that they are proud of, that includes some of the freshest water from tap you will ever have, anywhere in the world. Most (~95%) of water in Iceland comes from natural springs which makes it really close to drinking straight from nature.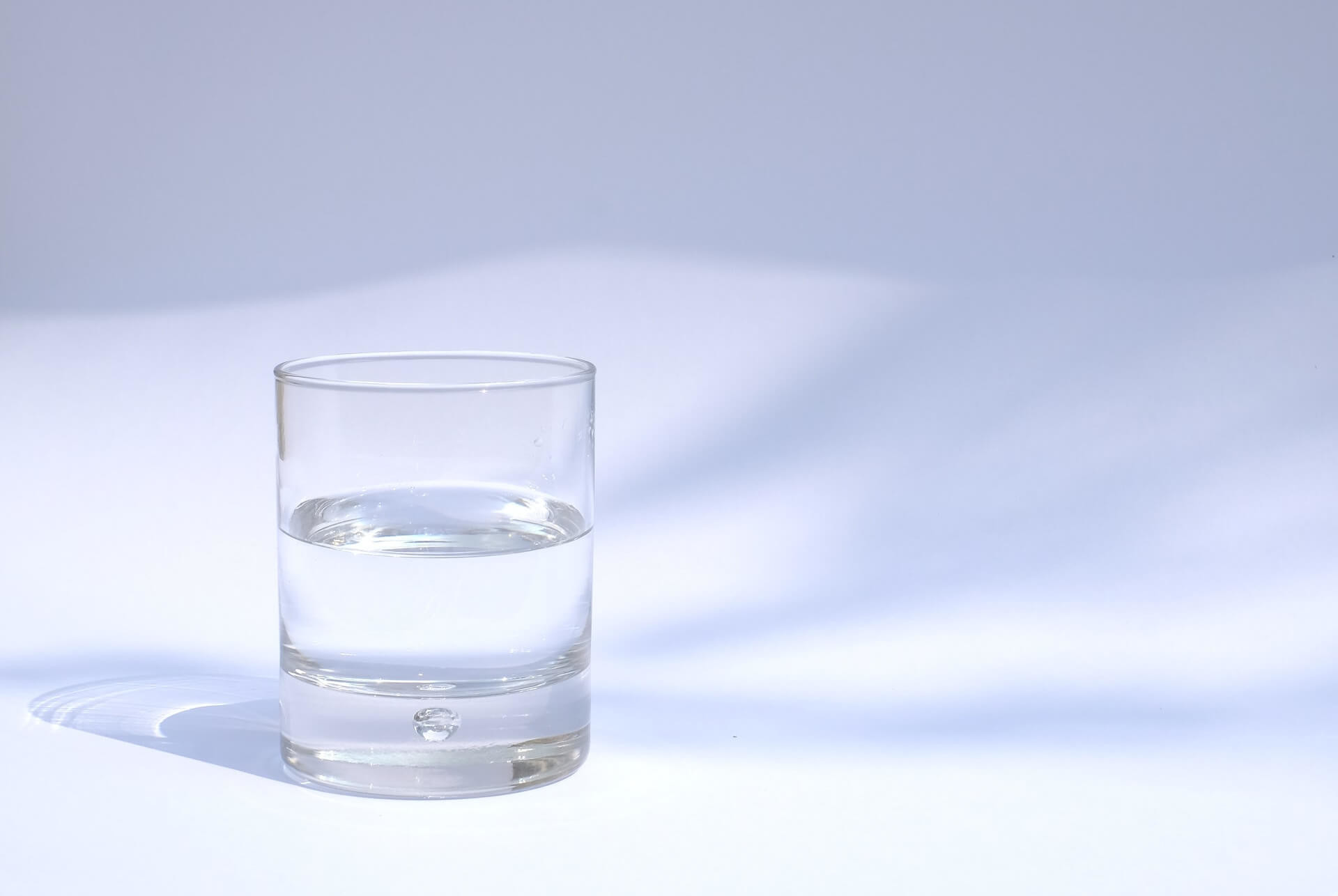 It is free from chlorine, nitrate and calcium so you won't taste anything but freshness.
We recommend you stay clear of buying bottled water in Iceland and stick with refilling your own bottles whenever, wherever, as Icelandic water tastes the same anywhere you go.
The acidity of our cold water, i.e. in the Reykjavik area, varies between 8.75 up to around 9, which is quite high. This is because our water runs through lava fields which are rich in basalt.
Don't believe me, well, check out this article on purest and best tap water in the world
Fun fact:
Potable water in Iceland contains little mineral material in comparison with our neighboring countries. This means that our water is a particularly good thirst-quenching drink.
Perhaps even the best in the world. But according to the top coffee experts in the country, Icelandic water is not particularly good for brewing because of the low mineral material content. Icelandic coffee producers therefore have to toast coffee beans more than they would normally to compensate for this.
___
Tip 8 - Shop in Supermarkets
There are plenty of shops around Iceland that will try to sell you their goods for the utmost unreasonable price but because the currency is foreign to you, you might not realize just how expensive the item really is. Believe me, if the shop is small and in the middle of nowhere, it's gonna be costly.
Supermarkets, such as Bonus, Kronan or Netto, will have the best price for your grocery needs. Most of these supermarkets sell anything from fruits, dairy and meats to soaps, detergents and energy drinks.
We always recommend trying Icelandic cuisine and eating out every once in a while, but while on the road or if staying in an apartment where you can cook your own meals, you should rather cook an early dinner and then go out for a drink or two. Eating in restaurants in Iceland is expensive but totally worth it every once in a while.
Bring a reusable bag with you as you do have to pay for grocery bags in Iceland, or at least save the last one you purchased to re-use whenever you need to return.
Tip 9 - Buy Alcohol in the Duty Free Store
Alcohol in Iceland is expensive and is only sold in ATVR which is a government run liquor store. It has high taxes which makes the price rather steep.
Now, if you plan on keeping a cold beverage in your icebox or like having a wine glass after a long day of driving, we recommend purchasing it in the Duty Free Store at Keflavik Airport. The most price difference is on the hard liquor while the beer and other light liquor just has a slight less price difference but I would say at least enough to make you want to grab it there.
Anytime anyone from Iceland travels abroad, they stop in the Duty Free when arriving home and stock up of their favorite liquor option. It's just an Icelandic habit by now.
There are limits on how much you can buy, so make sure you ask the Duty Free staff about limitations as you might be stopped at the customs with too much on hand and that is never a good look.
I'll make it easier for you, click here to read up on the limit.
We don't encourage drinking alcohol and, please, don't ever drink and drive.
Tip 10 - Go Swimming
Iceland has around 163 swimming pools, all scattered around the island and they are open all year round. Hot or cold weather, rain or snow, doesn't matter, you will find an Icelander in the pool or in the hot bath.
Icelandic swimming pools are outdoor pools that are heated as well as having multiple hot baths with different temperatures. You can also find saunas, indoor pools, pool slides and/or children play areas.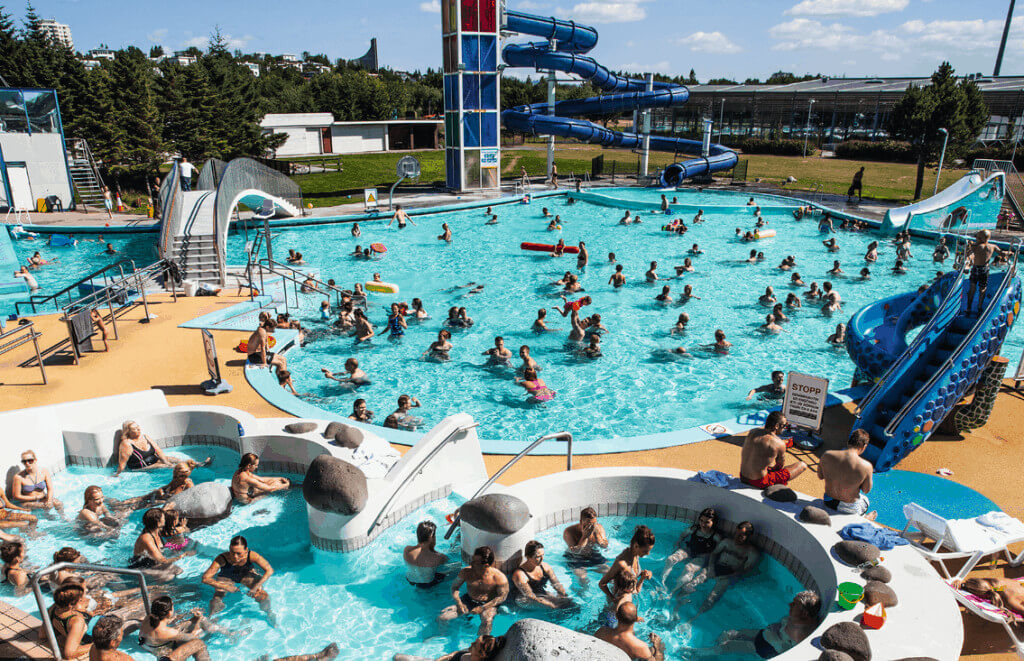 This is a wonderful option for travelers looking to clean up a bit and enjoying time together with the family in a warm pool. I, myself, especially enjoy going to the pool when it's snowing. Just something so wonderful looking at the snow falling while relaxing in a hot bath with friends or family.
Visit Ferdalag to see a list of swimming pools with location information and more.
Tip 11 - Don't be Afraid of the Locals
It took a while for Icelandic people to accept all the tourism as we were only an island in a middle of nowhere and we never thought that so many people would like to visit here.
We have a saying "mikið vatn runnið til sjávar síðan þá" or "heavy water has now flowed towards the sea since then" which means alot has changed since early days and so have we.
We welcome visitors with open arms and are glad that you want to visit our beautiful country. Don't be afraid to ask us for directions or just anything Iceland related. You might meet the occasional turd but that is a generation problem, so look for fresh young people that would love to talk to you about that Iceland, our traditions, politics or whatever you are in the mood for. Maybe buy us a drink first if you want to talk about politics..
That being said, we also have expectations towards any body that visits Iceland.
We expect them to
Follow the law
Protect the land
Be courteous and respectful
Just act the way you would like others to act in your country, and then all is good.
Not really a big ask, just common sense.
Tip 12 - Plan Your Trip
Since you are here, you are most likely either planning a trip to Iceland, have already planned one or are just googleing something random.
Iceland has so many beautiful landmarks that you could miss out if you don't do your research before hand.
The question you probably now have is "How to I plan my trip to Iceland?" .. Well, lets have a closer look on how to answer that question.
Number 1 - How long are you staying?
This is key information because this will determine how much time you have because time spent on the road affects time spent gazing at wonderful scenery.
As before mentioned, you can drive the whole island in a short time but recommended duration is about 7 days or more so you don't miss anything along the way. Just make sure that if you are, f.x. a photographer or a content creator that you make your stay long enough for you to enjoy and to capture each moment.
Number 2 - Are you renting a car or going by local transport?
Renting a car is KEY to witnessing the islands greatest monuments and it adds freedom to your trip. You don't want to be stuck in a bus when you notice a turn they just passed which you would've loved to take.
Don't get me wrong, going by bus is fine for those you just want to be led on by a guide but for those you are adventurous and value their time do need to rent a car.
Number 3 - If you are renting a car, are you renting a 4x4?
4x4's can get you to places other cars can't. You can drive most highland or mountain roads which lead to so many beautiful landmarks that should be on many bucket lists. Make sure you take that into consideration when renting a car, that you could miss out on some "out of this world" destinations.
Renting a compact family car is plenty if you stay on the main road and use the roads that have been paved for locals and visitors alike. You can see plenty of the islands beautiful locations. Make sure you make the right choice, as once you are on the road, it can be hard to switch.
Number 4 - Camping or staying in a hotel?
If you are staying in the same hotel your whole trip that means you have to make a new trip everyday, which is OKAY but that means you are restricted.
If you are staying in hotels around the island, that leaves your options wide open. Make sure you take that into consideration when booking your stay that you try to book hotels on your route and make it easier to see all you want to see.
Camping is awesome. You can book a camper, save money on accommodation and ride along the island witnessing all that it has to offer. I would always recommend that option if possible. Yes, campers are more expensive than other smaller vehicles but at the end of the day, you are saving on hotels which adds up real quick. Campsites are not expensive and you can buy day passes for your tent or camper.
Number 5 - Have you made a list of attractions you want to see?
We recommend making a list of locations and attractions you want to see and categorize them from importance. Then write down their location and make your trip circle around these locations. It will become clear as soon as you start planning your trip what you want to see and what is something that can wait for another day.
Be vary of weather conditions and time of year, Google all you can about each destination and feel free to contact us here at Northbound if you have any questions about your travels.
Luckily, we don't have to tip here in Iceland as we pay a decent wage to servers and those working in the service industry. Adding a tip to the bill would be astronomical as the prices are already sky high.
If you are in the mood and want to tip a server, that is completely fine but a server would not be in any shape or form unhappy if he wouldn't receive one.
I would like to recommend being thankful and portraying that to the server and/or cook and give out compliments left and right (well, only if you like the food of course).
Tip 14 - Get to Know Our Roads and Regulations
Driving in Iceland can be challenging. It has double lane to single lane changes, gravel roads, weather that is fierce and can change in a second as well as sandstorms, ice and winds that, somehow, blow in every direction.
There are also blind curves, single lane bridges, unexpected obstructions, wayward sheep, and distracted fellow travelers.
Understandably, Iceland takes road safety very seriously.
Before you get behind the wheel, take time to familiarize yourself with these essential rules of the road that you can read in the related post below.
Doing so, you can safely enjoy your Icelandic adventure!
TL;DR: Here are a few basic points from the post
Basics
Icelandic roads are not designed for speed. Urban areas generally have a speed limit of 50km/hr. Outside of urban areas, the speed limit is typically 90km/hr on paved roads and 80km/hr on unpaved roads. Paved roads are monitored by cameras and the fines are serious. For your own safety and the safety of others, mind speed limits.
Always use headlights when driving.
Use designated pull-offs for photography.
Seatbelts are mandatory for all passengers.
Cell phone use is only permitted in hands-free mode.
Driving off road (non marked paths) is prohibited (Marked F-Roads are exceptions).
Most accidents on unpaved roads happen shortly after a vehicle is driver off a paved road into an upaved road
Be sure you have a detailed road map. Google and Mapping programs are often inaccurate. Keep your eyes on the road, follow signs, and use common sense.
Tip 15 - Extra Insurance is Key
Most of us would like to save money on our trip and by doing so we sometimes would like to leave out the extra insurance package on our rental car. That leaves you with the risk of spending more money than you would ever have in the first place.
Why we say that extra insurance is key (key meaning important, maybe should've mentioned that earlier) is that driving in Iceland is different from driving in many other countries. We have sandstorms that can destroy the paint on the car and if you did not grab SAND AND ASH protection you will bear the cost of the damage.
GRAVEL PROTECTION is another protection we recommend as a lot of roads leading to beautiful landscapes are gravel and can damage the exterior of the car. If you plan on driving on F-Roads this insurance is a must.
We recommend taking full insurance, which includes Super Collision Damage Waiver (SCDW), gravel protection and sand & ash protection with the added theft Protection and zero deductible.
it has added costs but since the self-risk would be lowered to nothing with the added "ease of mind" driving in Iceland, to me it's a no-brainer. As a business centered around car rentals we see many stories from people that had to pay serious amounts for damages to their rentals.
It's just our recommendation but the choice is always yours.
Tip 16 - Non-Europeans Purchase Wifi or Mobile Package
When traveling through Iceland, whether it's for navigation, news or plain social media bragging rights, we all want to be connected to a network.
Thankfully, Iceland has great network coverage and it is an exception if you are unable to connect, that means you are somewhere in the far outside the grid, in a cave or somewhere underground.
If you have a network carrier from Europe you are A-OK in Iceland, just connect and roam seamlessly on Icelandic networks.
If, on the other hand, you have a carrier that is located outside from Europe (USA, ASIA...) you will need to purchase a WiFi hotspot or a mobile package with a local carrier in Iceland. The same goes for us traveling outside US, as it will be very costly in the end, especially if you plan on spending time casually roaming and scrolling.
WiFi with your rental car
You can add a WiFi Hot Spot as an extra when you rent a car and it will add roughly 30-35 euros / USD which is a lot of money saved.
I did a little research and, while each carrier will offer different international roaming rates, you can typically expect to pay around $2.00 per MB for consuming data outside the country.
That adds up REAL QUICK!
Local Carrier Mobile Data Package
You can buy a prepaid package with many of our local carriers. I am going to do you one better and show you each package available and link to them. Just click each underlined name and that takes you straight to the carrier in question.
You're welcome.
FYI: Do purchase an Icelandic SIM card you will have to have an unlocked phone. Check with you carrier before you arrive if you are able to do so.
You can also use a device called MiFi, which lets you add a mobile SIM card to the device which then turns into a hotspot for you to use. It's pretty simple and a really good device to have when traveling. If you are frequent traveler, then this option is always cheaper than renting regularly a WiFi device from the rentals.
Starter packs are sold:

at the duty-free shop close to the baggage claim in Keflavík airport - ask at the cash register.

on board all Icelandair flights

in Síminn shops (location list)

at N1 petrol stations (leading chain all over the country)

PrePaid Starter pack

Cost ISK 2900

5 GB data

50 min. to use in Iceland & in EU countries.

50 texts to Icelandicnr.

Credit expires in 31 days

Full refund availability & easy to refill

PrePaid Data Pack

Cost ISK 2900

10 GB data to use in Iceland & in EU countries

Credit expires in 31 days

Full refund availability & easy to refill
You can then Top up any prepaid number and there are many options available for a price:
| | | | | | |
| --- | --- | --- | --- | --- | --- |
| Volume | 500 MB | 1 GB | 5 GB | 10 GB | 50 GB |
| Price | 800 kr | 1,800 kr | 2,800 kr | 3,800 kr | 5,800 kr |
Make sure to contact Síminn before you arrive and they can send the SIM card to your hotel or have it ready for you when you arrive.
| | | | | |
| --- | --- | --- | --- | --- |
| Volume | 2 GB | 10 GB | 100 GB | 250 GB |
| Price | 2,190 kr | 3,290 kr | 5,290 kr | 7,290 kr |
You can purchase a unregistered prepaid SIM Card with Nova at local gas stations located around the island, as well as their stores. It's kind of hard to find out where they are sold but that's on them for not making that clearer on their website.
Sorry for the lack of english at the Nova website, they just haven't done well on that part yet either.
Vodafone does offer a starter kit that includes unlimited talk and text, as well as either a 1GB of data or 3GB for your tablet or dongle.
Starter packs are available (combined nano, mini and micro SIMs are sold or given out for free):
in Keflavik airport at the 10-11 shop in the arrival hall at Keflavík International Airport and the Elko stores at the airport.
at Vodafone stores (list) and many 10-11 stores countrywide
at N1 petrol stations (the leading chain all over Iceland), Shell and Olis brands too
On Icelandair flights. You may have to request this in advance on their web site. You get a starter kit with local minutes and SMS, overseas minutes, and 2 GB of data.
Frelsi Combo Pack (both calls and network):
| | | | | |
| --- | --- | --- | --- | --- |
| Volume | 300 MB | 500 MB | 1 GB | 5 GB |
| Price | 690 kr | 1,090 kr | 1,390 kr | 2,490 kr |
Data Only Topups:
| | | | | | | |
| --- | --- | --- | --- | --- | --- | --- |
| Volume | 1 GB | 10 GB | 25 GB | 50 GB | 150 GB | 500 GB |
| Price | 2,190 kr | 3,190 kr | 5,190 kr | 6,190 kr | 8,190 kr | 10,190 |
Coverage
Regarding coverage in Iceland, Síminn is best, Vodafone second and Nova is 3rd. That might effect your decision.
Hope this helps.
Tip 17 - Pack an EU Adapter
So, Iceland uses the standard Europlug socket which has two round prongs and uses Northern European electrical standards which are 50hz or 220 volts. Converters might be needed for smaller electrical appliances that are brought with you. Make sure to read the label on each device, just in case.
Most devices that need chargers, such as laptops, digital cameras or mobile phones are already equipped with multiple voltages and may only just need a travel adapter.
You can use adapter Type "C" or Type "F", often labeled as Northern European Adapters.
There are plenty of adapters available in the Duty Free Store in Keflavik Airport. There is a store called Elko Duty Free and they have plenty available for a reasonable price.
Tip 18 - Northern Lights Expectations
If you are traveling to Iceland in winter time you are 100% expecting to see the Northern Lights, it's almost a given.
The Northern Lights are absolutely the most special event you can witness in your stay in Iceland, especially if it's your first sighting. For me, it never gets old and I can't stop gazing at the sky when it shows its colors.
The thing is, it doesn't always play nice. You might be have done all the research and seen that the Northern Lights have shown themselves in November the last 10 years. Then you show up and they are nowhere to be seen. They are totally unpredictable. It could also be cloudy when they are at their brightest.
We just want to make sure you set the correct expectations. If you are on the hunt, make sure you leave the big city and drive out where the skies are clear and there is no light pollution around.
I will cross my fingers for you.. and toes.
Tip 19 - Anti-Slip Ice Grips and Waterproof Shoes
If you are staying in the winter and you plan on hiking, I'm pretty sure you know that you have to have GREAT shoes because of the terrain, snow and ice that you will encounter. If you are inexperienced, we recommend you purchase shoes that are waterproof, have a tough heal, toe cap, insole and outsole.
Having anti-slip ice grips or microspikes (fx. Yaktrax when hiking on glaciers is a must, as it is very slippery and you could fall into areas that are hard for emergency response to reach.
Most waterfalls can also be very slippery, as well as other hiking spots where you might not expect icy conditions. It can also get cold at night year round, so just pack smart for any weather.
Tip 20 - 112 Emergency Number
The emergency number in Iceland, as well as most other countries in Europe, is 112. The European Union adopted the 112 number as standard on July 29th 1991 and it works parallel with other local emergency numbers in about two out of three EU states.
I just wanted to advice you about this number as, hopefully NOT, can come in handy in a difficult or life threatening situation.
They also have a website for 112. You can use the webchat on their site as well, if for some reason you are unable to use the mobile but you have network available.
Travel safely, be aware of your surroundings and always let others know about your travels if you are traveling through uncharted terrain.
I would also like to recommend using SafeTravel where you can submit a Travel Plan in case of emergencies.
Tip 21 - Explore, Explore, Explore
This comes as no surprise, but Iceland has some of the most beautiful scenic landmarks in the world. We all have our own idea of what is beautiful and what intrigues us but I think we can all agree that when we travel we want to see something that inspires us and leaves us in awe.
Exploring Iceland feels like something out of this world as it can bring forth any kind of weather, new terrains around every corner and a kodak moment which you can easily use as your desktop wallpaper for years to come.
Good thing that Iceland embraces travelers and would love for you to witness our beautiful land of fire and ice. We have paved roads that reaches most of the most popular destinations, with some exceptions of course. We have also made it easier by creating walk paths and made them secure enough to bring your whole family.
We would like to recommend reaching further than our usual tourist spots and just drive along the ring road and taking the occasional turn.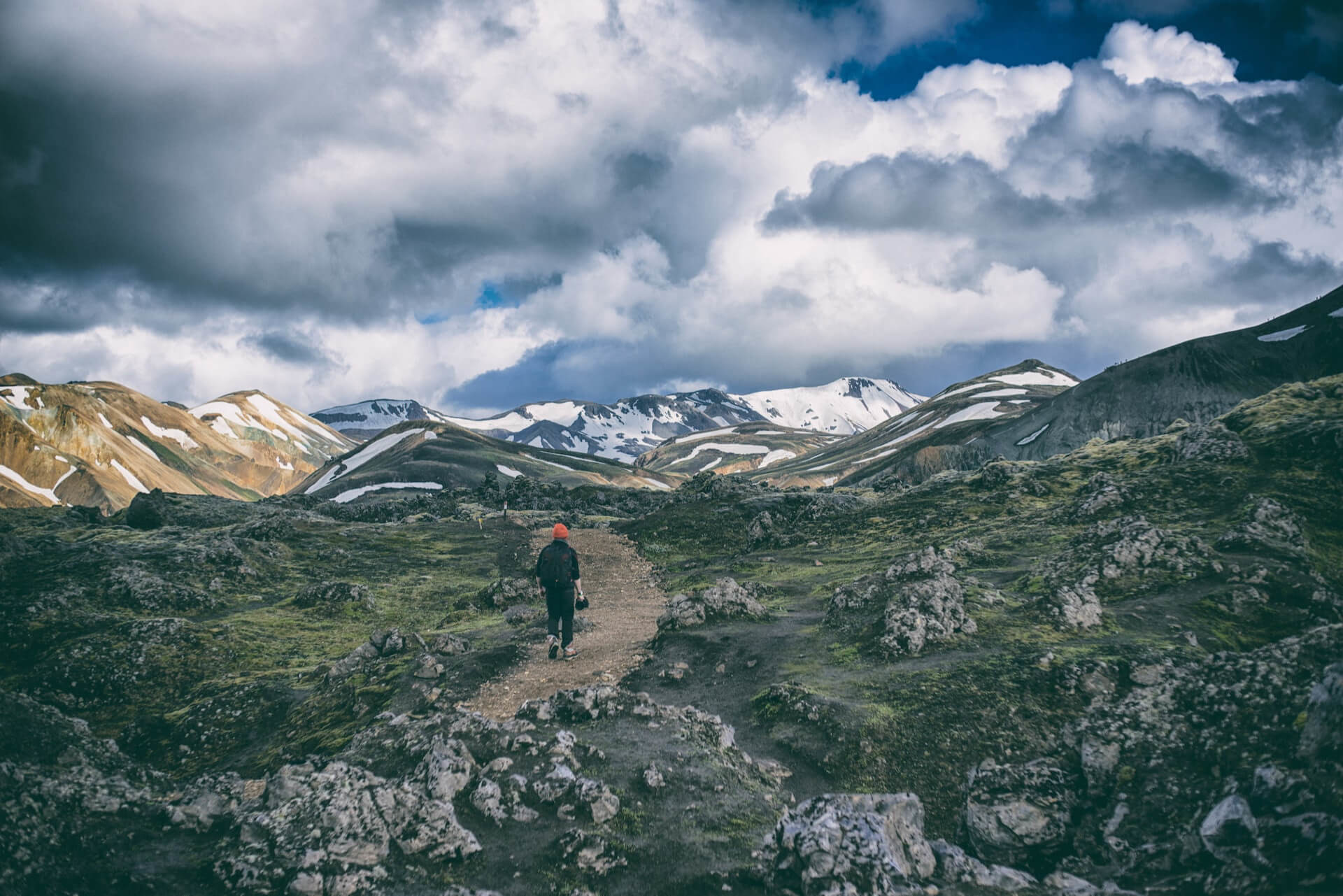 We love the Westfjords where you can visit Drangsnes and bathe in geothermal hot tubs or Látrabjarg which has Europe's largest bird cliff. Millions of birds flock to Iceland throughout the summer months to build nests and raise their young chicks.
The South of Iceland has some awe inspiring gems just waiting for your visit. Jokulsárlón, or Glacier Lagoon, is a worthy contender of the most beautiful glacier lakes in the whole world, it just takes your breath away. You could also take a hike through Landmannalaugar or visit Seljalandafoss that is a waterfall you can walk behind and take the only selfie you will ever have to take, as it will be hard to top.
This is just to name a few. Just turn the ignition and drive in any direction to make your stay an unforgettable journey.
Tip 22 - Bathe in a Natural Hot Spring
Iceland has something very unique that every visitors has to try, and that is bathing in a natural hot spring. There are plenty located around the island and it's an opportunity you would not want to pass you by.
We all know about the wonderful and famous Blue Lagoon, which is basically our hard hitter in tourism, but there are many others that don't cost as much, are less crowded and are just as wonderful due to their location and touch with nature.
WARNING: Be careful when bathing in Natural Hot Springs as some can be extremely hot. Read local instructions before entering and always be careful.
There are natural hot springs and geothermal pools all across Iceland. However, certain areas have more geothermal activity than others. For example, West and South Iceland are particularly active and this is where you will find the most natural hot springs. The only part of the island that doesn't have geothermal hot water is the East coast of Iceland.
---
Don't rule out all of East Iceland though, as in the Eastern Highlands you'll find some incredible hot spring locations. The best ways to reach most hot springs in Iceland, especially the smaller ones found off the beaten path, is to rent a car and drive there yourself.
Yet again, a 4x4 is recommended.
Check out our guide here below about hot springs and geothermal pools in Iceland, you might want to bring your itinerary with as you read as you will want to add them straight away.
Tip 23 - Do the Touristy Things
Visit a glacier.
Go to a festival.
Camp in nature.
Go to local bars.
Whale Watching.
The Golden Circle.
Drive the ring road.
Drink Icelandic beer.
Try Icelandic cuisine.
See the Glacier Lagoon.
Bathe in the Blue Lagoon.
Witness the midnight sun.
Learn some Icelandic words.
Witness the Northern Lights.
Taste some typical Icelandic cuisine.
Walk behind the waterfall at Seljalandsfoss.
And on, and on, and on, and on, and on, and on....
Even though they are touristy, they are worth it.
Tip 24 - Blue Lagoon Booking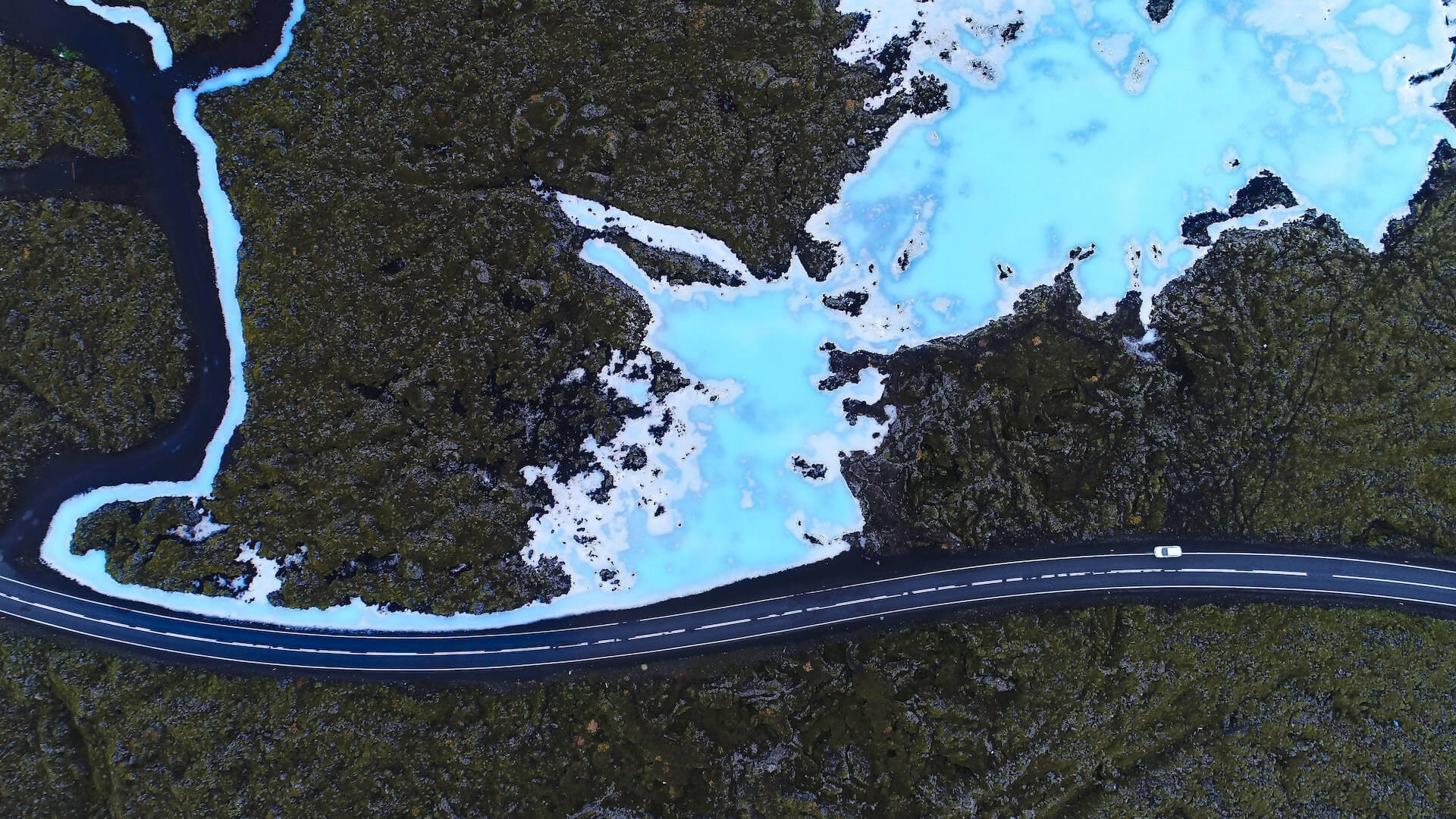 The Blue Lagoon is the most popular place to visit in Iceland, there is no doubt about it. Believe me, I used to be cabin crew for an Icelandic airline and there wasn't a guest on board that wasn't going to The Blue Lagoon.
Once upon a time you could just walk up to the counter at the lagoon ("lóninu", as we locals call it), pay for admission and you were on your way. Today, it's a different beast. Due to the high rise in visitors in Iceland and at the Lagoon you have to book your visit before you arrive. You can select various experiences and they, of course, vary in prices.
This is something you can't miss out on and please book in advance to make it less stressful for you as well. You don't want to wait in line with your partner / travel companion, be all hyped up and then "sorry, we are full."
Tip 25 - Happy Hour
Now, I know I have already given you advice regarding alcohol purchases in Iceland (buy them in the duty free store).
There is still a way for you to enjoy a drink or two (or three... four..? common now..) without having to pay unreasonable prices. It's still going to be pricier than buying at the Duty Free but this can go a long way.
What you need to do is chase Happy Hour around the capital. You can visit the Happy Hour website and that will detail the go-to spots each night you plan to go out.
Reykjavik City, our capital, has over fifty bars that proudly discount their tipple with daily Happy Hours.
This means arriving early but your wallet will thank you.
pssh.. here are a few bars we recommend:
Bravó
It has the longest Happy Hour
Happy Hour: 11:00 - 22:00
Beer - 850 ISK
Wine - 950 ISK
LeBowski Bar
The name derives from The Big LeBowski universe, awesome!
Happy Hour: 16:00 - 19:00
Beer: 750 ISK
Wine: 750 ISK
Try the White Russian.... yum!
The Dubliner
Traditional Irish Pub
Happy Hour: 12:00 - 22:00
Beer: 700 ISK
Wine: 800 ISk
It has TV for sports, dart boards, foosball table and some fine Irish Whiskey.
Dillon
Very popular!
Happy hour: 16:00 - 20:00
Beer: 550 ISK
Wine: 700 ISK
Just to name a few...
Tip 26 - VAT Refund at Keflavik Airport
A quote from our Governments Website about VAT (Value Added Tax):
"Tourists who reside abroad can claim a proportional VAT refund when shopping in Iceland. The refund is limited to purchases that are intended to be taken out of the country and amount to a minimum of ISK 6 000 (including VAT), made at a single point of sale."
If you are purchasing something that has value over 6000 ISK you will have to ask the stores to fill out a Tax Refund cheque / form and stamp it. Then you locate the Tax Refund office (click for map), this must be done before you check in your luggage as they may ask to view the goods purchased.
So...
To be eligible for a refund, all of the following conditions must be met:
The purchaser must bring the goods out of the country within three months of the purchase.
The purchase price of the goods, including VAT, must be at least ISK 6,000.
On departure, the goods must be presented together with the requisite documentation.
Arion, an Icelandic bank, handles the Tax Refunds and if you have any questions you can contact them here or send them an email through [email protected]
Tip 27 - Volcano in Fagridalur
It's crazy that since the 2000's started we have had 4 active volcanoes, Eyjafjallajökull 2010, Grímsvötn in 2011, Bárðarbunga in 2014?2015 and now recently Fagradalsfjall in 2021.
The volcano in Fagradalsfjalli erupted on March 19th, 2021 and was active until September 18th, 2021. It sat quiet for almost a year but in July / August 2022 the earth started shaking again. Earthquakes started to get larger and more frequent until on the 3rd of August 2022 the fissure opened once more.
It's powerful, beautiful, sensational and a completely intense spectacle. You can hike there as the björgunarsveit (Emergency and Rescue Unit in Iceland) has made a clear and "safe" path for those who are healthy enough to make the hike. The terrain is still harsh and you will need to dress for the occasion; hiking shoes, waterproof clothing layers and a backpack with nutrition and liquids.
Follow the advice from SafeTravel and Icelandic Met Office as you might be in danger of exposure from poisonous gases.
---
Icelandic Car Rentals