So, you've perhaps booked a flight to Iceland and now you are in need of booking a car rental.
Luckily, we pride ourselves in being experts in the matter and want to help you with the 5 important steps you need to take to get the best booking experience.
---
---
The question is should I rent a car In Iceland?
Renting a car in Iceland gives you the freedom to roam around the island at your own time and pace. Sometimes we just want to take our time and experience beautiful landscapes and visit landmarks that some tour rides just don't offer.

Public transport is also very limited to larger towns and cities.

Most of the Icelandic car rentals are located near, or at, the airport as well as in the capital city of Reykjavik.
That's why we have compiled this detailed step-by-step guide that will go into, what I believe, the ideal process for getting the most out of your car rental experience in Iceland.
---
You can expect to find some of the most beautiful scenery and wildlife you have ever encountered, such as:
You can also expect to face difficult conditions that you might not have faced before while driving such as:
Step 1: Plan Your Trip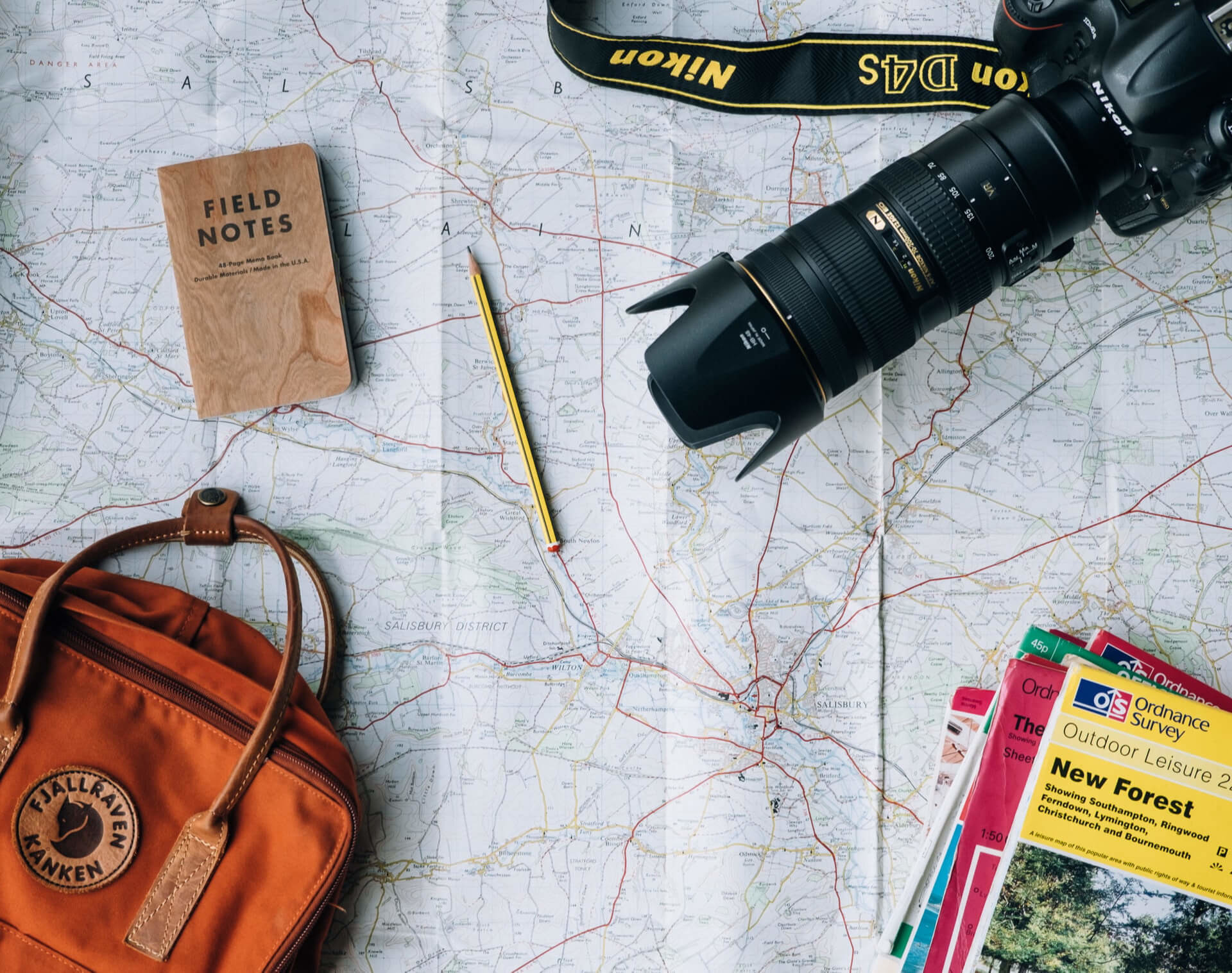 When is the best time to rent a car in Iceland?
We recommend researching car rentals in good advance to find the cheapest prices. We do have high and low tourist seasons with different price ranges.
The seasons are defined as spring (March, April), summer (May, June, July, August), autumn (September, October, November) and winter (December, January, February).
Spring/Autumn
If we look at the number of travelers through Keflavik Airport in 2017, when we had the most visitors in Iceland, we can see a total number of 851.820 visitors in March, April, September, October and November.
Spring and autumn are a weird season for Iceland, when it comes to weather. The weather keeps playing tricks on us and we are never sure when summer ends and winter starts (and vice versa).
Renting a car in these months can be challenging. You can be lucky with a basic economy car or the weather changes over night and you will be dreaming of a 4x4 real fast.
Our recommendation: 4x4 / Camper.
Summer
If we look at the number of travelers through Keflavik Airport in 2017, when we had the most visitors in Iceland, we can see a total number of 923.869 visitors in May, June, July and August.
This is the period when prices are the highest and the most important advice we can give you is renting as soon as possible to get the lowest prices available, due to supply and demand.
Summertime is by far the most popular time for visitors to visit Iceland. In summer we have milder temperatures, almost 24hr daylight for awesome sightseeing and there are more activities available.
Other benefits are also:
Roads less likely to be shut down due to weather conditions

Lots of fun festivals for everyone to enjoy
Winter
If we look at the number of travelers through Keflavik Airport in 2017, when we had the most visitors in Iceland, we can see a total number of 415.880 visitors in December, January and February.
As you can see we had the lowest number of visitors in winter time so car rentals need to compete more for each and every customer. They are more likely to lower their prices at this time, especially if you book well in advance.
Other benefits are also:
Far less crowds.

Considerably lower prices for rental cars and day trips.

A wondrous winter landscape.
Of course, there's a downside too, like that horrendous cold. But, that can be countered by dressing in layers and being mindful of the weather. Whether you go for the frozen charm of winter or the green landscapes of summer, it all boils down to which month you actually pick for your trip.
What is the cheapest month to travel to Iceland?
Lowest Average 7-Day 4x4 Booking Price:
Months & Cost
January - 343 EUR / $369
February - 343 EUR / $369
March - 343 EUR / $369
April - 343 EUR / $369
May - 343 EUR / $369
June - 808 EUR / $870
July - 1.526 EUR / $1,643
August - 1.321 EUR / $1,422
September - 805 EUR / $866
October - 378 EUR / $407
November - 343 EUR / $369
December - 343 EUR / $369
Source: Northbound.is - Prices from 24 Icelandic Car Rental Agencies in 2022-2023 on the 30th of May 2022
Step 2: Find & Book The Right Rental Car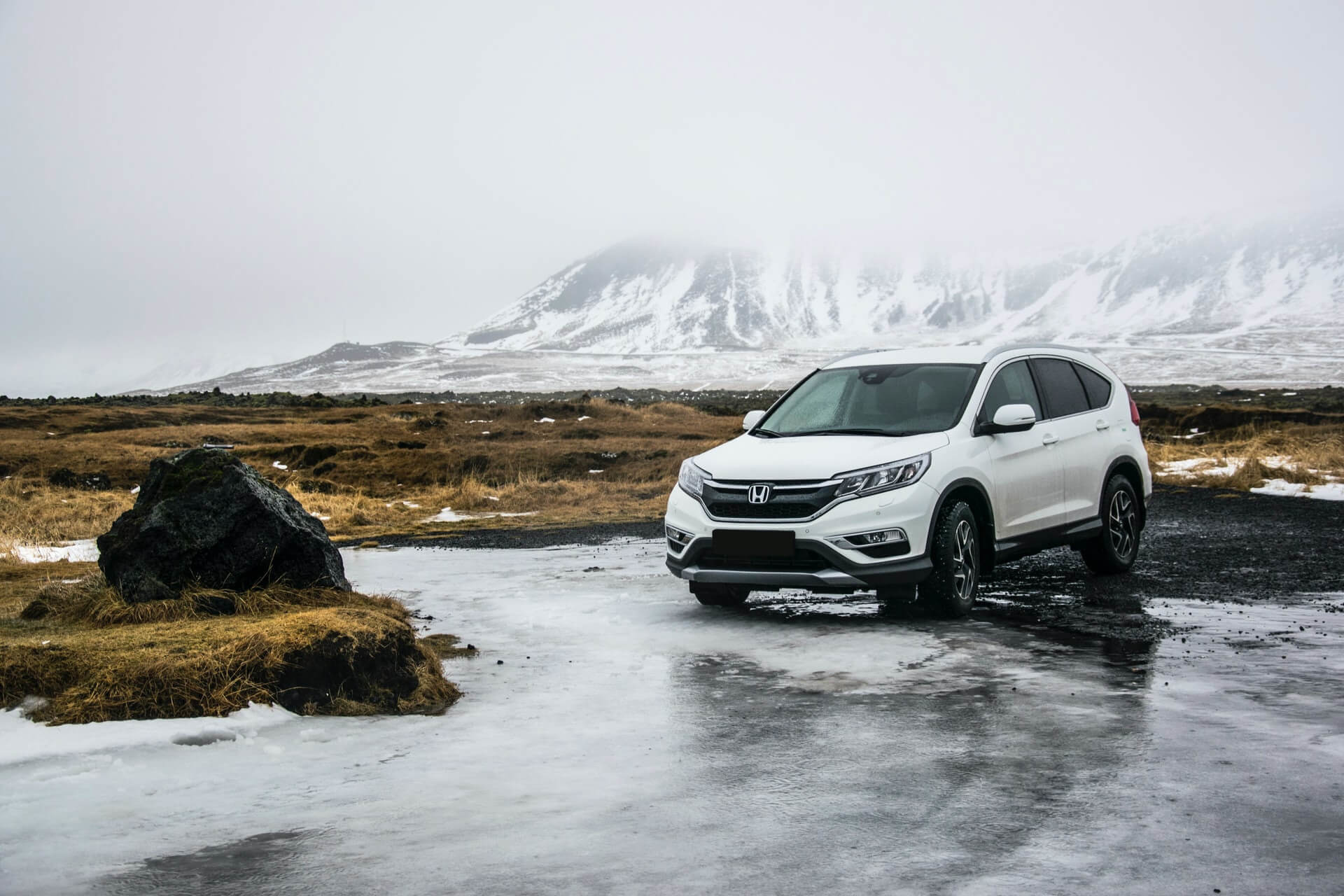 Where are you going? How many people are traveling in your party? Carrying a lot of luggage? These are some of the questions you'll need to have answered before you actually go and find that ideal car to take you around Iceland.
In winter, I'd always recommend a 4x4, especially through December until March, when there's a good chance that the island will be blanketed with snow. In case you're riding along some remote way in northeast Iceland that hasn't been plowed in a while, you'll be glad you've got 4 large wheels and some ground clearance under you.
In summer, if the plan is to simply ride along the circle road and hit the most popular tourist spots, then any small or medium car will do. But, if the plan is to take the more adventurous route into the highlands and hit those less frequented F-roads, then you'll need a 4x4 vehicle. Just make sure to get the right 4x4 for the roads you intend to drive. For example, F-35 can be driven in any small 4x4, while the F-26 route through Sprengisandur will require something bigger with more ground clearance such as a Toyota Land Cruiser or Ford Expedition.
Tip: Booking your rental car early is always the best option. Prices can go up if demand is high and the cheapest cars always sell out first.
What car rental should I choose in Iceland?
The safest way to rent a car is to do your due diligence. A good way would be to find a few of the cheapest options and then compare the reviews for those car rentals using the following mediums:
The rule of thumb is to compare the prices and take note of the reviews for the car rental in question. Choose the best-rated car rental, even though it might cost you a little more. You'll get a more enjoyable experience out of it in the end.
---
What insurance should I take with my rental car?
I know the optional insurance packages can be an expensive addition to an already not-so-cheap rental car, but I would absolutely consider all the options before confirming the booking. Compare the prices of the cars with and without full insurance for example. Out of two options, maybe that more expensive car will come out cheaper once all the coverage has been added. And don't forget to pay heed to the self-risk amount. Some car rentals might call their insurance a "Super Collision Damage Waiver" while the self-risk on it is no less than what you'd find on any routine CDW. So, what's so super about it?
What should I be aware of before I book my car rental?
First of all, the terms of that specific rental. Sometimes the important bits of the terms are summarized on the booking page, but it's always safest to quickly read over the terms and conditions of the rental. Let me list a few things to be certain of before you book.
The vehicle's fit for you. Can you only drive an automatic? Make sure the car is automatic. Can the car drive all of the roads you're intent on driving? Can the car fit all of your passengers and luggage?

The coverage. Check what the CDW covers. In most cases, the CDW covers everything except the undercarriage, water damage, tires, gravel damage or sand and ash damage. But this can vary between car rental agencies.

The self-risk amount. Even though insurance claims to cover everything, it doesn't mean that you won't be held liable for some amount of money. Most insurances have a self-risk amount, which is the maximum amount you would be held liable for. Get well acquainted with the details of your insurance and avoid any nasty surprises when you arrive.

Is there a hold of funds required? Some car rentals require a hold of funds on your credit card for them to trust you with their vehicle. This hold is usually the same as the self-risk amount on the insurances you chose, so make sure you travel with a credit card that has a high limit. This amount can vary from 500 EUR all the way up to 4,000 EUR.
What about Gravel Protection and Sand and Ash Protection?
We have two other guides that go into detail about those special insurances:
Step 3: Arrive in Iceland & Pick Up The Rental Car
Assuming you have booked the rental car with a pick-up at the Keflavik Airport, you'll be heading to the arrival hall for the first leg of your journey. Whether you have it on e-mail or a printed version, take a quick look at your voucher and see what it says about the pick-up procedure. The agent might be waiting to meet you in the arrival hall with a sign that has your name, or you might need to take the airport shuttle bus over to the car rental area. The bus runs every 15 minutes but, honestly, the car rental area is only like 3 minutes away from the terminal if you walk. See map below.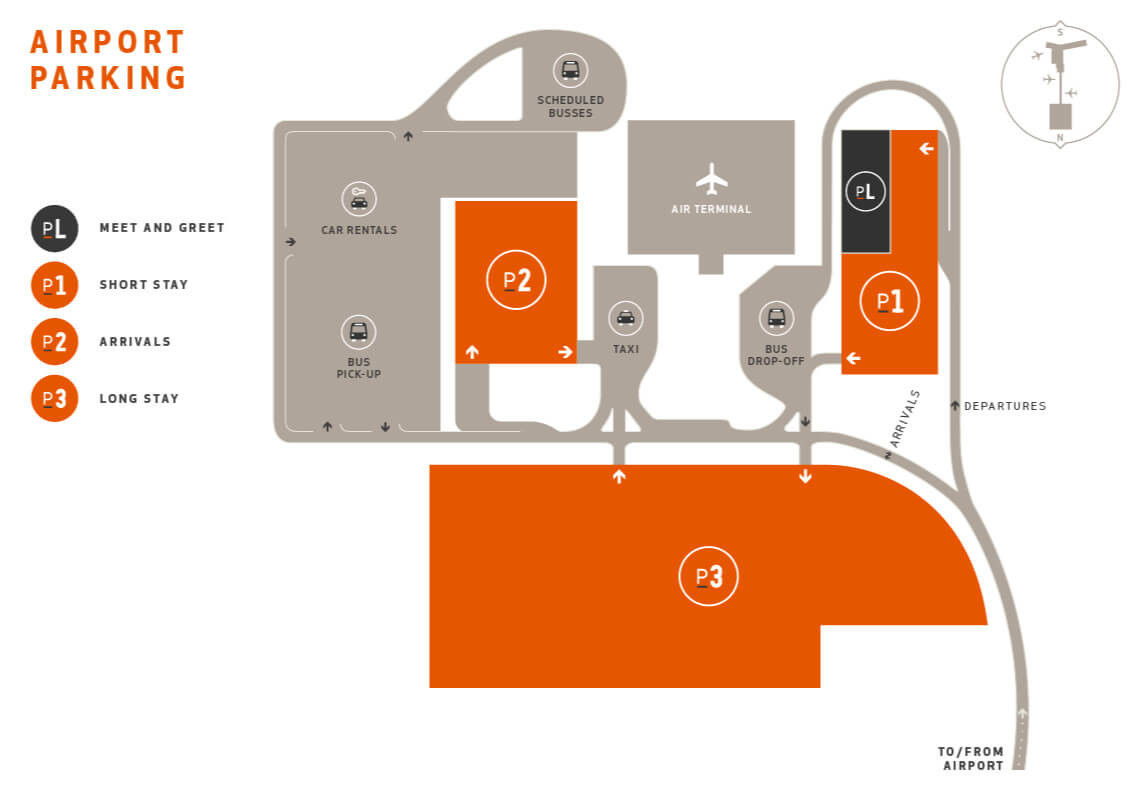 If you didn't check the terms beforehand, now's the perfect time. Go over the contract with the agent before you sign it, and make sure it's correct. Especially make sure that the price on the contract matches what your voucher says. We're all human. Mistakes can be made.
Take full advantage of the agent while you have him with you and ask him everything you wish to know. Ask him to show you around the mechanics and features of the car. He might even have a map of Iceland if you ask for it.
Go over with the car with a fine-tooth comb. Make sure all pre-existing damage is marked down on the agent's sheet, and take your own photos of the car as well. If you're picking up during the evening or there's limited light for any reason, go straight away to the nearest open car wash or a parking lot with good lighting and take pictures of the car inside and out. The pictures are usually time-stamped so they can be used to make your case if you get accused of damaging the vehicle.
Read more about what to check for when you pick up your rental car.
---
Step 4: Explore Iceland
While you're out there exploring Iceland and everything it has to offer, it's worthwhile to keep these websites bookmarked for regular checks.
The Weather Report - Get updates on how the weather's looking and even if there's a chance of northern lights activity.
SafeTravel - A database curated by the Icelandic Search and Rescue Association with tons of useful information and alerts for sudden events that might hinder or endanger your travels.
GSM Bensin - A live feed that shows the current prices for fuel and where to get it cheapest.
Road.is - The best source for road conditions and safety.
What to keep in mind while exploring Iceland.
The wind in Iceland can be especially treacherous. Make sure you hold the door of the car firmly when you open it to avoid it flinging open and possibly damaging the hinges. This is the second most common type of damage to rental cars in Iceland, and it can be surprisingly expensive to repair. Park against the wind and hold that door in place.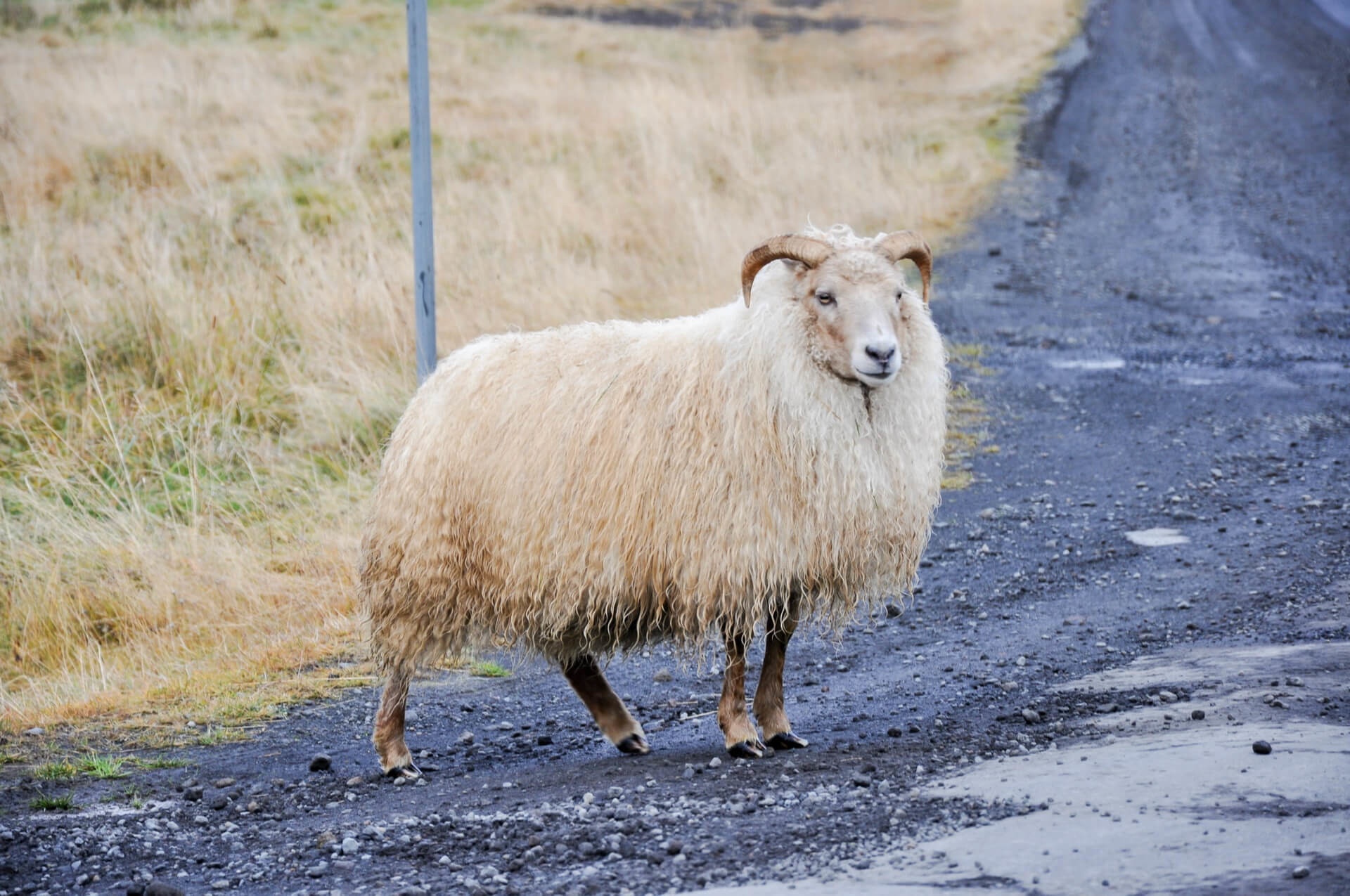 Keep your eyes peeled for any woolen critters on the road. Some parts of Iceland will have herds of sheep freely roaming around. They often cross roads with no regard to oncoming traffic so be alert when passing through areas with large open fields or grassy mountainsides.
You're going to encounter a lot of gravel roads in Iceland. Make sure you slow down on the gravel roads to avoid rocks flying up and hitting your car or passing cars. Gravel damage is the #1 type of damage to rental cars in Iceland. You'll find that route 1, the big road that goes around the country, even has a small segment that is unpaved.
Rules and regulations
Speed limit in Iceland is lower than in most other European countries due to the harsh conditions while driving in Iceland.
Here you will find some useful information about our speed limit you need keep in mind:
Paved Highways - 90km/h or 55mph
Gravel Roads - 80km/h or 49mph
In towns & cities - 30-50km/h or 18 - 30mph
In some areas you are encouraged to reduce speeds. Also, you might encounter strong winds or sharp bends. Remember to keep your eye on the road and not let the beautiful landscape distract you.
You will also need to keep the headlights on at all times, even during summer and daylight. You also need to wear a seatbelt at all times and driving under the influence and using a mobile phone while driving is strictly forbidden and can result in high fines or being
Be careful about speeding in Iceland. Police don't need to be on the scene to catch you. There are speed traps with cameras located around the ring road. Watch for the blue camera sign that warns motorists that there is a speed trap ahead.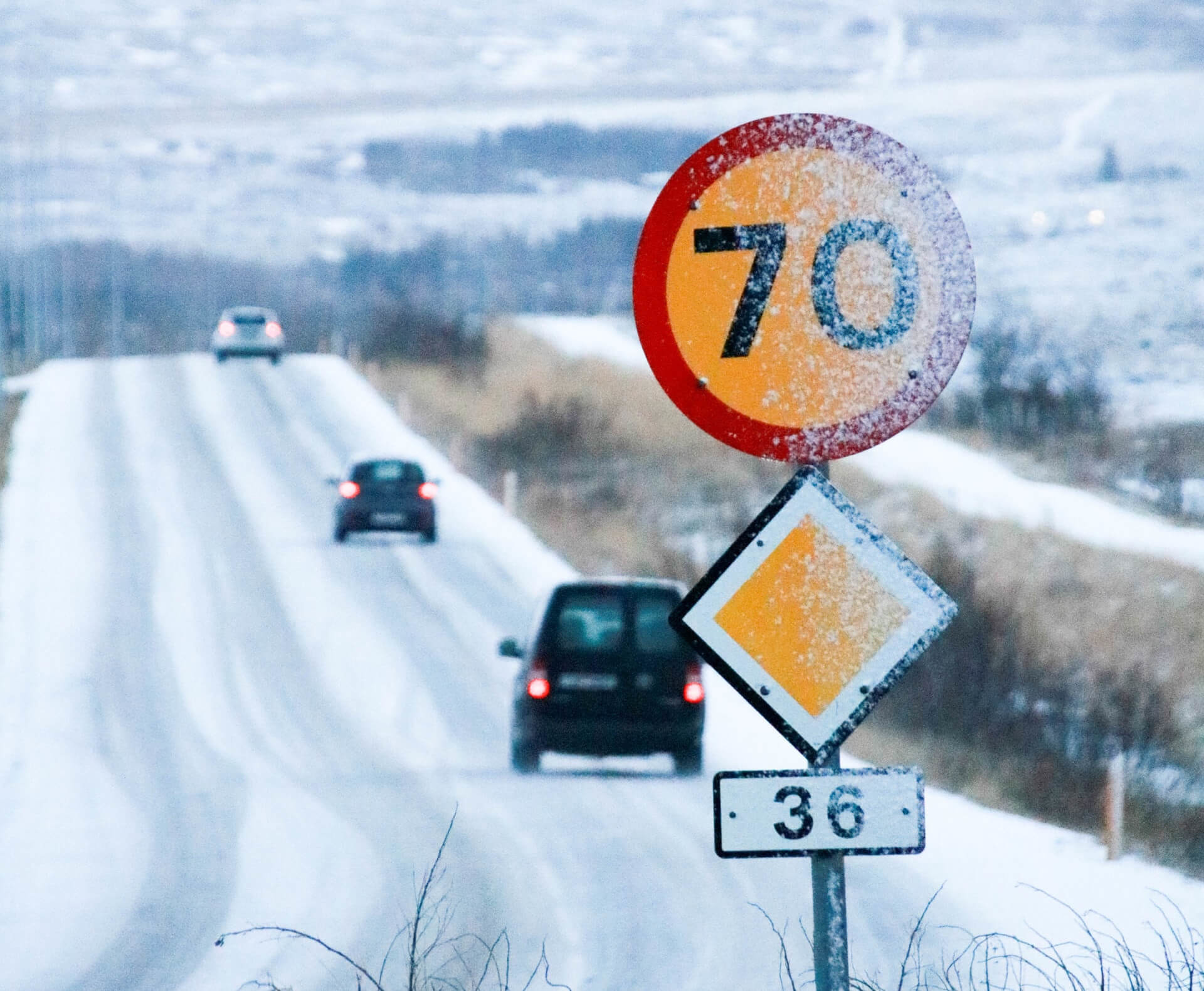 For safety reasons, motorists are obliged by law to keep headlights at all times, even during summer when the sun does not set. Blind corners are common, and, of course, the deep winters are notoriously dark; even at midday, it is barely brighter than during the twilight hours. As in most countries, all passengers are required by law to wear a seatbelt. Driving under the influence of alcohol, or using a mobile phone while driving, is strictly forbidden. Speeding fines are high, and there are many traffic cameras throughout the country.
It is only legal to travel F-roads if you rent a jeep or a four-wheel-drive; and only if they have been opened for summer season. It is against the law, and foolish, to travel on any roads that are cordoned off for safety reasons.
Icelandic Driving Conditions
The surface of the roads in Iceland can change, just like the weather, very abruptly so it is very important to be aware of the dangers and hazards that you might encounter.
Majority of roads in Iceland have loose gravel surface, are narrow and have been raised from the ground to prevent closures due to weather.

Accidents often happen when drivers leave the tarmac for the gravel due to the fast approach and they have not slowed down quickly enough. Remember to stay focused and slow down carefully when entering gravel by taking the foot of the gas and steering gently in the pulling direction.

Rent a 4x4 SUV/JEEP. That ensures you can access the most of the remote roads that Iceland has to offer.
Visit SafeTravel
There you can leave your travel plan to ensure that authorities can reach you if you have problems. Also, you can have a look at their guide to reading the road conditions In Iceland.
Step 5: Return The Rental Car & Catch That Plane
3 hours. Remember that. That's the minimum amount of hours that should stand between the point of you returning the car and the departure of your flight. You never know if the rental office is busy and you'll get delayed there, or there'll be any other issue that may arise due to damages or violations. Make sure you leave enough time before your flight when you drop off the car.
The fuel policy is usually full to full, so make sure you hit up a fuel station and fill up the tank before dropping off the rental car. If you don't, then they will charge you for the fuel as well as an additional service fee.
Follow these steps to the letter and you'll have a stress-free return flight home with fond memories to last a lifetime. Safe travels!
---
FAQ
How old do you have to be to rent a car in Iceland?

The required age may vary depending on the car rental that you choose. The usual minimum age is 20 and sometimes higher for larger vehicles.

See our help section to find you the age limit in our booking system.
Do I need to have a passport to collect the vehicle ?

No, you'll only need a valid drivers license written in English/Roman letters.

More info on driver's licenses here
Can I pay my rental car with a debet card?

There are some debit cards that work in our payment gateway if the card has embossed numbers like a credit card.

When you've selected a vehicle you can click the More Information hyperlink to see if that supplier offers payment of the remaining 85% with a debit card.

Even though you can pay the remaining amount with a debit card some suppliers require a credit card in the drivers name for the excess amount.

You can also pay with a different card than you booked with at arrival.

You cannot, on the other hand, pay the insurance deposit with a debet card. You are required to use a credit card. See more here
What arrival time should I select depending on my flight?

If your pickup location is Keflavík International Airport you should give yourself about an hour to pickup your car. So if your flight arrives at 06:00 it's good to book your arrival time at 07:00.

You'll also be required to insert your flight number if you are picking the car up at the airport. We ask for this so that suppliers that offer pickup at the airport can monitor the flight's arrival time and be ready for you once you enter the arrival hall.
Can I forfeit CDW insurance on my rental car in Iceland?

Yes, you can forfeit the CDW, though it is not something we recommend.

You will then be personally liable for all and any damages that occur to the car, occupants and other people involved. The amount can be very high.

Always be in touch with your insurance company and credit card company before you travel to make sure you have all papers with you involving your insurance information.