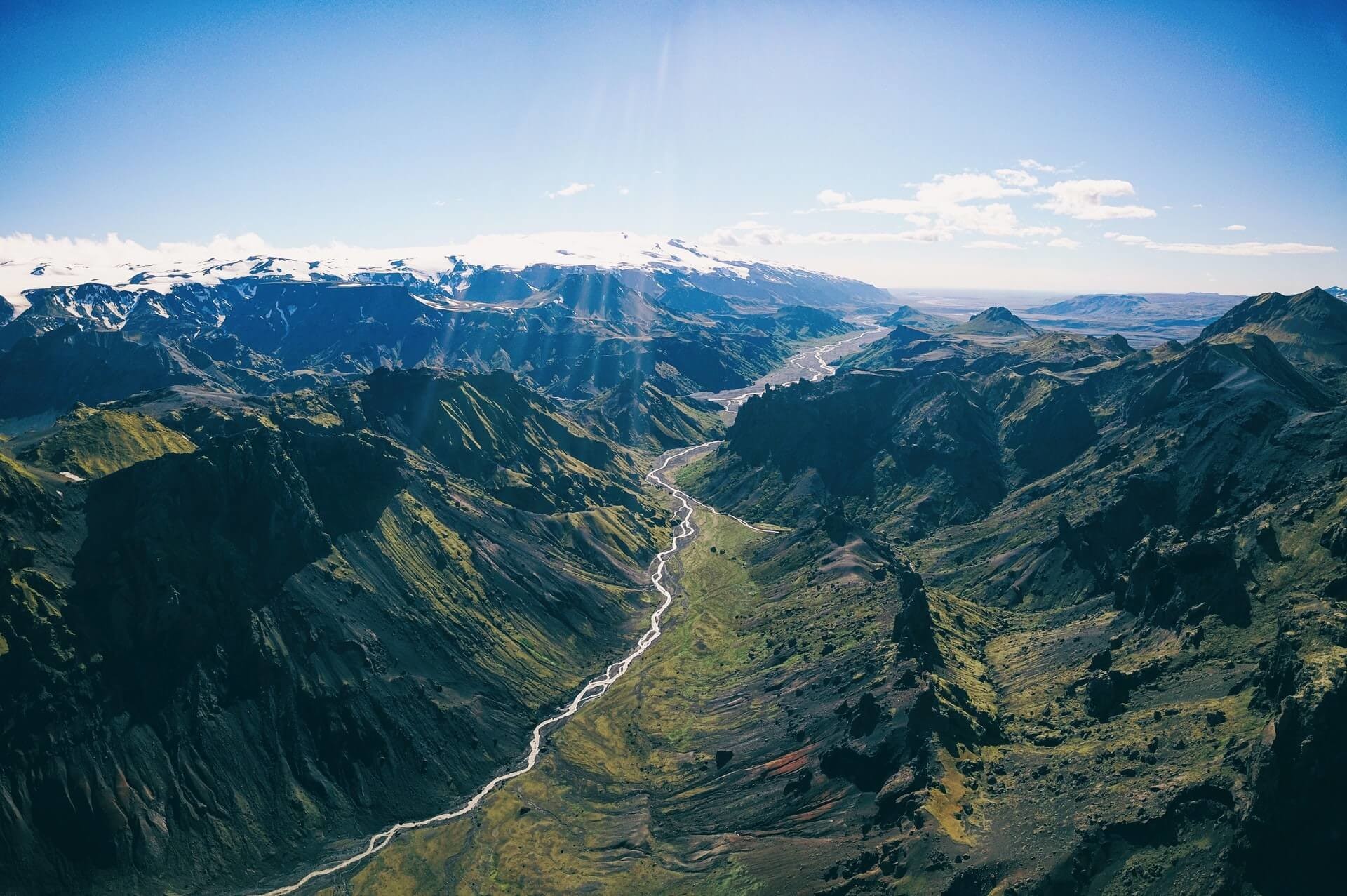 Iceland is a place full of natural beauty with intense weather and unforgettable scenery, and it just never disappoints those who visit.
The only thing is, it is an island located in the North Atlantic Ocean and can only be reached by air or sea. As we wouldn't really recommend taking the next boat over, we thought we could give you an insight into flying to Iceland.
The International Airport in Iceland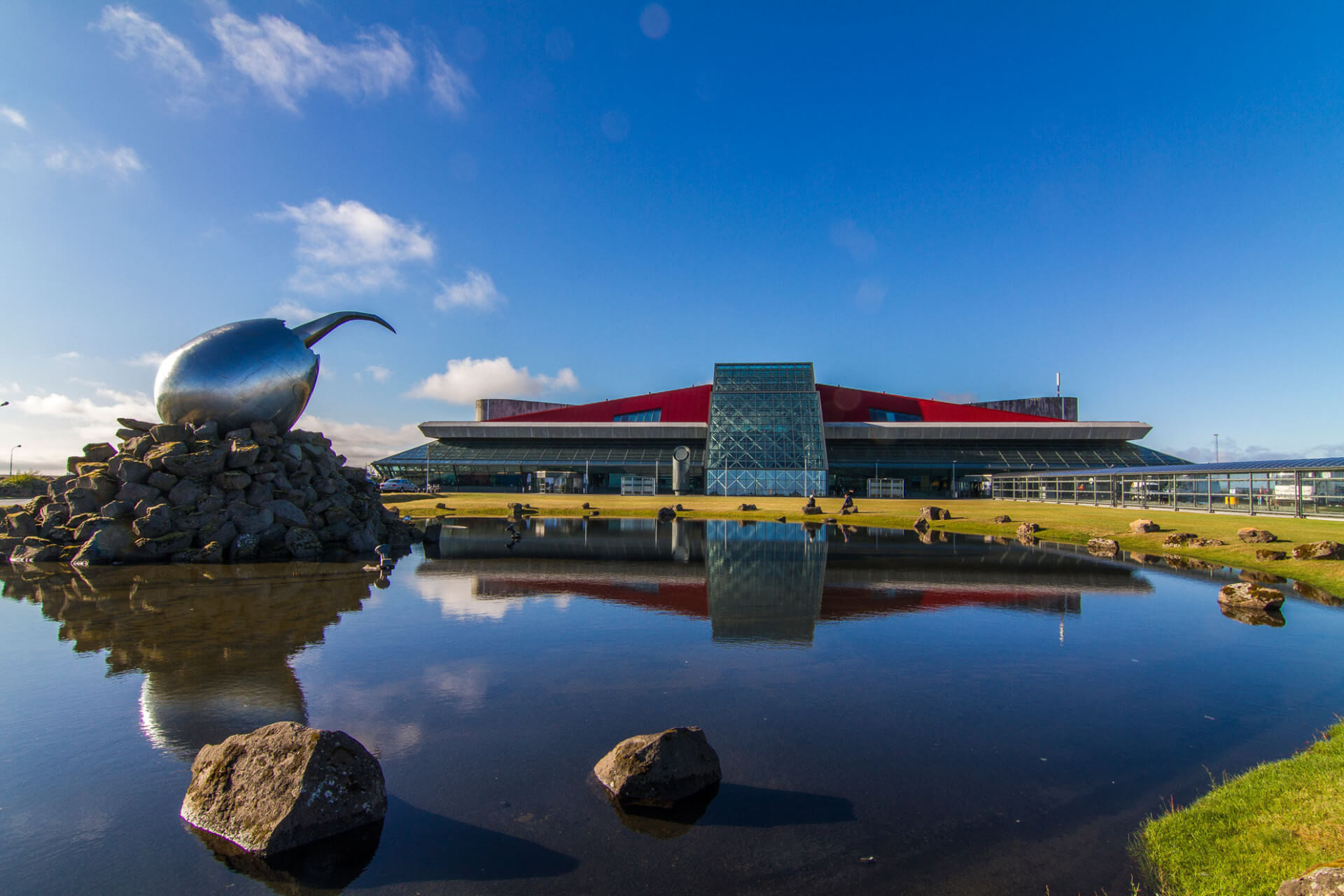 Let's start with the basics and that is where the airport is located.
Many think that the airport is located in Reykjavik, the capital, but that is not the case. The airport is located in Keflavik, which is roughly 40 minutes from downtown Reykjavik.
Keflavik Airport (Icelandic: Keflavíkurflugvöllur)
IATA: KEF // ICAO: BIKF
Also known as Reykjavík?Keflavík Airport.
The largest airport in Iceland and the country's main hub for international transportation.
The airport is roughly 50 km (30 mi) southwest of Reykjavík.
The airport handles mostly international flights.
With the new terminal building finished in 1987 Keflavik Airport has since then played a significant position in the expansion of commercial flight in Iceland and it also serves as an important stop-over link between Europe and North America.
Fun fact: Originally, the airport was built by the United States military during World War II, as a replacement for a small British landing strip.
The population in Iceland is roughly 350.000 but the airport has 5.7 million visitors projected to come through it's doors in 2022.
---
---
Further info about Keflavik Airport
Northbound's guide to arriving at Keflavik Airport

Keflavik Airport's homepage.

Is Keflavik airport the same as Reykjavik airport?


No. There is a domestic airport in Reykjavik which is located in the capital.
Is Keflavik airport a big airport?


No. The airport is quite small and easy to find gates, baggage claim, security and etc.
Do Car Rentals in Iceland Arrange Pick Up At The Airport?


Yes, they certainly do.

Every customer at Northbound has an airport pickup included in their rental booking.
Can I rent a car from the airport?


Yes, you can.

Avis - Budget - Europcar - Hertz are all located at the Airport.
---
Which Airlines fly to Iceland?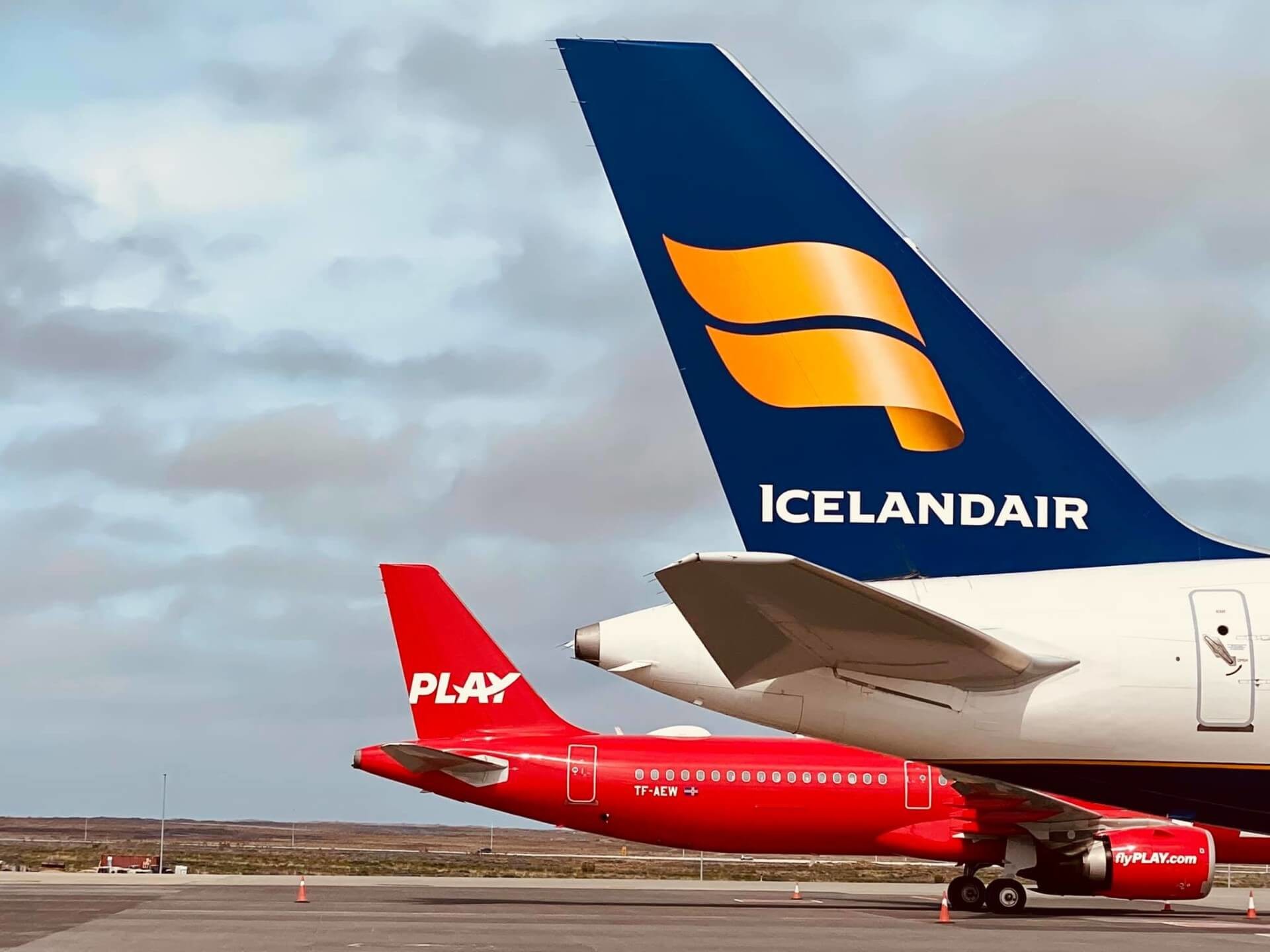 During the height of summer, there are 24 airlines that fly to Iceland. Due to Iceland's geographical location it allows airlines to perform a non-stop transatlantic flights, which are the strategy of the Icelandic airlines.
There are two main Icelandic airlines and they are Icelandair and PLAY Airlines.
Icelandair is a major Icelandic airlines company that offers around 53 permanent and seasonal routes to and from North America, Greenland, and Northern Europe.
Icelandair direct routes to Europe:




Alicante
Amsterdam
Berlin
Billund
Brussel
Copenhagen
Dublin
Frankfurt
Genf
Glasgow
Hamborg
Helsinki
London Gatwick
London Heathrow
Madrid
Manchester
Milano
Munchen
Nice
Oslo
Paris
Rome
Salzburg
Stockholm
Tenerife
Zurich
Icelandair direct routes to North-America:




Baltimore
Boston
Chicago
Denver
Minneapolis-St Paul
Montreal
New York (JFK)
New York (Newark)
Orlando
Portland
Raleigh-Durham
Seattle | SEA
Toronto
Vancouver
Washington DC
PLAY is a new Icelandic low-cost airline operating flights between North America and Europe. PLAY offers low-cost flights and a safe and pleasant journey in their new and comfortable Airbus A320 aircraft family.
PLAY's direct routes to Europe:




Alicante
Barcelona
Berlin
Bologna
Brussels
Copenhagen
Dublin
Geneva
Gothenburg
Gran Canaria
Iceland
Lisbon
Liverpool
London
Madrid
Malaga
Mallorca
Paris
Prague
Salzburg
Stavanger
Tenerife
Trondheim
PLAY's direct routes to North-America:




Baltimore/Washington, D.C.
Boston
New York
Orlando
There are other airlines to fly to Iceland, 22 to be exact. They all fly from their own headquarters which is located either in Europe or in North-America.

Other airlines that fly to Iceland are: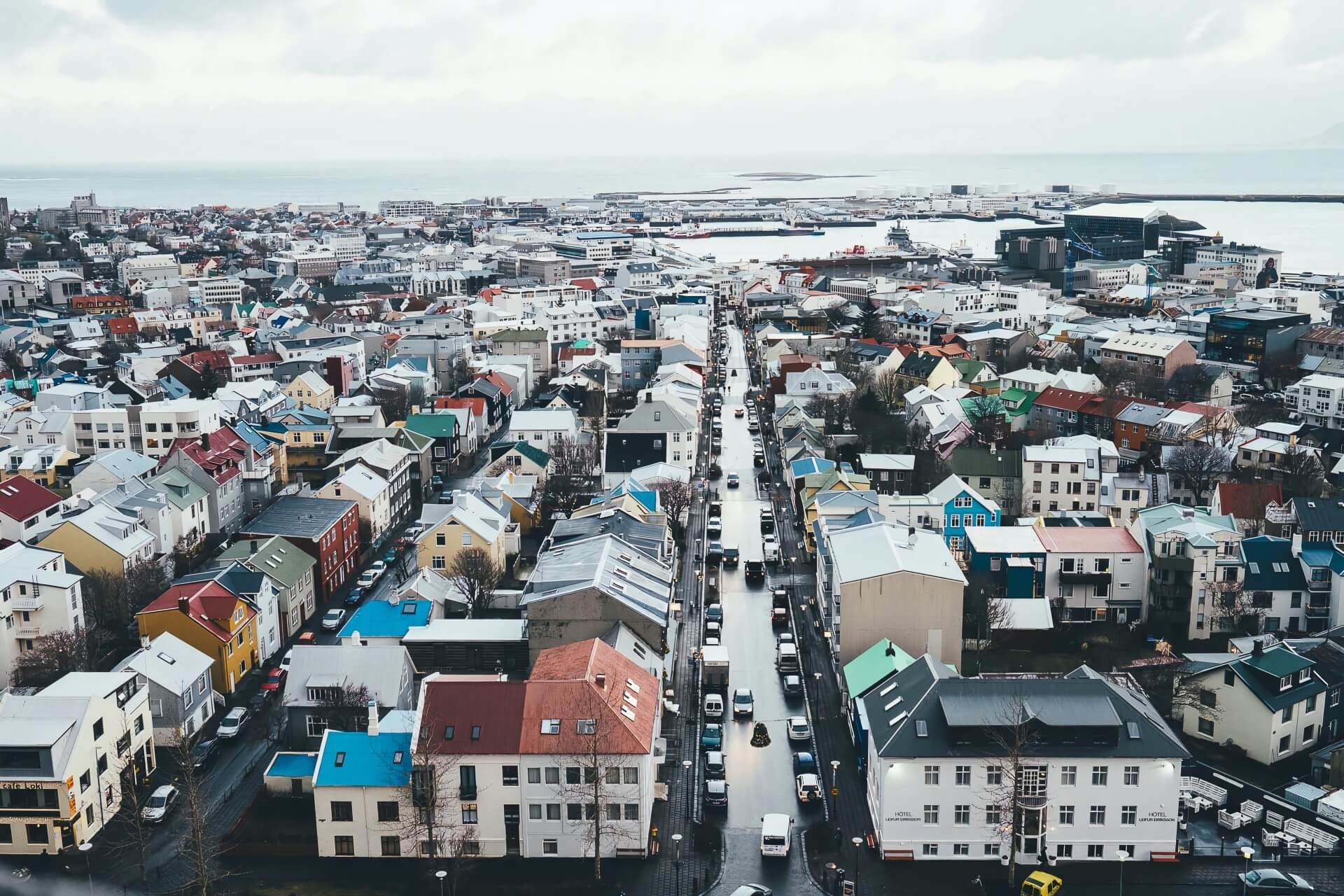 How much does a flight usually cost?
You can find incredibly cheap flights to Iceland when using websites such as Dohop or Google Flights. These websites will sift through what airlines are charging for those airlines that frequent Keflavik International Aiport, with hopes of getting you the best deal.
---
How much is the average cost of round-trip flights to Iceland?
Round-trip flights to Iceland typically cost around 1.425,07 EUR or $1.505,04 USD.
---
How much is the average cost of a one-way flight to Iceland?
A one-way flight to Iceland typically costs around 755,95 EUR or $797,41 USD.
---
How much is the average cost of a direct flight to Iceland?
A non-stop flight to Iceland typically costs around 341,66 EUR or $360 USD.
---
---
Can you fly from Europe to USA via Iceland?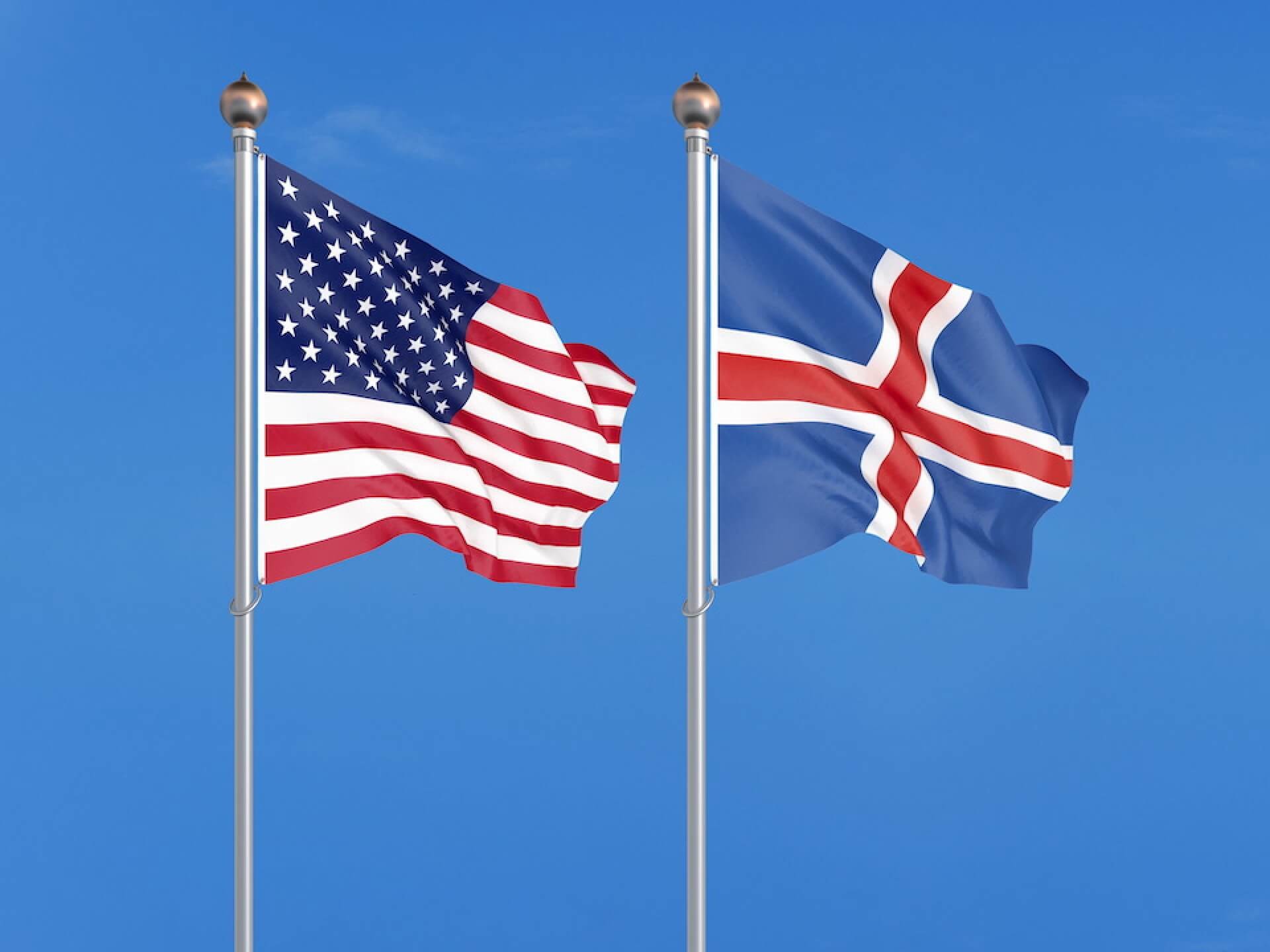 Flights to and from the US and Europe are amongst the most popular in Keflavik International Airport and you will find daily flights connecting the two continents.
Keflavík Airport is an international hub, connecting the world through Iceland ? and yet, because it's relatively small, the transfer times are among the shortest in Europe.
You never have to walk for long
Queues rarely take much time
Everything you need is close to hand throughout the airport.
---
Here are some tips and time saving pointers if you have a connecting flight in Iceland
Your baggage will remain checked in through to your final destination unless you have booked a Stopover in Iceland or are connecting for onwards travel via Reykjavík airport, in which case you should collect any checked luggage from the baggage collection area.
Gate information will be displayed on flight information screens throughout the terminal, roughly 70-90 minutes before the flight departs.
We recommend downloading the Icelandair app or refreshing your e-mail to keep up to date with any announcements about your flight.
You will ordinarily receive a boarding card for each flight. If you do not have a boarding card for your second flight, please contact the corresponding service desk representative at Keflavík airport.
---
Information for transferring passengers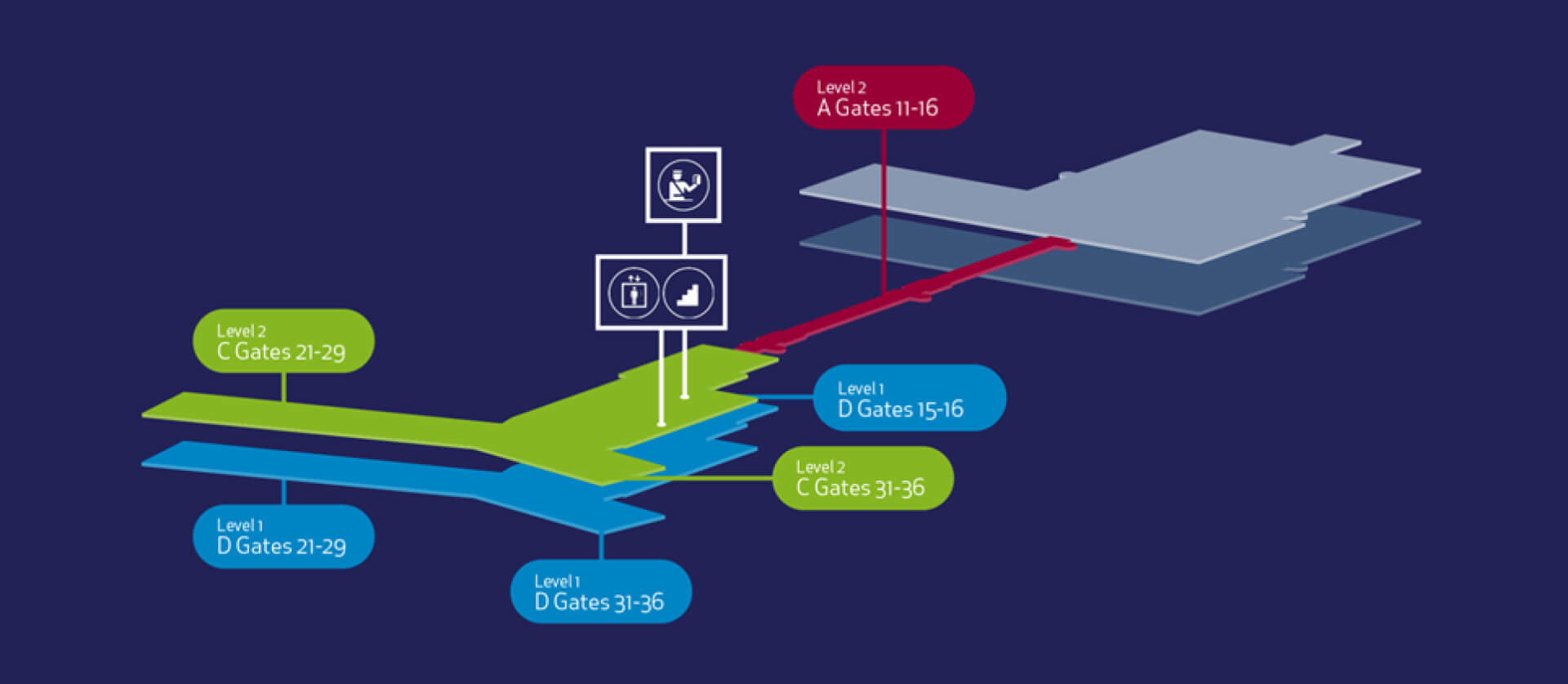 Transferring from North America to Europe ?


If you are traveling from the US or Canada to a destination in Europe (except the UK and Ireland), you will arrive at D gate. Your connecting flight will then depart from either gate A or gate C.
Transferring from Europe to North America?

If you are traveling from Europe (except the UK and Ireland) to a destination in the US or Canada, you will arrive at gate A or gate C. Your connecting flight will depart from gate D.
When is the best time to book flights to Iceland?
The cheapest flights to Iceland can be found through February and March. At that time, The Northern Lights are on full display but the weather is cold & icy and the days are darker which means that majority of tourists aren't as interested in visiting. These months the airlines offer great prices to Iceland.
You could also consider April and May, the weather getting considerably better and these months are less expensive than the summer months.
Summer months, such as June, July and August are the most expensive due to the weather, vacationing and school holidays for children. You might also find high prices in September through to November because it is a popular time to travel as well.
We always recommend booking everything in good advance to find the cheapest prices. The lesser seats available, the more expensive the tickets are.
When is the best time to travel to Iceland?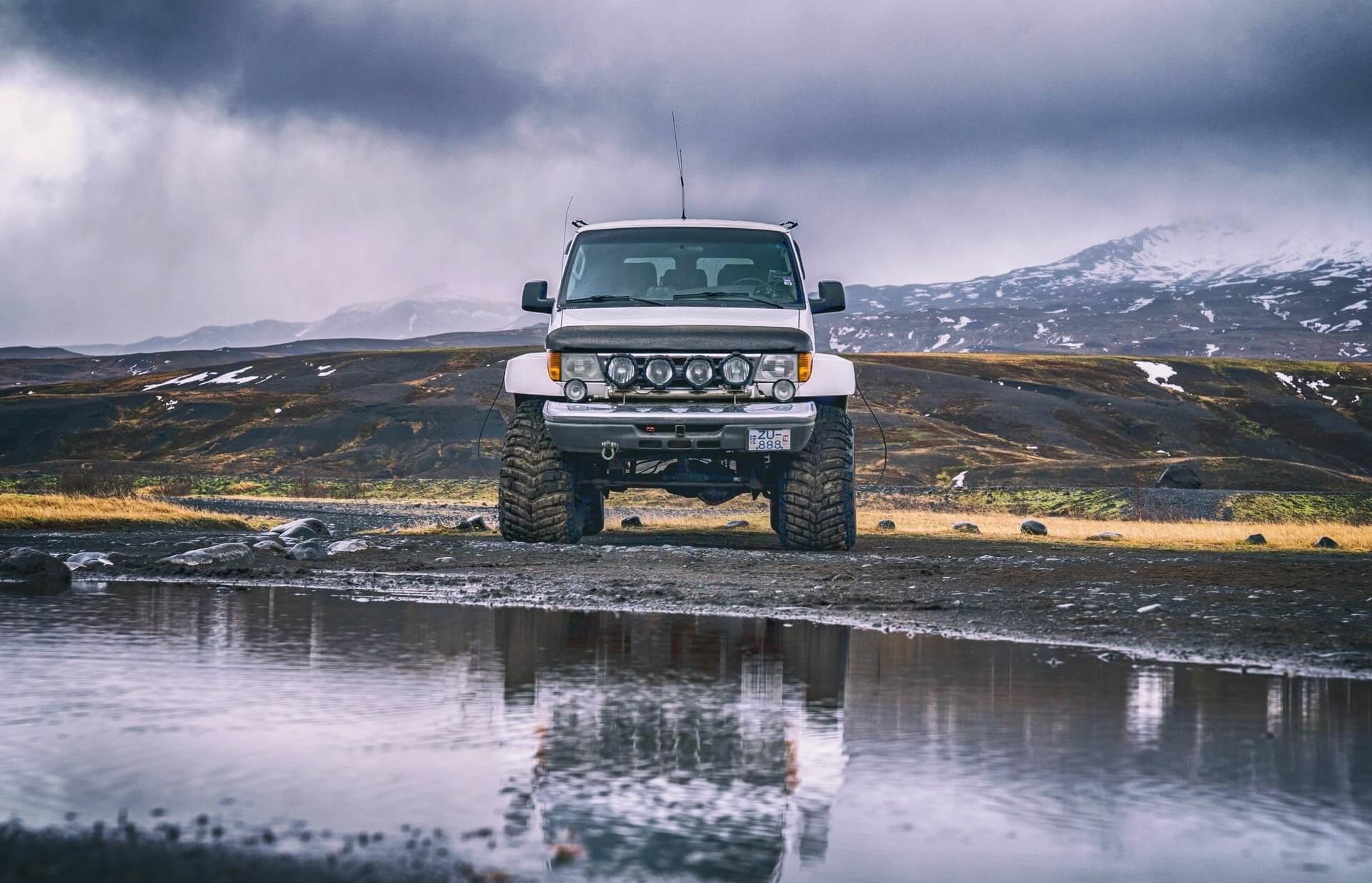 We say that the best time of year to travel to Iceland is during the shoulder season in May and September.
May and September are the best time of year to go to Iceland because they offer lower overall prices and fewer crowds but without the harsh weather conditions found in the winter.
September is also the best time to visit the highlands.
Many people worry about whether Iceland is expensive. The answer is yes, but visiting during the shoulder season helps to reduce the cost.
Shoulder season is the months between the peak season, usually during the summer months, and the off-season in the winter.
---
Is Iceland Expensive?
One of the most common questions we get is asking if Iceland is expensive, which is a fair question to be fair.
The short answer is:
It depends. Yes, and No.
The long answer is:
You can always spend less by preparing before you arrive in Iceland and save your wallet the agony. This always depends on how you want your experience to be. If you're a mid-range traveller and you're used to travelling to destinations in the UK and Europe, particularly Scandinavian countries, I say you shouldn't see anything you are not used to already.
Here we will give you the average prices of some of the necessities you may purchase whilst here in Iceland as well as tips on spending less money in Iceland.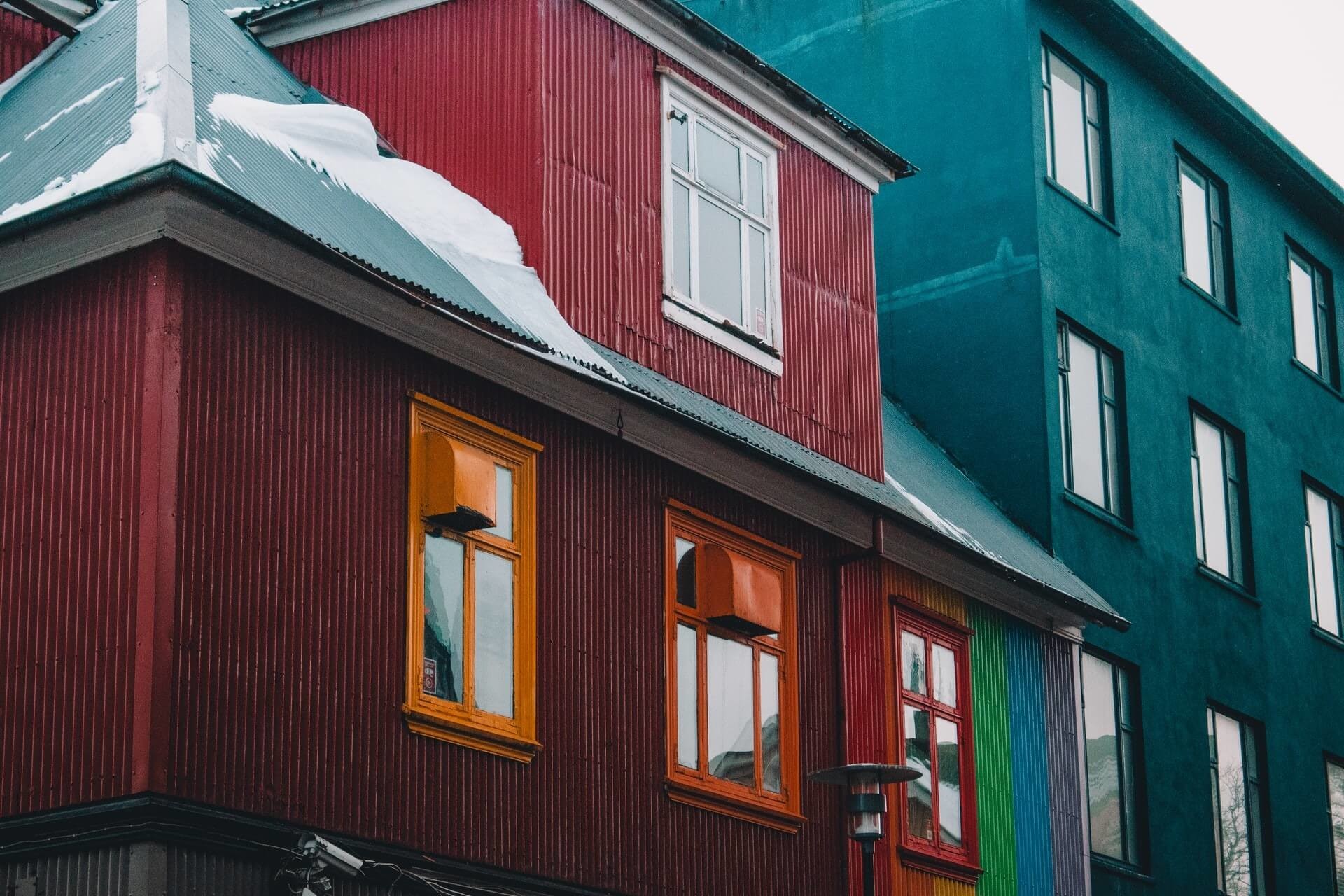 A quick summary about cost of living in Reykjavik, Iceland:
Family of four estimated monthly costs are 589,385.73kr without rent (using our estimator).
A single person estimated monthly costs are 158,911.18kr without rent.
Reykjavik is 5.14% less expensive than New York (without rent, see our cost of living index).
Rent in Reykjavik is, on average, 57.12% lower than in New York.
Fun fact: Reykjavik has 1st Most Expensive 1 Pair of Men Leather Business Shoes in the World (out of 525 cities).
Numbers from Numbeo.
---
Why are flights to Iceland so expensive?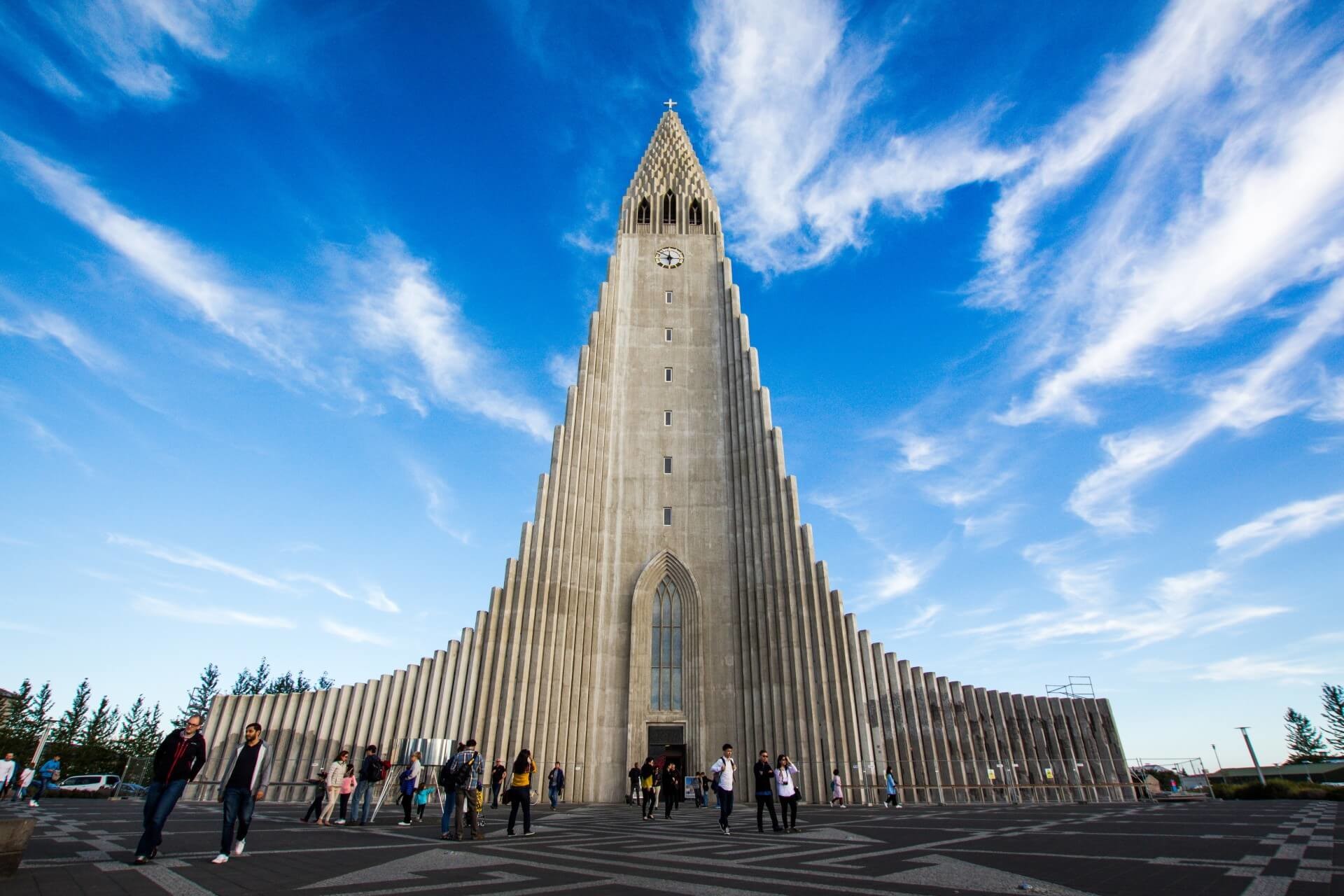 Iceland is an island in the middle of North Atlantic Ocean, so all transport needs to be done by air or sea. This also means a lot of goods and food products are imported a long way to Iceland, which again explains the hefty prices.
It is also a very sought after destination so prices always follow supply and demand.
If you want to save money on your travels to Iceland we recommend booking everything in advance; flights, accommodations and rentals.
Because, well, you know what they say, early bird gets the worm.
---
---
FAQ
Does Iceland have any travel restrictions due to Covid?




From Friday, February 25, there are no longer any COVID related border restrictions for travel to Iceland.

All visitors are welcome, regardless of vaccination status, with no requirement to pre-register before visiting.
There is no longer a requirement for a PCR test to board aircraft, and no testing or quarantine upon arrival.
There is no longer a requirement to present a certificate of vaccination or of prior COVID-19 infection.
Can you travel to Iceland without a car rental?


Yes, you can. There is public transport that can take care of you. It is rather expensive but if you like to walk or even bike around the island, you certainly can.

We recommend visiting these sites for more info:
How long does it take to fly to Iceland?




| City of departure | Flight Time | Flight Type |
| --- | --- | --- |
| Amsterdam | 3h 15m | Nonstop |
| Barcelona | 4h 30m | Nonstop |
| Berlin | 3h 45m | Nonstop |
| Boston | 5h 40m | Nonstop |
| Chicago | 6h 35m | Nonstop |
| Copenhagen | 3h 10m | Nonstop |
| Dublin | 2h 45m | Nonstop |
| Helsinki | 3h 30m | Nonstop |
| London | 3h 0m | Nonstop |
| Montreal | 5h 25m | Nonstop |
| New York | 5h 40m | Nonstop |
| Oslo | 2h 40m | Nonstop |
| Paris | 3h 20m | Nonstop |
| San Francisco | 9h 00m | Nonstop |
| Seattle | 7h 45m | Nonstop |
| Stockholm | 3h 10m | Nonstop |
| Toronto | 6h 00m | Nonstop |
| Zurich | 3h 40m | Nonstop |
---
Related posts
---