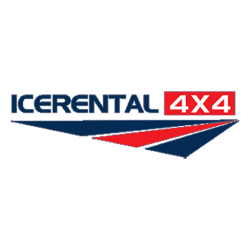 Reviews for
1818 Reviews
8.49
About
IceRental 4x4, a reputable car rental service in Iceland, is recognized for its superior vehicles and exceptional customer service. Their diverse fleet ensures a comfortable and reliable journey across Iceland's unique terrains. Northbound customers have lauded their efficient pick-up process, well-maintained vehicles, and the value for money they offer.
By choosing IceRental 4x4 through Northbound, you're opting for a seamless, reliable, and enjoyable Icelandic adventure.
Reviews
8.49
1818 total reviews
| | | | |
| --- | --- | --- | --- |
| | 5-Star | | 67% |
| | 4-Star | | 23% |
| | 3-Star | | 6% |
| | 2-Star | | 3% |
| | 1-Star | | 1% |
| | | |
| --- | --- | --- |
| Staff | | 8.5 |
| Value | | 8.3 |
| Cleanliness | | 8.9 |
| Pickup | | 8.2 |
| Dropoff | | 9 |
| Condition | | 8.1 |
1711 reviews for Icerental 4x4
Verified reviews from our customers that rented a car from Icerental 4x4
Submitted 24. Sep 2018
Outstanding!
The service was excellent. The booking, cancellation and payment process (credit card) was quick and easy. The car provided was as described and would highly recommend getting all the extra road coverage insurance.
Carl
rented a vehicle
in September 2018
Submitted 14. Sep 2018
Excellent
Our experience was fine. The windshield wiper blades on the car were old and on a bit of a problem in the rain but other than that, the car met you expectations. The staff were encountered were professional and helpful.
James
rented a vehicle
in September 2018
Submitted 17. Sep 2018
Outstanding!
We loved it. It had all we needed
Ramon
rented a vehicle
in September 2018
Submitted 10. Sep 2018
Outstanding!
Everything was great!
Gustavo
rented a vehicle
in September 2018
Submitted 09. Sep 2018
Good
All was fine except at pick up. Several people in line and only one employee at registration.
Jerry
rented a vehicle
in September 2018
Submitted 24. Sep 2018
Outstanding!
I had a real good time during my trip ! I had everything I needed at a very reasonable price ! Great customer support ! Thank you Liam from Northbound !
Michiel
rented a vehicle
in September 2018
Submitted 16. Sep 2018
Good
There was an issue with information absence about extra insurance fee, that we had pay extra when getting our car. We had to choose whether to 2800€ are taken from my credit card account (and some given back after few weeks time) or pay extra 15€/day. Coming to an foreign country people usually have certain budget, that certainly wasn't in our budget. GPS was very slow and not updated, so we couldn't use that. Everything else was great with the car.
Nele
rented a vehicle
in September 2018
Submitted 21. Sep 2018
Good
Staff was friendly and clear about the car, the do's and dont's. The insurance part was clear although it would have been great to be informed upfront instead of onsite, this way it feels you need to upgrade directly. We didn't but it's confronting and unexpected. The Suzuki 4x4 is everything you need, the rooftop tent is absolutely ideal to explore Island. We had an amazing experience, thanks a lot for your support to facilitate our mnost beautiful journey ever.
Ronald
rented a vehicle
in September 2018
Submitted 15. Sep 2018
Outstanding!
amazing car
Livio
rented a vehicle
in August 2018
Submitted 09. Sep 2018
Good
Pretty good. I would rent again from you BUT.... the only hiccup was the delay at the pickup office. I don't mind that there was a shuttle and that we had to wait for it for nearly half an hour. I did mind that there was only one attendant and that there were six separate parties waiting 10 minutes or so for each transaction to take place once we got to the office after travelling on a redeye flight. It was not a major deterrent - I would definitely rent from you again. I appreciated the automatic Sante Fe at a reasonable price - it was a pleasure to drive in the countryside of Iceland and in the city of reykjavik. Your attendant was friendly and helpful.
Annemarie
rented a vehicle
in August 2018
Submitted 14. Sep 2018
Outstanding!
Me and my girlfiend took a duster with roof tent and had a great time! The duster Is realy nice, was good in gravel and 4x4 roads, and in general worth the money. The roof tent was great as well, even in cold, windy and rainy weather we find it as realy convinent sulotion and had a great time!
Ido
rented a vehicle
in August 2018
Submitted 12. Sep 2018
Outstanding!
Absolutely perfect customer support! They even bought us new sleeping bags, because the temperatures were dropping lower than expected. They have always been very kind and were responding extremely quick to every mail that I have sent to them. I highly recommend northbound to everyone who wants a great adventure in iceland!
Marcus aurelius antonius
rented a vehicle
in August 2018
Submitted 10. Sep 2018
When we arrived to Keflavik rental agent told us that there is problem with roof box that they cannot attach it to Toyota RAV4 even if they have it as option on Northbound and also on their website. I also sent an email to them 2 days before arriving to ask if it´s everything okay with car and if it is prepared with roofbox. Reply was: "Car is okay". So we were expecting what we booked. We were offered Dacia Duster. That was just a big joke because you cannot compare Toyota to Dacia. Only because we say that we cannot accept Dacia and noticed that on the end of cars there was Nissan Patrol we got better car. It was old model but served well and we managed to get everywhere.
Michal
rented a vehicle
in August 2018
Submitted 06. Sep 2018
Outstanding!
Smooth, no problems to highlight.
Amedeo
rented a vehicle
in August 2018
Submitted 07. Sep 2018
Outstanding!
It was very good. We had no issue with pickup and drop off. Certainly would use your company again.
Nicholas
rented a vehicle
in August 2018
Submitted 03. Sep 2018
Outstanding!
Northbound was excellent with the vehicle (fully equipped) and pick-up and drop off service. The only improvements would be more information up front (like in the confirmation email) on the insurances and vehicle risks as its a lot to take in during pick up. I also was a bit uncomfortable dropping off the car without a written confirmation that i returned the car in good shape and on time. I had the premium insurance so not too worried. Thank you for a hassle free service in renting a 4x4 in Iceland!
Garrett
rented a vehicle
in August 2018
Submitted 08. Sep 2018
Found it difficult to close, especially since we are short. First night the zipper on one side broke so we couldn't close it. Sleeping bags first provided were not warm enough. Second car we got was an old Jeep. Rear windshield wiper didn't work. Was very disappointed in this rental! Would not recommend them.
Diane
rented a vehicle
in August 2018
Submitted 03. Sep 2018
Excellent
Great car for two people. The roof tent is really cozy and comfy. The car went through everything without a proplem. Also there were no problems with Icerental 4x4. The employees were really nice and explained everything really well. The car does use a lot of gas. We used half of our tank or more everyday so we almost had to refuel everyday(because the gas stations are relatively rare (depends on where you are) and you have to refuel if there is no gas station coming for a while). Though only 4.5 stars, because we only booked the normal insurance online and then were told on site that we had to pay a deposit if we only have this insurance. Our credits cards couldn't afford that amount of money so we had to take higher insurance. We're not mad, because we think the insurance was worth it but still 4.5 stars because we would have liked to know that beforehand. We had a great trip. Thanks for everything!
Chiara
rented a vehicle
in August 2018
Submitted 03. Sep 2018
Outstanding!
Used Northbound.is couple while shopping car rental deals in Iceland and found the rates offered by Northbound.is most competitive. In my experience rental company totally honored Northbound.is rates even though direct rental companies' rates were evidently higher. I definitely recommend giving Northbound.is a try!
Andrey
rented a vehicle
in August 2018
Submitted 11. Sep 2018
Outstanding!
perfect Service ! & very Helpfull Crew at the rental Station …….specially when we returned the Car !! Thanks a lot !
Stefan
rented a vehicle
in August 2018
Submitted 29. Aug 2018
Excellent
Excellent experience all round. Easy to book, staff picked us up at the airport and took us to the office, the gentleman there Martin was very helpful and explained everything clearly. Unlike other car rental agencies, he was not pushy at all about the extra insurance and excess, just asked if I wanted it and accepted my decision. Returning the car was quick and easy as well with the shuttle to and from the airport almost immediate. Added bonus: we had a number of extra suitcases which Martin kindly offered to keep in the office for the few days we were there, refused to accept any money. Saved us about £60 in storage costs. Friendly, efficient and good value for money. I would give it 5 out of 5 but for the fact that the car did seem to have some problems with the ABE and warning light coming on several times in the rain. I am not sure what the problem was and raised it with the company on return but they didn't seem too bothered. But a minor issue in an overall great experience.
Fahad
rented a vehicle
in August 2018
Submitted 30. Aug 2018
Good
The car in itself was very good! It was perfect for two girls driving around Iceland. However the mattress in the tent was very hard to sleep on. I'm usually not fussy about these things but it was like sleeping on concrete, and I couldn't sleep on one side for too long until it started to get really uncomfortable. Next time I will bring my inflatable camping mattress and hope for better sleep. Another minor thing was the pick up service from the airport. No one was waiting for us even though you/they had our flight number and knew when to expect us. When we called they came to pick us up. Then I was also a bit annoyed at one of the guys who sorted out the paper work. When everything was done and me and my friend went out to the car to check out the camping gear we noticed that the lid for the gas canister was a bit tricky to open so we went inside to ask about it and he showed us. It was an easy thing to do if you just knew you should flip it instead of pulling it open. But then he asked if we knew how to use the camping kitchen, and as I am a hiking person I am confident in using a camping kitchen and answered yes. Then he asked "Are you sure....?" which to be honest was a bit insulting, and it felt like he asked because we are girls. And maybe because the thing with the gas canister lid. But I doubt he would have asked the guys who were next in line the same question. Okay, so now I've complained a bit BUT our overall experience was good. And the guy who drove us back to the airport was so nice and friendly! It was a Mexican guy and even though we were so tired he managed to brighten our morning with his cheerful mood.
Jennie
rented a vehicle
in August 2018
Submitted 08. Sep 2018
Excellent
It seemed to be quite unusual that we were picked up at the airport Kevlavik and that we were taken to the icerental 4x4 office which is a few minutes apart of the Airport. But this shuttle Service worked perfectly when we came and also on our way back to the airport. The car we got matched exactly our needs and for driving f-routes in the highlands. The car was quite old and it already had some scratches, but in the end it appeared as reliable and sturdy. It was also freshly cleaned when we took it. By the way our car had had a modification of the chassis so that there were a few more centimeters clearance to the ground as usual. Negative points were that an unusual high force was necessary to fix the handbrake and the wiper blades of the front windscreen were worn out. In the back, the wiper blade was almost no more existing. One positive point was, that the tires were new when we got the car - on Iceland's roads this is very helpful. All other parts of the car were also in a good condition.
Christian
rented a vehicle
in August 2018
Submitted 03. Sep 2018
Outstanding!
We had a wonderful time traversing Iceland, driving all around from west to south to east to north in our Renault 9-seater van and we couldn't have been more comfortable! Thank you Icerental!!
Vinita
rented a vehicle
in August 2018
Submitted 02. Sep 2018
Outstanding!
Excellent service, the car was perfect and really nice to drive. Company was really helpful and the prices were great. Very satisfied.
Mina
rented a vehicle
in August 2018
Why book through Northbound?
Best Price Guarantee
If you find the same vehicle from the same supplier elsewhere, we'll match the price with no added or hidden fees
No Hidden Fees
We do not add any fees on top of your final price, what you see is what you get!
Free Cancellation
We will cancel your booking on request, no questions asked, provided there are more than 48 hours until the pickup date.
Dispute Support
Should a dispute arise between you and the supplier, we serve as an intermediary between the two of you, guaranteeing you a response and a conclusion to the issue.
Rental Cars from Icerental 4x4
See available rental cars from Icerental 4x4