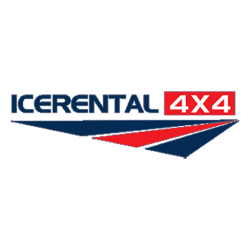 Reviews for
1818 Reviews
8.49
About
IceRental 4x4, a reputable car rental service in Iceland, is recognized for its superior vehicles and exceptional customer service. Their diverse fleet ensures a comfortable and reliable journey across Iceland's unique terrains. Northbound customers have lauded their efficient pick-up process, well-maintained vehicles, and the value for money they offer.
By choosing IceRental 4x4 through Northbound, you're opting for a seamless, reliable, and enjoyable Icelandic adventure.
Reviews
8.49
1818 total reviews
| | | | |
| --- | --- | --- | --- |
| | 5-Star | | 67% |
| | 4-Star | | 23% |
| | 3-Star | | 6% |
| | 2-Star | | 3% |
| | 1-Star | | 1% |
| | | |
| --- | --- | --- |
| Staff | | 8.5 |
| Value | | 8.3 |
| Cleanliness | | 8.9 |
| Pickup | | 8.2 |
| Dropoff | | 9 |
| Condition | | 8.1 |
1711 reviews for Icerental 4x4
Verified reviews from our customers that rented a car from Icerental 4x4
Submitted 28. Jul 2022
Excellent
Our experience was positive, our 4xr fullfiled our expetanios. There were few details we would like to point out. Firstly there was an empty windshell fluid in a front and back container. Secondly one of the camp chairs was fairly unstable, because of nearly broken leg leg. Lastly, travel gas we got was half empty and it only lasted for a week. Our trip was 14 days, we needed to buy a travel gas at a camping store. The staff was professional but no kind or even polite.
Matic
rented a vehicle
in July 2022
Submitted 22. Jul 2022
Outstanding!
Simple: Everything was perfect. Thank you again.
Arnold
rented a vehicle
in July 2022
Submitted 23. Jul 2022
Outstanding!
The rental was great, the car was exactly like promised and everything went smoothly.
Mari-ann
rented a vehicle
in July 2022
Submitted 10. Sep 2022
Great
Throughout the 2 weeks we spent touring the Ring Road and making side-excursions, our experience with the 2019 Dacia Duster from Icerental 4x4 was very good. It proved to be a solid, capable and comfortable vehicle, with ample room for over 6' drivers. The vehicle was clean and fully functional. Fuel consumption was as expected. There was an issue early on with the roof tent hydraulics but Icerental 4x4 staff were communicative and arranged to have that repaired as we travelled. Our request to extend the rental was efficiently handled on the road through email. There were no hidden or surprise charges at the end of our trip. Would do it again without hesitation.
Havelock john
rented a vehicle
in July 2022
Submitted 16. Jul 2022
Outstanding!
Great service. We had an issue with our first car but we could arrange a smooth and free car swap with icerental4x4.
Michael
rented a vehicle
in June 2022
Submitted 15. Jul 2022
Great
Car was perfect. like we know it from other trips. Roof tent was not checked or the company does not get the information of the customers. While heavy rain it gets wet parts at the roof and one time the matrace gets wet while driving in the part where the tent will be closed. They gave us a small amount back for the inconveniance. At the end we had luck that the weather got not much more bad as it was. So the the numbers are a combination of car and tent
Ulrich
rented a vehicle
in June 2022
Submitted 03. Jul 2022
Outstanding!
Krzysztof
rented a vehicle
in June 2022
Submitted 25. Jul 2022
Good
The kind of vehicle with the rooftent was perfect respect to our expectations, but it was really old and worn. It was pretty undriveable (or even dangerous) in wind condition (that means always in Iceland!). The rooftent conditions were ok, but bedding and pillows were unpresentable.
Piero
rented a vehicle
in June 2022
Submitted 09. Jul 2022
Most expensive rental car I've ever had, still the best deal we could find. The Suzuki Jimny 4x4 (2018) was an okay car which got us safely over all those icelandic gravel roads. Roof top tent was in a miserable condition: they fixed the damaged zipper of one of the doors with a … TAPE! Windy, rainy weather and the fact you have to un- and refold it all the time didn't really improve its condition. Mattress came with dents in it. My recommendation: Dump that old piece of sh** and put a new one on the car. Thank you. The water for windscreen wiper was always empty, probably some lack in there. Pick up from the airport was awful, we had to wait for 2 hours. Drop off was fine and worked out quickly. When we gave the car back no one asked if everything was fine or if we had any trouble. The guy who checked our car was busy to find little scratches that weren't there before… very very picky. As a customer you need to take a lot of pictures and videos of the car's condition during pick up to prove in the end you didn't mess it up.
Lisa
rented a vehicle
in June 2022
Submitted 14. Jul 2022
Fine
Wir brauchten 3 autos das erste hatte ein elektrisches problem mit dem allrad. Da kann niemand was dafür dieser wurde uns anstandslos ausgetauscht (3h hin und 3h zurück) das auto das gebracht wurde, hatte ein defektes radlager dies ist völlig daneben den wenn man nur ein bischen ahnung von autos hat sollte dies auf einer kurzen probefahrt merken und nicht 3h fahre. Ich also automech. hatte es nach 200m schon gemerkt und selbst meine freundin die keine ahnung hat fand das geräusch extrem laut. Auch dieses fahrzeug wurde anstandslos ausgetauscht wieder 6h fahrt für den vermieter. Der 3 hatte hinten komplett flache reifen aber das war uns dann egal. Fazit, gesellschaft bietet fahrzeuge an die in teils sehr schlechten uustand sind.
Andreas
rented a vehicle
in June 2022
Submitted 05. Jul 2022
Outstanding!
The pick up and drop off was a smooth process. The car was brand new and obviously in great condition, I always ensure to take care of the rental car like my own so delivered it back in clean condition, check out was less than 5 minutes. Highly recommend Northbound Ice car rental 4X4
Venkat karthik
rented a vehicle
in June 2022
Submitted 12. Jul 2022
Hi We were charged a ridiculous amount of 800€ for just a small scratch because the company told us the need inmediately to paint again all the car.. This quantity didn't raise even more as we had an insurance that we got at the company. When we got the car, the conditions where not perfect as that area already had some imperfections The conclusion with all this is that icerental really want us to get as much money as the can. They have the advantage that we arrived with little time to go to the airport so we didn't have enough time to call the police and argue with them. I regret booking with this company. I will not recommend anyone in the future.
Eduardo
rented a vehicle
in June 2022
Submitted 12. Jul 2022
Outstanding!
I am happy to recommend IceRental 4x4. They gave us a new Subaru which performed very well on the road. The trips back and forth from the airport went smoothly. The staff seemed very helpful and friendly. I have traveled extensively in my life and I can honestly say this turned out to be one of the best experiences I have had with car rental agencies. Thank You. Pat Leonardo
Pasquale
rented a vehicle
in June 2022
Submitted 26. Jun 2022
Good
It works but it was too old, you should renew the cars
Abraham
rented a vehicle
in June 2022
Submitted 10. Jul 2022
Outstanding!
Nous avons eu tres vite un problème de demarrage sur le voiture qu'il a fallu changer. Le seconde a fonctionner parfaitement.
Jerome
rented a vehicle
in June 2022
Submitted 21. Jun 2022
Das Fahrzeug war in einem schlechten nicht gewarteten Zustand. Es quitschte und ruckelte in den hinteren Radkästen, die Bremse war sehr slow, das Profil der hinteren Reifen war runtergefahren. Aus dem hinteren Rad leckte nach kurzer Zeit Öl. Das Dach des Autos selbst also die Karosserie war undicht (Riss im Dach) so dass unsere Sachen beim Regen nass wurden. Dachzelt: Icerental 4x4 wirbt damit, dass die Dachzelte nicht älter als ein Jahr sind, unseres war bestimmt älter, es hatte Löcher und verdünnte Stellen im Stoff. ausgeschnittene Insektennetze. Der Stoff ansich war so wie ein T-Shirt, bei Regen lief das Wasser einfach auch an der Innenwand herunter, so dass wir uns bei angesagtem Regen eine Unterkunft buchen mussten. Service: Zu Beginn unserer Reise erhielten wir kaum eine Einweisung ins Auto. Als wir eine Reifen-Panne hatten, versuchten wir uns mit der 24h Hotline in Verbindung zu setzen, leider war hier niemand erreichbar, wir schrieben dann eine Mail und schilderten das Problem, welches mein Mann inzwischen per Reifenwechsel behoben hatte. (Hier funktionierte der Wagenneber nicht, er war zu kurz um das Auto zu liften) Darauf schrieb man uns bloß, dass wir die Hotline anrufen sollten. ( Leider ging hier selbst tagsüber keiner an das Telefon) Bei der Abgabe zog man uns dann die gesamten Kosten für einen Neuen Reifen incl. Wechsel ab (164 €) und uns wurde gesagt, dass wir ihn hätten flicken lassen können. Davon war in der Mail aber keine Rede zuvor gewesen. In Anbetracht des schlechten Profils unglaublich frech uns die gesamten Kosten abzuziehen. All das (auch die Mängel am Fahrzeug) war den Mitarbeitern bei der Abgabe des Fahrzeuges egal. Schade. Das einzig positive war, dass das Auto von innen einigermaßen sauber war wobei es ein bisschen muffig roch und nass war, und der Shuttle vom und zum Flughafen funktioniert hat. Also Leute, mietet euer Auto lieber woanders!
Luzie marie
rented a vehicle
in June 2022
Submitted 21. Jun 2022
Outstanding!
A second usb could be good and the driver assistance makes me a little bit nervous. Everything else was fine. A nice car, good speed, heating was perfect, electronic use by phone really good
Tanja
rented a vehicle
in June 2022
Submitted 19. Jun 2022
Good
We've rented a relatively old car. For the actual rental prices it's very expensive but the best thing at this actual moment. But everything went fine during the trip. Pickup was ok, dropoff with a missunderstanding as we wanted to bring the car a bit later. Unfortunately the girl at reception loomed that we would pay another day. At the end we didn't, but that wasn't very friendly, but beside of this we had a good experience. I recommend everyone to take photos at the beginning and to check everything before excepting a car. It makes things easier of theyre would be any problems coming up. A pickup from Reykjavik would be great for the future!
Simon
rented a vehicle
in June 2022
Submitted 28. Jun 2022
Outstanding!
My husband and I had a fantastic experience circumnavigating Iceland in our Jimny, even heading up into the Westfjords for three days! It handled the roads extremely well and we were able to go to every site on our itinerary. We loved sleeping in the tent, the mattress was far more comfortable than in our rooftop tent at home. Check-in and out were fast and friendly. We look forward to doing the trip again, this time clockwise around the island, we loved it so much!
Julia
rented a vehicle
in June 2022
Submitted 13. Jul 2022
Outstanding!
The reception was very friendly and helpful. The car was perfect for our trip. Remember to take photos or a video of the car at pickup: when returning the car, the agent pointed us at a new scratch – luckily we took a video when we picked it up at the beginning, so we could prove the scratch was already there.
Nico
rented a vehicle
in June 2022
Submitted 23. Jun 2022
This was easily the worst experience I've ever had. I have traveled to many places outside of the US and rented cars on numerous occasions. I have never experienced anything like this and would never recommend using this company again. The vehicle I received was not the unit that I thought I had rented, it was a much older one with over 222,000 km on it. Although it ran and got us around the country we had numerous problems with it during the trip, including the cruise control would continually stop working, one of the windows would not roll up properly, and the car smelled of burnt rubber when we went up hills. This was the most beat up rental I'd ever seen, let only used. The worst part of the experience was when I return the car the staff did not want to hear anything about any of the problems that I had with the vehicle they just wanted to point out where they thought were blemishes on the car that weren't there when I picked it up. I estimate that there were over 400 chips, scrapes and scratches in the vehicles paint and windshield when I picked it up. It was easy to tell that this company does not make repairs these vehicles once they get them back. They just send them back out on the road after they collect for the repairs. Which is what they did with me, no shuttle to the airport until I pay for what they said was my responsibility regarding the vehicle damage. So I am out and additional 110,000 kr, for a repair that will never happen. This company is scamming people and should be reported. If I had more time I would try to facilitate that but unfortunately I don't. During my research planning for traveling to Iceland I linked up with several different groups with experience in traveling there. To try to help someone else from having a similar experience I will be informing each of these groups to avoid ice rental 4X4 unless you are interested in seeing how a scam works. My recommendation to you is to take this company off of your list of rental companies to compare for customers, it will eventually give you a bad name as well. Please make this review public so others can see what they are getting themselves in to if they choose to use this company.
Terry
rented a vehicle
in June 2022
Submitted 15. Jun 2022
Excellent
Altough the car had 100.000 km, it was ok. Had new tires and did what it had to do. Pickup, delivery and return worked perfectly.
Piet
rented a vehicle
in June 2022
Submitted 18. Jun 2022
Outstanding!
Mattia
rented a vehicle
in May 2022
Submitted 08. Jun 2022
Good
We turned down the first vehicle offered to us as the rear light had been smashed and was taped up. The salesman tried to persuade us to take it, but we were adamant and alternative was offered. The tyre pressure light was permanently on for this vehicle which we were again told was nothing to worry about, and at 160,000km on the clock the mileage was high. It lacked acceleration going up some of the hills and there wasn't much space in the boot. Having said all that it got us right round the ring road without any problems.
Trudie
rented a vehicle
in May 2022
Submitted 30. May 2022
Very Good
Renting a car in which you can sleep is a great way to save some money on hotel rooms. It worked out great for us. Northbound had a great customer service and they answered all my questions almost instantly. I would gladly book again!
Narahari
rented a vehicle
in May 2022
Why book through Northbound?
Best Price Guarantee
If you find the same vehicle from the same supplier elsewhere, we'll match the price with no added or hidden fees
No Hidden Fees
We do not add any fees on top of your final price, what you see is what you get!
Free Cancellation
We will cancel your booking on request, no questions asked, provided there are more than 48 hours until the pickup date.
Dispute Support
Should a dispute arise between you and the supplier, we serve as an intermediary between the two of you, guaranteeing you a response and a conclusion to the issue.
Rental Cars from Icerental 4x4
See available rental cars from Icerental 4x4